mHealth App Development: The Ultimate Guide
In this article, we'll discuss…

The significance of mHealth apps for the healthcare industry
How to develop a mobile health app and what it takes
The average estimated cost of mHealth mobile app development for healthcare
How to get professional help with this type of app.
⚠️ If you require immediate help with the development of mobile applications in healthcare practice, please contact our IT experts for deeper project consultation and more information!
mHealth app development is extremely popular nowadays.

mHealth (mobile health) means any healthcare practice supported by mobile applications. This term covers not only serious medical applications for clinicians (like telehealth apps), but all sorts of healthy-living/fitness/wellness apps, too.

What makes mobile healthcare app development so important?
There are many strong reasons explained in the next section, but what is more important is that mHealth apps generate countless opportunities for healthcare providers, medical organizations, and their patients.
We'd like to bet that today, every cell phone user has at least a couple of mHealth apps installed on their handheld device(s): for example, a diet or healthy eating app, a fitness tracker app, a drugstore app, a medical appointment scheduling app, etc.
There also exist professional-grade mobile applications that are integrated with medical systems in hospitals and used by physicians or nurses for remote patient monitoring and other purposes. Here you can see an example of a tablet application for remote home-based ECG control for cardiac patients: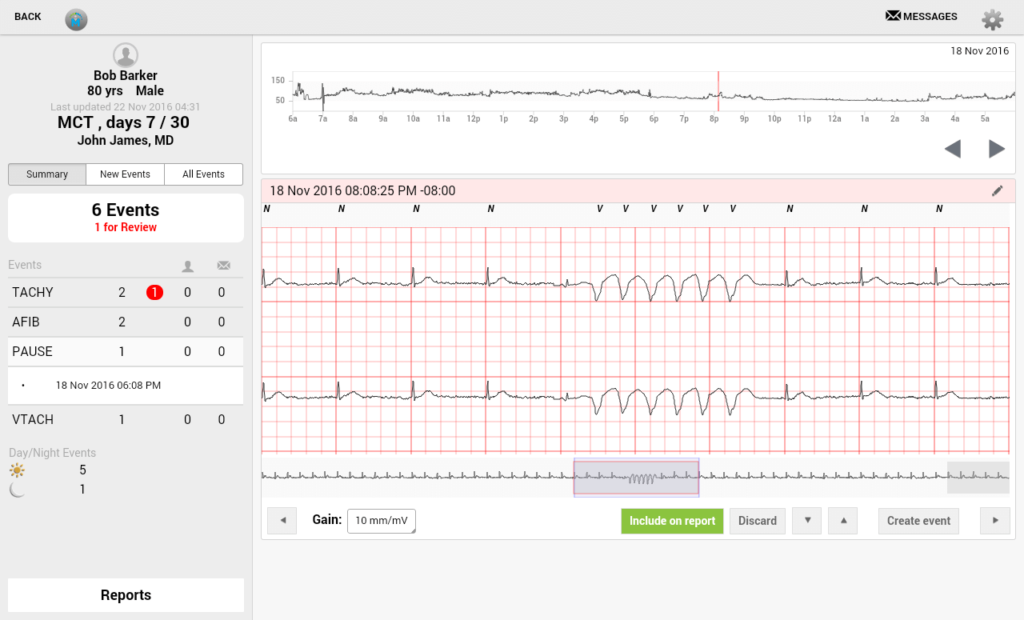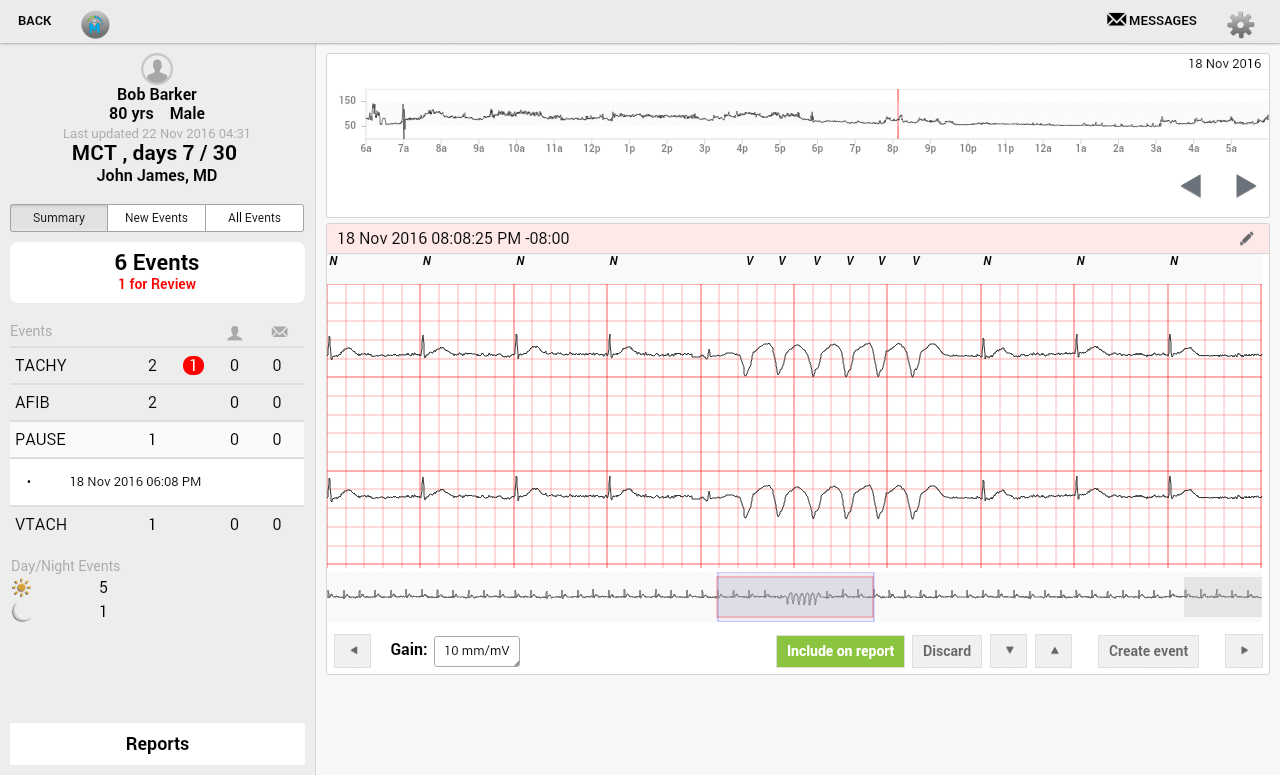 Slava Khristich
Healthtech CTO
Based in San Diego, Slava knows how to design an efficient software solution for healthcare, including IoT, Cloud, and embedded systems.
mHealth App Development Key Trends
Why is custom mHealth app development so demanded by the industry?
GooglePlay and iTunes offer thousands of options in terms of medical, health, and healthcare apps.

Their purposes range from professional/semi-professional medical apps provided by the largest healthcare organizations to simple apps, like daily hydration reminders and other offerings from myriad private mHealth app developers.

The global medical app market is set to experience exponential growth in the coming years. Estimated at $5 billion in 2020, it's expected to exceed $20 billion by 2027.

Currently, numerous healthcare providers share their branded apps in application marketplaces, including Mayo Clinic's apps on GooglePlay. They have developed a group of mHealth mobile applications like professional medical data-management tools and patient portal solutions that feed health news and tips to users.

An even more impressive app library has been developed by Johns Hopkins Hospital. It includes dozens of mHealth mobile apps that range from a baby stool color analysis app to rehabilitation games for patients with brain injuries to professional medical knowledge assistants…not to mention many other hardcore mHealth apps for medical students and mature physicians.

There are several factors that will drive the continued acceleration of medical mobile app development—not only in the United States but worldwide, too:

Trend #1: Ubiquitous adoption of mobile devices
In the U.S., it's pretty hard to find a person without a smartphone, tablet, or netbook.
Thanks to the availability of affordable smartphone models, these devices are widespread across all segments of American society. 85% of Americans use a smartphone of some type.
That's why the best way to reach the majority of patients is to offer them efficient, convenient mobile apps.
Trend #2: Public healthcare is getting more expensive
The cost of U.S. healthcare services is only going to increase. Many healthcare providers are trying to manage their expenses with the help of custom HMS solutions and optimization of patient visits to healthcare facilities.
In this context, the adoption of mobile apps allows more patients to stay home from hospitals and clinics if their conditions are not severe or urgent.
mHealth apps allow many healthcare services and functions to relocate from dispensaries and medical offices to the homes of patients. Free mobile apps offered by trustworthy healthcare providers help patients to:
Manage their symptoms and health conditions
Collaborate with their caregivers via remote monitoring of signs of vitality
Schedule medical appointments
Stay in good shape and maintain proper hydration levels
Gain access to telemedicine and communicate with their physicians online
And much more…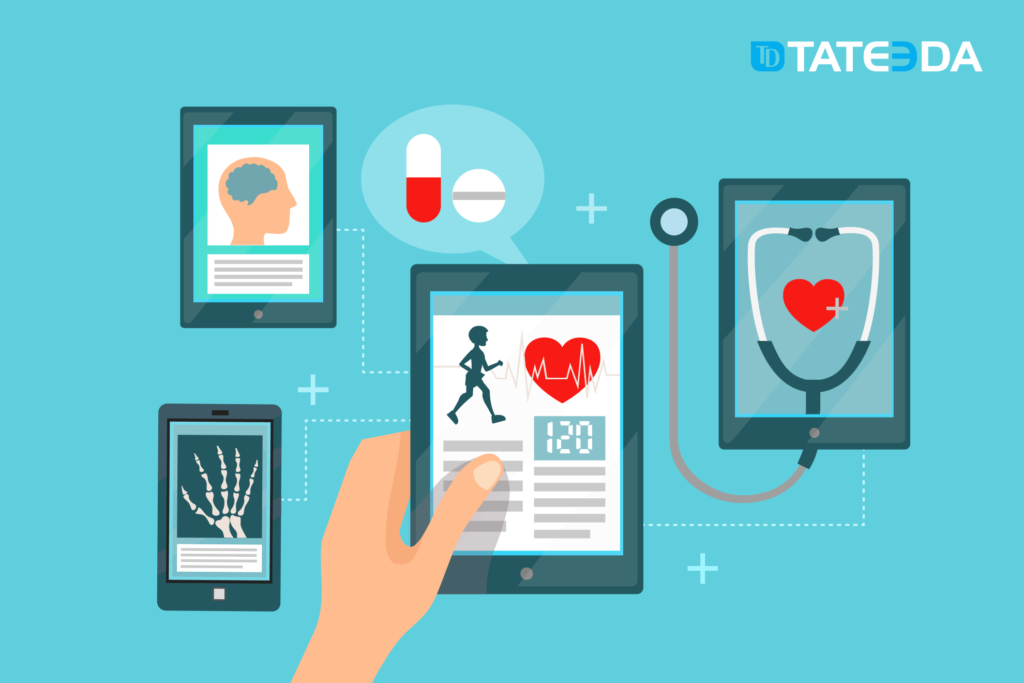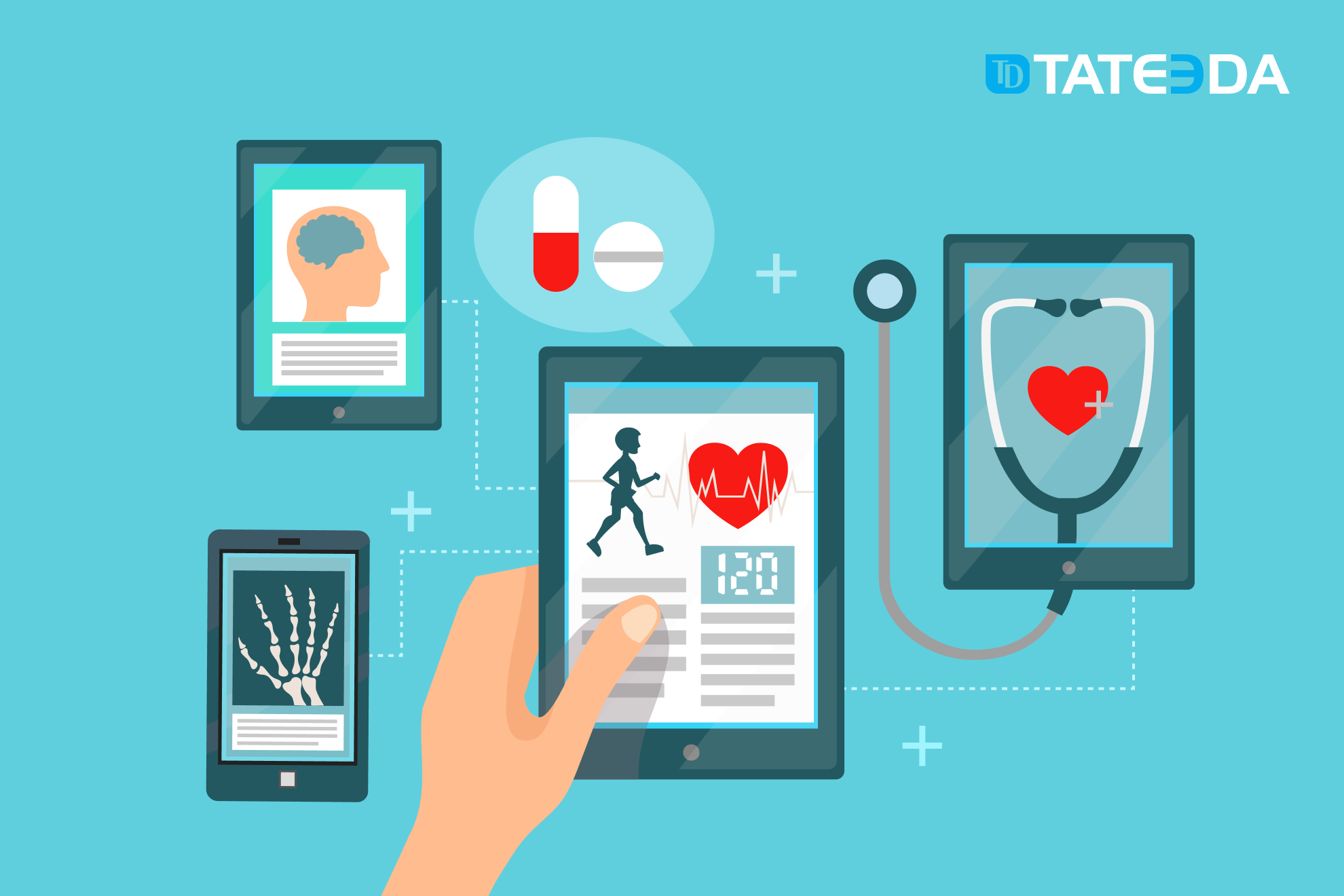 Trend #3: The COVID-19 pandemic
We are all tired of the threats imposed by this ever-mutating virus. Lockdown measures and policies have pushed people to use a greater number of mobile devices and applications for their daily activities, including their medical needs.
This is why more people have become familiar with mHealth apps/solutions and embraced their benefits.
Trend #4: Medical staff shortages
It's long been understood that American healthcare is struggling with a severe deficit of public healthcare workers. Under these circumstances, healthcare apps can help relieve rising stress put upon medical workers.
That can be achieved with a combination of better time management via custom medical appointment-scheduling solutions and self-service opportunities via mobile patient portal solutions.

Trend #5: People residing in the country or in other remote locations are demanding better healthcare
People living and working in distant locations often don't have easy access to medical professionals, and must take long trips to see a doctor or receive any qualified medical assistance.
Telehealth applications with video-conferencing and remote patient health-monitoring features can be of great assistance to this category of users (country-dwellers, sailors, fly-in/out workers, etc.)

Are you looking for an mHealth app development partner?
As you can see, there is an abundance of positive factors that will keep pushing the development of medical apps in all niches and regions. Now is the best time for you to develop a mobile app for your healthcare practice or facility.

TATEEDA GLOBAL is a California-based company with vast experience in building mobile apps for healthcare purposes. If you're looking for mHealth app-development services but don't know where to start, be sure to contact our healthcare IT expert for a free chat: 👇
Slava Khristich
Healthtech CTO
Based in San Diego, Slava knows how to design an efficient software solution for healthcare, including IoT, Cloud, and embedded systems.
Major Types and Features of Custom mHealth Apps
Mobile healthcare apps can belong to countless categories based upon their specific medical purpose or the business models for which they were built.

There are several major branches of mHealth apps:

Professional-grade apps are used by public health workers for supervising patients at home, including remote monitoring of vital signs and other health metrics via medical IoT technology.
These apps are usually coupled with medical tracking devices (biosensors) worn by patients at home. They send the bio-signals they capture to server applications that accumulate, prepare, and render health data for physicians and other authorized healthcare workers.

Read also: ➡️ Remote ECG-monitoring Software Development
Professional and semi-professional apps are used by patients to control and manage their health conditions without constant supervision from medical professionals.
These types of mHealth apps range from simple pill reminders and medication organizers to more sophisticated mobile solutions: apps connected to smart implants, fall detectors, and automated insulin-injection pumps.

Healthy lifestyle apps that do not fall under medical certification requirements and/or do not comply with strict standards for data safety, including HIPAA compliance. This category includes fitness trackers, diet management apps, calorie calculators, hydration reminders, etc.
Self-diagnosis apps and medical chatbots. Some mobile apps can help patients to learn about their physical and/or mental health conditions before they are able to see their physician.
These types of mobile solutions usually work as smart, dialogue-based guides (chatbots and digital assistants).
They lead you through self-diagnosis by asking a series of questions to clarify your health metrics: body temperature, blood pressure, blood glucose levels, and more. They also help you estimate pain level and other subjective feelings.
This type of app can provide you with a preliminary diagnosis, suggest a scenario of best next steps, and provide quick-relief recommendations, if possible.

Communication apps are provided by specific medical services and healthcare facilities. This type of app includes:
Multi-functional patient portals with physician schedules, news, and more.
Basic health navigators (medical record browsers, electronic medical vocabularies, medical practice guides, etc.)
Medical appointment-scheduling client apps
Electronic medical data-capture solutions required to control the quality and efficacy of medical treatment or services for a specific patient.
Specific Types of mHealth Apps and Their Features
At TATEEDA GLOBAL, we are experts at creating different types of healthcare-related mobile apps, including branded apps for specific healthcare providers, health data visualization solutions, and custom biotech application development. Learn more about our services: 👇
Custom Healthcare Solutions
See how we can engineer healthcare software, validate your ideas, and manage project costs for you.
We would like to share our vision of essential features specific to a few of the most in-demand mHealth application categories…
Mobile Apps for Medical Laboratories
The key features of laboratory management apps (LIMS) include:

Protected access for authorized users (patient portal)
Patient profiling (for bonus program management, billing processes, potential synchronization of results with EHR, and more)
Visual instruments and document viewers to represent lab test data/results within the app
Ability to export options for downloading test results in multiple formats
Protected data-sharing options and mechanisms
Notification options.
Read more: ➡️ Laboratory Test Machine Software Development [Case Study]
Mobile Apps for Drugstores and Pharmacies
The most important pharmaceutical mobile applications can have the following features (if we are talking about apps provided by pharmacy chains to their patients):

Protected access for authorized users (patient portal)
Patient profiling
Maps showing the nearest drugstore locations and routes to pharmacies
E-prescription management tools and export options
Medication deliveries and refill history
Medical reference book
Medical delivery tracking
Electronic billing
Notification options.
Mobile Apps for Medical Centers and Clinics
Apps of this type are developed on behalf of medical centers, clinics, and hospitals to assist their patients in receiving an array of services remotely. Learn more: ➡️ Mobile Hospital App Development: the Ultimate Guide. They can be heavily packed with useful features:
Protected access for authorized users (patient portal)
Access to personal health records, drug prescriptions, etc.
Patient profiling (usually includes custom integration with EHR/EMR systems)
Distribution of content, news, and information produced by healthcare facilities
Tools that allow patients to secure convenient time slots and schedule appointments with physicians, dentists, chiropractors, and other health specialists
Capabilities related to identifying the nearest medical care points; street navigation
Billing and insurance management. Read more: Healthcare Payroll Software Development: The Complete Guide.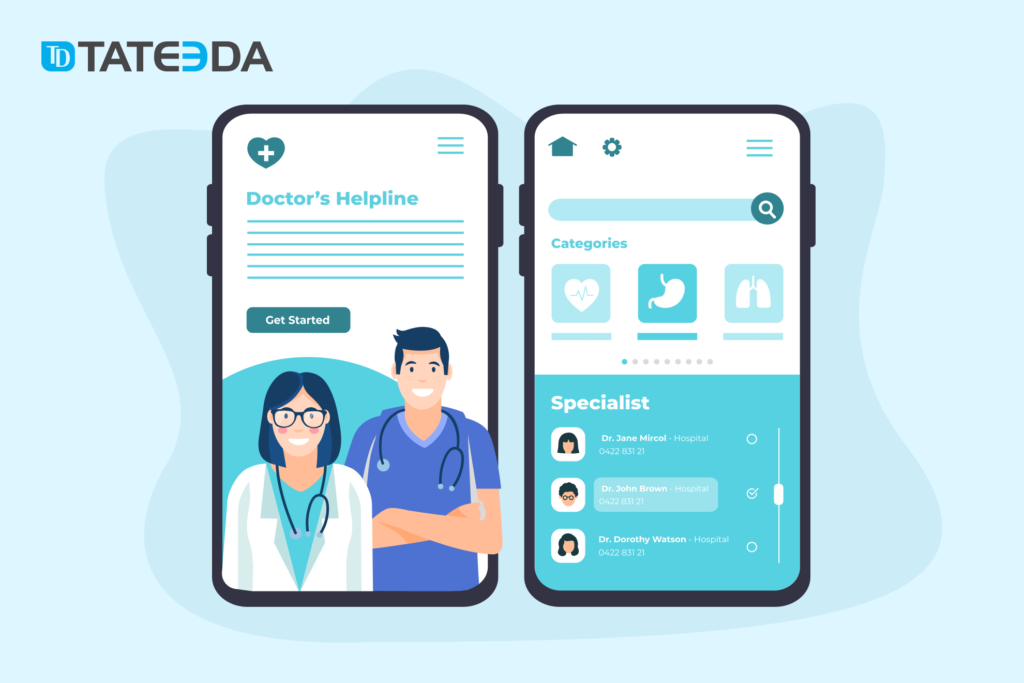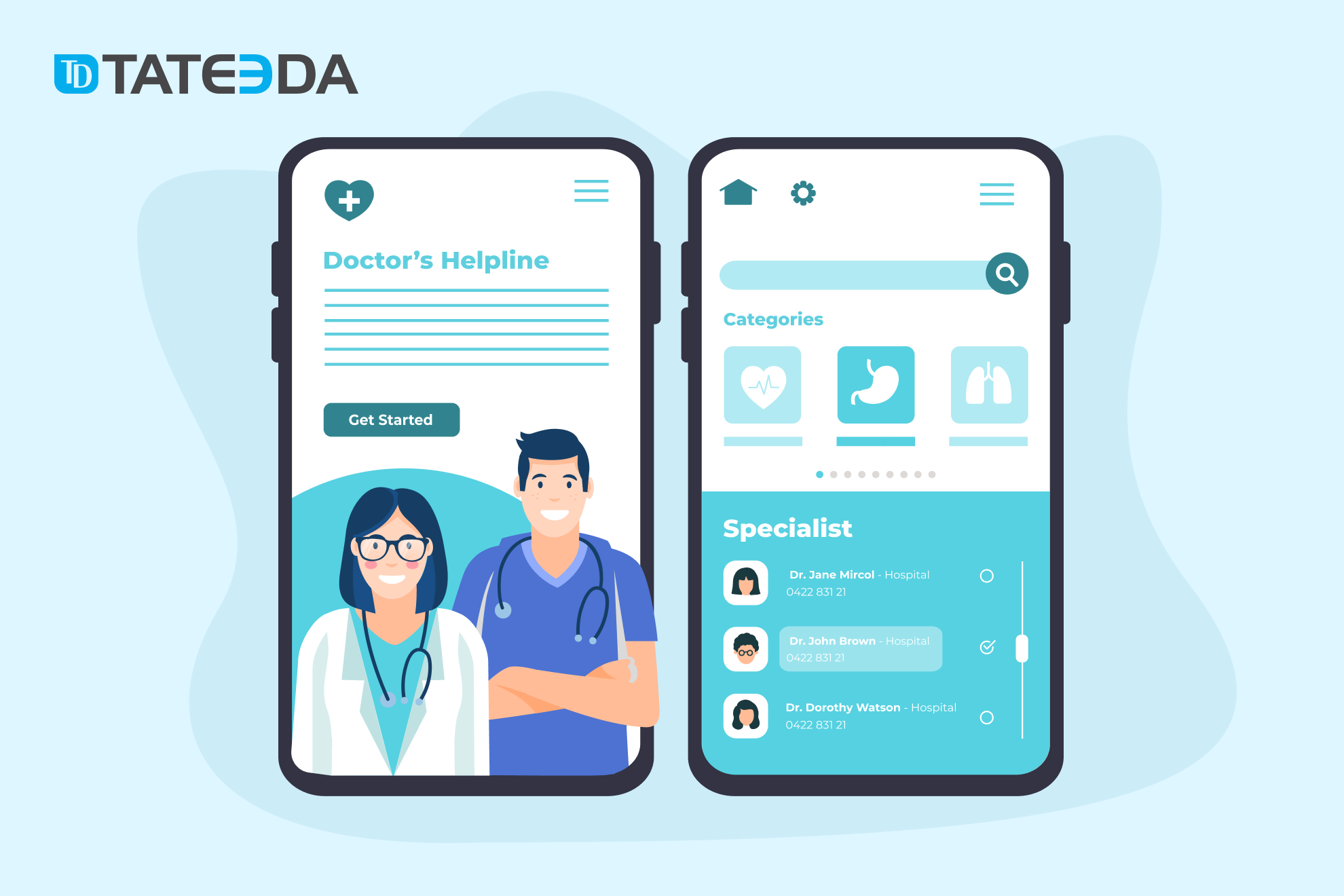 Custom mHealth App Architecture and Development: The Details
Ready to start your own project in the field of mobile healthcare app development?
If you want to keep things convenient, hire TATEEDA GLOBAL as your custom mHealth app-development partner based in San Diego, CA. We have deep expertise in the field.
If you want to tackle your project with your own IT team, be sure to create a plan that covers the following:
Business Logic Inside your mHealth App
Create a schema that represents the business logic of your medical app
Hire a mobile app engineer capable of designing the technology stack: mobile front-end and back-end technologies, client-server architecture, and more
Identify all security requirements and tools needed to protect app users and their data. You can learn more about secure SDLC in this article.
Plan and control the project using Agile methodology.
Medical/Healthcare Mobile App Front-End
The mobile app front-end is the native app UI end-users will interact with.
Make sure the UI is well-organized, clean, fast, and responsive.
Involve a skilled UI/UX specialist capable of designing app interfaces, and take into account all healthcare-related specifics.
Identify all up-to-date technologies needed to build an efficient mHealth application: for example, Flutter powered by Dart programming language.
Hire a mHealth developer who can complete all required front-end jobs for you.
Learn more: ➡️ Health Insurance App Development Guide
Medical/Healthcare Mobile App Back-End
Identify the database and server-side services/objects needed to power the functionality of your application.
Design the API integrations involved in the process
Hire a mHealth app developer who can integrate all necessary services and platforms to ensure smooth interaction with back-end objects
Involve QA specialists to test the app in a range of situations to catch and fix the majority of bugs.
Learn more: ➡️ How to Build an MVP for a Healthcare Product
What's the Estimated Cost of mHealth App Development?
Estimated Duration
Development of a healthcare mobile app can take about 3 months, on average (this is a rough estimate.) More time can be reserved for additional code polishing, testing, and ongoing maintenance (updating the app according to a long-term plan.)
Estimated Team
A minimal team ranges in size from 1-3 developer(s), 1-2 QA specialist(s), 1 project manager (PM) to 1 developer, 1 QA specialist, 1 PM in later stages.
Estimated Cost
Based on the technologies and components involved in application development, hiring and managing a team of specialists in the U.S. can be a costly undertaking. The estimated cost of a typical mHealth app-development project can reach $80-100K or more.
Optimal Estimated Cost
If you opt for an mHealth app development company like TATEEDA GLOBAL, which has a remote R&D branch, you can optimize your project costs.
Our minimum estimate is $30-50K per medical mobile app development project. PLEASE NOTE: More specific and accurate estimates will be given according to your individual project details. Learn more about our successful projects: 👇
Delivered Healthcare Software Portfolio
The leading American healthcare companies benefit from working with us.
How to Make your mHealth App Compliant?
There is a body of medical data regulations and standards that mHealth developers need to follow in order to achieve optimal security and governmental compliance.
For the majority of healthcare apps, HIPAA requirements must be respected, as secure storage and communication of patient information and health records is no joke in the U.S. The law strictly protects patient rights, and violations are punished with painful fines.

Professional apps should go through ISO certifications. Others should, at the very least, meet a combination of the following requirements:

Privacy-management regulations (CCPA and other regulations)
Data encryption (end-to-end encryption)
Multi-factor authentication for accessing sensitive data (e.g., PHI)
An in-app session expiration policy (automatic termination of the authorized session when the app stays idle for a period of time)
Compliance with the policies of the Apple App Store or Google Play, if you're going to introduce your healthcare app to a wider audience
PCI-DSS compliance for secure online payment system integrations
And much more…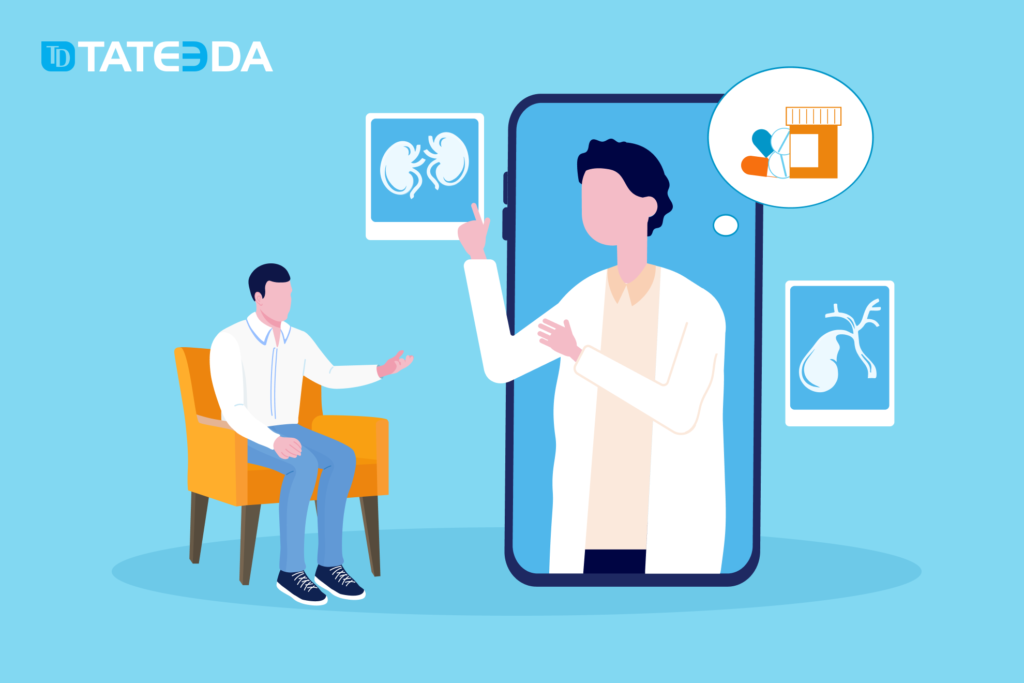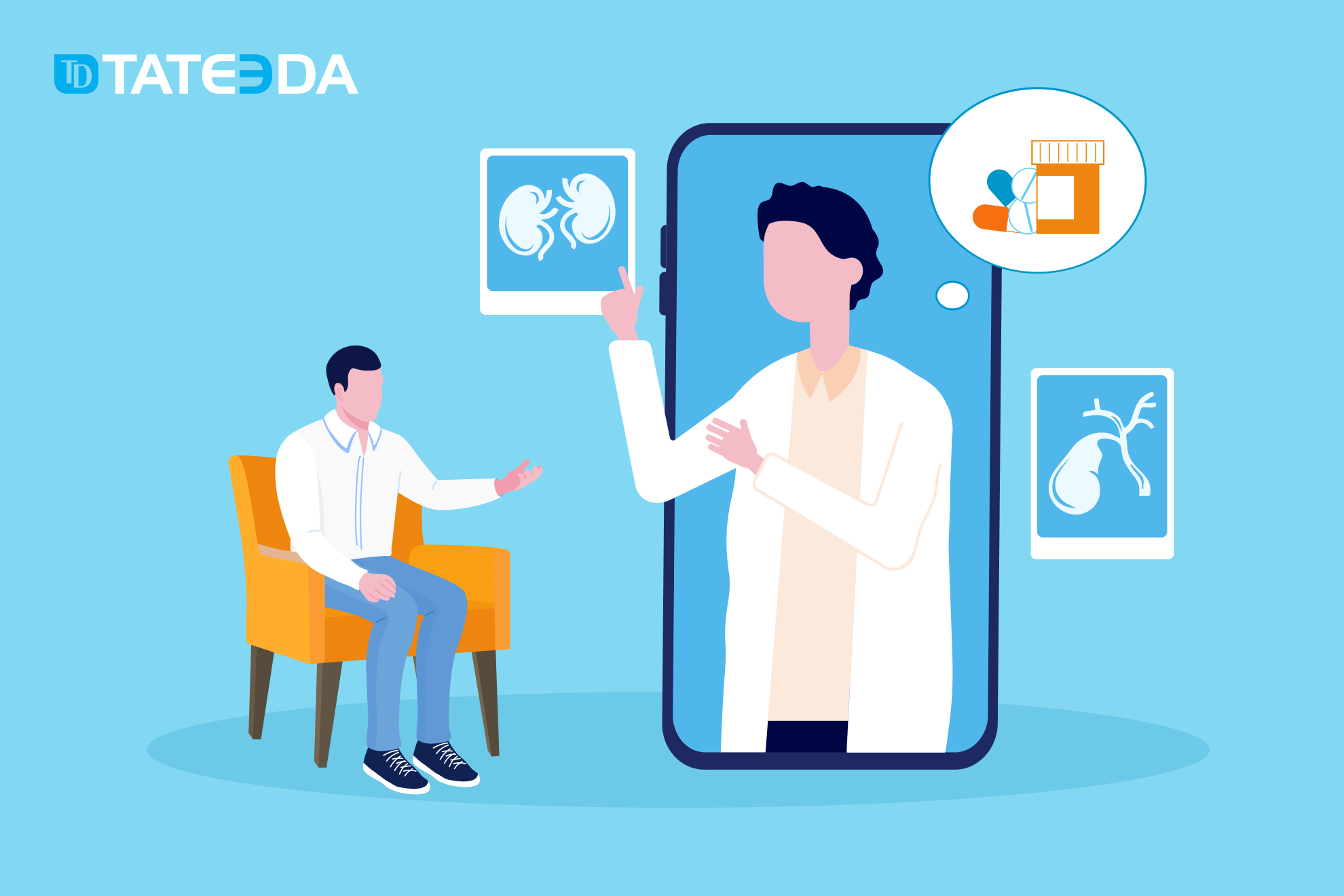 Learn more: ➡️ The Benefits of Healthcare IT Outsourcing for Your Medical Facility
mHealth App Development Challenges
A host of concerns and considerations must be taken into account before you start developing your mHealth app:
Challenge #1: Security and privacy. As mentioned earlier, the protection of medical records and PHI is of utmost importance—a skilled software engineer should be involved in the process and make sure absolutely no security gaps are left behind.

Challenge #2: Complicated/cumbersome UI. Medical apps should be well-adapted to the needs of key user segments. For example, apps intended for use by elderly patients should contain easily readable buttons and an enhanced level of process automation.

Challenge #3: Technological specifics of mobile devices. If an app is designed for a specific age group—or any other group sharing similar demographic traits—it's necessary to do research and understand which mobile device models are predominantly used within that targeted group. This helps to radically decrease adaptability and incompatibility issues.

Challenge #4: Healthcare legislation compliance: Developing an application in full compliance with HIPAA is one of the main challenges you'll need to address, and it takes a lot of effort. Experienced mHealth app development companies like TATEEDA GLOBAL can accomplish this task more quickly. If you're looking for a U.S.-based partner, ➡️ contact us today for a free consultation.
TATEEDA GLOBAL's Experience in Custom Healthcare Mobile Development
TATEEDA GLOBAL features deep knowledge of medical app development.
We have a team capable of building efficient mHealth applications for mobile devices and/or project augmentation. TATEEDA GLOBAL offers a team of mHealth developers, UI/UX designers, project managers, QA specialists, and other software specialists.
Here are a few of our projects:
AYA Healthcare: We designed and created three distinct mobile apps (workspaces for different user groups) to support their large web-based travel nurse management platform with a great range of functions/features.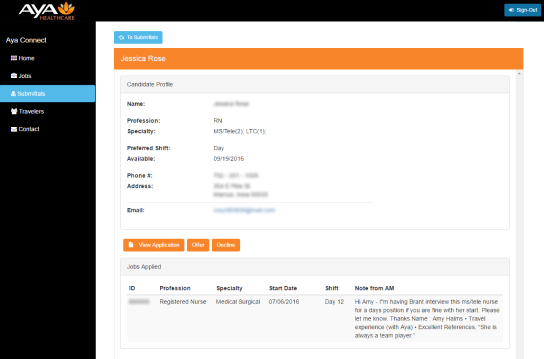 La Maestra Community Health Centers: We created a patient portal app with a set of helpful features: healthcare services, enhanced visibility/accessibility for La Maestra's services and locations, in-app managed content/news, and much more.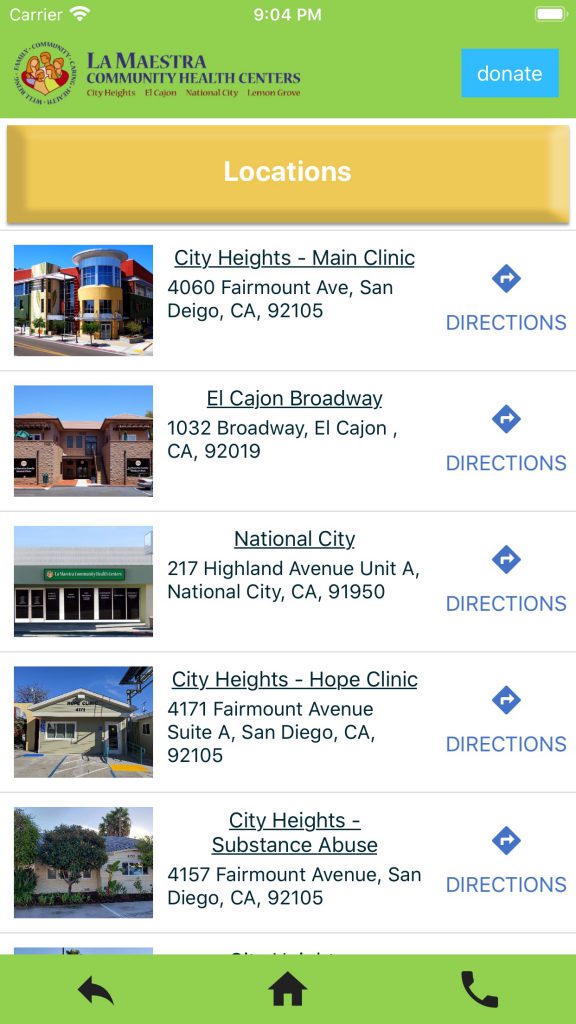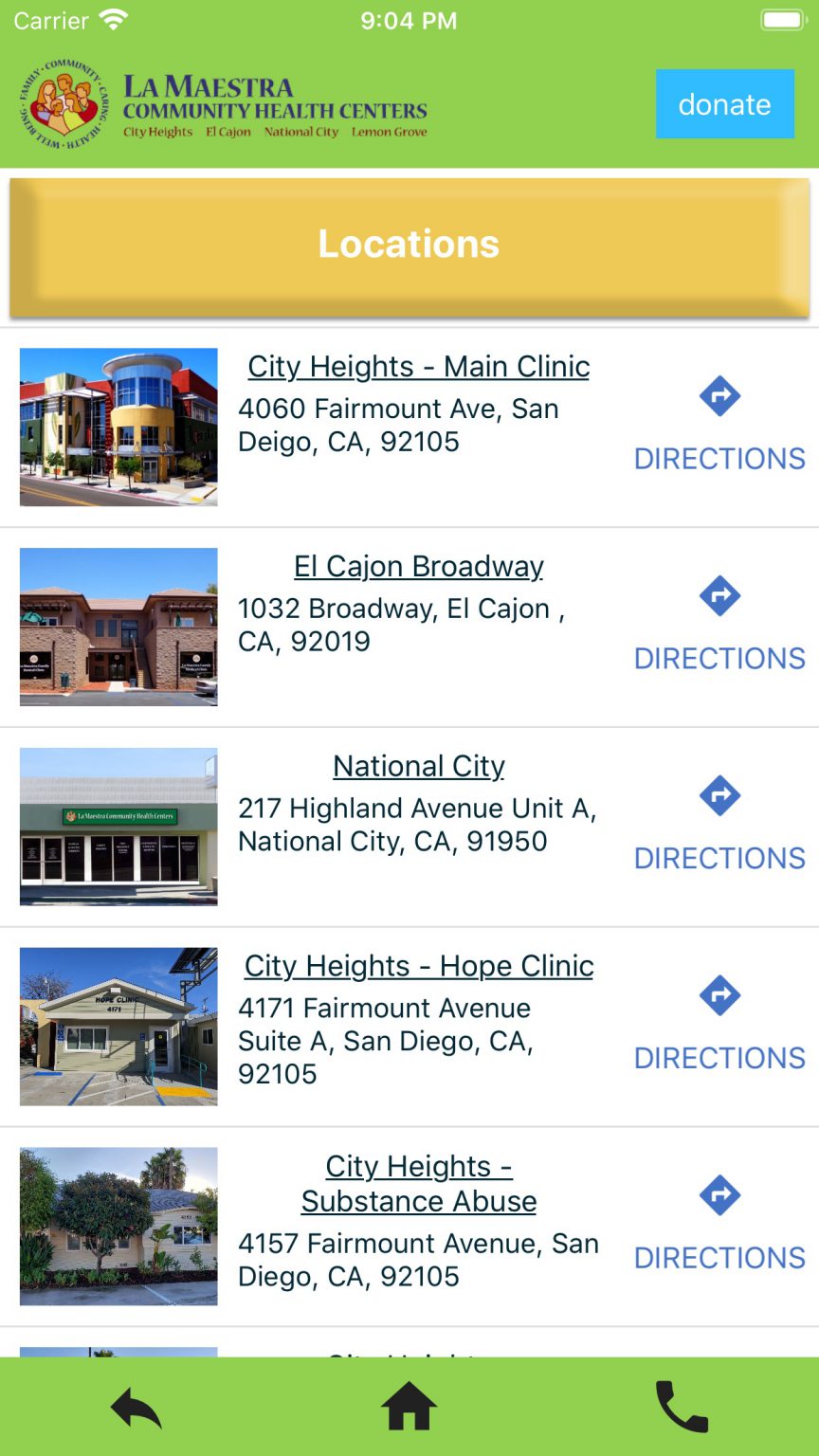 VentriLink: Remote ECG-monitoring app coupled with a biosensor device to capture patient data. The app we created allows physicians to check heartbeat patterns over periods of time, identify signs of arrhythmia and other abnormal phenomena, and much more.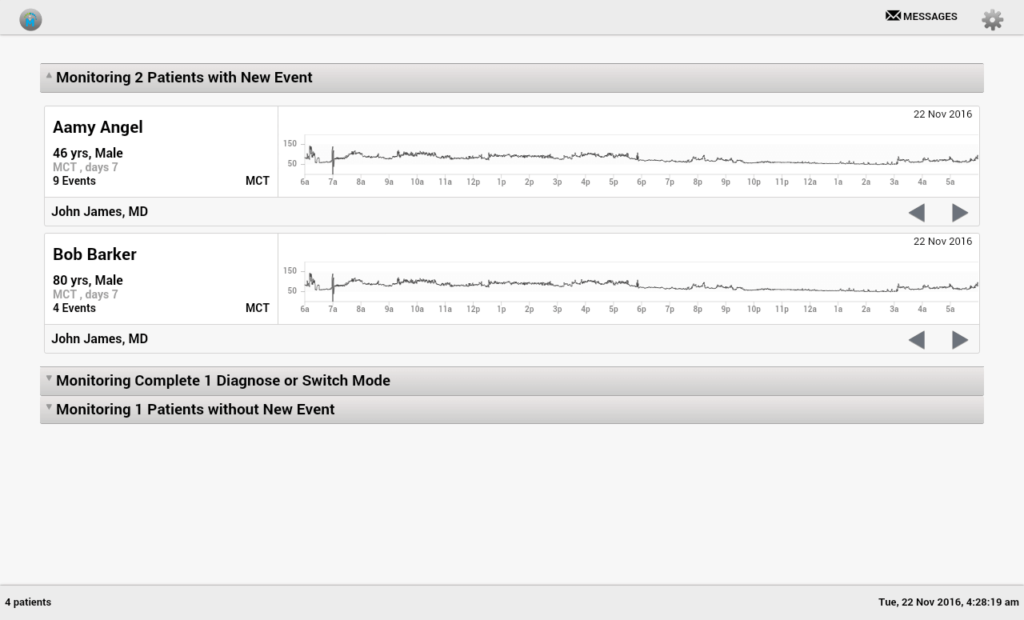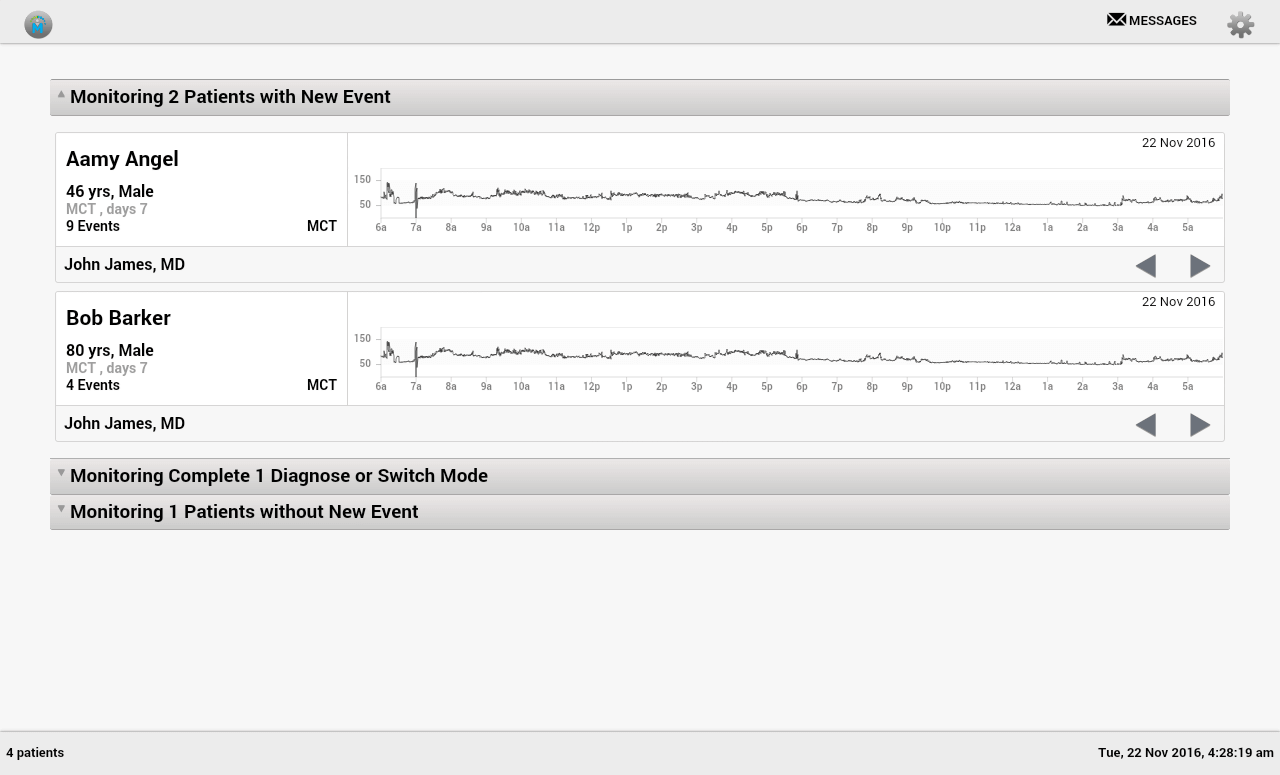 Read also: ➡️ Cardiology EHR/EMR Software Development: Benefits and Features
If you want to work with us on your next mobile healthcare app development project, please contact us for a free consultation.
In Conclusion
Medical apps are in high demand. So are qualified, experienced IT partners.

If you need a professional IT team to help you build a custom healthcare mobile app or reinforce your existing mHealth projects, TATEEDA GLOBAL is here for you!
We offer:

Full-cycle medical mobile app development
Medical app project assistance, augmentation, and product testing
mHealth app upgrades and reengineering
Compliance with HIPAA requirements and regulations
Affordable project costs, thanks to our R&D branch in Ukraine
Personalized connection with our project manager HQ in San Diego, CA
Vast onsite experience with U.S.-based IoT, healthcare, biotech, and pharma businesses
Fast team deployment—within 48-72 hours
Contact TATEEDA GLOBAL today to start creating the medical applications of your dreams!
Rate this article!
0 out of 5 stars (based on 0 reviews)