Custom EHR/EMR Software System Development: The Complete Guide
From this article, you'll learn…
✔️ Everything there is to know about EMR & EHR software development
✔️ The benefits, challenges, and features of electronic record systems in healthcare.
EHR/EMR systems are very popular among American healthcare providers.
With this type of technology, public health workers can achieve healthcare quality that has never been achieved before. It is much safer for patients, results-focused, evidence-based, time-efficient, and highly productive.
Electronic health-record software offers the following advantages:
Enhanced methods for working with patient files
Convenient interfaces for accessing and representing health records
Secure transferring and sharing of patient data between different healthcare facilities
Deeper medical data analysis and patient health insights
And much more...
⚠️ If you require immediate help with the development of EMR/EHR software, please contact our IT experts for deeper project consultation and more information about our services!
Is there a difference between EHR (electronic health record) and EMR (electronic medical record) software?
According to the information provided by the Office of the National Coordinator for Health Information Technology (ONC), both types are recognized separately and have their own distinct features:
EMR defines a rather isolated medical data management system deployed within a single medical setting (a medical center, hospital, etc.)
EHR implies patient data shareability and incorporation/integration of healthcare records from a variety of sources to represent multifaceted, up-to-date health information in relation to every patient.
While many of their features are similar or equivalent, the key distinction between EMR and EHR technology concepts is as follows: 👇
EMR barely enables the transfer of patient data between healthcare providers, while EHR comes with a variety of collaborative methods. It offers continuous data interchange and synchronization between a multitude of healthcare systems and stakeholders (insurance providers, pharmacists, medical specialists, and more.)
Thanks to a cross-organizational approach, EHR provides deeper insight into the patient's health history and background, empowering physicians to offer highly individualized treatment scenarios.
At TATEEDA GLOBAL, we have profound expertise in U.S.-based health tech and biotech projects. Our developers have created and successfully maintain: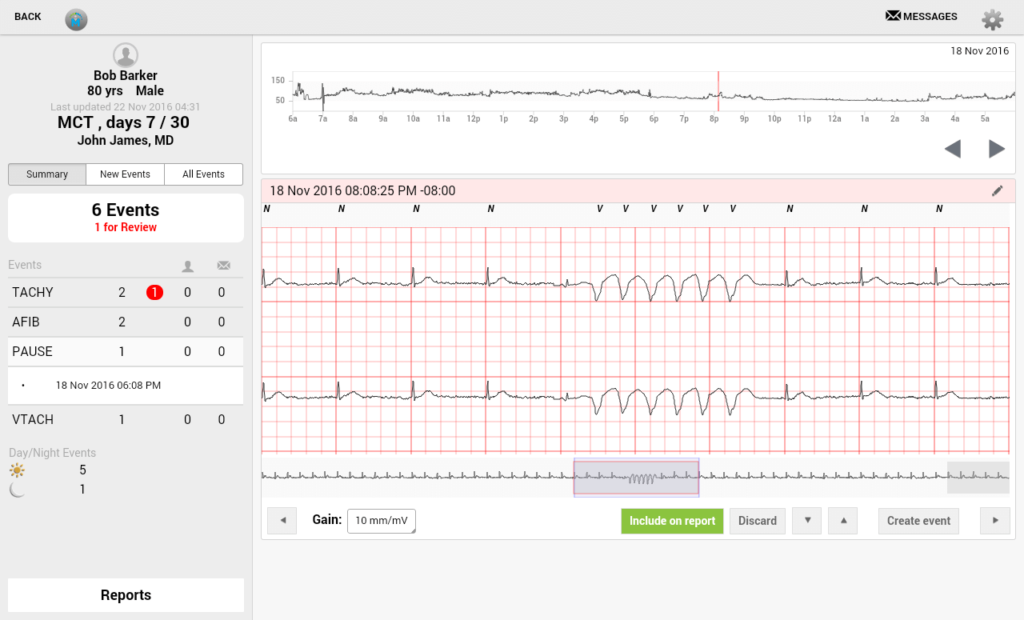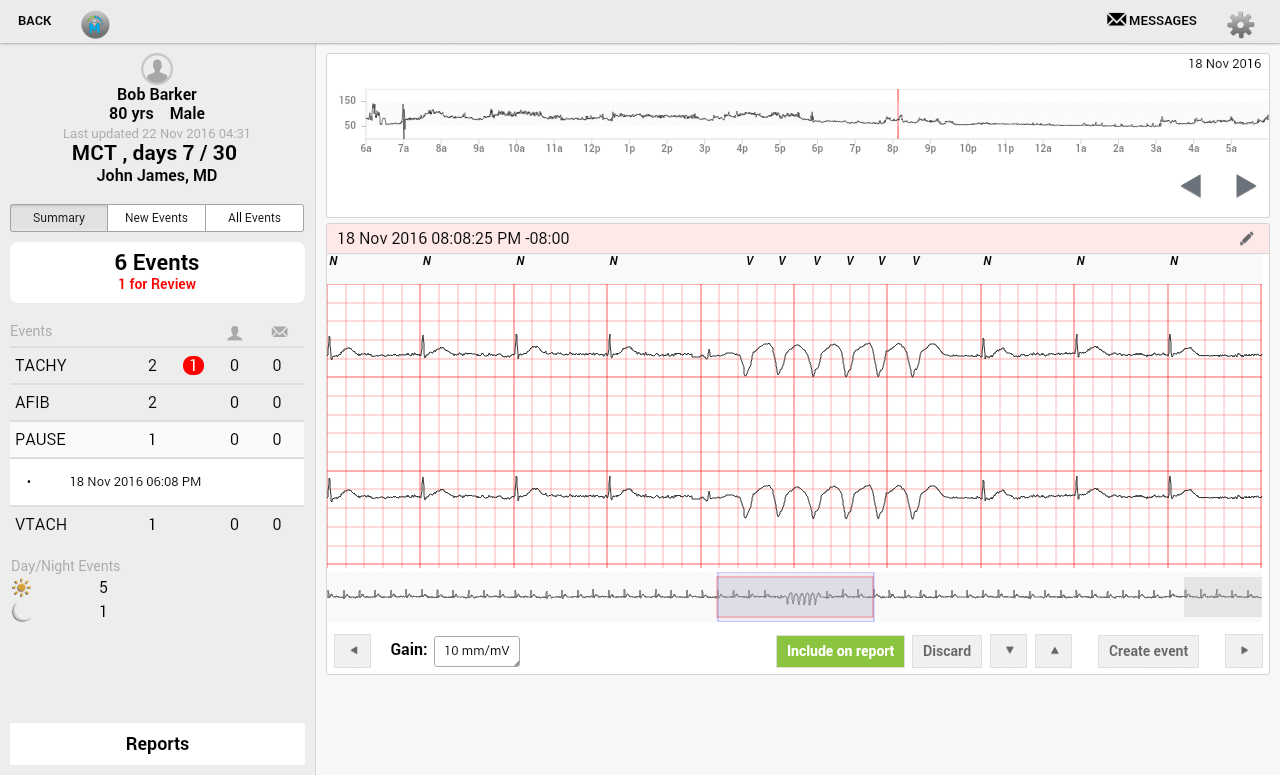 We know how to build EHR software. If you need help building an electronic medical records system for your healthcare setting or practice, be sure to contact us.
We can also re-engineer and/or upgrade your older EMR system to acquire a higher number of healthcare interoperability features, including EHR interface development, elevating your current system's functionality to the level of an up-to-the-minute EHR solution.
Stay with us to learn more about EMR software development, its benefits, and features… 👇
EMR/EHR Software Market Trends
The global EHR market reached almost $30 billion in 2020, and is expected to hit the $40 billion mark by 2026.
Such tremendous growth indicates a number of beneficial factors influencing wider acceptance of EHR/EMR systems in the United States and worldwide:
Acceleration of global medical data digitization
New opportunities for highly individualized healthcare services through profound, human-centered health data analytics
Development of telemedicine and preventive healthcare tactics
A global tendency to remove the "pen-and-paper" approach from everything related to healthcare
Ubiquitous deployment of the Internet of Medical Things
The ability to aggregate medical data from multiple sources in a timely manner.
Do All Healthcare Providers Need EHRs?
Smaller medical practices can still be efficient with basic EMRs. The capabilities of these systems are sufficient for tracking patient medical records, documents, notes, diagnoses, and treatment progress/information.
Certain categories of healthcare providers, like boutique medical practitioners and private medical offices/ERs, can work without having their patient records synchronized with the databases of other facilities or healthcare partners.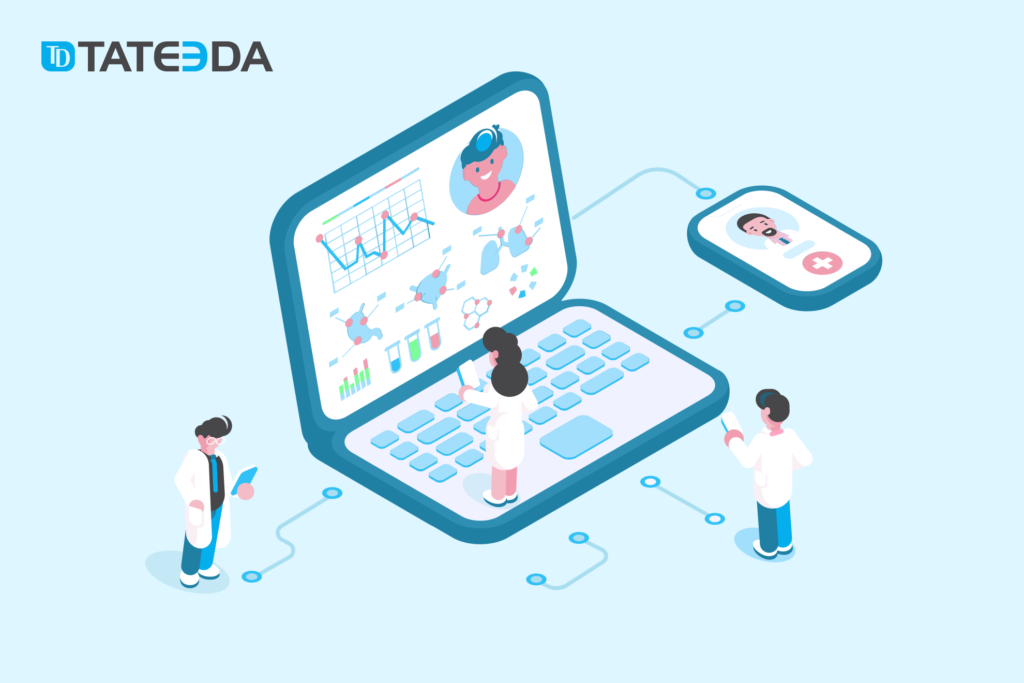 Instead, they can occasionally provide electronic copies or transfer their records to patients or/and partners upon request (and receive incoming data, such as patient lab tests, in the same way.)
However, larger healthcare providers, like community medical centers, private clinics, and hospitals, usually need to develop and implement advanced platforms capable of integrating and interconnecting electronic medical data from a greater number of sources, departments, partners, labs, and other healthcare stakeholders.
An EMR system can be certified as EHR if it complies with the following requirements and supports:
A certain number of interactions with patients (e.g., e-prescriptions)
Integration with other medical systems, databases, and applications
Protected health information exchanged with healthcare stakeholders
Secure integration with medical devices, such as tablet PCs
| | | |
| --- | --- | --- |
| Feature | Electronic Medical Records Software | Electronic Healthcare Records Software |
| Keeps patient records | YES | YES |
| Supports collaboration with other stakeholders | NO / partially | YES |
| Integrates with other medical applications | NO / partially | YES |
| Supports interactions with patients | NO / partially | YES |
Do you need a consultation on EMR/EHR software development?
If you're looking at the possibility of developing a new EHR system or adding important new collaborative components (like e-prescription tools) to your existing EMR system, the software specialists at TATEEDA GLOBAL can help you. Book a free chat with our expert: 👇
Slava Khristich
Healthtech CTO
Based in San Diego, Slava knows how to design an efficient software solution for healthcare, including IoT, Cloud, and embedded systems.
What Are the Benefits of an Electronic Medical Records System?
Since electronic medical records-management software is a digital replacement for old-school paper medical records, it greatly facilitates and boosts ALL document-related medical practices in hospitals, clinics, and other facilities.
According to feedback captured by the Office of the National Coordinator for Health Information Technology, 75% of physicians report that their EHR/EMR allows them to deliver better patient care.
Let's check out the rest of the benefits…
Benefit #1: Superior Convenience in Managing Medical Records
A well-designed EMR or EHR system provides physicians and nursing staff with a streamlined, HIPAA-compliant data-management experience:
Prevents tampering or loss of patient data
Prevents unauthorized users from accessing sensitive records
Allows quick, flexible, secure access to medical records
Offers cost-efficiency through decreased paperwork
Prevents duplication of patient records and incorrect input
Accumulates all patient-focused information in one place (medical treatment history, lab results, health examination reports, etc.)
Provides the most accurate health information about patients
Offers a rich toolbox for patient-service transparency and engagement.
Read also: Mental Health EMR Development: How to Create Behavioral Health Software
Benefit #2: Enhanced Patient Treatment and Outcomes
EMR/EHR systems are capable of generating automated healthcare-related information and prompts for physicians, nursing staff, and paramedics.
Thanks to updated software systems, life-saving cautions/notes will be at doctors' fingertips when healthcare professionals crucially need profound decision-making support:
During the e-prescription process, the EHR system notifies the prescriber of current medication plans to prevent any duplicated or conflicting prescriptions.
When reported allergies and/or side effects/symptoms are spotted in a timely manner, adjustments to a patient's personal treatment plan can be made.
When information on collateral diagnoses and conditions is required by physicians to adjust medication/procedure plans and scenarios, appropriate action can be taken.
Emergency-department personnel can learn of life-threatening patient drug intolerances, even if he/she is unconscious.
Myriad other complicated therapeutic decisions can be made via EHR facilitation.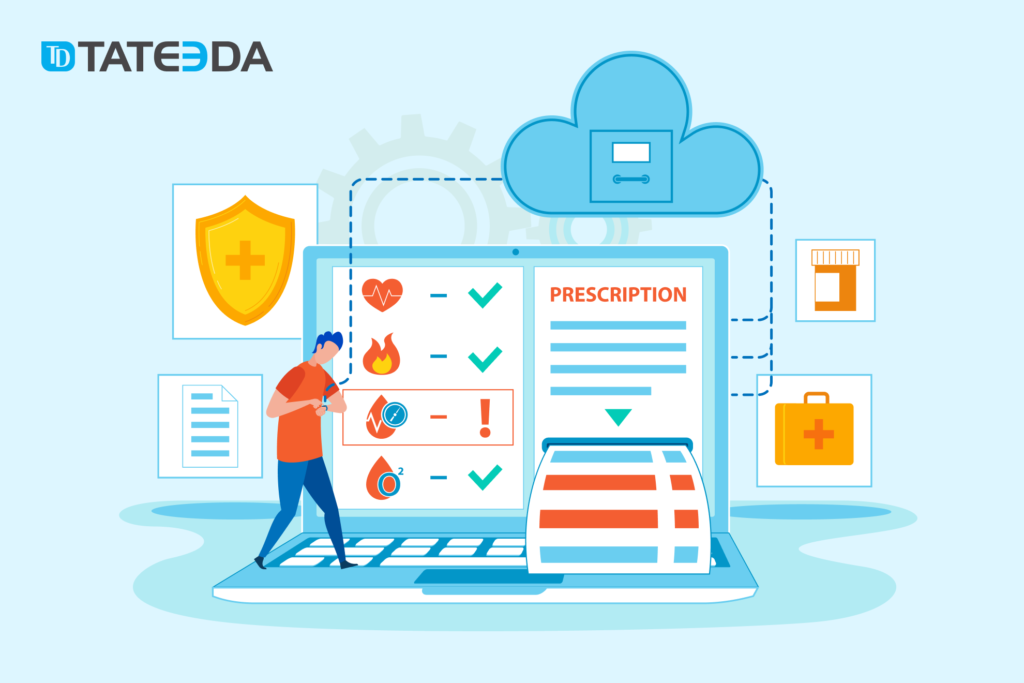 Benefit #3: Improved Financial Outcomes for Hospitals and Clinics
Electronic health records can be integrated with a number of other medical systems: in-patient management workflows, patient scheduling features, e-prescriptions, and more. This helps hospitals and clinics to effectively manage operations and take advantage of the following EMR/EHR advantages:
All departments and organizations responsible for the healthcare process can coordinate with each other and reference synchronized patient data as needed.
All medical documentation is complete, accurate, and well-organized.
Fewer medical errors are made in the process of patient treatment and prescription of medication.
The process of billing and insurance eligibility verification is automated and smoothly managed.
The best evidence-based medical practices are used across all departments, and by all involved medical workers.
A well-organized pipeline of medical service workflow offers proper balance between the patient convenience and the interests of healthcare providers.
Sound good?
Building an EHR system always takes a lot of time and effort. However, a qualified, experienced team can accomplish this type of work faster and more efficiently.
TATEEDA GLOBAL's team can help you create an EHR/EMR system compliant with HIPAA security standards that features all of the capabilities necessary to generate the benefits listed above.
➡️ Contact us for more information.
The Most Popular Features of Custom EMR/EHR Systems
Not all EMR/EHR systems offer the same sets of features. Dozens of off-the-shelf electronic records programs and solutions exist to benefit patients and healthcare.
Ready-made vs. EHR/EMR system?
If you opt for a ready-made software package, you will need to try out several demo versions before deciding upon the system that best suits your needs and business model. At the same time, you'll most likely have to deal with certain downsides, such as inconvenient or incomplete user interface, slow performance, etc.
When you build your own EHR, however, you don't have to deal with issues or inconveniences. You don't have to compromise anything.
Instead, you can simply draft a list of your required features and find a team capable of delivering a custom EMR/EHR software solution just for you.
With custom EHR system development, you're not limited to existing software packages with their incomplete and often overwhelming functionality sets.
| | |
| --- | --- |
| Custom EHR/EMR | Ready-made EHR/EMR |
| Has a flexible set of features configured correctly for your healthcare practice | Comes with preset or inflexible configuration of features |
| Suits your exact business process, and is finely adjusted to your specific workflows | Your business process must be adjusted to suit software-proposed frameworks and workflows |
| Higher cost | Lower cost |
| Can be quickly improved/debugged by the vendor based upon your feedback and/or bug reports | The vendor does not guarantee a swift reaction time to your feedback, and leaves you waiting for future updates and bug fixes |
| Supports all integrations/interfaces required to bring your business activities to the highest levels of efficiency | Protected code sources and licensing constraints won't let you scale up or rework the solution according to your needs |
So…
With a custom electronic medical/healthcare record system, you can pick up and build only the features that are especially helpful to your specific medical practice.
Let's check some of the most popular…
"Know Your Patient" Features: Patient Profiling and Charting
Some of the key features for EHR or EMR systems are aggregation, research, and communication of patient data (the latter is exclusive to EHR.)
What are the most common types of patient data?
Patient demographics: Gender, age, place of residence, etc.
Insurance information: Policy numbers, health plan beneficiary numbers, etc.
Social security numbers, billing, and other details for patient management
Health check/examination notes and reports
Diagnoses and defined health conditions
Collateral files: lab results, radiology images, etc.
Immunization plans/certificates
Allergies, drug intolerances, and reported side effects
Current and previous prescriptions/treatment plans
Statistical data, charts, etc.
Some of these patient details can be managed and accessed by the patients themselves.
Learn more: ➡️ Patient Portal Development Guide
With the help of patient profiling features, physicians and nursing staff can quickly access a full picture of each patient's health background and healthcare history via any authorized device.
Custom Healthcare Solutions
See how we can engineer healthcare software, validate your ideas, and manage project costs for you.
A Vast Multitude of Third-party Integrations
A multi-component healthcare solution can be shaped around your EHR/EMR system via API-based integrations. You can plug in different modules to bridge it with other software and hardware systems:
Wearable device applications
Notification modules (email, SMS, mobile push, etc.)
Medical appointment-scheduling software
Labs, pharmacies, and diagnostic center applications
Data analytics and data management software
E-prescription modules
Telemedicine and videoconferencing systems
Patient portals
mHealth applications
Biometric authentication and authorization
Voice command and alternative input methods
And more…
Patient Data + Healthcare Service Reporting
Once patient profiles and medical history files have been accumulated and organized within the system, it's time to analyze data and mine it for useful insights.
You may want to integrate your electronic medical records with a powerful healthcare data mining and analytics tool or add simpler components such as data report templates, automated chart builders, etc.
EMR/EHR systems can process patient data to provide physicians with a range of valuable conclusions and findings, allowing them to:
Spot patterns in patient health conditions and/or symptoms
Forecast and prevent potential health issues based on evidence-based data
Track progress of patient treatment plans and recovery observations. Learn more: ➡️ How to Benefit from Remote Patient-monitoring Software Development
Find correlations between multiple factors and identify the resulting health effects
Identify the most efficient treatment scenarios for various groups of patients
Identify operational or administrative inefficiencies or bottlenecks within medical facilities.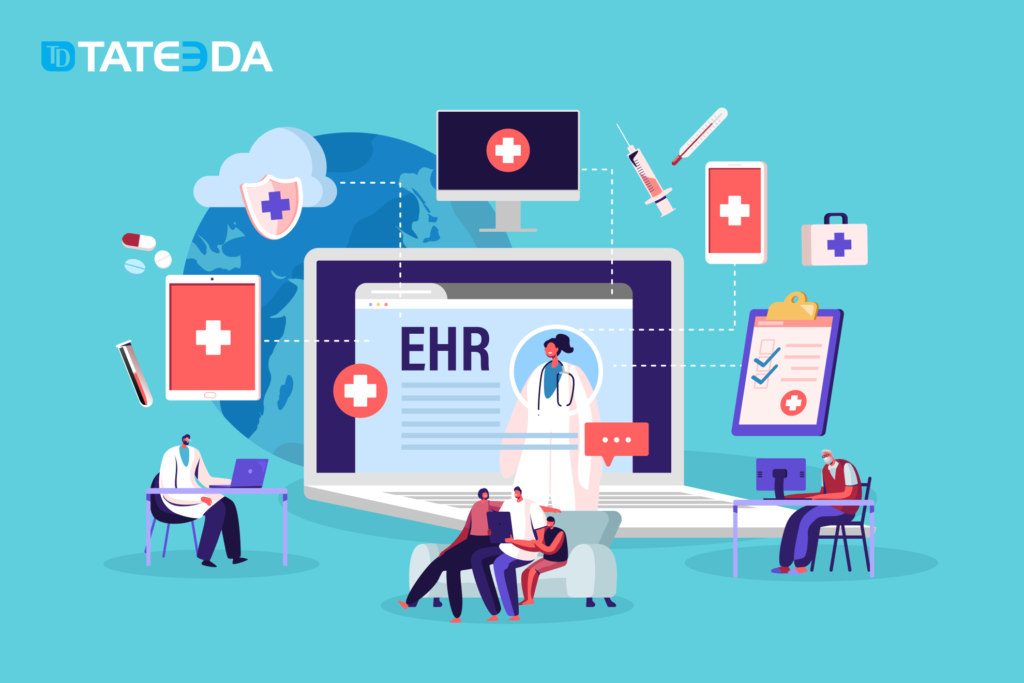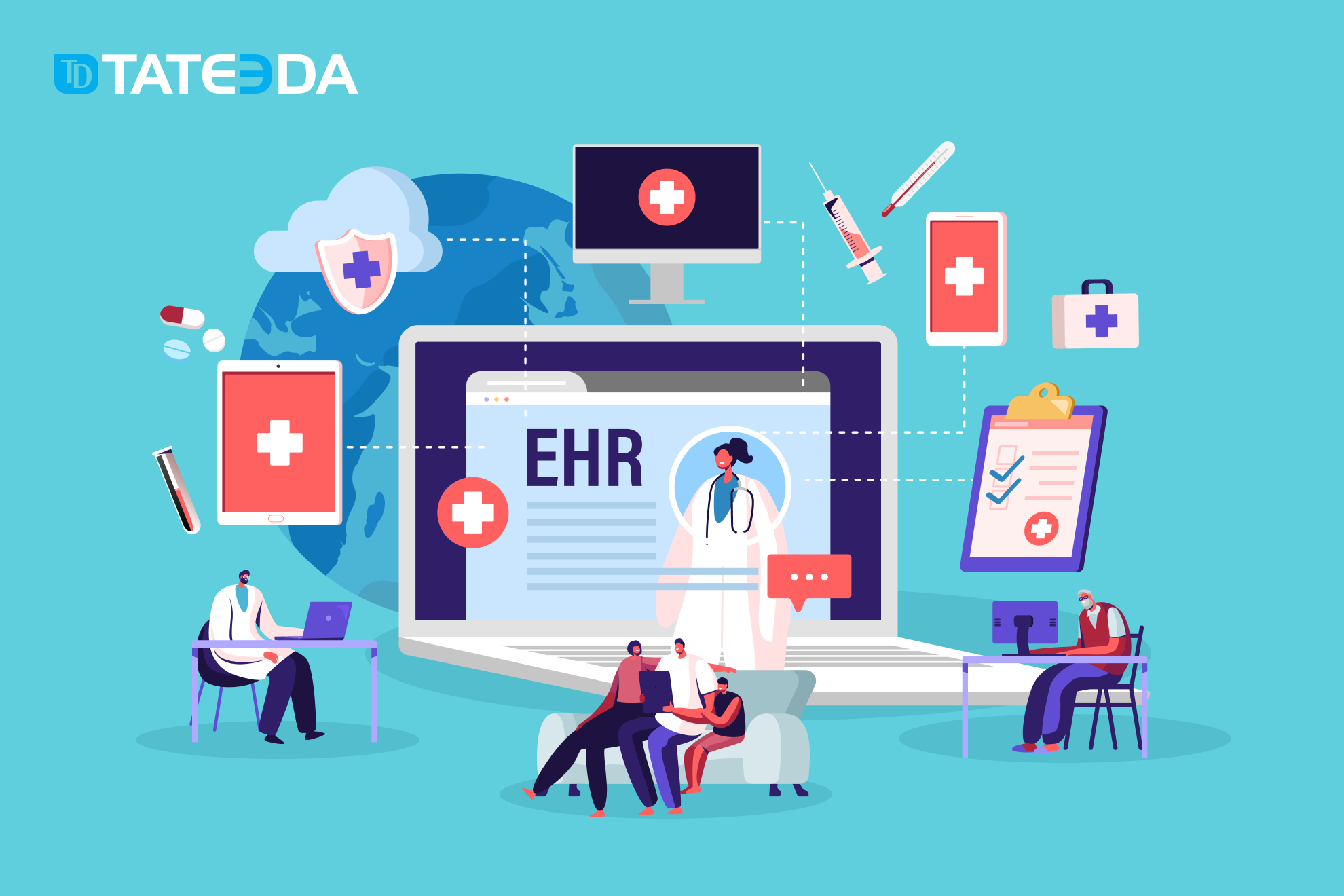 Medical Worker Dashboards
Medical dashboards offer instrumentation for authorized medical workers according to their roles and responsibilities.
Dashboards should be designed to provide plenty of combined insights and helpful patient-focused information. Data can be pulled and aggregated from different sources.
Electronic records dashboards help healthcare providers navigate patient databases:
Dashboards allow medical workers to access/review patient profiles;
Generate treatment stats, build charts, and view other healthcare-focused data insights in a convenient manner;
Show e-reminders in relation to upcoming patient appointments, vaccination schedules, medication refills, and other events;
Integrate with billing, reimbursement, and insurance-management workflows;
Provide self-reported patient feedback collected via electronic data-capture solutions integrated with EHR/EMR.
24/7 Data Access
An impermissible situation occurs when an EMR/EHR system suddenly goes offline because its server is down for maintenance or is not capable of high loads.
If healthcare providers want a system that won't fail in a critical situation, it becomes necessary to design a software architecture that is tolerant of high loads and backed by a modern, cloud-based solution. Learn more: ➡️ How to Move to the Cloud for Healthcare Companies & Organizations
Are you looking for an affordable EHR or EMR development company?
If you are seeking an experienced tech partner to develop a robust EHR software solution for you, contact TATEEDA GLOBAL.
We are a custom healthcare software development company based in San Diego, California. We have a skilled team of developers, business analysts, user interface designers, and other IT specialists ready to help you with the development of your new, up-to-date electronic health records system.
Challenges of Implementing EHR/EMR Software
High development costs. This type of project is not affordable for smaller healthcare providers.
Time-consuming. Development and on-site deployment processes, including staff training, require plenty of time.
Data security and privacy concerns. If electronic records deployed over a low-end IT infrastructure are poorly designed or undertested, the system won't receive HIPAA compliance status.
Delivered Healthcare Software Portfolio
The leading American healthcare companies benefit from working with us.
Estimated Costs of Developing an EHR Software from Scratch
If you want to create an EMR software solution from scratch, you should know that it's never a cheap or easy project. The costs depend on multiple factors. Let's take a look at some of them…
Step#1: EHR/EMR System Design and Software Architecture Estimate
Software engineering is one of the most important stages in any software development project. Prior to drafting an electronic-records software architecture plan, a business analyst should interview the client and collect all necessary information and requirements.
The process of designing an EMR or EHR system may take some time: up to 10-15 working hours for an experienced software architect. The hourly wage of a software engineer in the U.S. is $150-200 and higher.
In some cases, the process can take longer. This can happen if a high number of essential factors are involved, such as complicated business logic, a great list of technologies to be mutually implemented, etc.
Conclusion: 👉 EHR/EMR system design and architecture can cost $2,000 per day or so in the United States, but please note that this is only a rough, minimized estimate. Your specific numbers should be discussed with your vendor.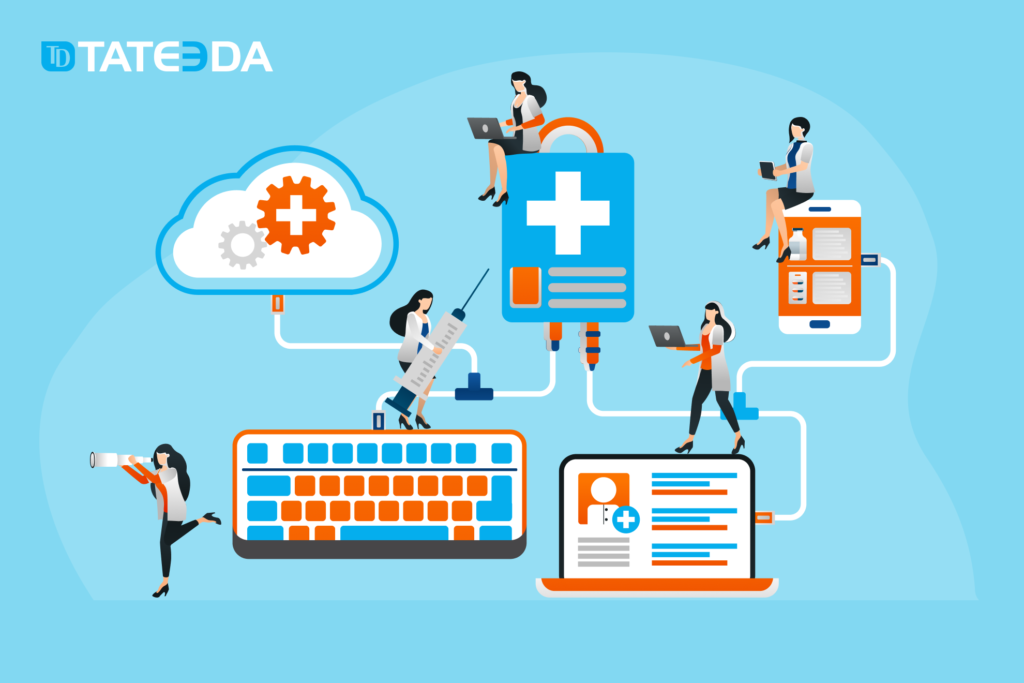 Learn more: ➡️ Cloud Computing in Healthcare: 3 Use Cases, Benefits, Features & Best Practices
Step #2: Building Your EHR/EMR Software Development Team (Estimated)
The next stage is planning and hiring a team of software developers.
The cost of your team depends on the number, qualifications, and skill set of the developers involved. It also depends upon the duration of the project.
Normally, full-cycle development of an EMR/EHR system requires a team of at least 3-5 developers, including front-end, back-end, and/or full-stack programmers. It also involves UI/UX designer(s), QA assistance, and project management specialist(s).
The minimum duration of this type of project ranges from six to twelve months or more.
Here's a very rough estimate: If you hire EMR software developers in the U.S. with $100-200 hourly rates, the overall cost of electronic medical-record software development will most likely exceed $100,000 – $200,000. Note: Specific estimates should be provided by your vendor.
At TATEEDA GLOBAL, we offer favorable software development rates, thanks to our mix of local and remote talent. Our rough estimate for a basic EMR project development starts at $50,000 – $60,000 USD per project.
Conclusion: 👉 Your development effort will take at least six months and cost you $50,000 – $200,000+ (costs can be managed/alleviated in a number of ways.) For a more accurate and specific estimate, please contact us and provide us with your project details.
Step #3: EHR/EMR Software Maintenance and Support Estimate
After the main development phase is over, it's possible to introduce a long-term medical software maintenance service strategy to cover ongoing improvements, updates, constant code refactoring, and the building of new features based upon the emerging needs of your medical staff and business.
Duration is unlimited as it allows the vendor to constantly keep your electronic health records software system at the cutting edge of technology.
This type of service requires a scaled-down team of 1-2 developers (depending on the scale of the project and tasks included) and will cost you $1,000-3,000 per week.

So the electronic medical records software cost will depend on the following factors…
| | |
| --- | --- |
| Project duration | 6-12 months (estimated) |
| Project components | EHR/EMR system: patient electronic records, physician dashboards, patient portals, various API integrations |
| Team (estimated; may scale up/down) | 3-5 developers, 1-2 QA, 1 project manager, 1 software engineer |
| Estimated costs | $50,000-200,000 USD + an optional $1,000-3,000 per week for software maintenance (the exact price should be noted specifically for your project.) |
Read also: How to Estimate and Manage Custom Software Development Costs
TATEEDA GLOBAL's Experience With Electronic Records in Healthcare
TATEEDA GLOBAL has a long track of success in electronic health record development services. We have worked with several large and mid-sized U.S.-based companies, including AYA Healthcare and LaMaestra Community Centers, delivering highly personalized medical software solutions according to their individualized business needs.
Our field of practice includes electronic data-capture solutions, patient portals, medical mobile apps development, telehealth monitoring solutions, medical dashboards, medical workforce scheduling systems, pharmacy management systems, and more.
We have a full-cycle software development team that will build and develop an EMR/EHR system for you throughout the entire project lifecycle.
Read also: ➡️ Healthcare Payroll Software Development: The Complete Guide
In Conclusion
EMR/EHR services are crucial for any modern healthcare practice.
👉 Is it time to build or upgrade yours?
If you need a professional team to undertake full-cycle development of a brand new electronic health/medical solution or augmentation for your existing project, TATEEDA GLOBAL is here for you!
Our qualified IT professionals can create an EHR/EMR for your medical organization.
We offer:
A full-cycle EHR software development service
Compliance with HIPAA-backed safety standards
Affordable project costs, thanks to our R&D branch in Ukraine
Personalized connection with our project manager HQ in San Diego, CA
Vast onsite experience with U.S.-based IoT, healthcare, biotech, and pharma companies
Fast team deployment—within 48-72 hours
Contact TATEEDA GLOBAL today to start building the custom EHR software!

Rate this article!
0 out of 5 stars (based on 0 reviews)