Medication Tracker App Development: Guidelines, Features, and Costs
📲 Medication tracker app development is currently a very popular sector of healthcare software development. Despite a broad market proposition, the potential for medication reminder app development is still very high. Companies can tap into immense opportunities in this industry, as further expansion is fueled by a wide range of factors and technologies.

Let's learn WHY and HOW you should develop a medication reminder app 💊 for different patient groups, including potential features, goals, technologies, and project costs….
Sometimes, people get so flooded with incoming information and different tasks that they forget to take care of their health and sporadically miss taking their prescribed medications. This can actually lead to more serious problems that sometimes result in grievous outcomes: See the associated statistics in the next section ⟶
⚡ If you're looking for a skilled development team to assist you with medication schedule app development or project augmentation for a pill reminder application project, we are here to help!
Medication reminder app development helps to address the following problems…

Patients miss their medications: They take fewer pills per day than prescribed, skip taking medication entirely, demonstrate inappropriate adherence to their medication schedule, or do not follow medical recommendations for certain therapies (like avoiding alcohol with drugs.)
Inappropriate dosage: Patients overdose on prescribed medication, take insufficient medication amounts, or take the wrong pharmaceutical form (for example, drops instead of pills.)
Patients forgot whether or not they have taken their pills, so they either skip a pill/dose or take it twice (double-dose). 💊💊 Both variants can be very harmful.
Patients miss refilling their medications in a timely manner.
Patients experience confusion when it comes to complex therapies that include multiple medications.

As you can see, these issues can cause serious health threats to develop, but thankfully, they can be easily resolved with a medication management app. Here is an episode of medication tracker app development: an integrated interface featuring an explicit reminder with a title of medicament to be taken, a package photo, dosage, time details, and so on. This tool can also be accompanied by sound alerts and pop-up notifications to amplify the effect: 👇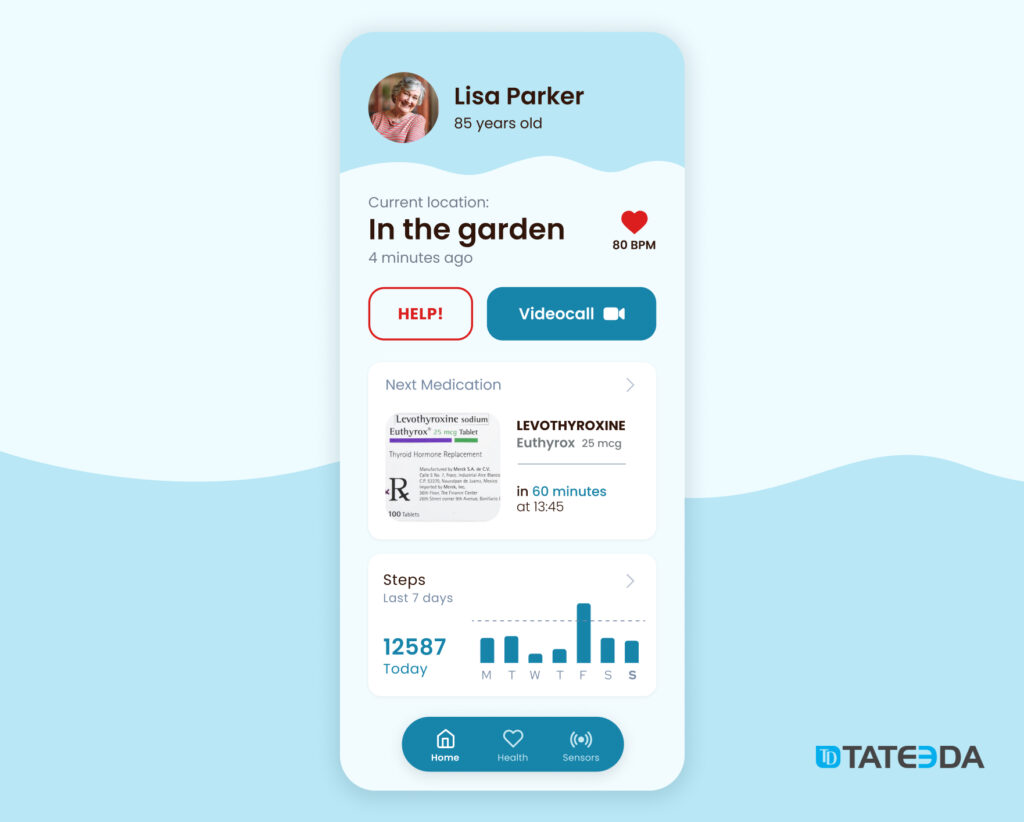 The process of pill reminder app development is pretty flexible: A daily pill reminder solution can be based on a custom combination of web and/or mobile technologies, and include a variety of patient-friendly features. If you want to design and create a medication management tool with an interface like this, we'll help you with health-tech consulting and other IT services. Otherwise, keep reading to learn more about different types of medication-tracking software…
Before we delve into the details of developing a medication reminder app, here are a few facts about us:
Who are we? TATEEDA GLOBAL is a medical software development company that can help you design and create a medication reminder app. Our benefits include…

✔️ Deep expertise in the creation of on-demand healthcare applications.

✔️
HQ in San Diego, California: onshore medication reminder app development in a convenient time zone for North American customers.

✔️ Outstanding experience and skills building hybrid healthcare software products with Cloud, IoT, mobile, web, and desktop components.

✔️ Dedicated project managers and engineers offering personalized communication and unlimited consulting. If you want to build a medication-tracking app, contact us today!
Medication Reminder Mobile Apps: Stats and Facts
👨‍⚕️ Pharmacotherapy (pharmacology) is a keystone practice in modern medicine. The vast majority of known health disorders and diseases can be either completely cured or efficiently reduced/controlled with the help of a wide spectrum of medications.

However, when medications are taken in outpatient modality, treatment outcomes rely strongly on the patients themselves: their self-care skills, discipline, and responsibility.

Unfortunately, studies suggest that many patients do not rigorously follow treatment plans prescribed by their healthcare providers: Twenty to thirty percent of all medical prescriptions are never filled, and around 50 percent of medications for chronic diseases are not taken as prescribed by doctors.

A poor level of medication adherence has been estimated to cause up to ☠️ 125,000 deaths (at least 10% of additional hospitalizations) in the United States.

These fatalities are totally avoidable, and can be decreased with the help of mobile devices. Patients who are assisted in precisely sticking with their treatment plans have better odds of getting well, improving their health, and prolonging their lives.

Saving lives is a great motivation for creating an efficient pill reminder app! ⏰
How large is the medication reminder app market?
The numbers speak for themselves….
Around 46% of the American population uses prescription drugs every month. In other words, about 164 million Americans could become potential users of your medication-tracking mobile app within just one month.

Moreover, the use of prescription drugs increases with age: from 18 percent in kids under age 12 to 85 percent of adults aged 60 and over. At the same time, the overall population is constantly aging, so your potential audience will continuously grow 📈 as more and more people enter their later years. ⇒ 👴👵

These trends indicate that developing a medication tracking app should be considered an advantageous startup idea. In the following sections of this article, we'll learn everything there is to know about this type of healthcare software project, including the best features to be included in a medication tracker & reminder app…
Do you want to create a medication tracker app for your medical organization or as a standalone project?
You're in the right place to address your demand. Book a free chat with our experienced tech expert or one of our mobile app engineers to learn more about the potential of mobile technologies available for developing a medication reminder app with popular features and powerful custom functionality: 👇
Slava Khristich
Healthtech CTO
Based in San Diego, Slava knows how to design an efficient software solution for healthcare, including IoT, Cloud, and embedded systems.
Why Is Creating a Medication Reminder App a Great Startup Idea?
Medication tracking software, if designed and built wisely, will prove to be a superb investment for years to come. A number of reasons contribute to steady success….
The chances of your app becoming a market hit are very high!
The number of existing applications pretending to be medication reminders is alarmingly high; however, not many are of high quality.

When you test applications for your needs, you'll discover that many are…
Poorly debugged.
Unprofessionally engineered.
Non-compliant with industry standards like HIPAA.
Insufficiently optimized for a full range of mobile systems/devices, resulting in slow performance and a broken user interface.
Full of code loopholes and prone to data theft.
Equipped with an incomplete set of features and rarely updated (many apps just seem abandoned by their developers.)
Plagued with an inconvenient user interface.

❌ These inefficiencies open up a great opportunity for the next generation of app developers to cover all existing deficits and come up with a really efficient solution—✅ a high-quality, full-featured, convenient, secure medication reminder application for different groups of patients.

Here you can find another concept for simple medication tracker app development: it includes a prescription drug management panel with a medication calendar, reminders, and drug information. As you can see, this medication-tracking software design looks pretty simplistic yet pleasant and convenient. Planning and executing a medicine reminder app project like this won't take too long but it has the potential to become a real blockbuster among domestic applications. 😎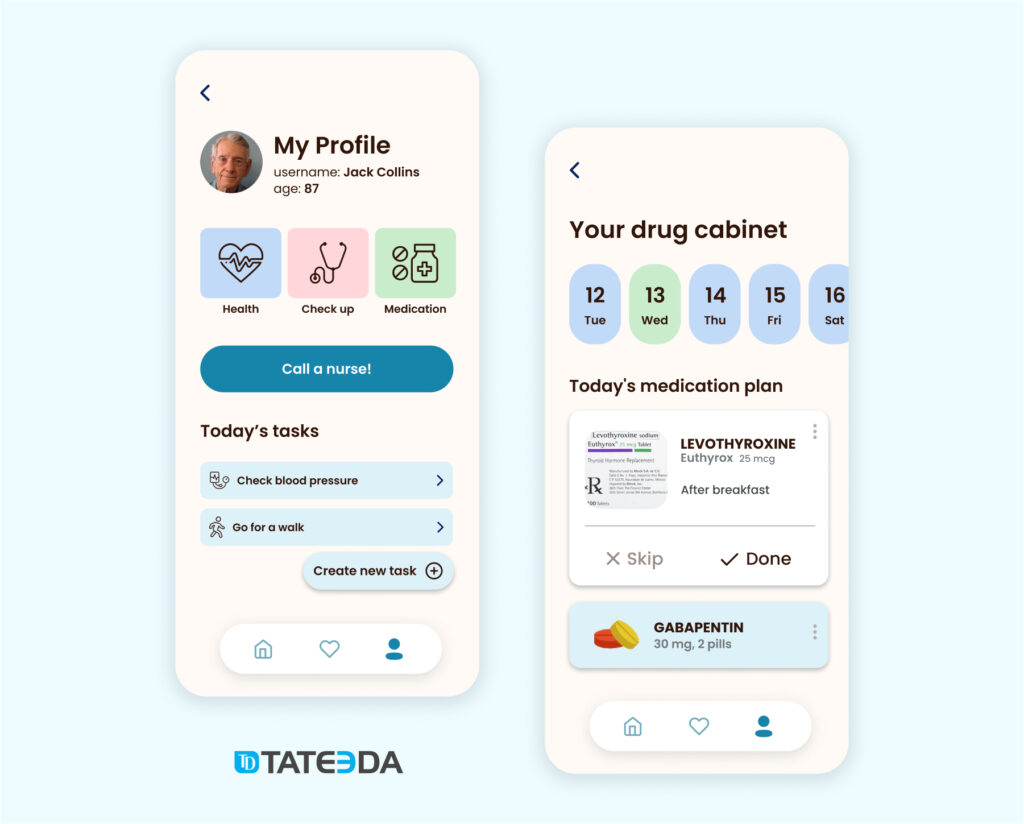 You can start your medication tracker app development with a healthcare MVP instead of building a complicated app all at once. A project/product like this can be built on Flutter or other modern mobile development frameworks.
Not all niches in pill reminder app development have been explored
Despite their apparent simplicity, medication reminder apps can have very deep functionality and target different patient groups, so your app marketing and development will always have a wide array of chances to succeed in a specific niche.
Medication management apps can be created for different patient groups according to condition. This can include infections, flu, or chronic ailments like diabetes, for which app specialization comes with more lifestyle features.
Different levels of medication reminder monetization: Pay to unlock additional features and customization, paywall subscriptions, and more.
Use more high-end features via API and third-party integration, including AI, VR, ML, and more. Learn more: ➡️ 17 Major Healthcare Technology Trends
❌ Not all available medication reminder applications can maintain an optimal formula of business success factors. This is a good chance for you to reinvent a better recipe with a well-balanced set of features and monetization options with a focus on specific patient categories. ✅
If you need help with building a medication calendar app like Medisafe or even better, TATEEDA GLOBAL can help you! We have a skilled team of developers capable of building sophisticated custom mobile applications.

Learn more about our services, including pill reminder app development: 👇
Custom Healthcare Solutions
See how we can engineer healthcare software, validate your ideas, and manage project costs for you.
The Major Types of Medication Reminder Mobile Apps and Startup Ideas
If you are still on your quest for medication management application ideas, consider the following classification of medication reminder apps…
Simple Medication Reminder App Development
This is the largest group of medication tracking mobile apps. Its targeted users include younger people with simpler treatment plans who do not use medication reminders often. 🤧🤒

Most poorly designed apps can be found in the simplest reminder systems, built by private/amateur developers who do not fully adhere to HIPAA standards and other compliance requirements. Their products cannot truly be considered "medical apps."

Only a small number of these apps can be recommended for American citizens in the context of their legal attitudes toward handling PHI, which embraces a high standard of application security.
Basic functionalities of these medicine reminder apps include: 👇

🔸 Simple user authorization (login/pass)
🔸 Daily to-do lists and medications to be taken
🔸 Manual entry of medication names, dosages, time records, and notes.
🔸 Simple alerts and notifications with sounds
🔸 Medication calendar reminders and other options
🔸 Checkboxes for medications taken.

✅ This type of simple medication reminder application can be built by TATEEDA GLOBAL in about 4-6 months. Please contact us for more details ⇒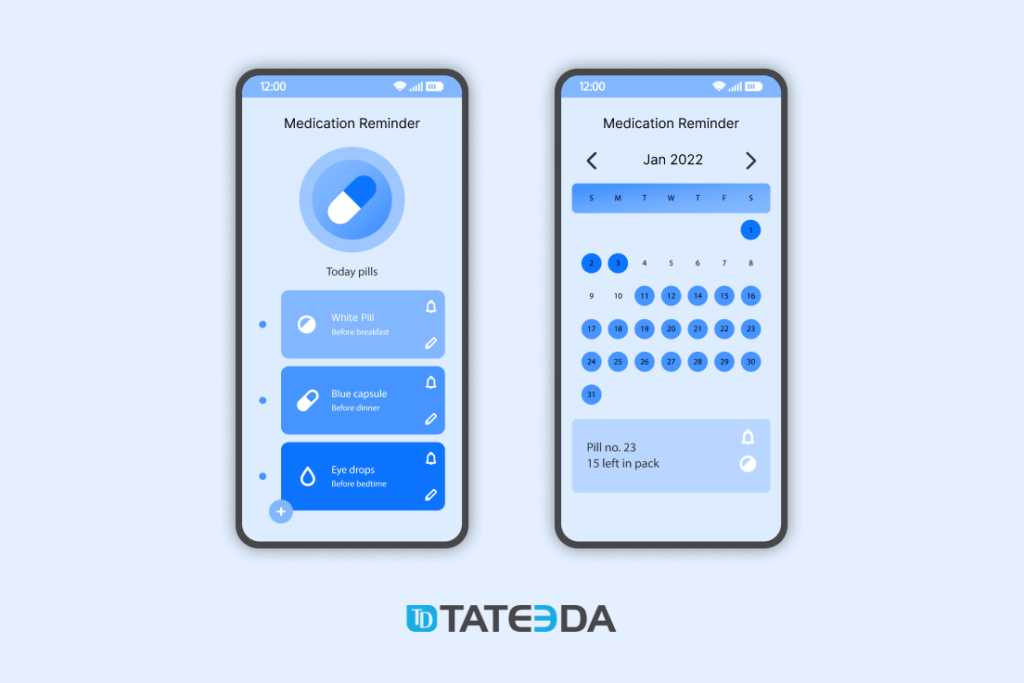 Learn more: ➡️ How Custom Healthcare Software Is Developed for Secure HIPAA Compliance.
Advanced Medication Reminder App Development
This type of medication management application works better for patients with more complex therapy plans, including multiple medication titles and personalized dosages. This includes patients with chronic conditions like diabetes, cardiac disease, and other age-related ailments and dysfunctions that require daily/regular care with high accuracy. 👵👴

If you want to develop a medication tracker app with sophisticated features, the function set can include (but is not limited to) the following: 👇

🔸 Advanced patient authorization options
🔸 Basic features: drug names, dosages, alerts, and more
🔸 Track medication progress in different formats
🔸 Record health outcomes, symptoms, and side effects with notes and/or diary
🔸 Automated medication name finder connected to a database of pharmaceuticals
🔸 Automated suggestions for medication dosages and other details
🔸 Medical dosage calculators
🔸 Calendar and scheduling functionality for medical procedures
🔸 Helpful content and tips for patients
🔸 Discount cards for pharmacies and drugstore coupons.

✅ This type of advanced medication reminder application can be built by TATEEDA GLOBAL in about 6-9 months. Please contact us for more details ⇒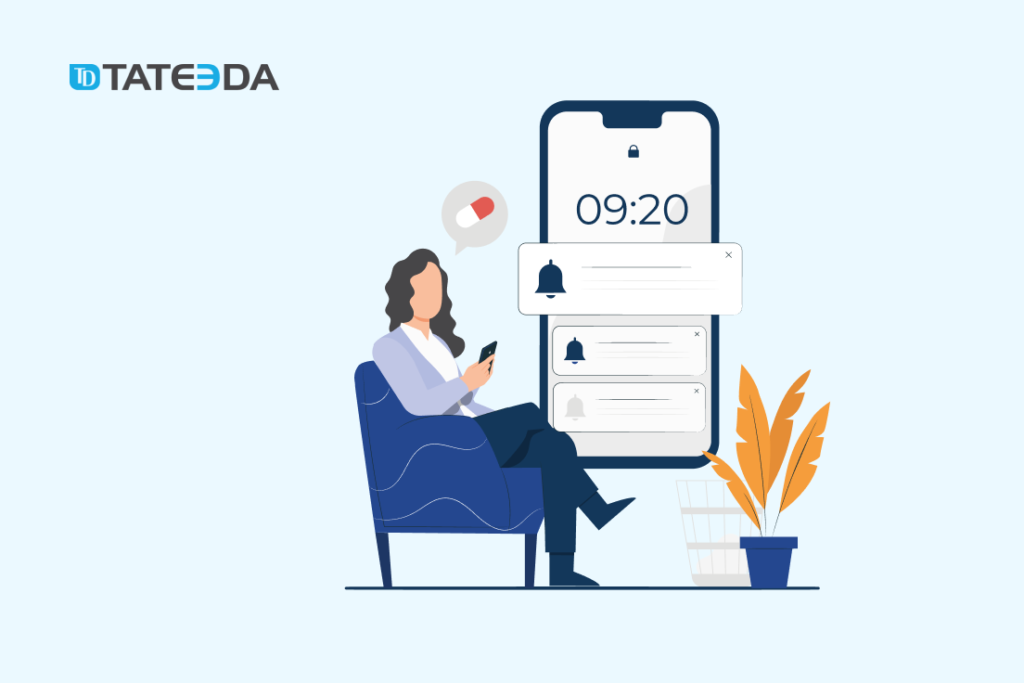 Learn more: ➡️ Online Pharmacy App Development Guide.
Medication Management App Development
For medical centers, clinics, and hospitals, it's possible to build a virtual software network consisting of a master application for patient treatment management and multiple connected client medication-tracking apps. This system allows healthcare providers to supervise multiple patients in an outpatient regime. 👨‍⚕️🩺

This professional-grade system can include the following functionalities: 👇

🔸 User hierarchy and permissions
🔸 Synchronized patient calendars with treatment plans
🔸 Remote medication plan reporting
🔸 Tracking of health measurements, like blood pressure, via IoT sensors
🔸 Scheduling of doctor's appointments
🔸 Centralized reminders for prescription refills
🔸 E-prescription management features
🔸 Collaborative tools for getting electronic prescriptions and treatment amendments from physicians

✅ A sophisticated, collaborative pill reminder application can be built by TATEEDA GLOBAL in about 12+ months. Please contact us for more details ⇒
If you want to learn more about our success rate, check out a few of our top-tier projects:

Delivered Healthcare Software Portfolio
The leading American healthcare companies benefit from working with us.
The Major Features of Pill Reminder Apps to be Considered for Implementation
As we learned in previous sections, there are a few different types of medication reminders, and it's necessary to find the right configuration of features. This will let you not only build a medication reminder app efficiently, but also create an in-demand product for long-term market success.
Let's consider some of the important features and their value for mobile tracker app development…
Time Management Tool Development for Medication Reminders
Usually, medications are taken several times a day for 5-10 days or longer, depending on the specific medical treatment protocol. The core functionality of any medication tracking software is time management, including…
📅 Calendar and other scheduling tools for planning medications and procedures.
⏰ Notifications and configurable alerts (push, sound, email, etc.)
🎗️ Prescription renewal and medication refill reminders.
💊 Creating medication events with time, detailed notes, images, and dosages.
📝 Treatment plan templates for recurring courses of medication.
Learn more: ➡️ Virtual Nurse App Development Guide.
Medical Data Integration for Pill Tracker Apps
A medication identifier feature can help automate and facilitate data entry for patients with a long list of medications in their treatment plans who don't want to input data manually. This can include the following features…
🔗 Integration with an official medical drug database or registry
👽 Automated drug interaction checkers
🤖 Auto-suggestion and auto-fill features for fast, correct medication data entry
📸 Text recognition for reading drug names from medication labels with a photo
📤 Automatic uploading of drug names from e-prescriptions
🏥 Integration with EMR/EHR for deeper medical data synchronization.
Learn more: ➡️ Custom EHR/EMR Software System Development: The Complete Guide.
Smart Algorithms and Modern Tech in Medication Management Apps
A wide range of solutions can be implemented in medication management applications. Some of these include…
☑️ Symptom trackers with direct connection to physicians.
😷 Smart chatbots (AI-driven) to help patients identify symptoms and side effects.
👂 Smart voice reminders that politely remind patients to take their medications.
🚑 Useful or educational content feed in relation to each specific patient's illness.
👨‍⚕️ Direct protected chat with a medical representative or doctor.
📱 Social features like common chat (anonymous) with other patients to discuss side effects or health improvements, find support, etc.
📡 Medical IoT integrations of different kinds, including cardiac biosensors and more.

Learn more: ➡️ mHealth App Development: The Ultimate Guide
Technology Stack for Pill Reminder Mobile App
Creating a specific mobile tech stack is a job for a professional software engineer who can delve deeply into project details and nuances. The tech stack chosen can crucially influence a wide range of medication reminder application metrics, including app performance, speed of response, convenience, compatibility, and ease of use.

Technologies used in medication tracker software development for mobile include…

✔️ Flutter, React Native and NativeScript
✔️ Cloud tech: multi-cloud, hybrid cloud, etc.
✔️ Best security standards and quality assurance practices.
Learn more: ➡️ Mental Health Therapist App Development
Required Medical Compliance for Medication Tracker Apps
🔶 HIPAA (specific regulations for better PHI management in the U.S.)
🔶 CCPA (gives consumers more control over their information in California)
🔶 GDPR (the E.U., the United Kingdom, and other affiliated territories)
🔶 PIPEDA (the Canadian equivalent of HIPAA)
🔶 PCI-DSS (standard required for secure payments)
🔶 HL7 (international standards for transference of clinical and administrative data)
🔶 FDA Policy (regulates professional-grade software device requirements)
🔶 EPSC Certification (regulates applications for prescribing or filling electronic prescriptions)
Learn more: ➡️ HL7 Integration: How to Build Interoperability Interface for Your Healthcare Systems
What Else Is Needed for Medication Reminder App Development?
✔️ Market research. Make sure you have analyzed your competitors well, and have an elaborated vision of your medication-management product features and value proposition for patients.

✔️ UI/UX app design: Design your medication tracker in accordance with the needs of patients from different age groups. Use large, comprehensive buttons and titles, and provide configurable UI components, voice input, and other accessibility features.

✔️ Choosing an app development team: Employ or gather a skilled team of medication-reminder application developers. TATEEDA GLOBAL has rich experience in the design and development of biotech products, healthcare applications, and medical staff-management solutions. Contact us today!

✔️ Launch, test, and draw conclusions. It's not enough just to build a medication notification app and introduce it to the market. You should have your team ready for iterative improvements based upon client feedback and business results.
Learn more: ➡️ How to Launch a Healthcare Startup: The Guide to Building Great Health-tech Products
Medication Reminder App: Development Costs and Timelines
🏷️ The price tag for medical tracker/reminder app development depends on many factors, including project timeline, size of the application, tech stack, project scale, and team composition.

Pill reminder development pricing per full-cycle health insurance mobile app development project can reach $40,000-$50,000 on average for simple reminders, while complicated applications can cost $60,000-$100,000.

If you want details and free tech consulting with a precise, high-level project estimate, book a chat with our experts today!
FAQ: Building a Prescribed Drug Tracker App with Partners
Can you set up a dedicated medication reminder app development team for us?
Sure! We can set up a project team for you within 48-72 hours. We can provide you with individual IT specialists for project augmentation, or a professional team for full-cycle development of your mobile app for medication alerts, medication tracking, and more.
Can you create a medication reminder app using cross-platform development tools?
Yes! Our team has all the necessary skills to build a medication tracker app for any popular platform, including native or cross-platform development and functionalities. If you want to learn more about custom medication reminder application development for your company, contact us today!