Hospital Mobile App Development: the Ultimate Guide & Services
Hospital app development and application adoption are now obligatory for modern clinical practice. In this article, we'll consider how to develop mobile and hybrid applications for hospital operations and services. If you require immediate help with a hospital software development project, please contact our developers and engineers for a free consultation →
What does it take to build a hospital app?
IT project development seems expensive at first glance; however, every dollar invested in building medical facility apps pays back generously. Healthcare processes can be greatly streamlined by developing a hospital app. However, for better results, there must be a multi-component IT ecosystem with a set of hospital applications that support physicians and patients in all areas of medical and health management activities…
🏥 Hospital management app development is required to enhance healthcare activities, routines, and administrative procedures specific to hospitals, clinics, and medical centers.
Most of these apps are professional-grade software compliant with HIPAA, designed to operate PHI (protected health information) and maintain protected communications between medical professionals and patients.
Hospital apps should be minimalistic, comprehensive, and ready to work with all popular mobile platforms, including both Android and iOS. Below is an example of hospital mobile app development: a convenient, simplistic mobile product with physician dashboards, appointment scheduling tools, and various health metrics (this is a user interface concept of a hospital app for physicians.)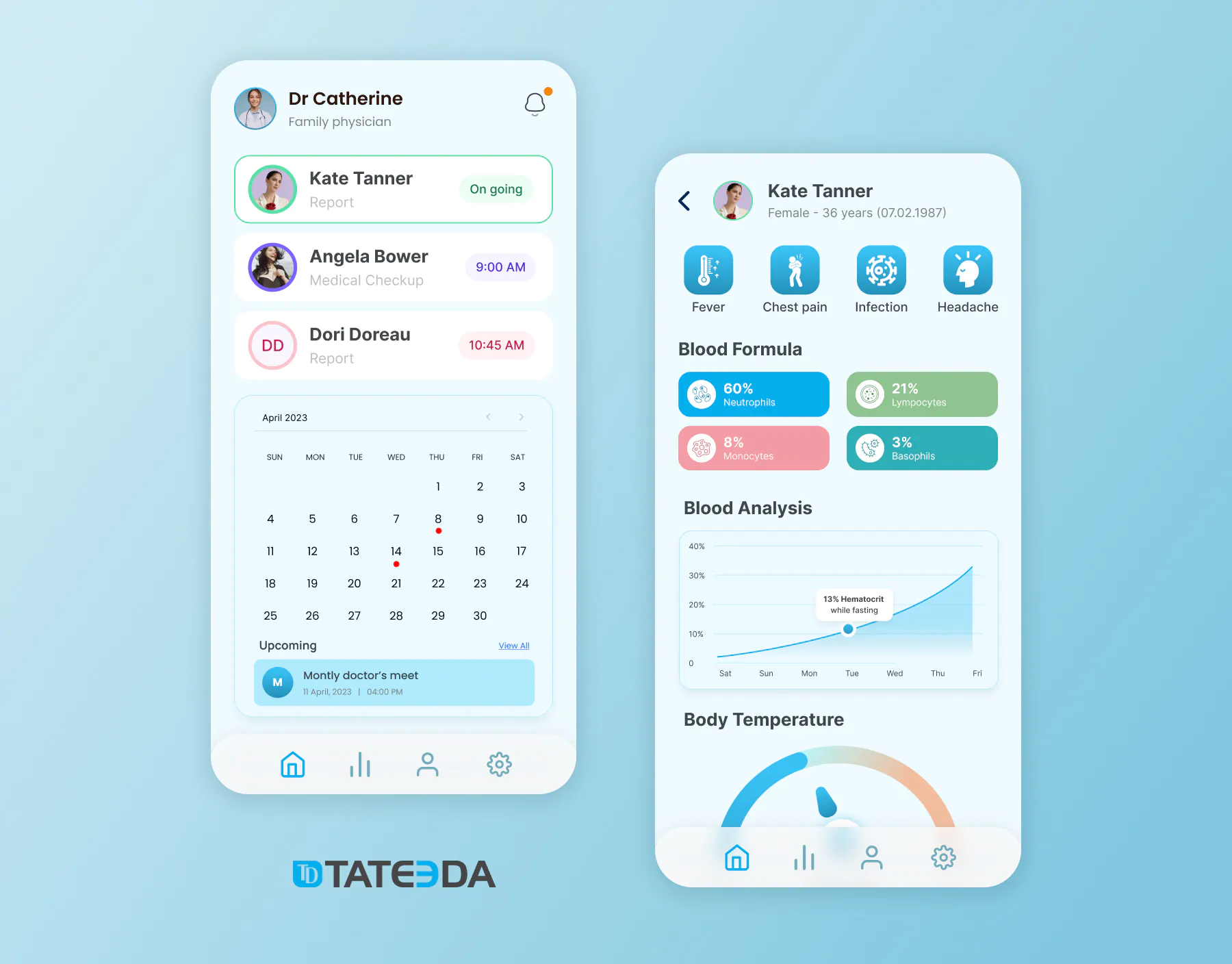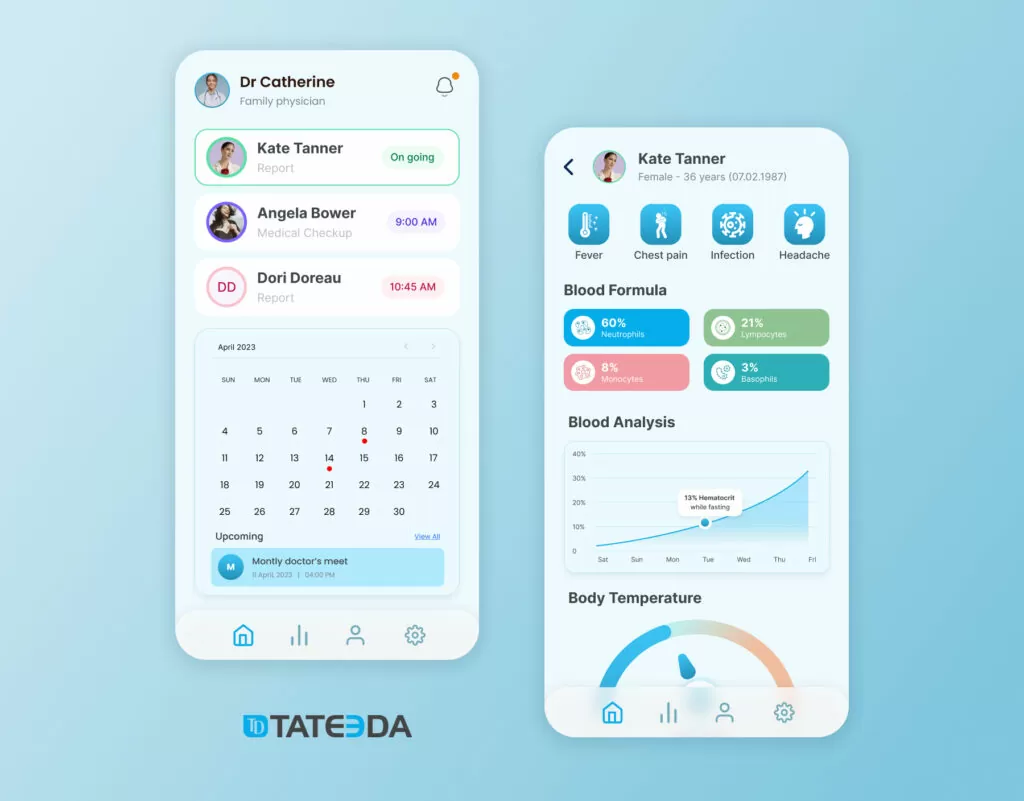 Hospital and clinic app development: What types of applications are included in this category?
There exist a great variety of custom hospital apps that can be found…

🔹 In popular mobile app directories, like Google Play and iTunes.
🔹 On the proprietary websites of medical institutions, like the Mayo Clinic's medical apps.

These apps can work as…

🔸 Standalone solutions for specific groups of hospital-related users.
🔸 Part of a larger hospital IT infrastructure interconnecting multiple user groups.
🔸 A range of user interfaces for acquiring specific data from medical databases.

Clinic management app development includes the following categories…

Patient data and record-management apps
Patient satisfaction and feedback apps
Patient communication and remote health monitoring systems
Health management platforms and applications
Chronic illness management apps
Prescription information and order-management applications
How do you develop a mobile app for a hospital? What are the benefits, technologies, and challenges? Let's delve into it in detail…but before, take a minute to learn more about us: 👇

Who are we? TATEEDA GLOBAL is a hospital app development company that can assist you with designing and creating your healthcare application. Our benefits include…

✔️ Deep expertise in the creation of hospital management applications

✔️ 🇺🇸 HQ in San Diego, California: onshore medical software development in a convenient time zone for North American customers.

✔️ Outstanding experience and skills in building hybrid healthcare software products with Cloud, IoT, mobile, web, and desktop components.

✔️ Dedicated project managers and engineers offering personalized communications and unlimited consulting. If you are interested in virtual medical assistant app development, contact us today!
Clinical App Market Overview: Facts and Stats
📲 There is no better way to connect with patients other than a mobile device. According to Pew Research, more than 8 out of 10 Americans get their news from digital devices. That's why healthcare information, tips, and helpful medical content can be most efficiently delivered through hospital-backed mobile applications.

📈 The mHealth app development market is expected to grow at a terrific pace. It is estimated that market size will exceed $236 billion by 2026, growing at a CAGR of 44.7% over a decade. This includes hospital and clinic mobile app development.

🚑 97% of patients have positive feelings about providing access to their health records to medical institutions: According to a survey conducted in 2017, the vast majority of patients reported that they find it important for any concerned healthcare organization to use their health history for the sake of high-quality medical care.

In other words, most patients are…

Eager to monitor their devices for incoming information.
Interested in efficient medical mobile apps.
Ready to communicate with their healthcare providers in a digital manner.
These figures give us a solid base for saying that developing a hospital app is no longer an "innovation," but a complete necessity in the healthcare field. This opportunity should not be overlooked by medical representatives.
Do you want to develop a mobile app for a hospital, medical center, or another medical facility?
TATEEDA GLOBAL can help you build a custom hospital app for patients or physicians…or for both user groups bilaterally!

💻☕ We are a sophisticated medical software development company with a team of experienced developers, engineers, and UI designers on board. We understand HIPAA compliance and all other legal requirements for healthcare software products in the United States.

If you are seeking a free consultation about your clinic app development, contact our seasoned technology expert: 👇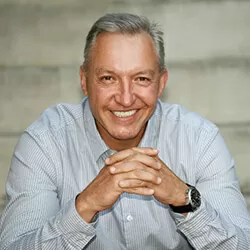 Slava Khristich
Healthtech CTO
Based in San Diego, Slava knows how to design an efficient software solution for healthcare, including IoT, Cloud, and embedded systems.
Why Build a Hospital App? The Benefits of Developing a Hospital Mobile Application
👨‍⚕️ Hundreds of administrative and healthcare management functions can be automated, facilitated or improved with the help of hospital mobile app development and implementation.

If you create and adopt a custom hospital app, you will definitely gain powerful benefits that will help you improve the financial performance of your healthcare institution. Let's learn how…
#1. Enhancing the Availability of Medical Information
Certain kinds of apps or separate functionalities integrated into more complex hospital app systems can increase patient awareness in a number of ways.

For example, you can build a hospital app that…

📅 Provides patients with clinical schedules and hospital announcements.
☎️ Helps patients schedule, remember, and manage doctor's appointments.
👵 Provides helpful tips and content for chronic disease management.
🤒 Delivers specialized information to different groups of patients.
🧪 Allows patients access to their lab tests and/or diagnostic results.

Why? These functions can help alleviate the administrative burden on nursing staff and other auxiliary hospital departments, thereby reducing overall healthcare and hospital operational costs.
#2. Transforming the Way Patient Care Is Delivered
Mobile app development for hospitals can also support or improve other fields of modern medical care. A hospital or other private or public healthcare institution can build an app (or series of apps) that will enhance…

🩺 Telemedicine. Remote consultation with physicians, medical video conferencing, and protected file exchange.
❤️ Remote health monitoring tools like home-based real-time ECG monitoring systems with IoT biosensors for cardiac patients. Thanks to the capabilities granted by modern hospital mobile app development technologies, it's possible to build versatile solutions for tracking various health metrics in remote patients, like blood pressure, heartbeat rates, body temperature, sugar levels, and more.
🦮 Specific apps to assist alternatively-abled patients, like software that helps with street navigation for blind and low-vision people as well as other patient groups.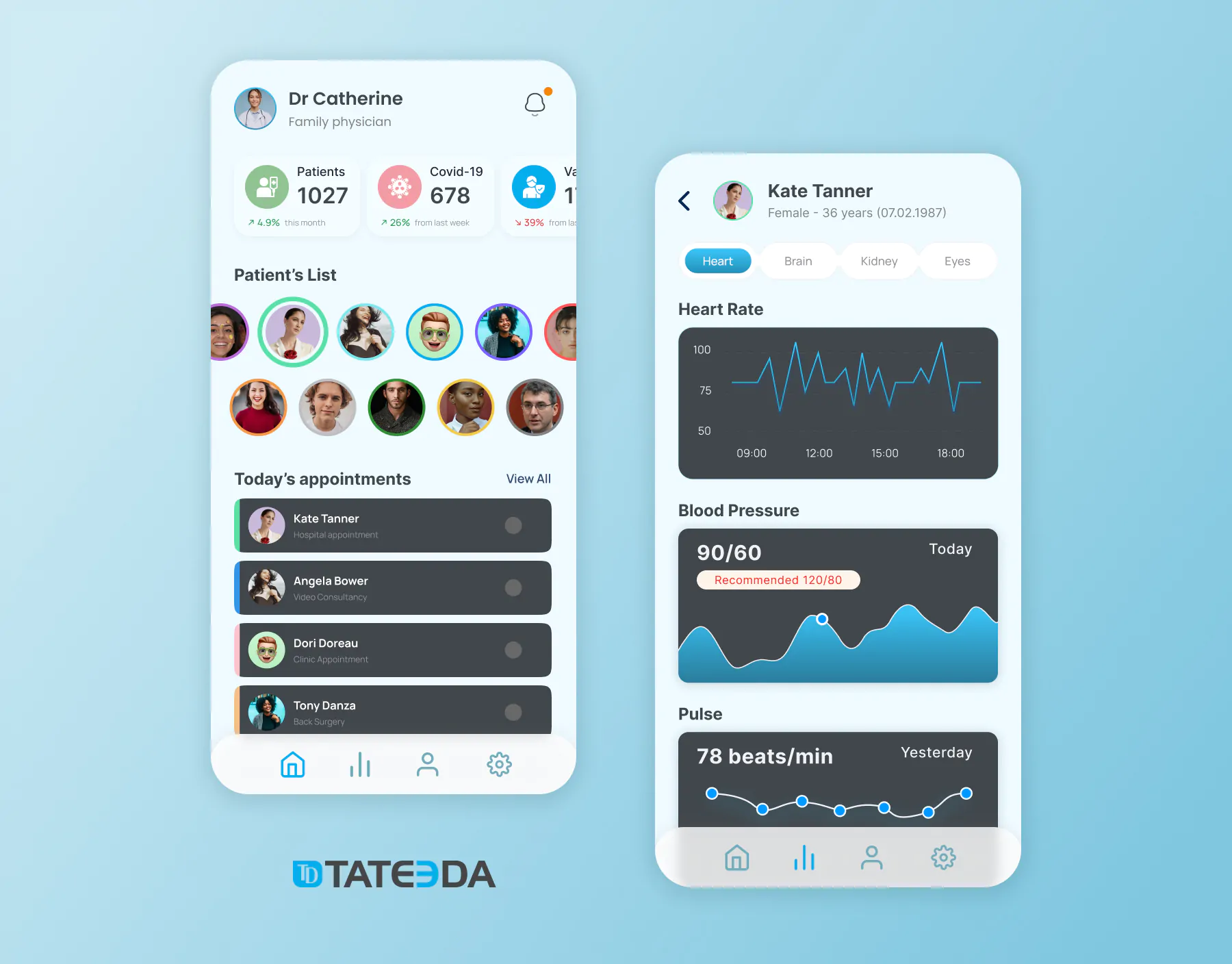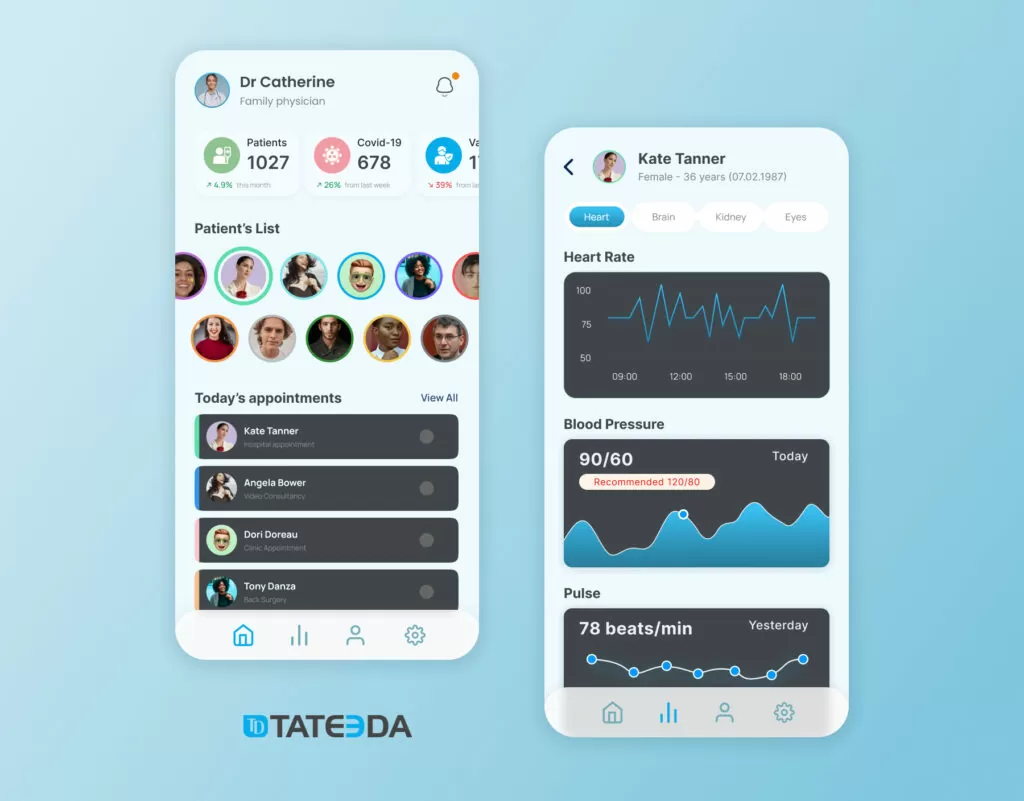 Why? Modern telecommunication tools and wireless technologies like medical IoT solution development provide great potential for developing hospital applications. With mobile devices, an ocean of opportunities is now available to support elderly, immobilized, and alternatively-abled patients in outpatient mode.
#3. Improving Patient Self-Care and Communication with Healthcare Providers
At a time of a growing deficit in the number of nurses and medical professionals, it will be helpful to improve medical knowledge and self-care skills among multiple patient groups.

Custom hospital applications help implement and promote…

⚠️ Preventive care and patient supervision with enhanced sensitivity.
📊 Personalized medical data collection like digital forms for patient self-reporting.
📈 Complex medical data analytics: health insights, trends, and multi-factor personalized prognosis for each patient.
📓 Medical notebooks\diaries: healthy eating plan management & reporting apps, blood pressure and blood sugar levels, electronic workbooks, etc.

Why? This approach will allow hospitals and clinics to reduce the time patients spend visiting doctors and sitting in waiting rooms at medical facilities (and, of course, the time nurses and physicians spend with non-urgent groups of patients).
#4. Increasing Patient Loyalty
Private medical institutions have to independently design and communicate their marketing services and offerings. With the help of hospital mobile app development, you can cover the following areas…

🤧 Personal patient account management with a wide range of stats.
📃 Insurance claim management for covered patients.
💵 Bonus management systems for patients and physicians supported by a private clinical institution.
Learn more: Health Insurance App Development Guide
Do You Want to Develop a Mobile App for a Hospital?
Learn about our healthcare projects, including biotech and health-tech, and their benefits for healthcare processes from our portfolio: 👇

Delivered Healthcare Software Portfolio
The leading American healthcare companies benefit from working with us.

What Are the Challenges in Medical App Development?
Unfortunately, not all hospital application projects are successful. Some hospital apps fall short of patient and physician expectations.

Let's check out some of the things to avoid…
Lack of Necessary Functionality
Enough said. Sometimes, this happens because of poor feature planning and a lack of availability of qualified user feedback in the initial project phases. How can you prevent these issues?

🚧 Start with a medical MVP project and let it be approved under controlled clinical testing conditions (for professional-grade hospital apps) or for a limited group of early users (for customer-grade hospital apps.)

🚧 Plan your hospital app functionality with potential end-users and gather their demands and feedback at every step to improve hospital app functionality.
Poor User Experience
You can invest a great amount of time and money in the creation of a mobile hospital app, but it can still fail at the stage of introduction to end-users. Why does this happen?

🚧 Poorly designed interface and lack of user guidance/instructions. Sometimes, UI is too complicated and intricate to be used without additional education, so end-users, including patients and physicians, cannot make use of it efficiently.

🚧 Poorly debugged products. Slow products that crash frequently are unusable, especially if combined with deficient UI.

🚧 The app isn't built for all popular platforms and mobile devices.

🚧 The app is missing accessibility options for certain patient groups (i.e., persons with different types of physical limitations.)

TATEEDA GLOBAL is a hospital app development company with a powerful team of 60+ senior health-tech developers that can help you develop custom applications for hospitals, clinics, medical centers, and biotech facilities.

✔️ We can help you design the best in hospital app functionality.
✔️ We'll provide the necessary guidance to prevent mistakes in hospital management app development.
✔️ We'll augment your existing team to maintain and upgrade your applications.

Contact us today to learn more about our projects and services! ⇒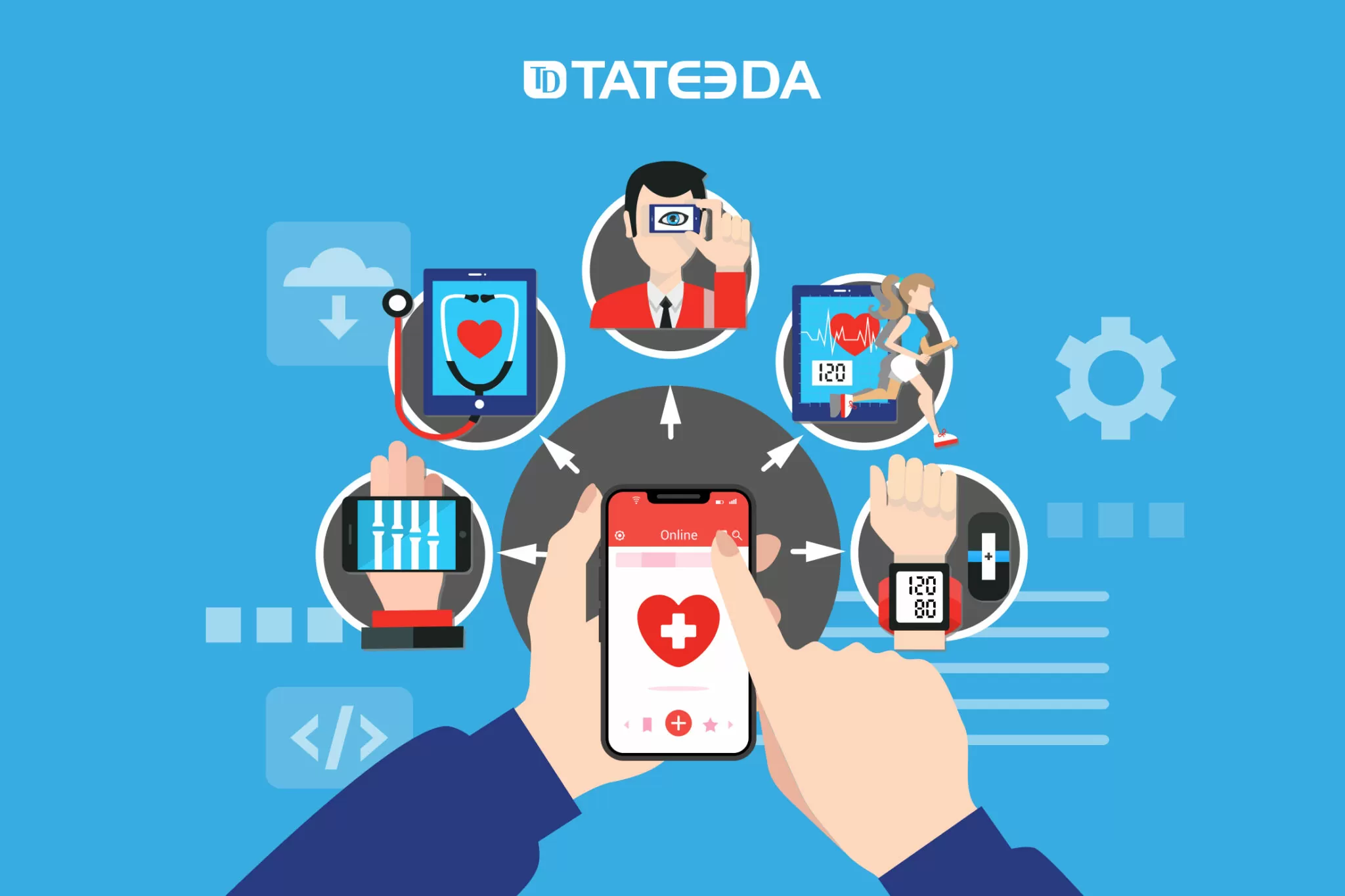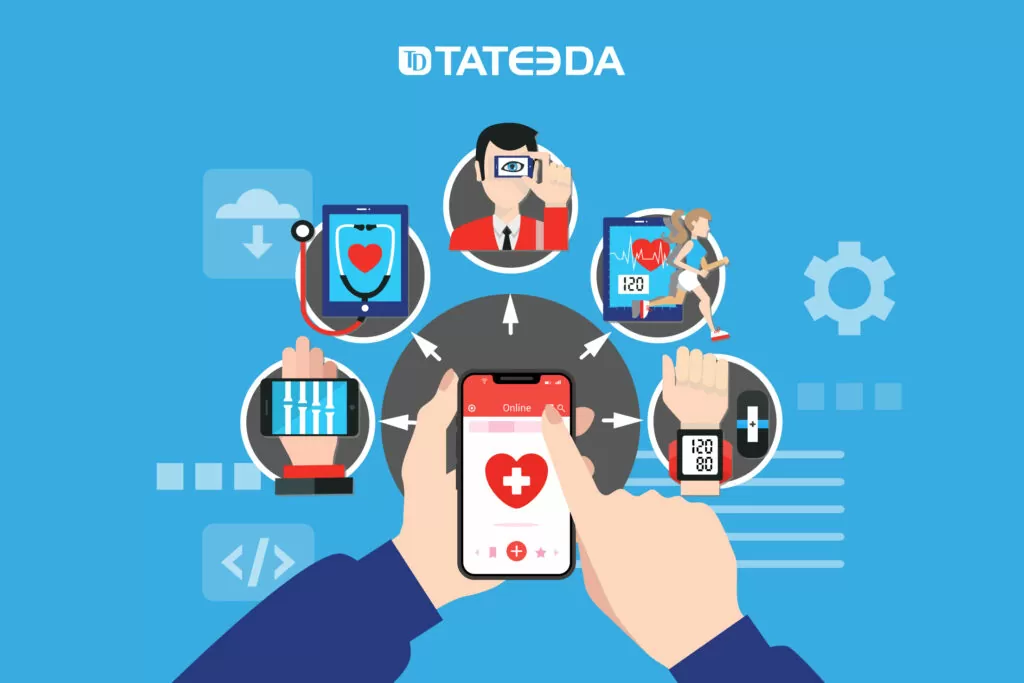 Learn more: ➡️ How to Launch a Healthcare Startup: The Guide to Building Health-tech Products
Main Types of Mobile Apps for Hospitals
If you are interested in learning more about different types of hospital apps, check out this list, though it is not exhaustive…
General Hospital Management Mobile Apps
💼 Myriad administrative processes in hospitals can be facilitated and organized with the help of mobile applications. These hospital management apps can be…

🔹 Used for medical staff management, hospital payroll management, and more.
🔹 Connected to protected databases to share hospital data and medical records.
🔹 Managed by hospital staff, including administrators, nurses, and physicians.
🔹 Protected against unauthorized access (biometric options, etc.)
🔹 Used to speed up and facilitate many administrative activities in hospitals.
🔹 A powerful tool for reducing healthcare costs.
Medication-tracking Mobile Hospital Apps
💊 Medications and procedures must be rigorously tracked by physicians and managed (inpatient or outpatient, depending on the ailment). ➡️ Medication Tracker App Development: Guidelines, Features, and Costs.

For this reason, you can develop hospital apps that…

🔹 Help track and manage hospital inventory of pharmaceuticals.
🔹 Let nursing staff report and track medications they provide to patients.
🔹 Allow physicians to track the course of medication (drug titles, dosages, etc.)
🔹 Provide home-based patients with the ability to report the medications they take.
🔹 Accumulate medication stats in connection with individual changes in patient health, so personalized medication plan amendments can be ordered.
🔹 Generate reminders to take medications and vaccinations on time.
Learn more: Online Pharmacy App Development Guide
Medical Imaging: Mobile Hospital Apps
👁️ DICOM images are extremely valuable for correct diagnoses and treatment. Hospital app developers can help you build a software solution for medical imaging in the context of visual medical data representation, sharing, consulting, commenting, and more.

For example:

🔹 Hospital mobile apps for patients to collect, review, and share DICOM images.
🔹 Hospital apps for physicians to access, discuss, and comment on medical images.
🔹 AI-backed DICOM apps for automated medical image analysis.

Custom Healthcare Solutions
See how we can engineer healthcare software, validate your ideas, and manage project costs for you.

Outpatient and Cancer Care Apps
⚕️ Certain patient categories require 24/7 supervision and consulting, including patients with severe yet controlled conditions (for example, oncology patients being treated at home).

This type of professional-grade application includes…

🔹 IoT (IoMT) integrations for medical equipment and devices like adhesive sensors or smart implants, injection pumps, and other medical tools that can be offered to patients for home-based care.
🔹 Telecommunication: secure chat, video conferencing, and other tools facilitating care for common conditions that don't require an in-person visit.
🔹 Medication dosage calculators for nurses and self-care patients.
Pregnancy & Women's Health Apps
👶 Pregnancy is a very special time for women and families. Expectant mothers and fathers can successfully navigate this period by tracking overall health, stage of pregnancy, and other important considerations with the help of hospital-backed applications.
This type of hospital app can include the following functionalities…
🔹 Maternity care tips and helpful content.
🔹 Caregiver online consultancy for pregnant women.
🔹 Ovulation and pregnancy calendars, notebooks, and dietary plans.
Physician Referral and Wayfinding Apps
🗺️ If patients want to find a qualified specialist in their local area or neighborhood, mobile hospital applications can help them with features including…

🔹 Mapping healthcare facilities and practitioners on interactive maps.
🔹 Physician ratings, patient reviews, and the areas of specialization of available physicians/nurses with their schedules and open time slots.
🔹 Street navigation services to help patients find medical services, hospitals, dentists, ERs, and more.
Do You Have an Idea For Your Hospital Application Development?
Technologies Used in Hospital Application Development
There exist hundreds of different technologies that can be integrated into custom hospital apps in order to develop great functionality and features. These technologies include…
Cloud Solutions for fast, secure data-management operations
Native or cross-platform clinic mobile app development frameworks, like Flutter, React Native, or Xamarin
IoT for healthcare device integrations, including adhesive sensors and smart implants
AI for driving smart analysis solutions and tools
Blockchain for additional security for transactions
Geolocation/GPS navigation
Big data & analytics: hospital data mining and more.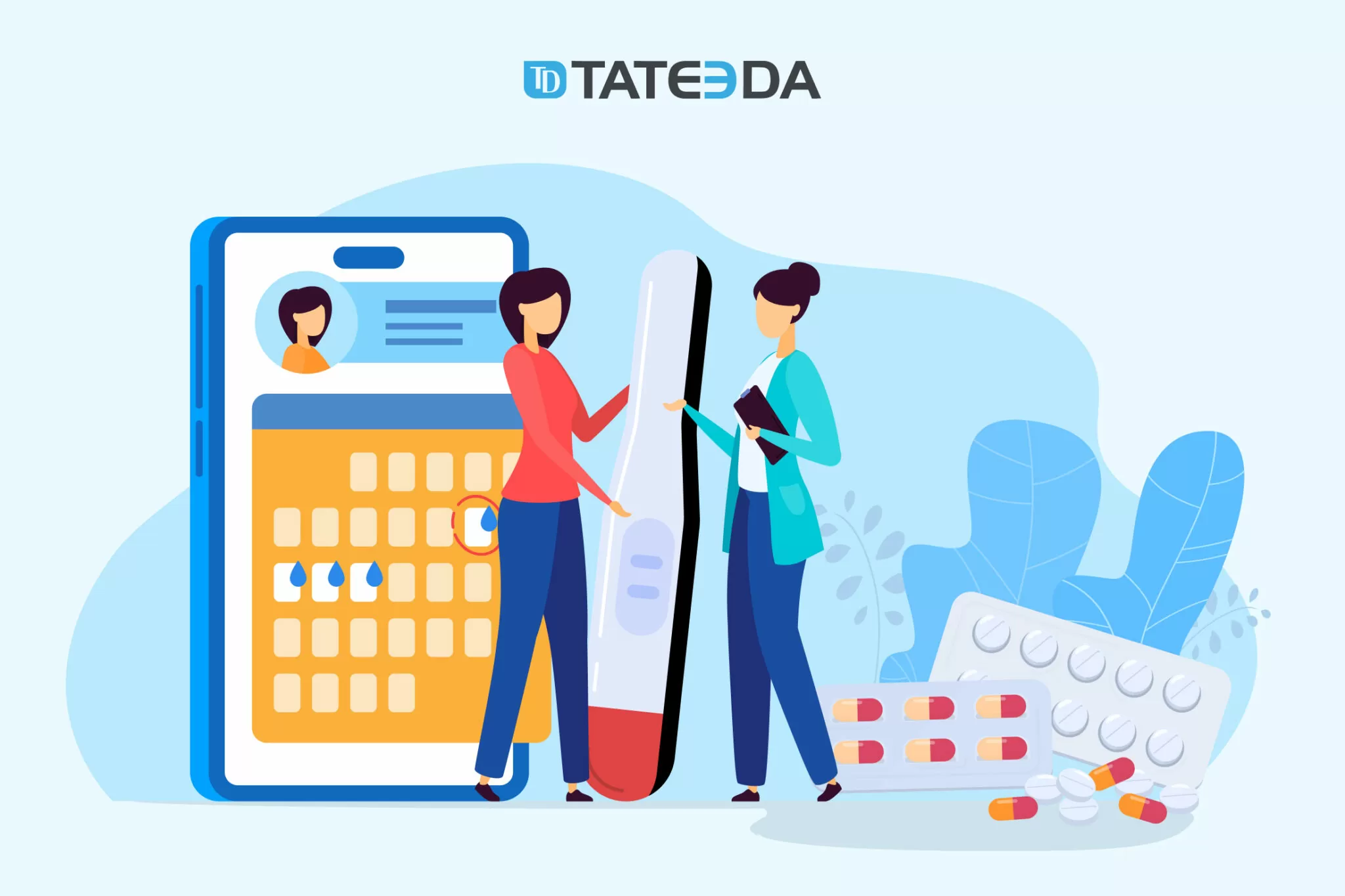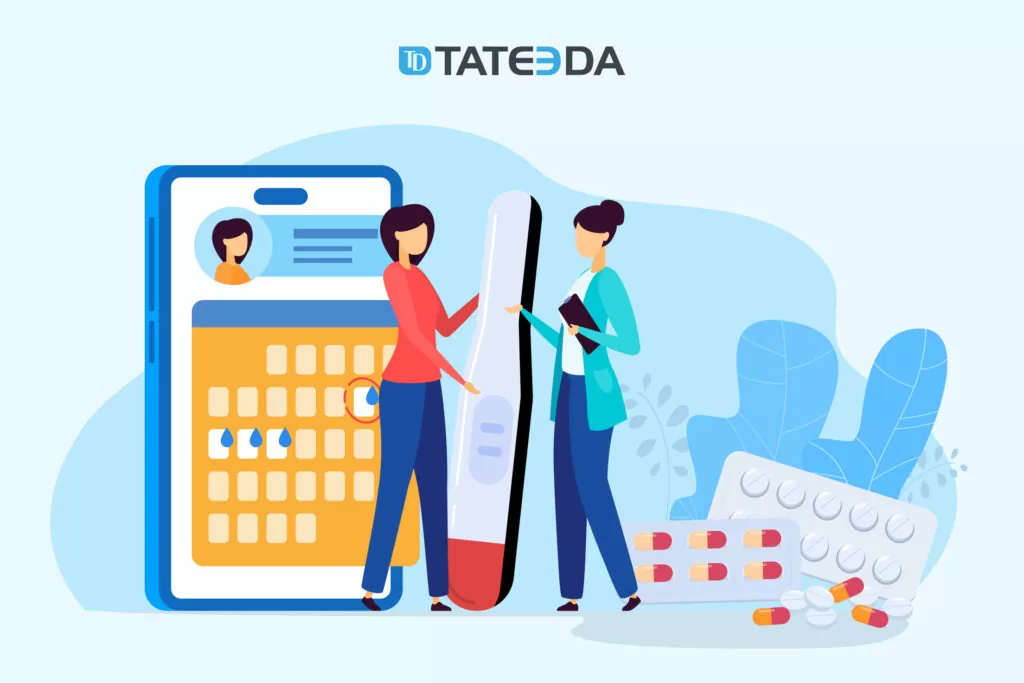 Key Features for Hospital Applications
TATEEDA GLOBAL can help you build a variety of essential features, a few of which we will review below. The most valuable features of any hospital application include…
Access to Hospital EHR/EMR
➡️ Electronic health records (patient medical records) is an important and very powerful tool in the United States. Many additional/auxiliary applications can be connected to EHR/EMR, so hospital staff using them can benefit from full/concurrent or limited access to PHI with multiple individualized details and options. Learn more >> Custom EHR/EMR Software System Development: The Complete Guide
Medical Appointment Management
➡️ Hospital applications can allow for more flexible, cost-efficient management of hospital staff responsibilities, including nursing tasks, physician's appointments, patient visits, etc. These appointment-management systems can be connected with patient portals or admin dashboards so schedules can be simultaneously updated to include a number of involved participants. Learn more >> Guide to Building the Best Custom Medical Appointment Scheduling Software
Prescription Management
➡️ E-prescription (eRx) functionality is very important for modern healthcare and pharmacy businesses. A hospital app can integrate with a wide range of external systems and modules, including e-prescriptions and more if these tools meet medical system interoperability standards. Additional functionality can include a search engine for specific medications in local pharmacies, medication alternatives sold under different brand names, up-to-date pricing, dosages, and more. Learn more >> E-prescription Software Development: The Complete Guide
Video Calls and Chats
➡️ Protected video-conferencing and an intelligent chat feature are both indispensable options for telemedicine services and the hospital apps rendering them. Thanks to these features, patients residing in distant locations, alternatively-abled patients, immobilized patients, and the elderly can access health consultations and obtain e-prescriptions remotely. Another popular hospital application option is a second-opinion platform for patients with challenging illnesses or health conditions >> How to Build a Medical Second Opinion Telemedicine Platform
Dashboards and Notifications
➡️ All hospital staff positions can access specialty-focused dashboards with crucial functions, indicators, and controls according to the task. These dashboards can be used to deliver notifications about hospital tasks, events, appointments, reminders, and various types of medical information. Push notifications for mobile can be an option, too. Learn more >> How to Develop Hospital Management Software in 2022
Integration with Wearables
➡️ Modern applications for healthcare and wellness include many types of wearables such as fitness trackers (consumer-grade devices) or wearable blood pressure monitors (professional-grade tools.) An app backed by a hospital can be used to promote healthy patient lifestyles and offer an array of integrations with custom or branded wearables, including health statistics that can be automatically added to medical records, if required. Learn more >> Building Efficient Embedded System Design: Process, Types, and Implementation
Other Important Features
Dozens of additional features and options can be included in a custom hospital app, like…

🔸 In-depth doctor/nurse/patient profiles.
🔸 Accessibility options (for differently-abled patient groups).
🔸 Biometric authentication options.
🔸 Patient observation logbooks/notebooks.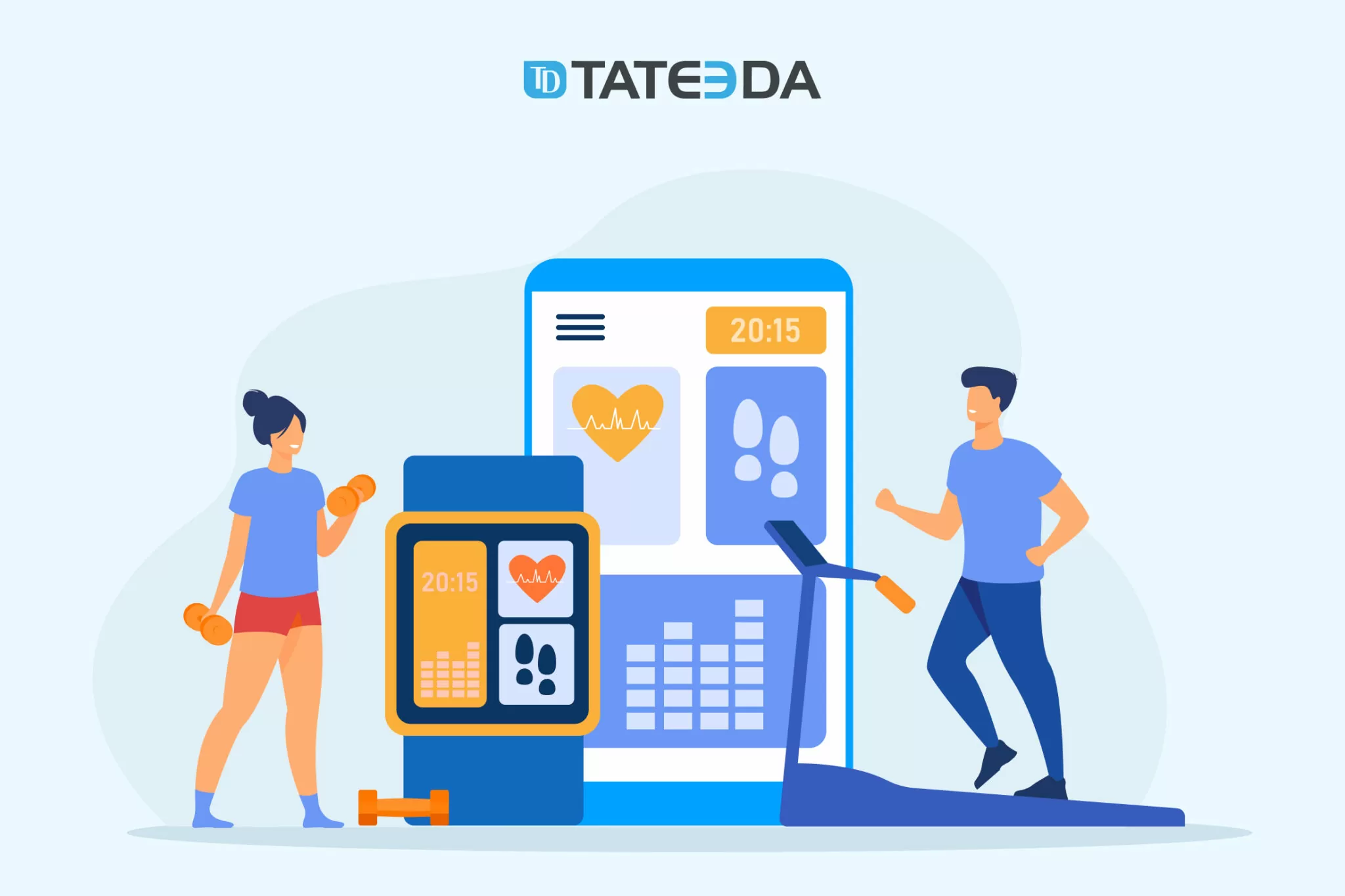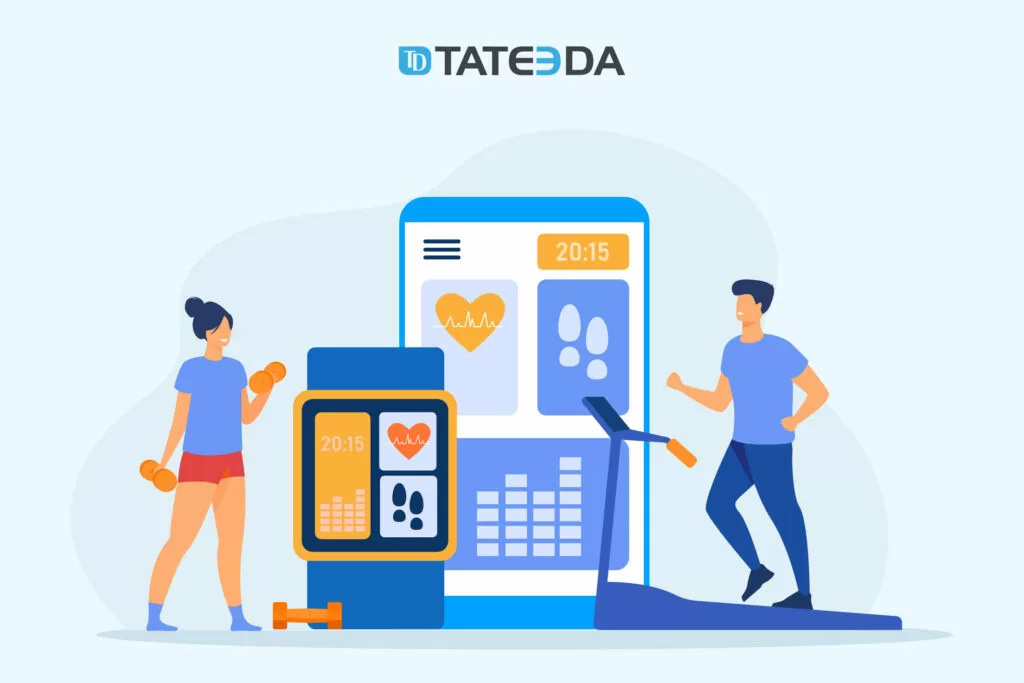 UI/UX Design Tips for Hospital App Development
It's clear that any hospital app's UI must be neatly designed, fast, and efficient. Let's delve into detail…
Minimalist Hospital App Design
🕹️ The interface of your hospital application should be uncluttered and streamlined so patients don't waste a minute looking for required options or functions. If a patient is well-guided through a simple interface with definitive user tips, they won't be dissatisfied or confused, and won't misuse your medical application. Ideally, there should be only one or two buttons per app screen.
User-friendly Interface
🤝 The user interface of your hospital application should be comfortable and configurable for end-users according to health status (for example, low-vision patients), age (for example, kid-friendly apps), and specific tasks for hospital staff. Ideally, the configuration of your medical application's UI should be automatically performed after the user answers a series of simple questions.
No Animations or Other Heavyweight Functions
🎥 As mentioned earlier, hospital application UI should be completely uncluttered and lightweight. Certain technologies must be avoided and should not be overdone in menus and other UI components (for example, inner banners, animations, etc.). If you want a technology consultation to begin the process of creating an efficient UI for your hospital app, contact us at TATEEDA GLOBAL!

🍏 We have experienced UI/UX specialists who will help you build a fast, beautifully designed mobile or desktop hospital application interface. We take hospital app design very seriously and make sure you're always satisfied with an optimized, smooth, and comprehensive user experience.
Using mHealth APIs
A good way to save a lot of time and effort is to plug in a selection of hospital app development services, including ready-made modules, libraries, and APIs.

These services can provide access to third-party services and platforms to help you avoid overspending and save time instead of building certain functions from scratch.

Some of these mHealth API examples include…

Box API: provides file management within your hospital app aligned with HIPAA requirements.
Human API: patient profile management with prescriptions, test results, and access to medical records.
BetterDoctor: provides access to a localized pool of healthcare personnel.
Doximity: helps connect doctors and patients.
Apple HealthKit API: provides a platform for mobile healthcare app development on iOS.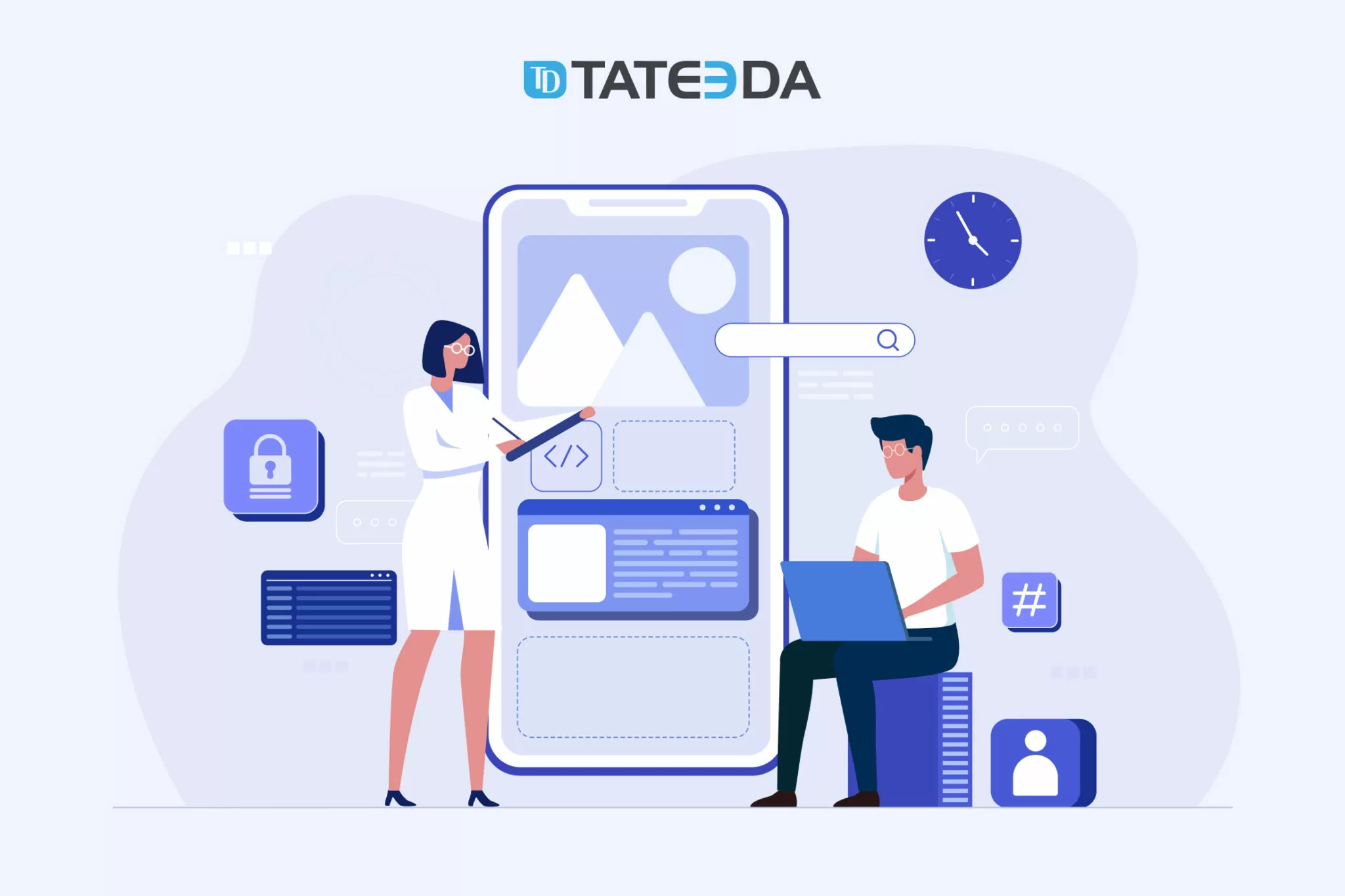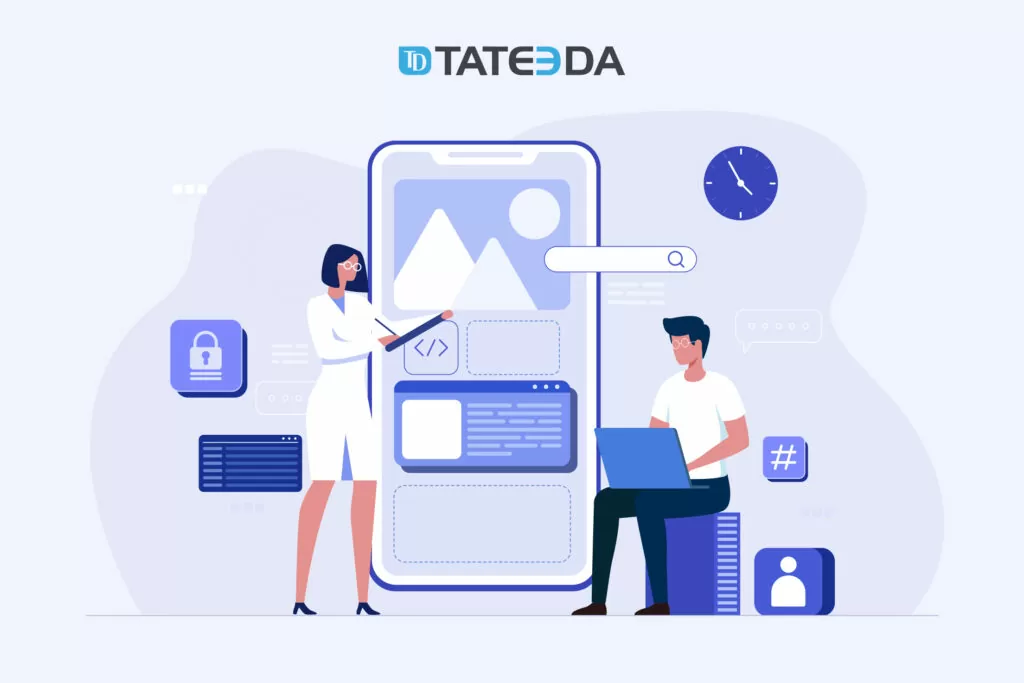 Hospital App Development: What Else Should I Be Paying Attention to?
✔️ Hire/gather a skilled development team with medical software engineers.
✔️ Consider starting with an MVP product version to save resources.
✔️ Review source code for security gaps and employ qualified QA testers.
✔️ Meet the medical development standards/requirements in your area.
How Much Does It Cost to Build a Mobile Clinical Application?
Of course, there is no one-size-fits-all estimate for hospital app development costs. The price tag can be very flexible, and there is room to save on your project.

It depends on the size of your app, the size of your team, and many other factors. Learn more here: How to Estimate and Manage Custom Software Development and Engineering Costs

Hospital app development services can be provided by different companies and come with a wide range of conditions and hourly rates.

If you hire an offshore/nearshore hospital app development agency, the price of services is generally lower, but project time and final product quality can be compromised. 😢

Product development pricing per full-scale hospital mobile development project can reach $40,000-60,000 on average, but there are no upper limits.
For a specific estimate, please contact us today for a free consultation with our medical software expert.
Frequently Asked Questions
What are the benefits of hospital applications?
There are many advantages to building and developing mobile hospital apps for patients and healthcare institutions. Most of these lead to more efficient cost management in the long run, including a better approach to patient health, administrative tasks, and hospital personnel time management.
How to choose the right hospital app type?
It's recommended to develop a wide range of hospital management applications to cover a number of separate functions and operational areas. At the same time, the development of a single application that combines too many functions within one interface is not advisable. The two crucial fields are automation of administrative hospital tasks and providing patients with more tools for self-care.
What is a hospital navigation app and can you create one?
We believe this term refers to applications that guide patients in huge hospitals and other large medical facilities (so-called hospital wayfinding apps.) Sometimes, patients can miss their appointments, examinations, or procedures because they cannot find the right way through the hospital environment with countless therapy rooms, long entangled corridors, floors, and more. It makes sense to introduce patients to a hospital wayfinding/navigation application guiding them according to a personalized treatment plan. We can create a hospital navigation app, including up-to-date tech like AR (augmented reality) or voice command methods, or reinforce your current project team building this type of app. 
What is a hospital communication app and can you create one?
Hospital communication applications are used by healthcare staff to collaborate on hospital tasks and exchange information regarding patient treatment activities. Since medical professionals operate very sensitive health information that must stay intact inside their clinical teams, hospital communication applications are to be perfectly protected and with well-encrypted data channels. They can include radio-like functionality with voice communications over the web, file management, messenger features, and much more. TATEEDA GLOBAL can help you with the design and development of hospital inner communication solutions.
Where can I find hospital app developers?
We are here for you! 😉 At TATEEDA GLOBAL, we have a team of skilled developers for full-cycle hospital software development and hospital app project augmentation. Don't wait… contact us today to learn more about our hospital development services!