Healthcare Product Development: How to Build an MVP
In this article, we'll talk about creating a minimum viable product (MVP) for a healthcare startup. Going to market with an MVP can become a reasonable and desired step for certain health-tech projects, but not for all market sectors. Let's take a look at healthcare areas that are good for starting with an MVP, and why this can be the right approach for keeping your costs low. Also, we'll discuss the processes and challenges of minimum viable product development for a medical startup.

Unfortunately, many business managers and even software professionals still underestimate MVPs and believe that introducing a health-tech MVP (minimum viable product) means going to market with a piece of half-baked, under-tested software. That's a totally inaccurate perception. Let's find out why….

What is an MVP in healthcare? A minimum viable product (MVP) refers to the first stable, usable version of a health management application that comes with core features only. An MVP can be provided to early customers to accumulate their feedback and use the findings for further product development.

An MVP is expected to be transformed into the final product after several iterations of the development process.

➡️ An MVP possesses minimum valuable features sufficient for successful market introduction, as they bring essential competitive value to users/patients.

The rest of the potential product features and product capabilities can be selected and later, built in response to real-life customer demands, and released with the final version and/or newer product updates.

🐞 An MVP is expected to be free of critical software bugs so customers can explore core functionalities and make sure your alleged killer features work efficiently for their real-life needs.
Let's be clear. Going to market with an MVP…
Doesn't mean launching a deficient or poorly tested product. An MVP should be stable and debugged, with a platform for adding more features in the future. 
Mostly refers to consumer-grade healthcare software, like mobile applications for health control, fitness/wellness, and more. Professional-grade medical MVPs are tested under controlled clinical conditions different from a free-market examination. 
Is about clever prioritization of product features in software development management.   
Can bring certain benefits to healthcare product development startups.
Let's delve into the details… 👇🏻
Who are we? TATEEDA GLOBAL is a company with a great deal of experience in minimum viable product development for medical startups. Our benefits include…

✔️ We know everything about healthcare product development! We are partners with one of the largest travel nurse agencies in the United States, AYA Healthcare. We created a group of mobile applications for their nursing job-management platform. Learn more about how we helped AYA Healthcare here ⇒   

✔️
HQ in San Diego, California: onshore medical software development in a convenient time zone for North American customers.

✔️ Outstanding experience and skills in building hybrid healthcare software products with Cloud, IoT, mobile, web, and desktop components. 

✔️ Dedicated project managers and engineers offering personalized communication and unlimited consulting. If you are interested in building a minimum viable product for a healthcare startup, contact us today!
The Benefits of Going to the Healthcare Market with an MVP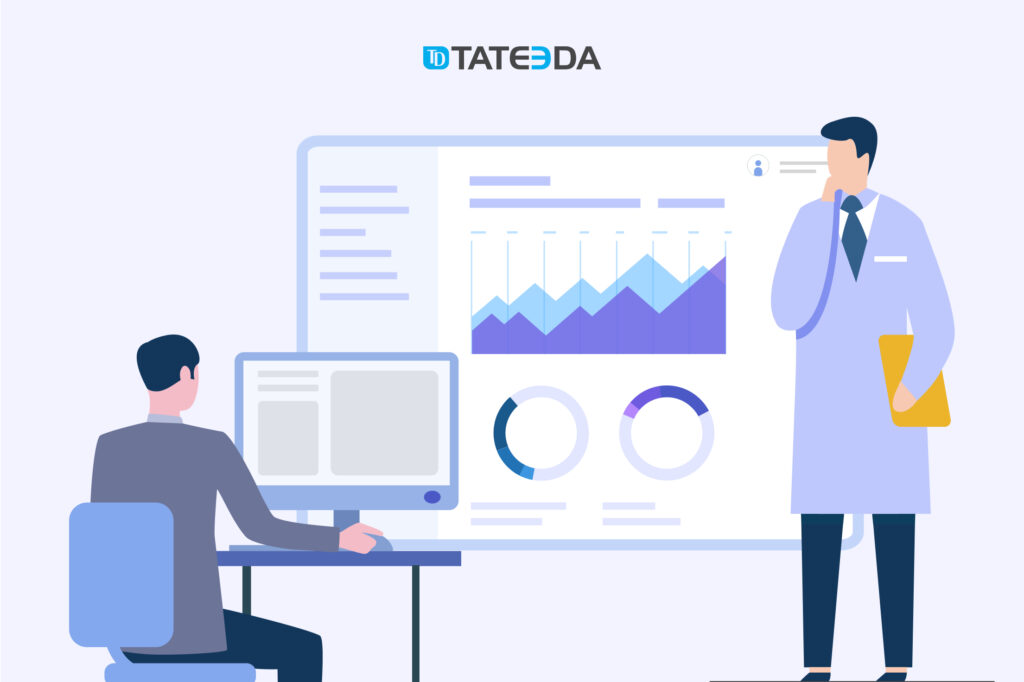 What are the business advantages of medical startup minimum viable product development? Let's take a look: 👇🏻
Better Time/Cost Balance for Building a Healthcare MVP
🕐 The MVP development life cycle is relatively fast, and therefore cheaper in comparison to full-cycle healthcare application development. That's why an MVP can be a great money-saving strategy for a health app startup!

🚀 Average MVP development time horizon ranges from 3 to 6 months. In contrast, a typical end-to-end development process can take 12 months or longer. Spending a year or more to produce a fully-featured healthcare application in accordance with a preplanned roadmap is an unbearable approach for most young companies and startups.

The traditional attitude involves many extra hours of costly design, development, and quality assurance work. At the same time, these efforts are not guaranteed to pay back in the future, as market risk levels in both models are equally high.

🔥 Takeaway: Both MVP and full-featured healthcare software products can either fail or succeed in the market, but an MVP is cheaper and faster to develop and deploy with real-life users who can explore and comment on your product.

| | |
| --- | --- |
| MVP | Full-featured |
| 3-6 months | 12+ months |
| More affordable | Expensive |
Testing Your Healthcare Application Concepts with Real Users
📈 When a health-tech startup takes off, its business decisions and concepts are driven by marketing hypotheses that should be either approved or disapproved. The earlier these ideas can be approbated by real users/patients, the more efficient corrections can be made at a moderate cost.

By launching your MVP to market, you can identify…

If your healthcare software product is interesting to your potential customers
The next features to be put on your product development roadmap
Redundant features to be excluded from your roadmap
User reaction and feedback to help define the next steps in your project
Problems in your product to be solved as early as possible.
🔥 Takeaway: Going to market with a health-management software MVP will empower you to align further project development with actual user demands. Customer requirements and vision can help you rethink your product roadmap and improve upon previous concepts.
Learn more: How to Launch a Healthcare Startup: The Guide to Building Great Health-tech Products
A Fast Product Introduction to the Market
The early bird gets the worm! 🦅 The healthcare software market is highly competitive. Learn more about custom mobile application development for healthcare.

Entering the market with an MVP in healthcare can be the right thing to do when you want to occupy a certain niche ahead of your competitors, who might be preparing similar products. Once you have your main "killer features" in place, you can release your MVP to a limited group of early users and try to win their loyalty over the long term.

🔥 Takeaway: If you plan to break into the healthcare app market as fast as possible, opt for MVP development because…

With tight deadlines and limited resources needed, you can meet your customers' needs sooner.
It makes it easier for you to find funding from investors. 💰
Do you need help building a minimum viable product for a healthcare product?
TATEEDA GLOBAL can help you with medical startup minimum viable product development, including different types of technologies and platforms like mobile, desktop, and IoT solution development in California.

Building a medical MVP with us will allow you to:

✔️ Save time/money, thanks to a shorter MVP development process.
✔️ Develop your application in accordance with real-life user demands and needs.
✔️ Enter the market fast and occupy your targeted niche to overcome potential competitors.
If you need free technical consulting and a free project estimate from tech experts, contact us today! 👇🏻

Slava Khristich
Healthtech CTO
Based in San Diego, Slava knows how to design an efficient software solution for healthcare, including IoT, Cloud, and embedded systems.
Challenges in Creating an MVP for a Healthcare Startup
What are the challenges and difficulties inherent to creating a minimum viable product in the health industry?

Certain medical limitations should be considered before you decide to introduce a healthcare MVP….
Consider Health Risks Before Approaching Certain Patients
Not all medical situations and health conditions can be approached with MVPs. Of course, it's not recommended that developers offer an MVP for acute medical conditions.

If a patient requires vital or urgent support via professional-grade software, they should not rely on an MVP. Professional-grade products should be tested in clinical facilities under the direct control of medical professionals. 🚑 Learn more: Virtual Nursing App Development Guide
What types of customer-grade applications can be introduced to the market in the format of an MVP?

Let's look at the specific areas where an MVP-based market entrance strategy can work the best…

🌿 Health, diet, wellness, and fitness management apps
🩺 Remote health-monitoring apps (like step/heartbeat/temperature trackers)
🏥 Clinical information and medical-reference management apps
👩‍⚕️ Productivity management apps for medical needs
📘 Chronic care management (tips, advice, content, and more)
📊 Medical data visualization development
💊Medication reminder apps
📱 Wearable and mobile device integration
🌊 Rehydration control apps.
Prioritize Kickstart Features to Ensure MVP Success
It's important to identify the most valuable features and focus all your resources on building them. Efficient prioritization requires joint effort and the combined talents of project managers, the marketing department, UI designers, software engineering, business development specialists, and developers.

For medical MVPs, prioritization is a crucial factor that encompasses…
A perfect vision for product priorities plus kickstart features and related processes
The ability to determine the most important items on the product's roadmap
Well-coordinated efforts from marketers and developers
Research and formulation of deeper market opportunities
Efficient collaboration between technical and business teams.
If you are interested in finding a reliable partner for building your MVP in healthcare, contact TATEEDA GLOBAL. We are ready to collaborate with your entire team as an app development augmentation partner and efficiently build your medical startup's minimum viable product.

Check more about our healthcare software services: 👇🏻

Custom Healthcare Solutions
See how we can engineer healthcare software, validate your ideas, and manage project costs for you.
MVP Compliance Requirements in Medical Startups
Not all healthcare applications require HIPAA compliance. If your MVP does not work with PHI (protected health information), it should not be HIPAA-compliant. Learn more about PHI concepts and other details: How Custom Healthcare Software Is Developed for Secure HIPAA Compliance.
Best practices when creating MVP for healthcare startups:

HIPAA Compliance for a Healthcare Product Development
If you are sure that PHI is used in your application with information like…
patient and physician names
telephone numbers
geographic data
social security numbers
medical record numbers
health plan beneficiary numbers
…then your MVP should be aligned with the following medical data regulations:
✔️ HIPAA Privacy Rule (2003)
✔️ HIPAA Security Rule
✔️ HITECH Act (2009).
Learn more: Mobile Hospital App Development: the Ultimate Guide
Healthcare Product Development Quality Requirements
As we stated at the beginning, an MVP has nothing to do with a deficient or undertested version of the software, but instead an intentionally simplified yet high-quality application that can be successfully presented to a group of early users.

Medical or health management MVPs should be…

Well-debugged and stable
Well-built
Scalable platforms (more features can easily be added)
Well-designed with UI/UX
Clearly organized in terms of business logic
Well-configured in terms of modules and middleware
Protected and secure.
Learn more: How to Build a Medical Second Opinion Telemedicine Platform
Healthcare Software Buildout Team Compliance
Building a minimum viable product for a healthcare startup requires a powerful application development team with knowledge of HIPAA and secure SDLC principles. This approach is comprised of the following components:

✔️ Software engineering for medical products
✔️ Software developers (mobile, web, etc.)
✔️ Breach-prevention strategy
✔️ A QA team (application testers and tasting engineers)
✔️ UI/UX design competency
✔️ Marketing team involvement.

Do You Need Help with Healthcare MVP Compliance?
TATEEDA GLOBAL has all the necessary resources and expertise to help you create a medical or healthcare-related minimal viability product, including…

HIPAA compliance
Multiple combined platforms
Intelligent platform architecture
Well-designed tech stack
Scalability for adding additional features
Security of data storage and transactions
Cloud and other infrastructure.
Compliance with Local Legislation
If you want to target local markets, you should build your healthcare application MVP in accordance with local compliance codes…

GDPR (the E.U., the United Kingdom, and other affiliated territories)
PIPEDA (the Canadian equivalent of HIPAA)
FDA requirements (must be obeyed for professional-grade products).
Are you unsure how to make your medical MVP compliant with all requirements? TATEEDA GLOBAL can help you. Contact us today for a free consultation!

Review our portfolio here: 👇🏻

Delivered Healthcare Software Portfolio
The leading American healthcare companies benefit from working with us.
The Healthcare MVP Development Process
Building an MVP for the healthcare domain includes several stages. Let's consider them in detail…
1. Cross-Department Research & Ideation
❎ MVP development always starts with deeper marketing research efforts and the discovery of niche opportunities.

At this stage, it's necessary to establish a mixed cross-department team with marketing, development, and business specialists on board. The crucial focus should be brainstorming and finding a consensus between different organization domains in terms of USPs and kick-off features sufficient for a healthcare MVP.

Some of the questions to be answered at this stage include…

What are the healthcare conditions and issues to be targeted by your MVP?
How will its core features help patients, doctors, and other users?
Will the core features be sufficient for successful resolution of targeted health issues?
Will you be able to develop these features within tight deadlines?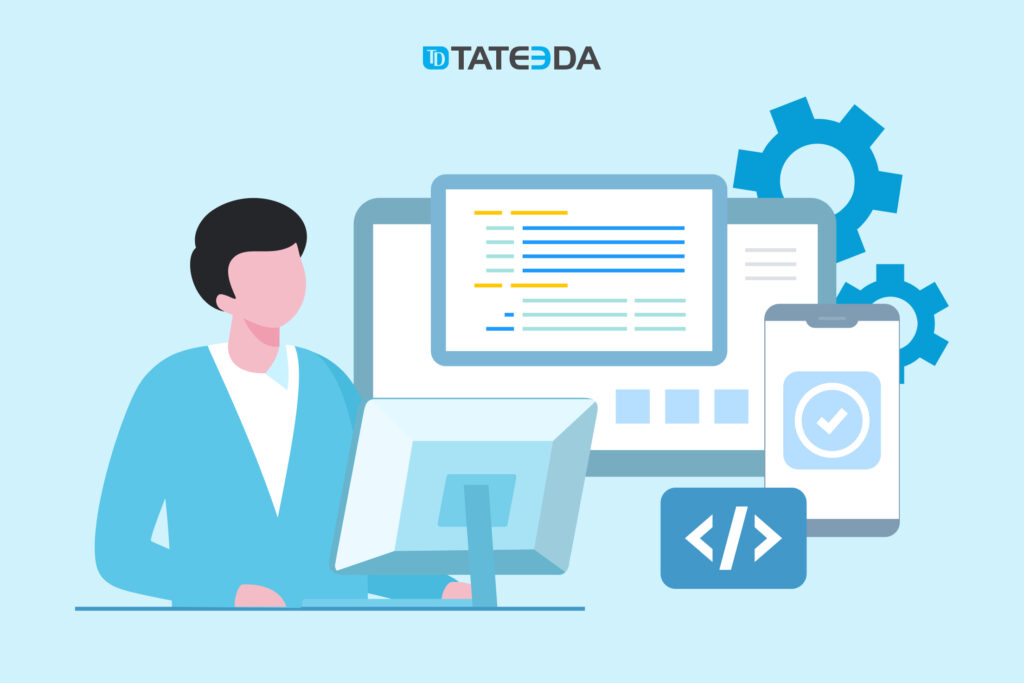 Learn more: Health Insurance App Development Guide
2. Conception, Workflow, and Compliance Design
🚧 At this stage, it's necessary to clarify your project's organizational structure and collaboration frameworks while writing the project's roadmap. The key deliverables of this stage include…

MVP business model
Service offerings and delivery plan (decide how to get your early users)
Key audience and early user portrayal
Project team structure aligned with your business model 
Legal compliance plan
MVP roadmap
3. Feature and Tech Stack Identification
💾 It's time to identify minimum viable product features and the best ways to build them. The results of this stage include…

A list of key MVP features to be designed and implemented
Platforms for MVP deployment (mobile, web, combined, etc.)
Specific technologies, Android frameworks, and programming languages
The necessary tech talents and skill sets
Encryption and security strategy in accordance with HIPAA, GDPR, and/or other regulations, including healthcare data management interoperability.
4. MVP Design, Development, and Iteration
🧑‍💼 When all of your preparation is done, it's time to design and develop your health-tech MVP in practice…

Get your MVP engineering done.
Reach out to your potential early users to engage them.
Make sure your project team is ready (QA, developers, UI designers, etc.).
Break your project down into smaller tasks.
Prepare your budget and set timelines.
Make sure an experienced project manager is in place to deliver results on time.
Go through design, development, and quality-assurance steps.
Release your MVP to early users!
Collect feedback and set successive iterations of development until the final product is ready.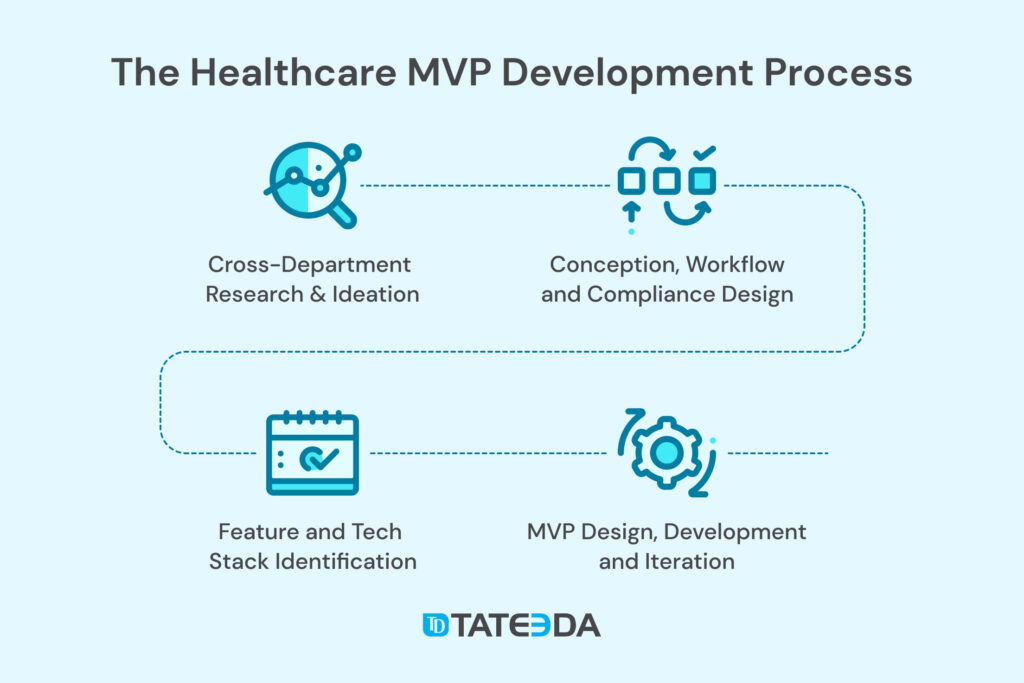 Learn more: Medication Tracker App Development: Guidelines, Features, and Costs
Build your MVP with TATEEDA GLOBAL
We know everything about the development of medical and healthcare products/applications, including MVPs. We have designed and created a series of full-fledged applications for medical startups and mature companies.
AYA Healthcare
TATEEDA helped one of the largest travel nurse agencies in the United States with the development of their sophisticated mobile applications for different types of users, including nurses and healthcare representatives. Learn more about this project: →

| | | |
| --- | --- | --- |
| Project Features | | |
| Automated financial reporting and time-management modules. | Distinct mobile applications for different user groups: nurses, admins, and healthcare representatives. | A protected portal for nursing staff and medical representatives for clinical use. |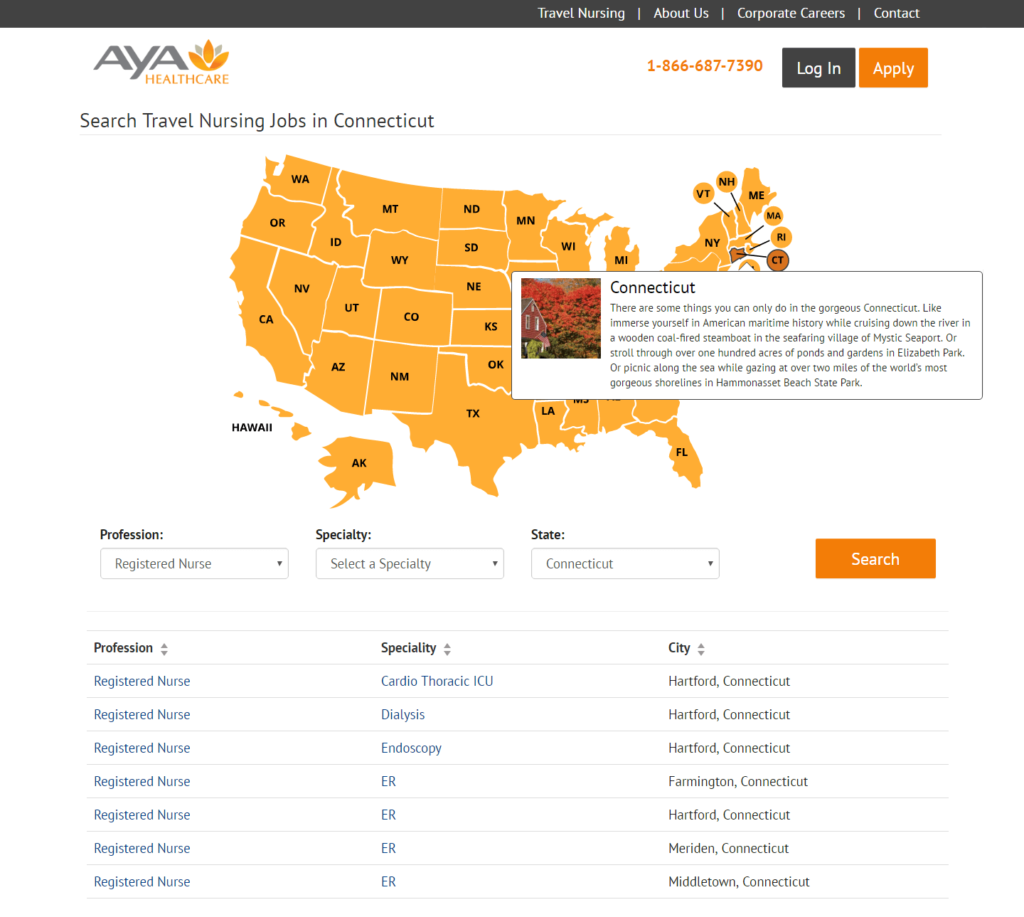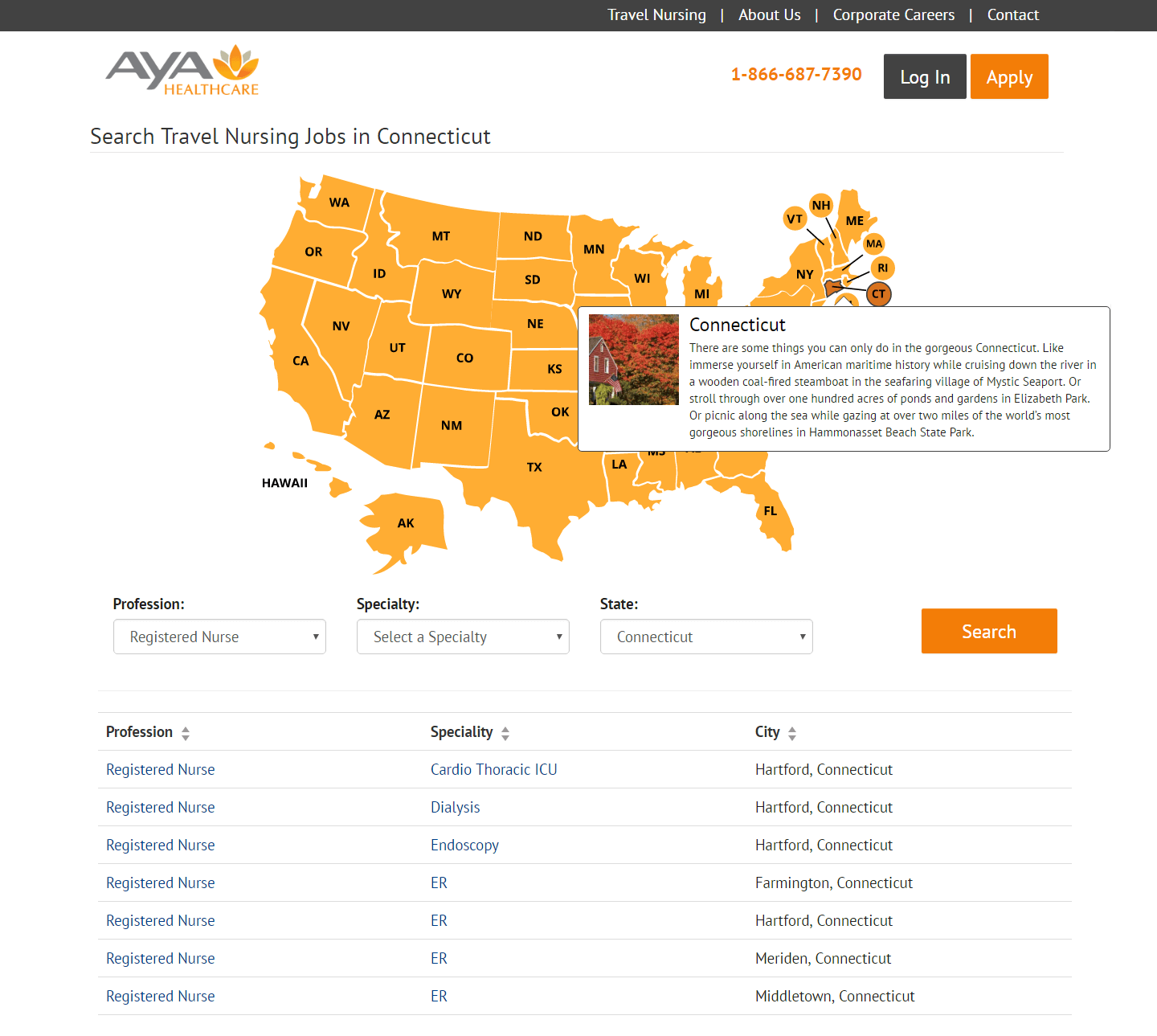 VENTRILINK
TATEEDA GLOBAL helped build a fully functional IoMT system to be offered to patients and physicians as a reliable instrument for remote heart monitoring. Learn more about this project: →
| | | |
| --- | --- | --- |
| Project Features | | |
| Patient ECG data profiling and visualization. Convenient, scalable view of patient cardiogram records. | Automatic identification of unusual and/or abnormal heartbeat patterns (events) such as arrhythmia, tachycardia, etc. | Efficient synchronization of mobile app with server application. |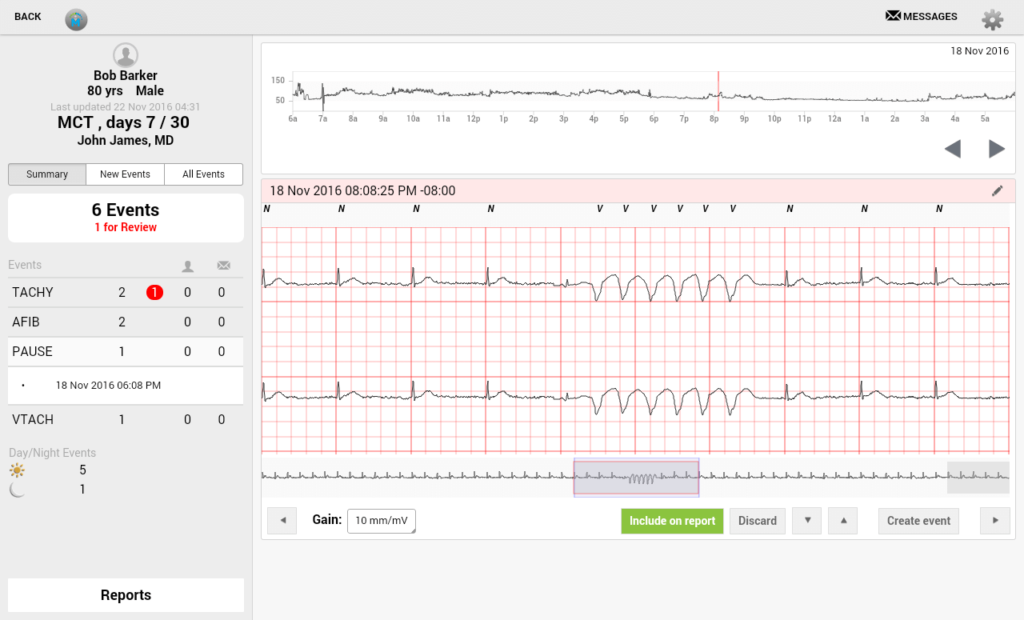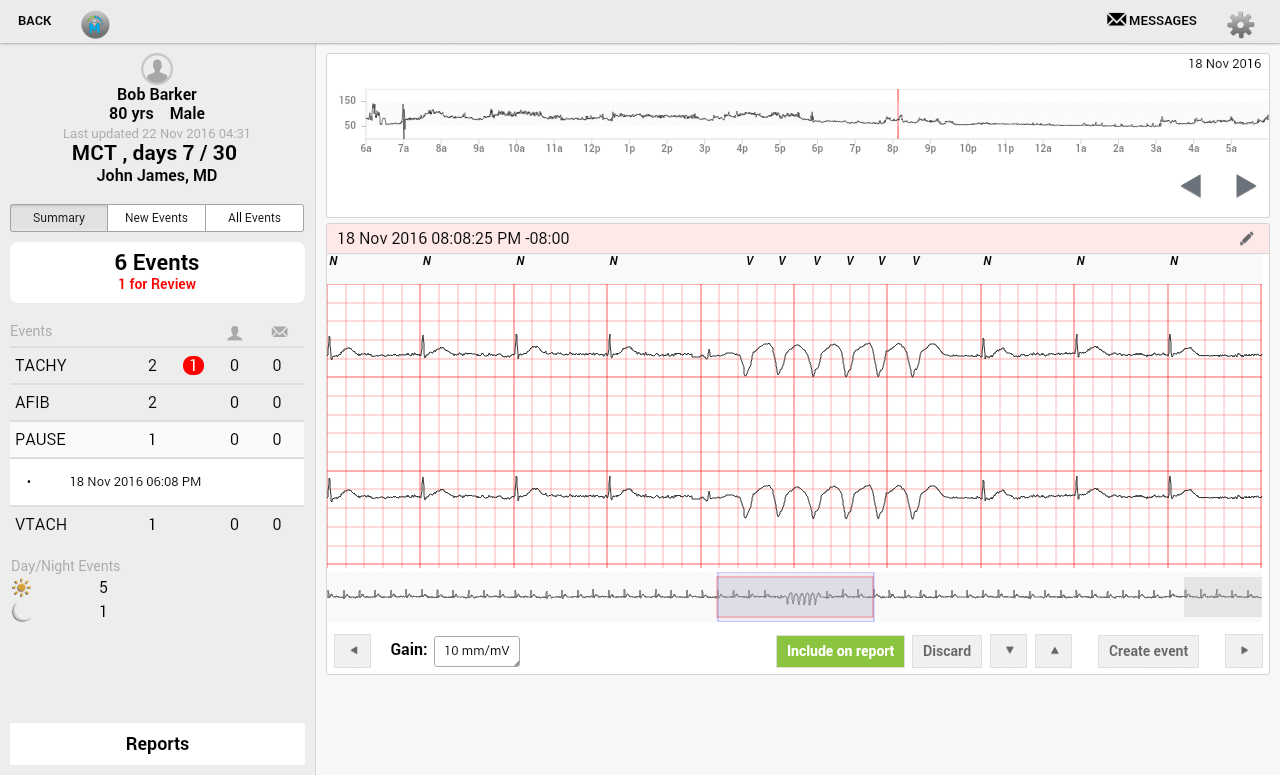 FAQ
Do you provide staff augmentation services for health-tech product development?
Sure. If you want to create your MVP at an affordable price and under a tight deadline, we'll partner with you and provide you with our extensive resources for all types of MVP engineering, development, app testing, and UI design. Contact us today for more information!
Are you an onshore or offshore healthcare product development company?
Our headquarters are located in San Diego, California. TATEEDA is an American onshore software development company. We offer personalized connections with our project managers in a convenient time zone for North American clients. Our engineers are seasoned technical experts with rich on-site experience building MVPs for U.S.-based IoT, healthcare, biotech, and pharma companies.