How to Develop a Senior Care Mobile Application
Elder care app development is a promising field in the medical software business, as the demand for this app type is rapidly growing in the United States, Canada, and other major economies. In this article, we'll consider senior care app development: its benefits, features, market, and technical aspects.

⚠️ If you require immediate help with geriatric care management software development or testing, please contact our IT engineers for a (free) deeper consultation ⟶
What kind of health issues can be resolved with the help of an app for elder care? 👵

Many chronic health conditions and disorders develop and accumulate in the process of natural aging. Some of them don't require immediate nursing care or urgent assistance. Instead, they are better managed through attentive geriatric treatment and continuous self-care.

Almost all of these health conditions can be monitored with the help of senior care apps, including…

⏱️ Blood pressure issues
🩸 Blood sugar level fluctuations
🏊 Lack of activity and exercise
🧡 Cardiovascular diseases
🍔 Obesity or inappropriate dietary plans
💫 Disorientation and memory problems
🦻 Low vision/hearing.
These and many other health issues can be monitored in senior patients with the help of specific applications.
Who are the target user groups for elder health care app development? 👴
Senior patients who want to implement application-enhanced self-care practices.
Families who look after their elderly relatives.
Caregivers and nurses assisting seniors.
Geriatricians in private medical practices, medical centers, and hospitals.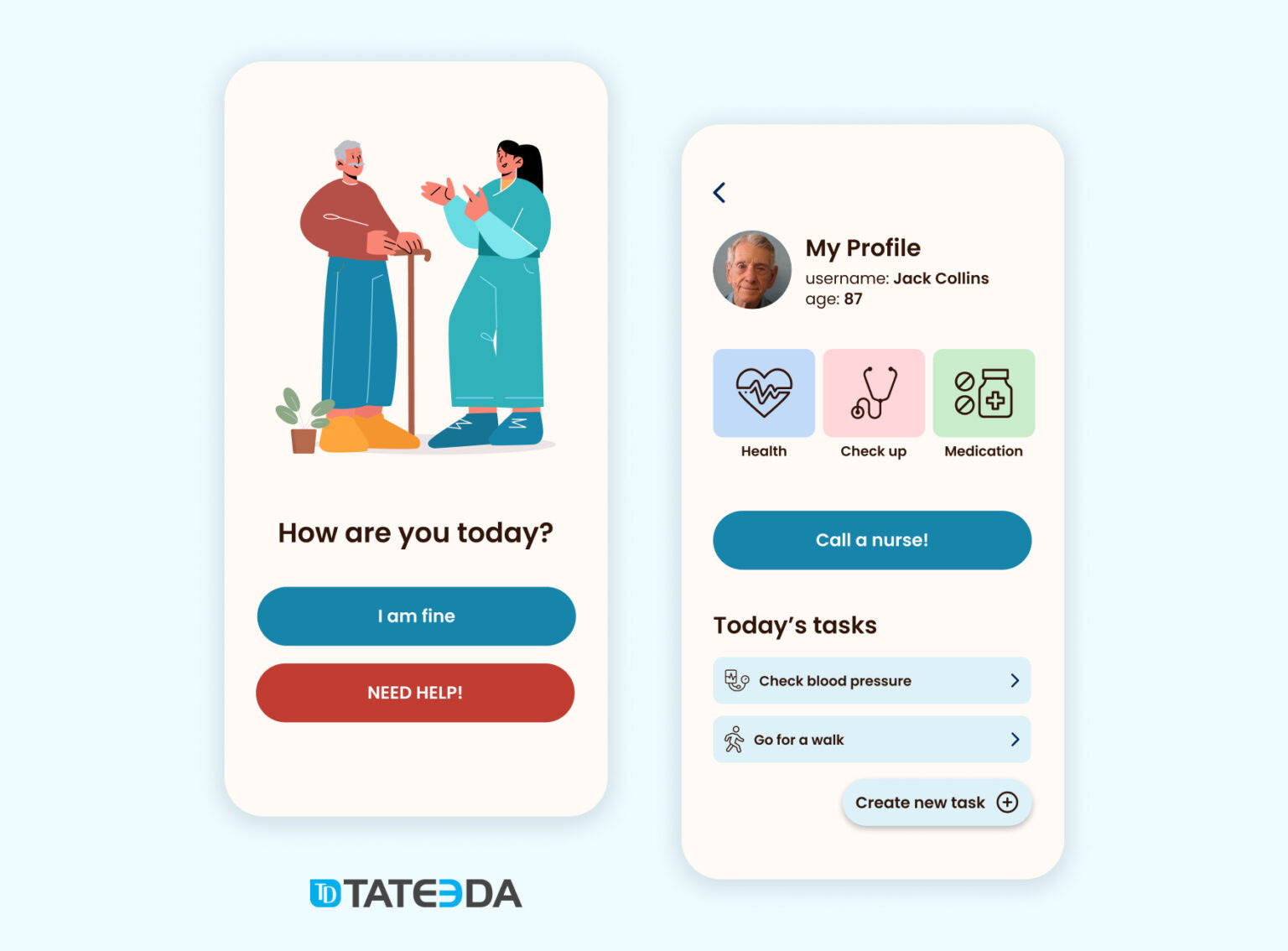 If you're interested in elderly care app development, with an interface like shown above, it's necessary to design and build several essential home care mobile app features, including the following…
1. An aged person's profile (name, age, important health condition data, and more.)
2. A dialog screen with a small number of prominent tools, like an EMERGENCY CALL or SOS button.
3. A to-do list of health-related tasks and medical procedures for seniors.
4. Daily health condition reporting and medication reminders.
How complicated can geriatric care management software be?
Healthcare providers and private care organizations can build custom home care mobile apps for their patients, including a great variety of remote supervision features and self-care options. However, we recommend keeping the client app as simple and user-friendly as only possible. TATEEDA GLOBAL is ready to provide you with all necessary health-tech consulting services making sure your potential elder care application product surely outperforms competitors and provides your aged patients with a convenient health management toolbox!
Let's delve into the details of aged care app development and find out why it is a good investment…but before we continue please read a few words about us: 👇
Who are we? TATEEDA GLOBAL is a medical software development company that can help you design and build apps for senior care. Our benefits include…

✔️ Deep expertise in the creation of healthcare management applications.

✔️

HQ in San Diego, California: onshore geriatric care software development in a convenient time zone for North American customers.

✔️ Outstanding experience and skills building hybrid healthcare software products with Cloud, IoT, mobile, web, and desktop components.

✔️ Dedicated project managers and engineers offering personalized communications and unlimited consulting. If you are interested in virtual medical assistant app development, contact us today!
The Senior Care App Market: Statistics and Forecasts
The aging population is a global phenomenon. According to the United Nations, there were 700+ million persons worldwide aged 65 years or over in 2019, and the number is expected to double to 1.5 billion in 2050.

💉 This boost is fueled by enhanced healthcare and other factors, which together lead to improved odds of survival beyond age 65 in all global regions.

Another major longevity factor is a projected decrease in smoking 🚭 and withdrawal from unhealthy dietary habits, 🍔 which are projected to add an extra 15-20 years to average life expectancy by 2050.

These statistics give us solid grounds to assume that elder care app development will be among the top profitable health-tech niches in the market, as its target audience will steadily grow over the next few decades. 📈

Moreover, an increase in longevity is expected to combine with a strengthening role for elderly people in economics. The economic contributions of the 50-plus age group will change from $8 trillion in 2018 to $28+ trillion by 2050.

In this context, developing mobile apps for elder care sounds like a good opportunity to join a booming marketplace. If you want to build any type of healthcare application intended to support seniors, we can help you!

Book a free consultation with our seasoned health technology expert: 👇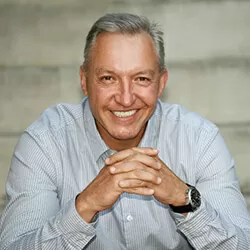 Slava Khristich
Healthtech CTO
Based in San Diego, Slava knows how to design an efficient software solution for healthcare, including IoT, Cloud, and embedded systems.
Why Design and Build Aged Care Apps?
If you are considering business opportunities for entering the health-tech market, then building a senior care mobile app can be a great option. 👍

There are many benefits and reasons for building an app for elder care. Let's check out a few of them….
Support Cost-efficient Healthcare
The growth of the elderly population is not the only problem. It also overlaps with the continuously increasing shortage of medical personnel, including physicians and nurses. 👩‍⚕️

These two trends mean that in the future, healthcare professionals will have to reduce the time they spend on in-person consultations and visits.

This leads to more intense adoption and promotion of telehealth and self-care mechanisms, including building hospital-backed apps for aged people. This approach will help caregivers manage their costs and assist more patients at a time. ⏲️
The Aging Population Is Well Prepared for Senior Care Apps
We should admit that Gen X and millennials will be the next generations to enter the aging group. Millennial (surprise!)…is no longer a synonym for a young person: in fact, the oldest millennials are now turning 40+. 😥

The oldest members of Generation X are now turning 55+. In a few decades, both groups will be over 65. The point is that both Gen X and millennials possess amazing digital tech skills; they're proficient with mobile devices, applications, VR, and other digital technologies. These generations can benefit from a shorter technology gap in comparison to those born in earlier decades. 📲

In the long run, developing apps for elder care can help you anticipate and satisfy several major trends in the healthcare business:

🔸 The aging population in the United States

and worldwide
🔸 The deficit of medical professionals and nurses 🩺
🔸 A constantly improving level of technical preparedness among people entering their senior years (not to mention their younger family members.)
Learn more: Health Insurance App Development Guide
Would You Like to Build an App to Help with Aged Care?
TATEEDA GLOBAL can help you with the design and development of custom applications for the care of elderly patients, including specific geriatric apps for medical professionals.

We have deep expertise in the healthcare software business: 👇

Custom Healthcare Solutions
See how we can engineer healthcare software, validate your ideas, and manage project costs for you.

Elderly Care Applications: Types and Startup Ideas
An ocean of opportunities can be covered via custom senior care app development. Let's take a look at a few of them…
Age-related Chronic Disease Management Apps
Problem: Diabetes, arthritis, high blood pressure, memory problems, cardiac issues, osteoporosis, low vision/hearing, and more.This represents just a small segment of the age-related disorders and issues that can emerge out of the blue when people reach a certain age.

📄 The percentage of American adults aged 65 years and over with at least one chronic condition now exceeds 85%, while 25% have 3+ chronic disorders.

Good news: With modern medical science, most of these health conditions can be prevented or at least kept under control with medication. 💊💊💊

💡 Application idea: Adults with more than one chronic disease (and their caregivers) must follow their treatment plans accurately:
Track medications.
Calculate medication dosages.
Get medication reminders and refill notifications.
Receive and manage e-prescriptions.
Check daily tips and recommendations on chronic disease management.
These functions and more can be covered with the help of senior care app development. If you want to build this type of elder care software, please contact us to book a free consultation with our seasoned health-tech expert.
Learn more: Online Pharmacy App Development Guide
Home Safety Senior Care Apps
Problem: About 36 million falls are reported among seniors each year, resulting in thousands of broken bones and more than 32,000 deaths annually. 😔
Another popular source of life-threatening home accidents among aged people is the misuse of home/kitchen appliances like knives, gas stoves, and electric tools. 🔌
This happens because of brain aging, which can cause episodes of general or local disorientation plus serious issues with coordination, stability while walking, and complicated cognitive dysfunction. 🧠
💡 Application idea: If you build an app that helps with elder care, you can provide potential users with a set of sophisticated features…
A walking pattern analyzer detects early signs and risk of falling (must use in-built gyroscope and accelerometer features via smartphone).
Automatic fall detection and remote alarm button that helps to notify family and emergency responders in case of falls.
Video surveillance and microphones for remote elder care, supervision, and communication.
IoT integrations with trackers, sensors, and geolocation devices for senior patient detection.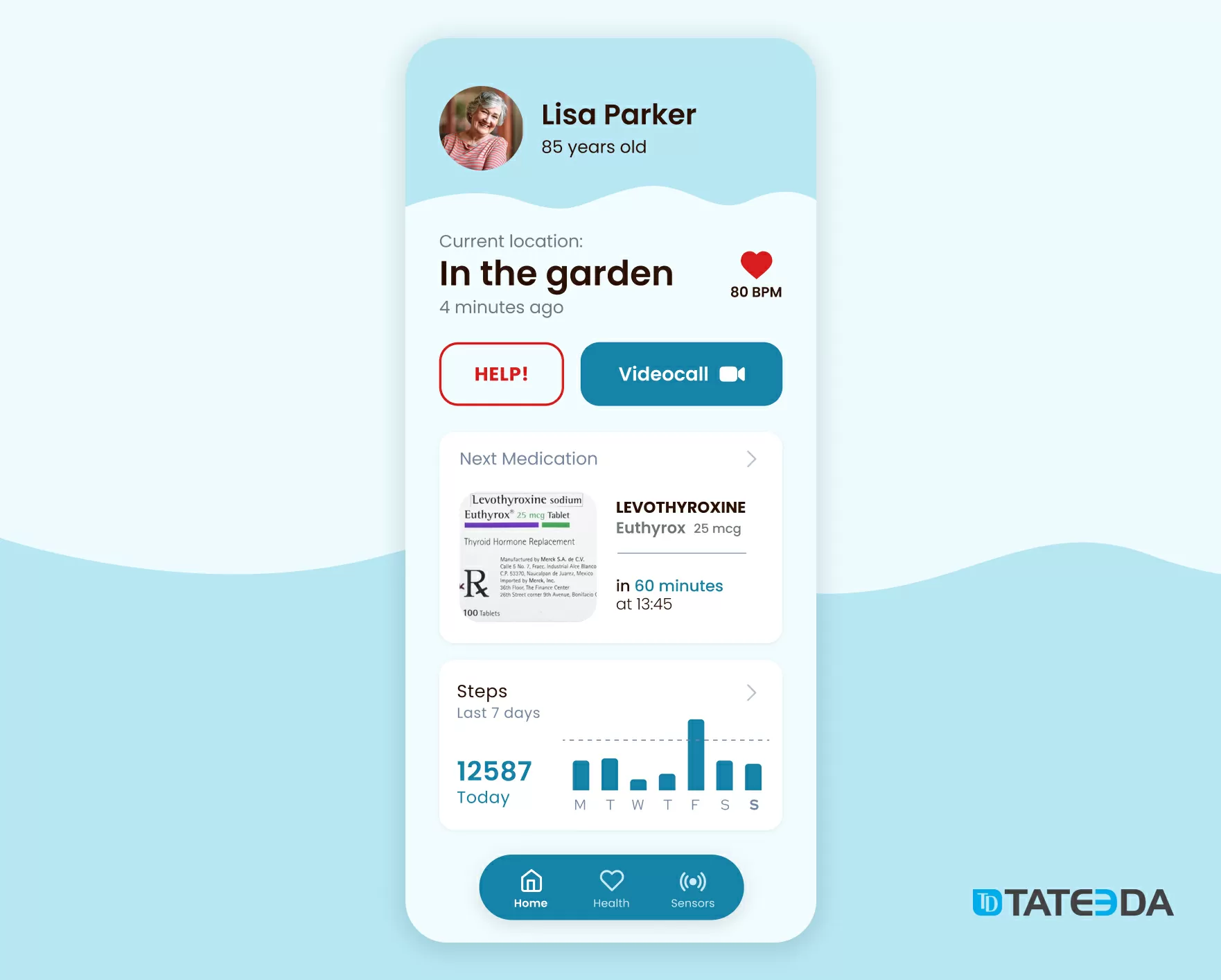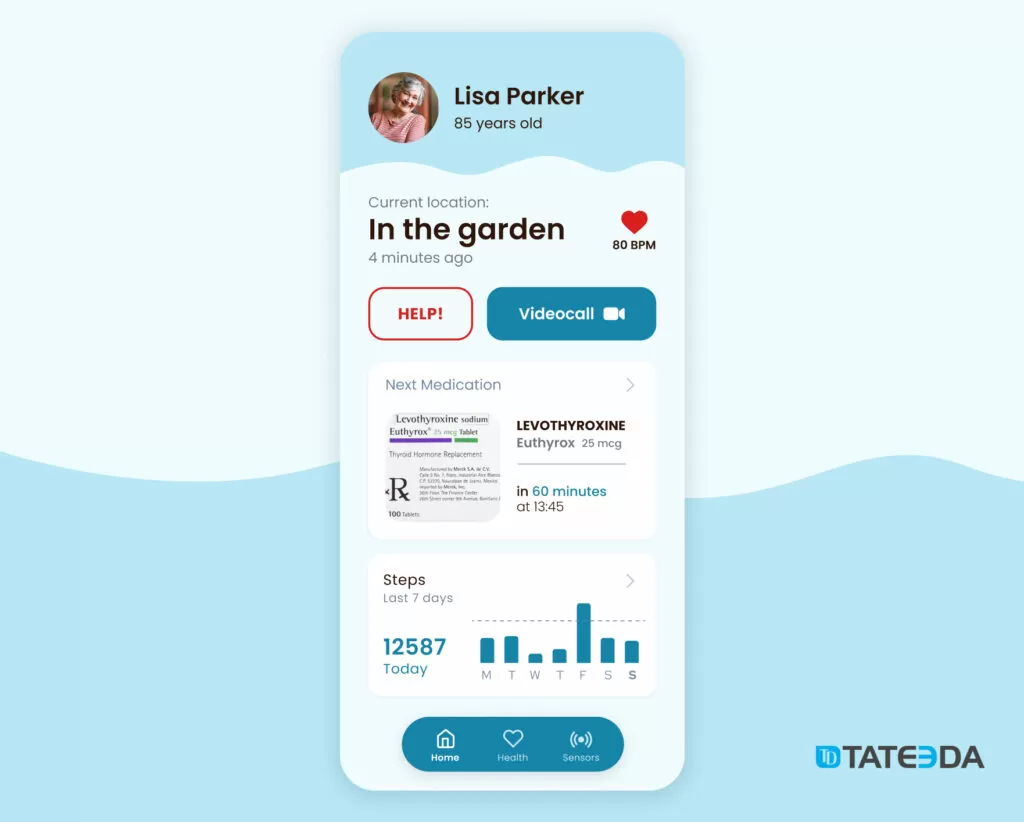 If you are interested in developing an app for adult patient assistance with these or other available functions, please contact us. TATEEDA GLOBAL has a team capable of sophisticated senior care application design and development.
Cardio and Fitness Level Management Apps for Elderly People
Problem: Aging contributes to a decrease in physical activity, which usually leads to aggravation of chronic disease and obesity among elderly people. Happily, these risks can be mitigated with the help of well-balanced exercise and meal plans (with a focus on maintaining healthy blood sugar levels, calcium, vitamin D3, and more.)
Many health issues can be prevented or managed with regular exercise. The positive effects of a physically active lifestyle for elderly patients include…

✔️ Maintaining health status.
✔️ Recovery from mild deficits and conditions.
✔️ Improved mobility and cognitive function.
✔️ Prevention of obesity and related issues.

💡 Application idea: A lifestyle management app can provide countless valuable features to aged patients and/or their caregivers, including…

Geriatric diet plan calendars and calorie calculators.
Exercise plans and checklists for older adults.
Physical activity trackers for seniors.
Tracking of cardio levels and sleeping patterns.
Health tips and recommendations for elderly patients.
Mental health tips for psychological maintenance of the aged population.
Do you want to create a senior care mobile app?

We can help you! Check out TATEEDA GLOBAL's recent health technology successes: 👇

Delivered Healthcare Software Portfolio
The leading American healthcare companies benefit from working with us.

What Features Should an Elder Care App Include?
Well, you could include dozens of potential features, some of which we mentioned previously. You can choose features depending on your business concept, or develop a different set of applications for a wide range of elder care purposes.
Let's check out some of the available features…
App Sections for Elder Patients and Relatives/Caregivers
You can create a senior supervision application that features client-server architecture with a two-sided interface where certain sections are intended for patients and other sections are built for their families and/or caregivers. 🤗

📹 For example, this could be a video surveillance application connected to client software installed on the elderly patient's smartphone and synchronized with web cameras inside their home. The server part can simultaneously run an online platform in the Cloud, streaming video to remote family members and/or caregivers according to their permissions. 🔐

There are many other types of elder care application functionalities that can be divided into different user groups (depending on patient goals and interests) with different UI modalities.

>> Learn more about patient portal concepts and development.
Caregiver Search Engine Features
These app functionalities are sponsored by the organization providing care to elderly patients. Each country or state has different requirements for becoming a caregiver. Often, a potential caregiver must have a license and possess nursing skills. 👩‍⚕️

Caregiver services can be expensive, and not all elderly people can afford them. However, this issue can be solved by hiring caregivers for shorter periods of time / one-time jobs, or employing volunteers.

All of these needs can be fulfilled with the help of a specific elder care app development that allows for the following functions…
Posting a job or searching for a caregiver.
Checking caregiver ratings and reviews.
Online payments and messaging.
Patient and caregiver profiles + admin panels.
🏪 If you want to create a caregiver marketplace application for elderly people, you can get help from TATEEDA GLOBAL. Please contact us for more information and a free estimate.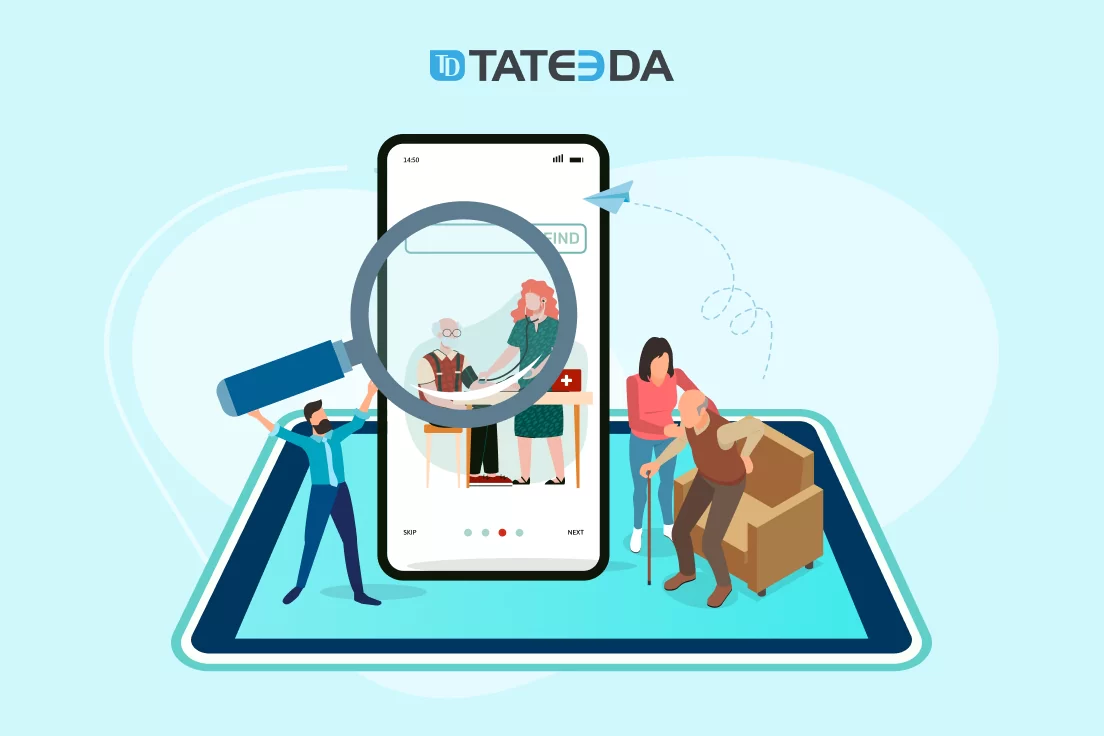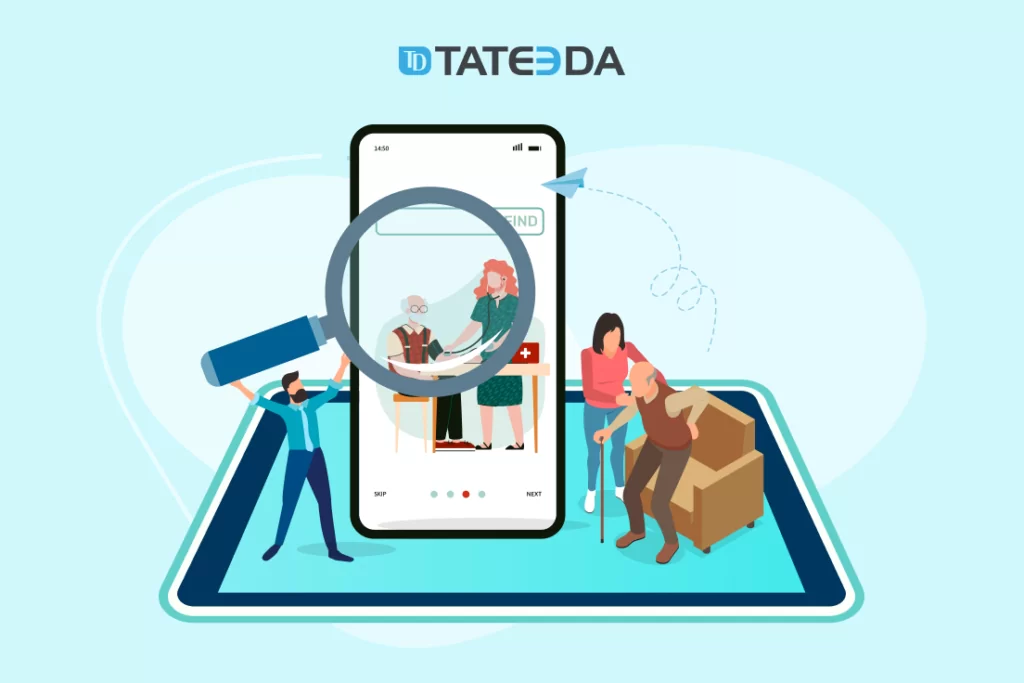 Enhanced Accessibility Features
👓 Many senior users acquire age-related health limitations, disorders, and limited capabilities, especially in the areas of vision, hearing, and manual/motor skills.

Older adults are still likely to have insufficient skills in digital devices and smartphones, so they benefit from an elder-friendly approach with explicit tips and instructions. 🤝

This is why elder health care app development requires specific skills in UI design, including a range of accessibility options…
Larger buttons and comprehensive text details.
Simplified or contrasting palette in app design elements.
Voice-activated options and loud sounds.
Smart voice-based application dialogs.
Configurable UI that helps to meet the individual requirements of elderly users.
💡 If you need to design and build an app to find home health care for the elderly or other types of applications with an elder-friendly user interface, TATEEDA GLOBAL can help you!
Senior Care App Development Process
If you want to understand how elder care app development is executed, check out the following list of essential steps: 👇
Create Requirements for Your Elder Care Application
Create a list of specific features and challenges to include in your senior care application.
Identify a set of requirements that will satisfy all user groups, including elderly patients.
Specify the technical requirements and technology stack for building your application.
Identify the legal requirements and security standards for senior health care apps for your target marketplaces, including HIPAA compliance for medical software offered in the United States.
Take Care of UI/UX App Design
Find UI/UX designers qualified in developing elder-friendly interfaces.
Conceptualize your product interface and create wireframes.
Develop UI/UX design for your future elder care mobile app.
Choose a High-quality Senior Care App Development Team
Identify the programming skills necessary for your elderly care software project.
Hire or gather mobile developers with the required skills and experience.
Involve mobile app engineers and quality assurance specialists.
Find a good project manager who knows all the nuances of building a mobile application for geriatric care.
Learn more: The 7 Best Software Development Companies in San Diego
Create a Senior Care App With a Minimal Set of Features
Consider entering the market with an MVP.
Create a roadmap with key features to be built first.
Follow the project roadmap with your team to prepare your product for introduction to a small group of early adopters/users.
Get Feedback and Start Improving Your App
Measure the reaction of your early users and collect their comments.
Prioritize issues to be resolved and features to be added.
Update your project roadmap and complete iteration with developers, engineers, and testers.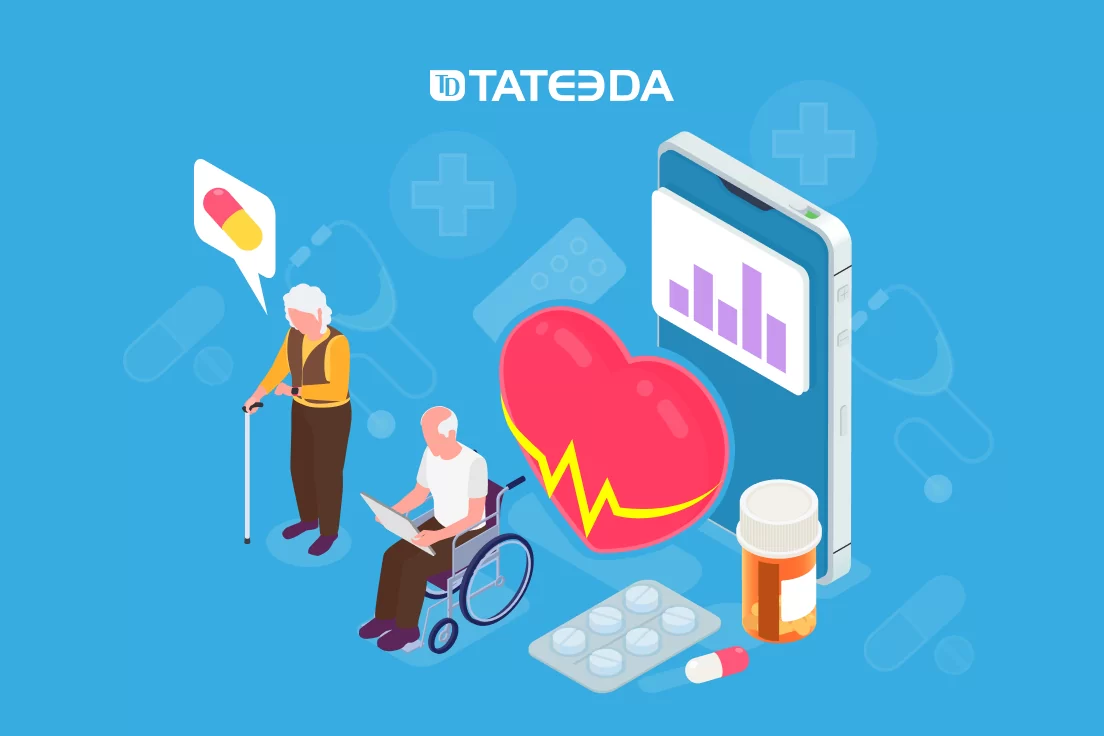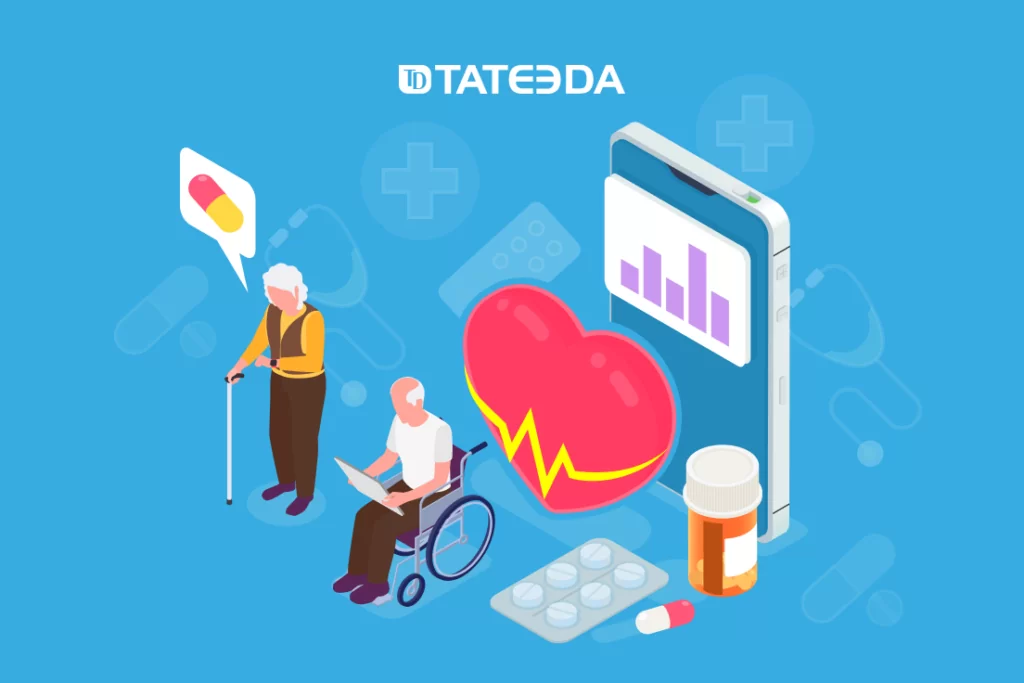 Learn more: mHealth App Development: The Ultimate Guide
How Much Does It Cost to Create an Elder Care App?
🏷️ The price tag depends on many factors, including the size of the application, technologies included, project timelines, and team composition.

Product development pricing per senior care mobile development project can reach $40,000-50,000 on average, but there are no upper limits.
If you want to find out the details and get free tech consulting with a more precise high-level project estimate, book a chat with our experts today!
How to Monetize a Senior Care App
💰 You can use a set of different monetization options, just like with any other application out there.

Different pricing plans based on feature sets.
Subscriptions vs. one-time licensing payment.
Commission-based plans for caregiver marketplaces.
Ads (not recommended).
How to Compete With Key Market Players
There exist a great number of opportunities for elderly health care app development, as there is still a considerable deficit of senior care offerings in the applications market.

The workable way to beat your competition is…

✔️ Using innovative technologies, like VR and AR.
✔️ Offering innovative features not yet offered by your competitors.
✔️ Covering smaller niches overlooked by competitors.
✔️ Building key features in a better way than competitors.
✔️ Providing a more convenient interface specifically adapted for the needs of the elderly.

Build your elder care app with TATEEDA GLOBAL!
We are a medical software development and project augmentation company from San Diego, California.🏝️⛵☀️

We know how to build an efficient, well-debugged, HIPAA-compliant application that will allow you to overtake your competitors in the elder care app market.

Contact us for a free consultation and project estimate!

Frequently Asked Questions
What makes a great elderly care app?
The recipe is simple: Create a well-designed senior care app with killer features. Take care of specific requirements like HIPAA, and follow general guidelines for secure software development. Make sure to design a senior-friendly, configurable UI that is comfortable for elders and/or their caregivers.
How to choose the right senior care app developers
Consider their skills and background. Do they understand HIPAA development well? Do they have expertise in the development of healthcare mobile applications? Check reviews and customer feedback.

TATEEDA GLOBAL can help you. We have exceptional experience designing and developing medical products, and we'd be happy to assist you in the building of your elderly care mobile application, including IoT, Cloud, and wearables.
What technologies are used in aged care app development?
Mobile technologies. We work with Flutter, NativeScript, and React Native. We are experts in Cloud development, embedded tech, and IoT. We can help you develop a really powerful, sophisticated solution for senior patient care, supervision, and assistance. Contact us today for more information!