Health Insurance App Development Guide: Potential Features, Costs, and Benefits
💬 In this article, we'll consider WHY and HOW to build a health insurance app for use by industry stakeholders: patients, physicians, and health insurance providers.

Health insurance app development for Android and iOS is a very specific sector of the healthcare software development industry. This kind of application can be an important instrument for reducing costs, facilitating sales, and enhancing other operations in the life & health insurance business.

📝📲 Let's learn everything there is to know about designing and creating a custom healthcare insurance app: possible features, potential project costs, and how all concerned user groups can benefit….
In many developed countries, including the United States, 🇺🇸 it's almost impossible to get medical care and/or treatment without sufficient health insurance coverage. Most Americans hold some type of health/medical insurance policy, which is paid either privately or by their employers or sponsors.

What are the known types of health insurance? To name a few: medical, emergency, disability, dental, pharmaceutical, long-term care, behavioral health plans, senior care, and more.

Many European countries provide free public health services, 🩺 but also maintain insurance policies to help certain patient groups compensate for emergencies, work accidents, incidences of rare or difficult ailments, and chronic health conditions like diabetes or cardiac disease. This includes medications, procedures, surgeries, regular testing and doctor's visits, and more.
Why are mobile health insurance apps in high demand?
Medical insurance app development allows for…
Nurturing better relations between potential clients and insurers with online consultations; convenient comparison of available insurance plans and offerings; faster process when dealing with providers.
Facilitated process for patients, including automated premium renewal payments, client eligibility verification for medical offices, and/or policy fulfillment management for all user groups.
Streamlined process for reaching physicians and essential medical help in selected health insurance networks and locations according to policy terms and conditions.
Before we delve into the details of developing health insurance apps, here are a few facts about TATEEDA GLOBAL: 👇

Who are we? TATEEDA GLOBAL is a medical software development company that can help you design and create mobile health insurance apps. Our benefits include…

✔️ Deep expertise in the creation of on-demand healthcare applications.

✔️ HQ in San Diego, California: onshore medical insurance app development in a convenient time zone for North American customers.

✔️ Outstanding experience and skills building hybrid healthcare software products with Cloud, IoT, mobile, web, and desktop components.

✔️ Dedicated project managers and engineers offering personalized communications and unlimited consulting. 💻☕

If you need help developing your health insurance app, contact us today!
Health & Medical Insurance App Market Overview
According to McKinsey, revenues in the global private health insurance market have already exceeded $1.3 trillion, and are estimated to double by 2025. 📈 🚀

With the United States as the largest health insurance market, the total number of Americans holding health insurance policies is constantly rising. This figure has increased dynamically from 257 million insured citizens in 2010 to 297 million in 2020 (around 40 million new policyholders in 10 years!)

With that said, individual health insurance access…

📋 Is unequal among American medical policyholders.
📋 Can vary in terms of coverage amounts and renewal premium payments.
📋 Covers a limited range of accidents, less common health situations, and more.

Several major factors will stimulate ongoing health insurance industry growth…

🔹 The aging population in North America and other regions
🔹 The increasing prevalence of age-related and chronic disease over infections
🔹 Rising domestic and individual incomes in several global regions
🔹 Optimization of government spending in healthcare, which emphasizes the role of private insurers as intermediaries with better capabilities for cost management.

All of these trends point to the fact that health insurance app development is a profitable business accompanying a huge growing industry. 🚀

If you have an insurance app project idea but don't know where to start, get a free consultation from our tech expert: 👇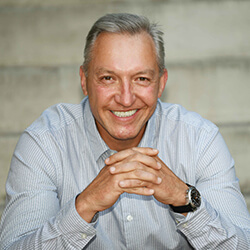 Slava Khristich
Healthtech CTO
Based in San Diego, Slava knows how to design an efficient software solution for healthcare, including IoT, Cloud, and embedded systems.
Why Should You Build a Health Insurance Application?
Let's consider the benefits of health insurance apps for insurance companies, patients, and healthcare providers. Here are a few good reasons to build a health insurance mobile app….

🎯 Fast, convenient access to medical insurance data and services covered by insurance policies available to individual customers, including benefits claimed and current payment balance.

👍 Higher levels of customer satisfaction with individualization and faster services available to policyholders through app functionality. Users will be able to quickly and conveniently access their prescriptions, diagnoses, and claims documentation.

👨‍💼 Less pressure on administrative insurance and healthcare employees: with comprehensive user tips and chat bots offered by insurance applications, it's easy to minimize continuous calls with repeat questions.

⌚ Save your valuable business time by providing all user groups with a convenient self-service toolbox for insurance policy management, online premium renewal payments, updating to better options, document submission, and more.

🛰️ Efficient data interaction and synchronization between systems involved in insurance processes: integration with medical systems (EHR/EMR), corporate insurance databases, third-party platforms, and more.
📈 Additional marketing tools for insurance companies to promote, sell, and support their insurance packages/offerings to new and existing clients and partners.

🤷‍♂️ More instruments for studying and leveraging existing audiences. As we mentioned above, the United States has a nearly 300-million army of active medical policyholders with different levels of insurance coverage, options, and benefits.

There always exists vast potential for upgrading these policyholders to more expensive insurance plans or moving them between insurance companies to gain better health insurance options and benefits at a better rate.

A health insurance application can help insurance companies improve their financial performance by staying in closer contact with existing users.
Interested in developing health insurance apps?
➡️ At TATEEDA GLOBAL, we have a sophisticated team of software engineers and developers who can help you build a custom healthcare insurance app with a wide range of insurance management functions. We are experts in the design and development of medical and healthcare software products. Learn more about our services: 👇
Custom Healthcare Solutions
See how we can engineer healthcare software, validate your ideas, and manage project costs for you.

The Main Types of Medical Insurance Applications: Startup Ideas and More
Insurance management applications can come with different functionalities based on the specific needs and demands of different user groups: patients (policyholders), insurers, and healthcare specialists. These features can be delivered via differentiated UI/UX modalities or application versions to corresponding user groups.

Let's check out a few different insurance app types and features…
Health Insurance App Development for Patients
This type of application offers the following features to people who already have insurance coverage or want to acquire it: 👇

Authorized application login with biometric credentials like fingerprint control.
Selecting and buying an insurance plan from one or various insurance providers according to the user's individual requirements–without excessive paperwork.
Search for doctors in an insurance network and seek on-demand access to healthcare specialists and services based on location preferences and other parameters.
Secure space to communicate with healthcare specialists or representatives to get minor questions answered.
Integration with medical systems.
Insurance claim-management and recurring payments.
Elderly patient assistance functionality.
Learn more: ➡️ How to Develop a Senior Care Mobile App
Insurance Companies: Health Insurance App Development
The largest health insurance companies in the U.S. include Aetna, UnitedHealth, Humana, Cigna, Anthem, Oscar Health, Clover Health, QuickCard, WellPoint Inc., DKV, Kaiser Permanente, and others. A large pool of smaller companies and partners also resell health insurance plans from top companies.

If you want to develop a mobile insurance app for healthcare insurance providers, you need to build the following features at the outset: 👇

Automated/electronic insurance business processes and reduced paperwork with online forms.
Notifications/reminders on submitted insurance claims that need to be checked/covered or refused.
Get instant updates about each patient's current status, including case eligibility investigation and access to corresponding documents.
Generate analytics and reports on insurance business performance.
Integration with corporate databases and protected access for authorized insurance company representatives.
Compatibility with various devices accepted by corporate office standards.
Learn more: ➡️ The 7 Best Healthcare Software Development Companies in California
Healthcare Providers: Medical Insurance App Development
How to develop an insurance mobile app for healthcare providers?

Since one healthcare provider (a private physician, hospital, or medical center) can work with many insurance operators, it is difficult or impossible for them to use separate applications provided by different companies.

It is, however, possible to build an application to work as a sole access point for different insurance databases (using their official APIs) and/or aggregate data from multiple sources. Let's check out some of the available features: 👇

Helps healthcare providers track their performance and number of calls in relation to specific insurers and patients.
Manage patient relationships in accordance with an insurance coverage plan for each individual patient.
Improve communication and PR strategies based on analytics and insurance options.
Verify and access patient documentation and insurance ID cards.
Check and verify patient eligibility status.
Send and manage patient insurance claims without emailing or calling insurance companies directly.
Benefit from higher levels of electronic integration with insurance companies, thereby generating less paperwork.
Fill out insurance claims, e-prescriptions, and other forms related to patient insurance.
Learn more: ➡️ How to Build a Medical Second-opinion Telemedicine Platform
Interested in creating mobile health insurance apps?
➡️ The best way to get your specific requirements met is to analyze your situation with our seasoned tech experts. We can provide you with free tech consulting and help you outline your project in terms of available technologies and solutions.

TATEEDA GLOBAL has a long list of successful projects in healthcare, biotech development, and other fields. We can offer you the solution best suited to your needs once you provide us with your vision and ideas. See more of our successful projects here: 👇
Delivered Healthcare Software Portfolio
The leading American healthcare companies benefit from working with us.

Features That Can Make Your Health Insurance App Successful
These features can be designed and implemented in a custom insurance application that allows patients to manage their medical insurance and everything related to healthcare coverage. Let's check out some of these features…
📅 Health Insurance Plans: Select, Acquire, and Use a Policy
A custom insurance application can have the following options….

✅ View, select, and compare different medical or health insurance plans from one or several companies, including monthly or annual cost, benefits, and options, including special offers and conditions.

✅ Information can be automatically aggregated from official company API connection points or online public sources like websites.

✅ Once the patient selects the best offering, they can acquire a health insurance policy online and get officially insured in a matter of minutes.

➡️ Of course, this kind of electronic insurance procedure should be subject to oversight by local or federal insurance legislation. For example, in the United States, all medical applications must align with strict HIPAA regulations.
📃 Buying or Renewing Insurance Policies (Payments)
Paying recurring premiums to prolong current health policies is very important for patients. This process can be…

💳 Automated, so no patient experiences delay in renewal payments according to policy schedules and procedures (this basically works as a service subscription payment tied to your credit card.)

💳 Buying new policies or upgrading an existing policy online: Financial transactions related to medical policies can be executed online without visiting an insurance company office or contacting live operators by phone if no additional questions arise.

➡️ These options can be easily built into a custom insurance application for smartphones and tablets. These capabilities require in-app integration with online payment gateways, bank IDs, and/or other protected credit card information. Key requirements include secure application code and the highest app architecture standards.
🏥 Claim Submission and Access to Health Information
To keep all insurance processes consistent, it's vital to integrate health insurance applications with EHR/EMR systems so a client/patient can…

💉 Manage their medical appointments and current insurance balance and deductibles; submit insurance claims to medical and insurance providers for review and fulfillment.

💉 Check details and reports on healthcare services, procedures, and medications they already have covered by their insurance companies.

💉 Obtain and submit electronic prescriptions, diagnoses, tests, and other important medical documents from/to insurance providers for compensation.

💉 Access chat bots, FAQ, and other dialog-based solutions that allow patients to check and self-assess health conditions and symptoms in terms of insurance claim eligibility while receiving recommendations for next steps.

➡️ An insurance application created for either patients or professionals must have a clean, functional, elegant interface. It should be compliant with the most important rules and objectives of patient portal development.

👨‍⚕️ Find a Health Provider or Pharmacy in the Patient's Local Area
Many insurance companies have long-term strategic partnerships with certain medical assistance providers and pharmacies which together form networks of affiliated clinics, drugstores, and medical centers. These medical facilities focus on helping patients with insurance policies from specific providers.

That's why the following features should be added to any custom medical insurance app…

🧭 Geolocation of nearby medical services affiliated with insurance provider(s) and showing ERs, hospitals, and clinics on a map.

🧭 Real-time driving directions to help people reach these locations and receive healthcare services. Specific routing options can be added for individuals with special accessibility needs.

🧭 Search for medications in eligible drugstores, comparing prices in local pharmacies that support the patient's insurance policy. Learn more: ➡️ Online Pharmacy App Development Guide.

🧭 Get reminders to visit your doctors or take crucial medications according to your treatment plan. Insurance policies can require the patient to strictly follow prescriptions and treatment plans assigned by a physician.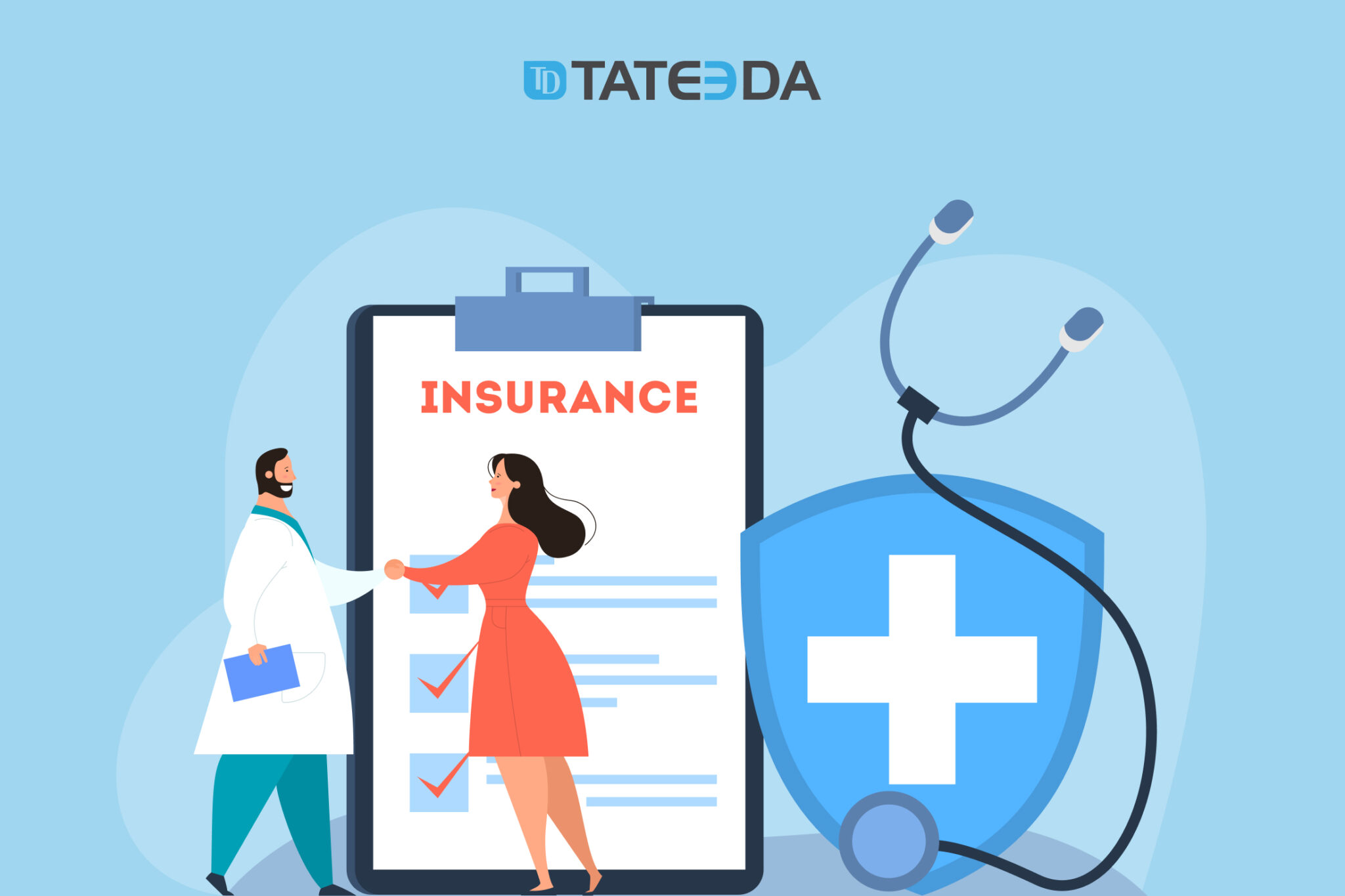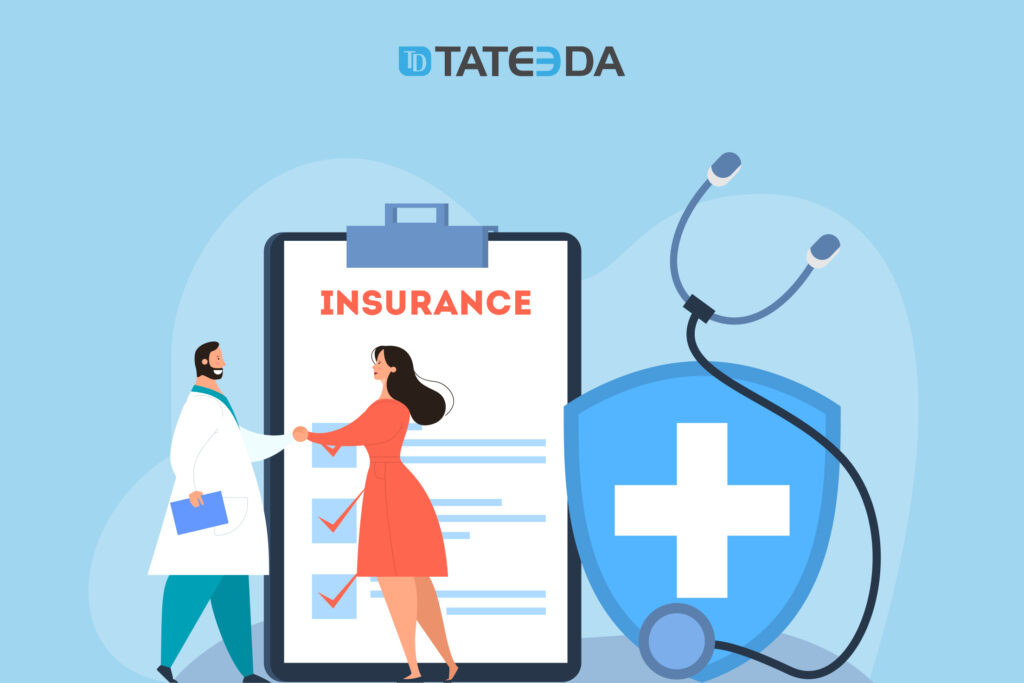 Comparison of Features: Leading Health Insurance Apps
How can your business overtake competition in the health insurance app market? Build the best feature set among them!

The goal of this section is not to actually compare these products, but to give you an idea of how you can build a better insurance application than potential competitors. ➡️ Healthcare Product Development: How to Build an MVP

An up-to-date comparison of insurance app features can be executed by a digital marketer. In this context, let's check how a comparison table might look…

| | | | |
| --- | --- | --- | --- |
| Features | Health4me | Myhumana | MYCIGNA |
| View plan coverage | ❌ | ✔️ | ✔️ |
| View account balances | ❌ | ✔️ | ✔️ |
| View deductibles | ✔️ | ✔️ | ✔️ |
| Pay premiums | ✔️ | ✔️ | ❌ |
| Contact a healthcare provider | ✔️ | ❌ | ❌ |
As you can see, features are not equal between insurance management applications. There is room to build mobile health insurance apps with more potent feature sets. If you need free tech consulting with our seasoned software experts, please contact us and book a call!
UI/UX Design for Your Health Insurance App
📲 The rule is simple: Design and build a user interface in a way that provides patients, insurers, and/or physicians with the ultimate tools for getting their work done with fewer clicks.
📲 Hire a professional UI/UX designer experienced in medical and healthcare applications. He/she will save you plenty of time and money by avoiding costly re-dos and user reeducation.
📲 Make sure your medical insurance app design has configurability and accessibility options that make it convenient for a wide range of patients.
📲 Make sure your UI/UX is completely utilitarian and uncluttered, with large, distinct buttons and other comprehensive interface components that allow the user to avoid confusion.
📲 Build a lightweight UI that doesn't contain slow scripts, ads, banners, or other heavy elements so your health insurance app can perform swiftly under various system conditions. Learn more: ➡️ Medical Software Design and How to Build It: The Complete Guide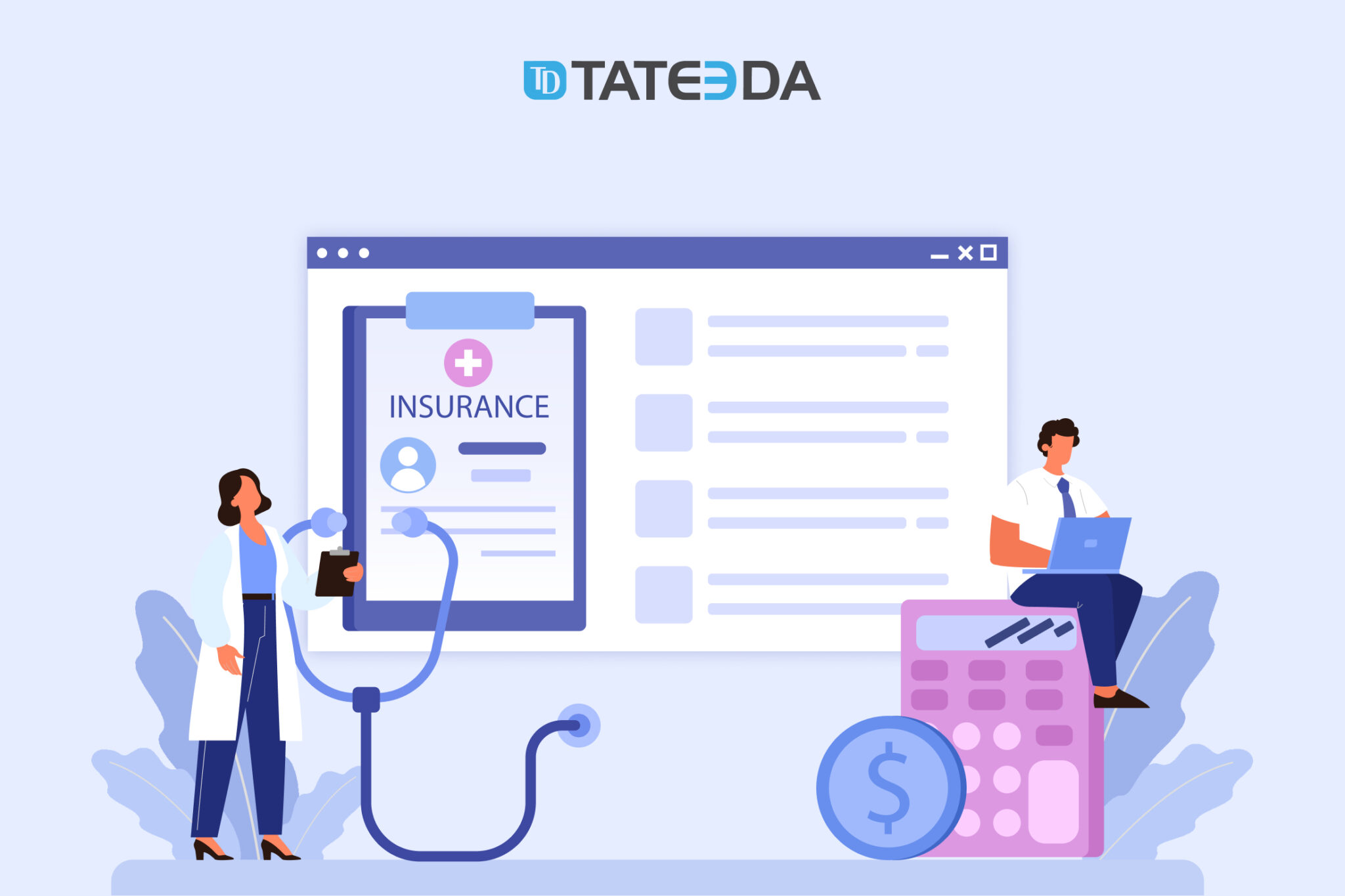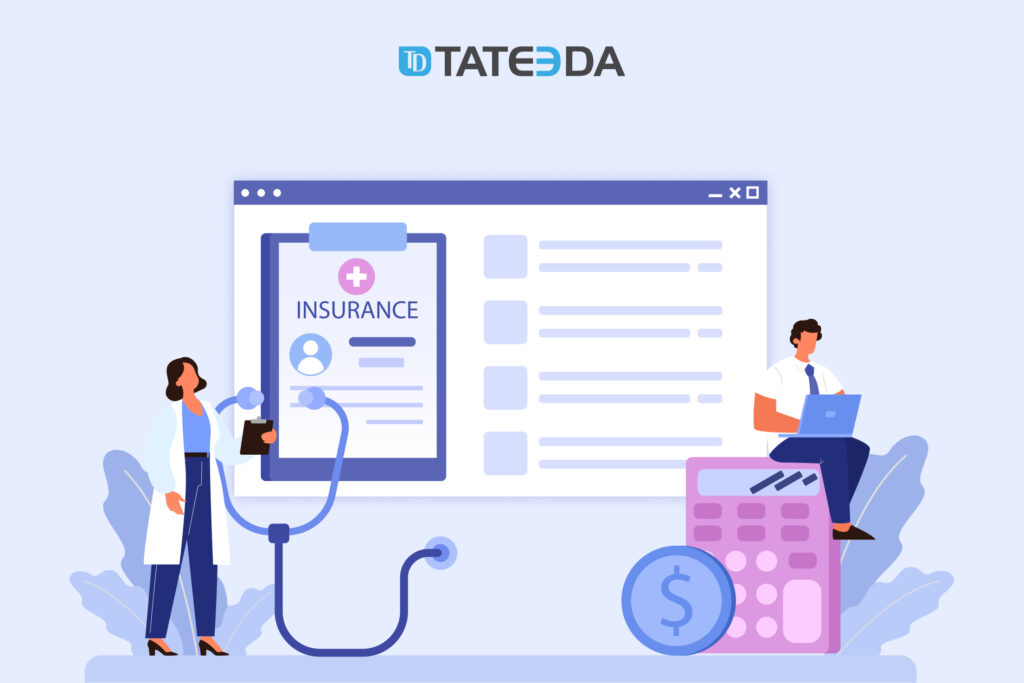 Don't Forget the Regulations with Which Your Insurance Application Development Must Comply
🔶 Healthcare system data interoperability principles and technologies.
🔶 HIPAA (specific regulations for better PHI management in the U.S.)
🔶 CCPA (gives consumers more control over their information in California)
🔶 GDPR (the E.U., the United Kingdom, and other affiliated territories)
🔶 PIPEDA (the Canadian equivalent of HIPAA)
🔶 PCI-DSS (a standard required for secure payments)

Learn more: ➡️ How Custom Healthcare Software Is Developed for Secure HIPAA Compliance
Find an Experienced Team Capable of Building a High-Quality Healthcare Insurance Application
💻 Draw a clear vision/plan of the functions to be included and goals to be fulfilled by your medical insurance application.

💻 Define the tech stack necessary for creating your medical insurance application. An experienced CTO can help you with this task if you have one on your team. If not, you can book a free tech consultation with us.

💻 Find a reliable IT partner with a good reputation and client feedback (look on various platforms like GoodFirms or Clutch.) Learn more: ➡️ How to Find and Hire Healthcare Software Developers for Your Medical Projects.
💻 Get a free estimate from TATEEDA GLOBAL. We have an experienced team and all the required skills to assist you in building your health insurance application with a sophisticated, well-designed set of features to help you overcome your competitors.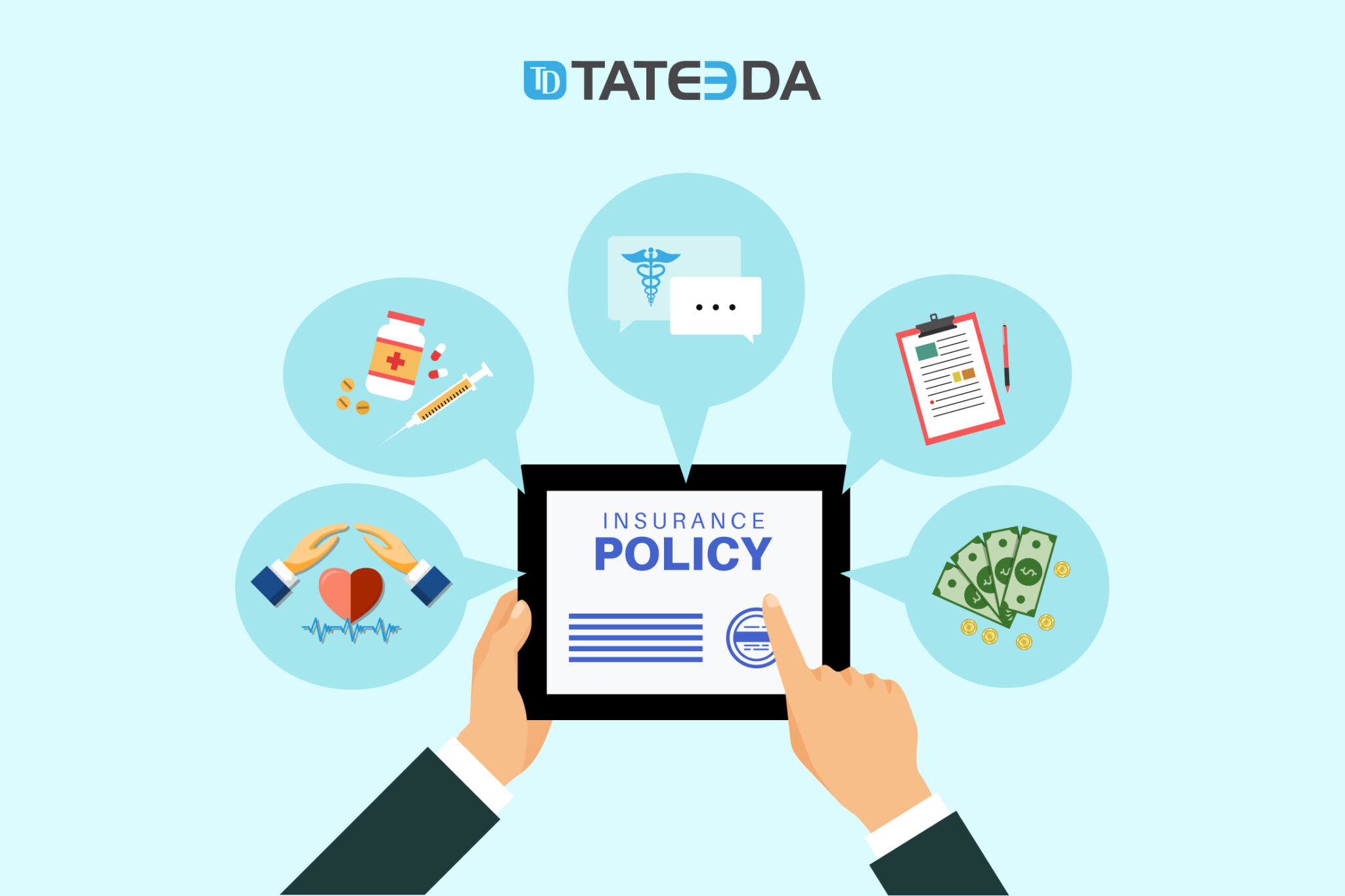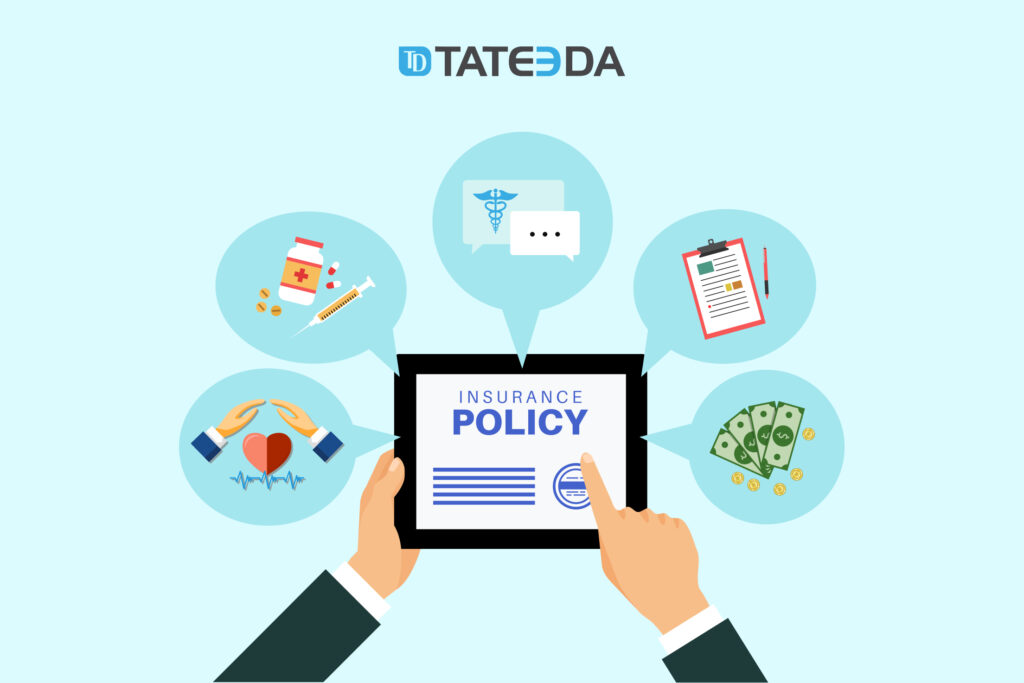 Learn more: ➡️ Tips for Recruiting and Hiring .Net Developers
How Much Does It Cost to Develop a Health Insurance App?
🏷️ The price tag for a medical insurance app development depends on many factors, including project timeline, size of the application, tech stack, project scale, and team composition.

Product development pricing per full-cycle health insurance mobile app development project can reach $50,000-60,000 on average for MVP, but there are no upper limits.

Everything depends on project scale and a range of additional parameters (like team augmentation services instead of full-cycle development and the number/qualifications of software specialists involved).
If you want details and free tech consulting with a precise high-level project estimate, book a chat with our experts today!
FAQ
⏱️ How long does it take to build a health insurance app?
This depends on many factors, but it's safe to say that it takes about 6-9 months, on average. If you want to anticipate the estimated duration of your individual project, let us know the details, and we will promptly provide you with a free resource estimation.
🔑 Which features ensure the privacy of customer data in the app?
There are several requirements with which any medical insurance application should comply…

🔹 Source code safety: a well-debugged, well-audited application source free of loopholes and exploitation.
🔹 A variety of authentication options for authorized users.
🔹 The highest industrial standards, including HIPAA compliance.
🔹 Encrypted data transactions and databases.

Can you create a health insurance app using cross-platform development tools?
Sure! Our team possesses all the necessary skills to develop a medical insurance app for any popular platform, including native or cross-platform development and functionalities. If you want to learn more about custom health-insurance application development for your company, contact us today!