Remote ECG-monitoring Software Development: Features, Benefits, and Guidelines 2023
In this article, we'll discuss:

✅ How the situation in healthcare has encouraged a boom in electrocardiogram-monitoring apps.
✅ The reasons for creating an ECG monitoring system for your healthcare practice.
✅ How to develop an ECG monitoring system or get help with this type of project.

⚠️ If you require immediate help with the development of electrocardiogram management software, please contact our IT experts for deeper project consultation and more information!
The terrifying facts speak for themselves:
According to official stats, 655,000 Americans die of heart disease each year.
More than 30 million American adults were diagnosed with heart ailments in 2018.
About 48% of adult Americans suffer from some type of cardiovascular disease…
Heart failures and heart attacks cause one out of every four deaths in the United States.
The spread of heart disease is among the longest-known and most persistent problems of the American lifestyle and the healthcare system in general.
The major causes and risk factors for heart problems include:
lack of exercise
obesity
high blood pressure
high cholesterol levels
alcohol consumption
smoking.
❤️ The good news is that about 80% of cardiovascular disorders, including heart disease and stroke, are preventable.
With this background, it's not surprising that cardiology is not only one of the most important and expensive branches of medicine, but also demonstrates intense demand for high-end solutions to help cardiologists cope with the growing number of cardiac patients.
Portable electrocardiography is an exceptionally promising medical technology that enables cardiologists to observe patients 24/7 in an outpatient context. This tech belongs to the rising family of IoT-based remote patient-monitoring solutions.
At TATEEDA GLOBAL, we know that ECG monitoring software development generates plenty of new opportunities for the healthcare community:

It allows thousands of patients to receive less expensive and more efficient cardiologic care at home.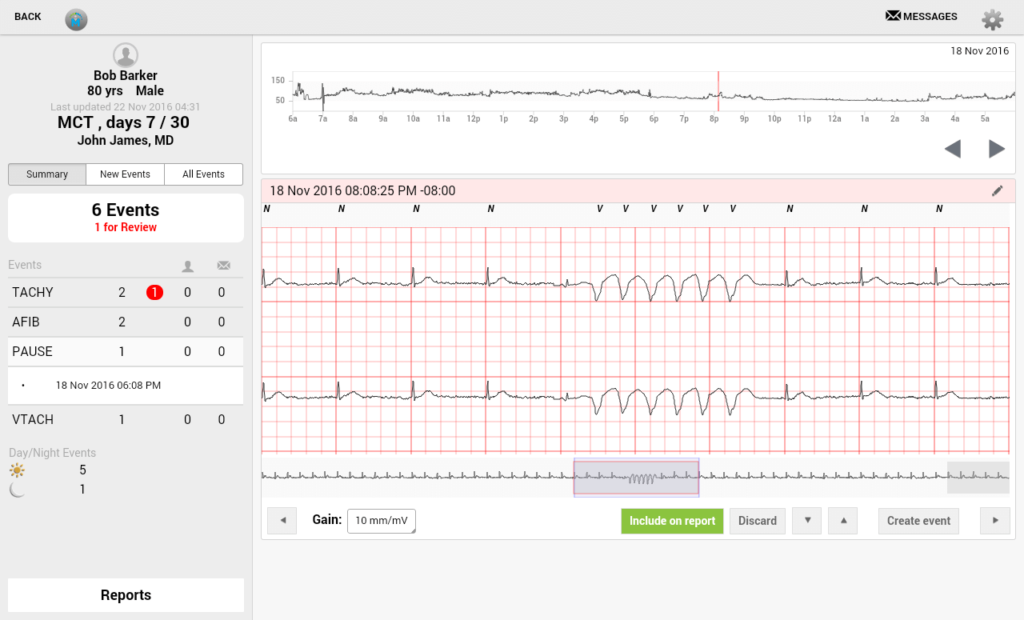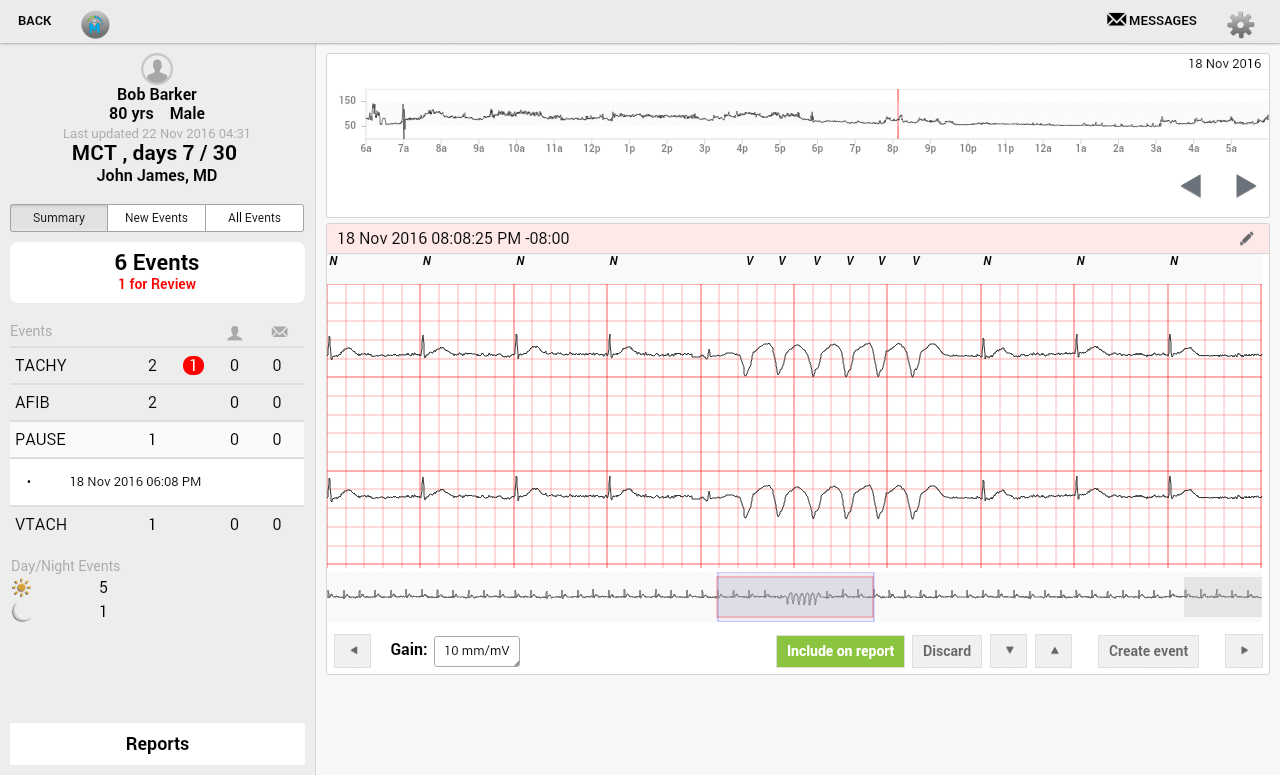 One of the products we helped develop was a software system capable of remotely capturing ECG data from patients wearing proprietary biosensors. This system was designed to:
securely and accurately process electrophysiologic signals from patients
display cardiograms on authorized clinicians' tablets
provide cardiologists with tools to review patient data for qualified interpretation and help.
Since we are not newcomers to this still-experimental medical technology, we would like to share our expertise with you…
Remote/Mobile ECG Software Development Trends
Real-time patient heart monitoring software is an extremely demanded medical tool that had never been available to physicians outside the hospital settings until recent years.

With the rise of IoT-based ECG telemonitoring systems, medical professionals have obtained greater opportunities for observing patients in the process of ambulatory (outpatient) care without excessive costly hospitalizations.

Instead of short-term periods of inpatient care, cardiac monitoring:

is now available as a non-invasive, continuous service.
allows patients to control their health metrics over longer periods of time (in some cases, on a lifelong basis).
encourages patients to lead normal lifestyles, including travel.
According to projections, the total capacity of the mobile electrocardiograph market will exceed $120 billion by 2026.
There are several trends and factors that encourage the development of remote/mobile ECG monitoring systems, in the U.S. and globally:
enhancements in 4G/5G coverage and Cloud-based technologies
the development of medical IoT and mobile device capacity
the aging population and unhealthy lifestyles
the medical workforce crisis and financial limitations in healthcare
the need to provide cardiac patients with advanced treatment to reduce the death toll
the need to improve the capabilities of cardiologists to supervise more patients at a time.
All of the above identifies that the demand for portable/wearable ECG monitoring devices and ECG software development will explode in the upcoming years.
Read also: ➡️ Hospital Management Software Development vs. Modern Healthcare Challenges
Other breakthrough trends include:
Improvement in ECG hardware components. Wearable, adhesive patient-monitoring equipment will become more reliable, secure, sensitive and compact. This trend will also contribute to affordability of heart or pulse sensors, so more individuals, healthcare organizations, and medical facilities will be able to acquire these tools in greater quantities.
The development of ECG remote-monitoring software: Many fundamental software features need to be enhanced, including signal preprocessing algorithms and the implementation of more sophisticated AI components capable of more accurate automatic recognition of heart diseases from ECG graphs.
If you're looking for a tech partner to help you with distant ECG monitoring software development, be sure to contact us at TATEEDA GLOBAL.
Synchronization with different healthcare systems: Total adaptation and development of EHR systems require more interoperability options for auxiliary solutions, including remote patient-monitoring systems and remote/portable ECG monitoring software. This can also be implemented in the context of a medical ERP development project that allows numerous modules to collaborate and consolidate their healthcare operation data within one resource-management system.
The required levels of medical interoperability can be achieved via consistent, compliant data formatting and providing all involved devices with a fast, reliable connection to a Cloud network. HL7 FHIR and other popular HL7 protocols can be among the key data-sharing methods for electrocardiogram-monitoring software development and integration with other systems.
Are you interested in building an ECG-monitoring system?
TATEEDA GLOBAL can help you with healthcare portable software development including engineering of remote heartbeat or pulse-monitoring solutions for your medical practice.
We are a California-based IoT software development company with a team of software experts offering a rich background in ECG remote-monitoring software solutions and medical project augmentation.
Contact us today to learn more: 👇
Slava Khristich
Healthtech CTO
Based in San Diego, Slava knows how to design an efficient software solution for healthcare, including IoT, Cloud, and embedded systems.
Advantages of an ECG Telemonitoring System
There are countless benefits that mobile or wearable ECG systems can offer to patients, hospitals, and physicians. Let's check some of them out…
For patients
Preventive telemonitoring of heart rhythms.
Patients with diagnosed cardiovascular conditions can benefit from constant cardiac monitoring and remote medical supervision.
In this way, any alarming health trends or issues can be identified and treated in a timely manner before they evolve into more dangerous conditions.
Unlimited personal mobility.
Mobile, wearable ECG monitoring systems offer exceptional opportunities for cardiac patients, who won't have to remain constantly attached to clinical settings or conduct frequent visits to medical offices/facilities.
Instead, patients can travel and lead active lifestyles (if recommended by their healthcare providers) with remote monitoring organically integrated into their daily routines with non-invasive biosensors and ECG monitoring apps on their mobile devices.
⚠️ NOTE: The specific configuration of an ECG-focused remote-monitoring solution depends on many factors. App installation is not always required for certain types of professional-grade medical equipment. Instead, medical sensors of this type come with embedded software solutions.
Read also: ➡️ mHealth (Mobile Health) App Development: The Ultimate Guide
For physicians
More automation in medical tasks.
With a well-designed, HIPAA-compliant ECG telemonitoring software system in place, cardiologists can observe and help more patients at a time.
AI-backed software components or just well-tuned algorithms can easily recognize anomalies in patient cardiograms and trigger alerts for medical supervisors, depending on the urgency and severity of the detected health issues.
Otherwise, physicians can review patient cardiograms on a routine basis and read patient ECG monitoring reports daily or weekly, as required by medical protocol.
Read also: ➡️ Guide to Building the Best Custom Medical Appointment Scheduling Software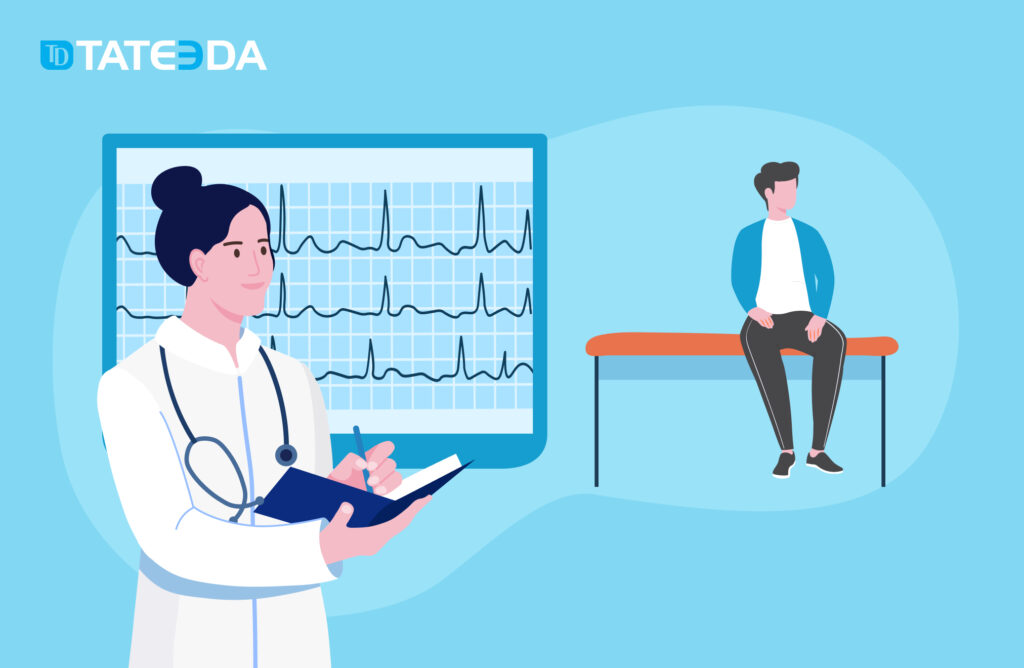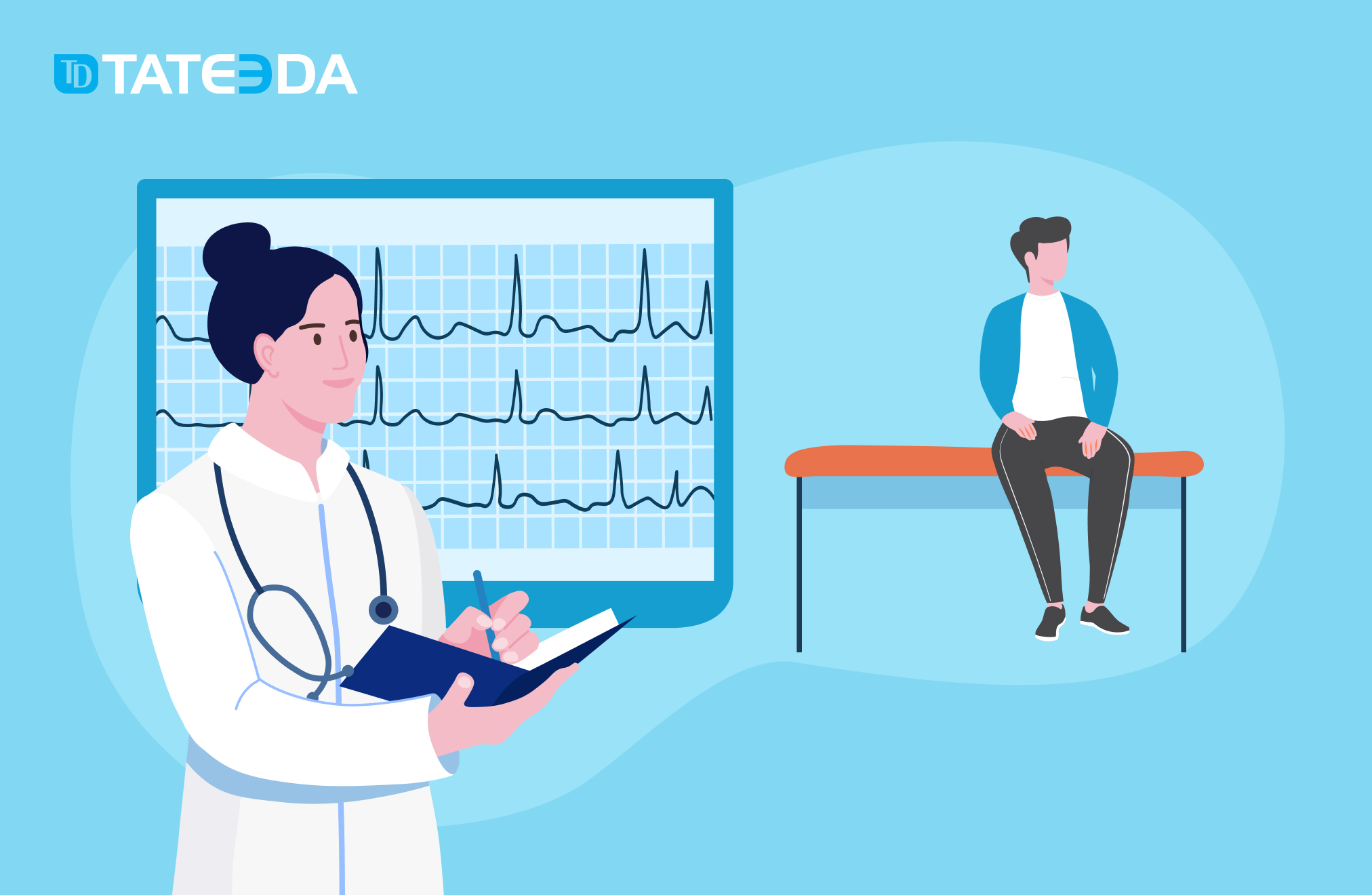 Better cardiac diagnostics and patient outcomes.
Since ECG software provides physicians with a continuous flow of captured health information from patients in combination with automation options (e.g. automated detection of abnormal ECG patterns and emergency notifications), they can reveal potential cardiovascular problems with greater accuracy and prevent serious cardiac events for many patients.
Read also: ➡️ Patient Electronic Data Capture Solution Development: The Complete Guide
For hospitals
Optimization of patient visits and hospitalizations.
Since a larger number of heart disorders can now be efficiently diagnosed and treated in an outpatient context, the occupancy rate of costly hospital beds can be optimized and rebalanced in favor of severe/urgent conditions.
More patients can be observed with less effort.
Traditional ECG machines are large and complex. With a lot of wires, sensors, and complicated settings, they require qualified ECG machine operators to set them up and maintain them.
Alternative devices, like portable real-time ECG monitoring machines and adhesive biosensors, require less effort to be set up and run. Potentially, IT solutions in this area will help hospitals save millions every year, so they are worth the investment and research.
Read also: ➡️ Patient Portal Development Guide: Types, Features & Cost
Do you have an ECG monitoring solution project in mind?
At TATEEDA GLOBAL, we're specialists in custom medical software development and health-tech project augmentation. If you would like us to help you with your next remote ECG monitoring software project, be sure to contact us.
⚠️ NOTE: At TATEEDA GLOBAL, we are neither vendors nor developers of certified ECG devices/sensors, but we are readily available to help you build a software solution for this type of system.
Custom Healthcare Solutions
See how we can engineer healthcare software, validate your ideas, and manage project costs for you.
ECG Monitoring System Development Process in Detail
The development of a real-time ECG-monitoring system requires serious investment and expertise. You should have a software development team, a secure SDLC approach, and project management best practices in place.

Let's go through the essential steps…
ECG Software Development Planning
Step #1. Identify the system's key components and modules:

sensors and/or surface electrodes
data acquisition circuits
communication components (wires/ports, Bluetooth, wireless interfaces, etc.)
…and all of the other devices and interfaces involved in your specific system.
Draw a map of their interconnections.

Step #2. Create a project plan with business logic behind the system and project scope. Be sure it takes into account:

all internal and external processes/needs
use-case charts
healthcare stakeholder interests
the projected hierarchy of medical roles and permissions.
Step #3. Make sure you have all security features and requirements clearly defined, depending on the grade of your device and your legislative jurisdiction. Different states/locations may have different requirements for the safety and reliability of remote ECG-monitoring systems. The certification process can require a number of steps.

IMPORTANT: The minimum requirement for medical software systems is HIPAA compliance.

Step #4. Identify and plan all levels of system interoperability and connectivity:

algorithms for biosignal capture, amplification, and modulation/digitalization
algorithms and components for biosignal interpretation and visualization
IoT and microcontroller settings
local network requirements and device configuration
Cloud-computing architecture (repository)
client and server application model, functions, and features.
Step #5. Identify the protocols and technologies that will be used in your ECG-monitoring system: client-server data interchange and user interface M2M communications (if any) including:

MQTT
CoAP
API-integration
software development frameworks…and more.
Step #6. Gather a team of tech specialists capable of delivering a medical IoT project according to a defined plan:

software developers (mobile/web/desktop)
health tech engineers
PM (project manager)
software testers
UI/UX designers.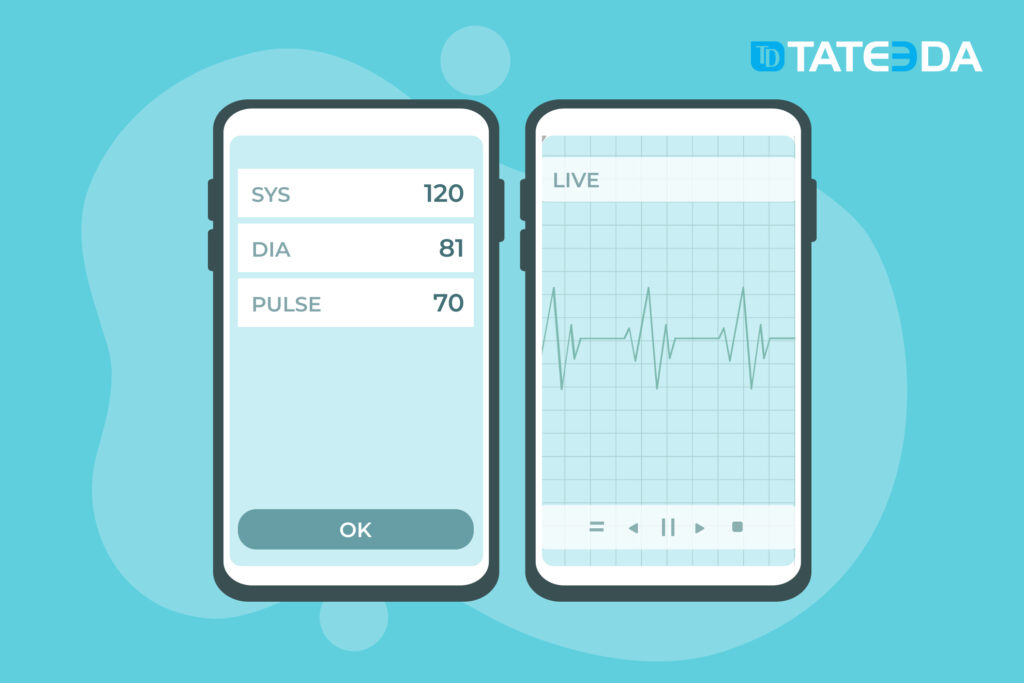 ECG Software Development Management
Step #1: Break your ECG-monitoring software project into well-described, doable technical tasks and assign them to qualified specialists. Set a deadline for your project.

Step #2: Assign the UI/UX development tasks to a designer experienced in medical specifics. Ensure GUI adaptation for all mobile/desktop displays.

Step #3: Rigorously organize the development and QA processes throughout SDLC. No security cracks or bugs are permissible in medical software products.

Step #4: Make sure secure software development requirements and principles are respected and well-managed at every step.

Step #5: Involve an experienced project manager capable of controlling the deliverance of project tasks and ensuring that your remote ECG-monitoring system will be delivered on time.

Step #6: Control the QA process to confirm that your software product is free of security flaws and bugs. Learn more: ➡️ Medical Software Testing and Quality Assurance in Medicine.

Step #7: Do everything necessary to implement and test the system in the field.

Do you need development services, project augmentation, or quality assurance for your remote ECG-monitoring software solution?

If you don't have your own in-house team of developers, be sure to hire an IT partner who is truly capable of building your ECG monitoring system. At TATEEDA GLOBAL, we are skilled at creating electronic patient data-capture solutions, building mobile medical applications, and developing protected web interfaces.

Delivered Healthcare Software Portfolio
The leading American healthcare companies benefit from working with us.
The Key Features of Custom ECG-monitoring Apps
When you develop an ECG-monitoring app from scratch, it's best to create a solution that includes a custom set of features specific to your individual healthcare model.
Automated Recognition of Сardiac Rhythm Anomalies
Smart algorithms or AI-aided components can be integrated into your ECG-monitoring solution in order to automatically recognize abnormal heartbeat patterns like arrhythmia and tachycardia.

This feature helps physicians read multiple incoming cardiograms, allowing them to save their time for more urgent or complicated cases.
Read also: ➡️ Medical Staff Management and Scheduling Software Development
Alarm System
If a threatening condition is automatically detected, a physician or even an emergency crew can be immediately alerted in a variety of ways, including machine-executed phone calls or in-system alarms.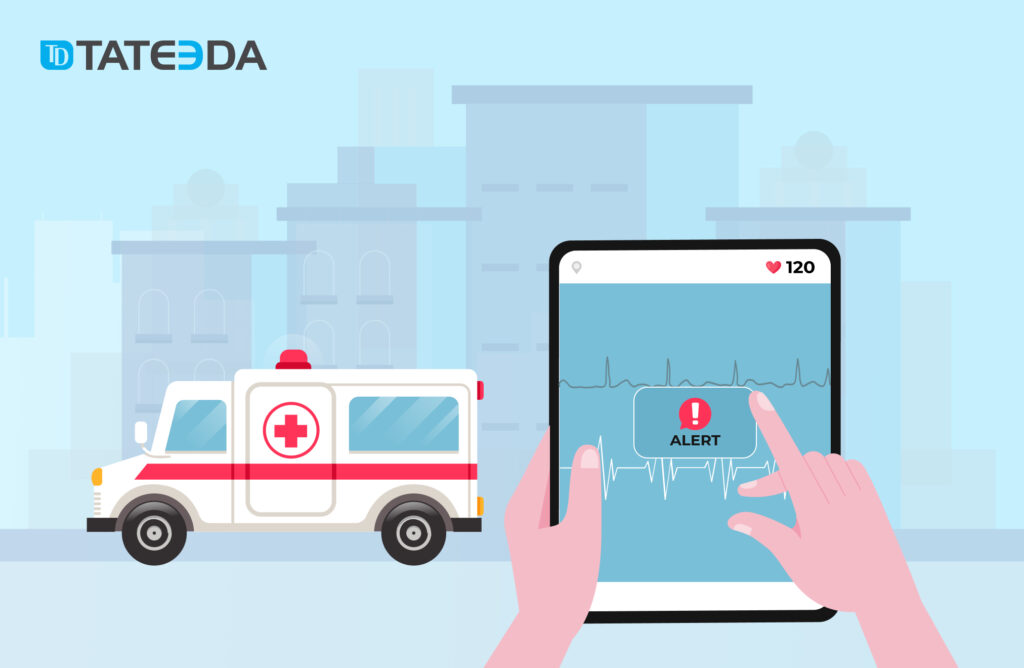 Learn more: ➡️ Cloud Computing in Healthcare: 3 Use Cases, Benefits, Features & Best Practices
End-user Monitoring Panel
Cardiologists and other medical specialists who use remote ECG-monitoring systems should have a convenient application for accessing and reviewing patient cardiograms, or even a real-time oscilloscope display.

It's necessary to develop a protected, well-arranged, professional application interface that can be efficiently used on tablets, mobile phones, and/or desktop computers, as required by project conditions.
Read also: ➡️ Cardiology EHR/EMR Software Development: Benefits and Features
ECG Reporting and Analytics
All biosignals and patient data should be securely collected, systematically organized, and graphically represented in relation to patient profiles. Learn more: ➡️ Healthcare Data Visualization: Examples, Benefits & Challenges.

This means that your mobile ECG-monitoring software should feature patient profiling and a cardiogram-viewing tool empowered by many ECG graph options (e.g., cardiogram zoom-in/out, event management, time navigation, etc.) With the accumulation of large data volumes in your electronic record system, you'll obtain new opportunities for medical research via healthcare data mining techniques.
Cloud Server Integration
If an ECG-monitoring system needs anywhere/anytime accessibility (and it's a sure thing that medical specialists will need patient data readily available 24/7), the system should be connected to a Cloud-based repository where all of the digital assets it generates can be securely stored and accessed around the clock.
The Challenges of ECG App Development
This technology is still experimental, with a limited number of effective offerings currently on the market.
It is often characterized by inadequate IT infrastructure, whether in medical facilities or patient homes.
There is a deficit of qualified developers who truly know how to develop remote ECG-monitoring systems.
Off-the-shelf ECG-monitoring software packages often involve poor HIPAA compliance.
TATEEDA GLOBAL's Experience Developing ECG-monitoring Software
At TATEEDA GLOBAL, we have deep experience in ECG-monitoring software development.
We offer a team of qualified software specialists capable of producing high-quality mobile, embedded software to support the use of ECG biosensors and other mobile solutions in this field of medicine.
TATEEDA GLOBAL built a system for remote ECG monitoring under the VentriLink brand: a remote, professional-grade heart-monitoring mobile app that has become an important part of the medical IoT system. It includes a biosensor device and a server app.
We also created a tablet app that allows medical professionals to view detailed ECG data collected from remote patients wearing biosensors.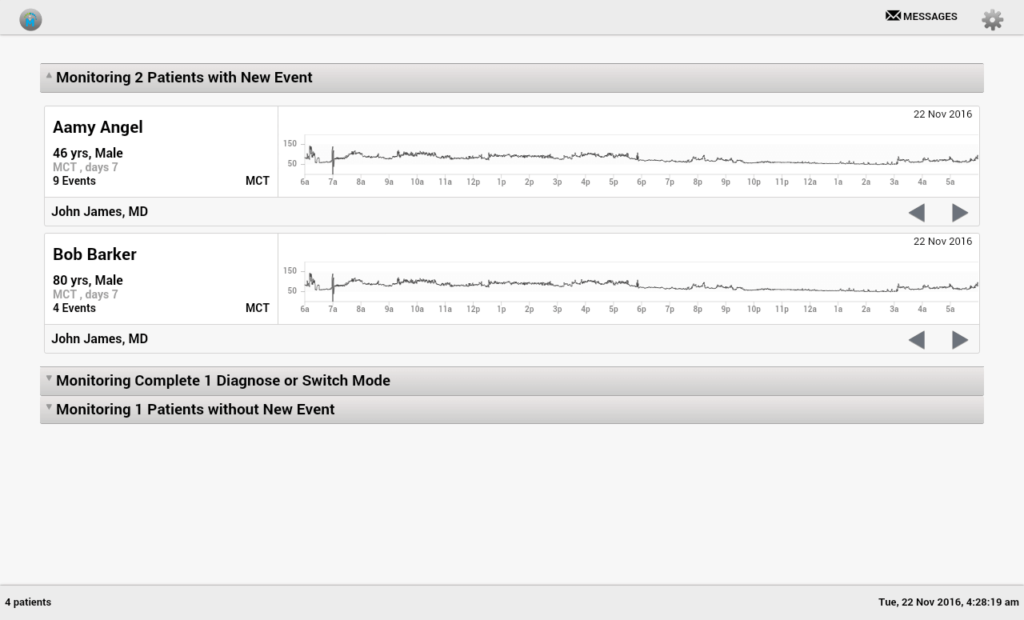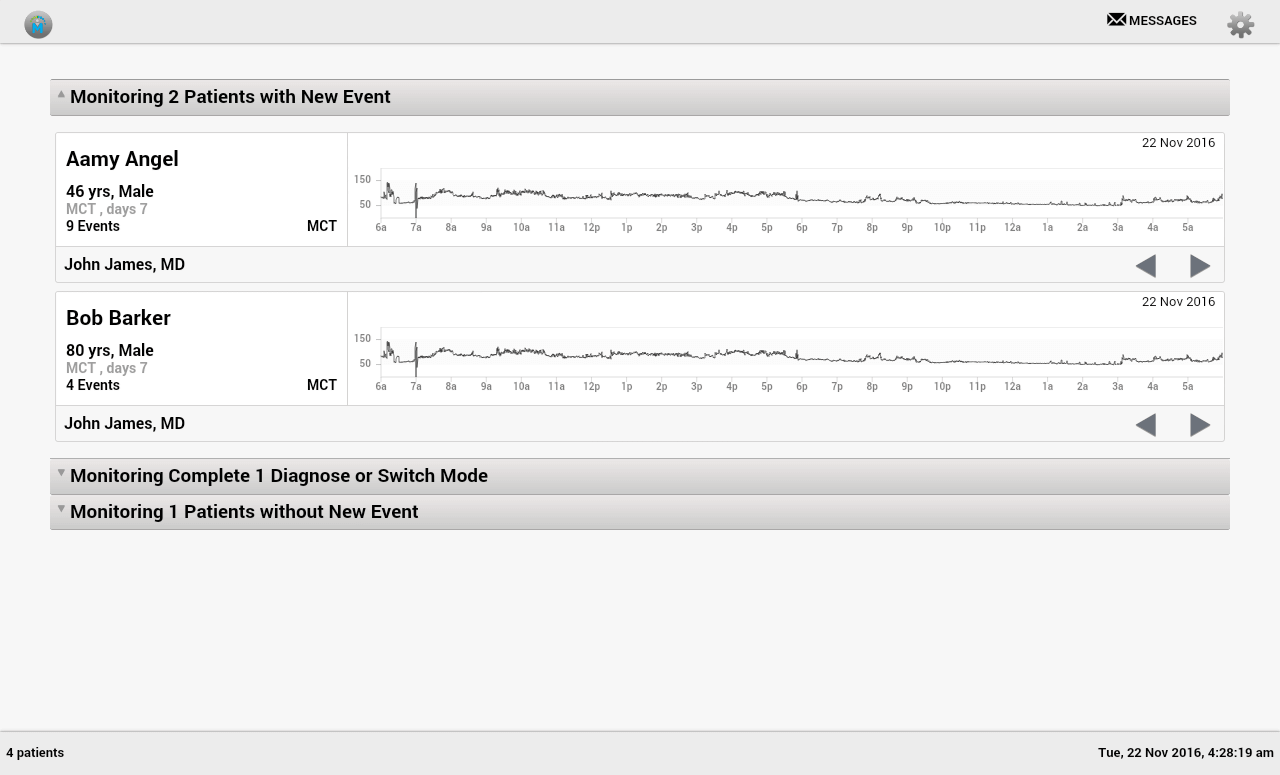 Here are a few of the important features we delivered:

Patient ECG data profiling and visualization (cardiograms)
A convenient, scalable view of patient cardiogram records
Automatic identification of unusual or abnormal heartbeat patterns (events) such as arrhythmia, tachycardia, etc.
Reporting of captured events to healthcare providers.
In Conclusion
Remote ECG-monitoring tools are in high demand by modern healthcare organizations.
If you need a professional IT team to help you build custom remote patient-monitoring software or help reinforce your existing projects, TATEEDA GLOBAL is here for you!
We offer:
Full-cycle ECG-monitoring software development
ECG-monitoring software project assistance, augmentation, and product testing
ECG-monitoring legacy software upgrades and reengineering
Compliance with HIPAA requirements and regulations
Affordable project costs, thanks to our R&D branch in Ukraine
Personalized connection with our project manager HQ in San Diego, CA
Vast onsite experience with U.S.-based IoT, healthcare, biotech, and pharma businesses
Fast team deployment—within 48-72 hours
Contact TATEEDA GLOBAL today to start developing the ECG-monitoring system of your dreams!

Rate this article!
0 out of 5 stars (based on 0 reviews)