Cardiology EHR/EMR Software Development: Benefits and Features
In this article, we'll discuss…
The current situation with cardiac health in the U.S.
Benefits and features of custom cardiology software development, including EHR integrations
Guidelines on how to develop an EHR system for cardiology practices and/or get help with this type of software project.
⚠️ If you require immediate help with the development of cardiology record management software, please contact our IT experts for deeper project consultation and more information!
Cardiology and cardiac patient care are some of the most expensive branches of the public healthcare system in the United States.

And there are several strong reasons for this…

About 1.5M cardiovascular events (heart attacks and strokes) occur annually in the United States, with the total economic damage exceeding the tremendous figure of $300 billion per annum.

Cardiovascular disease kills more than 650,000 American citizens every year. In comparison, the U.S. total COVID-19 death toll just exceeded 640,000 as of September 2021.

It's obvious that current medical efforts and resources are not enough to alleviate the situation. On a positive note, 80% of all cardiovascular disorders are preventable!

Some of the underlying causes behind these disturbing numbers include:

Unhealthy lifestyles/habits (obesity, smoking, alcohol, etc.)
Poor cardiac health awareness
Insufficient efforts from the healthcare industry: lack of qualified cardiologists, excessive pressure on practicing clinicians, sky-high prices for inpatient care, and much more…
🟢 At TATEEDA GLOBAL, we believe high-quality cardiology software development is the right instrument for addressing these challenges and saving more patient lives.
For example…
We are not newcomers to mobile cardiology software development, which is now considered one of the most promising fields in health tech.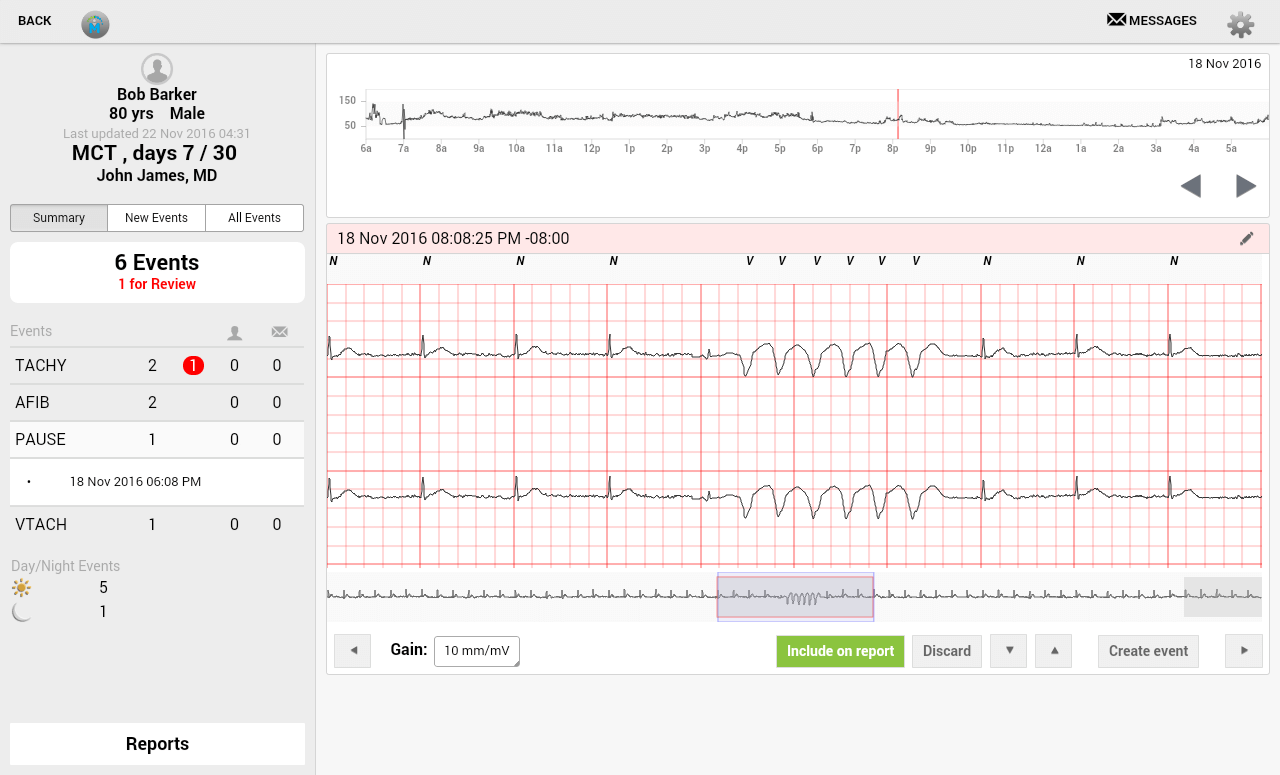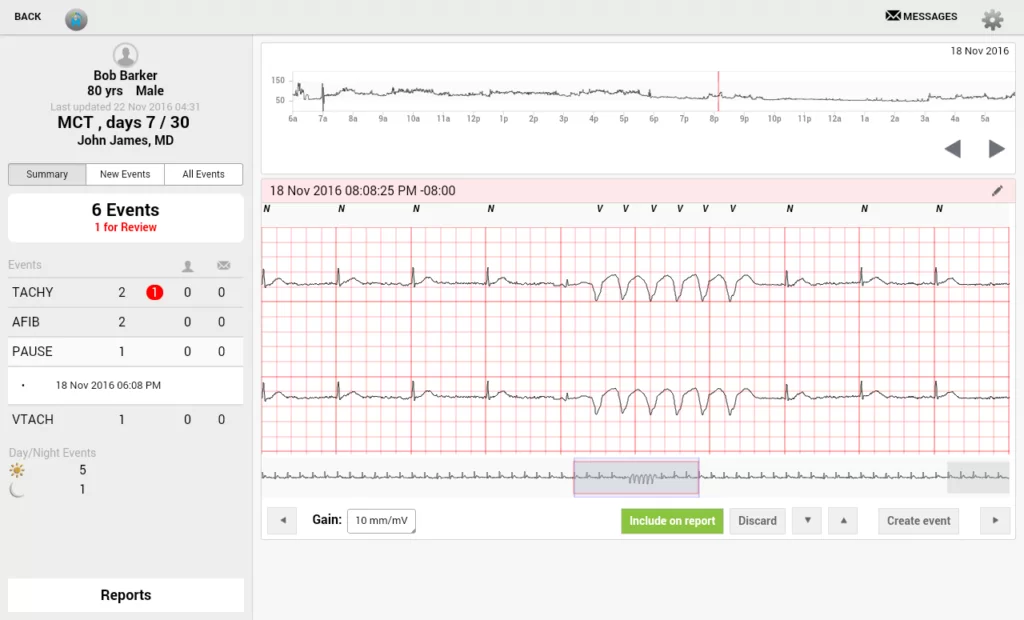 One of the systems we helped develop was a mobile application designed to generate cardiograms based on signals captured from remote patients wearing compact biosensors.
A multitude of cardiology devices and application integrations are also possible. For example, specific formatting of ECG data can be introduced for optimum uptake of patient data to existing EHR and EMR databases.

Let's learn more about the application of cardiology software systems in modern healthcare…and how to build one for your medical practice.
Cardiology Software Development Trends
According to moderate market estimates, the total capacity of the mobile ECG device market will exceed $120 billion by 2026. Neighboring market sectors and associated niches (such as cardiology EMR software development and healthcare startups) will contribute to even larger projected figures.

Let's consider a few factors affecting the situation in cardiology-focused health tech…

ECG software enhancement: In previous decades, ECG solutions were largely focused upon printed cardiograms, which today are barely compatible with electronic reporting and record-management software like EMR (electronic medical records). By the way, cardiograms belong to the realm of medical data visualization, which is a very productive practice: a variety of techniques and tools for visual data representation can be developed and added to your health data management system on demand.

The paperless workflows of modern hospitals and clinics require ECG data to be digitally formatted and optimized for distribution among different healthcare systems, including EMR/EHR software.

Learn more: ➡️ Custom EHR/EMR Software Development: The Complete Guide.

Why? Implementation of EMR cardiology software allows medical specialists to access and save patient reports and electrocardiogram charts instantly. Accumulation of medical records allows the generation of profound lifelong health analytics for each patient. If you're interested in developing your EHR system with specific cardiology-related functions, you can book a free consultation with our health-tech expert: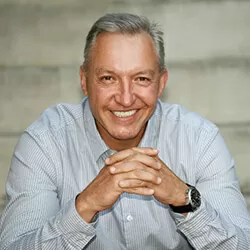 Slava Khristich
Healthtech CTO
Based in San Diego, Slava knows how to design an efficient software solution for healthcare, including IoT, Cloud, and embedded systems.
ECG hardware advancement. ECG machines (electrocardiographs) have always been large, complicated, cumbersome devices with plenty of wires and heavy lead electrodes. These machines are still used in medical facilities. They're powerful yet expensive, demand qualified operators to manage them, and are completely unavailable outside the clinical setting.

Thanks to ongoing progress in medical electronics, including the development of medical IoT, newer generations of cardiac monitors are now:

more affordable
more sensitive
compact
easier to use.
Today, consumer- and clinical-grade devices have been successfully introduced to the medical market in the form of engineering concepts and readily available products.

All of these wearable, adhesive, implantable, portable (bio)sensors offer unprecedented levels of connectivity, patient mobility, and device synchronization. These tools belong to the field of IoT system development and can support a number of modern connectivity options.

Why? Since innovative mobile cardiac monitors are compact and can be connected to special applications installed on patients' mobile devices, they offer countless opportunities for improvement of cardiac patient care as well as increased diagnostic accuracy. They catch certain types of ECG events and transmit/report them to remote EHR software solutions managed by healthcare providers and accessed by dedicated cardiologists.
Interested in Developing EHR Cardiology Software?
At TATEEDA GLOBAL, we are ready to help you build software solutions to facilitate remote ECG monitoring practices—for example, mobile applications that allow clinicians to review ECG graphs and automatically identify signs of heart disease. System outputs can be immediately recorded to connected EHR software.

You can learn more about our experience from this case study.

NOTE: We are neither vendors nor developers of certified ECG hardware, but we are readily available to help you create a software solution for this type of system.

If you are interested, please be sure to contact us for a free consultation.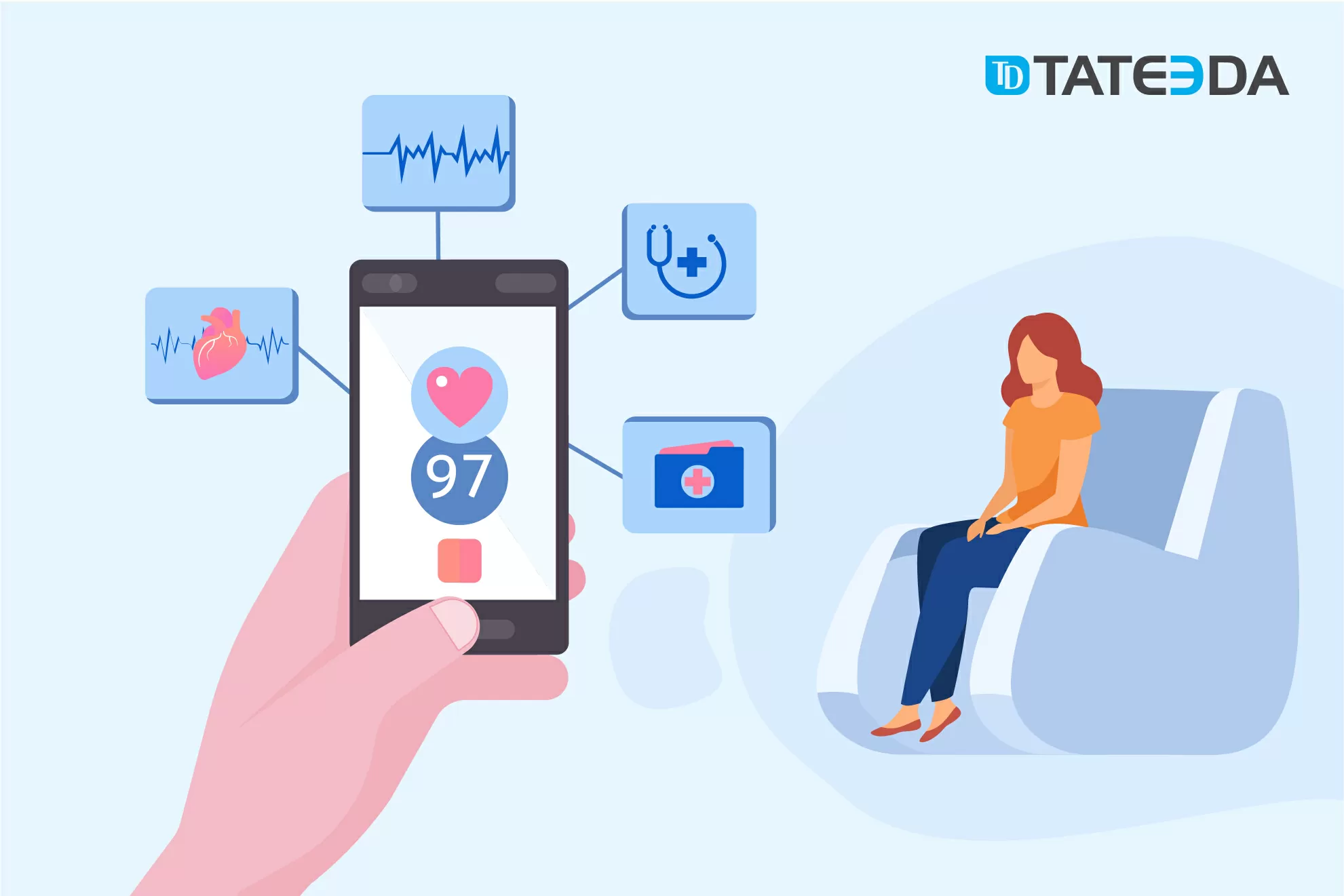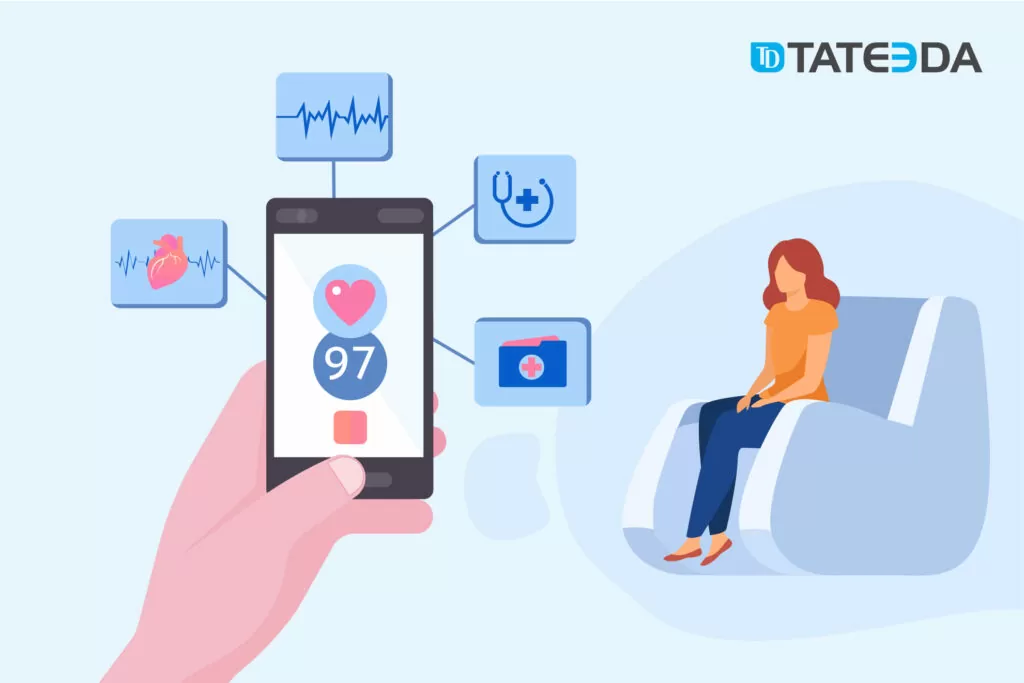 The Benefits of Cardiologic EHR/EMR Software Systems
Some of the main benefits of EMR cardiology software include…
One Point of Access for Clinicians
As each patient's cardiologic information is aggregated in one place (within the EMR/EHR system), medical specialists obtain a one-dashboard view of their personal cardiac health history, e-prescriptions, imaging, ECG graphs, lab tests, and much more.

This quick, efficient means of accessing patient information saves a lot of the physician's valuable time, which can now be dedicated to more important tasks.

If the EHR system offers a mobile platform application, physicians gain anytime\anywhere access to patient data. A specially designed access portal can be also offered to patients, giving them control over their medical records according to HIPAA requirements.

Learn more: ➡️ Patient Portal Development Guide: Types, Features & Cost.
More Automatic Capabilities for Cardiologists
The American healthcare system (as well as the public health systems of many other developed countries) is headed for a perfect storm: a worsening physician shortage (including cardiologists) combined with a growing/aging population.

The best medical crisis response would include introducing enhanced automation to clinical workflows.

Since many cardiovascular diseases and cardiac disorders demonstrate typical patterns on heart rhythm graphs, they can be automatically detected by AI-driven algorithms integrated with EHR and/or ECG-monitoring systems.

This basically allows cardiologists and other medical specialists to diagnose and observe more patients at one time.

Some mild cardiac disorders can even be treated by general therapists, with limited to no involvement from qualified cardiologists. Automated systems suggest the best treatment scenarios based upon available data. These functionalities can be seamlessly integrated with custom senior care applications that allow for remote supervision, including visual surveillance and ECG monitoring of senior patients.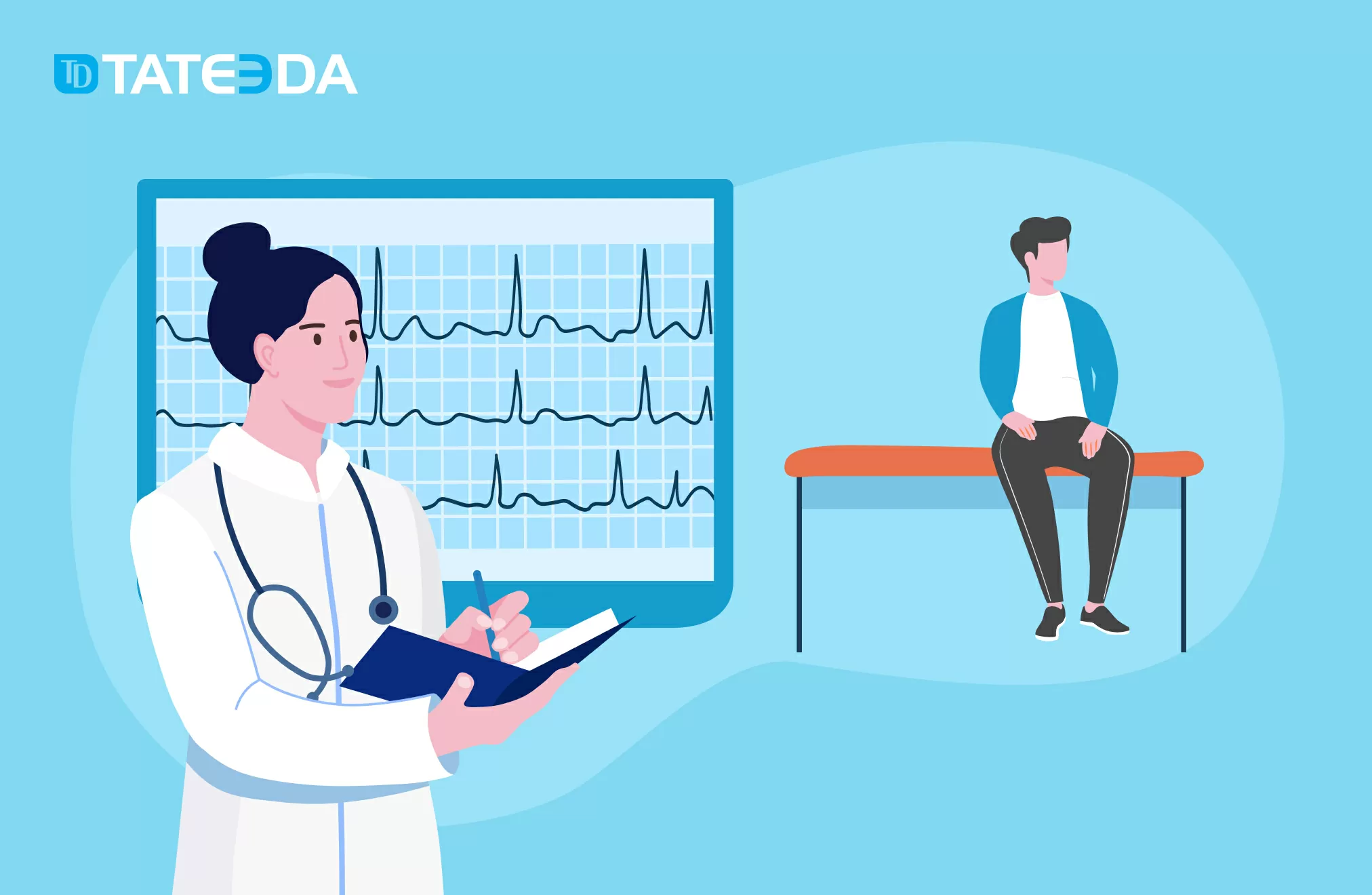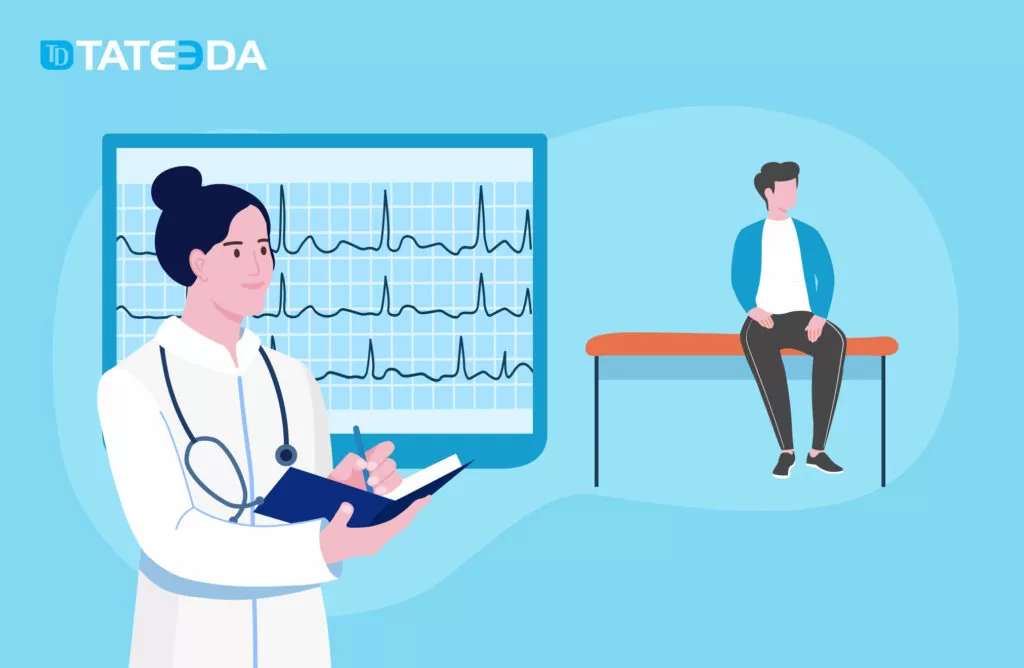 Learn more: ➡️ 14 Major Healthcare Technology Trends
Cardiovascular Disease: Analytics and Individual Risk Assessment
Once ECG data has been transmitted to an EHR system driven by analytical functions, physicians can conduct lifelong patient health retrospective and analysis, including heart risk assessment based upon each patient's individual features.

For example, AI-backed software components included in EHR are capable of analyzing aggregated data profiles for each patient, including any chronic diseases, allergies, and other important events (such as previous surgeries). This helps doctors assess individual cardiac risk and suggest optimal treatment scenarios.
Details of the Cardiology EHR/EMR System Development Process
Cardiology software system development is a complex undertaking that requires a qualified team of various IT specialists—software engineers, UI/UX designers, and code developers.

At TATEEDA GLOBAL, we have rich experience and a powerful team that is always at your service for custom medical software design, development, and project augmentation.

We would like to share our strategy for creating a custom cardiology software system and/or integrating it into an existing software solution (EHR or EMR).

So…

How to build software for cardiology?
Step #1: Define the Project Scope of Your Cardiology System
Identify your software project type. Is it the development of a new software product, or re-engineering/integration of existing cardiology software?
Identify the grade of your medical system. Is it a consumer- or professional-grade software? Make sure you understand the legal requirements and/or certifications required. NOTE: The minimum requirement is HIPAA compliance. Learn more: How Custom Healthcare Software Is Developed for Secure HIPAA Compliance.
Involve a skilled medical software engineer and/or business logic analyst/analysts to create an architecture of your future cardiology EHR solution/integration.
Break your cardiologic software project into doable tasks well-described in technical terms.
Assign those tasks to qualified software specialists with experience in medical software development.
Set a deadline for your project.
You can learn more about our healt-tech services from here: 👇
Custom Healthcare Solutions
See how we can engineer healthcare software, validate your ideas, and manage project costs for you.

Step #2: Take Care of the Technical Side of Your Cardiology Solution
Create algorithms and requirements for data transmission, formatting, and amplification (as required by your cardiologic software concept).
Identify the interfaces and connection channels to be involved in the solution.
Create a model for interactions between the different components of your system in compliance with healthcare interoperability: hardware/software, client-server applications, database, cloud-based repository, and other system levels as predefined by your software architecture.
Identify and describe all necessary features and EHR modules.
Make sure you have a step-by-step plan for how to build each separate function and feature (identify features that can be integrated via API-based integrations with existing modules to speed up the development process.)
Step #3: Take Care of the Human-oriented Side of Your Cardiology Software
Create a map of user/role-based interactions and software workflows (for physicians, administrative employees, patients, tech specialists, etc.)
Develop a hierarchical map of role-based permissions and responsibilities.
Assign the UI/UX development tasks to a designer experienced in medical specifics.
Ensure GUI adaptation for all mobile/desktop displays.
Consider the full range of platforms and solutions included in your cardiology EHR/EMR solution.
Step #4: Organize the Development Process of Your Cardiology EHR
Rigorously incorporate best QA practices and security-management processes throughout SDLC: no security cracks or bugs can be tolerated in cardiology software products.
Make sure secure software development requirements and principles are respected and well-managed at every step.
Involve an experienced project manager capable of controlling the execution of project tasks and ensuring that your cardiology management system will be created on time.
Manage the QA process to confirm that your cardiology-focused EHR product or integration is free of security flaws and usability issues. Learn more: Medical Software Testing and Quality Assurance in Medicine.
Do you want TATEEDA GLOBAL to do the development heavy lifting for you?

It's okay if you don't have sufficient resources or experience to undertake a cardiology EHR or EMR project by way of your healthcare organization alone. In order to save time, money, and other resources you can start by building an MVP.
If you need an IT company to partner with you, consider TATEEDA GLOBAL. Contact us for a free consultation in medical software development.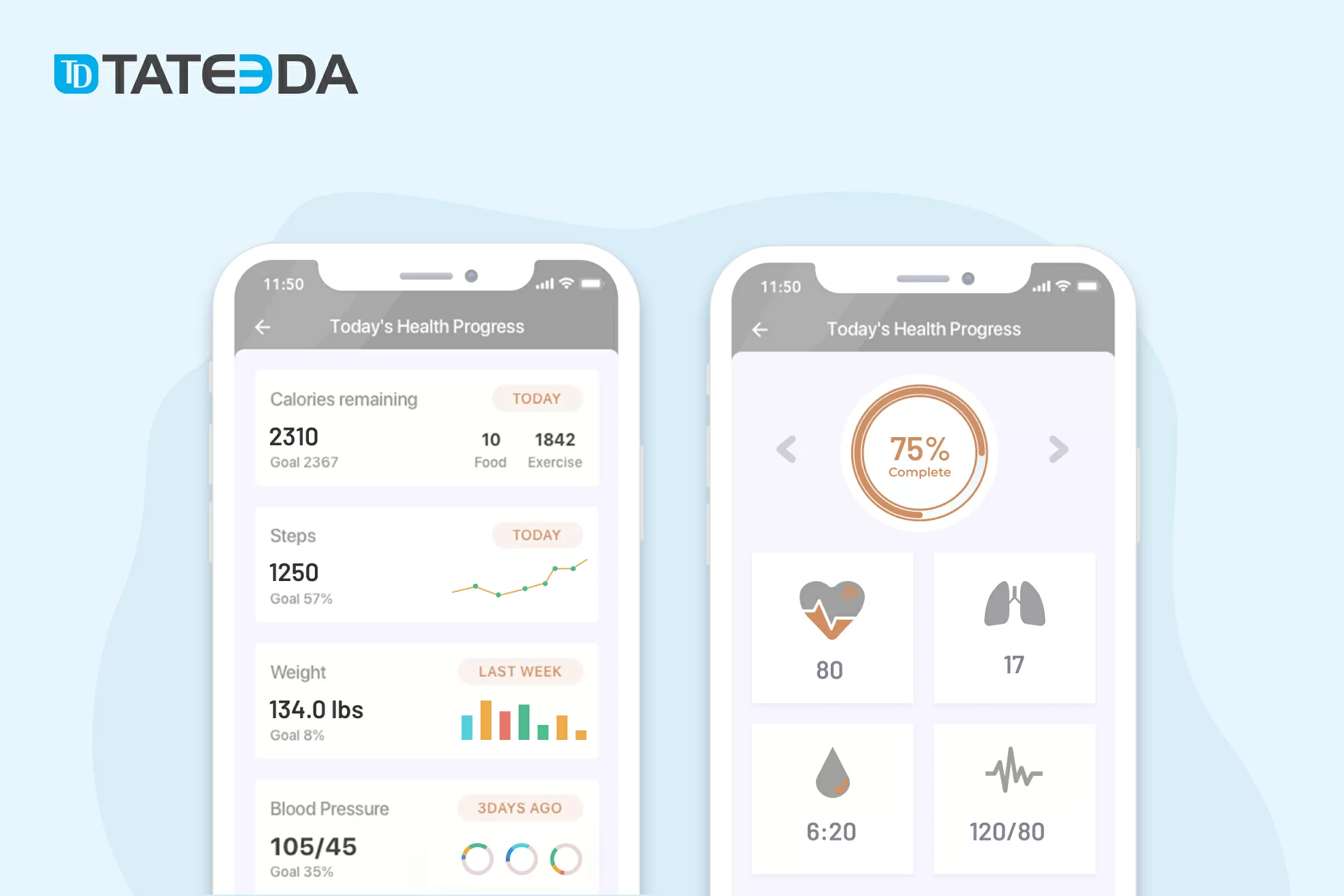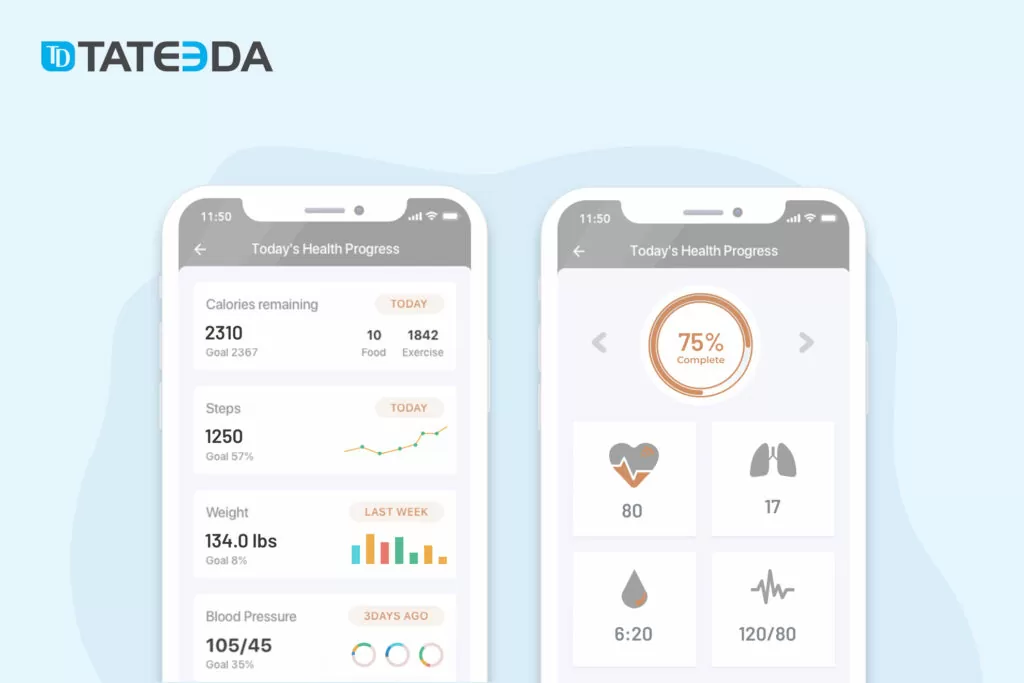 Learn more: ➡️ The Benefits of Healthcare IT Outsourcing for Your Medical Facility
Key Features of Custom Cardiology Software System
Let's consider a few of the most crucial features of modern cardiology EMR software:
Seamless Cardiologic Data Integration and Synchronization
Modern cardiology EHR software packages should be able to seamlessly execute their most important function: the integration of electrophysiological signals acquired from ECG devices (or captured with other diagnostic tools) into electronic patient records. This requires accurate, optimized data processing and formatting.
Remote Cardiac Diagnosis Sharing and Interpretation
EHR cardiology systems provide advanced telehealth and data-sharing capabilities. A group of authorized physicians can remotely collaborate on patient documents, including arterial studies, blood tests, radiologic studies, and electrocardiograms. Cooperation can take place under the umbrella of the protected EHR system via real-time teleconferencing and other tools. Custom telehealth system development allows physicians in rural areas, for example, to receive qualified consultations from clinical cardiologists in any hospital or medical center, along with all necessary e-prescriptions.

This will be especially beneficial for elderly patients. Instead of long-distance travel to the closest major medical facility to see a cardiologist and obtain individualized medication and treatment, they will receive accurate diagnoses and essential prescriptions in the shortest possible amount of time.
Cardiac Data Analysis
A long-term record of health events stored within the EHR system allows medical data analysts to process patient data and mine it for meaningful insights, patterns, and trends while drawing educated conclusions. A personalized cardiac risk-assessment and scoring system can be applied to each patient via smart algorithms. Learn more: Data Mining in Healthcare: Examples, Techniques & Benefits.

This allows healthcare providers to improve quality of care and maintain preventive cardiac monitoring and treatment for each patient based upon their health specifics, history, lifestyles, and habits.
Template-based Data Entry
It's possible to speed up performance by offering multiple specialty-specific templates within physician interfaces.

This could include typical medical forms showing critical medical metrics including pulse, auscultation, heart sounds, heartbeat patterns, blood tests specifics, and much more. Patient feedback forms can also be offered, allowing patients to report individual feelings and/or any subjective change in their symptoms over the course of treatment.

Learn more: ➡️ Patient Electronic Data-capture Solution Development.
Some Additional Features for Cardiology EHR
Urgent attention alerts on mobile phones or machine-executed calls.
Automated medical coding for medications, procedures, and diseases.
Integration with the medical workflows of other departments and facilities.
A variety of dynamic graphs and reporting features.
Inventory-management features.
E-prescriptions and more.
If you want to learn more about our successful healthcare and biotech development projects, please see our portfolio: 👇
Delivered Healthcare Software Portfolio
The leading American healthcare companies benefit from working with us.

The Challenges of Cardiology EMR/EHR Software Development
Not all EMR/EHR cardiology systems are good for your specific workflows and business model, so it's more advantageous to opt for custom development projects if you don't want to deal with costly inefficiencies.
Implementation of EMR cardiology systems can face obstacles because of inadequate or outdated IT infrastructures within medical facilities.
There is a deficit of qualified software developers who truly know how to build cardiology-related systems.
Off-the-shelf cardiology EHR software packages often involve sub-par HIPAA compliance and barely-responsive support services.
TATEEDA GLOBAL's Experience with Cardiology-related Solutions
Our team has all the necessary resources to create cloud-based EHR cardiology software for your medical practice, including skilled .NET specialists available for hire.
One of our mobile solutions was created for VentriLink, and included a tablet-based client-server system that collected ECG data from remote patients via wearable non-invasive biosensors.
This tool was built to:
securely and accurately process electrophysiologic signals from patients
format data and send it to the server application
display cardiograms on authorized clinicians' tablets
provide cardiologists with tools for reviewing patient data.
If you have ideas for cardiology-related or ECG management projects but don't know where to start, make sure to contact us at TATEEDA GLOBAL and provide us with a few more details to get your free project estimate.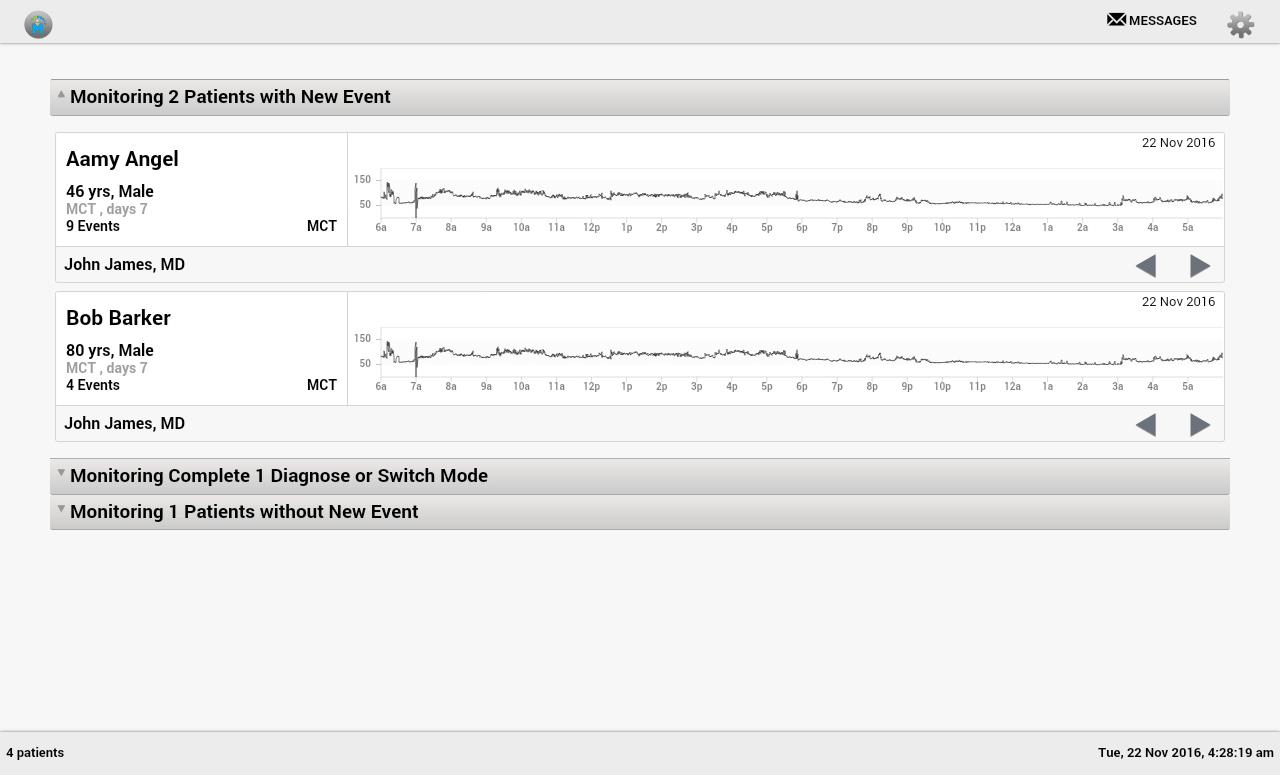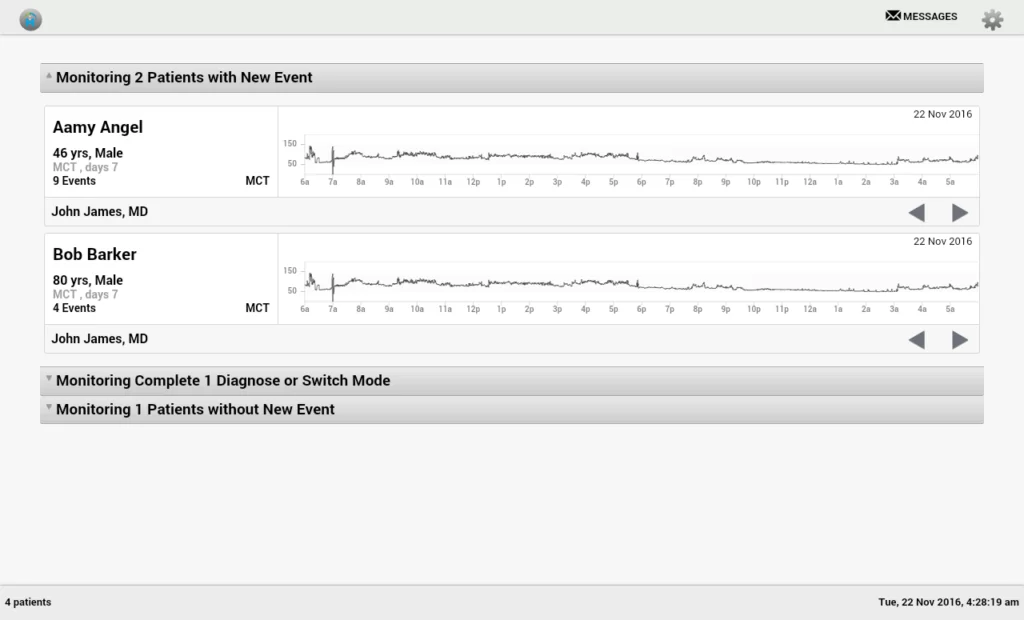 In Conclusion
Cardiology-management solutions are in high demand by modern healthcare organizations.

If you need a professional IT team to help you build custom Cloud-based cardiology EHR/EMR or reinforce your existing projects, TATEEDA GLOBAL is here for you!

We offer:
Full-cycle development of cardiology EHRs and other healthcare systems
Cardiology software project assistance, augmentation, and product testing
Compliance with HIPAA requirements and regulations
Affordable project costs, thanks to our R&D branch in Ukraine
Personalized connection with our project manager HQ in San Diego, CA
Vast onsite experience with U.S.-based IoT, healthcare, biotech, and pharma companies
Fast team deployment—within 48-72 hours
Contact TATEEDA GLOBAL today to start developing the cardiology system of your dreams!
Rate this article!
5 out of 5 stars (based on 31 reviews)