Patient Electronic Data Capture Solution Development: The Complete Guide
In this article, we'll discuss…

✔️ How to develop an electronic data capture system for medical needs
✔️ The features and benefits of an EDC system in healthcare practice
✔️ How to get qualified assistance with this type of project.

⚠️ If you require immediate help with the development of electronic data capture applications, please contact our IT experts for deeper project consultation and more information!
Getting patient feedback is a crucial factor in healthcare analytical efforts. It's necessary for many situations, but especially important when it comes to clinical trials.
Here's a brief explanation of what a clinical trial is:
A clinical study or clinical trial (a.k.a interventional studies) is a field examination of new medical drugs, devices, procedures, diets, or complex measures involving volunteers. Clinical trials are conducted under the supervision of healthcare professionals and in accordance with specific scientific protocols and requirements.
They say there is a software type for everything, and clinical trials are no exception.
Patient electronic data capture solutions help healthcare professionals in hospitals and other medical facilities to collect and accumulate medical knowledge during clinical trials and other activities.
⚡ At TATEEDA GLOBAL, we are good at developing custom EDC systems for medical needs.
One of our clients is a tech provider that provides auto-rendering forms to U.S. medical organizations. These electronic forms come in a variety of configurations to help physicians accumulate and manage patient feedback data.
We know how to create electronic data capture software, and we have some valuable experience to share with you…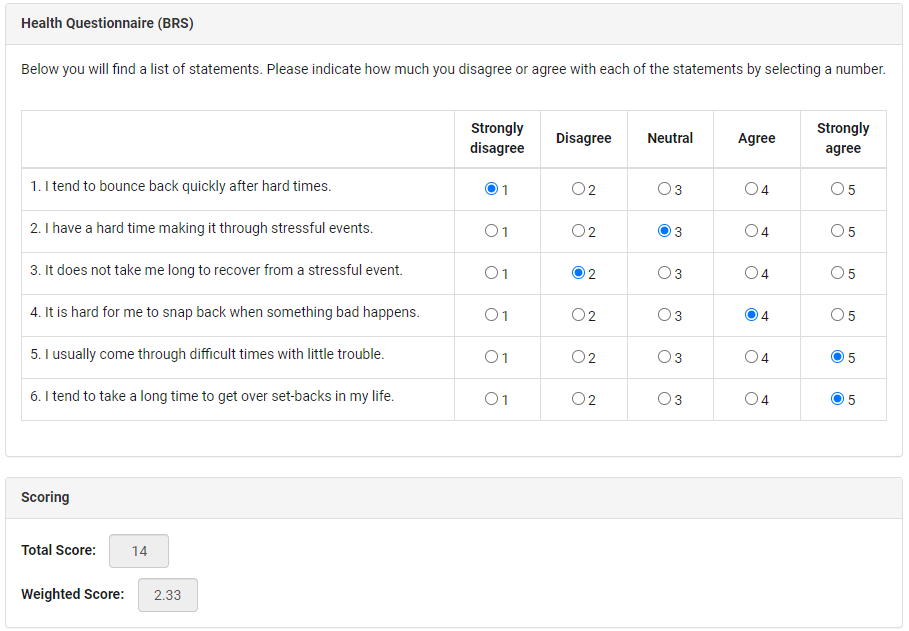 Do you already have an EDC solution for your medical organization? 🤔
TATEEDA GLOBAL specializes in building and maintaining complex healthcare software systems. We offer full-cycle development and deep expertise in HIPAA compliance. Besides this, we can help you with the qualified tech audit and modernization of legacy healthcare IT solutions, including legacy EDC tools found in your medical practice.
If you want to create a custom electronic data-capture solution or upgrade an existing one, TATEEDA GLOBAL can help. Contact our skilled health IT consultant today for a free project estimate: 👇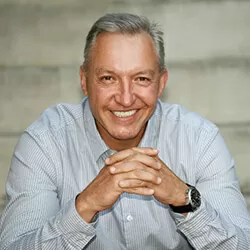 Slava Khristich
Healthtech CTO
Based in San Diego, Slava knows how to design an efficient software solution for healthcare, including IoT, Cloud, and embedded systems.
How Patient Electronic Data Capture Software Helps Healthcare Professionals 👨‍⚕️
The basic functions of electronic data capture (EDC) software include:
Rendering medical questionnaires and patient forms
Web-based access to these forms and dashboards
Different roles for users: clinical trial participants, sponsors, investigators, and more
Data collection, cleaning, and organization
Other data operations, such as medical data mining, analytics, etc.
Since TATEEDA GLOBAL has considerable expertise in electronic data capture solution development, we'd like to list the processes normally facilitated with the help of EDC solutions:
# 1: The generation of medical questionnaires and patient forms
Forms with questions and/or fields (or value selectors, radio buttons, etc.) are the prime instrument of many clinical trials and studies. They are also called case report forms (CRF), and are to be completed with standardized pieces of essential clinical data.
These forms present specific professional questions to be answered by physicians. They also feature self-evaluation questions for patients that help them report health conditions, estimate pain/discomfort levels, and describe any other health/symptomatic changes over the course of taking any experimental medication or treatment.
Medical EDC software allows the design and creation of virtual forms, then offers the finished product to patients and/or public health workers via specifically designed web-based mobile medical portals.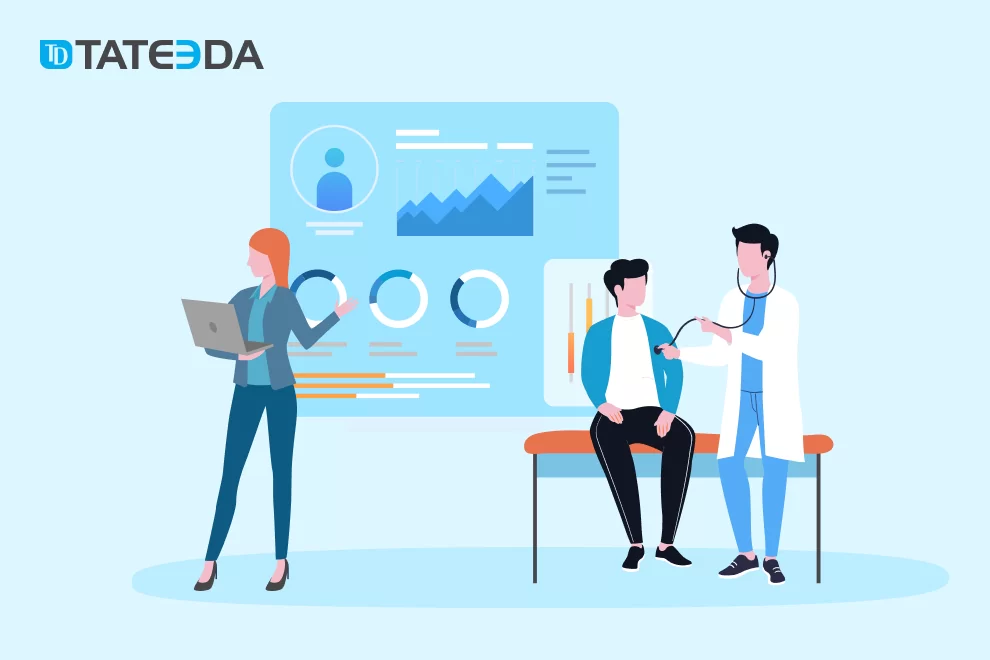 # 2: Clinical study management
Information collected with electronic forms should be checked, corrected, verified, systematized, and used for clinical research purposes.
EDC platforms are powered by certain project management functionalities needed to control the whole clinical research process and manage/review information at different steps/stages of medical trials.
# 3: Clinical study analysis and reporting
Once you have all your patient data captured and systemized within your EDC system, it's time to interpret it with the help of various research tools: spreadsheets, data charting, template-based research reports, and other medical data visualizations.
Of course, building such a sophisticated module can take a long time, but the process can be quickly resolved by adding special API integrations or data export capabilities for a standalone data analytics software package.
Do you need help with electronic data-capture software development in healthcare?
TATEEDA GLOBAL will readily share our deep expertise and resources, helping you build a perfect EDC system for your medical practice needs.
Learn about the other custom medical software we can create for you:
💬 We are a software development company based in San Diego, CA with an efficient mix of local and remote team members. This allows us to manage project costs for you. Be sure to contact us.
Patient EDC Software Market Trends 📊
The medical industry is rapidly evolving, both in the U.S. and worldwide. In this chart, you'll see that number of clinical trials is steadily increasing year by year.
This trend is very sustainable, and will persist in the upcoming years.
Myriad new and safer medications, high-end healthcare devices, innovative methods, and vaccines are entering the market to help patients alleviate chronic and/or contagious disease symptoms, or even cure these conditions completely.
Sponsors (private companies from the pharma, biotech, and health tech industries) are eager to collaborate with U.S. hospitals and clinics to introduce and deploy their medical products for clinical trials.
At TATEEDA GLOBAL, we believe this is a remarkable tendency that not only promises more efficient treatment protocols for many diseases, but also greater profits for physicians, patients participating in clinical trials, and the healthcare facilities hosting them.
It also indicates higher demand for medical electronic data-capture solutions.
The Benefits of Patient Electronic Data Capture Software 💪
If you are considering custom EDC software development, it's important to understand the advantages and conveniences it provides to healthcare professionals, patients, and clinical trial sponsors.
Quick, Convenient Access to Patient Data
Electronic data capture techniques allow medical personnel to get rid of traditional paper-based routines to boost speed and enhance the convenience of data operations in clinical trials (or collecting patient data/feedback for other needs).
EDC software/portal facilitates include operations like (but not limited to) the following:
Data capture. Patients and/or physicians complete specialized forms, causing data to immediately translate into the system.
Search. Vast arrays of information can be scanned in a matter of seconds (or even faster) in order to find and show specific data.
User navigation tools allow statisticians, computer operators, and medical workers to quickly and efficiently access patient data
CRF tracking organizes medical research data in relation to a range of trials and medical facilities.
Organizing/grouping of data in relation to patients, dates, outcomes, and other important factors and attributes.
Patient Data Security and Accuracy
When data is captured electronically, you can arrange forms in a way that lets you minimize human error:
Prevent incorrect or inaccurate data from being entered into forms (which is often a case when dealing with paper documents).
Use smart software algorithms to clean and prepare data. EDC systems automatically identify and remove illegible or incorrect entries (if any), ensuring that everything is organized correctly within the database.
Provide users with protected access and a safe communication environment to prevent unauthorized or fake patients from participating in clinical trials.
Benefit from accurate, unbiased machine calculations and analytics
Lose no data to technical risk; benefit from data auto-saves and regular database backups.
Read also: ➡️ E-Prescription Software Development: The Complete Guide
Cost-efficiency in Conducting Clinical Research
Although the initial costs of developing patient electronic data-capture software can be pretty high, it pays you back over and over again in the long run.
A patient data-capture system is an efficient investment because it:
Helps your healthcare organization host multiple clinical trials on behalf of multiple sponsors and collect a bunch of helpful information from your patients.
Keeps a track record of clinical trial participants (patients), supervisors/investigators (physicians), sponsors, protocols, and more
Supports the highest quality of data safety, analytical capability, and scalability.
Prevents incorrect data interpretation and misuse of medical trial protocols.
Allows you to integrate data from multiple sources (including other medical systems) so you can build an integral, holistic knowledge base.
Read also: ➡️ How to Achieve Cost-efficient Healthcare with Custom Payroll Software Development
💬 Sound good?

If you're looking for a reliable tech partner to help you with medical electronic data-capture software development, consider TATEEDA GLOBAL.

We have a long track record of success with U.S.-based healthcare companies like AYA Healthcare. We have all the necessary specialists, knowledge, and technology to create a medical EDC solution for your specific needs. Learn more about our services: 👇
Custom Healthcare Solutions
See how we can engineer healthcare software, validate your ideas, and manage project costs for you.

Features of a Custom Patient Electronic Data-capture Solution 📄
When you create electronic data capture software from scratch, it's the best time to plan functionality so it suits the needs of your medical facility/organization at its best. Let's consider some of the most popular electronic data capture system features…
Medical Data Entry Functionality
This area can include a lot of important options and tools:
A medical trial protocol-management component that lets you set the rules and roles for each new clinical trial project
An in-built form editor to easily create case report forms and questionnaires
AI-automated medical coding. When it's necessary to manage a large volume of medical terminology with code, there is a high risk of error. Automated code-suggesting or code verification solutions can be implemented.
Convenient UI that minimizes the time needed to train and onboard medical staff and patients
Quality control measures, restrictions, data entry limitations, and other benefits to ensure clean, correct data input.
Clinical Trial Data Export, Analytics, and Management
Developing medical/patient data analytics features from scratch can be a daunting and very expensive job, but thankfully, there are reasonable alternatives.
Integrations. We can add data analytics functionality by using specific API integrations, plugins, open-source code libraries, and other readymade tools.
Data export. One of the quickest solutions is adding a data export feature to your EDC software. If your organization or trial sponsors are already using a data analytics system, your EDC tool can produce a specifically formatted document or file that can be then easily uploaded to their data management system.
Data import. The same thing can be used to upload certain data structures to your electronic data-capture software—for example, importing CRF templates and analytical report templates.
Read also: ➡️ How to Benefit from Remote Patient-monitoring Software Development
Query Management in Clinical Trials
Complex clinical trials usually generate a reasonable number of errors and discrepancies. Inaccuracy in medical data is not allowed, as it spoils the whole process and doesn't let sponsors get a true picture of how efficient their medical products are.
These discrepancies are called queries, and are sent to investigators (physicians) for checking data and getting the things sorted via research.
Some of these inconsistencies in a database can automatically be identified and resolved, while others will require the attention of medical staff for a more profound intervention.
Patient EDC software can be used to facilitate the processes of generating, tracking, communicating, and managing these queries.
Delivered Healthcare Software Portfolio
The leading American healthcare companies benefit from working with us.

Integration with Other Clinical Software Systems
It's possible to connect an electronic data-capture solution with other in-hospital or organizational systems such as EMR or EHR software. This type of integration can bring multiple benefits, such as cross-department or cross-trial patient data-sharing. Read also: Custom EHR/EMR Software Development: The Complete Guide
Of course, such complex integrations should pass legal compliance checks, so no PHI can accidentally leak to unauthorized parties. This issue can be also managed with the help of complying with medical data interoperability principles.
Do you have more ideas for your medical EDC software features?
Let's discuss which other elements of electronic data-capture software TATEEDA GLOBAL can build for you. ➡️ Share your thoughts with us!
Challenges in Implementing EDC Software 🛠️
Technical issues: obsolete or poorly managed IT infrastructure in hospitals and other medical organizations.
Legal issues. The United States has a well-developed legal framework for regulating medical research activities. EDC software is neither specifically regulated nor demanded, but all medical software should comply with HIPAA.
Poorly developed or undertested electronic data-capture software that tolerates incomplete or inaccurate data entries.
Complicated or cumbersome software interfaces make it difficult for medical staff to operate EDC systems and forms.
TATEEDA GLOBAL's Experience in Developing Clinical EDC Solutions
Our developers have vast experience in the creation of online solutions for medical purposes and organizations, including EDC solution development.
One of our customers is a U.S.-based tech vendor that provides clinical study services for many healthcare companies. TATEEDA GLOBAL is helping them to forge highly individualized, thoroughly tested electronic medical forms and other data-management tools.
These forms include auto-rendering, scripted form scenarios (e.g., incorrect entry warnings), radio buttons, clickable pictures with human body parts, and much more.
Those forms are then offered to patients and healthcare workers within a protected web application or by other means.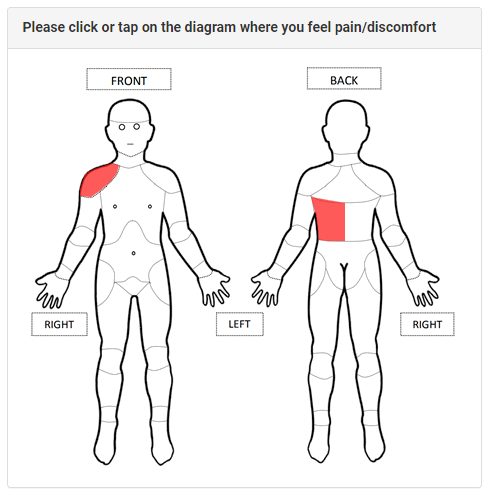 In Conclusion
Patient electronic data capture tools are in high demand by healthcare organizations. So is optimized, high-performing tech infrastructure.
If you need a professional IT team to help you build a custom electronic data-capture solution or reinforce your existing EDC projects, TATEEDA GLOBAL is here for you!
We offer:
Full-cycle electronic data-capture software development
EDC software project assistance, augmentation, and product testing
EDC legacy software upgrades and reengineering
Compliance with HIPAA requirements and regulations
Affordable project costs, thanks to our R&D branch in Ukraine
Personalized connection with our project manager HQ in San Diego, CA
Vast onsite experience with U.S.-based IoT, healthcare, biotech, and pharma businesses
Fast team deployment—within 48-72 hours
Contact TATEEDA GLOBAL today to start developing the medical electronic data-capture system of your dreams!