Online Pharmacy App Development Guide: Core Features & Costs
💬 In this article, we'll discuss online pharmacy app development.

What does it take to make a good pharmacy app? Skill, vision, time, and money—nothing new here! Our next question is more specific…

Will the value invested in a mobile pharmacy solution pay you back via enhancements to your pharma distribution model, like automation of pharmacist tasks? 📲 💊

YES! ⇒ Let's learn more about building a pharmacy application for your business: possible features, potential project costs, and how your pharmacy can benefit…
Today, there's hardly anything you can't order online and get delivered to your door the next day. 📦

Pharmacy app development ensures a higher level of automation and facilitation of pharmacy business processes. It also offers vastly improved service to pharmacy patients and clients, including ordering medications online and scheduling a home delivery.

With on-demand pharmacy apps, clients can…
🔹 Access medication and pharmaceutical products online.
🔹 Search for prescribed medications and their alternatives.
🔹 Buy essential pharmaceutical products online and order delivery of medications.
🔹 Apply e-prescriptions and insurance documents, if available.
🔹 Enjoy a neat, fast, configurable, efficient user interface.
Online medication delivery apps can greatly facilitate interaction between your pharmaceutical business and clients, but ONLY if these apps are designed and developed correctly. Let's learn more about pharmacy app development and its specifics: 👇

Who are we? TATEEDA GLOBAL is a medical software development company that can help you design and build apps for pharmaceutical businesses and operations. Our benefits include…

✔️ Deep expertise in the creation of biotech and pharma management applications.

✔️

HQ in San Diego, California: onshore pharma software development in a convenient time zone for North American customers.

✔️ Outstanding experience and skills building hybrid healthcare and pharma software products with Cloud, IoT, mobile, web, and desktop components.

✔️ Dedicated project managers and engineers offering personalized communications and unlimited consulting. 💻☕

If you need help with online pharmacy application development, contact us today!
ePharmacy App Market Overview: Opportunities for New Online Pharmacy Applications
The global online pharmacy app market is represented by many types of applications and solutions, including…

🔹 Easy-to-use solutions for independent and boutique pharmacies.
🔹 Advanced corporate platforms for supporting hospital-backed and institutional pharmaceutical outlets.
🔹 E-commerce tools for smaller online drugstores focused on deliveries.
🔹 Medication delivery tracking and supply-chain management apps, including medical product supply and delivery via drone or UAV.
Pharmacy apps cover a wide range of pharma-related transactions in the global medical market that is projected to grow at 3–6% CAGR annually to achieve a total market capacity of $1.6 trillion by 2025. 📈

Even more specifically, the size of the online global online pharmacy market is expected to exceed $210.35 billion by 2028, with a CAGR of about 17%+ between 2021 and 2028. 🏔️

Moreover, new medical treatment plans and innovative drugs are coming to create explosive niche growth, like the COVID-19 vaccines that generated multi-billion-dollar incomes or experimental pills expected to become revolutionary immunotherapy drugs.

👆 These solid numbers and facts identify great prospective growth for pharmacy application development. The pharma market is now booming, and will continue to flourish in the upcoming years, thanks to advancements in medical science (and, unfortunately, because of more potential pandemics in the future).
Do you want to build a mobile pharmacy app to join the growing market?
That's a great idea! We are here to help you with pharmaceutical app development, engineering, and quality assurance. If you require a free tech consultation and project estimate, please contact our experienced tech expert to share your vision and details: 👇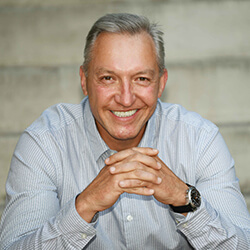 Slava Khristich
Healthtech CTO
Based in San Diego, Slava knows how to design an efficient software solution for healthcare, including IoT, Cloud, and embedded systems.
The Business Benefits of Creating a Custom Pharmacy App
There are several straightforward advantages to adopting a custom pharmacy application, which will begin streaming benefits to your business very quickly. Let's check them out…
Increase in Sales of Pharmaceutical Products
The golden rule–applicable to every industry, including pharma–sounds like this…

The fewer barriers between you and your customer, the smoother your sales process.

Building your own pharmacy app is another efficient way to reduce barriers and reach your customers on the shortest path possible. 👔➡️
The COVID pandemic has significantly changed the way people shop. Customer preferences have radically shifted from OFFLINE to ONLINE shopping in all major product categories, including pharmaceuticals.

In other words, the goals of building an e-pharmacy app include…

🔹 Providing pharmacy clients with convenient tools for finding prescribed medications.
🔹 Checking and comparing prices of required pharmaceutical products.
🔹 Online payment and scheduled medication delivery at a convenient time.
🔹 E-prescription (eRx) functionality.
🔹 Delivery tracking and verification.

Learn more: E-prescription Software Development
Developing and Leveraging Your Pharmaceutical Customer Base
Online delivery apps for medical outlets and drugstores will help you not only collect orders from your customers but also accumulate client data (maintain customer profiles), a highly valuable resource for your further pharma marketing efforts.

🧑👩 Of course, it's necessary to adhere to crucial legal requirements, including CCPA. In other words, building your own pharmacy delivery app should cover…

🔹 Customer relationship management, including client accounts.
🔹 A personal data collection agreement and protected data storage.
🔹 Cloud-based solutions to transmit data and host customer databases.
🔹 Connection with analytical platforms that allow deeper marketing analysis.
🔹 Push notifications and other channels to deliver marketing offers.

Learn more: Patient Electronic Data Capture Solution Development
Systematization of Internal Pharmacy Processes
💼 Today, business activity is accompanied by a set of specialized applications (sales, inventory, payroll, etc.), and pharmacies are no exception. A crucial strategy for any pharmaceutical business is to achieve mutual integration and orchestration of all software products so they can errorlessly exchange and synchronize data.

Custom pharmacy application development can help you…

🔹 Make sure all pharmacy processes are well-coordinated and running smoothly.
🔹 Get all information interconnected and simultaneously updated across several apps, according to healthcare interoperability requirements.
🔹 Save a great deal of time and money with pharmaceutical business process optimization and acceleration. 🚀
Learn more: The 7 Best Software Development Companies in San Diego
Are you interested in creating a pharmaceutical mobile or web application?
Consider TATEEDA GLOBAL as a reliable partner. We have an experienced team with advanced skills in design and development of sophisticated pharmacy management and pharmaceutical product distribution applications for our American 🇺🇸 and Canadian 🇨🇦 clients. Learn more about our services: 👇

Custom Healthcare Solutions
See how we can engineer healthcare software, validate your ideas, and manage project costs for you.

What Are the Main Types of Pharma Applications?
Pharmaceutical distribution app development features a range of angles and focuses. There are varying perceptions of the objectives online pharmacy app development should fulfill, depending on individual business model, specifics, and goals. Let's consider a few of the major app types…
Marketplace Pharmacy App Development
The marketplace business model has conquered the world. Platforms can now aggregate thousands of vendor listings and market offerings within one convenient website or application.

A custom pharmacy app sponsored by the pharmaceutical marketplace can provide access to a wide range of pharma vendors and products via mobile device interface. Major functionalities of this type of app should include the following…

🔸 List private pharmaceutical vendors and drugstores and their medical product offerings.
🔸 Filter and search vendors/products according to location and other parameters.
🔸 Manage customer accounts and provide tools for online payments.
🔸 Built-in medication delivery-tracking features (like integration with courier services).

Learn more: Pharma Business Automation Development Case Study
Online Pharmacy Store App Development
Traditional pharmaceutical distributors and independent drugstores have historically emphasized OFFLINE sales, but now is the right time to expand your online presence instead. Building branded online delivery apps for medication vendors allows you to involve more customers in direct, intense interaction with your pharmaceutical businesses.

With pharmacy delivery apps, customers can…

🔸 Benefit from personalized customer bonus programs.
🔸 Access personalized marketing offers and shopping templates.
🔸 Get personalized consultations with remote pharmacists.
🔸 Apply their e-prescriptions and insurance claims to save on purchases.
🔸 Pay online and order medication deliveries to their home address.
Learn more: Medication Tracker App Development: Guidelines, Features, and Costs
Development of Apps for Pharmacy Store Chains
Large pharmacy distributors and retailers are also interested in better management of trade activities and supply chains. Not all large enterprise resource management systems can cover the specific needs of separate staff members and operations. There always remain a number of blind spots in specific business functionalities which can be compensated for by custom pharmacy app development. This includes…

🔸 Specialized pharma inventory-tracking systems.
🔸 Business apps for pharma trade representatives and delivery partners.
🔸 Inner supply-chain-management apps for pharma chain partners and suppliers.
🔸 Pharma business IoT integration for the automated systems with laser scanners, smart medication storage/cabinets, etc.

TATEEDA GLOBAL can help you with all types of pharmaceutical management applications. Learn more about our success in medical and biotech development: 👇

Delivered Healthcare Software Portfolio
The leading American healthcare companies benefit from working with us.

What Is User Interaction Flow in Pharmacy Applications?
🛣️ User interaction flow provides a basic scenario of how a pharmacy app is expected to interact with a typical user. The user journey helps us envision essential features and priorities in pharmacy app development–for example, building a healthcare MVP.
Let's consider a simple pharmacy mobile or web-based app that allows users to easily find, select, buy, and receive needed medications.
Step #1. Open the Pharmacy App
🟢 Sign in or create a user account.
🟢 Go to the in-app home page.
🟢 Explore the app; find basic controls, panels, tips, etc.
Step #2. Initiate the Transaction in the Pharmacy App
➡️ Search for required medication names.
➡️ Upload and apply an e-prescription.
➡️ Consult with a remote pharmacist, if required.
Step #3. Finalize the Transaction in the Pharmacy App
💳 Enter delivery address and time.
💳 Select the payment option and go through a protected payment gateway.
💳 Pay. Return to the homepage to repeat…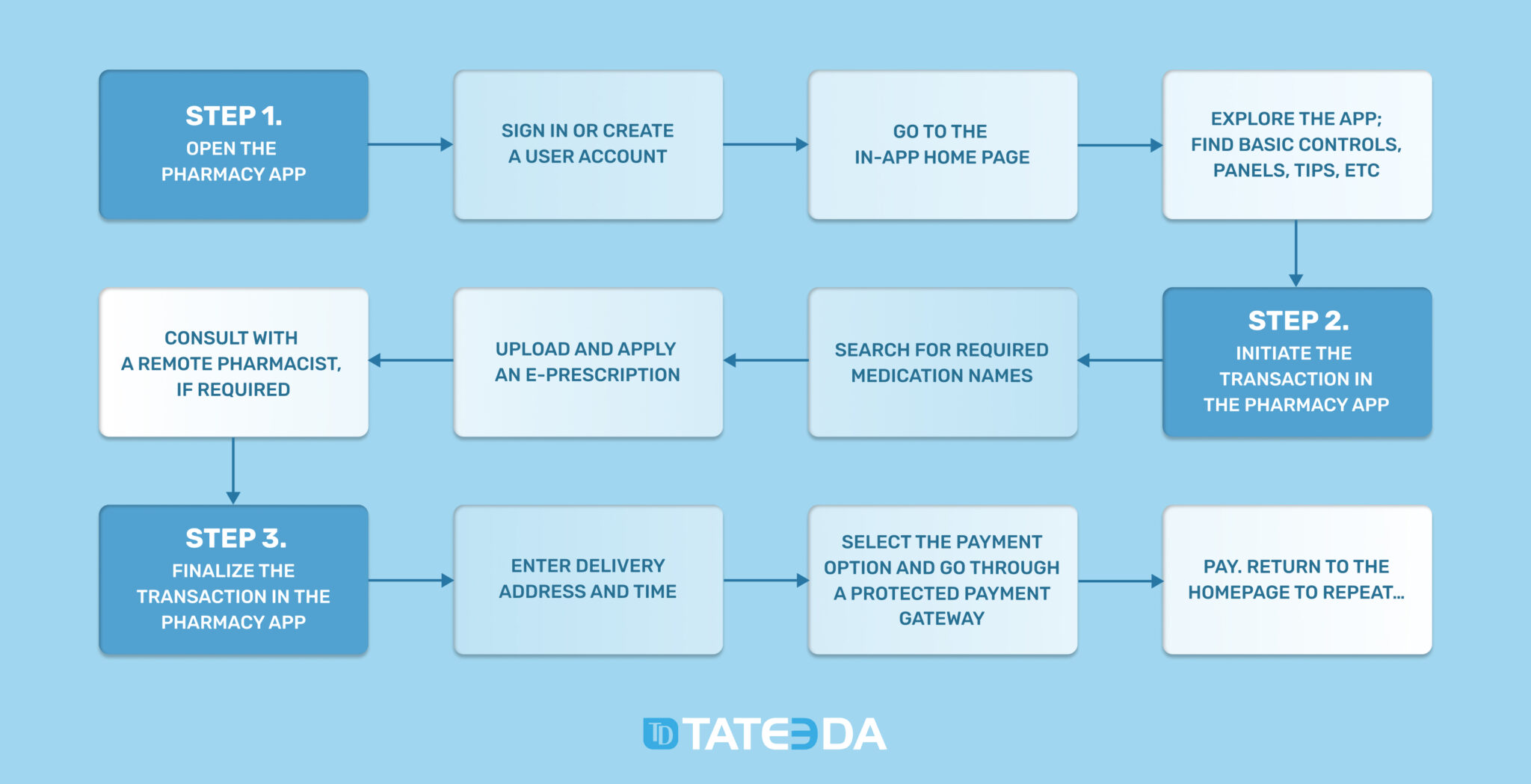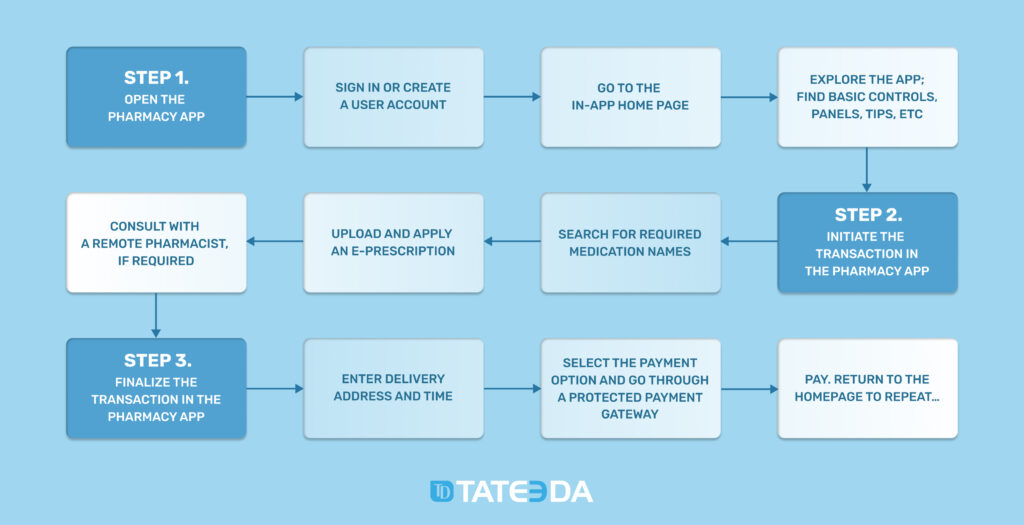 Most Important Pharmaceutical App Features
As we mentioned earlier, there exist different types of pharmacy apps. They may have different features depending upon specific app type, goal, user, user interface modality, and more.
Customer-focused Pharmacy App Functionality
🔸 User authentication: biometrics, login/pass, and more.
🔸 Search and filtering capabilities for medications.
🔸 Drug information and comparison.
🔸 Prescription (e-Rx) upload features.
🔸 Shopping cart features.
🔸 Payment gateways.
🔸 Push notifications.
🔸 User profile management.
🔸 Live chat and email functionalities.
Pharmacist App Features
🔸 Order management: pharmacy orders, placed order processing, fulfillment, editing, and more.
🔸 Mechanism for verification of submitted insurance claims and e-prescriptions.
🔸 Integration with IoT-compatible trade equipment in drugstores and pharmaceutical warehouses.
🔸 Synchronization with warehousing and pharma inventory management systems.
🔸 Connection to pharmaceutical catalogs and drug information systems.
Pharmacy Admin Panel
🔸 Business analytics: performance charts, sales reports, spreadsheets, etc.
🔸 Financial management and resource turnover details: financial drop-down reports by affiliated branches, payment stats, and more.
🔸 Inventory management and warehousing for pharmacies, including immediate data updates on pharmaceutical stock.
🔸 Pharmacy marketing management features, customer relationship management, and more.
Pharmacy Courier App
🔸 Delivery tracking features and integration with customer and admin apps.
🔸 Navigation: GPS integrations, online maps, and intelligent routing for drivers.
🔸 Notifications for all active user groups in convenient panels.
🔸 Drone and IoT integration: delivering health supplies via UAV is a popular innovation with a great market potential to be yet unveiled.
Interested in Custom Pharmacy App Feature Development?
📲 TATEEDA GLOBAL can help you design and develop custom features for your pharmacy applications. We have highly experienced engineers and UI/UX designers who can build a product with sophisticated features.

Contact us for a free consultation and estimate.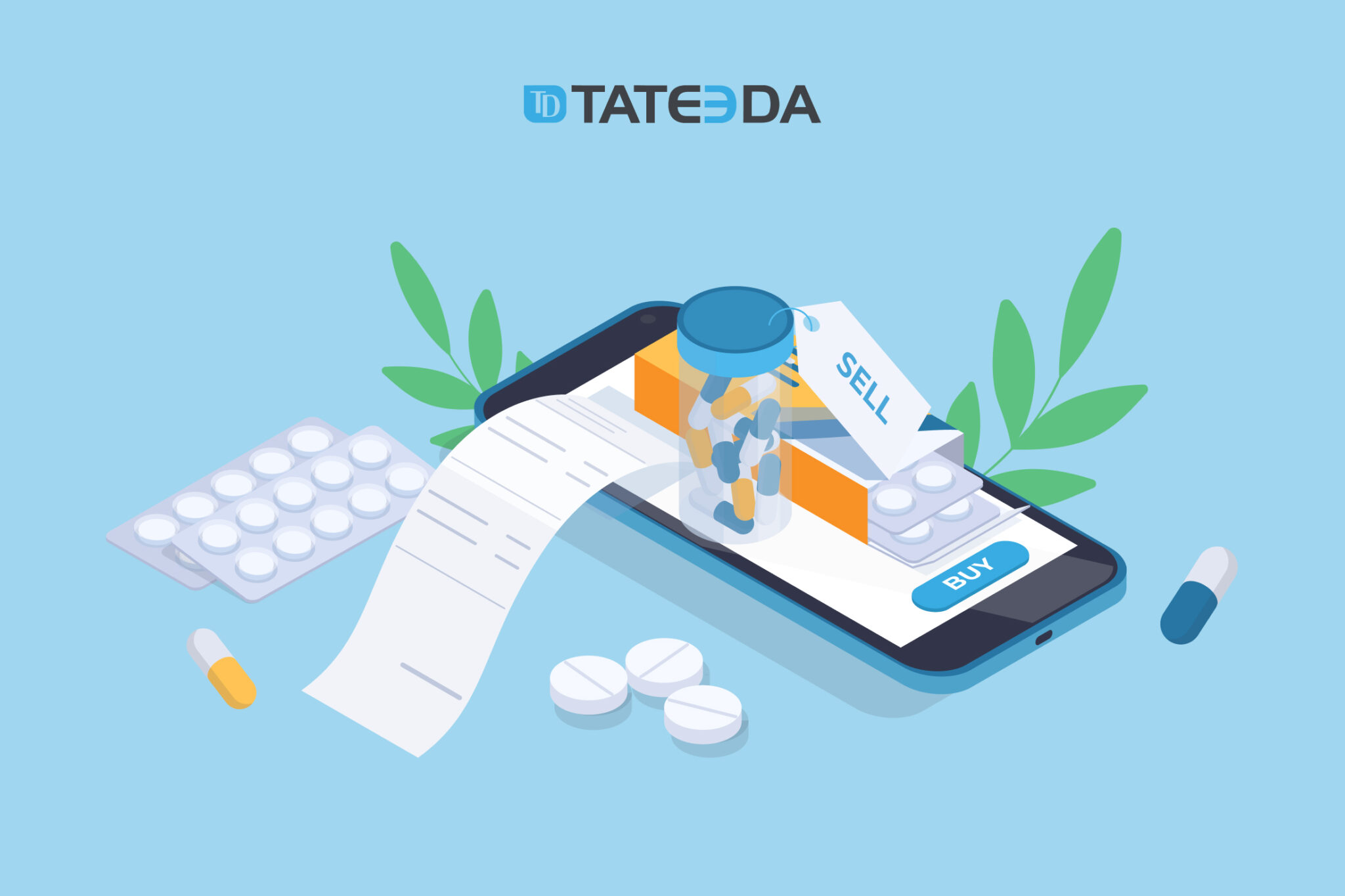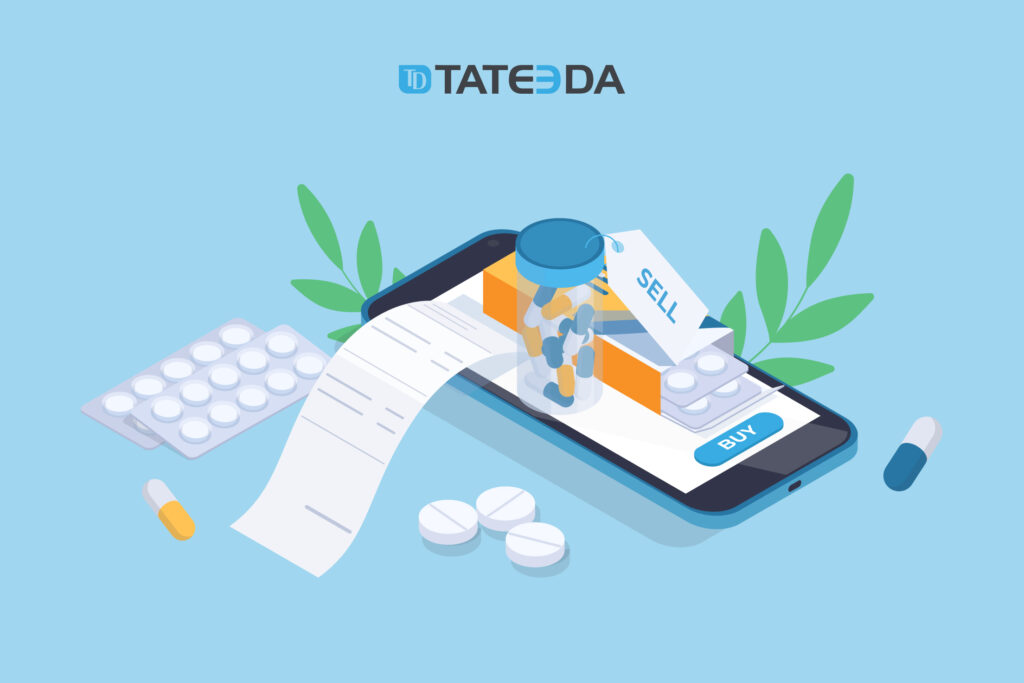 Learn more: Mental Health Therapist App Development
Tech Stack for a Pharmacy Application
Defining a specific mobile tech stack is a task for a professional software engineer who can delve deeply into project details and nuances. The tech stack can seriously affect a number of application metrics, including app performance, speed of response, convenience, compatibility, and ease of use.
Technologies we use in pharmacy software development for mobile include…
✔️ Flutter, React Native, and NativeScript.
✔️ Cloud tech: multi-cloud, hybrid cloud, etc.
✔️ Best security standards and quality assurance practices.
What Else to Consider During Pharmacy App Development
There are a number of practices that should be respected when you decide to undertake pharmacy mobile application development.

✔️ Conduct proper market analysis and define why your pharma app surpasses other offerings.

✔️ Execute UI/UX design aligned with pharmacist and patient requirements.

✔️ Select a reliable pharmacy and biotech app development partner who can provide you with full-cycle service and qualified team augmentation.
Requirements for Compliance in Pharma App Development
➡️ HIPAA (specific regulations for better PHI management in the USA)
➡️ CCPA (gives consumers more control over their information in California)
➡️ GDPR (the E.U., 🇪🇺 the United Kingdom, 🇬🇧 and other affiliated territories)
➡️ PIPEDA (the Canadian 🇨🇦 equivalent of HIPAA)
Learn more: How to Find and Hire Healthcare Software Developers for Your Medical Projects
Approximate Cost of a Mobile Pharmaceutical Application
🏷️ The price tag for a pharmacy app depends on many factors, including the timelines, size of the application, tech stack included, project timelines, and team composition.
Product development pricing per full-cycle pharmacy mobile app development project can reach $40,000-60,000 on average for MVP, but there are no upper limits. It depends on project scale.
If you want the details and free tech consulting with a precise high-level project estimate, book a chat with our experts today!
Build Your Own Pharmaceutical App with TATEEDA GLOBAL
You can rely on us because we…

💻 Have vast experience building healthcare-related software systems for both medium-sized and global companies in the United States and Canada.
💻 Provide ONSHORE pharmacy application development services at a favorable price with a highly individualized approach for each client.
💻 Are ready to provide you with free consulting and a free project estimate for on-demand pharmacy software/application development and engineering.
Learn more: How to Launch a Healthcare Startup: The Guide to Building Great Health-tech Products
FAQ
What are the current trending pharmacy app startup ideas?
There are many as-yet-unexplored niches in the pharmacy application development sector. For example, you can develop a marketplace where pharma product vendors (boutique drugstores, independent pharmacies, and more) can connect with drone delivery service providers. There can be interesting opportunities with VR/AR integrations for people with limited health capability and more. If you have ideas, let's discuss how they can be brought to life!
What are the options for pharmacy app monetization?
You can use a set of different monetization options, as with any other application out there. For example…
🔹 Different pricing plans based on feature sets
🔹 Subscriptions vs. one-time licensing payment
🔹 Commission-based plans for the pharmacy marketplace
🔹 Ads
What makes a great pharmacy app?
Our recipe is simple: Create a well-designed pharmacy application with killer features and exceptional performance characteristics. Pay attention to specific requirements like HIPAA compliance, and follow general guidelines for secure software development. Make sure to design a configurable UI that is comfortable and utilitarian for pharmacists and pharmacy clients alike.