IT Outsourcing in Healthcare: Benefits & Services in 2023
In this article, we'll list the benefits of outsourcing healthcare solutions IT services while considering different types of technological services that can be outsourced by medical professionals. Additionally, we'll learn how to find a reliable IT outsourcing partner for your medical company.
Why is healthcare IT outsourcing in such high demand?
Sometimes, healthcare providers call for help, too—for example, when their software systems require immediate attention. It's obvious that modern medical facilities cannot operate smoothly with outdated, vulnerable, or malfunctioning software ripe with heavy financial and reputational loss.

Thanks to high-end medical gear and IoT solutions powered by computer-aided healthcare systems, medical professionals can now produce far greater value in less time.

With that said, health tech instruments do come with a certain overhead of non-medical tasks. They require regular software upgrades, routine medical system maintenance, and a continuous strategy for the development and implementation of new features.

It's clear that non-healthcare services, including IT, should be outsourced to qualified professionals, as this approach helps medical organizations keep their operational costs at tolerable levels.

Who are we? Healthcare IT outsourcing services in the U.S.
At TATEEDA GLOBAL, we are not newcomers to the healthcare IT outsourcing market and the healthcare community in general. We understand that well-organized IT outsourcing in the healthcare industry is a truly efficient tactic that leads to long-term, sustainable cost optimization in hospitals and clinics.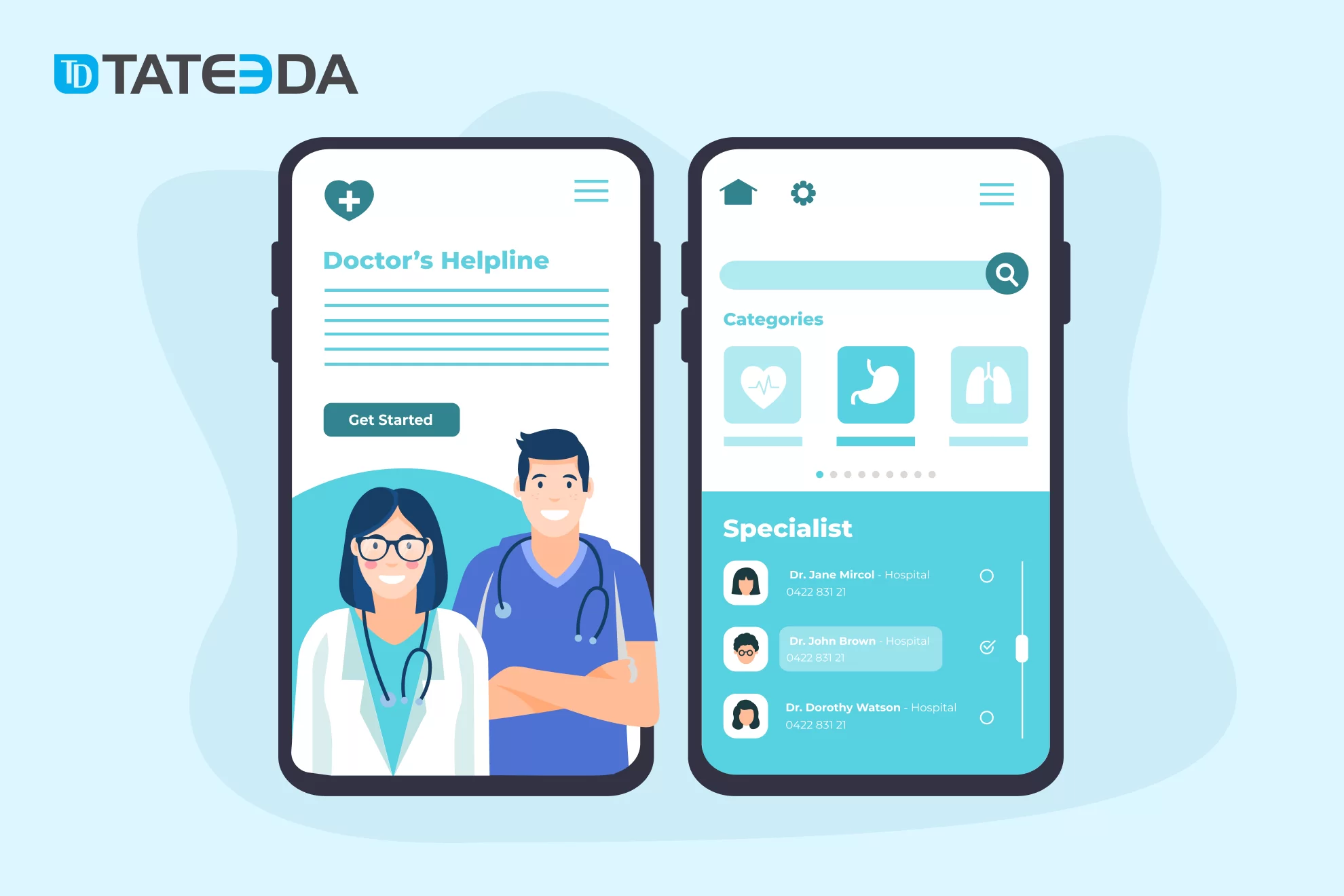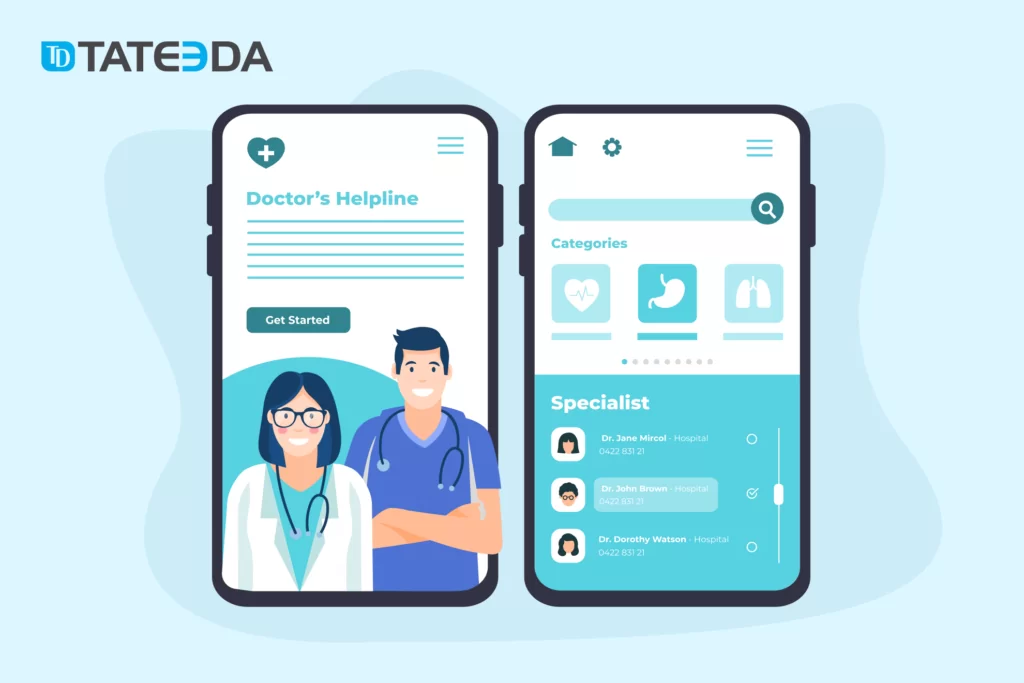 We have worked with dozens of U.S.-based healthcare companies and helped them deliver a large portfolio of sophisticated medical software solutions. We'd like to share a few handpicked points of expertise with you…
Vendors vs. Partners in the Context of Healthcare IT Outsourcing
Before we take a look at delegatable medical technology services, let's consider some of the major types of healthcare IT outsourcing, including:

Vendors: A limited approach to health IT outsourcing services

A hospital or other medical organization subscribes to an online service or platform (e.g., a web-based solution for electronic patient records, patient-appointment scheduling management, or other types of online services).

This is similar to buying an off-the-shelf software package, but with certain nuances: back-end resources are deployed on remote servers, and all maintenance is performed by a team of ghost developers and technicians. These individuals can be freelance specialists found on gig marketplaces, for example.

Nuance: Software fully belongs to the vendor, so in addition to their responsibility for system functionality, they decide on feature development and other crucial software policies.

| | |
| --- | --- |
| Advantage: | This approach is comparably cheap and faster to start. |
| Disadvantage: | A readymade platform usually comes with hidden bugs and inefficiencies that can later affect your operations. Usually, readymade platforms are not highly configurable and won't ideally suit your specific workflows and business models. HIPAA compliance and data confidentiality can still be a concern. |
⚠️ Unlike many typical vendors, healthcare IT outsourcing companies in the U.S. can offer a variety of flexible services, including custom software development. This practice will let you design and maintain unique software products, like custom medical practice management systems featuring the exact tools you demand. See an example of such a system below: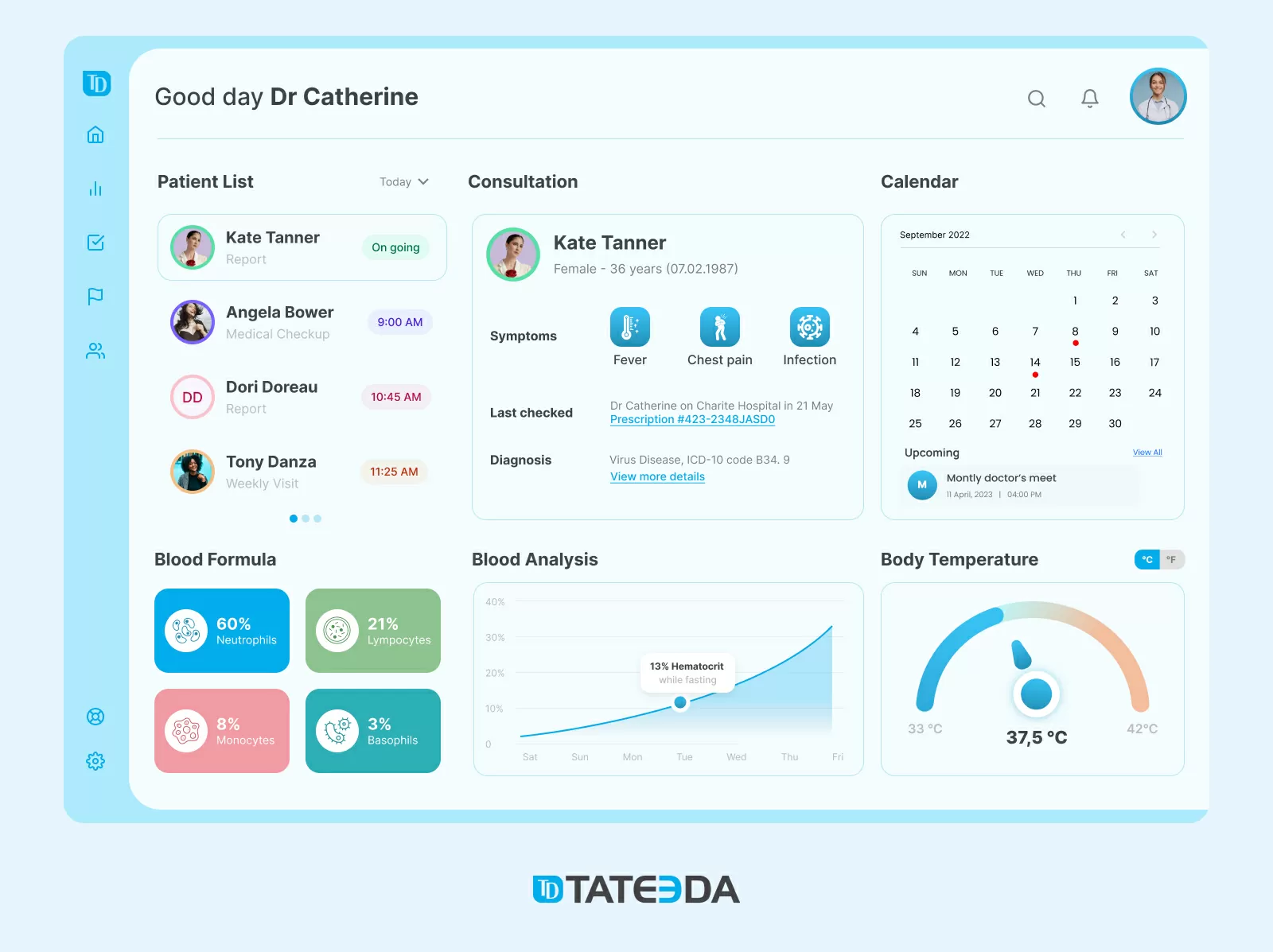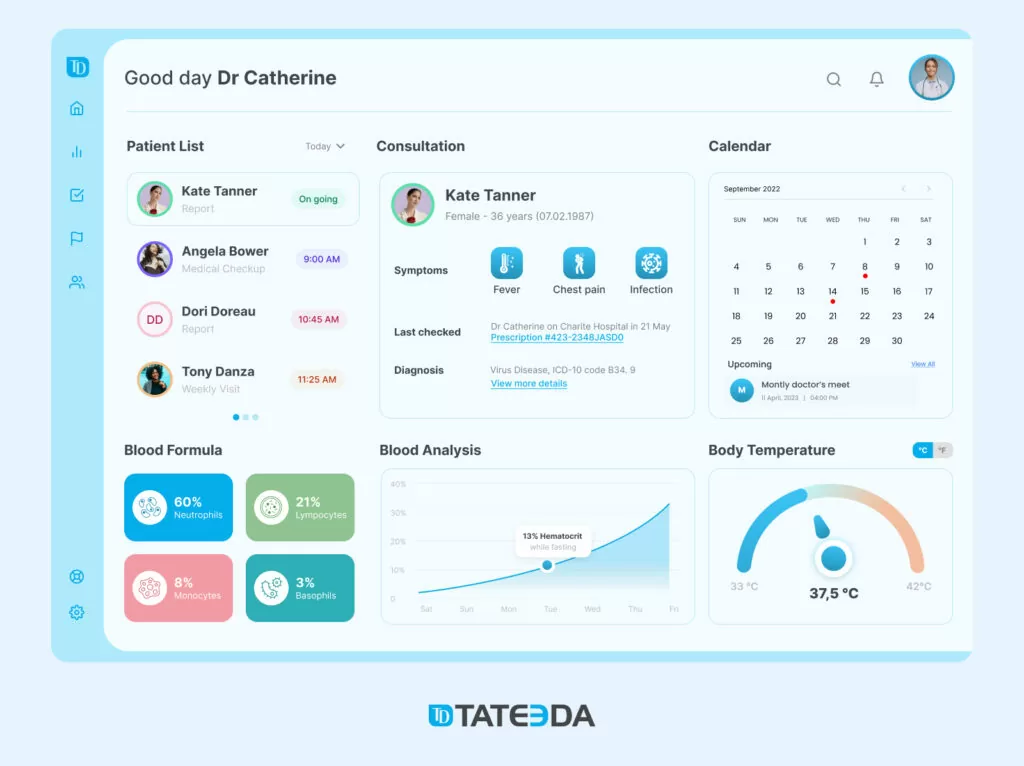 Read also: How to Find and Hire Healthcare Software Developers for Your Medical Projects
Partnership: Flexible and individualized approach to IT outsourcing in medical organizations

Alternatively, healthcare providers can hire full-cycle development companies to develop and perpetually improve/maintain custom healthcare solutions that meet their exact needs.

With this approach, healthcare organizations acquire not only a vendor but also a managed service provider that acts as a long-term tech partner and an outsourced IT department with additional benefits.

Nuance: A software solution developed by your IT partners belongs to you. Your individual needs and business objectives are always their utmost priority, and your organization determines all software development plans.

| | |
| --- | --- |
| Advantage: | You can create a customized HIPAA-compliant solution that completely meets your business specifics. A dedicated team of software engineers will consistently maintain your healthcare software, building only specific features as required by your workflow and business strategy. |
| Disadvantage: | This approach is more expensive (yet cheaper than hiring an in-house IT team) and requires more time to start. |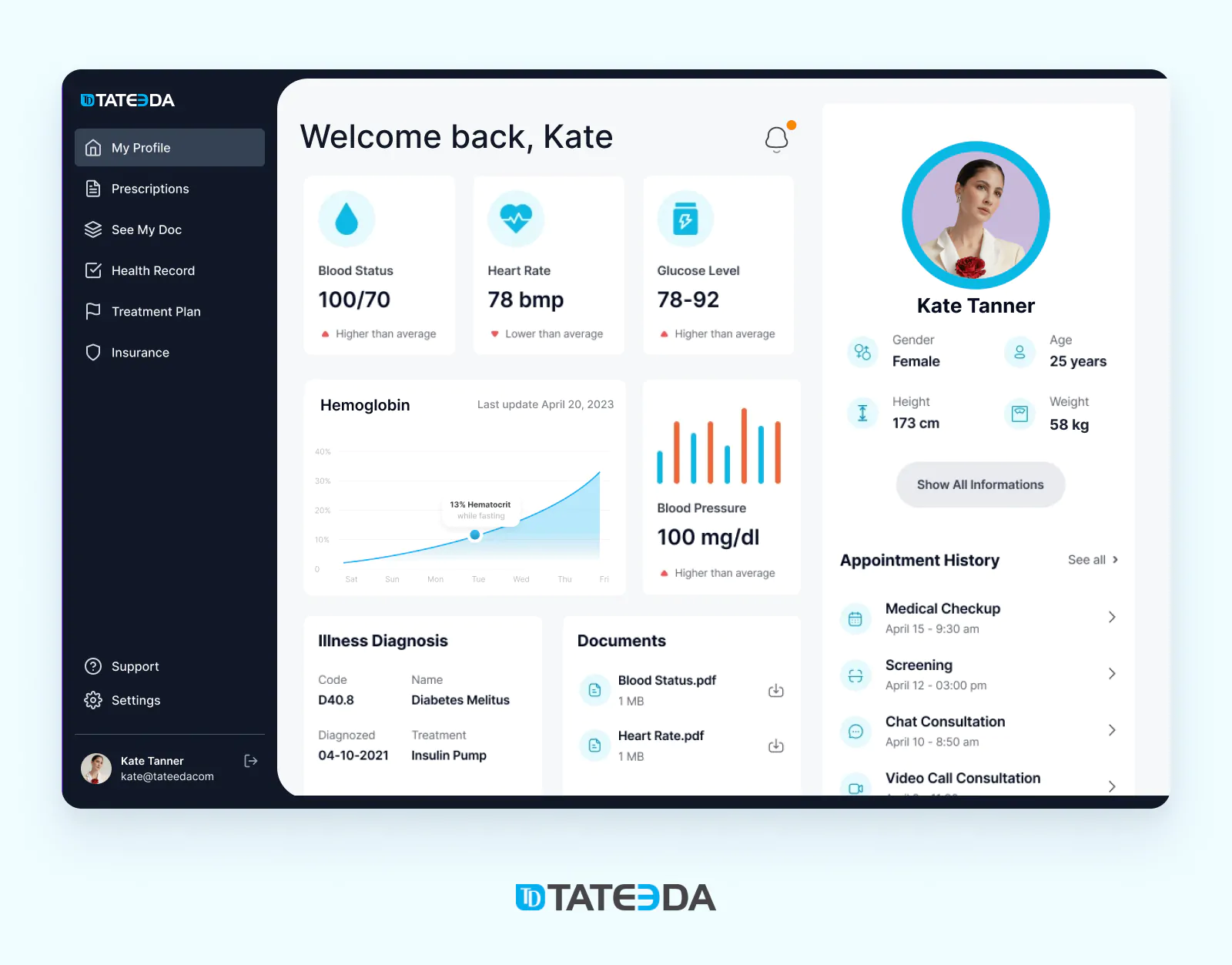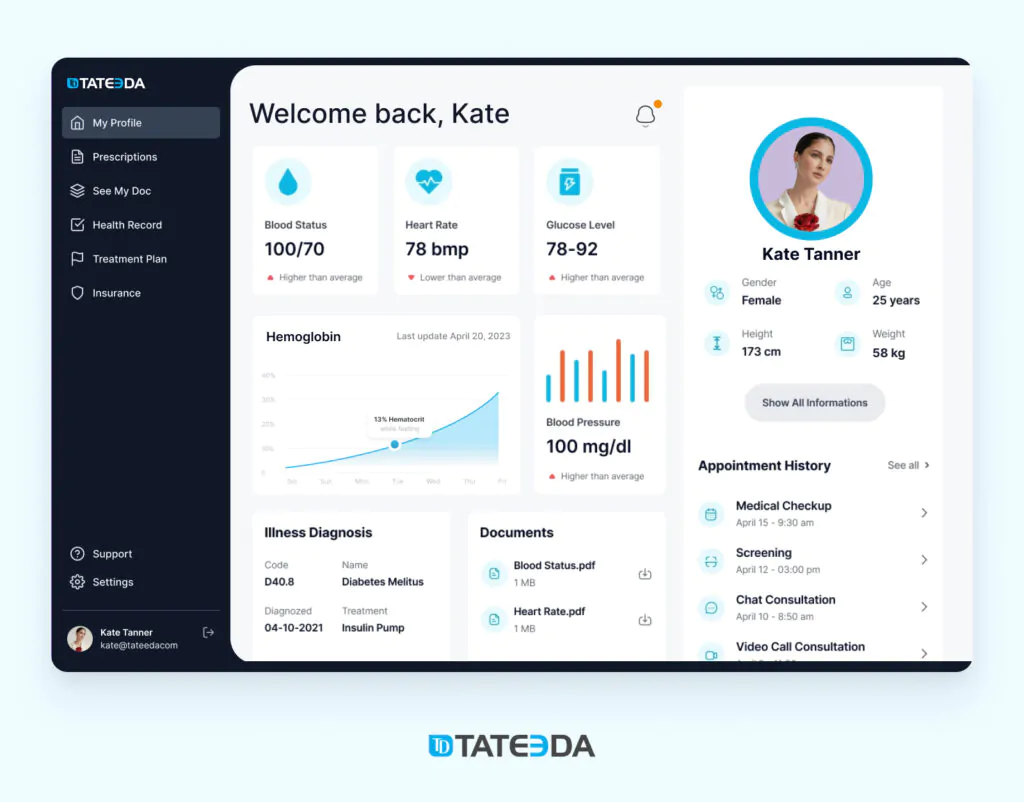 If you are looking for outsourced healthcare application support or hospital IT outsourcing services, make sure to contact our experienced health tech consultant for a free call: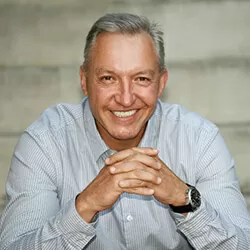 Slava Khristich
Healthtech CTO
Based in San Diego, Slava knows how to design an efficient software solution for healthcare, including IoT, Cloud, and embedded systems.
Technologies a Healthcare Provider Can Outsource
There is a long list of medical IT solutions that can be outsourced via vendorship or partnership models. Let's consider these outsourcing opportunities for the healthcare industry…
Electronic Health Records (EHR) System Development Outsourcing
According to the HITECH Act, U.S. authorities support the adoption of EHR systems in medical offices and facilities. This type of healthcare IT system is already widely used in multiple hospitals and medical centers across the country. Minimum configuration for EHR software consists of:

patient electronic health records (complex data profiles including healthcare history, lab tests, diagnosis records, radiology files, etc.)
patient portal + medical employee portal for accessing records
patient appointment-scheduling tool
medical billing provider integration
various specialty care integrations.
With the help of IT partners like TATEEDA GLOBAL, it's possible to build EHR systems that feature specific modules. Let your medical care model be its absolute best!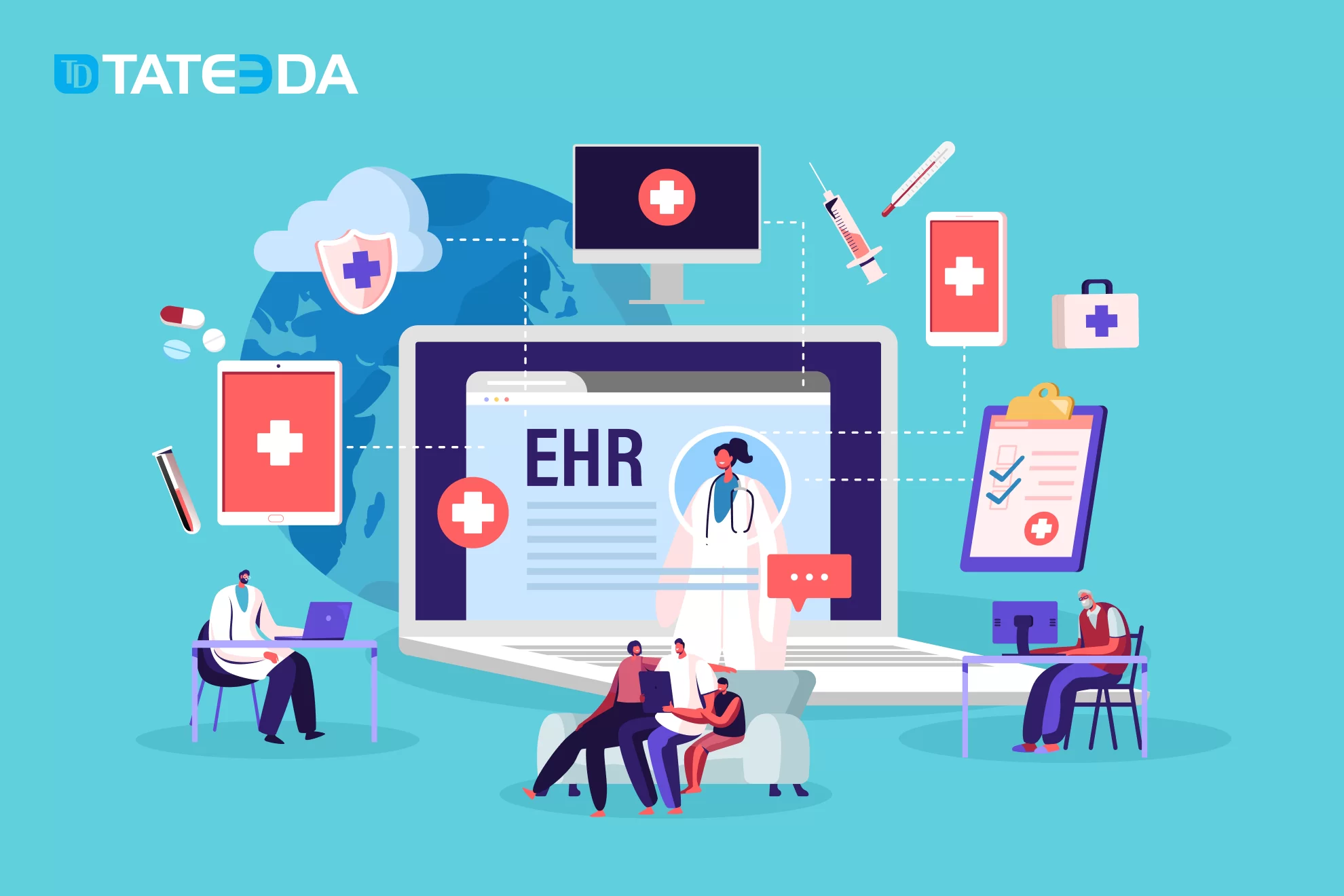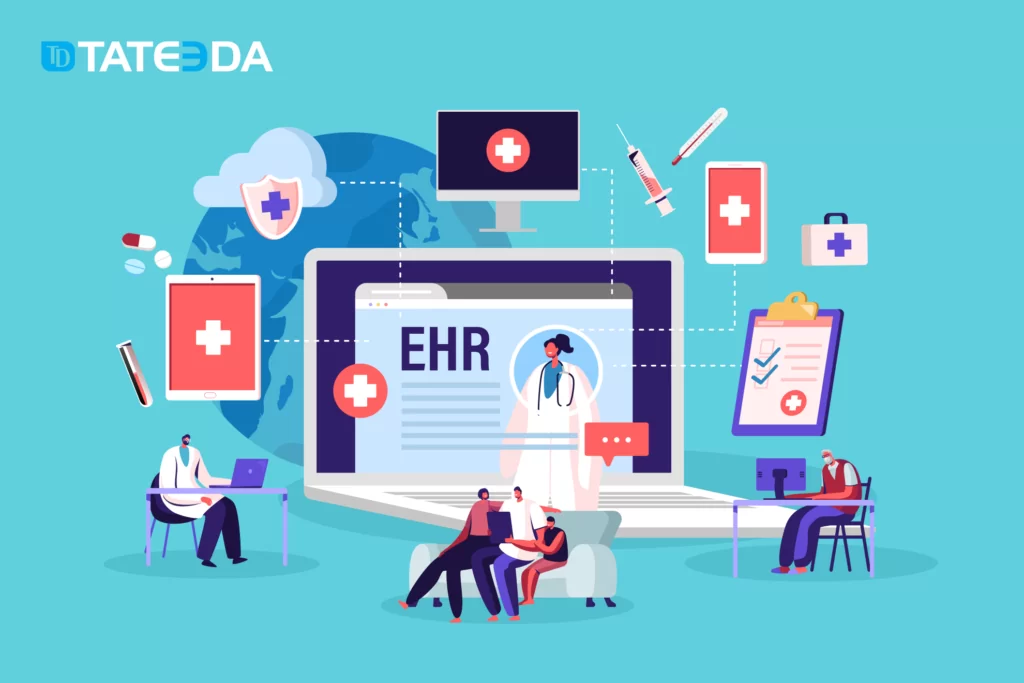 It's also possible to upgrade an existing EHR solution by adding additional modules, features, and software integrations to streamline functionality.

Check out the following articles for more detail:

Hospital Information & Management System Development Outsourcing
Hospital Management Systems (HMS) or Hospital Information Systems (HIS) can also be developed with the help of IT outsourcing services or partners. This type of software allows medical professionals to manage hospital inventory, track healthcare resources and workflows, and build efficient communications (plus data interchange) between hospital departments and specialists.

This type of software can combine myriad different medical outsource solutions modules. It can also be integrated with medical HR software and pharmacy-focused components, which are then delivered by your medical IT outsourcing partners:

Patient relations management modules
Patient admittance and discharge management
Financial administration
Patient healthcare plans
Distribution of medication
Equipment inventory
Medical appointment-scheduling management
EHR/EMR integrations
eRx integrations
Medical staff management solution
Patient billing and claims management
and much more…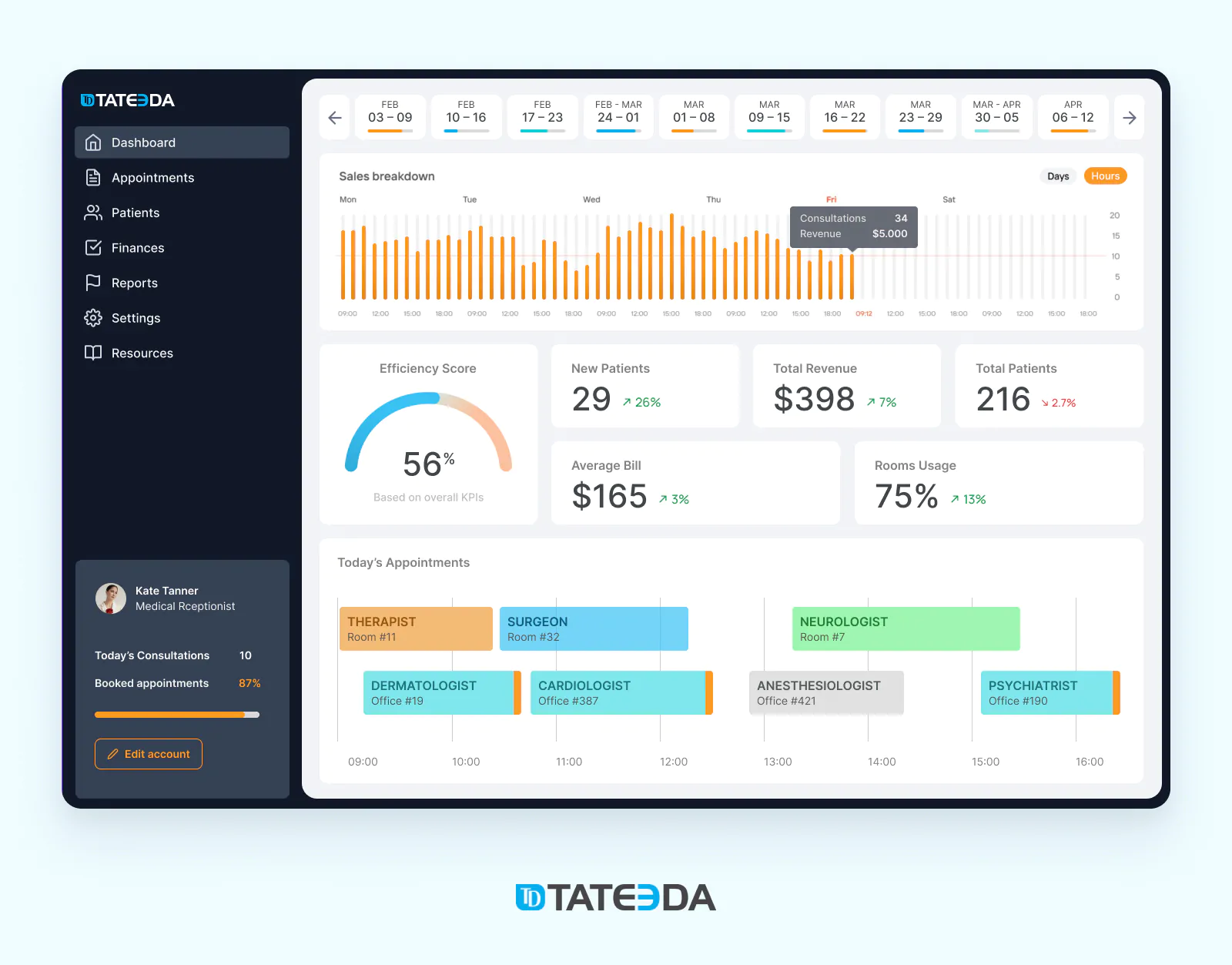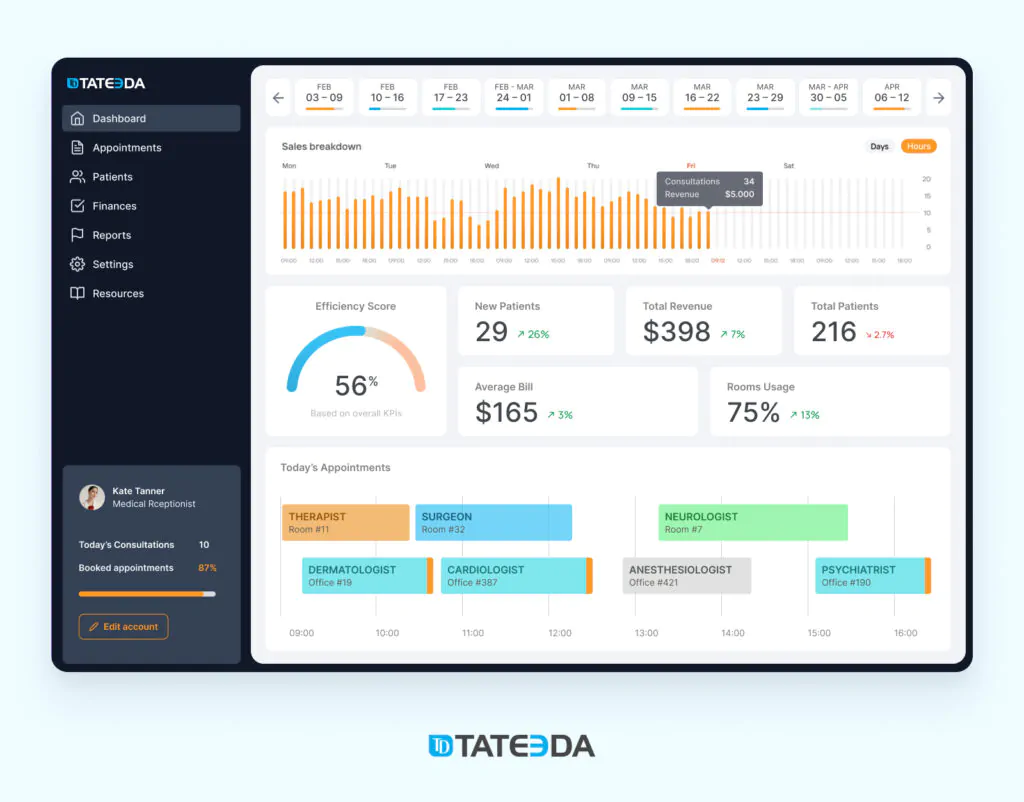 Learn more: How to Develop Hospital Management Software
Pharmacy Information Management and E-prescription Software Development Outsourcing
Modern pharmacy information and pharmacy inventory management software can combine a variety of modules, including e-prescription solutions, medical drug coding, access to online medical drug directories, and more.

Pharmacy management systems can range from simple and convenient to large and complex (additional training required). Specific configurations of multifold pharmacy software modules and features can be created with the help of your IT healthcare outsourcing provider. Crucial functions/features include:
end-to-end management of the medical dispensation process
e-prescription entry and interpretation management
IoT integrations with label-printing and auto-dispenser hardware
CRM integrations and personalization
AI-powered analytics and reports
email and mobile notifications
Learn more about the development of pharmaceutical systems: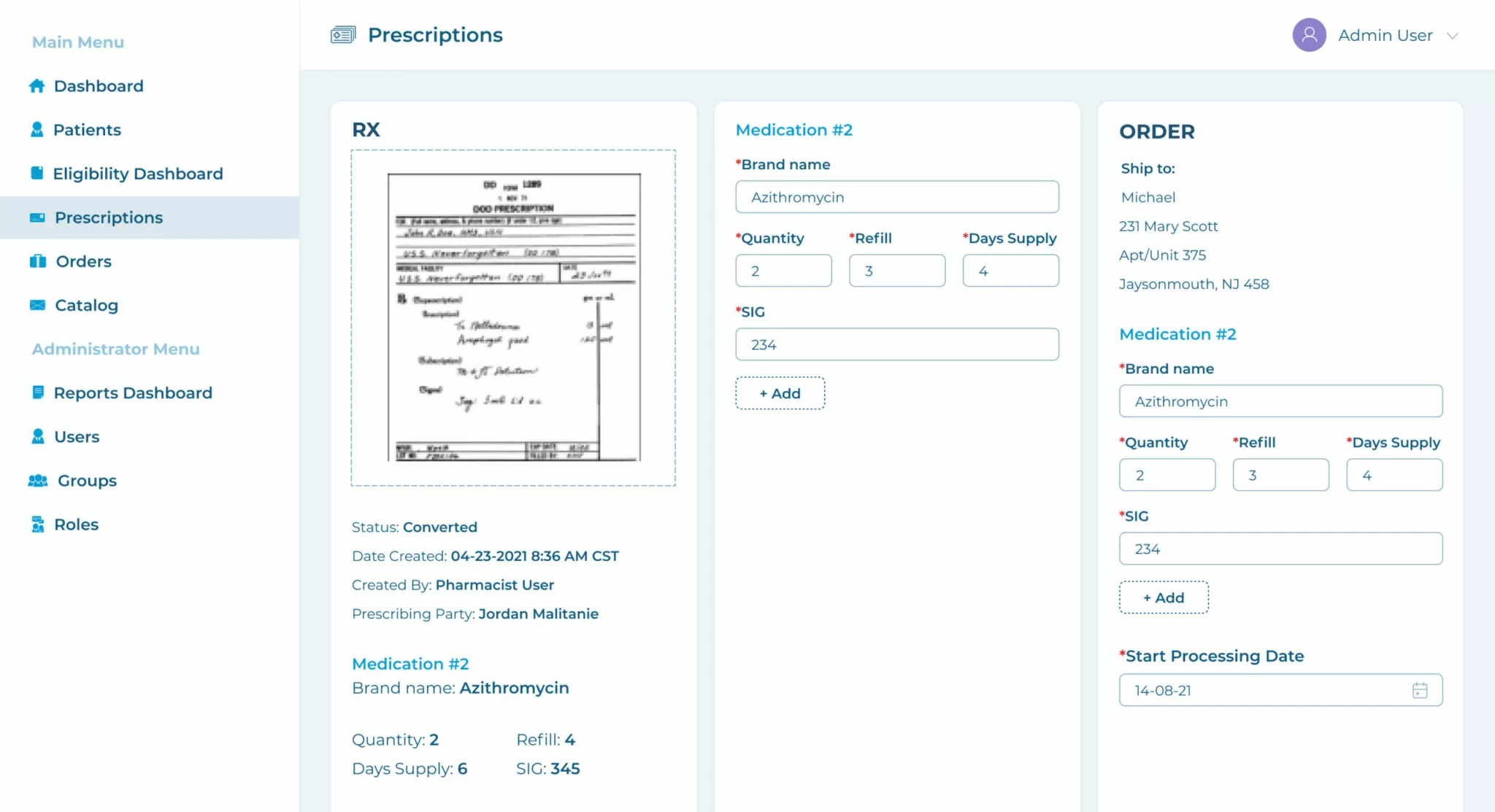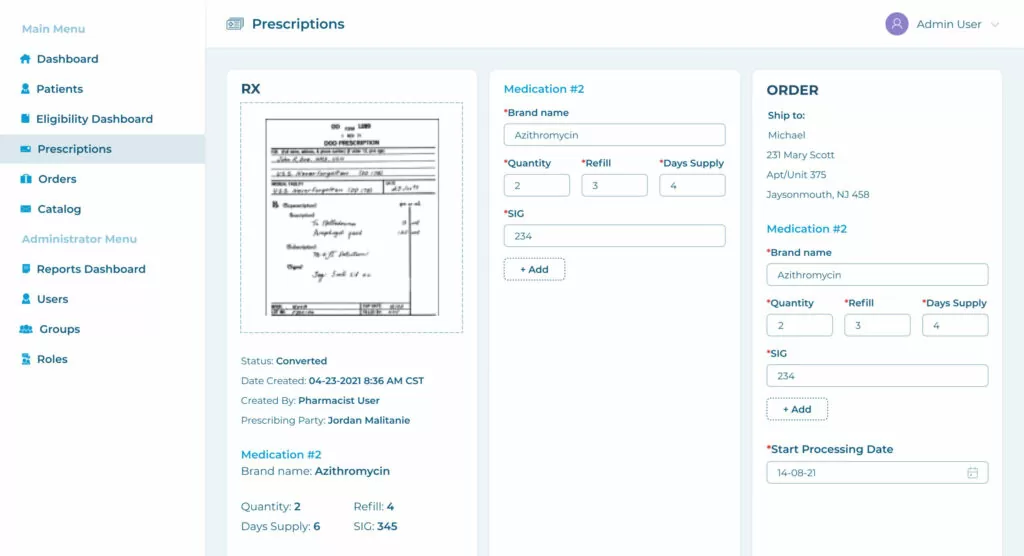 Do you need help with medical IT outsourcing?
We have listed just a few of the healthcare solutions that can be outsourced to IT partners like TATEEDA GLOBAL. Before moving on to the benefits of outsourcing IT in healthcare, we want to tell you about us…

Our expertise: Located in San Diego, California, TATEEDA GLOBAL knows the ins and outs of American healthcare. This includes HIPAA software development requirements and the associated regulations.
Our resources: We have a powerful team of senior developers, UI/UX designers, project managers, and other skilled specialists, so if you outsource your healthcare development projects to TATEEDA GLOBAL, you can be sure they're safe with us.
Contact us for a free consultation in medical software development.
The Top 3 Benefits Of Outsourcing IT In Healthcare
Why do companies outsource healthcare IT?

This is a very beneficial practice that brings plenty of positive results, including…
Benefit #1: Quick Access to a Great Pool of IT Professionals
IT team staffing is clearly beyond the realm of typical medical responsibilities, so healthcare professionals should not try to take care of it themselves. Outsource this task to reliable assistants.

Removing nonmedical tasks from hospitals and other medical organizations is one of the key reasons that American healthcare industry players should outsource IT services. Hiring an efficient tech partner helps them cover all tech staffing needs at the same time. IT professionals achieve IT-related recruiting and staffing goals much more successfully than healthcare providers.

Moreover, companies like TATEEDA GLOBAL can provide them with access to IT talent from other countries to alleviate project costs. Learn more: How Our R&D Branch in Ukraine Helps Us Manage Costs for Our Clients.
Custom Healthcare Solutions
See how we can engineer healthcare software, validate your ideas, and manage project costs for you.

Benefit #2: Cost-efficient IT Staffing and Time Management
Hiring a full-time (or even part-time) IT professional is an expensive venture in the U.S., especially if it involves a team of IT specialists. Of course, additional administrative overhead and other spending related to staff acquisition are never desirable for healthcare organizations already facing financial challenges.

By hiring an IT health care outsourcing company, healthcare professionals can avoid costly staffing overspending and other administrative difficulties. When you work with TATEEDA GLOBAL, you won't have to hire separate IT professionals or sign a standalone contract with every specialist—yet you can get a service as long as you need it (for example, based on project development or a project augmentation period.)
Benefit #3: Obtaining IT Solutions at Better Rates
By using IT outsourcing for healthcare organizations, it's possible to create and implement efficient medical software solutions at an affordable cost.
At the same time, those software solutions:

belong to you
are specifically designed for medical workflows and business models adopted in your hospital or medical center
are much more efficient than any off-the-shelf online/offline software packages.
Find an IT partner in the Golden State: The 7 Best Healthcare Software Development Companies in California for 2022.
How Outsourcing Can Help Improve Healthcare IT Operations
Every modern healthcare organization has to maintain myriad IT operations. Let's check out how they can be managed in a highly optimized way.
Manage Healthcare Budget Constraints with IT Outsourcing
Regardless of medical organization size and specialization, healthcare IT outsourcing can benefit your facility by keeping your operations profitable. Nowadays, you don't have to have an in-house IT specialist to execute regular software system-management tasks. A maintenance technician or developer can perform all required software checks and configurations in a fully remote manner.
Fortify Software System Security with Outsourced IT Services
It's important to keep all medical software systems up-to-date so no security flaws remain for hackers or accidental data breaches. With outsourced, managed IT professionals, you'll always be on the cutting edge of software security and the latest technologies. Learn more about the 14 Major Healthcare Technology Trends.
Greater Software Infrastructure Scalability with Managed IT Services
With managed IT services, it's easier to:

increase or decrease your medical IT team without administrative overhead
keep healthcare software solutions up to date and compliant with HIPAA
upgrade medical solutions by moving them to optimal platforms
fix bugs and deal with other cybersecurity issues in a timely manner
provide meaningful tech strategies for longer periods of time
Learn more: The 7 Best Software Developers in San Diego, California for 2022
TATEEDA's Experience in Providing Managed, Outsourced IT Services to the U.S. Healthcare Companies
How should you outsource your healthcare IT?

Contact TATEEDA GLOBAL for a free consultation, and tell us about your needs and goals.

We are already an efficient outsourcing IT partner for several powerful healthcare companies in the United States. We would be happy to add your organization to our list of our success stories!

Our partner list includes AYA Healthcare, one of the largest U.S. travel nurse providers, and VisionTree, which is among the most sophisticated medical data management platforms in the world.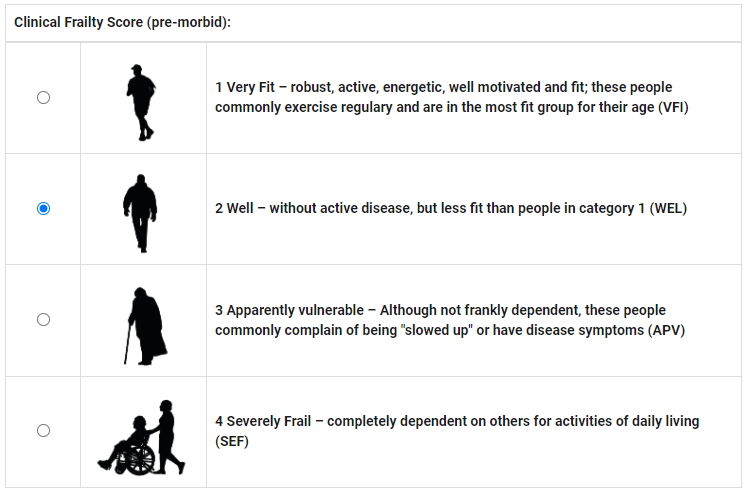 At TATEEDA GLOBAL, we're specialists in developing and maintaining HIPAA-compliant medical software systems. Our project portfolio includes:

In Conclusion: Efficient IT Outsourcing for Healthcare Industry
IT outsourcing solutions are in high demand by modern healthcare organizations.

If you need a professional IT team to partner with you based on managed IT or project augmentation services, TATEEDA GLOBAL is here for you!

We offer:

Full-cycle development of healthcare-related systems
Medical software project assistance, augmentation, and product testing
Long-term medical software maintenance services
Affordable project costs, thanks to our R&D branch in Ukraine
Personalized connection with our project manager HQ in San Diego, CA
Vast onsite experience with U.S.-based IoT, healthcare, biotech, and pharma companies
Fast team deployment—within 48-72 hours
Contact TATEEDA GLOBAL today to outsource your software development to us!