Payment System Integrations In Healthcare: The Ultimate Guide for 2023
In this article, we'll discuss multiple aspects of healthcare payment system integration, including business rationale, benefits, technical procedures, and different types of medical software that can be successfully integrated with medical billing and online payment functionalities.
As the pace of life accelerates, the trend toward healthcare commercialization is becoming more and more significant. This means that patients seek quickly available yet efficient healthcare services that can be booked and paid for immediately via electronic wallets, digital cards, cash, cryptocurrency, and other legal methods applicable to retail payment.
A number of private clinics and boutique medical practitioners are prepared to satisfy this demand. Immediate payment accelerates financial turnover for healthcare providers in contrast to traditional insurance-based financing, which takes much longer.
At the same time, not all healthcare providers in the United States keep their IT platforms in good shape to provide patients with a seamless, smooth, integrated digital experience, including fast access to medical appointment-scheduling systems and a wide selection of convenient payment methods.
One of the reasons for this is that healthcare is a highly conservative and overregulated industry which remains pretty resistant to business innovation, including limited use of modern healthcare payment systems and other cross-system medical interoperability platforms.
How are healthcare services financed in the U.S.?

📄 According to the Congressional Budget Office, about 60% of Americans (150+ million people) obtain health insurance coverage through their employers or buy their healthcare policies separately. Another 90 million American citizens are insured via Medicare and the military. Additionally, about 30 million Americans, or 10% of the U.S. population, were reported to have NO health insurance coverage in 2021/2022. Fortunately, this number is expected to drop in 2023.

Myriad regulations and health insurance nuances affect patient coverage rates and payment patterns. However, many patients lack health insurance plans with 100% coverage for their needs. Instead, they use direct payment methods in private clinics and healthcare centers. For example, patients often require quick medical consultation and prescriptions instead of waiting months for an appointment, which can be true for insurance-based healthcare scenarios.
🚑 Patients interested in health payment system integration include individuals with high-deductible plans that feature higher out-of-the-pocket payments with expensive copayments and coinsurance.
This means that a considerable number of patients must pay in cash or pay electronically to cover routine office visits, non-routine medical assistance, and emergency room procedures.
Let's learn about what typical healthcare payment systems provide…
Major features and objectives of payment systems in the healthcare industry
Implementation of medical payment systems in physician's offices, ERs, and other healthcare facilities allows patients to…
Pay copayments or other expenses related to medical consultation and/or procedures in healthcare offices.
Pay medical bills electronically online through patient portals.
Pay healthcare expenses with the help of smartphones and special services, like Apple Pay and Google Pay.
Pay with the help of special devices including self-service PoS terminals.
Pay with a payment link or scannable QR code sent via email.
Pay in installments or follow a recurring payment pattern automatically.
Would you like tech advice regarding healthcare payment system implementation?
TATEEDA GLOBAL is a software development and integration company that helps you with selection and implementation of your medical payment solution. If you want to discuss your project specifics with our health-tech engineer, please book a free individualized consultation: 👇
Slava Khristich
Healthtech CTO
Based in San Diego, Slava knows how to design an efficient software solution for healthcare, including IoT, Cloud, and embedded systems.
Factors Encouraging Integration of Payment Systems into Healthcare Services 💳
Healthcare payment system integration is the key that allows health providers to…
Improve financial performance
Enable a wide choice of payment methods
Provide multiple channels for patients to cover their liabilities quickly and painlessly.
Availability of different healthcare payment & billing systems
In most cases, you won't have to create this type of software from scratch, as there exist multiple product offers and platform providers that make billing system integration in healthcare more accessible and affordable than ever before.
Successful billing software vendors will always help you keep in line with current payment trends and fin-tech options to comply with up-to-date patient expectations.
The growing number of additional paid services in the context of healthcare
Implementation of well-tuned healthcare payment solutions allows physicians and healthcare organizations to accept payments for a variety of extra services or auxiliary health-tech startups. For example, additional paid services can be offered to patients within the paradigm of holistic health or other therapeutic approaches. This may include…
Health and wellness lectures and programs
Professional workshops and classes to develop medical skills
Extra health consultation, procedures, and therapy sessions
Promoted medical products, helpful books, and other materials
Vending services and organic products available within medical offices.
In addition, many practices are looking to improve or expand their healthcare services with the help of custom telehealth systems, including virtual visits, remote patient monitoring, and consultation. These services are very popular with patients and highly profitable for physicians, but are not always covered by health insurance plans and may require different payment methods.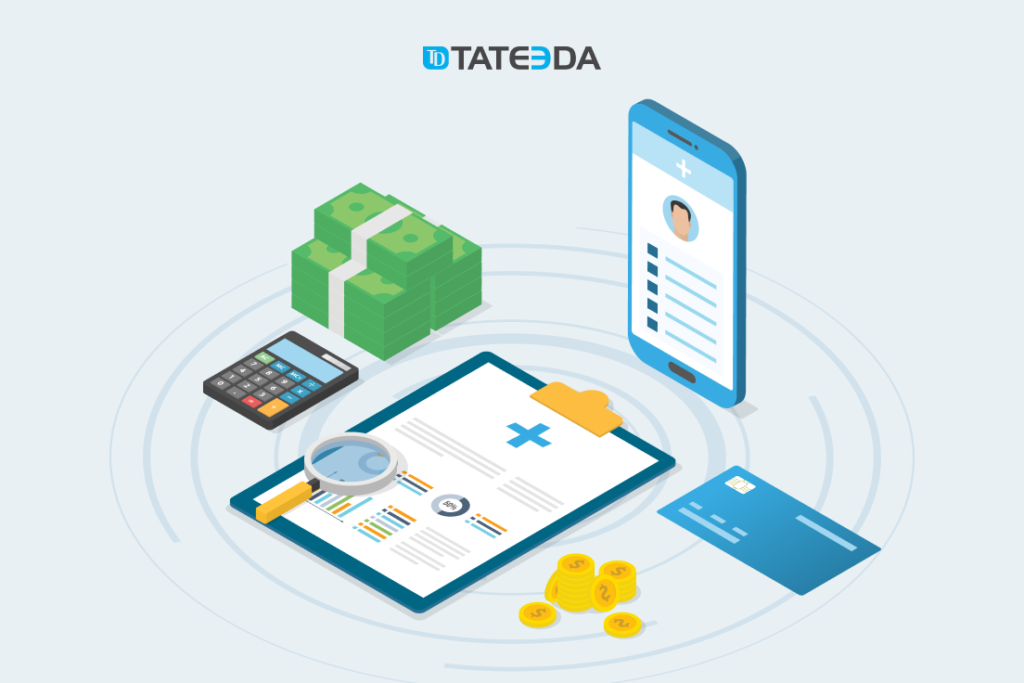 Learn more: ➡️ Health Insurance App Development Guide
Patients demand e-commerce standards from healthcare services
Thanks to integrated payments into healthcare systems, organizations can now not only collect payments from patients faster, but also improve patient engagement and satisfaction. As we said at the beginning, patients are seeking a smooth user experience similar to what they can get from retail platforms like Amazon, eBay, and Walmart. Here are some factors specific to this model…
Patient payment portals are indispensable to this kind of user experience.
About 40% of patients prefer to take advantage of a lump-sum discount.
About 60% of patients are likely to opt for recurring payments.
Learn more: ➡️ Patient Portal Development Guide
🧰 How to integrate your healthcare payment system

These payment solutions can be added to existing medical software via API configuration. Thanks to this approach, medical payment system integration projects can be executed in an acceptable timeframe and at reasonable costs.

If you're seeking implementation of additional payment options and methods for your medical patient portal or other healthcare solution, you can discuss this project with our medical IT engineers. We have experience in building custom biotech software projects, pharmacy application development, and other associated business fields.

Learn more about our services and the types of medical software we create: 👇
Custom Healthcare Solutions
See how we can engineer healthcare software, validate your ideas, and manage project costs for you.
Benefits of Payment System Integration in Healthcare
Why do medical professionals require healthcare payment system integration? Here are several strong reasons to add billing and payment integration into your practice…
Collect payments faster and cheaper
The expense and time required to recollect payments from patients and insurers can grow during any economic crisis or uncertainty. That usually happens because…
A bigger number of medical appointments are missed or delayed because patients prefer to save on their healthcare costs or simply face unpredictable situations.
The percentage of postponed and past-due healthcare bills is at risk of significant increase.
Patients procrastinate paying their medical bills when notified by text or email.
The higher number of patients with limited financial resources is driving hospitals and healthcare providers to spend more on financial investigators and lawyers to help collect debts from patients.
These issues can be partially alleviated with the help of alternative payment methods…
Mobile app payments
Authorized access to patient portals
Contactless mobile wallets
PayPal, Apple Pay, Alipay, and so on
Paying in a variety of bank transfers
Selling additional services
Getting prepayments or payment in installments
Allowing payments in the form of prepaid tokens or points
Allowing payment in cryptocurrency: a pretty exotic option that is not yet legal in many locations.
Seamless integration of medical billing and payment strategies
Your technological environment must be seamlessly integrated with a proper fintech ecosystem so your medical practice can achieve optimal performance levels. Integration usually means a smooth and uninterrupted user experience while interacting with a conglomerate of healthcare software, including…
Mobile patient applications
Web-based portals
Banking gateways
Cloud-based medical billing solutions
Connected electronic accounting systems
Financial analytics platforms
Medical appointment-scheduling systems
Other important healthcare industry tools.
Fewer missed appointments
The availability of a healthcare payment system can lead to an interesting result: If a patient opts to pay ahead of their appointment (at least partially), they are far more likely to visit and adhere to their treatment plan more rigorously.
This strategy is considered a more ethical and efficient way than charging patients for no-shows. In order to motivate patients to pay upfront for their visit, you can offer a convenient patient portal with comprehensive hints and/or discounted pricing.
💬 By the way, we know…

how to create an efficient healthcare appointment-scheduling system and manage a skilled team capable of building complex solutions.

If you are interested in this software for your practice, or would like to integrate this tool with payment/billing gateways, contact us to book a free consultation.

Learn more about our capabilities from our project portfolio 👇
Delivered Healthcare Software Portfolio
The leading American healthcare companies benefit from working with us.
Which Healthcare Software Can Be Integrated with a Payment System
The choice of software solutions to be integrated depends on your specific business model, objectives, and other business requirements.
Let's consider different healthcare applications that can potentially be integrated with billing and payment instruments along with the features this improvement will offer…
EHR/EMR: Integrated Healthcare Payment Solutions in Combination with Medical Records
Let your patients easily access their consolidated payment and billing history through their medical-record profiles.
Securely store patient payment information to allow for greater convenience in terms of online and touchless payments or autopay settings.
Get consolidated financial reports and financial analytics in the context of patients and the specific services they pay for.
View what patients owe, and keep account of what they've paid.
Apply medical data visualizations in conjunction with financial performance figures, charting, and conclusions.
Hospital Management Systems (HMS) with Patient Invoicing and Billing Features
Facilitate administrative tasks via billing system integration in healthcare information-management solutions like custom HMS or HIMS.
Charge patients through automated invoicing and billing processes.
Accelerate health claim processing with AI-backed tools, including automated fraud detection and claim fulfillment.
Minimize the time required for financial transaction verification with an integrated banking/clearinghouse solution.
Telemedicine Software with Instant Payment Options
Attract patients through online advertising and allow them to book appointments or therapy and pay instantly.
Build convenient medical service portals with telehealth consulting selection, virtual appointment scheduling, and the ability to pay online.
Develop business ecosystems with patient accounts, personal balances, payment plans, and other membership details.
Learn more: ➡️ Cloud Computing in Healthcare: 3 Use Cases, Benefits, Features & Best Practices
How to Integrate Payment Systems in Healthcare Practice
How to integrate a healthcare payment system? Here's a typical plan offered by TATEEDA GLOBAL (in practical conditions, this plan can be amended)…
Define the payment options and functionalities required according to your healthcare project's foundational concept and business plan.
Analyze available payment gateway solutions and evaluate them against current business/project goals. Select the most suitable option.
Find a skilled medical system engineer capable of identifying the best ways to integrate your current medical system (EHR, telehealth portal, HMS, or any other application) with a selected payment and billing platform.
Identify all configurations and technologies required for successful payment system implementation. This is usually done with the help of API, and may require skilled services for seamless integration with other software modules.
Consult with business logic experts for a better understanding of how to automate and interconnect financial documentation workflows with integrated medical payment & billing instruments.
Identify all additional services and skills: custom web solution development, back-end configurations, AI-driven tool integration, smartphone or tablet app development, and more.
Hire a team of skilled developers. It's better to involve IT professionals familiar with HIPAA and PCI compliance.
Organize and manage the tasks required to integrate healthcare billing & payment systems components, including all custom elements.
Test and accept project results, ensuring that the selected healthcare billing/payment product has been successfully added and is fully functional.
💬 Does this plan sound intricate?

We understand it sounds both high-level and simplistic. However, a far greater number of details and specific steps are encountered (and handled) when executing a real project! Our skilled engineers and project managers will help you create an individualized project plan to integrate the best medical payment/billing tools into your IT environment.

Please contact our technical experts for a free consultation and project estimate 👇
Slava Khristich
Healthtech CTO
Based in San Diego, Slava knows how to design an efficient software solution for healthcare, including IoT, Cloud, and embedded systems.
Healthcare Payment System Examples: Payments as a Service Platform (PaaS)
Numerous platforms provide "Payment as a Service" and "Banking as a Service" functionality and outsourcing cloud-based payment management products. Here's a small list of PaaS examples. We do NOT promote or endorse any of these services, and we're not associated with any of them.
Zift: A California-registered Payment as a Service company that provides API-based technologies combining a variety of tools for the modern payment ecosystem: payment processing plus multiple payment options like EMV, ACH, and more.
UniPay Gateway: a leading payment-management solution with omnichannel payment processing, merchant underwriting, payment terminal support, and various payment options, including crypto payments and a selection of user plans.
Stripe: a popular e-commerce payment provider with a number of flexible technological advantages and options: prebuilt integrations for Shopify and WooCommerce, card networks, banking, and optimized web-based checkout flows.
If you like any of these or other PaaS offerings and want to try them for your medical payment/billing setup, please contact us to discuss the details.
Healthcare Payment System Integration Services from TATEEDA GLOBAL
Our company can help you with the following services:
✔️ Choose the appropriate payment gateway offering.
✔️ Set up a merchant account and complete other payment system configurations.
✔️ Integrate the selected solution into your existing platform using API.
✔️ Build any additional custom mobile or web applications.
✔️ Create interfaces for the perfect user-friendly bill-pay experience.
✔️ Test and maintain your integrated payment solution.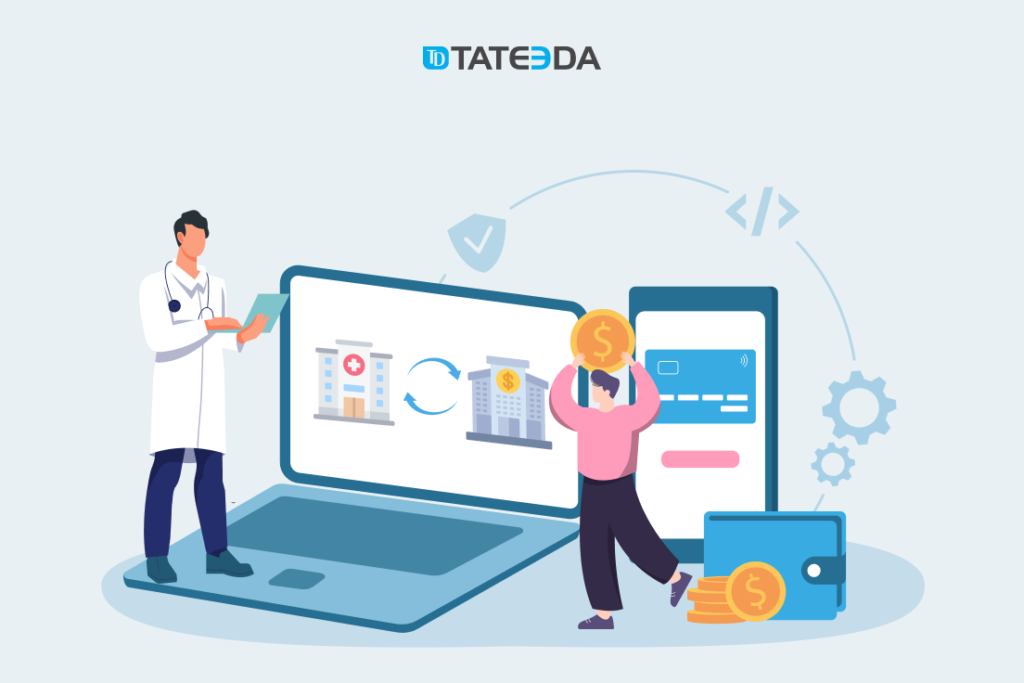 Learn more: ➡️ Legacy Systems in Healthcare: How to Upgrade Outdated Software Solutions
Frequently Asked Questions: Healthcare Payment Systems
What is the new payment system in healthcare?
A fin-tech solution that supports smooth, secure financial transactions such as the collection of medical bill payments for "merchants" (medical organizations that use their services). A payment system can be integrated into a wide variety of medical software: patient portals, telehealth service portals, and electronic medical records, you name it.
How does the healthcare payment system work?
Usually, it works as a hub (payment engine) that ensures electronic communication and confidential data exchange between different banking gateways, client systems, and other service providers, including medical insurers. These healthcare payment services are responsible for providing a selection of payment methods and security of transactions along with secure gateway access, customer support, and more.
What problems can arise in payment system integration?
The range of products and services is vast, and it requires a high level of expertise to make the right choice.
There is also a great diversity of medical systems, including legacy systems, which demands deep knowledge of IT technology in healthcare.
Are there any regulatory requirements for the integration of payment systems?
Integration of a payment system must comply with all local and international requirements, including HIPAA, PCI-DSS, GDPR, and others.
How long does it take to implement payment into your healthcare system?
It depends on many factors, including the scale and scope of your project and additional settings to be implemented. Please contact us for more information!