How to Build a Lab Information Management System (LIMS)
In this article, we'll discuss laboratory management systems, their most important features, and ways to benefit from LIMS and develop custom LIMS software for medical laboratory businesses. This piece contains advice from TATEEDA GLOBAL's software specialists, who have considerable experience in building lab information management systems (LIMS) for American and global biotech companies. If you require immediate project consultation, please contact our biotech software development team.

Efficient healthcare is simply unimaginable without labs. Medical tests are crucial for successful diagnoses and evidence-based treatment for the majority of patients (approximately 70% of all medical decisions in the United States are based on laboratory test results.)

In modern clinical practice, a physician cannot prescribe certain medications (like antibiotics) without having relevant lab tests completed, including blood chemistry and/or microbiology tests. In a nutshell, the major domains of clinical lab analysis include enzymology, toxicology, endocrinology, hematology, molecular diagnostics, and many more.

The pool of diagnostic and medical laboratories in the U.S. exceeds 28,000 (2021) and the sector has shown steady growth over previous years. Lab businesses can vary in size, ownership model, and/or areas of practice, but no laboratory is too small for adapting and using a LIMS.
Various configurations of medical lab management software used by private and non-profit clinical research facilities, hospital labs, universities, corporate R&D labs, CROs (contract research organizations), biobanks, and all other types of medical and biotech labs can be found on the market.

However, not all of these LIMS solutions are tailor-made, and are therefore not fully compliant with the requirements of different labs. Custom LIMS software development is the right approach to fixing these problems and improving operational efficiency in laboratories.
Let's learn more about lab management software capabilities and features…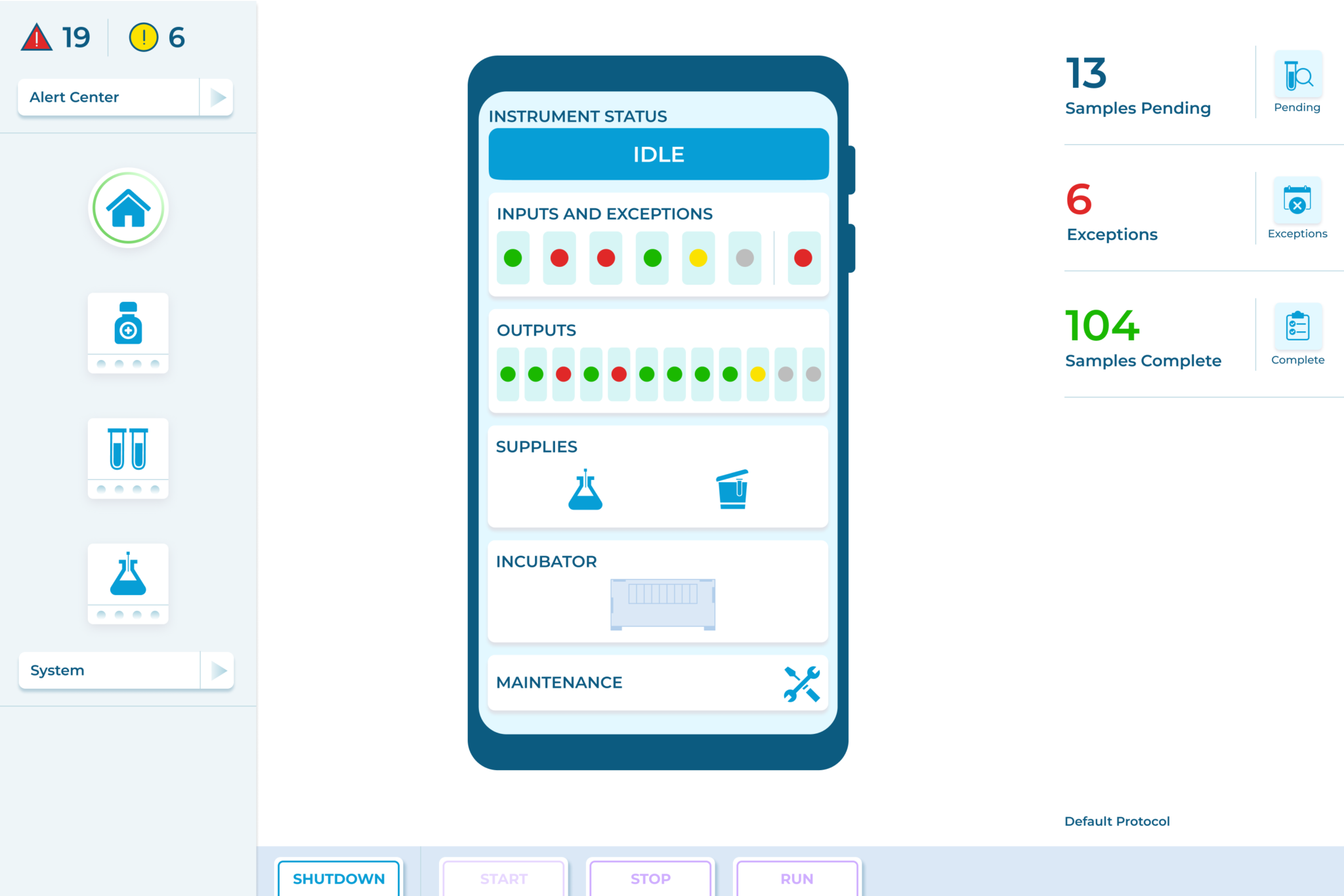 If you are interested in LIMS application development, feel free to consider us:

✔️ We are headquartered in the U.S. (San Diego, CA) and have local project experts available for personalized communications and technical consulting.

✔️ We offer a convenient time zone for North American clients, dedicated project managers, and favorable project rates, thanks to our well-organized R&D branch in Ukraine and other countries.

✔️ We are open for free tech consulting. Do you need expert advice on technologies to be used in your lab management software? Would you like to add features or upgrade an existing LIMS? Please reach out to our experts today! ⇒
The 3 Key Advantages of LIMS Software: Why Build and Update Lab Applications
Why is LIMS so important for modern labs? And why is it advised to build a custom laboratory information management system from scratch?
#1. Better Time, Cost, and Data Management for Labs
First of all, this type of software increases laboratory operational efficiency and that's why it should comply flawlessly with lab workflows and business processes.

With a well-designed lab information system, no valuable lab technician time will be wasted struggling with cumbersome, inefficient, or redundant software features.

LIMS provides the following benefits:

Reduced amount of manual work
Better test/sample status management
Better process controllability and accurate evaluation of lab workload
Faster communication of business data and test results
Better results interpretation and retrieval operations
Faster billing process, and much more…
👨‍💻 Do you need any tech consulting for LIMS development?
We'll help you define the best way to develop your LIMS or upgrade an existing one.
| | |
| --- | --- |
| 🗜️ We'll define the best technology stack and create LIMS software that will better suit your specific processes than readymade alternatives on the market. | 🛠️ We'll help you upgrade your existing LIMS system by checking the technology stack behind it, considering your specific requirements, and offering the best possible solution. |
We are open for free tech consulting, and will help you identify and define the technology stack for your system, including Cloud solutions and front-end applications. No pushy sales practices are used! Get a free consultation from TATEEDA GLOBAL's skilled medical software engineer: 👇
Slava Khristich
Healthtech CTO
Based in San Diego, Slava knows how to design an efficient software solution for healthcare, including IoT, Cloud, and embedded systems.
#2. Overcoming Clinical Laboratory Workforce Shortage
In the context of the global shortage of healthcare professionals, the United States is facing a documented shortage of medical and clinical laboratory staff, including lab technologists and technicians. This issue affects many industries and public facilities that rely on laboratories: hospitals, pharmacies, biotech companies, universities, and more.

The demand for well-trained laboratory professionals is expected to increase by 22% between 2012 and 2025. With that said, it's obvious that modern labs need increased automation to manage operational costs, wisely utilize existing resources, and cope with the growing demand for their services. The modular laboratory automation market is estimated to exceed $10 billion by 2026, including the implementation of custom IoT solutions like robotic arms, automated liquid/plate handlers, and more.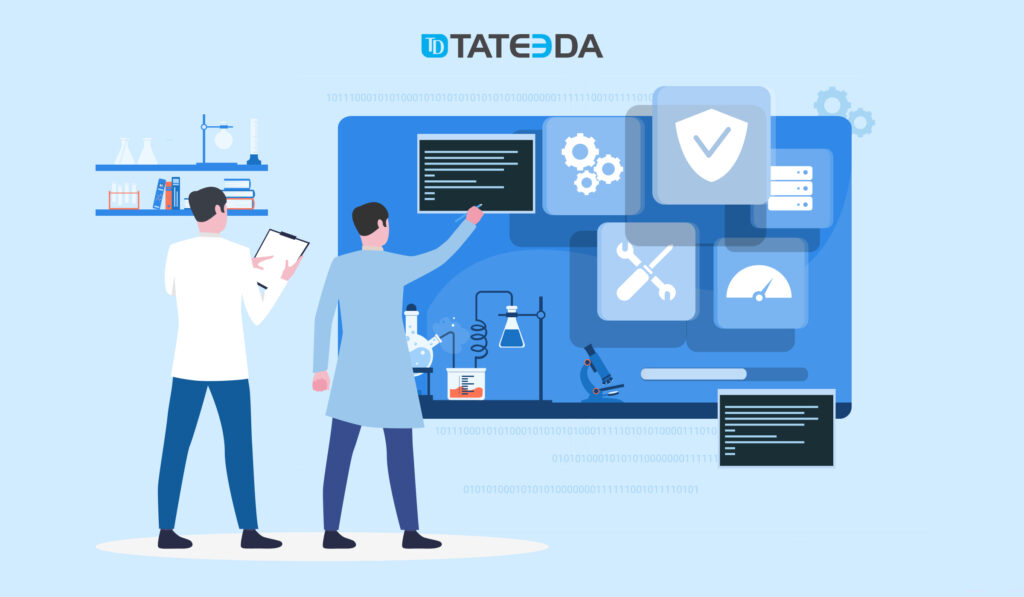 Read also: ➡️ Medical HR Software Development
#3. LIMS Software Development for Lab Automation
Custom LIMS solutions can be designed to support lab automation projects and help laboratory professionals test, verify, and document more samples at a time. In other words, laboratory management software is one of the instruments that help laboratory businesses to deal with the lab workforce crisis without compromising capacity.

Here are a few of the lab devices and instrumentation types that can be integrated with LIMS:

Auto-samplers
Robotic arms
Scanning electron microscopes
Digital microscopes
Vortex mixers, magnetic stirrers, shakers, centrifuges
Spectrometers and sensors
Liquid and plate handlers
Hematology analyzers
Freezers and drying chambers
and so on…
Would you like to implement greater automation into your laboratory business?
If you are looking into lab automation opportunities, but are still not sure about technology choices and project options, feel free to consult with us! We know how to create a laboratory information management system including many different platfroms and technologies.
Software experts from TATEEDA GLOBAL will help you define your project's technology stack and avoid costly mistakes and pitfalls. We can create LIMS software for your lab, biotech business, or medical organization from scratch. Be sure to contact us for a free consultation and project quote, or learn more about our services: 👇
Custom Healthcare Solutions
See how we can engineer healthcare software, validate your ideas, and manage project costs for you.
Read also: ➡️ The 7 Best Healthcare Software Development Companies in California for 2022
Core Features to be Included in Your LIMS Software
Before you can begin creating your laboratory information system, it's necessary to identify the major/minor business and technical processes specific to your laboratory. The more accurately you can capture and reflect your laboratory processes, the better LIMS software can be designed and built to reflect them.

Some of the high-level functions of laboratory information management system software include:

Workflow automation and integration with automatic lab equipment, lab instruments, and other in-lab systems, so the whole lab can work as a singular, well-orchestrated, digitized facility.
Centralize and manage access and storage of laboratory data.
Track and analyze data from ongoing laboratory operations, including technical and health data visualizations, like dashboards, charts, and so on.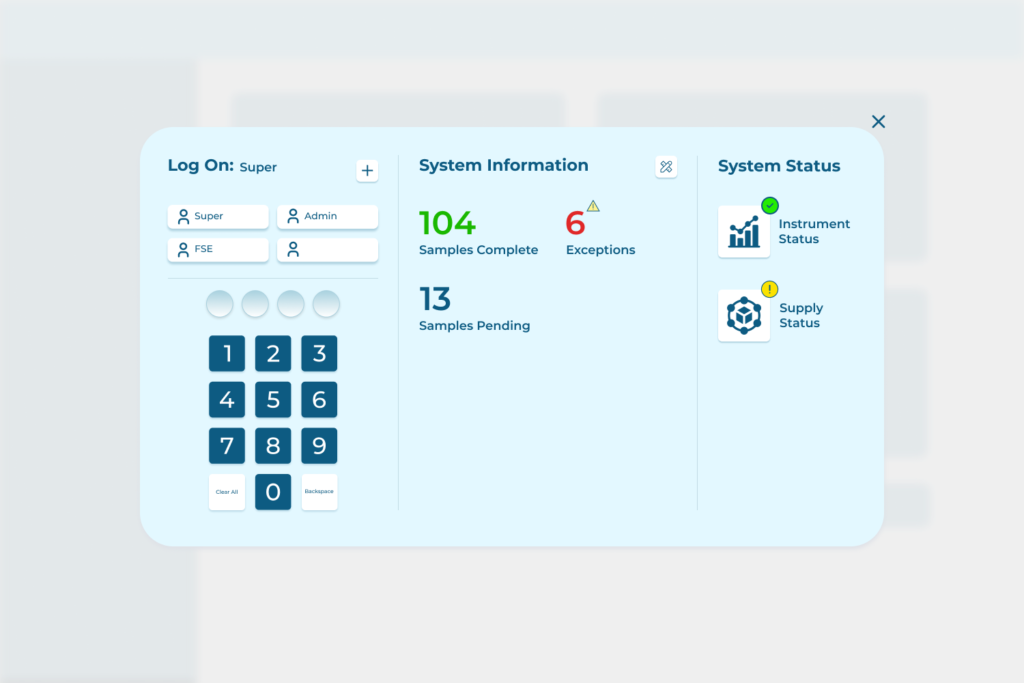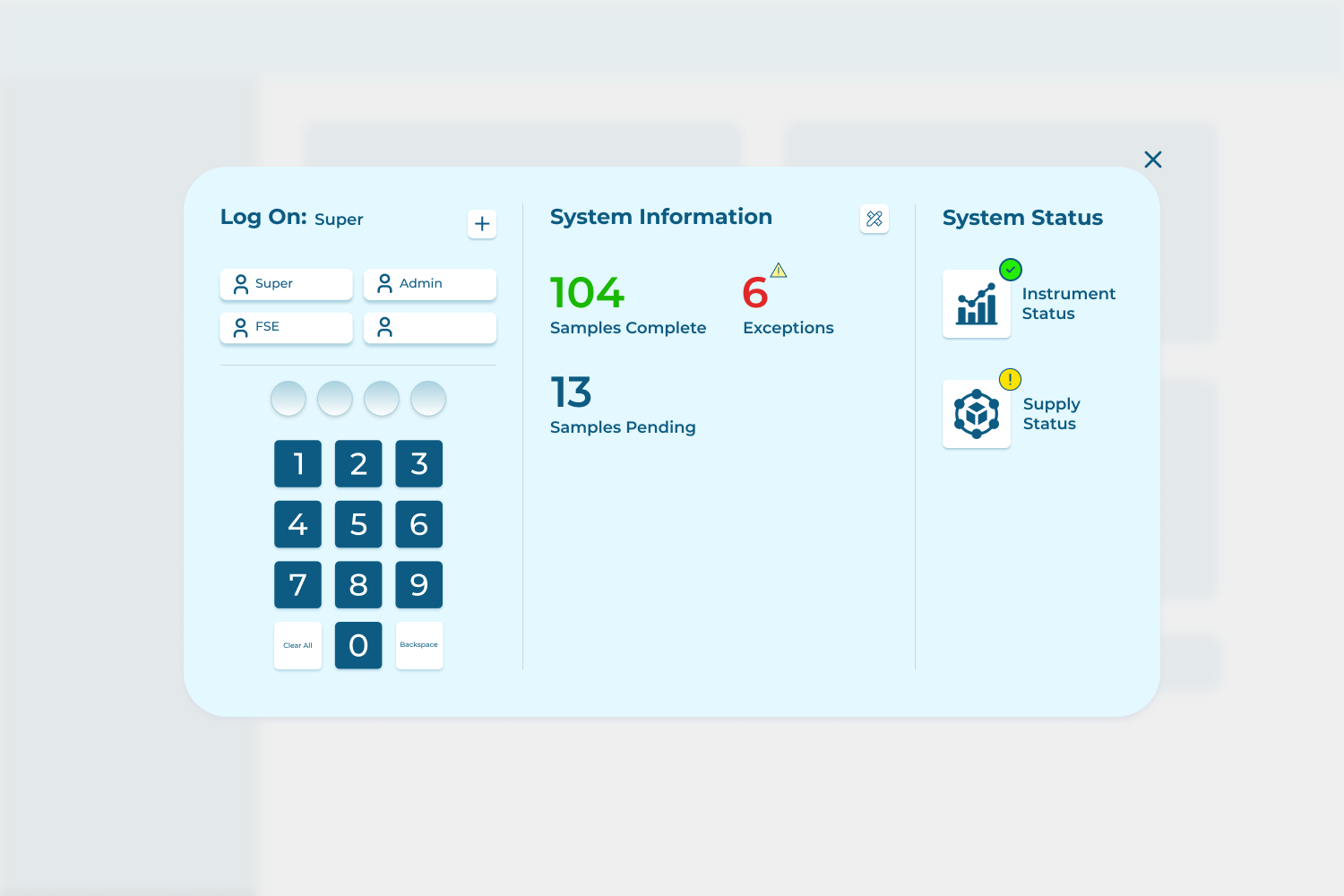 Learn more: ➡️ How to Build Custom Medical Device Software: The Complete Guide
Some of the major LIMS functionality modules or sub-systems (and their recognized abbreviations) include:

Scientific Data Management System (SDMS)
Lab Execution System (LES)
Electronic Lab Notebook (ELN)
Customer Relationship Management (CRM)
Hardware Integration
Laboratory Database Management System
EMR/EHR development and integration.
Sample Status and Data Management Systems
This can also be called a Scientific Data Management System, or SDMS. There are several sub-processes involved in sample status management that can be facilitated with the help of LIMS. These sub-processes include:

🧪 Registration of new samples in connection to customer/patient personal information.

🧪 Assignment, scheduling, and tracking of the operations and tests applied to new samples according to laboratory protocols and procedures.

🧪 Processing and process verification in relation to specific lab equipment and inventory (lab chemicals, reagents, etc.)

🧪 Organization, protected storage, and representation of data/results in relation to all associated data attributes.

LIMS also maintains crucial sample data, including the expiration date of each sample, specific storage requirements, if any, queue order and due dates of tests to be performed, and specific locations of all containers or tubes on fridge shelves or in other storage/processing facilities.

Read also: ➡️ How to Develop Pharmacy Management Software
Scientific Instrument and Lab Equipment Integration with LIMS
With custom LIMS application development, you can design the system for perfect integration with specific instruments and scientific hardware used in your laboratory.

This approach allows prevention of costly device incompatibilities or cross-format issues that usually emerge when during the integration of ready-made LIMS software with existing lab equipment.

Some of these functionalities include:

⚙️ Direct access to configuration, settings, and programming of lab instrumentation and devices.

⚙️ Laboratory hardware diagnostics, routine maintenance, and ongoing operation logging/reporting.

⚙️ Cross-instrumental and cross-software integrations. Make sure to learn everything about secure healthcare system interoperability requirements and technologies.

⚙️ Tracking and exchanging data between laboratory tools and LIMS for the purposes of medical/scientific data documentation, measurement record, medical data mining and analysis, and quality assurance.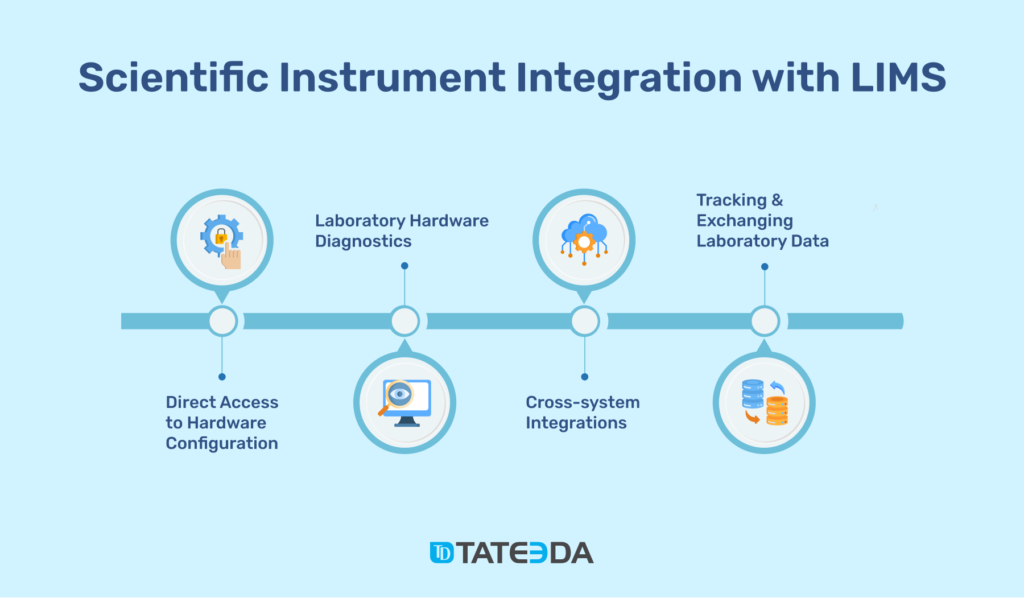 Learn more: ➡️ Efficient Embedded System Design: Process, Types, and Implementation
Laboratory Inventory Management
Laboratory inventory management (and supply chain management) is a crucial but tedious practice that can become a real headache to lab managers if not organized properly.

LIMS can help automate laboratory inventory management and make it less complicated and troublesome.

Some of the general inventory types that can be found in labs include:

Reagents and disposables (and their stock levels)
Analytical instruments, laboratory equipment, and hardware of all types (including device statuses, calibration, and configuration information)
Samples that are waiting in line, going through the process, and/or finally discarded, including their location/position, status, and more.
Read also: ➡️ How to Maintain and Support Healthcare Software
LIMS works as a centralized node and administrative panel for measuring, recording, and controlling inventories, including laboratory equipment, in the course of inventory circulation within the laboratory.

Sub-processes that are facilitated and enhanced with the help of LIMS development include:

Laboratory stock management (with minimum stock level detection, quick ways to file restock orders, and other helpful functions)
Labeling and barcoding of test tubes, samples, and/or materials containers
Storage space/facility organization for inventory
Automated tracking and reporting of inventory utilization and balance
Real-time inventory status reporting and management
Electronic records on lab inventory in convenient visual representations and formats
Inventory accounting and auditing.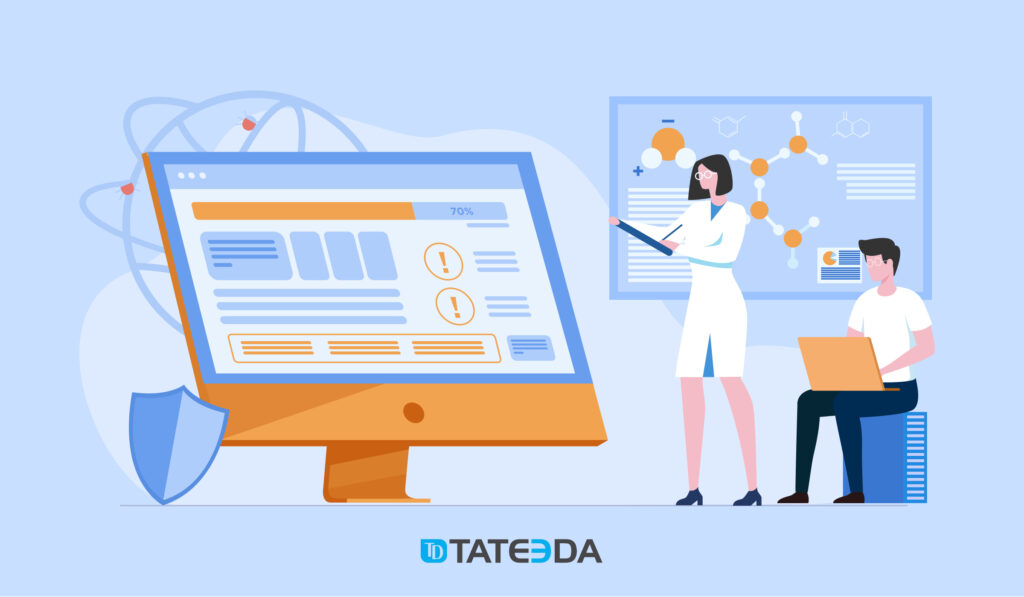 Read also: ➡️ [Case study] → Online Medication Fulfillment and Pharmacy Inventory Management Solution by TATEEDA GLOBAL
Lab Workflow Management and Other Types of Lab Solutions
LIMS can feature a well-developed lab workflow planning, tracking, and reporting system with the following modules and features:

✔️ ELN (electronic laboratory notebook) to be used by lab technicians and managers to document and comment on research processes, experiments, and procedures performed in the laboratory.

✔️ Data-sharing options: Integration with patient and medical staff portals for fast, safe access of lab test results and other information.
✔️ Integrated status management: this LIMS module makes it possible to access detailed information about every sample and inventory unit at a convenient time to check status and technical metrics. It relies on deep integration between software and lab devices.

✔️ Billing & payment: If this type of process is an indispensable part of your lab's workflow, secure payment gateways, order/bill template generators, CRMs, health insurance management apps, and other financial components can be implemented. Learn more: Payment System Integrations In Healthcare: The Ultimate Guide
✔️ Analytics & reporting: There exists a wide selection of options, from simple spreadsheets and inner printable reports to real-time synchronization of laboratory databases with big data processing platforms that offer profound reporting and research capabilities. For example, modern genomics produces a huge amount of data.
⚠️ We know how to create medical laboratory management systems capable of intense data exchange and operations thanks to sophisticated DevOps and cloud solutions. For example, we can help you integrate your LIMS with healthcare ERP systems.

Please see more of our projects: 👇
Delivered Healthcare Software Portfolio
The leading American healthcare companies benefit from working with us.
How to Develop Your Laboratory Information Management System
Building a LIMS is a very complicated task, and hiring software professionals is the right way to address this type of project. If you want to discuss your project with a LIMS software developer right now, please schedule a free meeting with our expert. Otherwise, follow this step-by-step plan to create a laboratory information management system with your own team…
Define the technology stack for your laboratory information management system project
This choice depends on many factors:
your budget
the LIMS module structure
in-lab infrastructure opportunities and limitations
your vision of the system objectives and laboratory functionalities to be provided
systems and modules to be included, and more.
Example of a technology stack for LIMS development:
A LIMS can be developed using the .NET framework because it's fast, powerful, and reliable (in that case you need to hire .NET developers.)
It can employ a client-application-database architecture with a mixed set of multi-platform clients.
Cloud-powered backend (different models, including hybrid cloud, can be used).
SQL-driven database.
DevExpress components that allow for versatile controls and easy-to-generate visualizations and reports.
Web-based development technologies can be used for patient portals.
API integrations and other methods can be used to integrate with equipment and other lab software.
Only an experienced software engineer can define the best technology stack that will make your lab management system efficient, fast, and sustainable in the context of your specific situation.
Plan your laboratory software project
Go through the following crucial points to get the best picture of your future LIMS:

List the potential users of LIMS in your lab: technicians, managers, stakeholders, etc.
Define their roles and responsibilities.
Identify the major laboratory management functions to be facilitated via LIMS: status management, inventory management, etc.
Identify the metrics that you need to collect and track, and the way you'll need them to be analyzed and reported.
Define your LIMS development budget.
Define how your LIMS will be maintained and kept in good working order.
Identify the devices, equipment, and/or computers to be integrated with LIMS.
Manage your LIMS development team
When you undertake LIMS application development, it's necessary to hire a team of different software developers and other specialists.
Make sure you engage an experienced software engineer that can plan your entire LIMS structure, including underlying technologies and software modules.
Make sure to find a project manager that can correctly interpret your software development plan and organize the process.
Make sure that you hire experienced software specialists, including front-end developers, back-end developers, UI/UX designers, QA specialists, etc.
Assign and control LIMS application development tasks within the team.
Are you interested in LIMS software development on a turnkey basis?

If you want your LIMS to be created in a timely and efficient manner, please contact TATEEDA GLOBAL for a free consultation! We have an experienced team of software engineers, software developers, and other specialists. This allows us to build a top-tier custom LIMS…the best solution for your lab's specific needs.
How Much Does It Cost to Build a LIMS Software System?
It's obvious that the development of LIMS software can be pretty expensive and complicated.

However, there are many ways to manage and alleviate the costs associated with LIMS development:

use a combination of onshore and offshore/nearshore development resources
resort to the vendors with a high level of expertise in the fields of health-tech and biotechnology app development, which will help the process go faster.
use smart time and resource-management techniques
start with a limited number of features and capabilities.
It's hard to predict the exact laboratory information management system cost, but it can be estimated at $60,000-300,000, depending on scale and rate of development.

If you're looking for a reliable LIMS software development partner, feel free to contact TATEEDA GLOBAL for more information and free consulting: https://tateeda.com/healthcare
TATEEDA GLOBAL's Experience in Creating Custom LIMS
Our team has a great deal of experience in building advanced LIMS products and doing powerful LIMS integrations. For example, we helped develop software for lab-testing automation machines for one of the world's leading manufacturers. Our solution included:

Lab test status management. Our UI components helped operators control the queue of test tubes/containers undergoing machine processing (samples pending, complete, or excluded).
Visualization of sample statuses, with maps showing the exact location of every labeled test tube with a sample in drawers/racks.
Monitoring of process parameters. The system provides constant monitoring information to lab technicians, including data points like the speed of rotation, temperature, reagent mixing ratios, and more.
Lab hardware diagnostics. Software components provide convenient access to important lab inventories: instrument statuses, reagent levels, maintenance options, etc.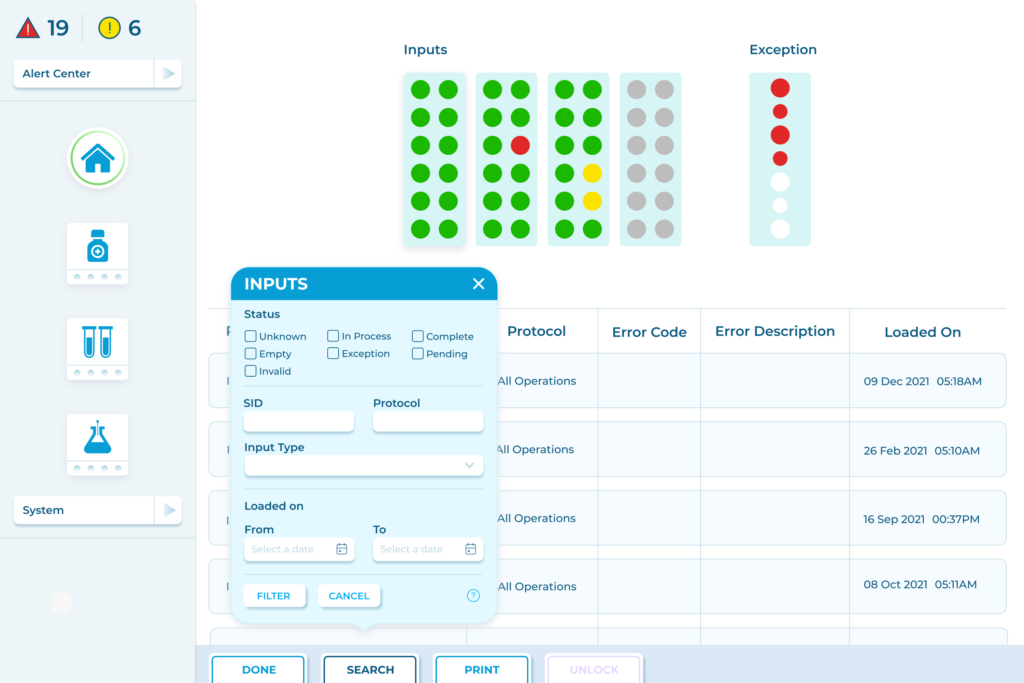 Learn more about the solution here: Laboratory Test Machine Software Development [Case Study]
In conclusion
If you need a professional IT team to partner with you on your LIMS software project development and/or augmentation services, TATEEDA GLOBAL is here for you!
We offer:
Full-cycle development of healthcare-related software systems
LIMS software project assistance, augmentation, and product testing
Long-term medical LIMS software maintenance services
Affordable project costs, thanks to our R&D branch in Ukraine
Personalized connection with our project manager HQ in San Diego, CA
Vast onsite experience with U.S.-based IoT, healthcare, biotech, and pharma companies
Fast team deployment—within 48-72 hours
Contact TATEEDA GLOBAL today and outsource your LIMS software development to us!

Rate this article!
5 out of 5 stars (based on 2 reviews)