When and Why You Need to Update Your Legacy Healthcare Software Systems
As technology evolves and becomes more complex and efficient, software systems need to be continually updated to keep pace with competitors and meet consumer demands. Healthcare software is no exception. The demands for integrated patient records, HIPAA compliance, tightly controlled security and accurate reporting have never been greater.

If your healthcare practice has been limping along with legacy software that no longer meets the challenges of modern best practices, it may be time to update, or even completely replace your legacy software with the latest technology for healthcare providers.
The Challenges of Legacy Medical Software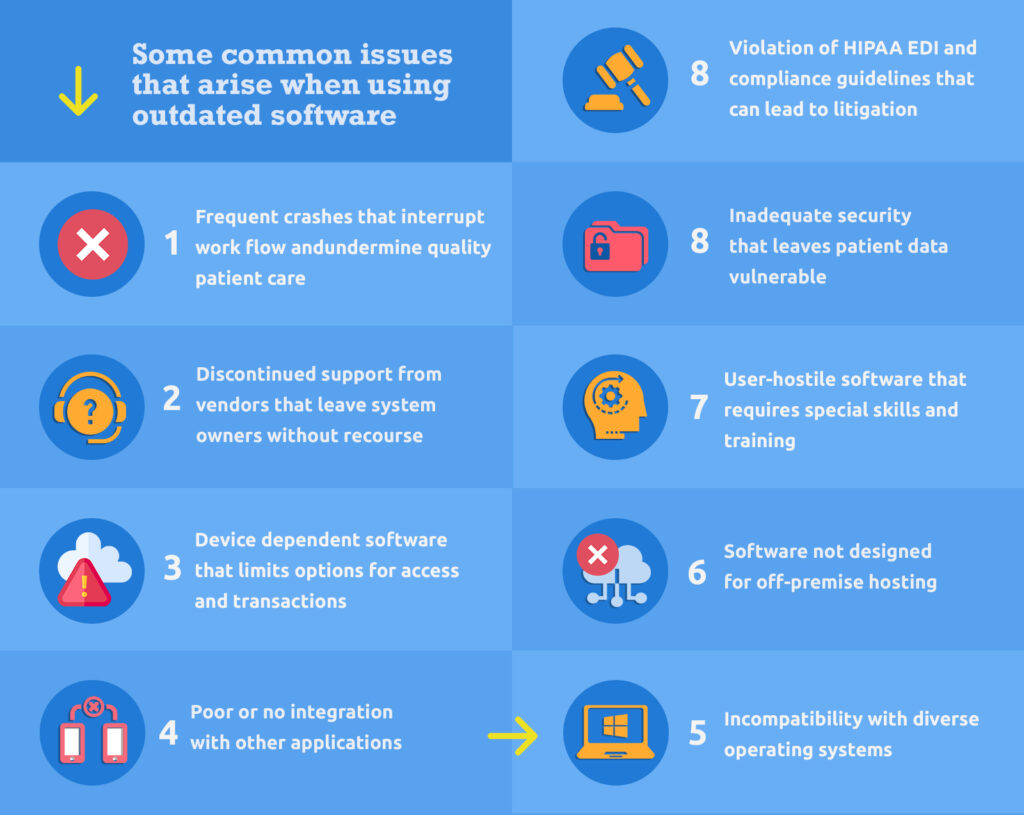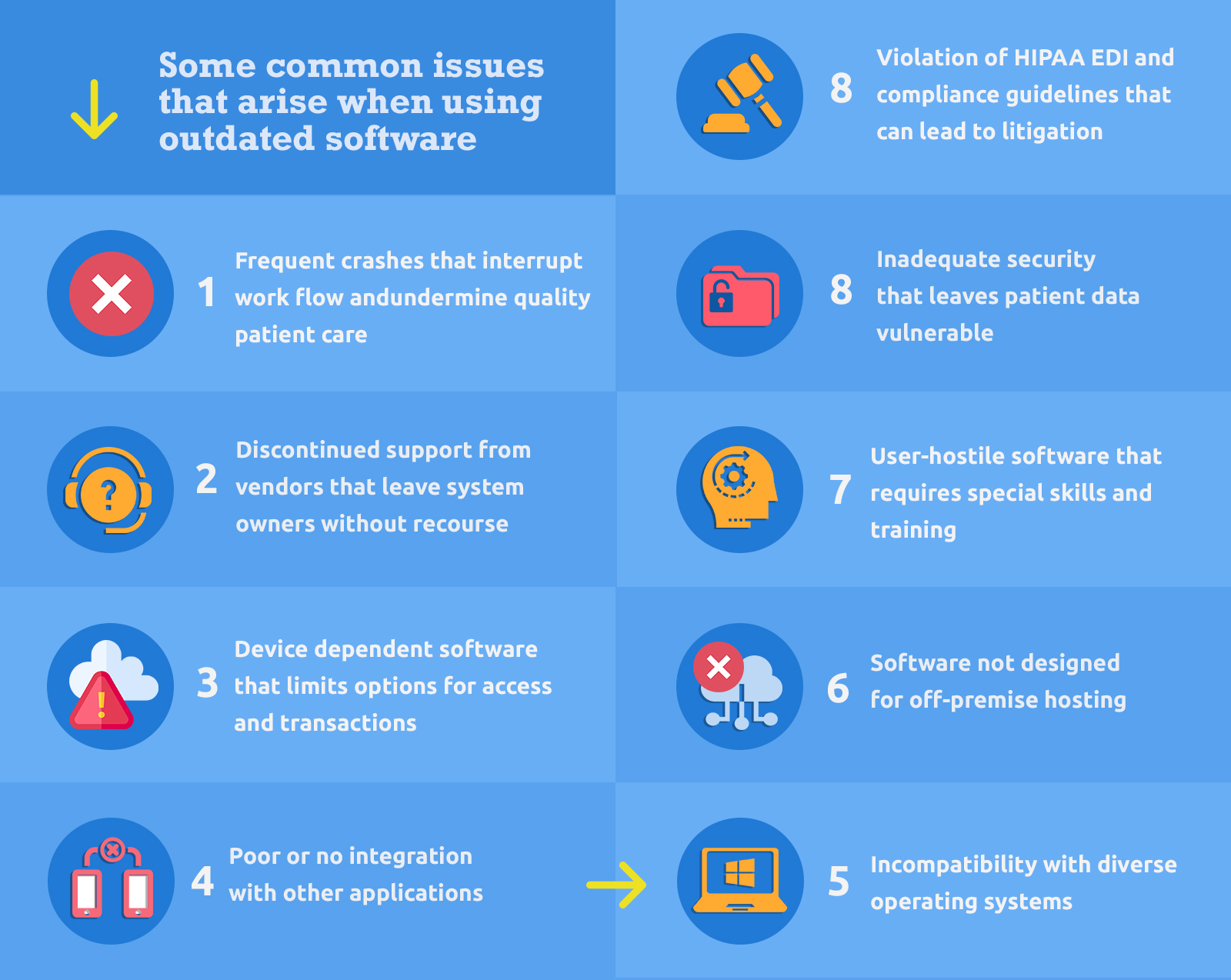 When it comes to efficient operations, healthcare entities often lag behind businesses, largely due to poorly integrated software systems that underperform. Depending on the age of your existing systems, making changes to legacy software can be expensive and time consuming.
Outdated software architecture may have mounds of documentation, or may be missing documentation for essential features. And making updates can be risky, as it may interfere with the software's original source code.
Nevertheless, failing to update your legacy medical software can cost you more time and money in the long run as you and your staff cope with the challenges it presents. 
Some common issues that arise when using outdated software include:
Frequent crashes that interrupt workflow and undermine quality patient care
Discontinued support from vendors that leave system owners without recourse
Device dependent software that limits options for access and transactions
Poor or no integration with other applications
Incompatibility with diverse operating systems
Software not designed for off-premise hosting
User-hostile software that requires special skills and training
Inadequate security that leaves patient data vulnerable
Violation of HIPAA EDI and compliance guidelines that can lead to litigation
Not only does outdated software put your business at risk of legal troubles, but it slows down operations, puts patient privacy at risk, threatens the quality of patient care you provide, and fosters a negative workplace culture.
Benefits of Modernizing Your Legacy Healthcare Software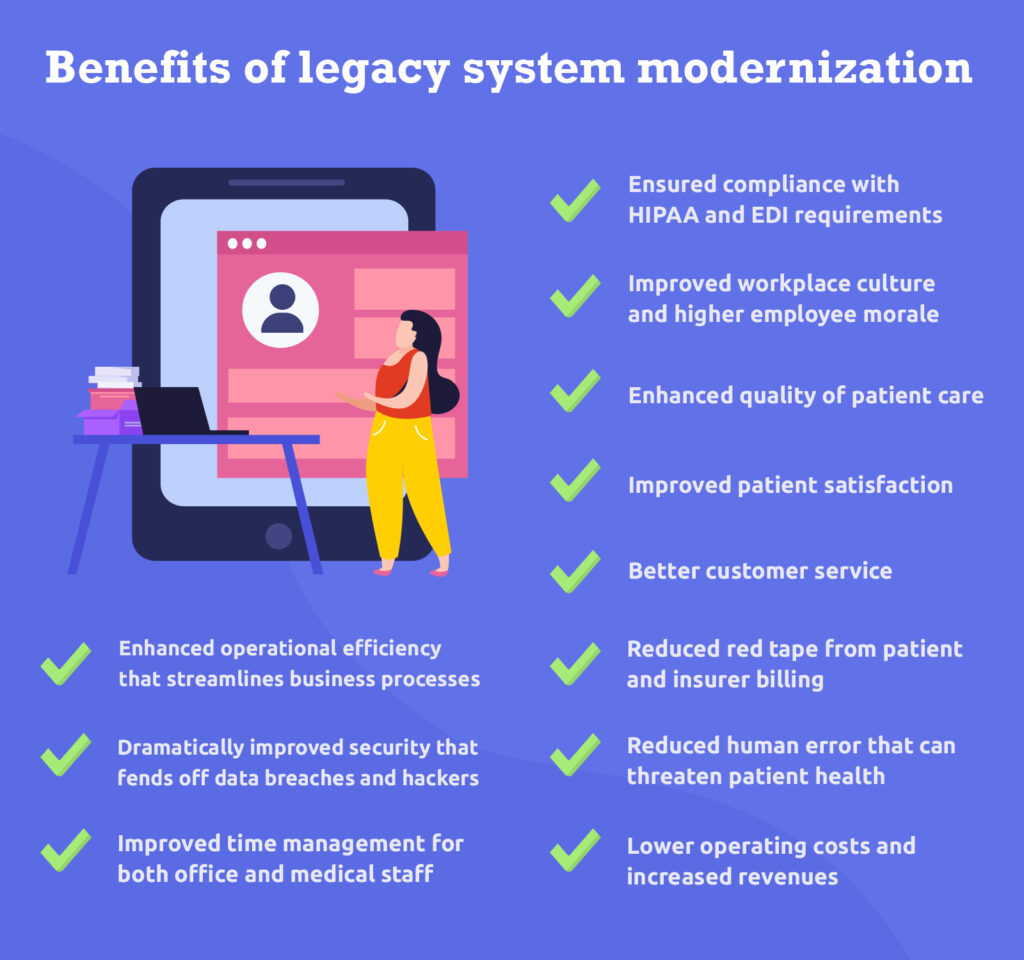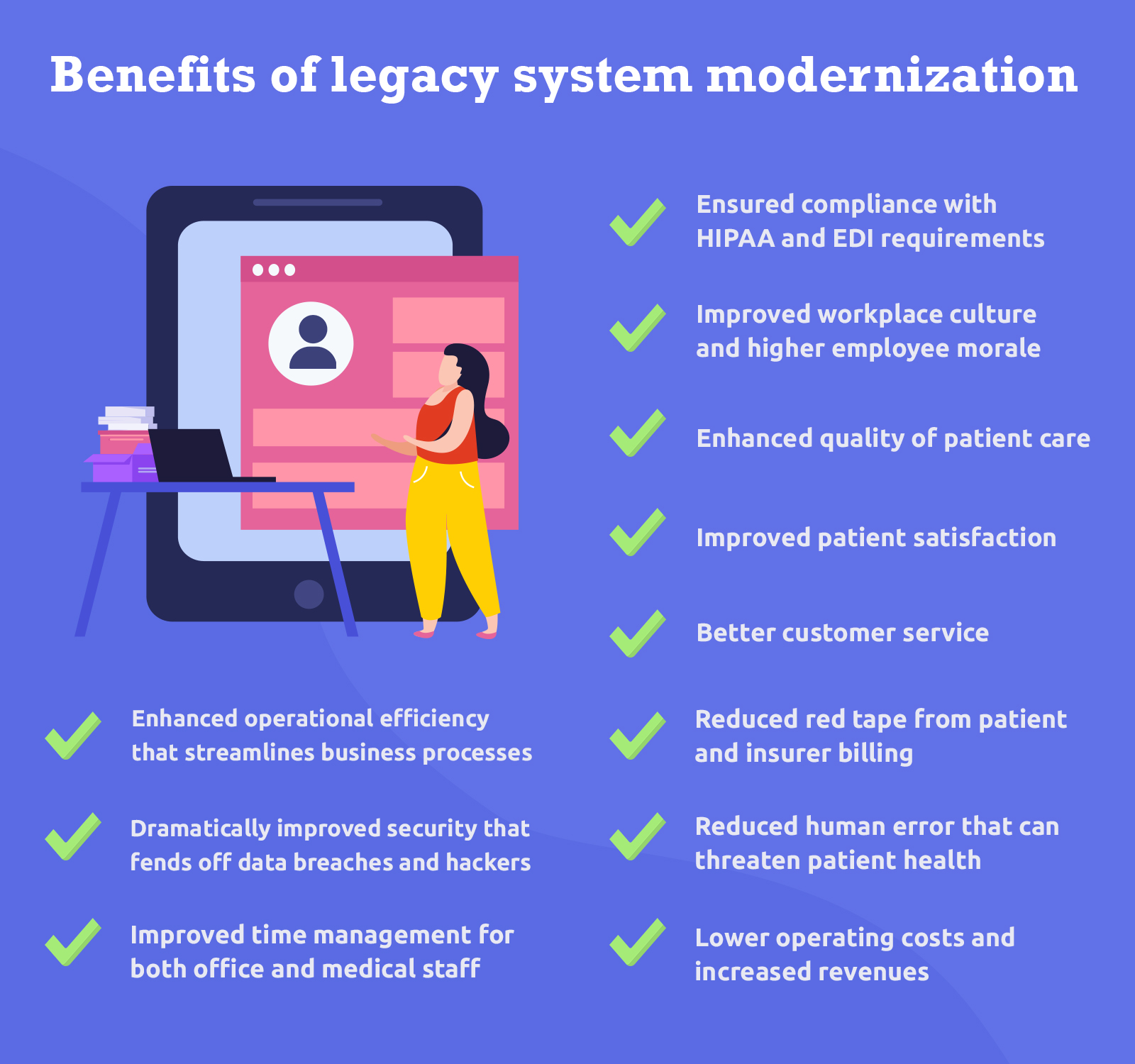 Enhancing and updating your current medical software systems can have a huge impact on your healthcare business. Modern patients are accustomed to having information at their fingertips across a broad array of personal services, including banking, investing, fitness metrics, education, communication, and a plethora of work processes.
Tech-savvy patients may lose their patience with outdated business systems that complicate their lives. The same can be said for employees. Today's top healthcare talent expects to work with user-friendly state-of-the-art systems that streamline workflow and promote a positive work environment.
Benefits of legacy system modernization include:
Enhanced operational efficiency that streamlines business processes
Dramatically improved security that fends off data breaches and hackers
Improved time management for both office and medical staff
Ensured compliance with HIPAA and EDI requirements
Improved workplace culture and higher employee morale
Enhanced quality of patient care
Improved patient satisfaction
Better customer service
Reduced red tape from patient and insurer billing
Reduced human error that can threaten patient health
Lower operating costs and increased revenues
Failure to modernize your legacy healthcare software can result in high maintenance and repair fees, dysfunctional workflow, reduced efficiency, lost business opportunities, and a plethora of other negative consequences that can hurt both your reputation and your bottom line.
Read also: Patient Electronic Data Capture Solution Development
Meeting Today's Challenges Requires Up-to-Date Software
The events of 2020 had a profound impact on healthcare, posing many new challenges that require innovative solutions. Modernizing your legacy healthcare software systems can help you meet the major challenges faced by healthcare entities in the 2020s.
Explosive demand for remote Telehealth services
New findings from clinical trials that render certain processes obsolete
Demand for responsive digital communications between patients and doctors
A growing array of new devices for remote patient monitoring
Demand for automated medical appointment systems
Automation of billing and insurance systems
Advanced technologies for patient care
Healthcare data migration to the cloud
Demand for user-friendly patient portals
Need for advanced security across all medical software systems
Retaining top employees by providing user-friendly integrated modern software that streamlines workflow
Compatibility with diverse operating systems
Remote accessibility from mobile devices
System security and accessibility for remote workers
To remain competitive, modern healthcare entities need to be resilient enough to meet the rapidly evolving challenges of the 2020s. Failure to implement medical software updates can leave you choking on your competitors' dust and cause an exodus of patients from your practice.
Factors that Determine Your Needs for Software Updates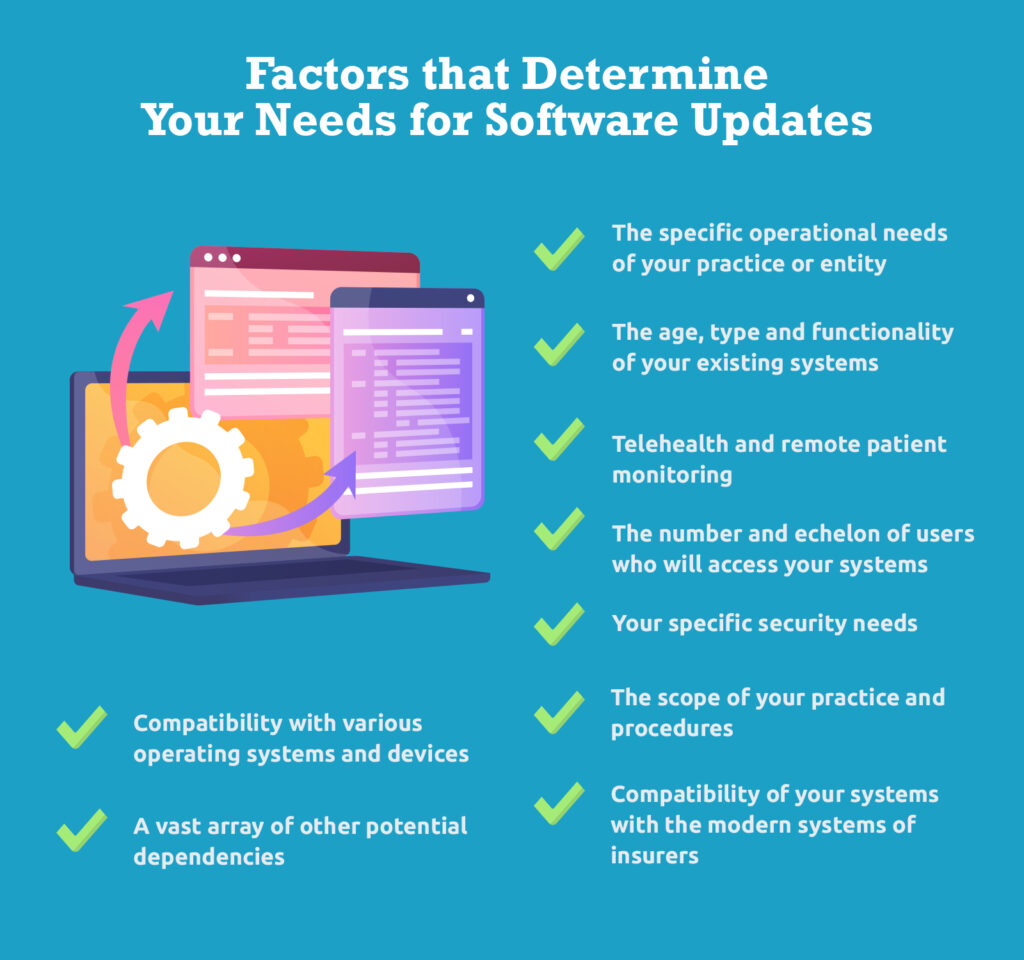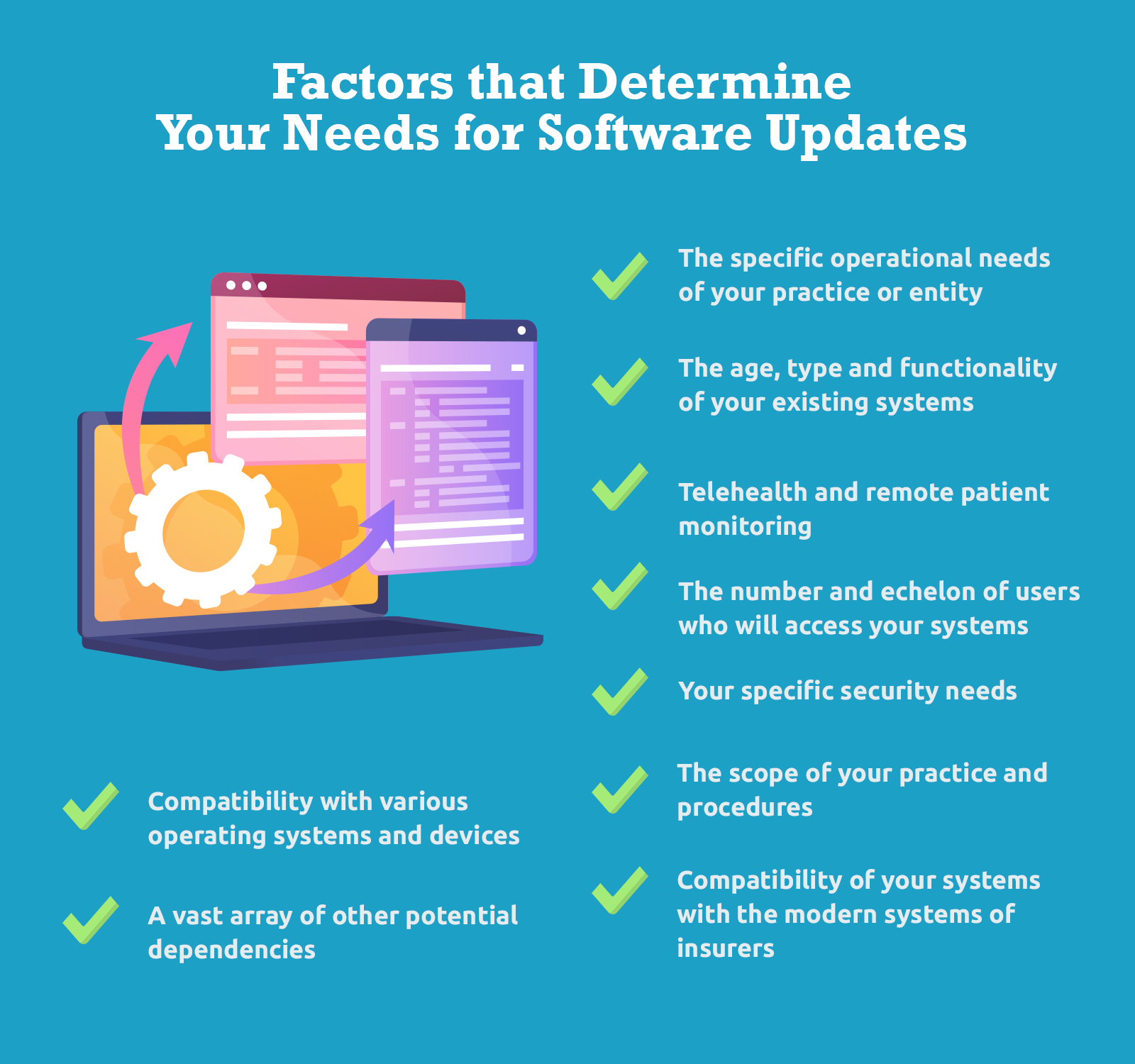 Modernizing your legacy healthcare software can require a variety of processes, to bring it up to speed with today's demands and requirements. While medical software updates can be costly in the short run, they are sure to save you money and even make you money in the long run.
The number and degree of updates needed will depend on several factors:
The specific operational needs of your practice or entity
The age, type, and functionality of your existing systems
The need to add new services, such as Telehealth, remote patient monitoring, or a custom e-prescription tool
The number and echelon of users who will access your systems
Your specific security needs
The scope of your practice and procedures
Compatibility of your systems with the modern systems of insurers, suppliers, and service providers you regularly interact with
Compatibility with various operating systems and devices
A vast array of other potential dependencies
In many cases, completely replacing legacy systems in healthcare is wiser and more cost-efficient than implementing medical software updates.
The Importance of a Legacy Medical Software Audit
The best way to identify which systems need to be modified, which need to be integrated and which need to be replaced altogether is to requisition a professional audit from a qualified healthcare software developer. Without outside technical expertise, even if you have an in-house IT team, you could end up spending money on system updates that fail to improve your business processes and meet today's security needs.
A legacy healthcare software audit will render the following information:
The effectiveness of your current systems in executing required tasks and functions
The efficiency of your systems in adeptly providing needed information and streamlining operations
The intuitiveness of your systems to quickly and accurately respond to user input
The level of your systems' security to protect against data breaches, cyber attacks and unauthorized access
The ability of your legacy medical software to meet healthcare demands of the future
The compatibility of your legacy software with modern technologies (mobile, web, cloud)
The appropriateness of your legacy software for the purpose it is being used
The ability of your legacy software to participate in secure standard electronic data interchange (EDI)
Your legacy software's compliance with HIPAA requirements
Recommendations for expansion, integration, updates and replacement
Getting a thorough audit of your legacy medical software can help you budget for improvements, plan for growth and expansion, open your eyes to new opportunities and bring you up to speed with available technologies. In effect, your audit will be both informative and educational.
Revolutionary vs Evolutionary Healthcare Software Modernization
Depending on the size and scope of your existing software systems, doing a complete overhaul may not be realistic or affordable, all in one go. An experienced software development service provider can advise you on which of your legacy software systems need immediate attention, and which ones can afford to wait. They can provide you with a step-by-step plan to gradually update your legacy software systems over time.
In some cases, your current software may be so outdated that it cannot be upgraded to meet modern requirements. In those instances, a medical software developer can advise you on which software needs to be completely replaced, and what types of solutions will fill the gap while offering options for integration and ongoing enhancement.
It is critical to work with seasoned professionals who work specifically with healthcare software, and not just software in general, since medical software must be HIPAA and EDI compliant, and because patient health depends on it.
TATEEDA Medical Software Services in San Diego
Updating and replacing your medical software can be costly, and you cannot afford to make misguided choices or uninformed decisions. To get the best results, partner with a team of medical software experts who pride themselves on delivering the highest quality solutions.
TATEEDA is a recognized software service provider with a proven track record in developing, testing and servicing medical software. Our consultation services are guaranteed to set you on the right course for selecting and implementing the best healthcare software for your needs.
Request an audit, get professional advice, project your budget or customize your software project. The experienced healthcare software professionals at TATEEDA will take the guesswork out of your healthcare software decision-making, and set you on the path to success.
Contact TATEEDA today, and modernize your legacy healthcare software systems to meet the evolving needs and demands of the 2020s and beyond.