Cloud Computing in Healthcare: 3 Use Cases, Benefits, Features & Best Practices
In this article, we'll discuss everything there is to know about the benefits of medical cloud computing for healthcare projects and organizations. We'll also tell you more about software solutions that employ cloud computing for healthcare data management, plus important things to consider when you want to implement cloud computing into your health-tech systems.
What is cloud computing in healthcare and other fields?
Cloud computing is the delivery of computational capacities and associated services over the Internet, including servers, scalable databases, data storage, networking, SaaS, data mining, and different types of virtual intelligence and applications.
Cloud computing offers everything required for fast deployment of innovations and the flexible scaling of system resources. This technological approach allows medical organizations and healthcare projects to…
Store and share large amounts of data without keeping their own on-premises data centers or powerful server computers.
Access or move enormous amounts of data at high speed, as allowed by bandwidth and other channel parameters.
Implement modern healthcare IT components: IoT, AI, ML, Big Data, connected medical devices, and more.
Avoid or reduce the cost of purchasing and installing expensive server and networking hardware.
What models of healthcare cloud computing exist?
There are several models of cloud computing services used in healthcare.
Infrastructure-as-a-Service (IaaS): A third-party technology provider gives a medical organization on-request access to their hardware facilities, including servers, data centers, storage clusters, and other essential IT equipment. This approach works best for large- and medium-sized companies/projects that want to deploy their proprietary systems in third-party data centers to save on IT infrastructure and maintenance.
Platform-as-a-Service (PaaS): A cloud provider allows medical organizations and/or tech contractors to use cloud infrastructure for development, testing, deployment, and migration of healthcare software and services in a virtual web-based environment. This approach allows software developers to save by renting development tools and hardware instead of acquiring costly server equipment and running applications locally.
Software-as-a-Service (SaaS): In the context of this model, medical professionals can purchase access to readymade cloud-based applications and services. Usually, SaaS is available on a subscription basis (monthly or annually). This allows healthcare-based individuals and organizations to cut costs when purchasing full licenses and building products from scratch.
💬 Cloud healthcare solutions employed by TATEEDA GLOBAL

The PaaS model is frequently used by our developers to create and maintain healthcare solutions for our clients. When it comes to cloud options, we prefer AWS or Azure, but we have rich experience with a broad spectrum of hybrid and multi-cloud platforms.

If you're seeking professional assistance and advice regarding custom cloud-based solution development and DevOps strategies for healthcare, please book a free chat with our seasoned cloud technology engineer: 👇
Slava Khristich
Healthtech CTO
Based in San Diego, Slava knows how to design an efficient software solution for healthcare, including IoT, Cloud, and embedded systems.
☁️🏥 Cloud Computing in Healthcare: the Current Situation
Сloud computing in healthcare has been widely adopted and is becoming increasingly important for healthcare organizations. In general, about 90% of all organizations use some form of cloud computing or a combination of several options (original marketing data research belongs to O'Reilly.) In healthcare, about 40% of respondents employ private cloud solutions, 61% of respondents use public cloud, 27% prefer hybrid cloud, and 19% opt for multi-cloud computing.
At the same time, almost 50% of healthcare respondents reported that they would opt for a cloud-first strategy whenever possible, meaning they would consider cloud technology as the primary option for their tech innovations and IT projects. One of the most popular reasons for adopting cloud platforms in healthcare is "managing costs:" 30% of respondents named this as their major goal. Among other important advantages, they mentioned convenience and scalability.
The most popular cloud computing applications in healthcare include…
Drug discovery: chemical reaction simulation, lab research, virtual modeling of molecules, and formulas
Telemedicine: remote patient monitoring, video/audio surveillance, web streaming for therapy sessions, and other telehealth technology services
Information management systems with public and limited access
Digital libraries and shared knowledge databases
Clinical Decision Support System (CDSS) in hospitals and healthcare centers
Virtual education in medical colleges and universities
EHR, EMR, and healthcare appointment-management systems
Population health research and modeling.
With that said, about 60% of healthcare organizations still employ some kind of traditionally managed onsite infrastructure for their operations (usually for legacy projects running parallel to newer cloud-based systems.) This number may indicate that there is room for improvement and a shift toward cloud services on a massive scale.
Custom Healthcare Solutions
See how we can engineer healthcare software, validate your ideas, and manage project costs for you.
🌩️💻 The 4 Major Benefits of Cloud Technology In Healthcare
Cloud technology offers numerous benefits to the healthcare industry, including…
Improved data access/sharing capabilities
Increased efficiency and productivity of medical system collaboration
IT cost savings and optimization
Improved data security with smart components
Regulatory compliance
Sustainability of data and quick disaster recovery
Better opportunities for patient care
Scalability and API-based integration potential.
Here are the key 4 benefits of cloud computing in healthcare explained:
📡 Electronic Medical Records: Seamless Data Access and Sharing
One of the primary goals of cloud technology in healthcare is the ability to derive and propagate patient data among medical systems quickly and easily. With cloud-based solutions, medical organizations can update and manage their patient information in real time regardless of location, allowing for improved collaboration between healthcare providers across the United States and even beyond.
Cloud storage for EMR/EHR and other healthcare software empowers…
Optimized data storage costs and data exchange speed
Instant synchronization of medical records and documents
Increased opportunities for medical software design and development
Swift collaboration between distant healthcare organizations
Superior security in data transmission, which is required by HIPAA
More opportunities for medical data-mining and research
Enhanced patient status monitoring with fewer errors from outdated records.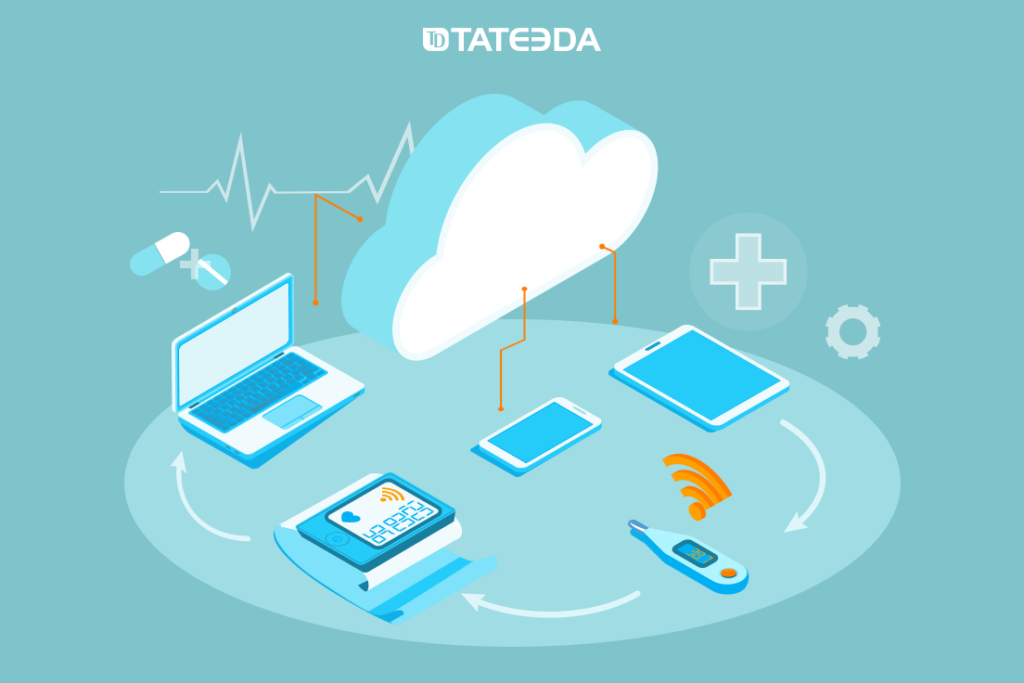 Learn more: ➡️ How to Move to the Cloud for Healthcare Companies & Organizations
🏠 Patients: Enhanced Safety and Clinical Experience
With cloud-based healthcare solutions, medical organizations can access information and resources more quickly and easily, allowing for streamlined operations in diagnostics, medical history recovery, and improved patient care.
Cloud-based solutions allow patients to receive a variety of high-quality healthcare services, including telemedicine and analytical insights. They can:
Receive medical consulting from the comfort of their own homes
Benefit from a reduced number of in-person appointments
Free up time for healthcare providers to see other patients
Feel confidence that their healthcare providers will make informed decisions while sharing their records with approved caregivers
Observe their healthcare stats and treatment outcomes over time
Get remote technology-led assistance like real-time ECG-monitoring at home.
👨‍💻 IT Costs: Savings on Infrastructure
Cloud computing in the medical field can also help medical organizations reduce their costs. By leveraging the economy of scale offered by cloud-based solutions, organizations can reduce IT costs, including hardware, software, and staffing.
Reduced energy costs thanks to energy-efficient data centers designed to use less energy and produce less waste.
Reduced costs for purchasing, maintenance, and hardware/software upgrades (all tech chores are delegated to cloud providers.)
Reduced expenses associated with data storage fees.
Prevention of high costs associated with potential data breaches.
Optimized medical software development costs.
🗃️ Data Management: Enhanced Security and Scalability
Cloud technology also helps to improve data security and compliance in the healthcare industry. With cloud-based solutions, medical organizations can…
Store and access patient data in a secure and HIPAA-compliant manner
Reduce the risk of data breaches and ensure that patient data is protected
Benefit from encryption and other security measures offered by cloud providers: secure data exchange protocols, advanced authentication mechanisms, access tracking/logging, and more.
Scale their IT resources up or down as needed in the context of their projects.
💬 Do you want to build cloud healthcare solutions?

TATEEDA GLOBAL can help you acquire a cost-efficient, patient-friendly, speedy cloud application for healthcare. Before asking our medical software engineers for free cloud system consulting, feel free to learn more about our successful projects using cloud and other technologies: 👇
Delivered Healthcare Software Portfolio
The leading American healthcare companies benefit from working with us.
🌧️🚑 Which Healthcare Sectors Use Cloud Computing?
Today, it's difficult to find fields of medical practice in which cloud systems are not yet used. The spectrum of cloud computing applications in healthcare is growing continuously. Let's take a look at the major domains of medical cloud tech…
Data storage and management
🔸 Medical data sharing in the context of EHR and other medical systems: lab tests, medical histories, physician's notes, and more.
🔸 E-prescription management and fulfillment.
🔸 Collaboration with health insurance providers and health claim processing.
🔸 Large medical data analysis and Big Data platform integrations for healthcare providers.
🔸 Healthcare staff management and medical payroll applications. 👨‍⚕️ 💵
Telemedicine applications
🔸 Connected sensors and IoT devices for remote monitoring of patients.
🔸 Healthcare consultancy portals for remote patients.
🔸 Real-time surveillance, alerts, and notification.
🔸 Remote/virtual surgeries and advanced robotic systems assisting medical professionals. 🦾
Healthcare analytics
🔸 Medical data visualizations: charts, graphs, software and device interfaces, medical imaging.
🔸 Individualized treatment plan modeling.
🔸 Smart processing of insurance claims.
🔸 Risk prediction and epidemic/pandemic prognosis.
🔸 Clinical Decision Support Systems (CDSS.) 🧠
Hospital management
🔸 Automated supply-chain management for medical facilities, including hospitals and pharmacies. 
🔸 Synchronization and automation of hospital operations, inventory turnover, patient admissions, and more.
🔸 Bed management and administrative reporting.
🔸 Accounting and financial management solutions, including medical payment-system integrations. 💳
💬 Do you need help planning and executing a cloud-based project for healthcare or biotech?

If you have a project that incorporates cloud technologies, especially for biotech, custom pharmaceutical systems, LIMS, IoMT, and healthcare staff management, please discuss your requirements with our health-tech engineer.

Schedule a consultation and get your free project estimate: 👇
Slava Khristich
Healthtech CTO
Based in San Diego, Slava knows how to design an efficient software solution for healthcare, including IoT, Cloud, and embedded systems.
☁️🩺 Three Cases: How Cloud Computing Is Used in the Healthcare and Pharma Industries
Cloud computing is revolutionizing the American healthcare industry, offering numerous benefits and transforming the way healthcare organizations operate.
All TATEEDA GLOBAL projects feature revolutionary configuration of cloud technologies. Let's consider several use cases for cloud computing in healthcare operations.
📶 #1. Remote Patient-monitoring Cloud-based Systems
One of the most important use cases of cloud computing in American and global healthcare is the deployment of systems for the supervision and medical control of remote patients. Under this concept, physicians and other medical professionals can monitor the health status and parameters of remote patients without putting them in an inpatient modality.
This project may include IoMT devices like adhesive biosensors and data exchange between a specific client application on a patient's smartphone and a server segment deployed in the cloud (or any other possible IoMT configuration.)
TATEEDA GLOBAL helped VentriLink obtain a fully functional IoMT system to offer to patients and physicians as a reliable instrument for remote ECG monitoring in stay-at-home patients. Learn more about this case →
This solution included cloud technologies for back-end APIs and a server application to process and send ECG data to healthcare providers (cardiologists) via pro-grade apps installed on their iOS and Android tablets.
This multi-component solution included…
Patient ECG data profiling and visualization
Scalable view of patient cardiogram records
Automatic identification of abnormal heartbeat patterns such as arrhythmia, tachycardia, and more
Efficient synchronization of the mobile app with the server application.
See an example of the application interface below…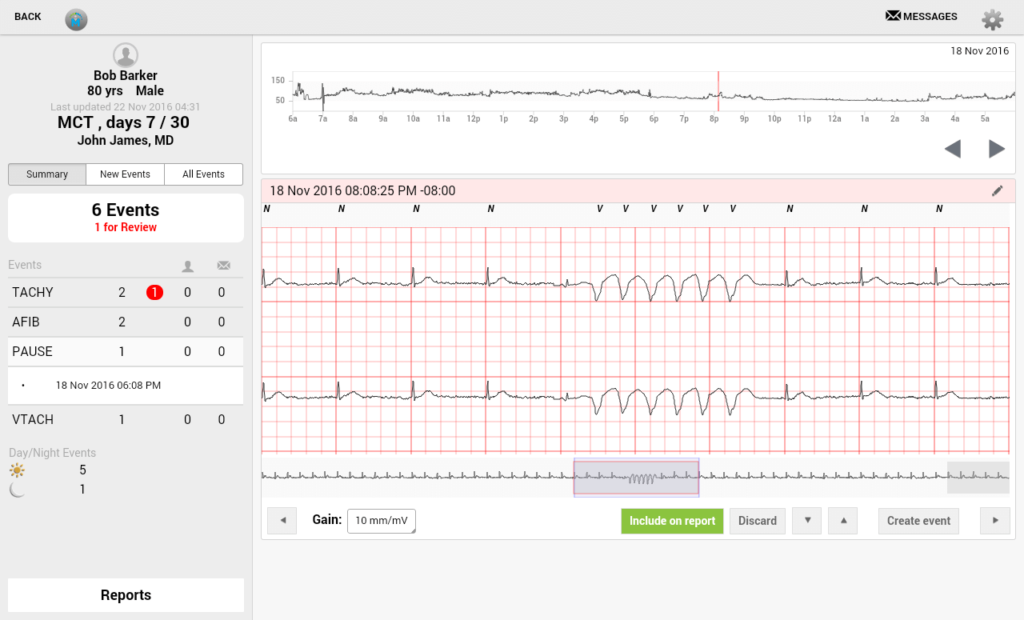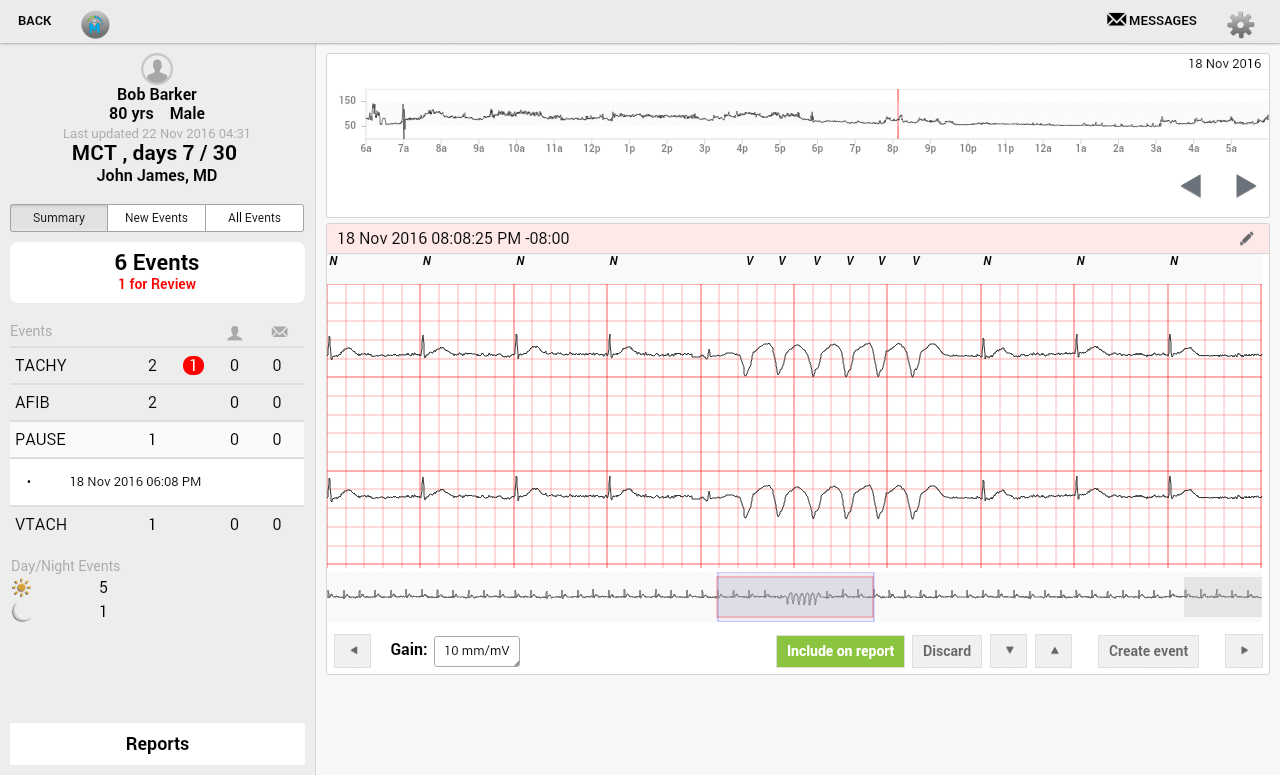 💊 #2. Pharma Business Automation Cloud-based Solutions
With cloud-based systems, pharmaceutical businesses can access and manage their orders, patient information, medication assets, prescription records, and more…from anywhere. Thanks to cloud platform scalability, pharma companies can easily add increased capacities and devices as needed, without having to worry about additional hardware procurement or infrastructure limitations.
The cloud enables pharma companies to manage growth and handle a large number of patients and prescriptions without making significant IT investments.
TATEEDA GLOBAL helped one of our clients (whose name cannot be revealed under the conditions of our NDA) build a web-based system to automate the processes of ordering, processing, and shipping prescription drugs. Learn more about this case →
We covered the following…
The client obtained a web application that integrates through cloud services all key business operation processes with data and product-management features.
The client team was introduced to the enhanced cloud-based data management and order-processing workflows.
The client reported increased financial performance thanks to faster order processing and shipment of prescribed drugs.
The solution opened up new opportunities for the client to integrate their system with the systems of their business partners for better collaboration.
See an example of the application interface below…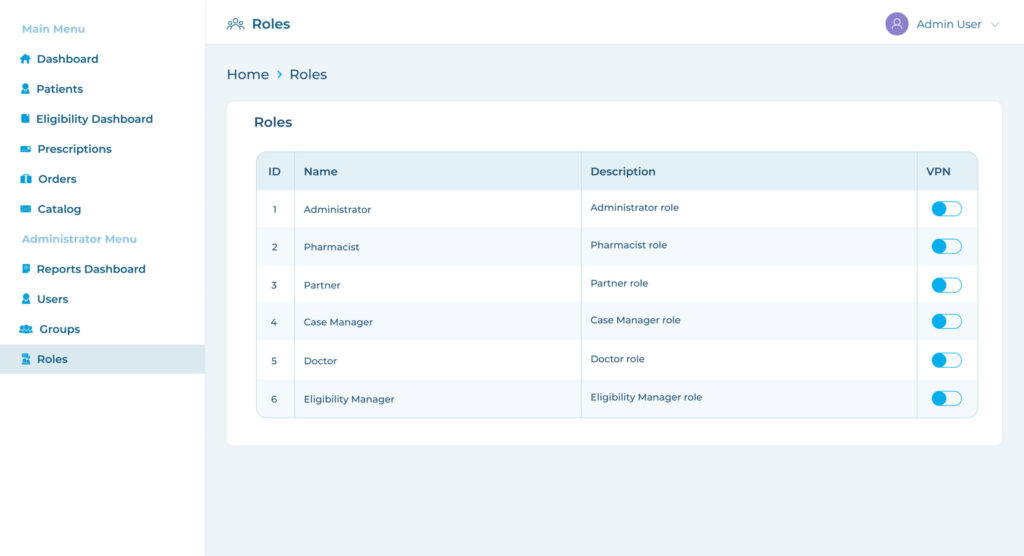 📠 #3. Insurance Claim Processing: Cloud-based Systems
Thanks to modern techniques and technologies, it's possible to develop a cloud-based application for automated processing of health insurance claims with AI and ML components. You can read more about the potential functionalities of insurance applications, like AI-backed fraud detection, in this article: Health Insurance App Development Guide: Potential Features, Costs, and Benefits.
TATEEDA GLOBAL was involved as a project reinforcement partner to help SCRx Pharmacy with back-end development, cloud integration, third-party API integration, QA, and many other key business process optimizations and improvements. Learn more about this case →
Here are the project outcomes:
SCRx automated and accelerated processes for drug distribution, both within the facility and in the context of home delivery.
They adopted cloud-based automated bulk PDF import and scanning for claims, which allowed them to realize several crucial improvements.
We helped them implement an optical text recognition feature that allowed us to introduce their staff to new system alerts and notifications.
SCRx successfully bridged a number of systems using cloud technologies and API tools.
See an example of the application interface below…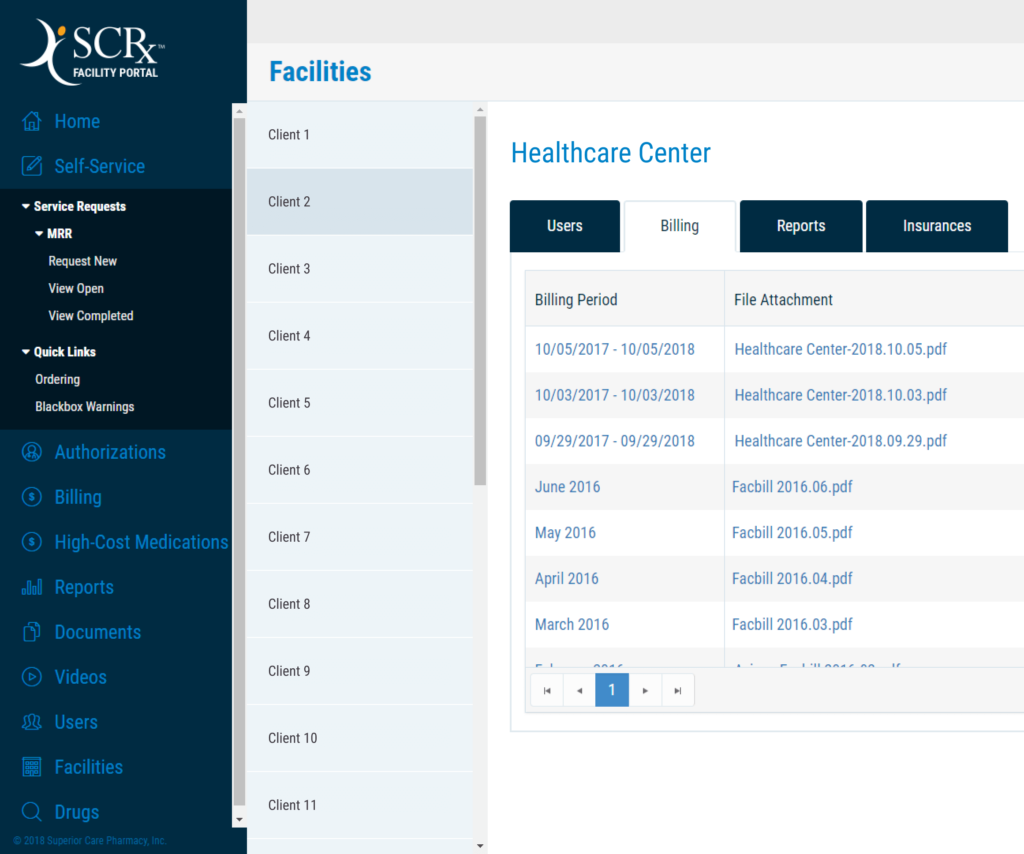 💬 Are you interested in cloud computing technology for your healthcare project?

We have deep expertise and capabilities to establish a cloud-based infrastructure for your health-tech project or pharmaceutical/biotech company.

If you want to learn more about our experience with the implementation of cloud technologies and discuss your project details, please book a free call with our healthcare technology specialists: 👇
Slava Khristich
Healthtech CTO
Based in San Diego, Slava knows how to design an efficient software solution for healthcare, including IoT, Cloud, and embedded systems.
☁️👨🏻‍💼 Best Practices for Healthcare Organization CIOs, CTOs & CEOs in Terms of Cloud Adoption
📅 Start with a clear strategy
Before jumping into cloud computing solutions, it is important for CTOs to define the goals and objectives they want to achieve through cloud computing. This includes identifying the specific requirements of the organization, including…
Regulatory compliance with HIPAA and more
Security issues and risks associated with the cloud
Choosing the right cloud provider and offering
Tech requirements like storage volumes and uptime rate
Business sustainability; for example, data integrity across different systems and business process continuity
Timeframes and budget required for configuring a solution that aligns with all objectives.
🛡️ Focus on cloud security and privacy
The sensitive nature of medical data (PHI) requires a high level of security and privacy protection. CTOs and other business officers should consider the following…
Security and privacy features provided by the cloud provider, such as data encryption, secure data storage, backup plans, and access control.
Ensure that their medical organization implements best practices for data security, such as regular backups and disaster recovery planning.
Regular evaluation and monitoring of cloud solution efficiency, performance, reliability, and technical health indicators.
Make sure your cloud provider can handle the scaling of your solution without compromising performance or safety.
⛈️ Potential Issues With Cloud Computing in Healthcare and Solutions
Cloud computing in healthcare faces several challenges and issues that need to be addressed to ensure secure and efficient implementation. These risks of cloud computing in healthcare include…
🕵️ Data ownership
Healthcare organizations handle highly sensitive patient data, which raises serious security and privacy concerns. When you store 100% of your medical data in a cloud service, you factually have limited control over the data. Serious legal preparations must be made before you move your data to the cloud. Legal specialists should attentively study the terms and conditions of cloud service/license agreements with vendors (EULA) to clarify all details and eliminate significant loopholes and/or compromised ownership.
⛔ Data inaccessibility risks
If a cloud system data center experiences a sudden crash or suffers long-term outages (for example, because of a natural disaster), cloud-based medical applications won't work as expected. In the case of an outage lasting for hours, it can become a real emergency for vital medical systems like remote patient monitoring. That's why hybrid cloud strategies (combining public and private cloud environments) must be used to mitigate risk while keeping alternative capacities in reserve.
⏳ Latency and uptime issues
It always takes time for signals to travel to the cloud and vice-versa, so medical device commands and data exchange between healthcare applications sometimes face milliseconds (at least) of downtime. Some medical applications can be very sensitive to this metric. This is why communication channels must remain stable and uncluttered. Autonomous operation protocols must be introduced to medical applications and devices to help withstand potential signal delays.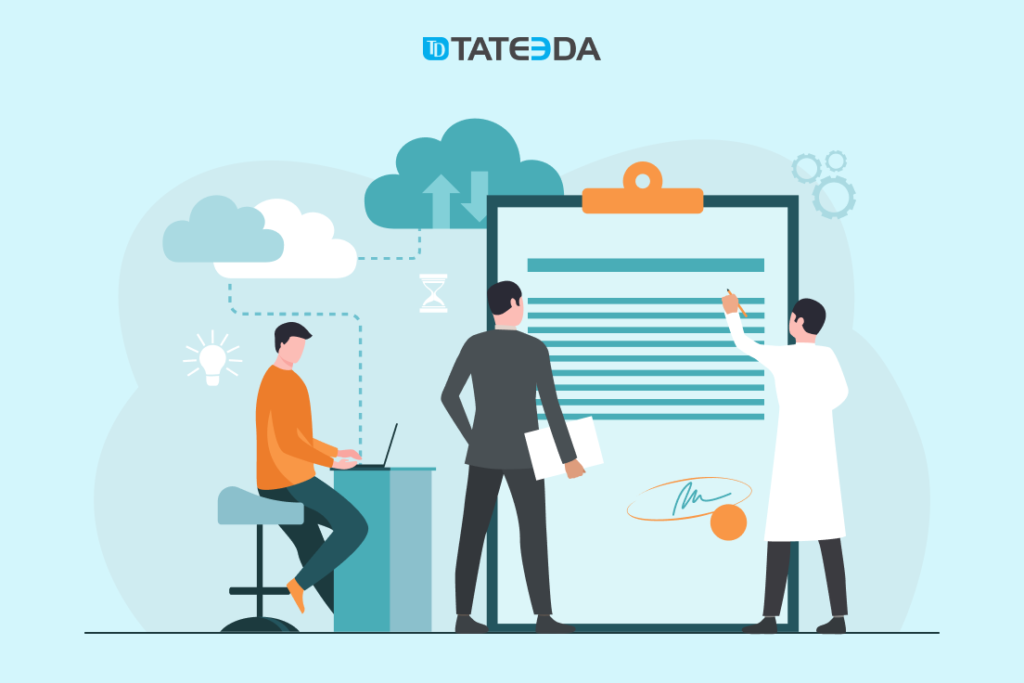 Learn more: ➡️ HL7 Integration: How to Build Interoperability Interface for Your Healthcare Systems
How Much Can You Save With Cloud-based Computing?
The amount that can be saved with cloud-based computing varies according to the size and type of healthcare organization as well as the specific cloud solution being used. It's more important to explain the key mechanisms of how medical organizations can save money with cloud-based computing through reduced IT costs…
Cloud-based computing eliminates the need for healthcare organizations to invest in expensive hardware and software.
IT staffing requirements and costs are reduced, too.
Medical organizations can subscribe to cloud-based services on a pay-as-you-go basis, reducing upfront costs of IT products and services.
Reduced energy costs, thanks to power-efficient data centers supporting cloud technologies.
Economy of scale, which is achieved by sharing cloud resources with other organizations.
💬 Do you want to calculate the specific amount you can save by migrating your healthcare applications to the cloud?

There exist numerous cloud options and cloud implementation strategies, depending on your specific project goals and situation. We are ready to provide you with a free individualized consultation and quick project estimate.

Contact our health technology engineers for a discussion.
Frequently Asked Questions: Cloud Computing and Healthcare Applications
Which cloud type is best for healthcare?
As we explained, cloud development requires a highly individualized approach aligned with the specific parameters and objectives of your project. Please tell us the details and let us provide you with a more specific answer.
Is there a future for cloud computing in healthcare?
Yes! The future of cloud computing in the healthcare industry is bright. Cloud computing solutions have the potential to revolutionize the way healthcare organizations store, manage, and access patient data. It clears the path for increased IoMT, telemedicine, AI/ML, and data interoperability projects in healthcare. Cloud computing is definitely a strong factor for promoting health-tech innovation and revolutionary device ideas in this conservative industry.
What are the types of cloud computing in healthcare?
There are four major types of cloud computing models: private clouds, public clouds, hybrid clouds, and multi-clouds (with a number of sub-categories.)
Private clouds can be defined as cloud environments dedicated to one company or user group. This type of cloud infrastructure can either be deployed on-premises within medical organizations or provided as a custom solution by third-party providers.
At the same time, one of the most popular forms of cloud computing is the hybrid cloud concept, which combines public clouds like Google Cloud with private cloud environments.
What should my budget be for cloud computing in healthcare?
Generally, the cost of cloud computing solutions in healthcare can range from a few thousand dollars per year to hundreds of thousands of dollars per year, depending on the scope of the project. This cost includes initial implementation and configuration, ongoing maintenance, recurring fees, and any additional security measures/options that may be required.
How can you find a partner for implementation of cloud solutions in healthcare?
TATEEDA GLOBAL is here for you. We have a multinational and multi-skilled team, including back-end developers, front-end developers, DevOps specialists, UI/UX designers, QA engineers, and other IT professionals available for both full-cycle custom cloud-based software development and team augmentation as well as outstaffing services. Contact our health technology experts for a free consultation.