Data Mining in Healthcare: Examples, Techniques & Benefits
In this article, we'll discuss…

✅ Why healthcare data mining is important: goals and advantages
✅ Methods of medical data mining (clustering, visualization, and more)
✅ How to implement data mining in healthcare industry organizations, clinics, and medical centers.

⚠️ If you require technical assistance in developing a data-mining application or integrated software solution, please contact our IT experts for individualized project consultation!

Let's learn more about data mining in healthcare: 👇
Medical data mining is a set of data science methods and instruments used to generate evidence-based medical information that clinicians and scientists can trust.
Healthcare data mining techniques are used in many health-related areas, including biotech, pharmaceutical research, and medical science. The main health technologies and tech components involved in the clinical data mining process include…
Connected EHR and EMR solutions
ML and AI-driven data-mining systems
Medical data visualization modules
Advanced role-based admin panels
External platform and tool integration.
💬 Healthcare data mining is the process of digging into large arrays of raw medical data and/or well-organized health records to reveal and research any correlations and associations between facts and data parameters to derive valuable insights, evidence, scientific takeaways, and conclusions that can contribute to better medical practice and/or knowledge.
How is data mining used in healthcare?
👨‍⚕️💻 Modern healthcare activities generate an enormous volume of medical information, which is usually captured and organized with the help of custom EHR & EMR systems (electronic health/medical records). This information includes…
personal details (protected by HIPAA and similar regulations)
patient biological parameters
patient health conditions and diagnoses
individual treatment plans
health specifics, like allergies or chronic disease
lab tests and scans
treatment feedback
…and so on.
When you accumulate this type of data for thousands of patients and cases, it is called medical Big Data, and it is a real treasure chest for healthcare researchers!
Requirements: Data-mining in healthcare is a resource-intensive process that requires considerable computing and data-warehousing capacity, developed mathematical skills, and data science specialists. Moreover, Big Data and data mining in healthcare are closely interrelated, and their combined use can bring exceptional benefits to the industry. 📊🚀
Objectives: Why should we mine healthcare data? Clinical data mining in healthcare databases helps medical scientists and experts reveal data patterns, trends, associations, and other fact correlations enabling them to formulate…
Important observations and conclusions
Healthcare issues and strategies for prevention
Pattern-based predictions and complex forecasting
Data artifacts, abnormalities, and phenomena in medical practice
Best algorithms and recommendations for a wide range of healthcare situations.
Is healthcare data mining a new practice?
Methods for data mining and analysis of healthcare data have been known for years; however, they were only accessible to a narrow circle of medical statisticians, clinical scientists, and healthcare experts because of numerous formal barriers and practical complications.
Nowadays, since informational technologies (including personal workstations) are adopted in every doctor's office or ER, clinical data mining is no longer a rare or privileged practice. See the table below for a detailed explanation of this statement…
| | | |
| --- | --- | --- |
| | In the past… | Nowadays… |
| Data collection & aggregation | Tedious paperwork: it required many days for studying volumes of patient files to find and record specific data. 😫 | Executed in no time: only a connection to a medical database and several mouse clicks are required to operate information. 🖱️ |
| Data mining processes | Handwritten calculations and data visualizations built in paper notebooks. 🧮 📓 | Electronic data-mining routines with automated processes and instant calculations. ⚡ |
| Skills and education | Data mining and interpreting required sufficient statistician and mathematical skills along with healthcare expertise. 👨‍🏫 | Different data mining methods can be executed automatically with auto-generated analytical conclusions and takeaways. 🧑‍🚀 |
Before we delve into more detail of data mining processes for healthcare management and improvement, read more about our team and capabilities: 👇
Why Data Mining Is So Important in Healthcare
Healthcare data-mining applications can offer a wide spectrum of benefits. These advantages boost every sphere of activities and operations in medical facilities to make patient service faster, more cost-efficient, and safer.
Let's learn more about the benefits of data mining in healthcare…
⚕️ Evidence-based decision-making in clinical settings
We are seeing a booming practice of building clinical decision support systems (CDSS) for medical organizations and facilities that want to support their decisions with sophisticated evidence. These systems can include a combination of data-mining applications in healthcare operations: for example, EMR/EHR database + connected medical Big Data management platforms + a set of integrated modules (like an admin panel with medical data graphs and charts, medical personnel access portals, and more).
With the help of this complex tool, physicians can…
Compare symptoms across customized groups of patients with similar attributes and identify the most probable scenarios of treatment/outcomes.
Get digital assistance with interpretation, diagnosis, and treatment of both unusual and typical patients based upon previous medical experience.
Shape a consistent patient safety environment in which medical decision-makers are provided with alerts, reminders, prompts, and health recommendations in the context of each individual patient.
Conduct quick clinical research and dive deeper into healthcare service history and your patient base.
Make use of predictive analysis in medical practice: for example, predict possible health complications and outcomes in a patient in relation to certain conditions, their personal medical history, and individualized treatment scenarios.
⚡ Are you interested in creating a hospital or clinical data-mining solution?

TATEEDA GLOBAL can help you with full-cycle IT services for the design, development, and implementation of custom data-mining applications for healthcare providers and researchers in San Diego, the United States, and globally.

Please contact our health-tech expert for a free consultation: 👇
Slava Khristich
Healthtech CTO
Based in San Diego, Slava knows how to design an efficient software solution for healthcare, including IoT, Cloud, and embedded systems.
📝 Increased Accuracy of Diagnosis and Treatment Plans
There are many ways in which medical data-mining tools can improve daily healthcare. More sophisticated solutions with AI or machine-learning components can help physicians (even highly qualified ones) to process tests, X-rays, MRI images, and other materials faster. They can also detect subtle details to identify a different diagnosis or previously undiscovered concomitant disease in a patient.
This allows care providers to avoid clinical mistakes and lets patients receive more accurate treatment plans and scenarios based on evidence previously unspotted by specialists.
💊 Avoiding Harmful Drug Interactions
The FDA has approved more than 20K prescription medications for distribution in the U.S. With the huge number of prescription drugs available, a patient can get several different courses of medication at one time, which sets them up for interactions between drugs and potential consequences.
Sometimes, patients can be allergic to or intolerant of specific chemicals generated by combinations of drugs. Computer-assisted data mining can help physicians and pharmacists decide on prescriptions and prevent dangerous combinations of drugs based on digital drug and food interaction modeling and patient health factors.
A drug interaction checker can be especially crucial when it comes to senior/geriatric care: "Many chronic health conditions and disorders develop and accumulate in the process of natural aging.… Almost all of these health conditions can be monitored with the help of senior care apps.…" Learn more: ➡️ How to Develop a Senior Care Mobile App.
⚠️ Detection of Insurance Fraud in Healthcare
We are all human, and our world is still far from perfect. Fraud involving insurance claims happens frequently, to the tune of many billions of dollars annually, according to the FBI. With the help of clinical data-mining techniques and associated software solutions, specialists can automatically detect inconsistent data or suspicious signs and patterns in health insurance claims to prevent or reject fabricated claim submissions.
In this way, medical data mining can potentially save huge financial resources that can be otherwise assigned to better purposes. A fraud detection system can also become an integral part of a custom health insurance application.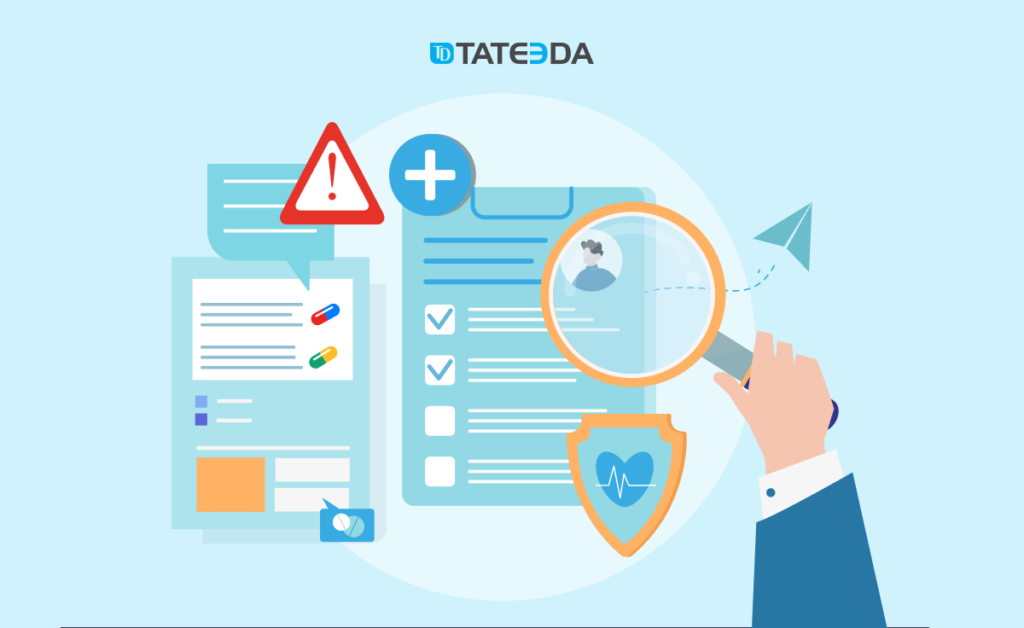 How Data Mining Works in the Healthcare Sector
📈 ⛏️ There exist several types of data mining objectives in healthcare. For example, we can distinguish between descriptive and predictive models in data mining for medical activities. The first type of research (descriptive) focuses on capturing and interpreting the current state of affairs, while the second (predictive) concentrates on medical forecasting based on typical patterns of events and previous interpretations.
The two models can be combined. Neural networks with self-learning abilities can scan medical Big Data and be trained to recognize typical or as-yet-unnoticed/uninterpreted data compositions like patterns, trends, associations, or clusters. You can find a number of Big Data and EHR/EMR platforms providing data-mining tools for healthcare companies and organizations.
When you have all the required steps in place, clinical data mining goes through the following stages:
Data selection and acquisition: In this stage, parameters and healthcare datasets for data mining are identified within the whole array of medical data—usually an EHR/EMR database, aggregated documents, healthcare ERP systems, or specific types, like Cardiology EHR or Mental Health EMR.
Data preprocessing and transformation: At this step, data is properly formatted and normalized in order to clean up invalid records and prepare data objects according to predefined methods and standards.
Data-mining process: Data-mining algorithms and techniques with predefined parameters are applied to the medical database to derive conclusions and knowledge.
Data interpretation: After specific data products are extracted from available data arrays with the help of selected data-mining methods, it's time to interpret the results and formulate valuable insights.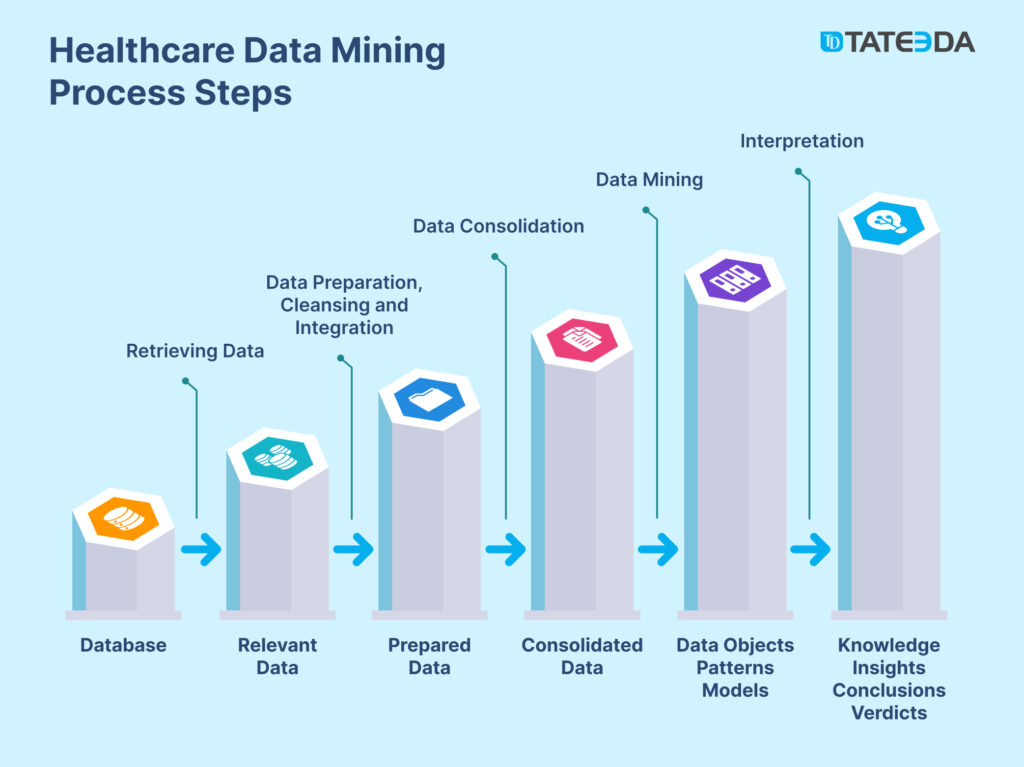 Do you need IT consulting services on hospital data-mining system development or implementation?
☕💻 TATEEDA GLOBAL is a company experienced in building, testing, and integrating sophisticated software solutions for health-tech and biotech startups and companies. Learn more: ➡️ How to Launch a Healthcare Startup.

We can help you create a solution for healthcare data mining integrated with your current EHR software or Hospital Management System (or any other healthcare database solution, including electronic patient data-capturing forms).

Learn more about our custom medical application development services: 👇
Custom Healthcare Solutions
See how we can engineer healthcare software, validate your ideas, and manage project costs for you.
Data Mining Techniques in Healthcare
Hospital data-mining techniques can be combined to obtain precise results, providing you with a vast array of options. Only an experienced data-mining expert can identify the best strategy or best set of methods to fulfill specific goals in your healthcare organization. Here is a brief explanation of some popular data-mining techniques in medical research…
Association or relationship analysis 🔀
This healthcare data-mining technique is focused on finding associations and relations between groups of specific events, facts, or attributes in the database (data patterns). It aims to discover and study logical links between these events, objects, and datasets while identifying the ways in which these associations can be interpreted and extrapolated.
For example, if a group of patients with specific symptoms is steadily associated with certain prescribed medications they acquire in pharmacies during a preset season, pharmacists can use this information to manage their stock.
Sequence analysis 🔄
This technique also helps analyze another type of pattern: consequential flows of facts or events. One can then study the logic and interrelationships between the steps.
For example, data mining of multiple patient records can identify that increased occurrence of certain symptoms or patient complaints precedes the development or diagnosis of specific ailments within a period of time. These conclusions can be deepened with the help of association analysis to discover additional data dependencies: for example, all patients of the group also share similar lifestyles, chronic diseases, or other health features. With this knowledge, physicians can offer preventive care.
Classification 📁
This method of medical data mining includes classifying datasets or complex data objects (a patient, case, etc.) into categories (for example, "COVID-19" and "bird flu" classes). Cases can be compared with each other to be verified as falling within a certain class, to identify differences and apply necessary algorithms and protocols, or to screen out and readdress unmatching data.
For example, suppose we have a sufficient number of patient cases whose symptoms and other parameters are matching up to 90% and more. In that case, we can be pretty sure we're dealing with the same disease, and it can be treated according to a standardized protocol. If the degree of matching is lower, the case falls out of the class, and additional research or reclassification is required.
Classification is widely used in pharmaceutical inventory management. This data mining technique in healthcare includes assigning specific classes to medication titles, customer orders, suppliers, and more. TATEEDA GLOBAL created "…a web application that integrates all key business operation processes with data and product-management features" for a pharma company, including a powerful system for categorization of their data. Learn more: ➡️ Pharma Business Automation Web Platform Development.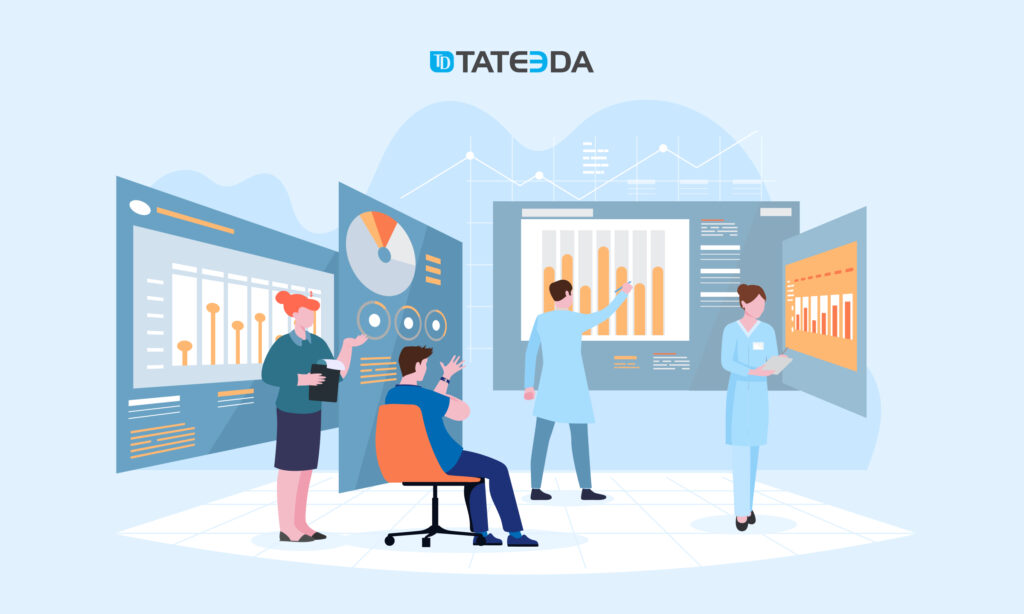 Learn more: ➡️ Healthcare Payroll Software Development
Visualization 📈
Building different charts and graphs, such as Gantt charts, pie charts, bubble charts, treemaps, scatter plots, density maps, and more helps physicians, medical administrators, and scholars identify trends, patterns, spikes, and declines in certain healthcare parameters or events. Some visualization types can be used together with other data mining methods like logic trees or block diagrams to depict associations and/or relationships between events and datasets. Visualizations can be executed with the help of specific tools implemented in healthcare mobile applications, medical admin panels for EHR or ERP systems, and more.

Here's an example of how the health data visual representation method is used in data mining: this graph shows a comprehensive relationship between certain medical actions and their consequences, which provides physicians and epidemiologists with the evidence they require…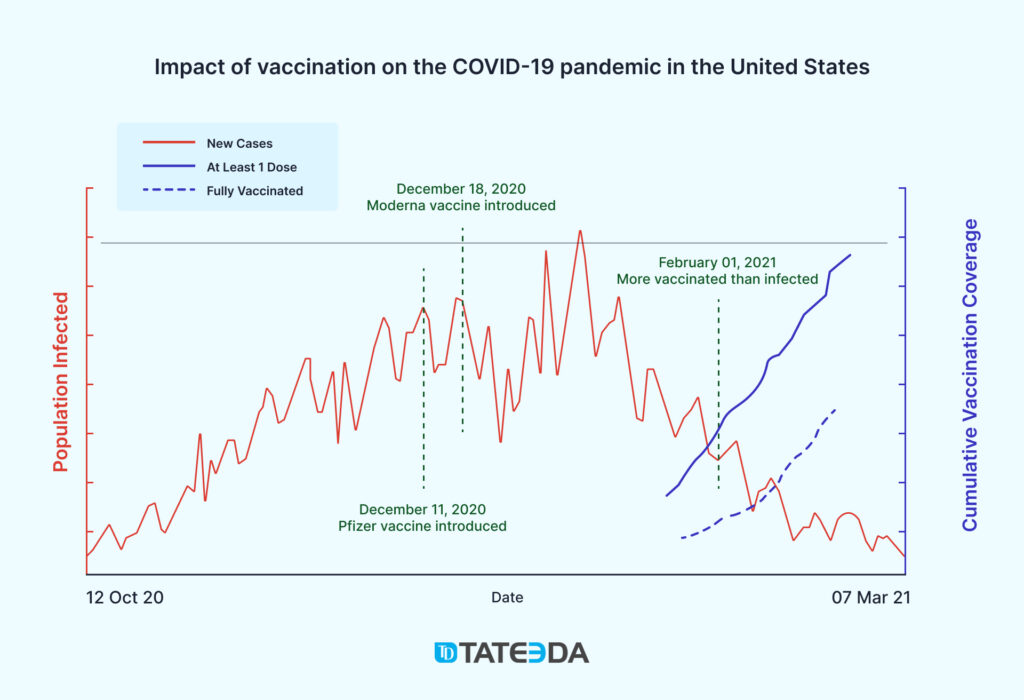 Clustering 🟢🟠
One data-mining method usually carried out with the help of a visualization technique is a cluster chart. Here, data points are grouped according to their parameters and statistical distribution. Once multiple data points are put on a graph, they appear clustered in dense neighborhoods falling within certain borders. In this way, they can be interpreted as being a part of one class. Clustering is a method that is usually used for classification in healthcare.
Forecasting and predicting 🔮
There are several methods of forecasting in medical data mining. Some are pretty simple, like presuming that a certain data pattern will perpetuate itself into the future; other models are more complicated, and are supported by AI or machine learning. This includes testing multiple hypotheses by running cascades of statistical examinations and emulating multiple scenarios. Machine-supported predictions require integration of your EHR or EMR system (or any other Big Data repository you use) with a third-party platform offering data-mining and forecasting tools. Do not forget about healthcare IT interoperability standards and technologies to be established between different systems.
Do you want to make use of healthcare data-mining applications?
☕💻 TATEEDA GLOBAL has an impressive portfolio of custom medical data-management applications we have developed for our clients and partners. We can consult with you about how to create a custom data-mining solution, augment your staff in the context of your current clinical data-mining project, or create a full-cycle, on-demand data-mining product for you.

Learn more about our projects: 👇
Delivered Healthcare Software Portfolio
The leading American healthcare companies benefit from working with us.
The Challenges of Data Mining in Healthcare
Let's consider some of the common issues that complicate the healthcare data-mining process and their potential solutions…
Incomplete or invalid data: Poor data quality can spoil data-mining results. There are many variations of this issue. Data fields in patient records or profiles can be incomplete, empty, or inaccurate due to user error. Additionally, database structures can be inconsistent or poorly formatted. This usually happens when medical data is incorrectly merged from various sources with different data fields. Lengthy data preparation and formatting are required before problematic records can be revised or excluded from processing.
Data protection: This refers to the standards of HIPAA compliance in medical data management and application. Usually, it's impossible to operate or analyze patient data without consent and a number of precautions.
This can be solved by anonymizing personal details before processing and mining them. Patient anonymization can be one of the actions completed in the context of data preparation. Another aspect is obtaining consent from patients by collecting electronic signatures under the terms and conditions agreement.
Data warehouse сompression: As the total amount of data in healthcare continues to accumulate rapidly, problems with data storage capacity for large volumes of data will grow, too.
Healthcare data can go through compression techniques in order to save resources on data storage, but, if incorrectly applied, these methods can decrease and compromise the quality of patient data, especially the largest visual files like MRI scans, X-rays, and more. This issue can be solved with clever Cloud engineering and smart data compression plus DevOps development strategies.
Inadequate organization of questionnaires: For some types of data mining and research in healthcare, information can be collected directly from patients with the help of electronic forms and self-reporting questionnaires. In this case, it's necessary to support the usage of these virtual forms in both technical and methodical aspects. For one of our customers, we build and maintain web-based healthcare data-capture forms.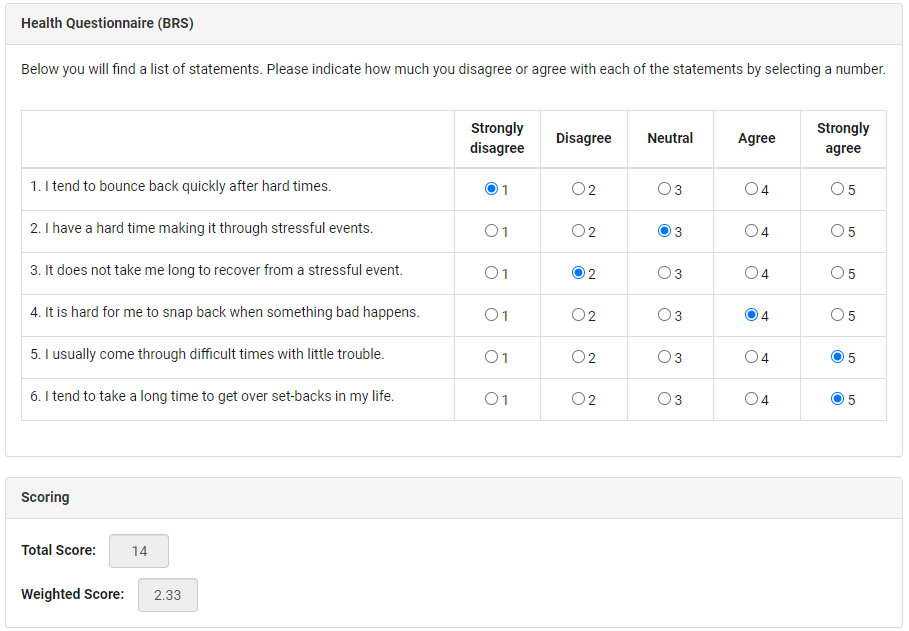 Learn more: ➡️ HL7 Integration: How to Build Interoperability Interface for Your Healthcare Systems
Data Mining in Healthcare: Examples
How can you make use of data mining in healthcare? There exist myriad ways to adopt and leverage this practice in hospitals, public medical centers, and private clinics. When authorized medical experts use digital data-mining techniques in healthcare, they obtain valuable insights in a matter of seconds without lengthy research or daunting calculations. Let's take a look at a few data-mining examples in healthcare:
😷 Epidemiology patterns: discovery and prognosis
Epidemics and pandemics are not rare these days. With the help of medical data mining, doctors and other healthcare specialists can…
Monitor the number of disease occurrences and see how an epidemic or disease outbreak scales over a period of time.
Mark considerable fluctuations in correlation with seasons, location, selected patient groups (i.e., gender, age, health features), and other datasets.
Predict changes in the epidemiologic situation and manage response according to prior experience and/or educated expectations.
Study hidden trends, relationships, or patterns in epidemiological situations.
Research and predict the spread of disease in terms of expected timelines, affected areas, risks, potential numbers of severe vs. mild cases, and epidemic endpoints.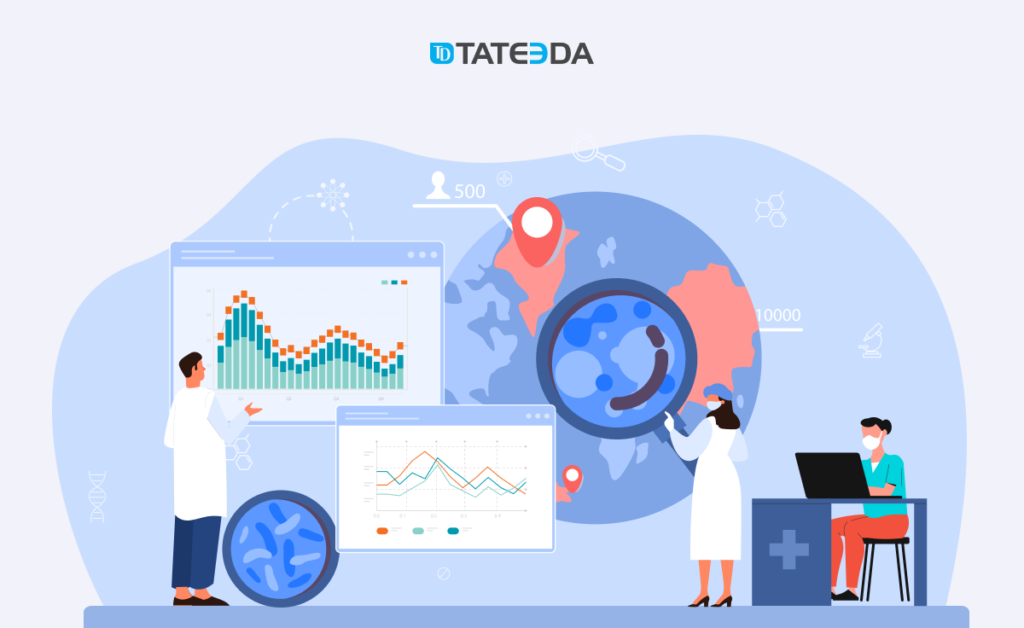 Learn more: ➡️ Cloud Computing in Healthcare: 3 Use Cases, Benefits, Features & Best Practices
🌡️ Personalized disease course and treatment forecast
When it comes to individualized patient care, with clinical data mining, it's easy to…
Classify patients into separate groups and identify the most frequent and/or severe symptoms and complaints relevant to every specific group.
Identify the most successful treatment protocols and helpful approaches in the context of every patient group.
Correlate health events (like a chronic disease) with the frequency of specific symptoms and their severity.
Forecast the development of a disease in an individual patient based upon their health conditions and medical background.
Find and study new and significant relationships between health conditions, symptoms, treatment plans, medical methods, and outcomes.
🤖 Medical knowledge research and automatic diagnostics
When you cater a sufficient amount of medical data to AI or machine learning algorithms, this sophisticated software can be trained to automatically…
Discover and report all possible relationships between facts in the healthcare database while identifying interesting phenomena and developing valuable conclusions.
Recognize the most probable diagnoses in a specific patient and offer physicians individualized treatment approaches and recommendations.
Process MRI scans in bulk to mine visual and technical data barely noticed by human physicians and help them quickly detect even the slightest signs of disease.
Research DNA data on tumor segmentation and sequencing, and execute other DNA-related medical examinations and/or scientific studies.
Suggest personalized patient insurance plans and custom health policies based on health risk.
Suggest new approaches and tweak existing healthcare plans and medical protocols to increase treatment efficiency and bring better outcomes.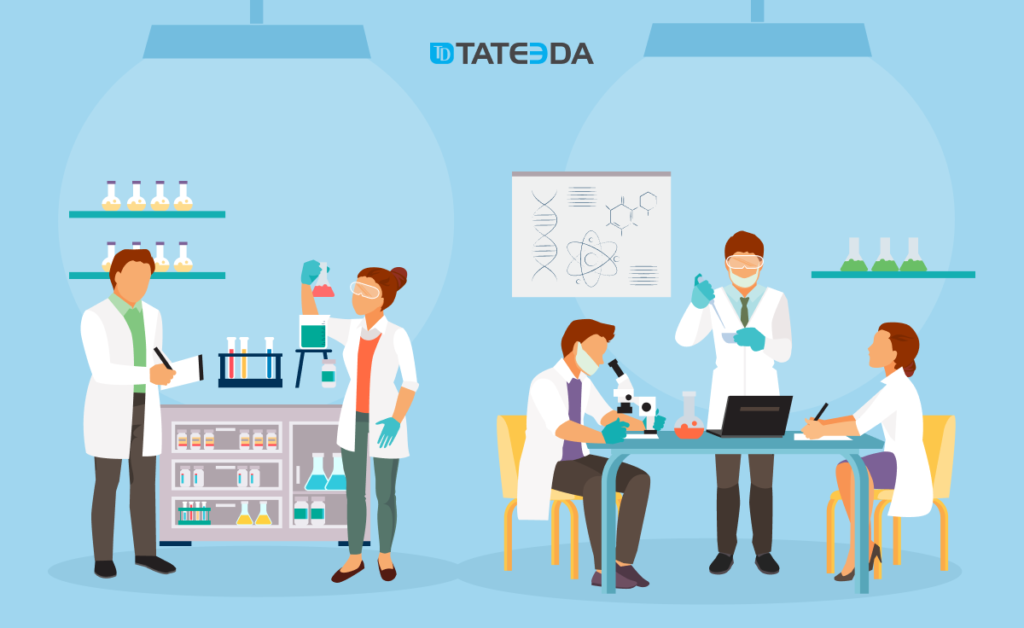 Learn more: ➡️ How to Build a Lab Information Management System (LIMS)
🏥 Pharmacy and hospital management insights
What are examples of data mining for healthcare management? Smart planning, tracking, and forecasting of assets: Hospital resources and pharmacy stock-management applications can be enhanced with the help of data mining, which offers the following capabilities…
Identify seasonal spikes or declines in patient symptoms and drug prescriptions.
Dig into a pharmacy's CRM system or Hospital Information Management System (HIMS) to classify, cluster, visualize, and analyze current customer data.
Predict future demand for beds, medication stock, workforce, and various resources found in hospitals, pharmacies, and other medical institutions.
Use accurate insights to manage pharmacy stock and hospital beds to be reserved prior to seasonal disease outbreaks.
Correlate seasonal epidemics and environmental changes with the way in which risk is spread among different patient groups.
Integrate data-mining tools into hospital management apps to provide clinical staff with access to medical evidence-supported insights.
🍔 Dietary pattern exploration
Potential influence of dietary and nutritional habits remains largely unexplored. Studies suggest that certain products can lead to the development of chronic disease and even cancer. Clinical data mining can help us find out.
Dig into your database to find the right patients and form focus groups of patients to be supervised under dietary pattern research in your medical organization.
Control their meals and collect data. Once a sufficient volume of data is accumulated, it can be mined by data analysts to discover relationships and patterns.
Employ self-reporting apps for patients. People can report their meals and access nutrition plans or suggestions from the clinic, which can follow them and provide notifications..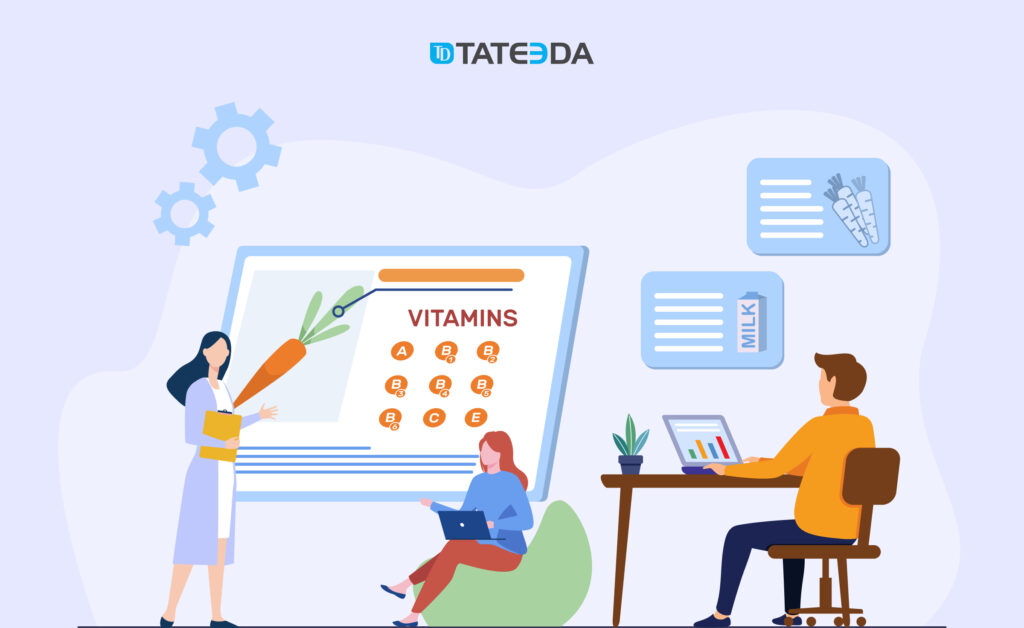 Do you need help developing your custom healthcare data-mining application?

TATEEDA GLOBAL can help you with the engineering, coding, implementation, and testing of software products for data mining and visualization, including custom .NET development. We can help you build a standalone app or create an additional software module for your current system like EHR/EMR so you can dig into your database and get valuable insights.

Contact us for a free consultation!
TATEEDA GLOBAL: Our Custom Project with Data-mining Components
TATEEDA GLOBAL has been involved in a number of custom software development projects for pharma businesses and partners. For example, we built crucial online medication fulfillment features for a major pharma-distribution company. The solution included automated processing of pharmacy insurance claims. Our client demanded the development of data-mining functionalities with specific algorithms analyzing their database of pharma products and operations and providing results in the form of PDF reports and spreadsheets. This data-mining module helped them improve the results of their trade activities. Learn more: ➡️ Custom Online Medication-fulfillment System Development.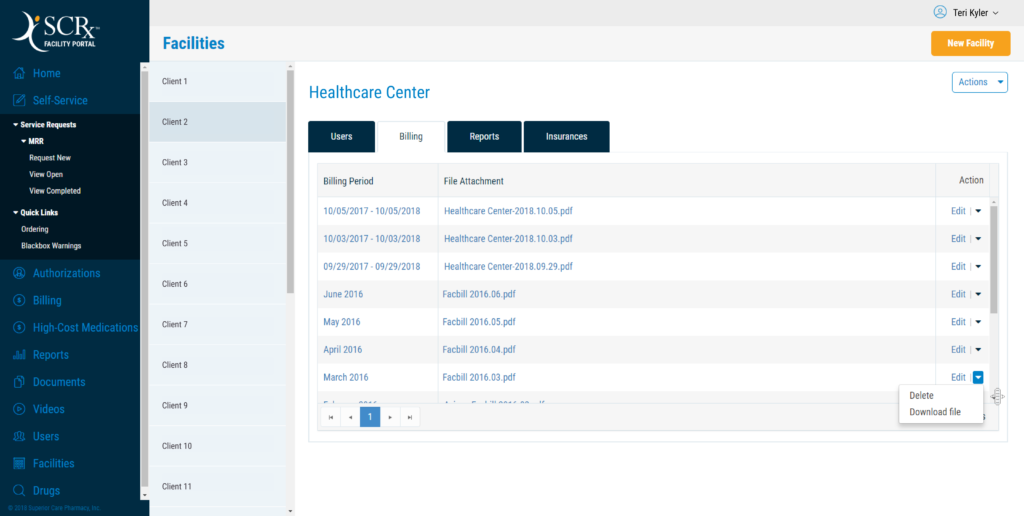 FAQ
What are the prospects for data mining in the healthcare sector?
Data-mining methods and techniques will contribute further breakthroughs in medical science and practice, providing a foundation for evidence-based change and research in healthcare. It is recommended that all medical specialists benefit from this approach.
How is data mining changing healthcare?
Data mining helps physicians get an overview of healthcare activities and improve their interpretation of results and current situations in terms of numbers. As stated earlier, data mining allows them to make educated (backed by evidence and calculations) decisions and conclusions, so it's recommended to provide medical specialists with role-based access to EHR/EMR systems with data-mining panels and toolboxes.
How can data mining improve healthcare business performance?
Data mining is a reliable instrument of operational management in all types of healthcare companies and organizations. With data-mining modules integrated into your patient and business process databases (patient CRM, hospital system, EHR, etc.) you can analyze the data in a variety of ways and obtain conclusions on the efficiency of your work and available opportunities.
How can you integrate data mining into your healthcare solution?
This can be done in a variety of ways…
Build a custom data-mining application or software module connected to your medical data database.
Use a third-party solution provider with excellent data-mining functionality (this approach still requires a software engineer who can customize and integrate this component.)
Seek acquisition of an additional module or improved functionality from your current EHR/EMR provider, if available.
How should you hire a team with experience in data-mining algorithms?
Consider TATEEDA GLOBAL. We have experienced software-development engineers and coders who can help you develop a custom solution for data mining. If you want to learn more about our expertise and skills, please contact us for a free consultation! We will help you identify the best solution for your situation.
Rate this article!
5 out of 5 stars (based on 24 reviews)