How to Move to the Cloud for Healthcare Companies & Organizations [Step-by-Step]
Cloud migration for healthcare entities is no longer a revolutionary or risky decision but an advantageous and rational step. In this article, we'll learn everything there is to know about moving to the cloud for healthcare companies and organizations, including common concerns, technical nuances, and ways to make the transition comfortable.
Cloud computing technologies are already accepted by the majority of healthcare organizations and practitioners. Currently, about 80-90% have embraced cloud technology platforms and models, including public, private, hybrid, and multi-cloud solutions.
At the same time, nearly 60% of healthcare entities in the United States reported that they still use various forms of traditionally managed IT infrastructure with local server computers and other onsite hardware systems. Usually, these tech capacities are utilized by legacy medical software solutions operating simultaneously with modern cloud-based applications and data-exchange mechanisms.
The three directions for cloud migration for healthcare include…
on-premises ⇒ cloud (avoiding hardware costs and restrictions)
cloud ⇒ cloud (changing cloud providers or models)
cloud ⇒ on-premises (switching to private settings)
Potential Concerns about Cloud Migration in Healthcare
Cloud computing offers a considerable set of advantages. That's why many companies willingly consider healthcare cloud migration for their legacy applications. But what are the possible concerns when moving healthcare data-management operations to cloud platforms? Let's learn about some of them…
Uncertainty about health data ownership when placed in cloud-based storage.
Concerns about compliance of cloud technologies with HIPAA.
Lack of knowledge about cloud computing technology in healthcare.
Lack of skilled IT specialists capable of preparing healthcare organizations for cloud migration.
Lack of expertise in terms of risk and the requirements specific to moving healthcare processes to cloud systems.
Uncertainty about price, timeframe, and scope for cloud transformation in terms of medical applications and sensitive PHI files.
All of these barriers are completely manageable. We'll discuss how healthcare companies move to the cloud and how to make this process smooth and painless for medical professionals who do not necessarily possess IT skills. Please consider this information before proceeding: 👇
💬 Is it time for your healthcare organization to move into the cloud?

If you require immediate consulting to choose the best cloud options and obtain a solid сloud migration plan for your software, TATEEDA GLOBAL can assist you. We have rich experience in a broad spectrum of hybrid and multi-cloud platforms in healthcare and health-tech projects.

Book a free chat with our seasoned cloud technology engineer to discuss the details of moving your project or application to the cloud:
Slava Khristich
Healthtech CTO
Based in San Diego, Slava knows how to design an efficient software solution for healthcare, including IoT, Cloud, and embedded systems.
Healthcare Cloud Infrastructure Market: Size, Trends, and Business Expectations ☁️📈
Cloud technologies for healthcare are a very large and promising market sector that is expected to exceed $66 billion by 2030. The healthcare cloud market capacity is currently hovering around $55 billion. These large figures indicate that the American healthcare industry prefers to shift toward cloud services on a massive scale, and this trend is very strong.
According to original marketing data research published by O'Reilly, most healthcare organizations reported that they employ different types of cloud services, including…
40% private cloud
61% public cloud
27% hybrid cloud
19% multi-cloud computing.
McKinsey estimates that the value (EBITDA impact) of cloud-based cases and improvements in healthcare will rise to $140 billion by 2030.
Is Cloud Computing Trusted by Healthcare Providers?
Cloud computing is a well-known, trusted option among healthcare providers. Almost 50% of CTOs, CIOs, and CEOs of healthcare organizations said they would opt for a cloud-first strategy for their next technical and data-management projects.
The main motivators for healthcare providers to adopt the cloud include…
Managing costs: Cloud computing allows companies to save on tech infrastructure, maintenance costs, and the expense of hiring IT specialists.
Scalability: With cloud-based services, it's easy to scale computational resources and data storage space according to cutting-edge requirements.
Convenience: Thanks to cloud platforms, you won't have to acquire costly hardware or software, but will instead be able to use cloud services via the Internet on a subscription basis.
With that said, it's easy to predict that there will be a long-term demand for cloud migration in healthcare industries like patient care, nursing services, telemedicine, pharmacy, laboratory research, biotech, and more.
💬 Do you know what the most popular cloud providers in healthcare are?

The top three popular cloud platforms employed by the medical industry in the U.S. include…

🔸 Amazon Web Services (AWS)
🔸 Microsoft Azure
🔸 Google Cloud Platform (GCP)

At TATEEDA GLOBAL, we prefer Azure and AWS, services that are incorporated into our DevOps processes and used to drive the custom pharmacy project development and telemedicine applications we've built for our clients. (Your options, however, are not limited to these two choices.)

There are various reasons why these vendors have the best offerings for healthcare. If you would like to discuss the specifics and applicability of cloud technologies for your medical software project, please contact our engineers for a free consultation or learn more about our IT services below: 👇
Custom Healthcare Solutions
See how we can engineer healthcare software, validate your ideas, and manage project costs for you.
3 Major Benefits of Adopting Cloud-Based Solutions for Healthcare (Moving to the Cloud) ☁️🤝
Why is healthcare moving to the cloud? First of all, cloud migration is a normal evolutionary process predefined by current advances in Internet technology. Cloud migration makes it possible for tech companies to lend their hardware capabilities and environments to external clients with the same level of efficiency as if the equipment were deployed onsite.
The main goal of migrating from on-premises hardware to the cloud is to save time, money, and energy to redirect resources from maintenance to innovation and strategic development.
Let's take a look at a few key aspects that encourage cloud migration for healthcare companies, describing the benefits of moving from on-premises to the cloud.
Cost-efficient Cloud IT Strategy for Healthcare
Server computers and other data-center equipment is very expensive. Moreover, this type of gear demands considerable and continuous investment to maintain:
Hiring capable technicians and IT administrators
Paying additional energy bills for powering and cooling your servers
Taking care of hardware upgrades when current capacities are no longer sufficient for the growing needs of healthcare applications.
With the cloud, you won't have to worry about onsite servers or other IT tools. This becomes the responsibility of your cloud provider, which maintains remote data center equipment, keeps connection channels fast and functional, and manages other important pieces of infrastructure and hardware.
Reduced Hardware Maintenance Costs and Routines
All of these technical chores are normally far beyond the core competencies of healthcare organizations and medical professionals. Hospitals and medical centers/offices are full of costly hi-tech medical equipment, and allocating additional square footage, resources, and budgeting for IT infrastructure is not a productive scenario.
Instead of the high costs associated with procurement and ongoing support, cloud computing offers subscription-based services with optimized rates thanks to economy of scale and delegation of technical duties to third-party companies. This includes:
Hardware-agnostic IT infrastructure for medical applications
Scalable data storage for massive medical databases
Secure medical data exchange and other security measures
Remote server capacities for healthcare software operation
Technical expertise, maintenance, and upgrades without direct investment from clients.
Enhanced Cloud-backed Security for Healthcare Companies
The goal of moving to the cloud for healthcare companies can be improvement of security-related aspects, which are usually beyond the competencies of healthcare professionals but can greatly enhance compliance with HIPAA requirements:
Better backup strategy and faster disaster recovery to help prevent painful PHI loss in case of technical emergency.
Controlled data access policies at the hardware layer, including smart behavior pattern monitoring and advanced logging.
Database health checks and maintenance, including regular data storage defragmentation and other procedures required for keeping medical data safe and consistent.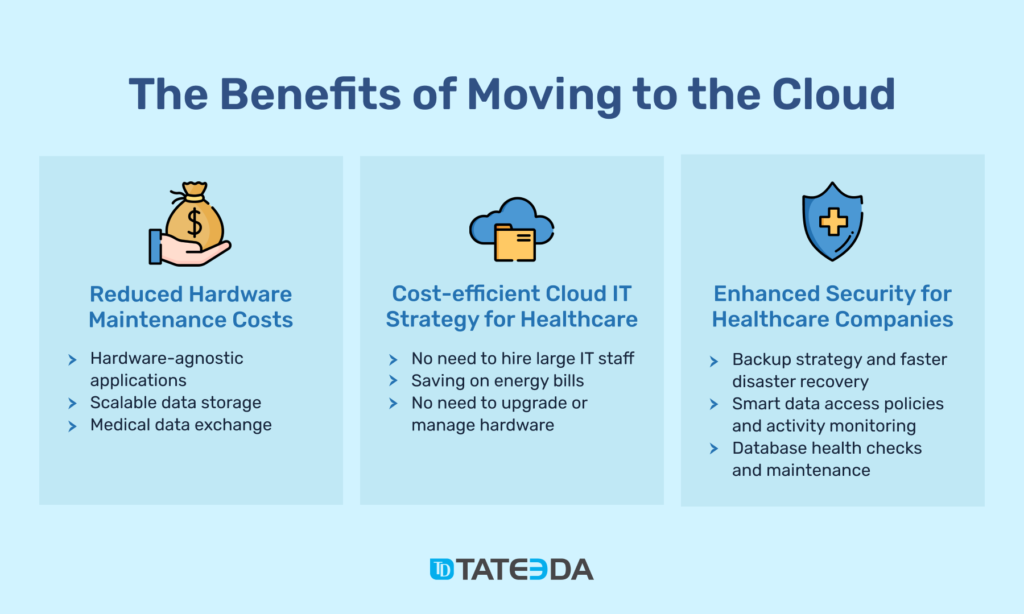 💬 Would you like to empower your medical practice with cloud-based applications?

There are many good reasons for healthcare providers to migrate their legacy applications to cloud platforms as soon as possible. These include advanced medical data mining and healthcare data visualization tools. At the same time, every healthcare provider or company has their own specific business situation and requirements, so cloud solutions must be individually configured, too.

That's why we recommend that you consult with our cloud tech engineers and obtain a free estimate for your project. If you want to learn more about our successful projects, including cloud technology implementation, please see our portfolio: 👇
Delivered Healthcare Software Portfolio
The leading American healthcare companies benefit from working with us.
5 Cloud Migration Strategies for Healthcare Ecosystems ☁️♻️
There are many different cloud migration strategies and models based on different technical approaches. They are not specific to healthcare, but work in every industry.
The specific cloud transformation strategy that's the best fit for your healthcare organization must be selected and formulated by an experienced cloud consultant or engineer in order to avoid unnecessary mistakes and costs…
Rehosting Cloud Strategy
Rehosting (a.k.a. the lift & shift approach) means moving your healthcare applications and associated data to cloud servers without making any significant changes in functionality.
This method means using the infrastructure-as-a-service (IaaS) model if you're interested in outsourcing hardware capacity only. With the rehosting strategy, you can get rid of your own onsite hardware while improving software accessibility, medical IT integration & interoperability, and other technical system parameters.
Replatforming Cloud Strategy
Re-platforming means migrating your current cloud operating systems from one cloud provider or platform to another (for example, moving from the public cloud to a private one) while optimizing and configuring your healthcare applications to meet the specifics of new cloud infrastructure.
Organizations can choose re-platforming of their applications when they are not happy with the conditions and/or limitations of their current cloud solution. This model may also require additional software development or advanced software engineering expertise to reconfigure software correctly.
Refactoring Cloud Strategy
Re-factoring: Moving healthcare solutions to the cloud can be a great opportunity to re-architect and improve, not only in terms of cloud readiness, but also through adding new features and capabilities.
This model takes a lot of development effort/skill, and can be used to upgrade legacy medical applications that must go through deep software redesign and code optimization before they can be introduced to cloud platforms.
Replace/Rebuild Cloud Strategies
These strategies require retiring outdated healthcare solutions and replacing them with newer custom software products or ready-made cloud-native alternatives.
This approach can be used to handle deeply obsolete legacy software that is not available for profound code amendments, updates, or modification. This approach has two main scenarios for cloud transformation:
Migration or export of current databases from outdated software to third-party cloud-based systems with corresponding software configuration, according to Software-as-a-Service (SaaS) model and licensing.
Building a custom cloud-adopted healthcare system from scratch, including individualized functionalities while importing the old medical database.
💬 Interested in choosing the right cloud migration strategy for your healthcare applications?

A qualified cloud computing engineer can help you identify the best strategy for your specific case. At TATEEDA GLOBAL, we're here for you. We can also help you move your clinical data in accordance with a selected strategy that includes custom cloud software development and cloud-based DevOps services.

Start your journey to the cloud with a free consultation with our engineer: 👇
Slava Khristich
Healthtech CTO
Based in San Diego, Slava knows how to design an efficient software solution for healthcare, including IoT, Cloud, and embedded systems.
The 5-Step Process of Healthcare Cloud Migration 🧳⇒☁️
Cloud consultants, or CTOs, should guide you through the cloud transition process in a comprehensive and systematic manner according to the following steps:
#1. Assess Your Current Healthcare IT Infrastructure & Applications
Before moving your medical applications to the cloud, it is important to audit and evaluate the current state of your IT environment to identify…
Software that can be immediately migrated according to the postulates of the rehosting model. 
Applications that can be migrated later, as they require refactoring or reconfiguration efforts before they can successfully move.  
Healthcare applications that cannot be currently relocated to the cloud and must be rebuilt or replaced because of technological/business limitations or flaws. 
Systems that must stay onsite and use local infrastructure with fragmented integration with cloud-based solutions like medical payment systems.
The specific requirements/ indicators for security, performance, and compliance of the clinical practice applications being considered for cloud migration.
#2. Choose the Right Cloud Provider and Cloud Formula
Identify the cloud provider and offerings that will satisfy all of your technical and legal requirements:
Analyze the different cloud providers available out there and consider the services and migration options/scenarios they support.
Identify a suitable cloud platform formula (private cloud, public cloud, hybrid, multi-cloud, IaaS, SaaS, PaaS, etc.)
When choosing a suitable cloud provider, consider factors such as security, scalability, rates, EULA details, latency/uptime metrics, and the provider's ability to meet your predefined healthcare system requirements.
Make sure your cloud provider implements essential security measures such as encryption, access control, smart activity monitoring, and disaster recovery.
Ensure that the provider is compliant with regulations like the Health Insurance Portability and Accountability Act (HIPAA).
#3. Plan Your Cloud Migration
Once you have chosen a cloud provider that meets all your expectations, you need to plan your cloud migration carefully.
Create a timeline for the migration process with a migration roadmap covering all near-term cloud transition steps and long-term software rebuilding projects.
Identify the resources needed to accomplish these projects and rehost, refactor, replace, or/and rebuild your healthcare applications for the cloud.
Develop a plan for testing and validation of the cloud migration process.
Consider and predict the impact of migration on your existing IT systems and measure the expected effects.
#4. Test and Validate
Before launching your healthcare systems in the cloud, it is important to test and verify them to ensure that they are performing as well as expected. This includes testing and quality assurance for…
Cloud-based system performance
Web security and consistency of PHI operations
Core functionalities of involved healthcare systems
Validation of all cloud-migrated IT components and approval of efficient integration with onsite systems (if any clinical systems remain onsite.)
#5. Train Your Staff
Once your healthcare IT systems have been successfully moved to the cloud, it is crucial to educate your medical staff about how to use them effectively. This includes training in new cloud-based systems and processes as well as instruction on security and compliance requirements.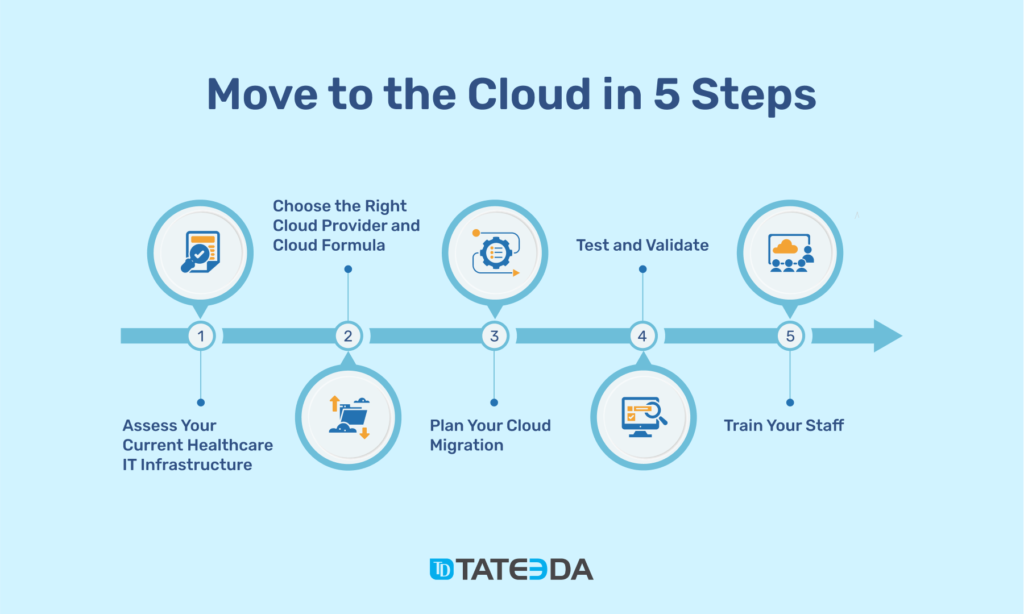 Information That Can Help Your Tech Partner Move Your Medical Systems to the Cloud Painlessly ☁️📖
How should you prepare for cloud migration in healthcare? If you want to facilitate the processes of cloud transformation for your tech consulting company, do some homework ahead of time to reduce costs and the overall time commitment required for cloud migration.
This information can be prepared by your CTO or IT administrators to help the cloud consulting team plan your project.
Describe your current IT environment and configurations as precisely as possible:
Provide the results of a current performance audit of your healthcare software systems so the cloud consulting team can better understand the health status of your applications, your actual reasons for moving to the cloud, and your priorities.
Highlight existing security issues, risks, and procedures/methods to manage PHI bottlenecks and existing protection procedures.
Server/data center information: Define all technical parameters of the current virtual and hardware components used to operate your healthcare system and how they satisfy your existing and future needs, including computational capacities, CPU model/details, channel bandwidth, and uptime metrics.
Provide logs of tech issues and system outages, plans for expansion, rebuilding of horizons, and more.
Consult with legal advisors to come up with the legal requirements for data protection, ownership, and other aspects essential to keeping your sensitive medical information intact.
Formulate your expectations after cloud transformation or articulate them together with cloud consultants so you can precisely monitor and measure the success of your cloud project.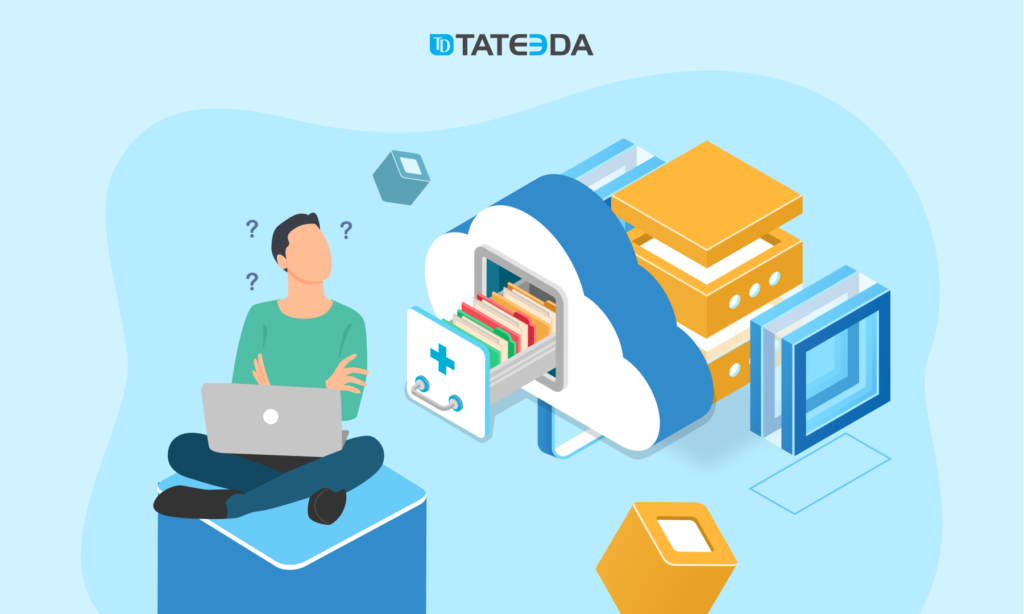 Methods of Keeping Cloud Costs Manageable, Before and After Migration ☁️💵
Migrating to the cloud comes at a price. There are many techniques that can help healthcare organizations manage cloud-related expenses. These methods and cloud-management tactics must be discussed with your cloud migration consultants and applied appropriately….
Meaningful use: Optimize data exchange between cloud applications and minimize accumulation of duplicated or unnecessary data in cloud storage.
Prevent subscription to excessive cloud resources that may stay idle, underloaded, unused, or unattached, yet require that you pay for them.
Employ special cost-management consoles to control and monitor how cloud resources are used by your healthcare system while forecasting costs.
Apply autoscaling tools to control your cloud workloads and intelligently adjust your cloud server capacities to maintain proper performance at a minimal cost.
Identify how to optimize or improve healthcare legacy software architecture before moving applications to the cloud, thus preventing replication of the same inefficiencies in the cloud environment (for example, switching to microservices/microservice-based architecture.)
Set smart alerts to pop up when your cloud spending exceeds expected levels. Tune algorithms to allocate workloads to be processed where computing power is more cost-efficient (this can be a part of a multi-cloud strategy.)
Collaborate with cloud DevOps administrators who can keep an eye on your cloud-based workloads and infrastructure to manage it by working with cache, load balancers, cloud instances, storage settings, right-size the services, and more.
How TATEEDA GLOBAL Can Help You Move Your Medical Applications to the Cloud
Our team can help you with the following processes…
✔️ Identify the best cloud transition strategies for your healthcare organization.
✔️ Find the best saving plans offered by cloud providers.
✔️ Help you achieve HIPAA compliance with your cloud conversion project.
✔️ Plan and prepare your healthcare environment for cloud migration.
✔️ Sort your applications according to cloud readiness.
✔️ Integrate cloud-based and non-cloud medical applications.
✔️ Rehost, refactor, and/or rebuild your medical software.
✔️ Augment your staff in the context of your current biotech, health-tech, and IoT application development projects.
Interested in getting help with cloud transformation and migration? Please contact our engineering team for more information and free consulting.
Frequently Asked Questions: Moving to the Cloud for Healthcare Companies & Organizations
Why are healthcare organizations moving to the cloud?
Healthcare organizations are moving to the cloud for multiple reasons: cutting IT costs, leveraging scalability and flexibility, improved security, remote collaboration interfaces, and gaining spare funds for innovation. The cloud enables healthcare organizations to take advantage of new clinical technologies and custom hospital software solutions more quickly by adding AI-assisted analysis and telemedicine tools to their daily practice. This allows for streamlined patient care and better outcomes.
Which cloud provider, in your opinion, is best for healthcare?
It depends. Each cloud migration process should be planned and accompanied by a qualified IT engineer who can guide your medical organization and help you choose the cloud platform that is the best fit. The most popular cloud providers in the industry are…
Amazon Web Services (AWS)
Microsoft Azure
Which one is best for your individual business? We don't know until we learn about your project and business model. Once we have sufficient information, we'll help you define the best cloud platform, like hybrid cloud or multi-cloud solutions. At TATEEDA GLOBAL, we prefer Azure and AWS, but we are open to considering other options, too.
Is it legal for healthcare companies to move to the cloud?
Yes, it is legal for healthcare companies/organizations to move to the cloud. However, there are certain regulations that must be followed to ensure patient data is protected and privacy is maintained.
In the United States, the Health Insurance Portability and Accountability Act (HIPAA) sets standards for protecting patient health information. Cloud providers serving the healthcare industry must comply with HIPAA regulations and demonstrate compliance.
This also refers to HIPAA alternatives. For example, in the European Union, the General Data Protection Regulation (GDPR) provides strict guidelines for handling all kinds of personal data, including healthcare.
What are the disadvantages of moving healthcare to the cloud?
While there are many benefits to moving healthcare to the cloud, there are also some disadvantages to consider, including…
Security concerns. Despite multiple data-protection tools available, the risk of security incidents is not zero with any cloud computing platform. There are additional considerations about compromised data ownership that may arise from ambiguous paragraphs in the EULA which require further attention and legal effort.
Dependence on the Internet. Cloud-based systems massively rely on a stable internet connection and specific bandwidth parameters, both of which can be disrupted by power outages or other issues. Healthcare organizations must have backup protocols and alternative server capabilities in place to ensure uninterrupted operation of IT systems during a potential internet/cloud service outage.
How do I choose a technical cloud migration partner?
When choosing a technical cloud migration partner, consider the following factors:
Expertise and experience in the implementation of cloud technology. Look for a partner with a proven track record of successful cloud-based projects for healthcare organizations.
Check testimonials and case studies to see the types of health-tech projects they have completed, and evaluate the spectrum of technologies they worked with.
Learn more about their cloud-migration strategies in healthcare. Are they deeply aware of HIPAA rules? Do they employ the best up-to-date cloud migration practices? Can they ensure a smooth migration process and minimize system downtime?
Project management: Choose a partner with strong project-management skills who can help you stay on track and within budget.
How long does it usually take a healthcare company to move to the cloud?
The time it takes a healthcare company to move to the cloud can vary greatly. This depends on a number of factors, including the size of the organization, the complexity of the healthcare systems being migrated, and the resources available for migration.
For small healthcare companies/organizations, the migration process could take several weeks or months.
For larger entities, the migration process could take a year or more. It can be pretty complex and may involve several stages, including planning, risk assessment, testing, and deployment. The preparation phase can take several months all by itself.