Medical Staff Management & Scheduling Software Development: Timetables and Rosters
In this article, we'll discuss…

✔️ How to cope with workforce challenges and costs
✔️ Cool things about medical staff management software
✔️ How to build the software and get help with this type of project.

⚠️ If you require immediate help with the development and testing of medical staff management software, please contact our IT experts for deeper project consultation →
Healthcare is one of the most resource-intensive industries in the world and in the United States in particular.
👩‍⚕️👨‍⚕️ Physicians and other skilled healthcare professionals are among the highest-paid employees in the U.S., with a median hourly wage of about $100 (as estimated for family practice physicians in 2021.)
The hourly pay of hospital surgeons can be as high as $150 to $230, and even higher—depending on their qualifications, field of medical practice, and region/location. Maintaining such an expensive medical workforce is no joke!
At TATEEDA GLOBAL, we have developed staff management solutions for major U.S. healthcare organizations, including AYA Healthcare's appointment scheduling platform for travel nurses. We know the challenges of the healthcare industry very well.
Failures in medical staff scheduling or clinical workforce management can be extremely painful, generating excessive administrative costs and introducing an element of wild unpredictability to financial reports in medical facilities.
Moreover, poorly balanced staffing in healthcare can lead to inadequate workloads, staff fatigue, and medical errors. One of the best ways to cope with administrative challenges in hospitals and clinics is medical staff management and scheduling software.
⚡ IMPORTANT: Please note that medical staff management software is an HR-based tool that can come as a standalone solution. It is different from medical scheduling software, which focuses on medical shifts and appointments. At the same time, both functionalities can be delivered within the same software packages or in customized combinations.
Having both combined under one roof in a unified custom healthcare staffing software system is the recommended choice, as it allows you to interconnect multiple workforce processes and manage them holistically. If you have more specific questions and want an individualized consultation, please book a free chat with our experienced health-tech engineer: 👇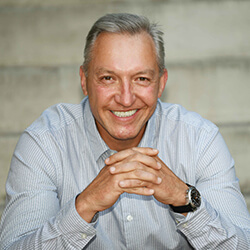 Slava Khristich
Healthtech CTO
Based in San Diego, Slava knows how to design an efficient software solution for healthcare, including IoT, Cloud, and embedded systems.
Medical Staff Management Software: The "Swiss Army Knife" Solution for Workforce Issues in Healthcare
In modern healthcare IT practices, it's vital to shrink administrative overhead.
To cut administrative costs in workforce management, you should:
Achieve optimal allocation of medical staff resources (physicians and nurses on their shifts.)
Control the work hours of healthcare staff to avoid overload.
Accurately manage patient appointments with health specialists so no time slots are wasted.
Align your scheduling practices with the U.S. law and regulations.
Why is Medical Staff Scheduling Software Development Important?
More states and local communities in the United States are adopting so-called predictive scheduling laws (such as Secure Scheduling in Seattle or the Fair Workweek Ordinance in Emeryville, CA). These changes enforce a range of requirements for workforce scheduling: providing work schedules at least 14 days in advance and supporting the right of the employee to reject any hours not originally scheduled.
Violations in scheduling policy can result in penalties. To learn more about HIPAA legal requirements, read EDI in Healthcare: Privacy with Less Paperwork.
You can manage these challenges with a medical staff scheduling software solution that features digital calendars and timetables coupled with online access and notification features.
At the same time, an HR-focused component (usually called medical staff management software) allows hospital administrators to combine time management instruments like calendars and time-shift visualizations with HR processes like recruiting, handling sick leave, onboarding, time-tracking, payroll, and more.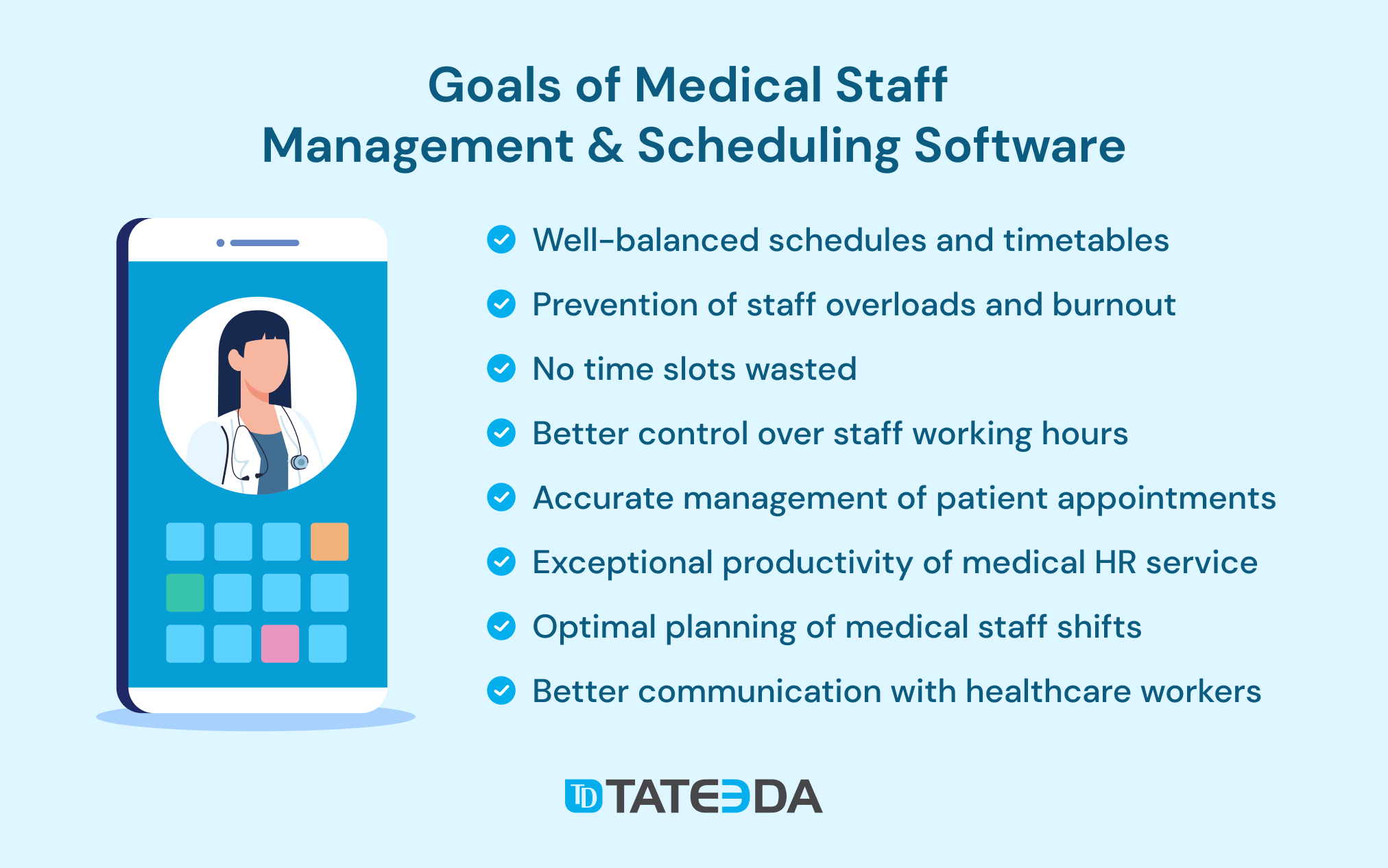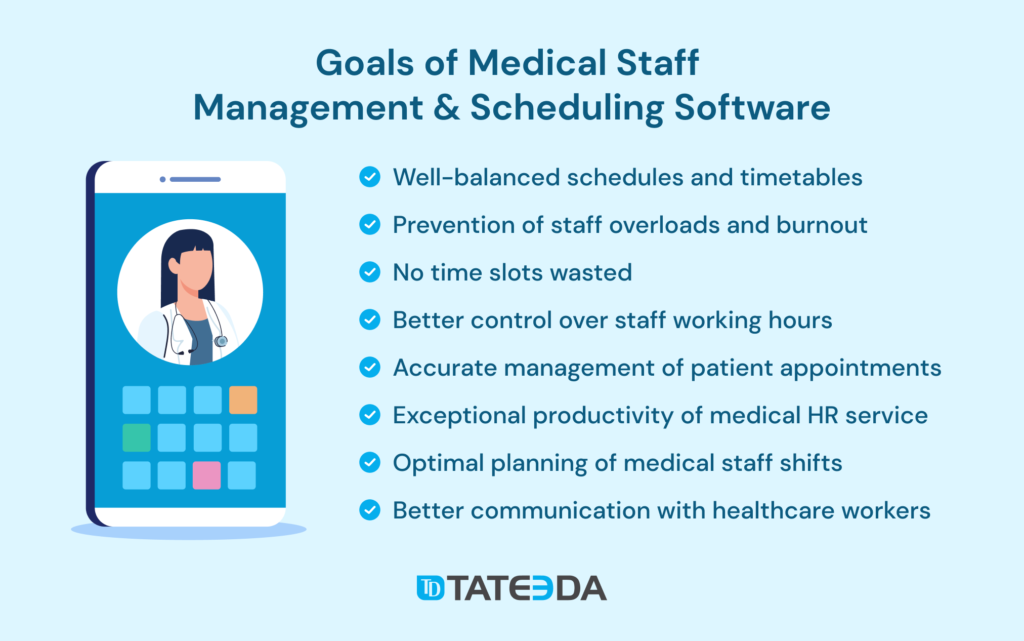 Learn more: ➡️ HL7 Integration: How to Build Interoperability Interface for Your Healthcare Systems
The Benefits of Medical Staff Management and Scheduling Software
Healthcare staff scheduling/management software solutions allow you to build accurate medical shift timetables and share them with hospital/clinic employees.
One of the best ways to acquire highly specialized staffing/scheduling features is to develop healthcare staffing software from scratch.
This way, medical service providers can select only the functionalities they find helpful while minimizing functionalities that don't suit their specific needs.
With the customized features of their own staff management system, healthcare providers can do the following:
Achieve optimal allocation of medical staff work time
Manage medical appointment time slots and assignments to prevent scheduling mishaps
Identify the staffing needs and shortages of certain types of healthcare workers and specialists
Maintain 24/7 access to work schedules and timetables for medical staff
Allow hospital/clinic employees to request time off, swap shifts, manage sick and maternity leave, and facilitate myriad other scenarios in a centralized manner so no details get lost
Quickly rearrange staff allocations and manage the response to sudden shift changes or staff shortages
Accurately calculate work hours and pay healthcare workers accordingly
Reduce the number of staff issues and requests that may have been accidentally overlooked (time-off requests, etc.)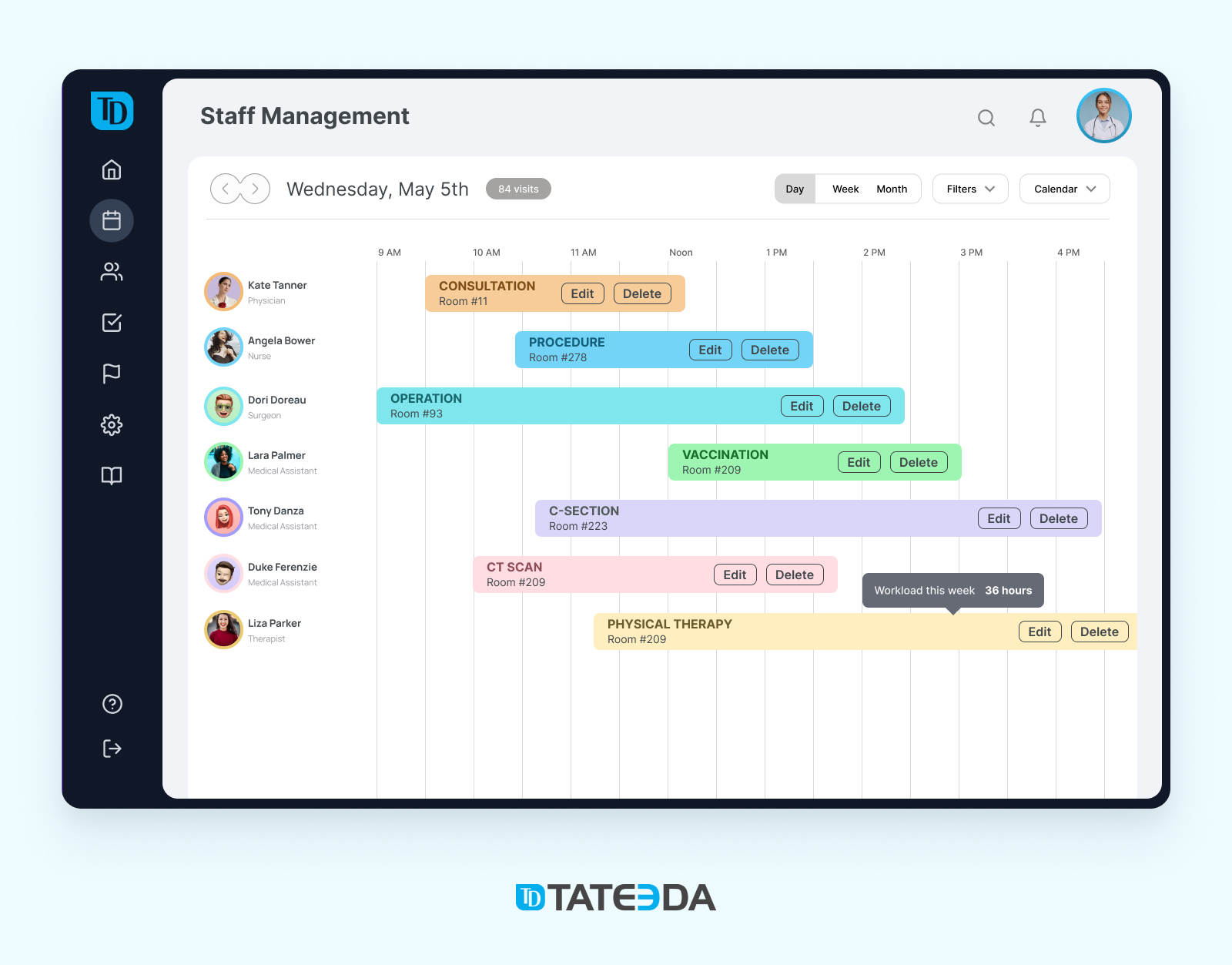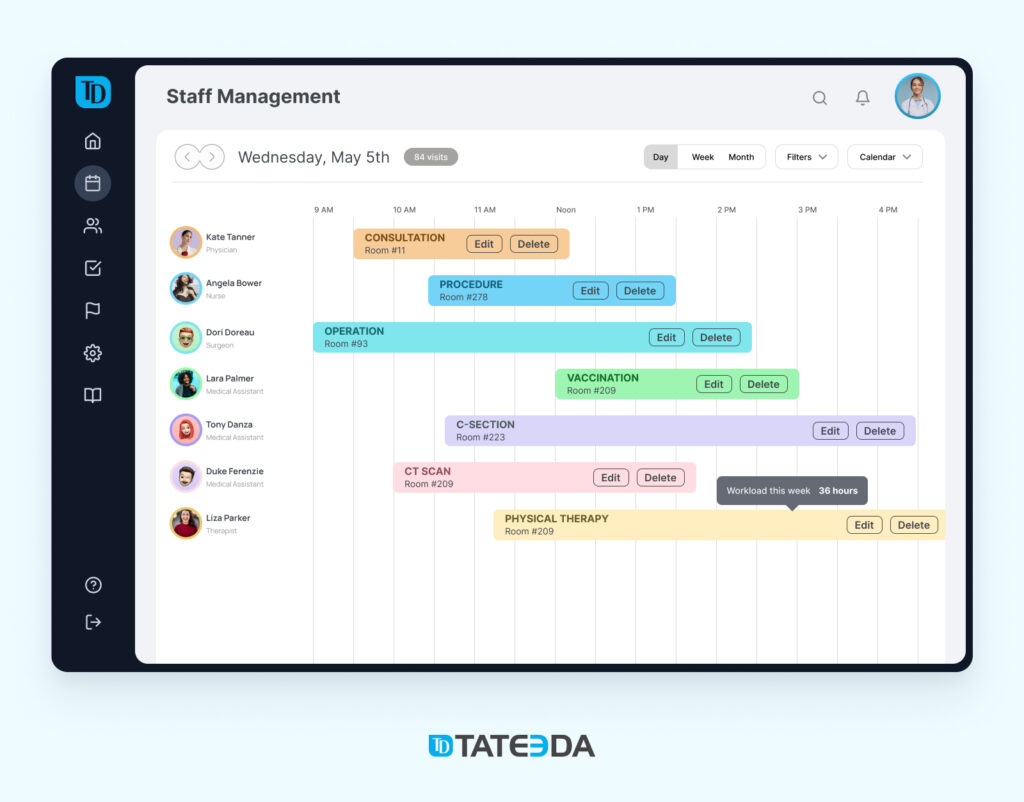 All of these helpful features result in beneficial outcomes for public health organizations:
✅ Well-informed Staffing Decisions
Hospital managers don't have to invest too much time/effort in the generation of analytical insights and reports. Custom solutions can perform clinical data mining and highlight all scheduling conflicts, conflicting appointments, inadequate workloads, shifts lacking coverage, and other typical staffing issues.
✅ Improved Level of Employee Satisfaction and Morale
Physicians are people, too. With the help of your custom medical personnel management and scheduling software, you'll have more instruments to implement respectful staff policies and avoid administrative confusion and errors (such as overlooked employee requests). With policies like these, hospitals and healthcare organizations can improve staff turnover and/or employee churn rates, nurturing their reputation as responsible employers.
✅ Reduced Costs
As a rule, medical facilities must invest a certain amount of money in medical staff management software development, but these investments return pretty quickly. This is because fewer errors in staff scheduling result in better quality in terms of patient interaction: fewer timeslots unfilled, efficient appointment rescheduling in case of cancellations, more proficient planning of medical staff workloads—and, of course, lower risk of penalties or fines due to violation of predictive scheduling laws.
Consider medical staff scheduling software development options…

Do you want to reduce the costs and improve the staff scheduling workflows in your healthcare practice? TATEEDA GLOBAL offers superb expertise in building software systems for healthcare office administration, medical staff management, IoT, biotech, and health-tech application development. We can provide you with deeper consulting, resources, and team augmentation services in the context of building medical timetable systems.

Book a free chat with one of our skilled IT specialists to discuss the best software solution for your situation: 👇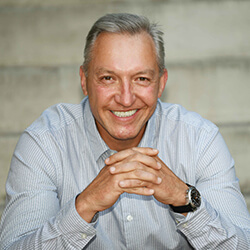 Slava Khristich
Healthtech CTO
Based in San Diego, Slava knows how to design an efficient software solution for healthcare, including IoT, Cloud, and embedded systems.
✅ Wise Allocation of Healthcare Employees
It's no secret that the American public health system is currently suffering an acute deficit of healthcare workers. This elevates the strong requirement for accurate attention to staff performance, planning, and allocation of healthcare resources to make sure no valuable staff work hours are wasted or mismanaged. With the help of medical staff management software, it's easier to adapt schedules to sudden changes: emergencies, sudden shift swaps, employee absence, or pandemic outbreaks requiring additional resources.
✅ Going Paperless
Unmanageable stacks of paper, including medical staff calendars, appointment spreadsheets, rosters, and timetables, are desperately obsolete and should be excluded from all medical workflows. With custom medical staff management software, you will not only eliminate inefficiency stemming from rudimentary paper workflows, but also have the chance to rethink optimization processes. If you're interested in more paperless technology, be sure to read about Patient Electronic Data Capture Solution Development.
✅ Fewer Calls and Confirmation Emails
No need to call or manually email employees or managers to communicate and agree on schedule changes. Electronically visualized, interactive medical employee schedules significantly reduce the number of communications (by 80-90 percent) when correctly implemented. Learn more: Healthcare Data Visualization: Examples, Benefits & Challenges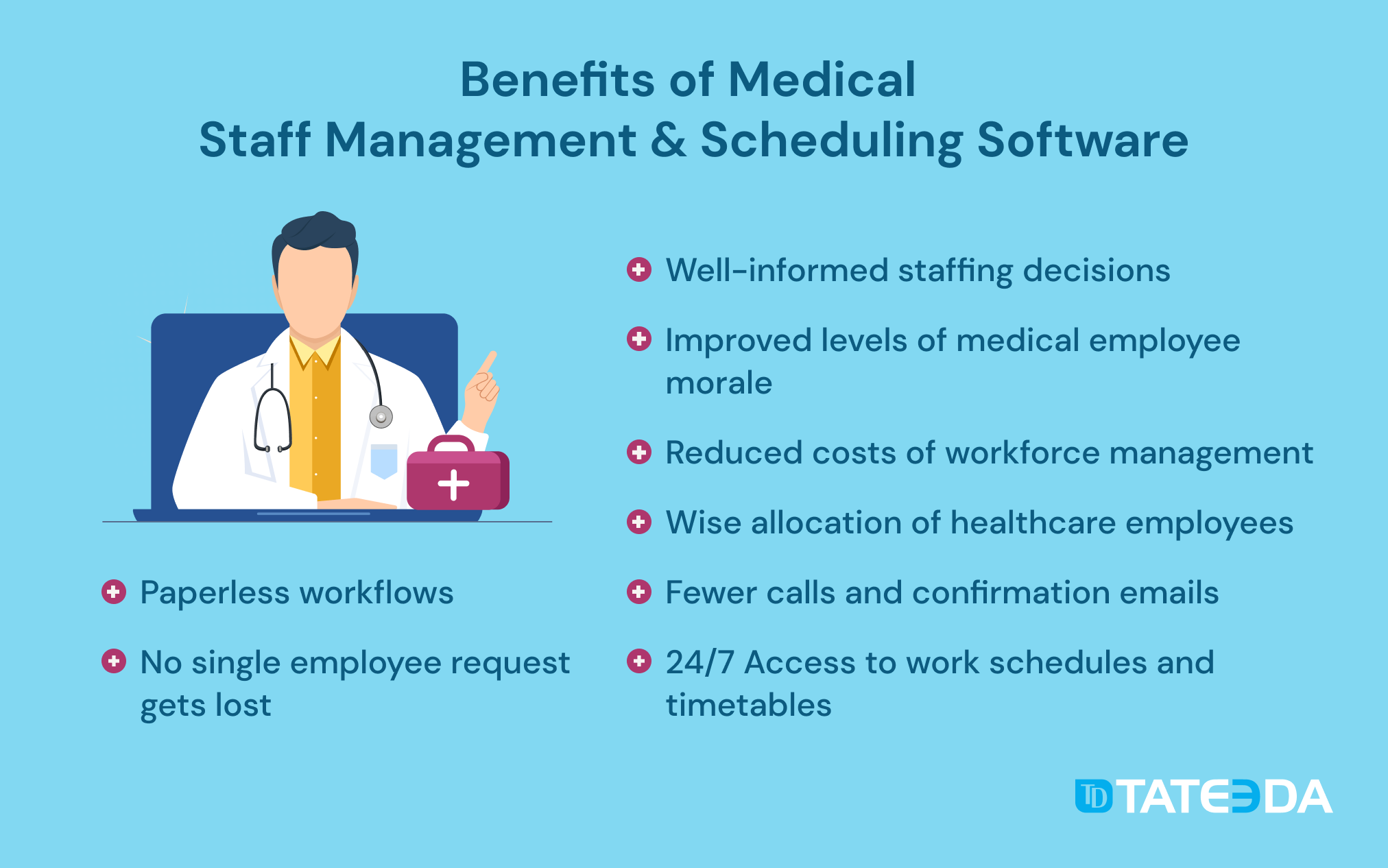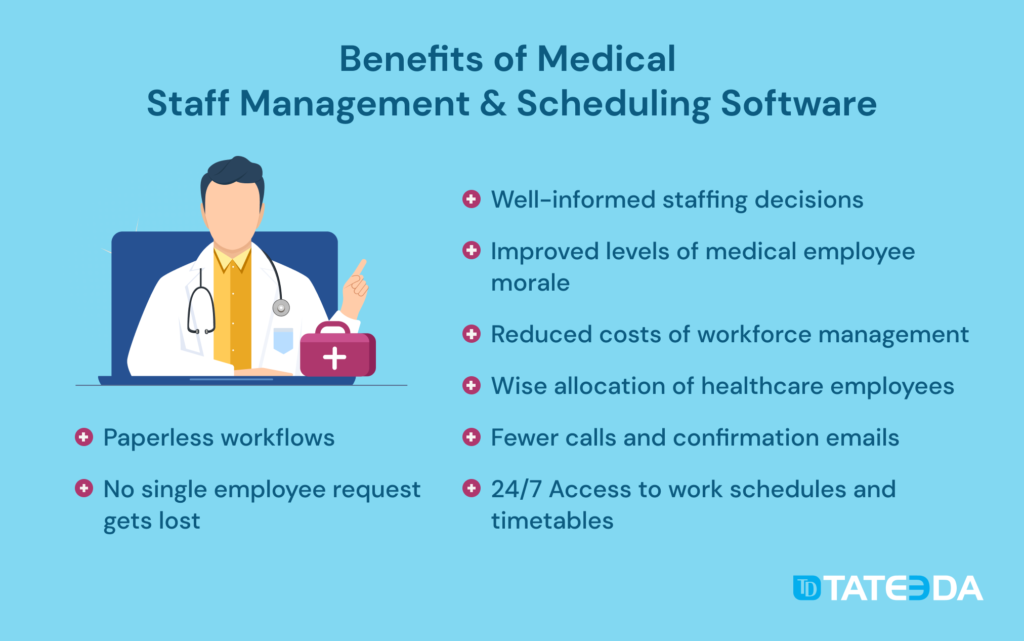 Challenges Associated With Medical Staff Management & Scheduling Software
What are the challenges related to hospital staff scheduling software?
A few potential issues should be taken into account when you're building medical staffing software for your hospital or medical center. Let's check them out:
Challenge #1: Lack of 24/7 scheduling access 🕒
It's crucial to ensure anywhere/anytime schedule access for healthcare workers through an efficient staffing/scheduling system. If staff schedules are not available, it can cause real mayhem, with multiple staff members trying to communicate with their managers to clarify their assignments/appointments/shifts or personally visiting the medical office (even on their days off) to check timetables/schedules posted in staff rooms or halls.
How to ensure round-the-clock accessibility? 💡
Medical staff members can be provided with anywhere/anytime access to their schedules via mobile or web-based technologies. Continuous access to the database can be delivered with a cloud-based solution that makes all schedules and timetables accessible 24/7.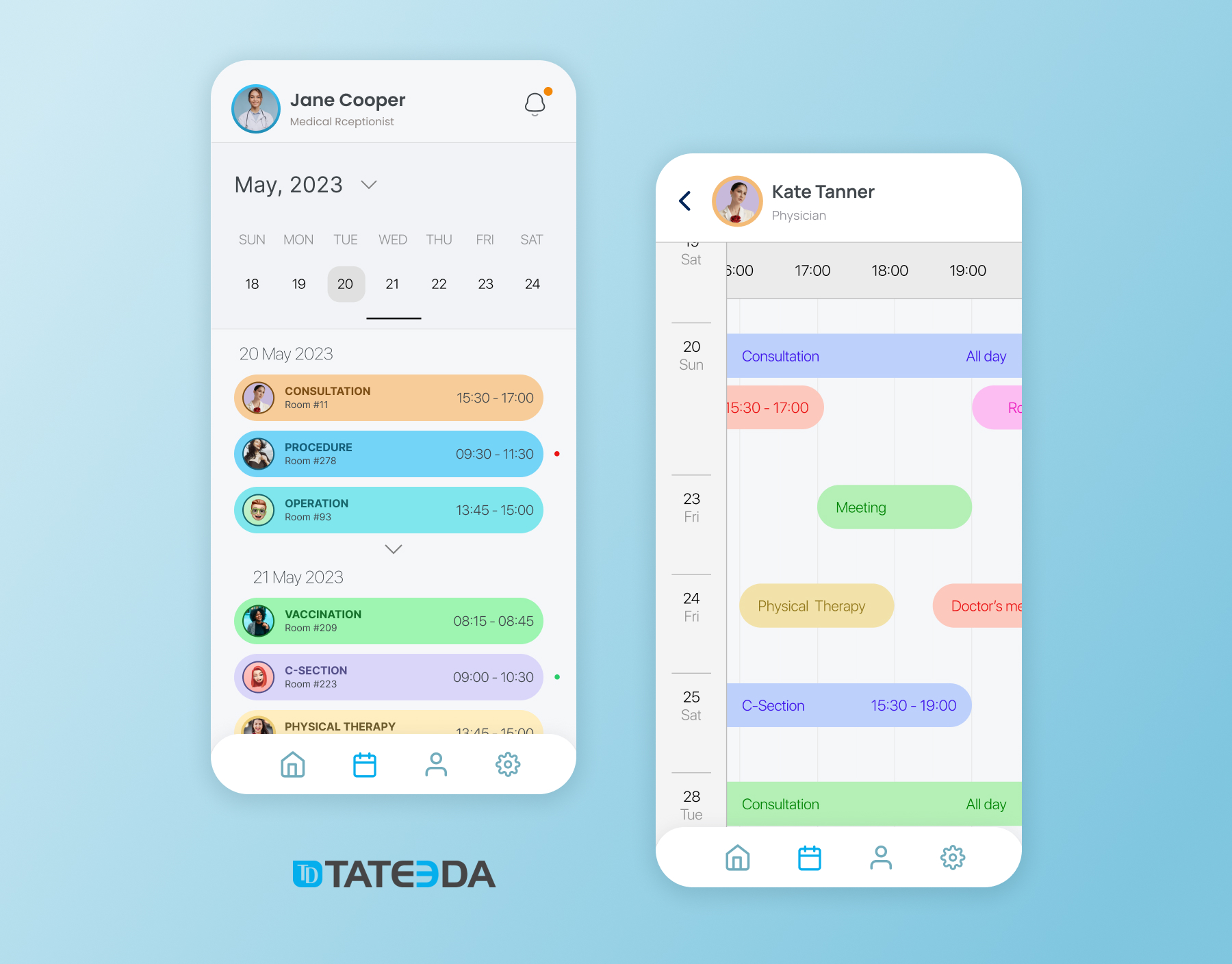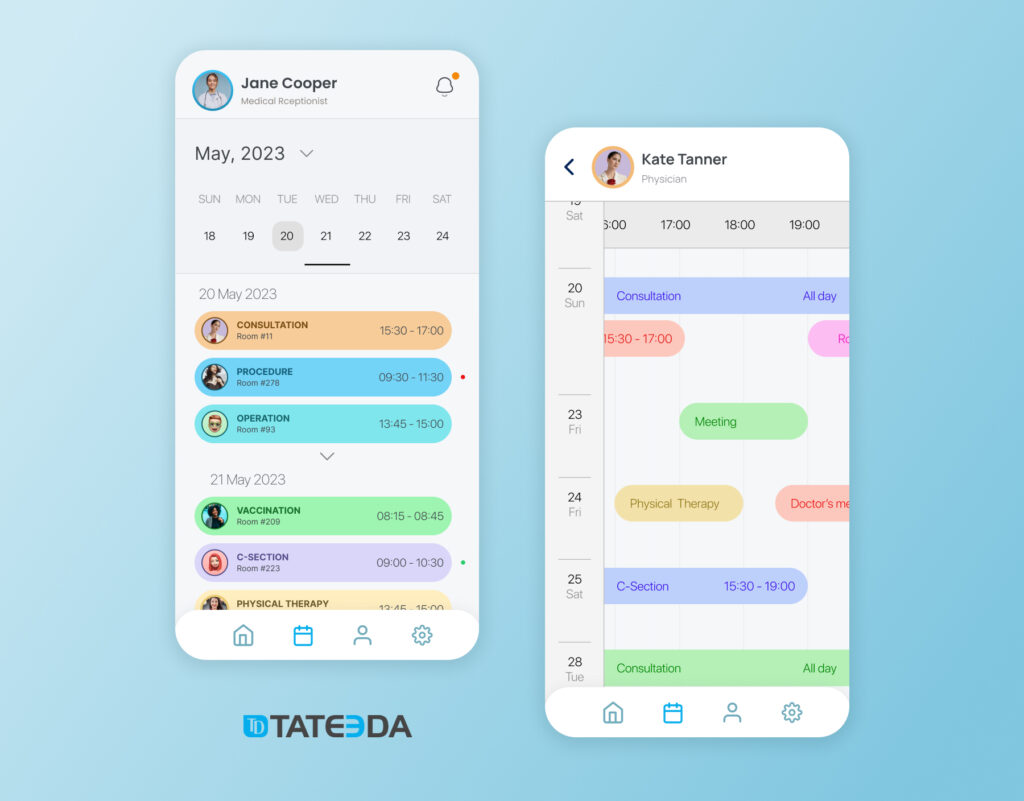 Do you need help with establishing constant access to medical staff rosters?
Contact us for a free consultation. TATEEDA GLOBAL is a California-based company specializing in the development of medical staffing software, including multi-cloud and mobile/web platforms. We'll help you achieve 24/7 schedule and timetable accessibility for your healthcare employees.
Challenge #2: Issues with accountability and visibility 📨
It's necessary to deliver secure, reliable communication channels that allow medical staff members to receive notification of their assignments and/or shift changes (for example, two weeks prior, as required by law.) Additionally, different levels of staff access should be established with role-based hierarchical access rights and restrictions.
How can visibility issues be eliminated? 💡
Potential issues with visibility/accountability can be resolved with the integration of notification features (email, SMS, etc.) in your custom medical staff management system. Once changes are applied to staff schedules/timetables, a notification event is triggered to send a message to all involved staff.
Do you need help with making your admin schedules visible to medical staff?
TATEEDA GLOBAL can help you implement medical staff scheduling systems with enhanced functionality, including different kinds of API integrations and cross-platform functionalities like mobile and email notifications. If you need help building hospital staff scheduling software with a deep level of individualization, contact us.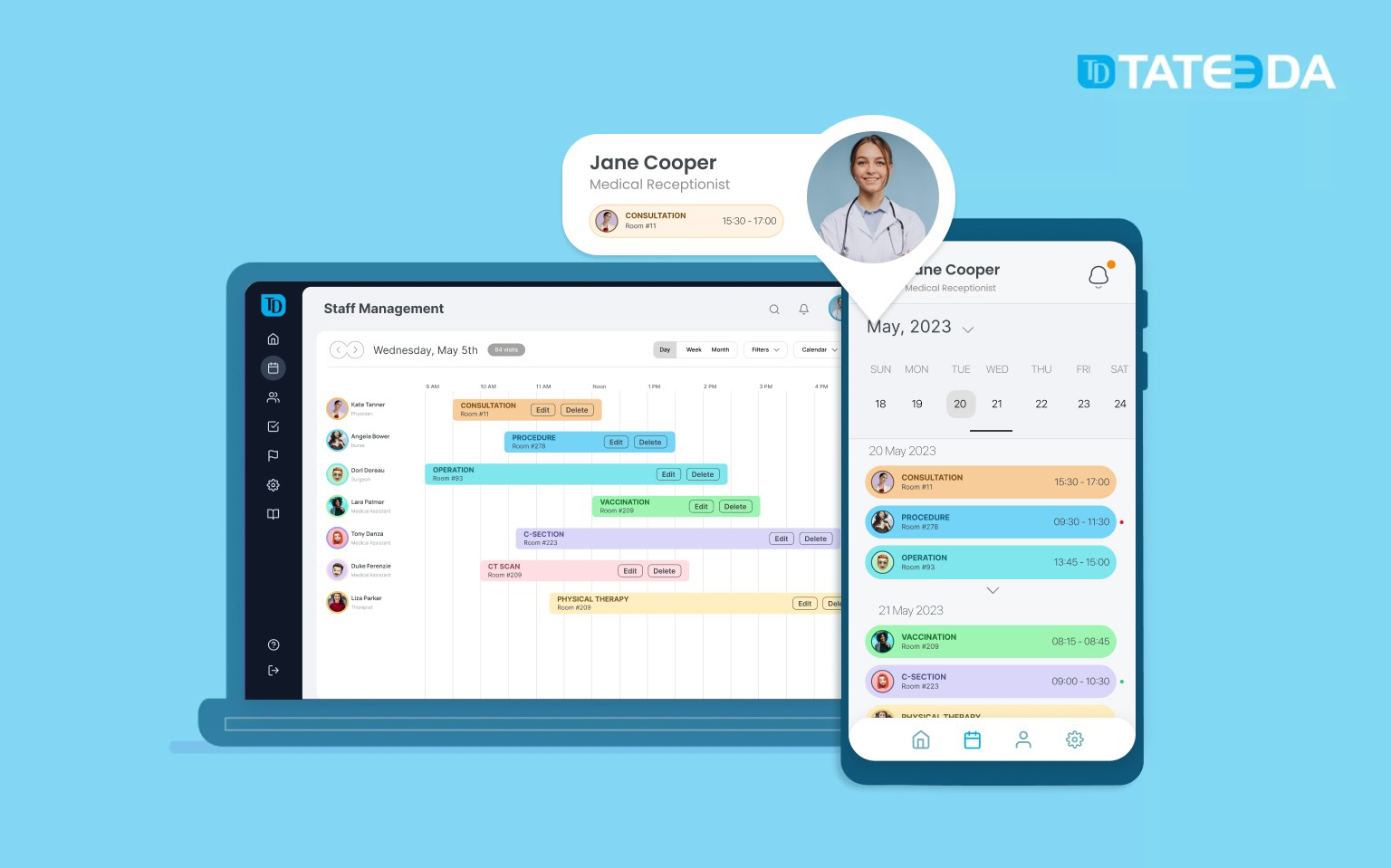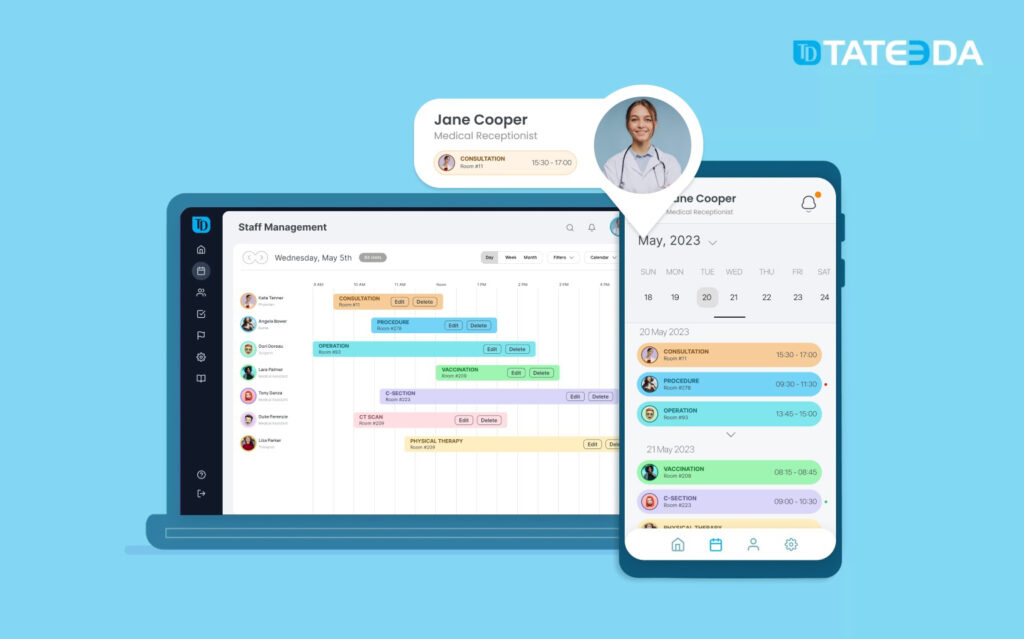 Learn more: ➡️ Payment System Integrations In Healthcare: The Ultimate Guide
Challenge #3: Unequal levels of computer literacy or tech-access capability 🎚️
One of the biggest challenges in the industry involves unequal levels of computer knowledge among medical staff members. That can become a serious barrier to staff scheduling/management solution implementation.
Unfortunately, it's still relevant in 2023 that not all public healthcare workers, especially those belonging to the nursing staff segment, possess smartphones or other handheld devices. If this is the case for some healthcare organizations, employers must provide their employees with such devices.
How can software be prepared to address unequal computer literacy? 💡
The issue can be resolved by providing healthcare professionals with training while creating simple, user-friendly interfaces supported by tips and interactive guides.
Do you need help with designing a simple UI?
TATEEDA GLOBAL can help you with hospital staff scheduling software development. We'll make sure to include UI/UX solutions features of exceptional simplicity and user-friendliness so users at different levels of IT literacy can easily master them. Contact us to learn more about our custom medical software development services.
Challenge #4: Healthcare data security 🏥
This one is one of the most critical concerns because when you build medical staffing software, it's necessary to comply with HIPAA and other privacy/security standards. By the way, there exist certain local and international healthcare IT security requirements and regulations that must be obeyed in the context of clinical staff application management system development.
Interested in aligning your medical software with HIPAA?
If you'd like to make sure that your employees are using a highly secure medical staffing/scheduling system, build it from scratch with a reliable tech partner like TATEEDA GLOBAL.
We also offer legacy software re-engineering services for healthcare management systems. Learn more about our healthcare IT services: 👇
Custom Healthcare Solutions
See how we can engineer healthcare software, validate your ideas, and manage project costs for you.

Modules/Features of Medical Staff Management Software
Ideally, your medical staffing software system should work as a Swiss-Army-knife solution for your medical HR scheduling and staffing.
Your package should be capable of managing the entire medical employee lifecycle, from pre-hire to retirement.
When you opt for custom medical staffing software development, it's a great chance to craft your specific/optimal configuration of modules and features.
Read also: ➡️ The Complete Guide to Hospital Management Software Development
Let's check out some potential modules, components, and features of medical staffing/scheduling solutions:
Applicant Tracking System (ATS). A module that helps medical staff recruiters to manage the entire recruitment process, compare the skill sets of different candidates, highlight their strong and weak points, and track their application documents. A good ATS enhances the analytical toolbox of recruiters in healthcare, allowing them to make educated decisions on each candidate.
Assessment Management. A medical staffing module that covers a variety of HR assessment processes, including testing of healthcare worker knowledge and skills, assessment of their weekly/monthly performance metrics, and provision of other data affecting decisions on medical employee remuneration, bonuses, and promotions.
Background Checks in Healthcare. This is usually an integrated part of the ATS module. It executes an automated search of candidate data in different public or authorization-protected databases, including criminal records, financial history, court verdicts, or other sensitive matters that might affect the hiring decision.
Automated Job Posting. It can be a tough task for medical staff recruiters to find appropriate candidates for healthcare positions, as the market is very competitive with an ever-growing demand for qualified physicians and nursing staff. Hiring requires duplication of every job posting in multiple job posting platforms and boards, including LinkedIn, Indeed, and many others. An automated job posting feature will let recruiters publish one medical job posting on multiple websites simultaneously with one or a few clicks via an API-integrated solution.
Interview Scheduling. Usually, this component combines the inner healthcare HR process (e.g., interview planning and tracking) with meeting the scheduling/notification capabilities of Google Calendar or similar solutions via API. This type of module allows HR specialists to easily navigate interview history. It also supports interview status, records, notifications, and more.
Resume Search & Parsing. This function allows for simultaneous meta-search of qualified candidate resumes/profiles across multiple platforms and websites. With it, healthcare staff recruiters can choose required locations/skills while turning ON/OFF required filter options to obtain search results from many websites at once.
Staff Scheduling. One of the key features/modules of medical staffing software is a shared timetable/schedule that helps coordinate multiple individual healthcare worker/physician schedules. It should support a few different ways to update schedules: manual updates by healthcare practitioners and/or administrators, plus other kinds of automated scheduling when required.
Medical Staff Communications. An efficient medical staff management solution allows healthcare employees to efficiently collaborate on their schedules and with their managers. This includes requesting shift trades/swaps, filing and fulfillment of time-off requests, claiming free shifts, and more. All of these operations can be easily completed online with a smartphone. Updates can be communicated via emails, SMS, or mobile push notifications.
Automated Staff Schedule Planning or Rebalancing. When it comes to a healthcare organization with dozens or even hundreds of employees, it's pretty hard to manage their schedules and shifts manually. An automated staff-scheduling feature can build a timetable with employee shifts (or rebalance existing ones) based on smart algorithms.
Billing & Payroll Management: Time-tracking of medical personnel is critically important, as it allows detection of overtime and prevents burnout of healthcare practitioners, who are put under exceptional pressure these days. With verified time/shift-related information in the system, it's easier to calculate and provide payment to physicians and nursing staff.
Read also: ➡️ Healthcare Payroll Software Development: The Complete Guide
Do you need help with medical staffing software configuration?
At TATEEDA GLOBAL, we are happy to help you set up the right configuration of system modules and healthcare staffing software. If you have any questions or ideas for your medical software project, please contact us for a free consultation, or review our project portfolio: 👇
Delivered Healthcare Software Portfolio
The leading American healthcare companies benefit from working with us.

How to Design Medical Staff Scheduling Software Architecture
When you build medical staffing software, adhere to the following algorithm:
Define the desired features of your medical staff management software.
Configure software modules (subsystems) to be involved.
Define which of the software modules can be delivered by API-based integration with existing solutions, and which ones should be developed from scratch.
Model client/server relations in the system and define requirements for a cloud-based solution on the back end.
Identify the front-end requirements (user interfaces, mobile/web platforms).
Identify whether an IoT device should be integrated with your medical staffing solution (for example, tablets with protected access.)
Plan a hierarchy of user-based roles.
Identify all additional features (such as staff notifications).
Design user interfaces: mobile, desktop, web-based, and so on.
Gather a team of skilled developers, UI/UX designers, project managers, and quality assurance engineers/testers experienced in health tech to carry the project out.
If you're unsure about the requirements or configuration of your medical staff management/scheduling system, or you're looking for a full-cycle team that can build you a medical staff-management solution, consider TATEEDA GLOBAL.
TATEEDA's Experience in On-demand Nurse Staffing Software Development
TATEEDA GLOBAL has a great deal of experience with U.S. customers like AYA Healthcare. We helped them to create a complex hybrid solution to manage their largest travel nurse assignment base.
Some of the business modules and products included in AYA Healthcare were: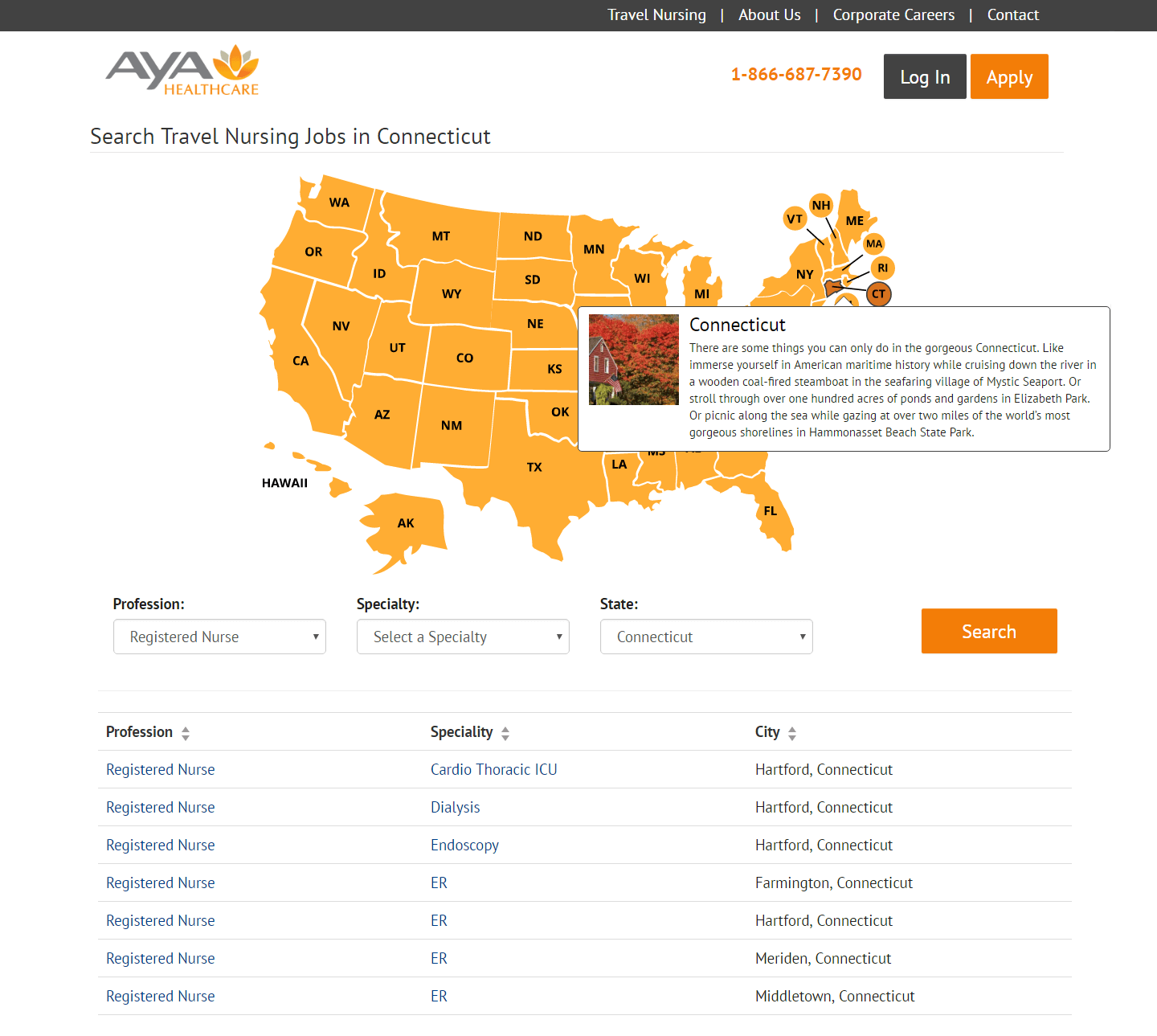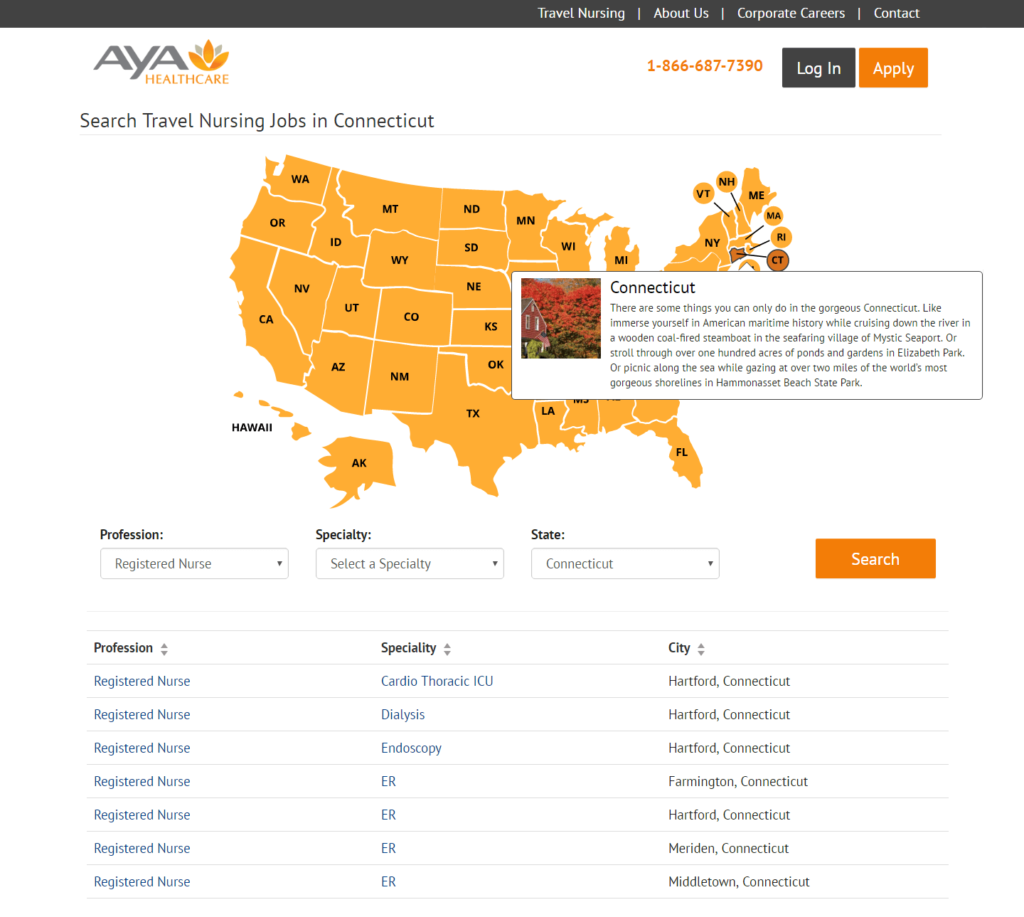 Financial reporting + time tracking modules (job assignments for travel nurses)
Mobile application/workspace for medical personnel to find temporary jobs
A portal/workspace for medical representatives for clinical use
A multi-level job verification system with a role-based user hierarchy.
These solutions allowed AYA Healthcare to achieve significant improvement in operational efficiency while almost doubling their number of signed contracts in less than three years.
Read also:
➡️ mHealth App Development: The Ultimate Guide
➡️ Custom EHR/EMR Software Development: The Complete Guide
If you're interested in building nursing staff management software for your healthcare practice, contact us at TATEEDA GLOBAL.
Why Hire TATEEDA GLOBAL To Create Custom Medical Staff Management Software?
TATEEDA GLOBAL is a custom medical software development company based in San Diego, California.
We possess all the necessary resources and health tech expertise to deliver the most sophisticated Medical Staff Management Software solution for your medical practice.
With our help, healthcare staffing-management software development is no longer a hard or tedious problem, but a simple, streamlined project controlled by true professionals.
Here are some of the healthcare software solutions we can help you with:
Contact TATEEDA GLOBAL today and augment your staff with the world's top IT professionals!