A Complete Guide to Adopting ERP Software Systems for Healthcare Business Operations
In this article, we'll discuss how to adopt ERP for healthcare organizations, including high-level architecture for ERP systems along with their business impact, benefits, and technical nuances. In addition, we'll consider projected costs and offer a step-by-step plan for efficient healthcare ERP implementation.
If you're seeking qualified help to deploy a medical ERP system in your organization, we can help…

✔️ Choose and/or build a custom healthcare enterprise resource-planning solution
✔️ Configure medical ERP components and modules
✔️ Manage PHI migration between systems
✔️ Execute API and cloud integrations…and more.

Contact our skilled IT engineers for a (free) deeper consultation!
Enterprise Resource Planning (ERP) systems in healthcare organizations offer functionalities similar to systems in other industries and companies:
Strategic planning and operational analysis for medical organizations
Supply-chain management in hospitals and medical centers
Clinical assets and inventory management, including medication supply and bed management for hospitals and other inpatient care practices
Financial workflows, patient billing, insurance claims, and medical payroll management systems
Clinical processes: patient care, treatment, and relationship management
Healthcare human-resource management (physician and nurse shift planning, working hours calculation, medical skills, promotions, benefits, and more.)
What is the main problem to be solved by healthcare ERP?
Healthcare enterprises generate enormous amounts of valuable and highly confidential data. For example, a single patient can generate up to 80 megabytes of medical data each year, including clinical imaging and electronic records. You can multiply this number by many thousands when it comes to major healthcare data operators like hospitals and community health centers. 🏥
Here is another outstanding figure to think of…hospitals annually accumulate nearly 50 petabytes of medical and operational data! This primarily covers the business domains of financial information, patient health data, healthcare staff records, and clinical assets, like medical instrument turnover, sanitation chemicals, and pharma inventories found in hospitals and other medical practices. 💊
Important healthcare business data is often accumulated and stored in disparate software solutions, leading to the formation of isolated databases called data silos. These silos of information can become a costly problem for healthcare organizations, as they restrict cross-department collaboration and analytics. This issue can be eliminated with the help of healthcare ERP adoption, which allows for productive data exchange and transformation instead of maintaining isolated data.
💬 Are you interested in establishing ERP for healthcare management systems in your company?

Building and/or configuring a healthcare ERP solution requires skilled assistance in software engineering, deep technical consulting, and onsite medical application development. If you are not sure where to start with your ERP project, you can discuss the details with our health-tech strategist.

Tell us more about your project and book a free chat: 👇
Slava Khristich
Healthtech CTO
Based in San Diego, Slava knows how to design an efficient software solution for healthcare, including IoT, Cloud, and embedded systems.
ERP Solution Types and Approaches Available to Healthcare Organizations
Healthcare enterprise resource planning software can come in a wide range of shapes and configurations. Modern healthcare ERP solutions include cloud platforms and up-to-date medical-system interoperability protocols like HL7 FHIR, which allows for smooth data exchange between different tiers and divisions of healthcare organizations. Let's learn more about ERP software in healthcare and biotechnology domains…
Is a healthcare ERP solution a single software package?
NO. The business concept of enterprise resource planning (ERP) in healthcare doesn't require the system to stand alone as a singular software product. Instead, it's a modular (multi-component) software solution that…
Captures, centralizes, and organizes multiple streams of data from different departments and branches of a healthcare organization (usually, this covers dozens or even hundreds of independent processes.)
Works as a data-sharing point or information hub that interconnects multiple healthcare applications or modules.
Adds previously unavailable business features, functionalities, and business-process facilitation.
Is it possible to merge or connect my current healthcare applications to create an ERP solution?
YES. Since a typical ERP system is a modular solution, you can interconnect multiple existing applications in your practice to get a holistic ERP platform, including accounting, patient records (EMR), medical HR management tools, and more. This strategy is known as an ERP system integration.
This method is optimal for healthcare organizations that…
Have already invested in a variety of different software solutions
Want to coordinate their business processes and obtain a more comprehensive view of their operations
Don't want to do any deep rebuilding or replacing of any current products.
In other words, there exist two major approaches to healthcare ERP system implementation, and the exact model for your case must be identified and discussed with a qualified IT consultant or your CTO…
| | |
| --- | --- |
| Current IT Environment | Innovative Approach |
| Integrate existing disparate business software systems. This may also require upgrading legacy medical applications. | Choose or build a healthcare ERP system from scratch, including custom system configuration and data migration. |
Is cloud technology a must for healthcare ERP adoption?
☁️ While cloud infrastructure is not necessarily required to deploy an ERP system for healthcare operations, it can provide significant benefits.
Cloud technology allows ERP systems to be accessed from anywhere with an internet connection. This is particularly useful for…
Healthcare organizations with multiple branches
Remote employees and/or travel nurses
Remote patient-monitoring solutions
Saving on hardware and software maintenance costs
Easier and more secure data-sharing and collaboration between healthcare providers, patients, and other stakeholders.
🖥️ Otherwise, ERP can work with onsite hardware and server settings deployed within healthcare organizations (especially if ERP is established on the basis of legacy systems). This strategy is typically adopted by larger healthcare companies that can afford to keep their IT infrastructure on-premises.
Cloud solutions that can be used for healthcare ERP
There exist different cloud solution architectures in healthcare, including…
ERP services working in the context of IaaS, PaaS, and SaaS models
Purely cloud-based ERP systems fully deployed on public cloud platforms
Hybrid cloud ERPs that combine a mix of private and public cloud platforms.
All cloud models and configurations have their pros and cons. Identifying the best option for your needs must be done with a skilled cloud technology professional…
💬 Do you want to deploy a medical ERP system in your organization?

To determine the best approach for building an ERP platform in your healthcare organization, contact our skilled health-tech engineers and developers for details and assistance.

Learn more about our health technology services here: 👇
Custom Healthcare Solutions
See how we can engineer healthcare software, validate your ideas, and manage project costs for you.
The Benefits of Implementing ERP Software in Healthcare: Valuable ERP Features and Goals
Why should you implement ERP for healthcare operations? Let's see how popular business realms can be enhanced by implementing ERP software for the healthcare industry, including health-tech companies and care providers of any size and specialization:
| | |
| --- | --- |
| Streamlined operations | Organization-wide synchronization of different clinical and administrative records, departments, and inventories. |
| New technical capabilities | Sophisticated automation and integration techniques for healthcare operations, including automated administrative notifications and connectivity with medical devices. |
| Customization and data insights | Customizable inventory reports, including consolidated data analytics for hospitals and medical centers. |
| Business strategy and augmented decision-making | AI-assisted solutions: business intelligence and educated predictions, healthcare business planning, and more. |
Advanced Medical Inventory & Supply Management: Healthcare ERP Capabilities
ERP systems can help track and document inventory levels for medical supplies, equipment, and pharmaceuticals in real time.
Create an audit trail by following a series of electronic workflow signatures and approvals as required by your organization's protocols.
Introduce drilled-down functionalities to let managers zoom in on documents, reports, and associated inventory data details.
Notifications and intelligent warnings for administrative staff to help maintain optimal inventory levels, prevent stockouts, and reduce waste.
Automated reordering and intelligent vendor profiles: ERP systems can help you automatically generate purchase orders once inventory levels fall below a certain threshold and send them to the best suppliers based on specific information, pricing, and delivery schedules.
Healthcare ERP: Enhanced Financial and Technical Performance
Better medical equipment maintenance: ERP systems can help medical technicians manage and execute maintenance schedules and repair histories for healthcare equipment and IoMT settings. This helps healthcare organizations prolong the lifespan of medical equipment, keep accurate records for maintenance activities and expenses, and prevent costly device downtime.
Expiration dates of pharmaceutical products and instruments: ERP systems can help medical managers accurately track expiration dates (and other details) for pharmaceuticals and medical supplies. This helps healthcare organizations like hospitals prevent the use of expired or low-quality products, thereby promoting safety for patients.
Cost analytics and overhead reduction: ERP systems help proactively control the cost of healthcare human resources, essential medical supplies, equipment, and pharmaceuticals. This allows healthcare organizations to analyze their spending patterns and identify opportunities to optimize costs and improve profitability.
New financial capabilities: Thanks to ERP software features, healthcare business managers can oversee complex financial flows, including a variety of medical billing and payment options integrated with patient portals and other solutions for financial sustainability.
Do you need help with healthcare ERP system adoption?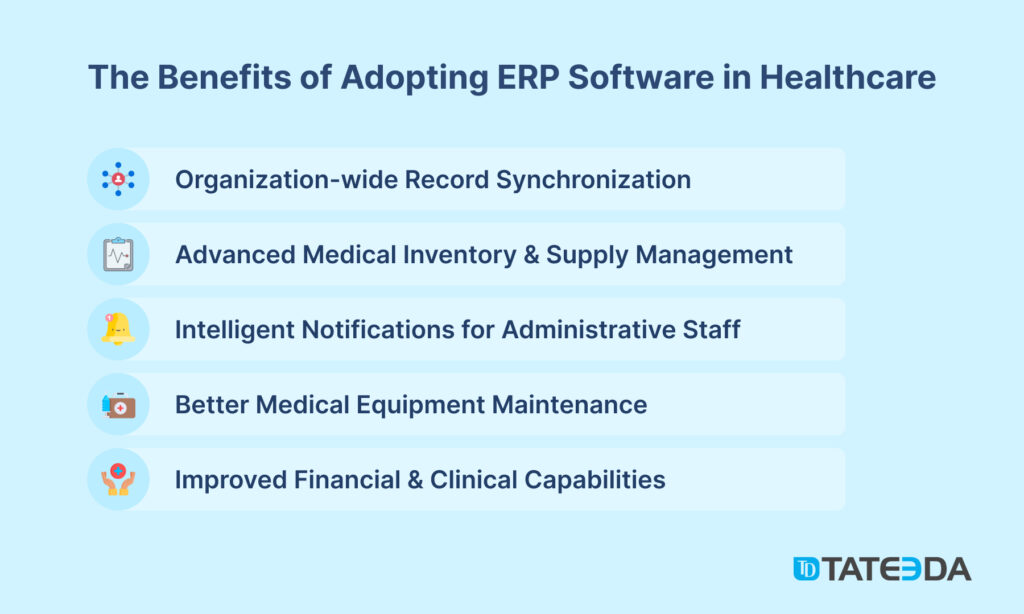 Delivered Healthcare Software Portfolio
The leading American healthcare companies benefit from working with us.
Healthcare ERP Software Architecture: Layers and System Components
There are plenty of ERP architecture aspects to be taken into account before adopting ERP for healthcare. The details and specifics of any ERP implementation plan heavily depend on the existing IT landscape, business goals, and budget available to your project or healthcare organization.
Healthcare ERP Model: Presentation, Application, and Data Layers
📊 Presentation Layer: In the context of this highest technology level, you must integrate ERP systems into healthcare processes and take care of…
The convenience of the interface between the user and the system
Making sure all target users can fully benefit from their specific portion of ERP functionality 
The presentation layer, including presenting information (dashboards, medical data visualization, mobile interface, menus, sidebars, and so on) to the user and collecting information from the user (electronic forms for patients and medical staff.) 
⚙️ Application Layer: The application layer is the middle layer of ERP healthcare software architecture. It is responsible for…
Processing user requests beyond UI and providing appropriate responses (involving the software engine, system algorithms, middleware, and user roles).
Interoperability between various ERP modules such as patient management, billing, insurance, laboratory information system, pharmacy management, and more.
Making sure each ERP module performs its specific functions and interacts with other modules to complete the process in the most optimized manner.
💿 Data Layer: The data layer is the lowest layer of ERP healthcare software architecture, covering…
The set of technologies for storing and managing ERP database(s), called Database Management System or DBMS.
Data-protection techniques that make ERP interactions compliant with HIPAA.
Interacts with the application layer to provide data to users.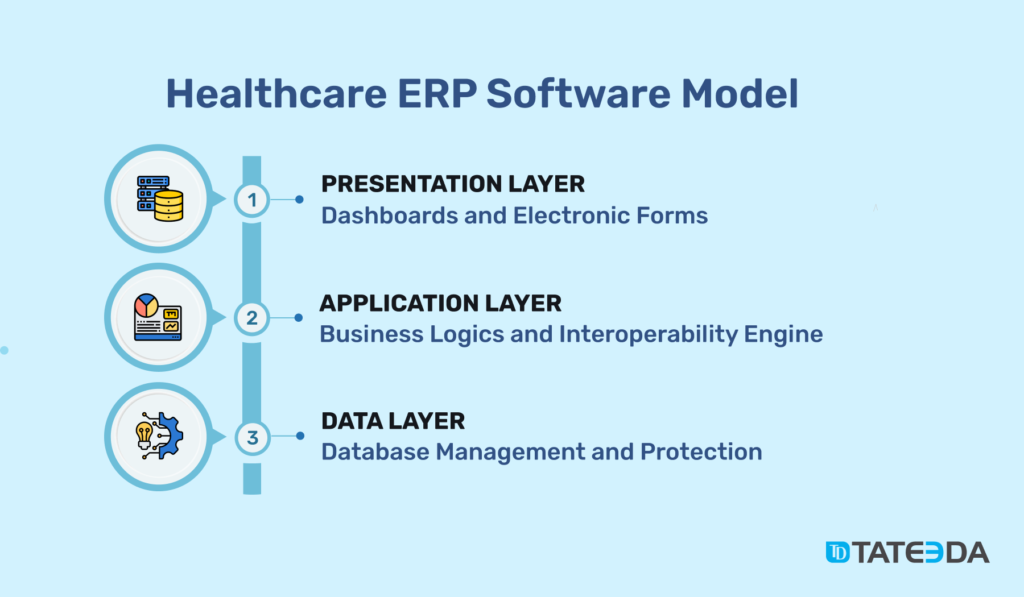 Major Healthcare ERP System Components
There exist different ERP configuration types, but most include these major system components…
Database Management System (DBMS): The DBMS is an ERP software component responsible for storing and retrieving business and medical data from the database. It also includes a data dictionary that describes the structure and relationships between data instances.
Application Server: The ERP application server component is responsible for executing the business logic of the whole ERP orchestra. This component handles tasks such as data validation, data processing, and data storage.
Dashboards & Forms: This component provides a user-friendly toolbox for medical and administrative specialists to interact with ERP functionality, including appointment scheduling, patient registration, billing, medical records, inventories, and more.
Integration Engine: The integration (or interoperability) processor is a virtual component integrating the ERP server and database with other external systems such as electronic health record (EHR) systems, financial systems, and medical human resource management systems.
Role Management: This component protects the ERP system from unauthorized access and maintains different features for different roles, including mobile and web-based applications.
Reporting & Analytics: This component provides algorithms and tools for generating various reports such as financial, patient, and operational analytics as well as conclusions, spreadsheets, and visualizations.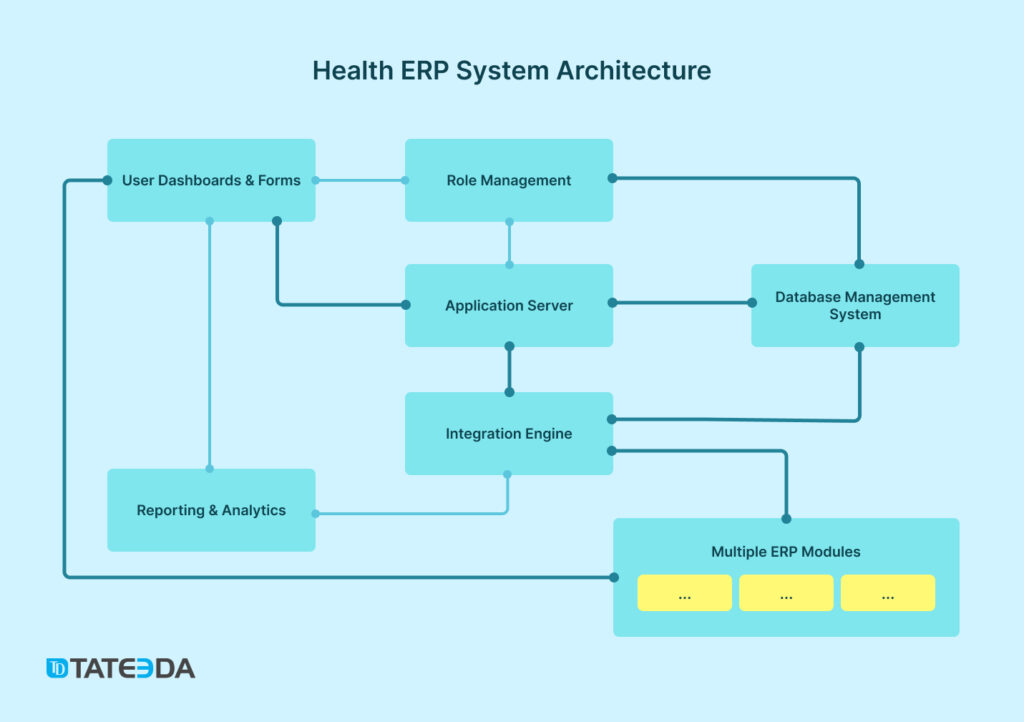 6 Steps to Implementing ERP Software for Healthcare
Building ERP projects in healthcare is a very individualized process that requires a skilled engineer to attentively estimate and review numerous details and decide which solution will work best for your organization. Nevertheless, we also offer a generalist plan for medical ERP system adoption. High-level healthcare ERP system design and development steps include…
Step #1: Articulate & Document Your Objectives
Define basic ERP requirements and identify the specific needs of your healthcare organization in terms of your current business processes.
Involve skilled stakeholders from different departments of your healthcare organization, such as finance, operations, clinical, and IT divisions.
Let them help you identify your exact needs and requirements.
Consider the involvement of professional healthcare business consultants in this step to ensure you follow up-to-date ERP recommendations.
Identify the ERP modules and features required for optimization of healthcare organization workflows as well as the data sources that will need to be integrated into the system.
Define how to achieve regulatory compliance, including HIPAA and other industry- or location-specific rules such as HL7 protocols for healthcare.
Step #2: Choose ERP Software Configuration, Approach & Vendor
Audit the current IT environment in your healthcare organization.
Choose between integrating existing applications or installing new ERP products. Also, consider hybrid combinations of old and newly adopted modules.
Make sure your decision-making process is supported by a CTO or a qualified ERP consultant.
At the very least, make sure your ERP includes the following integrations or modules: Custom electronic health record system (EHR), human resources (HR), patient relationship management (CRM), business intelligence (BI), clinical process management, inventory management system, general accounting, and financial management.
Let an experienced software engineer draw a map of interrelationships between different ERP modules, databases, records, and registers.
Configure and customize the ERP solution if an off-the-shelf product is used.
For custom ERP products: Identify everything to be delivered in the context of Presentation, Application, and Data Layers of the ERP, like dashboards, user forms, authorization dialogs, integration engines, business logic components, back-end settings, patient portals, database management system, and more.
Step #3: Plan Your ERP Implementation Process
Create a doable plan divided into smaller technical tasks (this can be delivered by a skilled software engineer.)
Gather a team of qualified developers and other specialists including UI/UX designers and QA testers.
Find a qualified technical project manager (PM) capable of controlling the execution of your project plan.
Consider outsourcing your healthcare ERP software development project to experienced IT outsourcers like TATEEDA GLOBAL. We offer a full spectrum of tech specialists for hire + staff augmentation, including PMs, UI designers, and senior health-tech developers of all types.
Step #4: Train & Educate Your Medical Staff
Make everything available to educate or re-educate your current health data operators so they can efficiently use new ERP tools and interfaces.
Prepare instructions and to-do lists to back up their actions.
Set user feedback mechanisms and handle their requests.
Step #5: Test & Pilot Your Healthcare ERP Solution
Deploy a team of QA engineers to test every component of your system and make sure no data leaks, code loopholes, or bugs are found.
Test and iterate until all detected drawbacks are eliminated.
Allow all key healthcare organization stakeholders to participate in the ERP testing process so they can immediately provide feedback and identify any potential issues in the course of their normal workflows.
Step #6: Monitor and Evaluate Your ERP System
Deploy a medical ERP maintenance protocol and improvement plan.
Monitor the sustainability of ERP project performance during the post-implementation phase and collect information about drawbacks.
Evaluate efficiency and perform the necessary amendments to optimize healthcare workflows and streamline ERP performance. Here you can see an example of how relations between ERP modules can be visualized in software engineering diagrams: 👇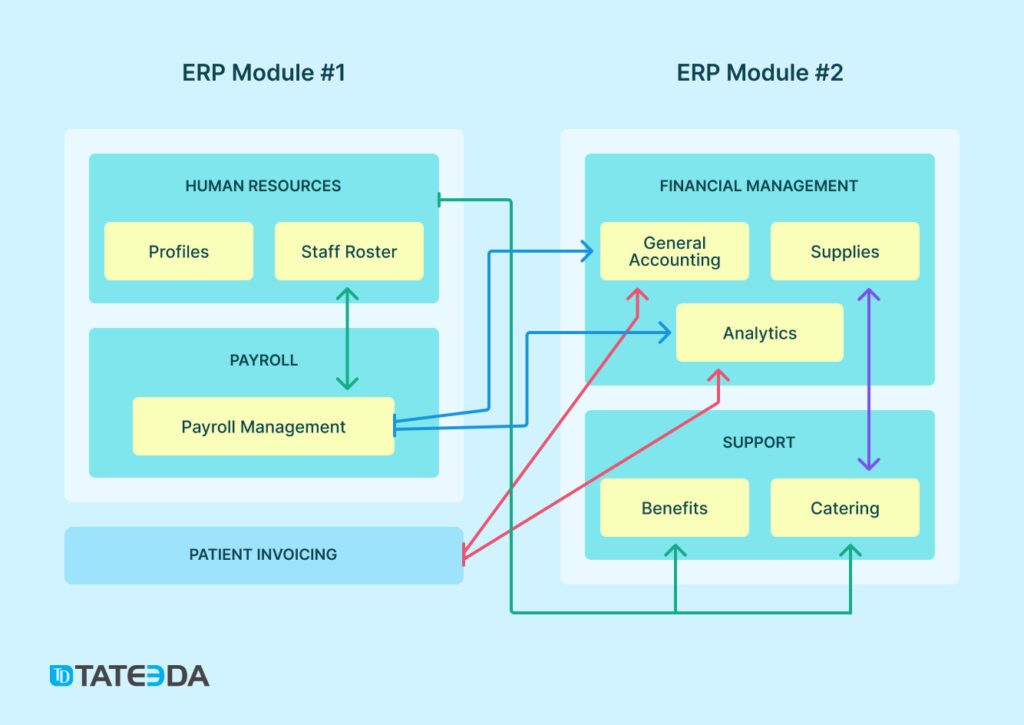 Consider Custom-built ERP Systems for Healthcare
Implementing custom ERP software in healthcare (or ERP solutions that allow for a high level of customization) provides numerous benefits to medical organizations. Despite the higher cost of a custom ERP solution, this approach provides the following advantages…
Superior UI convenience and configuration: Thanks to custom user dashboards, reports, and controls available to healthcare employees, it's possible to accelerate manual input, reduce error, make operations more comprehensive, enhance data representation, and more.

Flexibility and scalability: Custom-built ERP systems can be highly flexible and adapt easily to change, including local regulations, specific technologies, and business models. With custom cloud platform options, it's possible to scale the following components up or down: database space, the number of simultaneous connections, and other parameters according to the actual needs of your organization.

Fully individual mix of technologies: Building a custom ERP configuration ensures that your custom ERP system will remain relevant and useful over the long term. Potential technology extensions include telemedicine solutions, IoT, and medical mobile application development.
💬 Are you interested in setting up an ERP system for your healthcare organization?

We can help you create, deploy and/or fine-tune an enterprise resource planning system for your medical company or institution based on your specifics and requirements, including scalability, custom UIs, and a sophisticated combination of selected technologies.

If you'd like to discuss technical details, please book a chat with one of our engineers: 👇
Slava Khristich
Healthtech CTO
Based in San Diego, Slava knows how to design an efficient software solution for healthcare, including IoT, Cloud, and embedded systems.
TATEEDA GLOBAL's Experience in Building Resource Management Systems
We have deep experience in developing resource management software for pharmaceutical and other high-tech industries. Our solutions included multiple scenarios for asset movement:
Pharma product and inventory planning
Medical asset procurement and disposal processes
Document and invoice circulation
Prescription and claim submission practices
Data-sharing pools across different vendor systems
Various types of automation.
TATEEDA GLOBAL has executed numerous tasks in the context of cloud-based system deployment, back-end development, and API integrations, including…
Server application optimization
Cross-system supply chain data exchange
Order-processing workflows and reports
Moving key business operations to the cloud
Adding a shipment module for prescription drugs
Implementing optical handwriting recognition module
Building delivery tracking and warehousing modules
Improved financial performance
Setting up IoT-based device integrations
Data visualizations and analytics.
Learn more about our projects:
➡️ Pharma business automation web platform→
➡️ Online medication fulfillment system→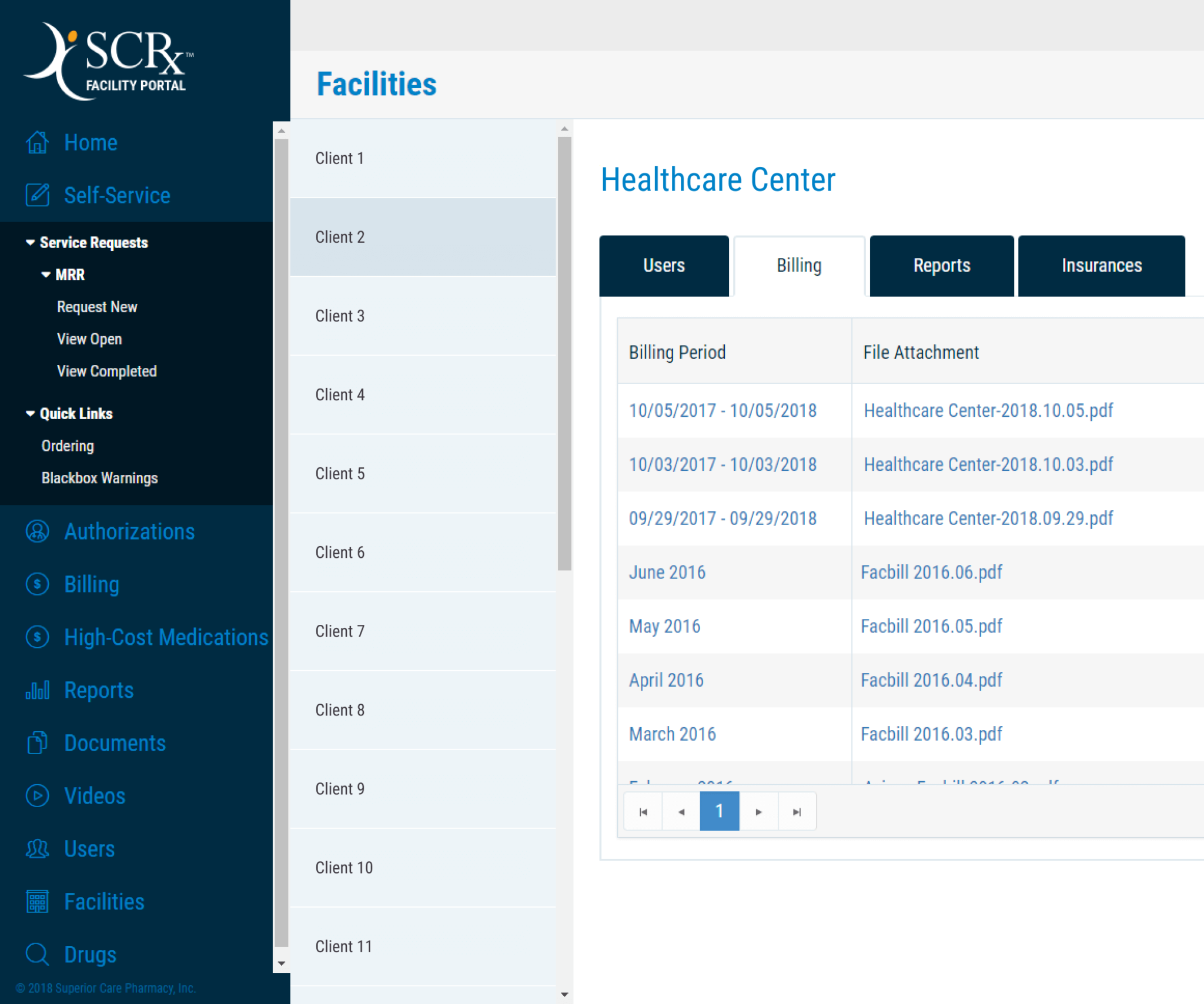 FAQ: Final Words about ERP for Healthcare Management System
What are the best healthcare ERP solutions?
There exist several popular ERP vendors offering solutions for different industries, including healthcare. The largest ERP vendors in the U.S. include SAP and Oracle; however, there are many smaller vendors.
How long does it take to implement ERP in a healthcare company?
The implementation timeline for an ERP (Enterprise Resource Planning) system in a healthcare company can vary depending on several factors, including the size and complexity of the organization, the specific needs and requirements of the system, and the level of readiness and engagement of the company's staff. On average, the implementation of an ERP system in a healthcare company can take anywhere from 6 months to 2 years.
How can ERP developers help with the implementation of this kind of system?
ERP developers play a critical role in the successful implementation of ERP systems in healthcare organizations. this includes IT staff augmentation, process planning, technical requirements, system engineering, ERP software customization, data migration, testing, and much more.