Healthcare EDI Transactions: Privacy with Less Paperwork
Anyone who has sought medical care for any purpose knows that scads of paperwork are generated with every case. Not only does every medical visit involve stacks of forms full of fine-print paragraphs that are nearly impossible to read, but billing systems generate even more paper waste. Those forms and documents pass through many hands, exposing patients' private information and increasing the risk of human error.

Healthcare Electronic Data Interchange (EDI) technology ensures security and privacy of electronic data transmission. It significantly reduces healthcare paperwork, and the filing and storage nightmare that goes with it. EDI also protects patient privacy and allows patients to retrieve and review their own medical records. Equipping your clinic or practice with EDI software will dramatically improve your workflow, enrich the quality of care you are able to provide your patients, and increase patient loyalty.
Healthcare EDI Background
Concerns about healthcare security and privacy are nothing new. In fact, they were addressed with legislation, long before the public worried about hackers and Internet data breaches. In 1991, the Workgroup for Electronic Data Interchange was created under President George H. W. Bush. The NPO was tasked with reducing healthcare costs in the United States. In 1996, as the electronic transmission of healthcare information increased, the group played a pivotal role in the enactment of the Healthcare Insurance Portability and Accountability Act (HIPAA).
HIPAA's primary objective was to institute national standards to protect patients from invasion of privacy, a right guaranteed by the US Constitution's 4th Amendment. HIPAA safeguards patients' sensitive health data from being shared without the consent or knowledge of the patient. The HIPAA system assigns identifiers to professionals who
have access to private health information, including insurance providers, clinicians, administrators, and anyone else privy to personal health details. The identifiers ensure that patient records are viewed only by individuals who have been authorized by the patient.
EDI amplifies the compliance of the healthcare system to HIPAA guidelines by streamlining the handling of medical records and documentation. It reduces the exposure of private patient records to unauthorized entities while increasing the speed, accuracy and efficiency of record-keeping.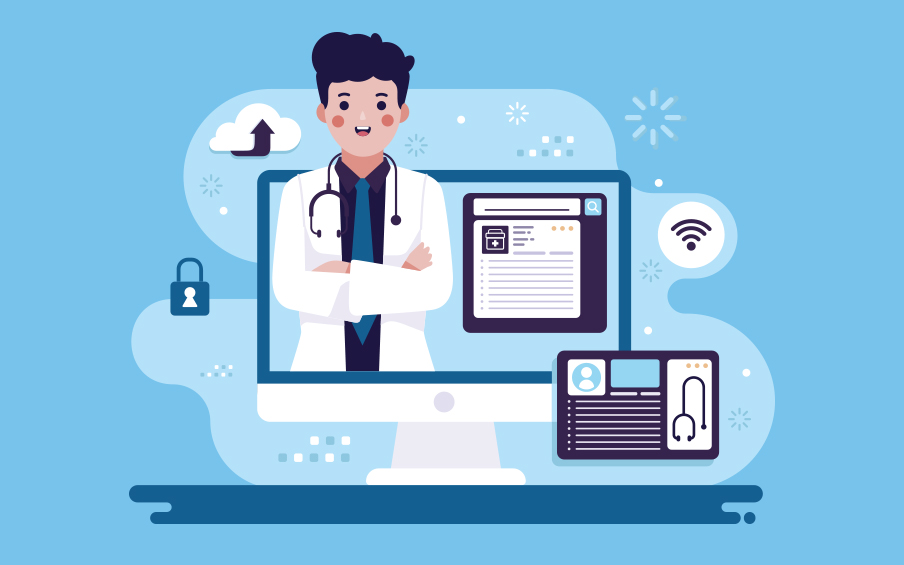 Exactly What is EDI in Healthcare?
People everywhere have grown accustomed to having instantaneous access to data, especially when it comes to personal records. With today's technology, there is no excuse for keeping them waiting. Yet the healthcare sector has lagged behind in adopting technology to organize, store and administer patient records.
In addition to establishing standards for protecting patient privacy, HIPAA acknowledges the legal, enforceable right of patients to request and gain access to their own healthcare records. For most of us, that means immediate access, without having to wait for days or weeks.
To meet HIPAA demands for access and privacy, insurers and healthcare providers are turning to EDI solutions for secure and private electronic transmission of patient records. EDI also makes it easier for medical professionals to share vital patient information, to prevent misdiagnosis, incompatible medications, ineffective treatments and other vital errors that endanger patient health.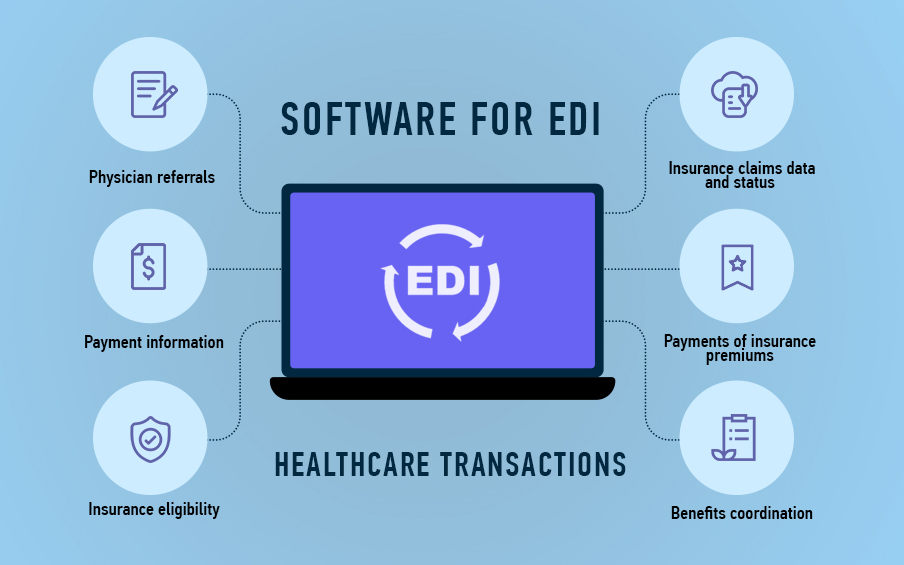 Software for EDI Healthcare Transactions
Healthcare software development must take into account EDI standards for HIPAA compliance. In addition to safeguarding sensitive information about patient health, EDI transactions are used for:
Physician referrals
Payment information
Insurance eligibility
Insurance claims data and status
Payments of insurance premiums
Benefits coordination
With so many moving parts for each patient visit and treatment, it makes sense to adopt a software system that can manage all aspects of the patient journey, from their first encounter with the system through their final payments and beyond.

Advantages of EDI in Healthcare
EDI software is transforming the business end of healthcare, reducing busywork and costs, so health care providers can spend less time and money on administration, and more time focusing on patient health.
Benefits of EDI include:
Standardized procedures: Standard EDI formats dramatically improve efficiency, simplifying healthcare management, reducing costs, and improving quality of patient care.
Enhanced security: Transmitting data between providers, insurers and patients remains secure and private with EDI software solutions, ensuring HIPAA compliance.
Improved accuracy: EDI solutions help speed up transactions while eliminating human error, including keying errors, lost documents, incorrect entries and other errors that slow down and stall data transmission. EDI streamlines the documentation process, while reducing human intervention.
Reduced costs: Hospitals, clinics and private practices can dramatically lower the cost of processing and filing healthcare documents, while reducing the time it takes document processing.
EDI solutions put everyone on the same page, so that healthcare providers are able to prioritize patient care. At the same time, patients are able to access records and co-manage their healthcare needs. EDI is a win-win for everyone, bringing today's healthcare systems up to speed to meet the demands of the 21st Century.

Customized EDI Software Solutions from Tateeda
Whether you are a small private practice or clinic, or a large healthcare system that serves thousands of patients, Tateeda can design and develop a custom EDI software solution to meet your unique needs. Tateeda's EDI software is safe, secure and HIPAA compliant, to protect you and your patients from data privacy breaches.
Contact Tateeda today for a consultation and free estimate. Reduce costs and paperwork, increase accuracy and efficiency, and bring your organization up to speed to meet today's demands for access, privacy, speed and compliance in healthcare management.