The 7 Best Healthcare Software Development Companies in California for 2022
In this article, we'll consider some of the best healthcare software development companies in California. We'll also provide a brief review of their services, case studies, technologies, average prices, and contact details to help you choose and hire a healthcare software development company for your next project.

If you're looking for a medical software development company in California, you're in the right place, but before you look any further…

Please NOTE:
✔️ This list includes only companies based in the State of California or with an office there, according to information provided on their websites.
✔️ This list of Californian healthcare development companies is in random order—they have been hand-chosen by our editors.
✔️ The goal of this list is NOT to endorse, compare, or rate these companies, but to support people looking to hire a healthcare software development agency in California.
✔️ We try hard to keep the information up-to-date, but—you know—things in the industry can change quickly, so if you find any incorrect references or statements, please contact us at info@tateeda.com.
✔️ If you're not happy about being on this list, please let us know so we can take your listing down as soon as we can.
In the next section, we'll explain the criteria we used to define companies as belonging to the healthcare software development sector of the Golden State…

The Best Healthcare Software Development Firms in California
Custom healthcare software development services are in high demand by American hospitals, clinics, medical companies, and public health organizations.

This isn't surprising. The U.S. healthcare industry is currently facing several huge challenges, including medical staffing shortages combined with an increasing number of elderly patients who require immediate attention and care.

In this context, certain types of healthcare software solutions can help alleviate the growing pressure on medical professionals by providing additional patient observation tools, resources, and capabilities (learn more about the benefits of custom remote patient-monitoring applications here).
Some applications are designed to enhance communications between patients and healthcare providers, like mobile health apps offering helpful notifications, tips, news, and protected patient portals.
Other software systems are designed to better manage patient data and contribute to the rise of preventive, remote, individualized healthcare. This includes AI and other data analytics tools. Learn more about electronic health records management here: Custom EHR/EMR Software Development.
How do we identify vendors as healthcare software development companies?
Not all companies on the list are purely healthcare-focused businesses.

We looked at their technical profiles and marketing messages, including the availability of health-related cases in their portfolios.

Companies on the list claim they have the necessary tech background and expertise in one or more software development fields on this list:

🔹 HL7 and HIPAA-compliant solutions
🔹 Health information exchange and management solutions
🔹 Patient record management and EHR-integrated solutions
🔹 Healthcare communication apps and solutions
🔹 Diagnosis management software
🔹 Patient appointment management solutions…and more.

Let's see our editors' top 7 health tech companies in California…

#1. TATEEDA GLOBAL
💻 Competencies: IT Consulting, Health Tech Project Development, Management, Augmentation, Maintenance. Custom Web Development Desktop, Mobile, IoT, Multi-cloud, Embedded, & Hybrid Solutions, Healthcare Data-mining Solutions.
⚙️ Technologies: Angular, React, Vue, Node.js, Core JavaScript, C#, Node.js, JavaScript, TypeScript, Dart, PHP, SQL, Azure, AWS, Digital Ocean, Google.
🕑 IT Consulting Rate: $50 – $99/hour
Full-cycle (Architecture + UI/UX Design + Development + QA) custom medical software development company headquartered in San Diego, with considerable experience in delivering HIPAA-compliant web-based, mobile, and desktop healthcare applications.
TATEEDA GLOBAL has delivered software solutions for a multitude of U.S.-based healthcare startups and mature companies, including AYA Healthcare, Visiontree, and many others from the pharmaceutical, medical staffing, telehealth, and biotech fields.

TATEEDA GLOBAL's Healthcare Project Examples:
➡️ Medical Staff-management Platform
TATEEDA's solution allowed AYA Healthcare to double their number of signed contracts in less than 3 years.
TATEEDA GLOBAL helped one of the largest nursing staff providers in the United States build and maintain a web-based job management system with a sophisticated set of features. Learn more about this project →

Project Features
Automated financial reporting and time-management modules.
Distinct mobile applications for different user groups: nurses, admins, and healthcare representatives.
A protected portal for nursing staff and medical representatives for clinical use.
➡️ Patient Electronic Data-capture (EDC) Solution
This solution provided patients and physicians across the U.S. with protected web forms to provide/collect medical research-focused data.

TATEEDA GLOBAL's well-maintained HIPAA compliance allowed the company to become a tech partner to Visiontree, one of the most sophisticated healthcare data-management platforms worldwide. Learn more about this project →
Project Features
Electronic forms and questionnaires for collecting medical data throughout the patient journey.
Protected, error-proof online forms with a variety of hints, scripts, and data-input fields.
Implementation of productive automatic tests to decrease regression testing time.
More Case Studies:
➡️ Web/mobile patient portal Check →
➡️ Remote health-monitoring app Check →
➡️ Automated laboratory-testing system Check →
➡️ Pharmaceutical business-automation solution Check →
➡️ Pharmacy claims-processing and medication fulfillment Check →

#2. Sidebench
| | |
| --- | --- |
| Location: Santa Monica, California | Website: https://sidebench.com/ |
| Phone: +1 310-893-3589 | Email: hello@sidebench.com |
💻 Competencies: Development of Web and Mobile Applications, Systems Integration, UI/UX Design, QA.
⚙️ Technologies: Various languages/frameworks required for front and back-end development.
🕑 Hourly rate: $150 – $199/hour
Sidebench is a full-cycle (strategy, design, development, QA) IT consulting company based in Los Angeles. They have a great deal of positive feedback along with awards, and achievements, like Clutch #1 L.A. Custom Software Developers. Their portfolio includes several HIPAA-compliant projects including management apps for obsessive-compulsive disorder, a workout management platform, and more.
Sidebench's Healthcare Project Example:
➡️ A Mobile App for Parents Sponsored by L.A. Children's Hospital
Sidebench designed and developed a mobile application for Children's Hospital of Los Angeles (CHLA) to help parents with information about their baby's medical conditions, treatment, and care. The app features curated content, baby profiling with diagnosis-management features, predefined checklists/to-do's for parents, and other helpful tools.
#3. UruIT
| | |
| --- | --- |
| Location: Los Angeles, California | Website: https://uruit.com/ |
| Phone: + 1 310 409 2021 | Email: hello@uruit.com |
💻 Competencies: Development of Web and Mobile Applications, Machine Learning, Product Growth/Optimization, UI/UX Design, and Product Strategy.
⚙️ Technologies: Angular, Xamarin, Node.js, and other tech required for web and mobile development.

🕑 Hourly rate: $50 – $99/hour
UruIT is another L.A.-based IT consulting, software design, and development company that works with clients in various industries including SaaS, healthcare, and education. This company relies on a network of offshore offices, including South American branches in Medellin and Montevideo. Their portfolio includes several mobile health and healthcare-management app projects.
UruIT's Healthcare Project Example:
➡️ A Mobile App for Paramedics and Emergency Responders

UruIT created a mobile version of an existing desktop app for their client. It allows ambulance attendants and police officers to communicate with nearby hospitals about incoming patients and their status.

"The software has been used in world events like Hurricane Gustav, the Mississippi flood, NASCAR, the Boston Marathon, and others to track patients, supplies and personnel data."

#4. ActiveColor
| | |
| --- | --- |
| Location: Valencia, California | Website: https://www.activecolor.com/ |
| Phone: 661-621-2031 | Email: hello@activecolor.com |
💻 Competencies: Development of Custom Websites, Web Applications, Mobile Applications, Project Support, and Growth Consulting.
⚙️ Technologies: WordPress, NODE.JS, POSTGRESQL, and other technologies.
🕑 Hourly rate: $150 – $199/hour
ActiveColor is a Los Angeles-based creative web-development agency that refocused its services on medical apps and innovative digital products in 2020. They have extensive experience in the medical, restaurant, and entertainment industries, and are currently collaborating with the University of Chicago Medical Center and the American Cancer Society.
ActiveColor's Healthcare Project Example:
➡️ Patient Appointment-management System for Colonoscopy Procedures

According to ActiveColor's website, this web-based patient appointment platform was…

"…designed to facilitate the scheduling of colonoscopy appointments between clinics, servicing low-income areas and hospital doctors willing to donate their time for appointments and procedures."

#5. Tivix
| | |
| --- | --- |
| Location: San Francisco, CA | Website: https://www.tivix.com/ |
| Phone: +1 (415) 680-1299 | Email: connect@tivix.com |
💻 Competencies: Development of Web, Mobile, and API applications, DevOps, UI/UX design, Innovation Workshops.
⚙️ Technologies: Django/Python, Node.js, Angular, Polymer, React, Objective-C, Swift, Java, Ansible, Docker, AWS, MySQL, PostgreSQL
🕑 Hourly rate: $50 – $99 /hour
Founded in 2008, Tivix is a mature San Francisco-based software development company focused on Agile development of web and mobile applications. Their network of regional offices includes several locations across the U.S., Europe, and Asia. Their healthcare-related portfolio is not big, but it includes a couple of interesting projects, including a medical-data analytical application.
Tivix's Healthcare Project Example:
➡️ A Mobile Application/Portal for Finding Local Physicians
Tivix developed a React Native mobile app that allows users to look up local physicians in more than two hundred different specialties. Medical professional profiles include contact details, ratings, areas of practice, and patient reviews. Android and iOS versions of this app are currently available for download.

#6. INEXTURE Solutions
| | |
| --- | --- |
| Location: Los Angeles, California | Website: https://www.inexture.com/ |
| Phone: +1 (213) 282-7919 | Email: sales@inexture.com |
💻Competencies: IT Consulting and Project Augmentation. Development of AI, Machine Learning, Mobile Applications, and more.
⚙️Technologies: Python, Java Spring, React, Django, PHP, Liferay, Lavarel, and other technologies.
🕑Hourly rate: < $25/hour
Summary: INEXTURE Solutions (est. 2014) is an offshore software development company with the main office located in Los Angeles, California. They have extensive experience in many areas, from e-commerce stores to small healthcare projects like chatbots and medical software dashboards. The company relies on development centers in several locations, including Ahmedabad, India.
INEXTURE Solutions' Healthcare Project Example:
➡️ Medical Chatbot to Help Address Psychological Issues
According to their website, it is:
"Conversational AI to get information from users and provide proper support according to their medical issues."

#7. DreamSoft4u
| | |
| --- | --- |
| Location: Corona, California | Website: https://www.dreamsoft4u.com/ |
| Phone: (+1) 949 340 7490 | Email: enquiry@dreamsoft4u.com |
💻 Competencies: IT Consulting, Development of Mobile and Web Applications, Digital Marketing.
⚙️ Technologies: Xamarian, MS SQL, Python, Django, and other technologies.
🕑 Hourly rate: $25 – $49 /hour
DreamSoft4u is a small healthcare software development company with an office in Corona, California (yet their HQ is in Maryland) and an R&D office in Jaipur, India. Their area of interest includes custom healthcare software-development services for a wide range of healthcare clients, including hospitals, rural clinics, blood-processing facilities, and individual physicians.
DreamSoft4u's Healthcare Project Example
➡️ Health Insurance Billing App
The app features patient face sheets, policy expiration alerts, patient visit history, and more. According to their website:
"It allows doctors and billing administrators to conduct error-free billing for insurance claims."
The List Summary
As you can see from this brief list of healthtech development companies based in California, organizations vary in terms of size, background, field of expertise, pricing,and a range of other factors.
In order to support your decision-making process, we'd like to provide you with additional information and tips on how to find and hire a healthcare software app development company in the Golden State…

How Can a Custom Healthcare Development Company Help You?
Let's rephrase that: Are healthcare software development companies any different from other types of software development companies in the United States in general, and in California in particular?
The basic answer is as follows:
Healthcare development companies KNOW the industry as well as the regulations, pitfalls, and specific needs of American medical organizations BETTER than other IT companies.
A more specific answer to this question takes a few paragraphs to explain:
🔹 Compliance with local regulations. The healthcare industry is a conservative sector within a fairly conservative, massively regulated country (the U.S.), where legal compliance always comes first. With that said, it's important to partner with a software company that respects and understands the requirements of HIPAA as well as other laws and regulations.
For example, HIPAA regulates the software security standards required to manage patient health records. A company that's a newcomer to the world of HIPAA will spend plenty of time absorbing nuances and adapting their activities and products to these requirements. Are you ready to sponsor the extra hours to allow them to learn?
🔹 They are good with medical tech specifics. Did we mention how conservative healthcare organizations are? This affects the IT infrastructures they use, which include a considerable number of outdated, obsolete software solutions in the healthcare sector.
In many cases, the primary task of a healthcare-focused IT partner is to understand whether an organization really needs to build a new software product from scratch, or if it is enough to re-engineer and upgrade their current medical solution (move it to a modern platform, add more features, and so on).
🔹 Less risk. At TATEEDA GLOBAL, we know that even building an MVP for a healthcare facility or company is a complex process involving specific preparations and formalities. When you are dealing with a software development partner without a healthcare background, you'll have to invest additional time and effort to properly onboard them and help them avoid mistakes. If mistakes are still found, like HIPAA violations, they can entail painful penalties and fines.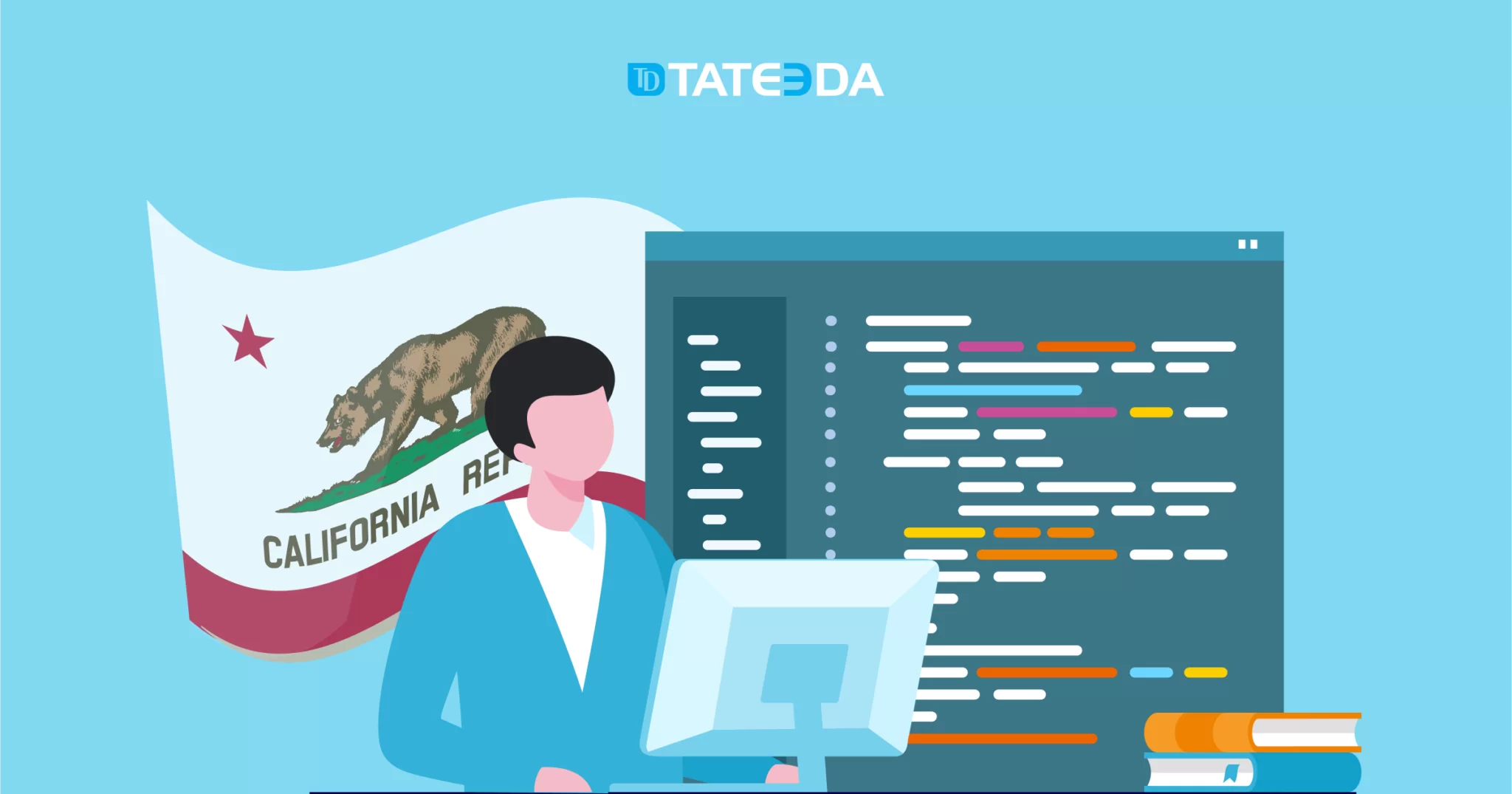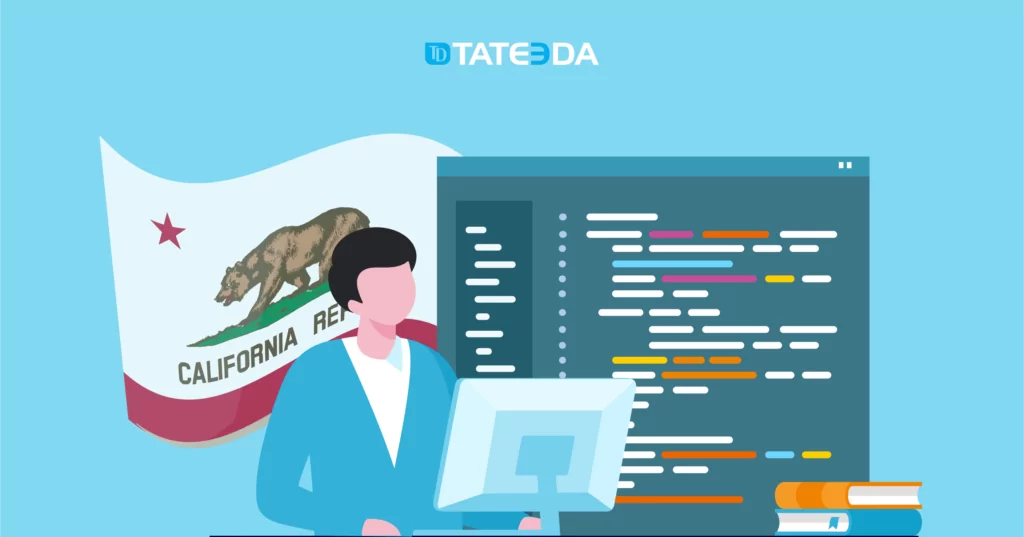 Learn more: How to Build a Lab Information Management System (LIMS)
How Much Does It Cost to Hire a Healthcare Development Company in California?
The cost of hiring a healthcare software development company in California depends on several key factors…
Local software developer rates. California is considered one of the richest states in the nation. It has the highest GDP of all other states, and features numerous luxury locations. Prices in California are pretty high for everything, including onshore software development.
Moreover, the Golden State is home to a group of large hi-tech companies that compete fiercely for the best software development resources and contribute to the elevation of workforce costs in the region. This also attracts more software development specialists to the state: California's overall pool of programmers exceeds 600,000, the highest in the U.S.
Average salaries of software developers in California can range from $100,000 to 200,000+ per year, with $50-60 per hour for mid-level specialists and more than $100 for top-level healthcare software developers. At the same time, many onshore software development companies will charge you more than $100 per hour (at least $150-200, depending on the size and complexity of your software project). In particular cases, the development of a complicated and/or enterprise-scale solution can cost you $300-500+ per hour with IT companies from California.
Software project size and complexity. The bigger and more complicated your planned software system, the more hours and skills it takes to build.
A software solution will cost you more if it includes:
🔸 a high number of interactive screens
🔸 multiple concurrent users and/or device connections
🔸 a complex structure of multiple software modules and components
🔸 complex logics, e.g. AI components and analytical features
🔸 professional-grade compliance
🔸 numerous lines of code to be written
🔸 engineering-intense planning and design
🔸 high-performance data operations
You can find more information about the subject in this article: How to Estimate and Manage Custom Software Development Costs.

Are there ways to manage software development costs?

Some Californian companies, including TATEEDA GLOBAL, offer a mixed model of software cost management that combine the benefits of onshore outsourcing (which is usually reliable yet expensive) with the advantages of offshore/nearshore development (which offers lower hourly rates, yet adds more risk).

TATEEDA GLOBAL's HQ office, which features dedicated project management and other local business specialists, is located in San Diego, CA, while our native R&D branch in Ukraine helps us with coding, QA, and other technical tasks. This allows us to keep project costs lower. You'll face zero difficulties with our remote team management.
Here is a rough estimate of software development costs according to market research. Please note that if you need an accurate quote, contact us!

| | |
| --- | --- |
| Software size/complexity | Estimated price of development |
| Small applications | $40-70K |
| Medium applications | $70-200K |
| Large applications | Over $200K |
Read also: The 7 Best Software Developers in San Diego, California.
How to Choose the Best Healthcare Developers in California
Here's a simple checklist of rules to help you hire a hospital software development company and escape any additional problems.

Identify the technical skills and expertise a healthcare software developer must have in order to execute your project.
Check the candidate's project portfolios and customer reviews.
Conduct thorough background research, and have sufficient evidence that you are dealing with competent medical software development professionals.
Ask companies for a proven track record of success in delivering healthcare software projects, including testimonials from previous and/or current clients (at least make sure they have a good understanding of HIPAA-backed software requirements.)
Check the technology stack they are operating (should fit the specifications of your project.)
Shape an acceptable framework for business cooperation according to the legal requirements of your project.
Coordinate your respective managerial approaches and style to make sure you can build a productive cooperation model.
Learn more: How to Find and Hire Healthcare Software Developers for Your Medical Projects
Build your Medical Software with TATEEDA GLOBAL
Skilled healthcare IT specialists are in high demand by modern healthcare organizations in the United States. The companies we have listed are just the tip of the iceberg…
If you need a professional software development company to partner with you on your healthcare project and/or project augmentation in California, TATEEDA GLOBAL is here for you!
We offer:
Full-cycle onshore development of healthcare software systems
Personalized connection with our project manager HQ in San Diego, CA
Medical software project assistance, augmentation, and product testing
Legacy medical software upgrades and reengineering
Long-term medical software maintenance services
Affordable project costs, thanks to our R&D branch in Ukraine
Vast onsite experience with U.S.-based IoT, healthcare, biotech, and pharma companies
Fast team deployment—within 48-72 hours
Contact TATEEDA GLOBAL today and build your software with us!