How to Develop Pharmacy Management Software: Benefits, Features, and Technologies
In this article, we'll discuss how pharma businesses in the United States and Europe can benefit from the implementation of a pharmacy inventory management system. You'll also learn everything there is to know about pharmacy management software development.
⚠️ If you require immediate help with pharmacy application engineering and development, please contact our IT experts for deeper project consultation and more information about our services!
The pharmacy business is booming worldwide, and in the United States in particular. The U.S. pharmaceutical market is accountable for 40+ percent of global prescription medical drug sales. It's the largest pharma market in the world and exists to support the ever-growing needs of U.S. medicine.
What are the numbers behind such massive economic activity?
Financial flows in the pharma industry are huge. In 2021, the global pharma sector produced $1.4+ trillion in economic output. The top 10 biopharmaceutical businesses generated more than $430 billion in revenue.
It seems that pharmacists are doing just fine…are there any opportunities to fulfill?
Definitely YES!
At TATEEDA GLOBAL, we have helped several U.S.-based pharma industry players develop custom pharmaceutical business management systems, so we see great potential in many areas, including:
Automation of prescription preparation: About 40% of pharmacists' time was spent on this activity, with about 22% spent handwriting medication labels.
Integration with new software modules, adding more helpful business functions/features to existing or legacy pharma inventory management systems.
Improving the ways customer, billing, and inventory records are managed.
Do You Agree?
Pharmaceutical businesses can benefit tremendously from business-process facilitation. According to pharmacist surveys, non-value-added tasks and activities consume about half of their work time, which otherwise could have been spent more productively.
At TATEEDA GLOBAL, we are certain that developing pharmacy management software (tailored to address the exact challenges of your pharmaceutical business) is the best way to streamline pharmacy operations and improve the efficiency of:
B2C pharmacy chains/networks
Large B2B pharma companies
Medical drugstores of all kinds
Pharma wholesalers
Pharmaceutical departments/divisions of hospitals and clinics
Pharma manufacturing and warehousing companies.
Let's see how pharmacy inventory software works…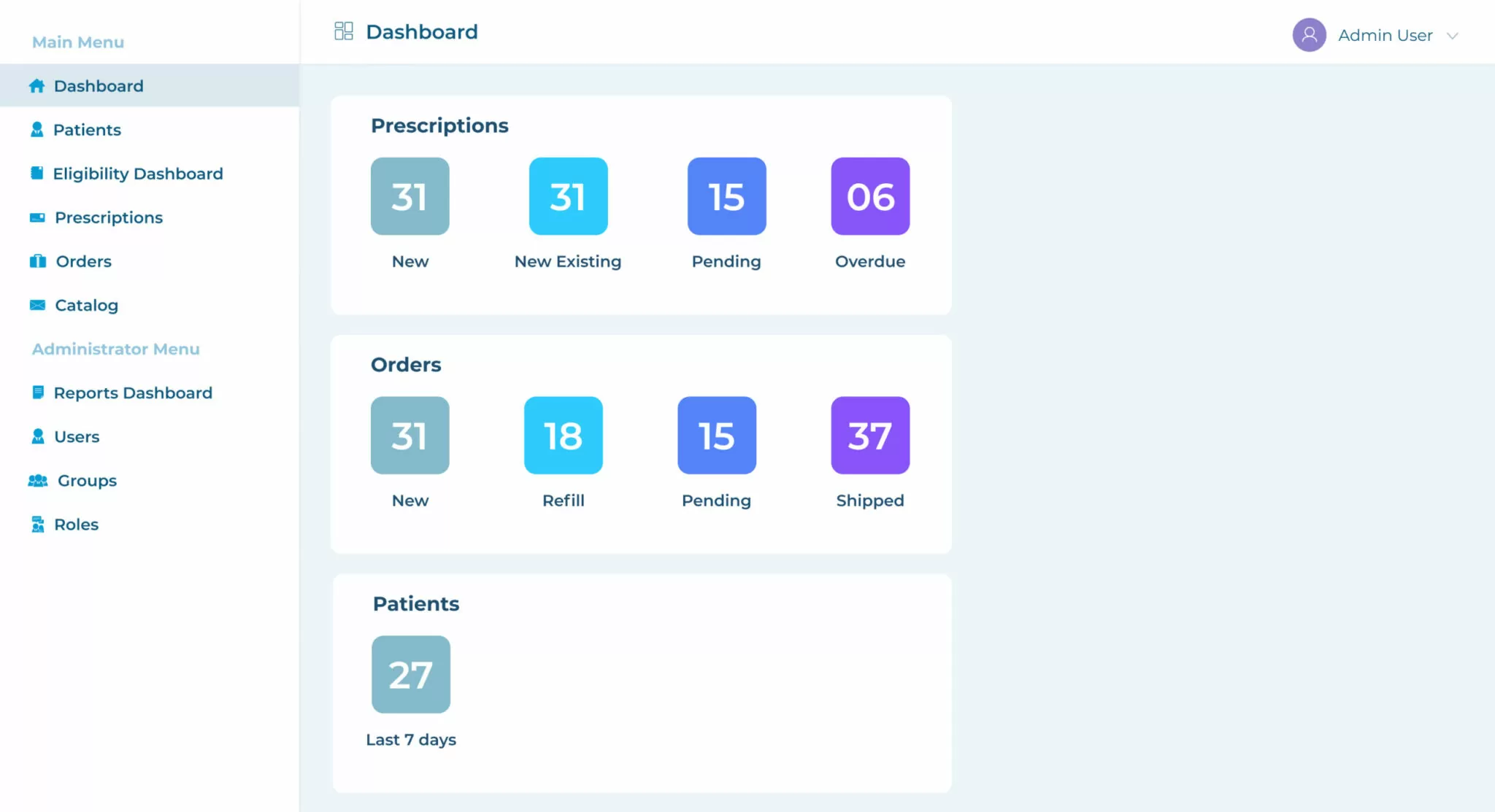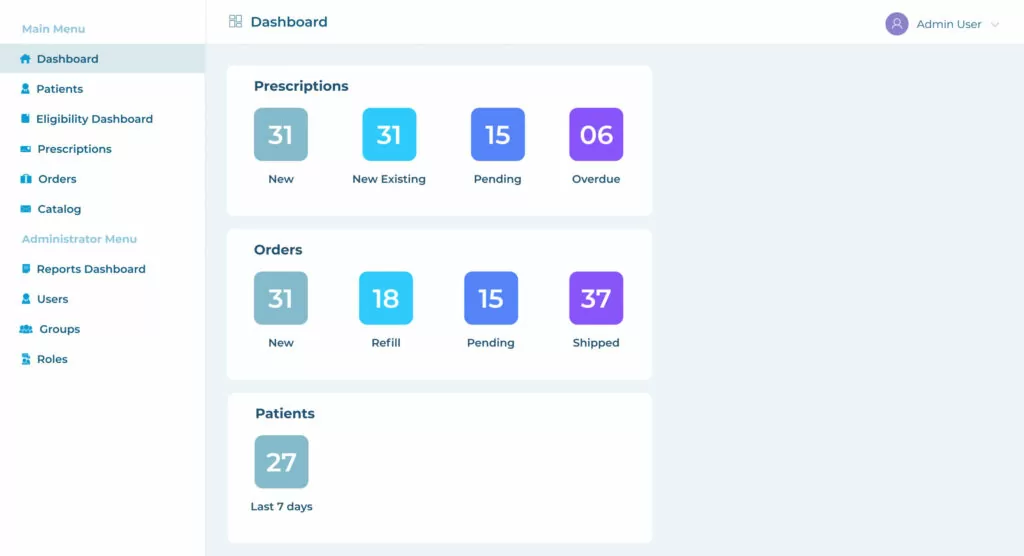 How Pharmacy Management Software Helps Optimize Expenses in the Pharma Business
Positive financial effects can be achieved via automation and optimization of core pharmaceutical business processes.
Those pharmacy business processes usually include, but are not limited to:
Medical Purchase Request/Orders
Pharmaceutical Inventory Management
Medical Pills Dispensation Management
Warehousing Manegement
Pharmacy Data Management
E-prescription Management
Barcode Scanning
Prescription Dispensation and Label Printing
Shipping & Delivery Management
Medication and Supply Refills
Stock/Sales Reporting & Analytics
Reordering of Supplies
Customer Loyalty Programs & Benefits
Patient Data Management
Revenue Cycle Management
Management of Compounding Business
So, how does pharmacy automation affect financial outcomes?
Let's go through the benefits so you can see for yourself…
Cost-efficiency Benefits of Pharmacy Management Software
Since TATEEDA GLOBAL has vast experience in health and biotech projects with American clients, we'd like to emphasize the following statement as a rule of thumb…
The efficient time of a human worker always costs more than software maintenance, so their time should be spent wisely and not wasted on routine tasks that are easily automatable. This is true for the pharma sector, as well…
Although the development of a custom pharmacy management system requires investments, the benefits generated by the final product are so powerful that they will quickly cover all costs associated with building the system. If you are interested, book a free consultation with our skilled medical software engineer: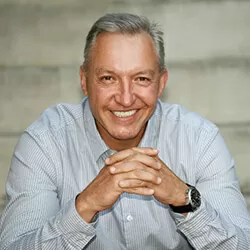 Slava Khristich
Healthtech CTO
Based in San Diego, Slava knows how to design an efficient software solution for healthcare, including IoT, Cloud, and embedded systems.
Benefit #1: Less effort required for routine pharmacy tasks
Remember the classic filling, licking, and sticking activity that pharmacists do daily: picking and packaging prescription medication in containers and labeling them with the information required by healthcare laws & regulations.
Those routine activities can be automated and reduced to varying degrees, from partial automation to a fully robotic process.
Automation of dispensed prescriptions with the help of a pharmacy management system (in optional combination with an automated dispensing device) generates the following benefits:
Allows pharmacists to service more customers per unit of time
Reduces the amount of manual work performed by pharmacists: counting pills, putting them in bottles, preparing labels, and handing the prescriptions over to patients or customers
Allows pharmacists to spend more time on tasks they consider value-added, like education and patient counseling.
Benefit #2: Reduced interactions with customers/patients
*when personal counseling is not required
When a patient comes in for a refill of their medication or has a prescription from their physician, personal engagement with the pharmacist is unnecessary.
The pharmacy management system may offer an e-prescription module coupled with a front-end patient portal that allows users access to:
Self-service
Ordering medical drugs online using electronic prescriptions
Receipt of medication without the need to leave their home
Automatic reordering and refill options
Avoiding interactions with human operators/pharmacists until strongly needed.
All of these points contribute to saving expensive work hours for pharmacists, increasing value-added tasks, and your pharmacy business's capacity to serve a greater number of patients/customers in less time. Learn more: ➡️ Medication Tracker App Development: Guidelines, Features, and Costs
Benefit #3: Better control over pharmacy stock and inventory
When all pharmacy stock data is digitized and entered into a pharmacy management system featuring ERM capabilities, it's easier to manage pharmacy stock:
Accurate pharmaceutical product stock/inventory management without manual verification
Digital audit trail for medications and other medical products
Enhancement of inventory turnover ratio
Pharma product sales performance: KPIs and reports
Data-driven decisions on restoring stock levels and performing updates in supply policy.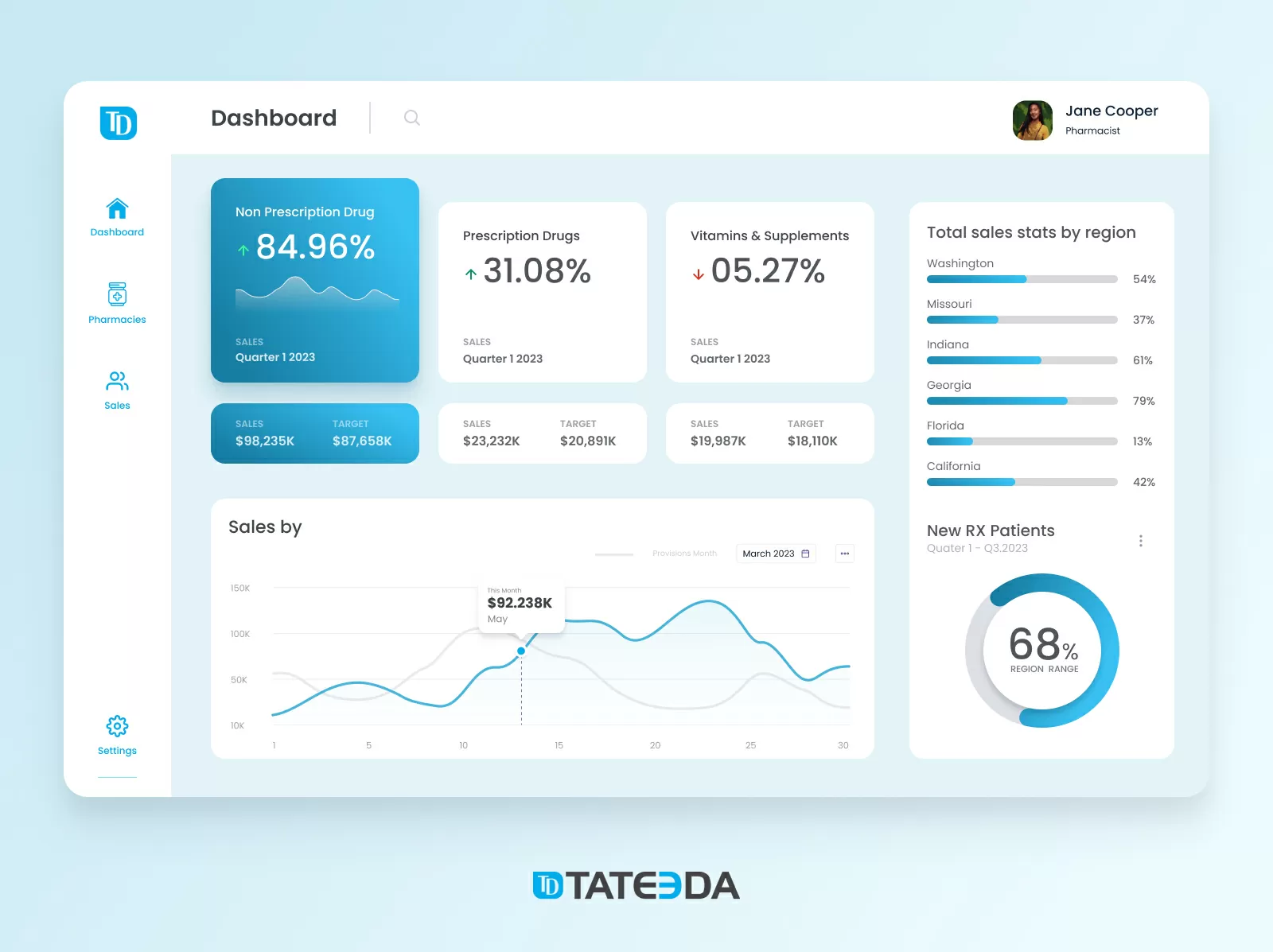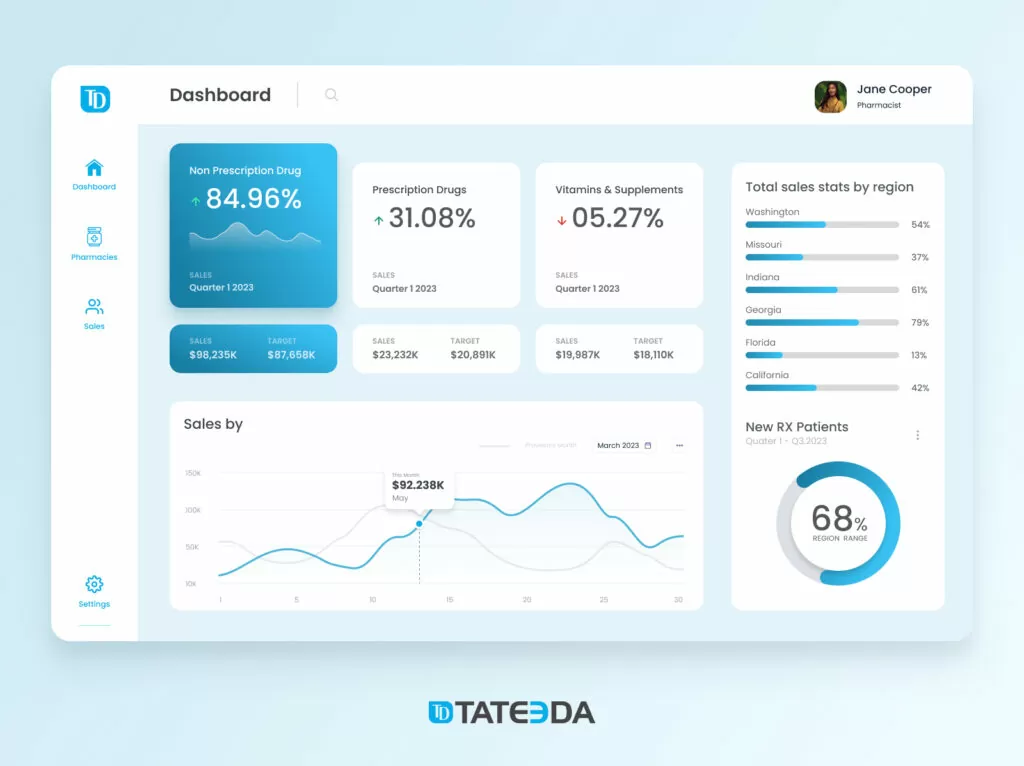 Using this type of functionality in a straightforward manner affects the profitability of pharmaceutical companies. Learn more: ➡️ How to Build a Lab Information Management System (LIMS)
Benefit #4: A better approach to patient safety
With pharmacy workflow software, it's easy to check each patient's medical record and identify any potentially unsafe drug interaction.
An alert can be automatically triggered once a patient receives a new medication or refill prescription. The pharmacist can get involved in a personal intervention to correct medication dosage and provide alternatives or any other suggestions.
In this way, customer satisfaction and other important business metrics are enhanced and profitability is improved.
Is That All?
Nope! We've listed just a small number of all potential benefits that can come with successful implementation of a pharmacy management solution. A lot of potentially beneficial opportunities rely on the specifics of your pharmacy business.
If you want to create a feature-rich pharmacy management system but don't know where to start, contact TATEEDA GLOBAL for a free consultation.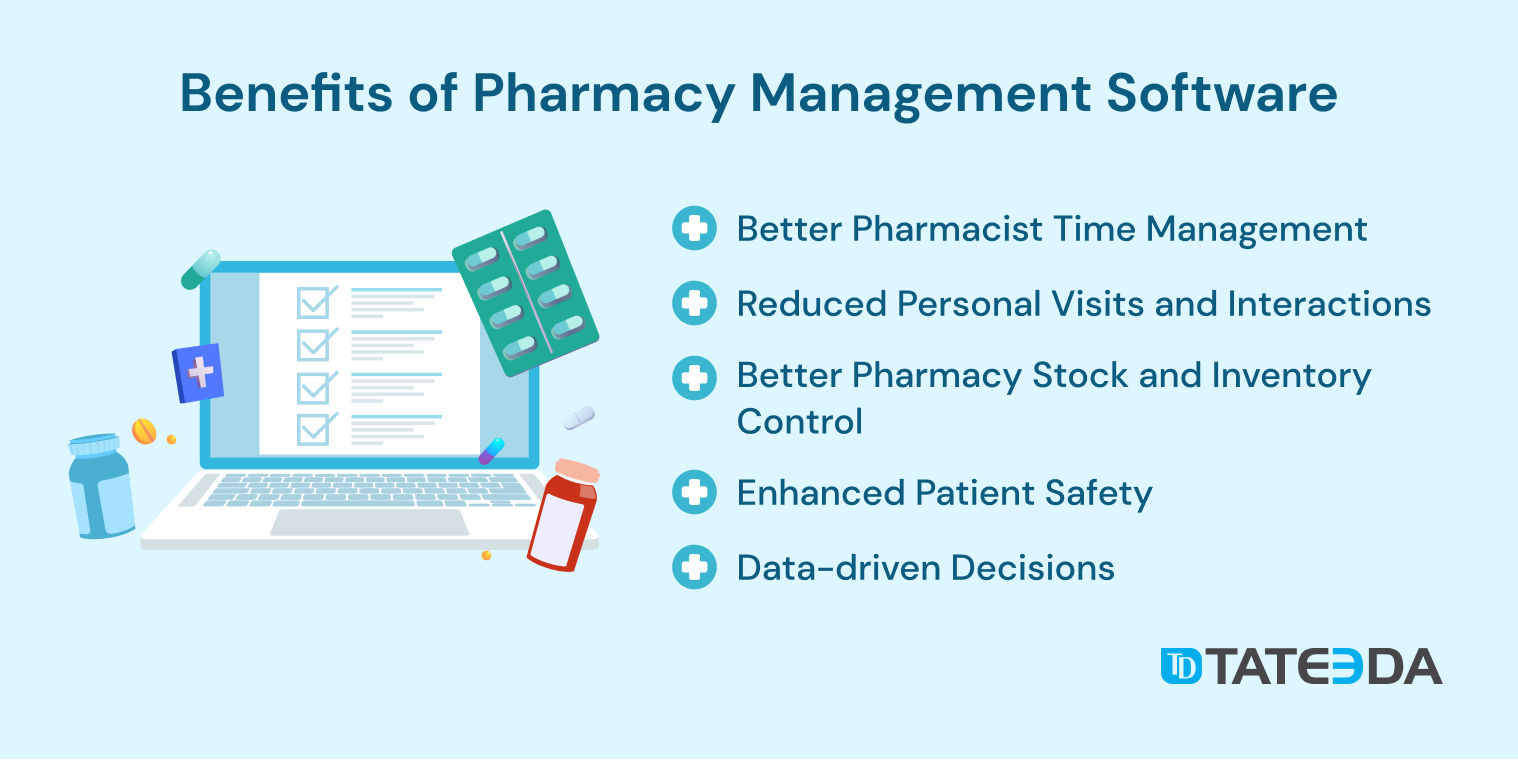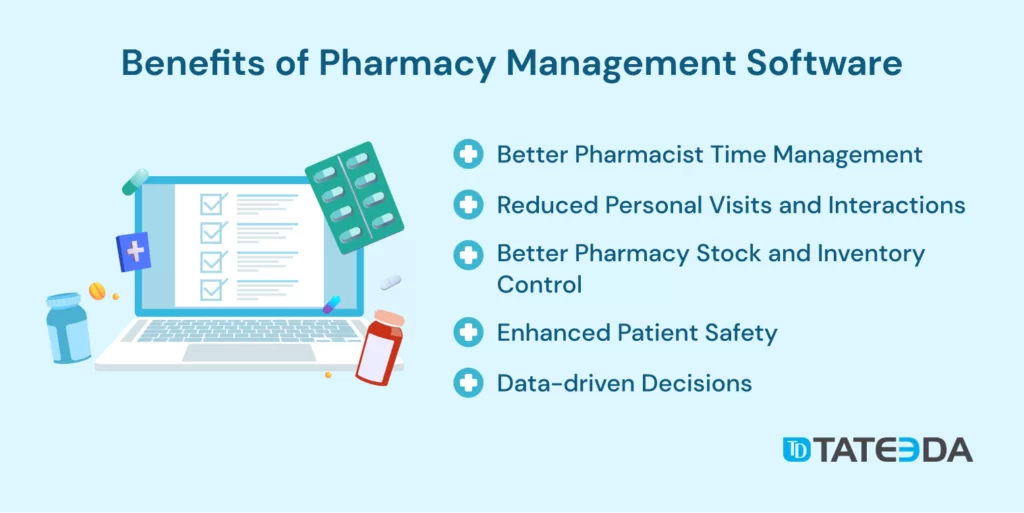 Learn more: ➡️ Online Pharmacy App Development Guide
Pharmacy Management Software Market Trends
As for pharma market projections and associated IT services, even the estimates given in pre-COVID times suggested essential growth of the U.S. pharmaceutical industry, with a compound annual growth rate of about 14 percent in the period of 2020-2027.
However, with the beginning of the COVID-19 pandemic, enormous investments from governments, healthcare organizations, and private funds came to the vaccine sector, promising multi-billion-dollar incomes to the pharma corporation capable of delivering an effective anti-coronavirus vaccine.
When talking about the development of custom pharmacy management software, it's important to identify the tech trends and updated requirements for these systems:
Emphasis on Online and Mobile Access
The COVID-19 pandemic triggered a global shift in the number of businesses in operation, replacing retail stores and outlets with home deliveries or curbside service. Pharmacy businesses were among the first to comply with the new reality.
This means that pharmacy management system features should include a convenient web-based portal or mobile applications, which allow patients the options of self-service, online medication orders, and delivery tracking. It also refers to wider implementation of e-prescription services to ensure legal compliance and patient safety.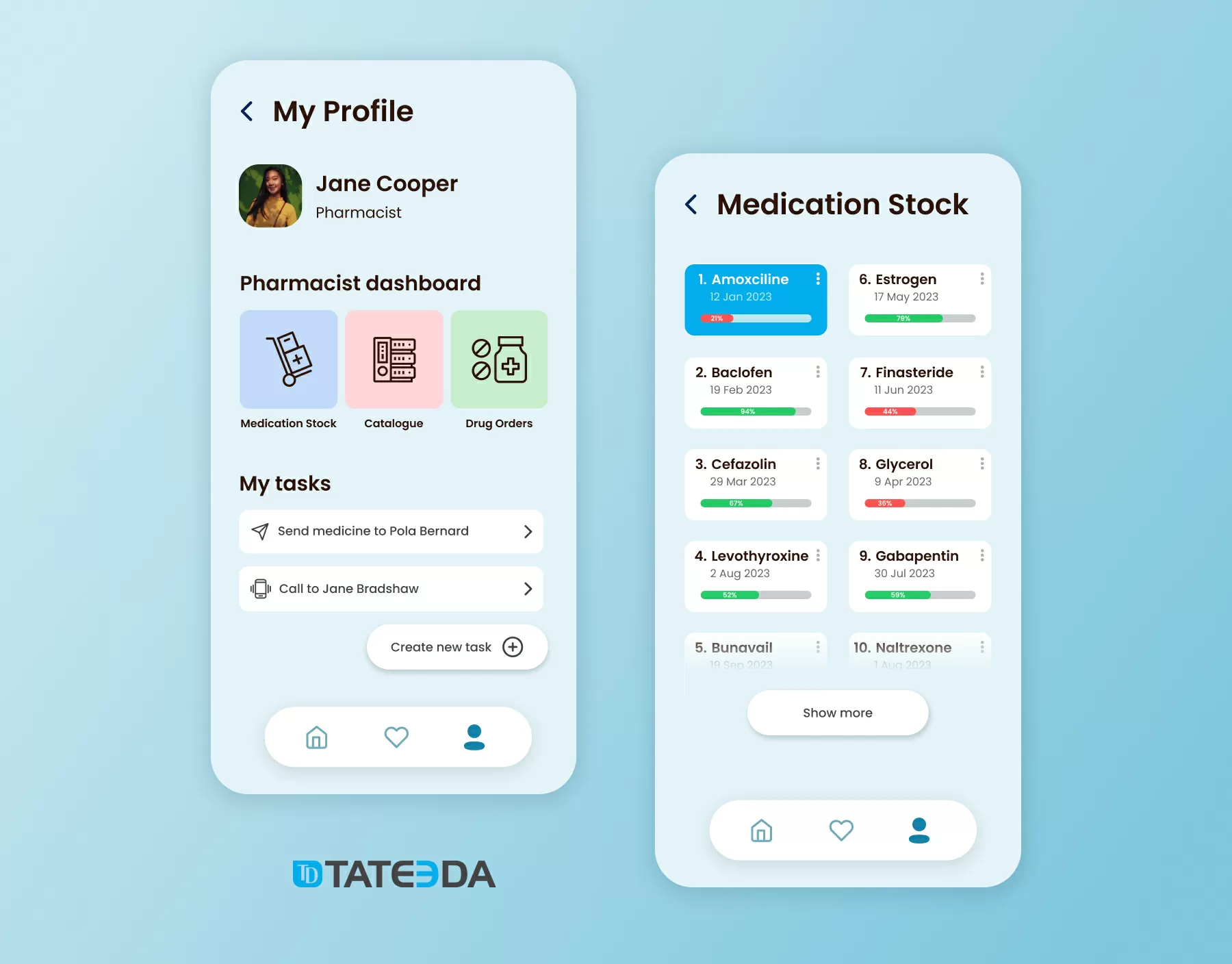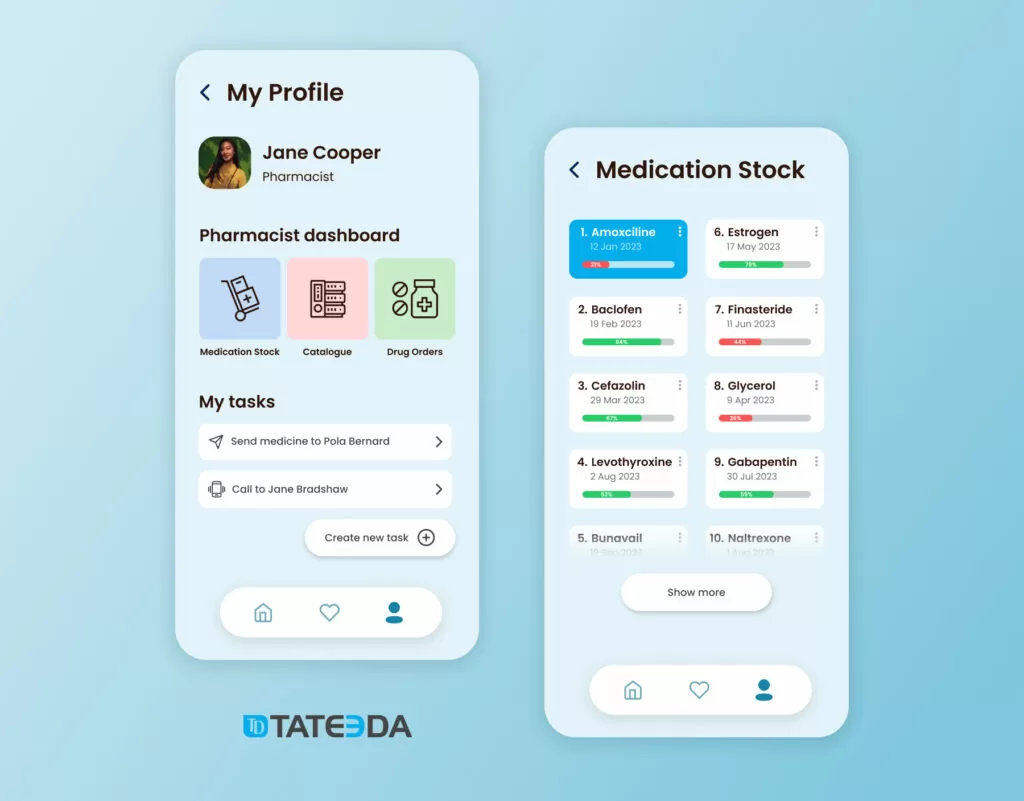 Do you need help building a web-based pharma solution?
TATEEDA GLOBAL has vast experience in front-end and UI/UX development, including integration of custom pharmacy web portals with e-commerce, shipping, and delivery tracking systems. These solutions can include cloud-based integrations and custom .Net development.
If you're looking for custom pharmacy software development services but don't know where to start, contact TATEEDA GLOBAL for a free consultation.
Drone Deliveries and Connected Device Systems
Unmanned delivery vehicles are among the newer technologies with the greatest potential.
More and more of these services are coming to the forefront: for example, drone companies are considering drones for delivery of coronavirus vaccines to remote areas in the U.S.
Custom pharmacy management systems can be configured to support a variety of software-device integrations, including drone management and delivery tracking systems/modules for medication packages.
Moreover, a range of device integrations can be used in all types of pharmacy workflows, both in-house and customer-facing. In terms of pharmaceutical warehousing and manufacturing, there are plenty of potential automated solutions that can be developed under the technological domain of biotech/health tech Internet of Things.
Interested in an IoT system for your pharmaceutical company?
TATEEDA GLOBAL can help you build a custom IoT solution for your pharmaceutical business. If you have ideas about deploying a connected solution in your pharmaceutical facility, get in touch with us! We know how to create a pharmacy management system with the inclusion of different technologies like cloud data storage and connected devices. Please learn more about our services:
Custom Healthcare Solutions
See how we can engineer healthcare software, validate your ideas, and manage project costs for you.

Patient Notifications
Keeping your pharmacy's customers well-informed is a critically important advantage these days.
However, you don't want to bother your patient base with spam-like bulk emails/messages or feed them random marketing offers.
Your pharmacy management system should be equipped with notification features (email, SMS, mobile push, etc.). Helpful messages should be generated based upon current user preference: order delivery tracking/status, medication refill reminders, and other highly personalized communications to keep patients satisfied and returning to your pharmacy.
Interested in building personalized relationships with your customers?
We're sure you are! TATEEDA GLOBAL can help you create a custom pharmacy management system equipped with smart notifications that rely on individualized algorithms. We know how to create pharmacy management systems and are ready to share our skills with you. Discuss your ideas with us!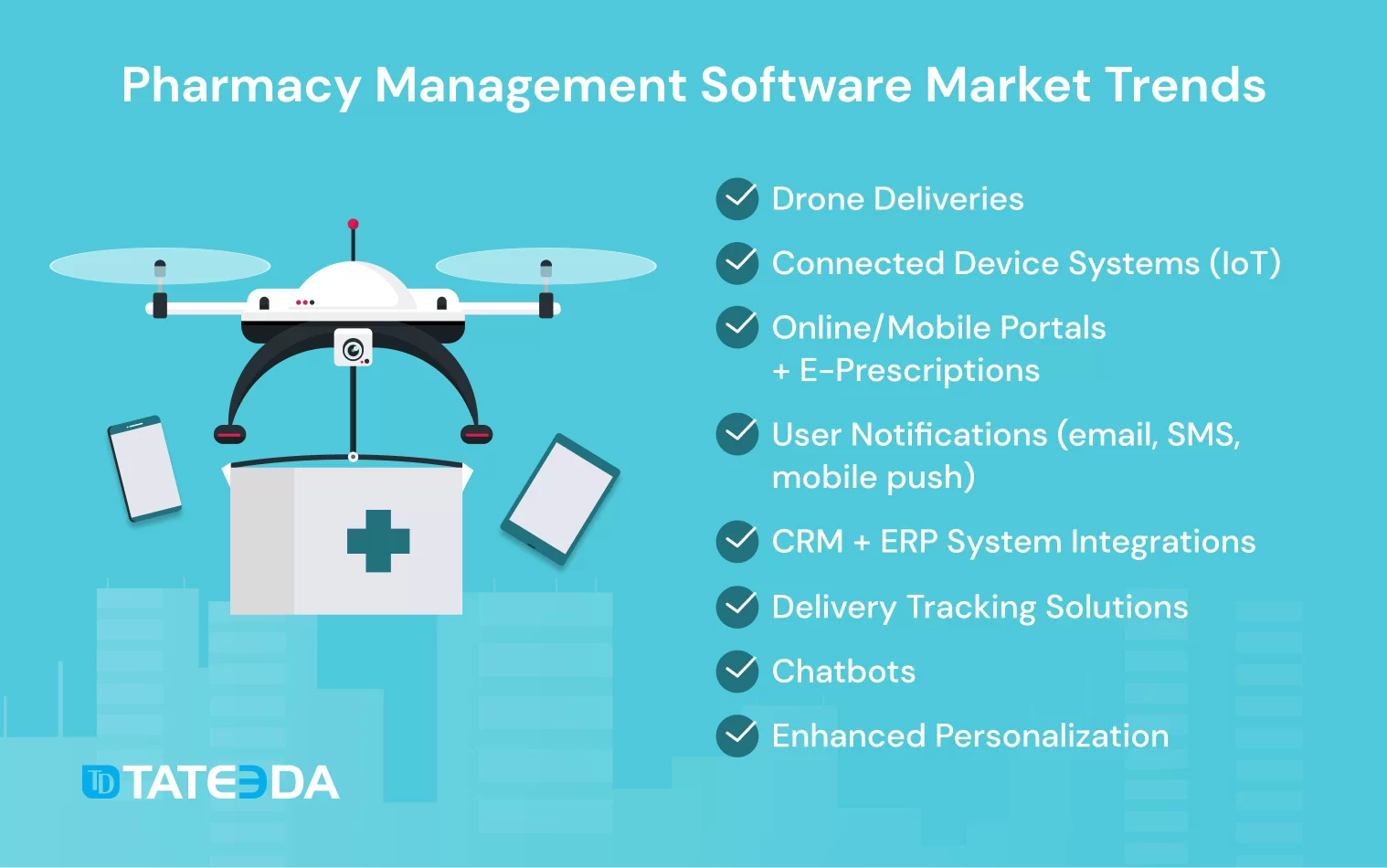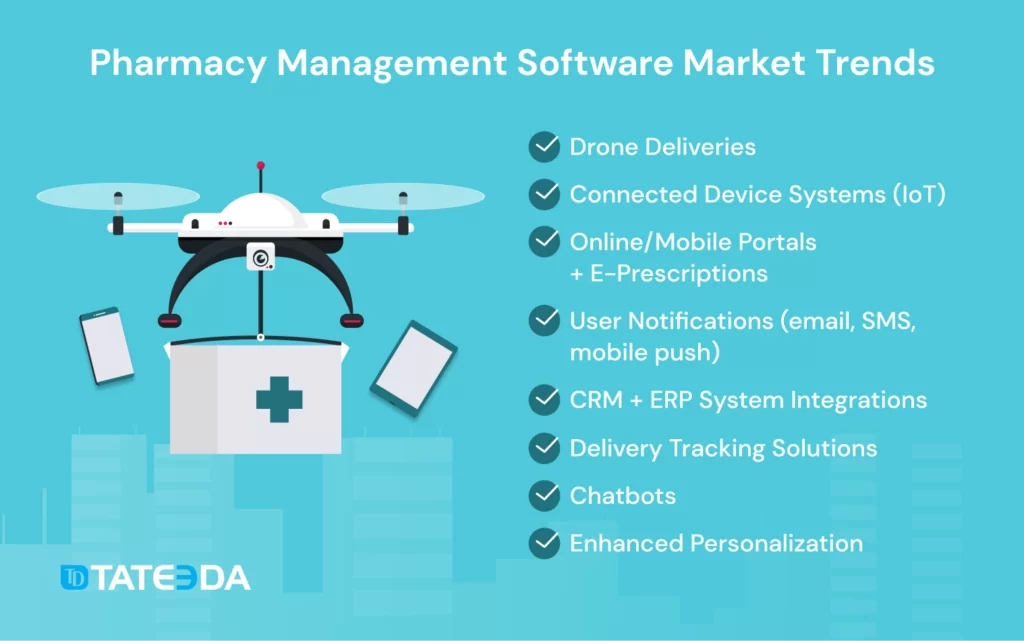 Read also: ➡️ Patient Electronic Data Capture Solution Development
Features of Custom Pharmacy Management Software
Once you decide to develop pharmacy management software, you'll need to select the specific system configuration, features, and modules.
Most modern pharmacy inventory management software solutions combine the functionality of the following systems:
ERP functionality: pharmacy inventory management, pharmacy documentation management, and more
CRM: tracking patient preferences or typical/regular prescriptions, creating personalized offers/plans/notifications, etc.
Pharmacy E-commerce module
Convenient mobile access for patients. Learn more about mHealth app development here.
Let's check some of the features and modules that are optional to your pharmaceutical software solution…
Pharmaceutical Inventory Management
Inventory management is among the most tedious and resource-intensive processes for pharmacists. Moreover, it cannot tolerate human error or negligence.
In pharma companies that still use some kind of hybrid paper/electronic inventory management, pharmacists usually spend about 20 percent of their workday on tasks related to inventory management.
For pharmacists, median pay comes in at around about $62 per hour, as reported by the U.S. Bureau of Labor Statistics. Wasting pharmacists' precious time, of course, has nothing to do with business efficiency.
Pharmacies that use fully automated inventory management software are now empowered to deliver much better outcomes, thanks to enhanced time-saving and accuracy factors (in contrast to paper-based processes, which are time-consuming and prone to human error.)
A software-aided pharmacy inventory-management process delivers the following:
Supports data-driven decisions in the medical drug supply chain and stock management
Automatically updates stock data when incoming/outcoming transactions emerge
Allows pharmacy managers to control medication stock through a specific product title and location/branch (in pharmacy chains with multiple outlets)
Generates purchase orders to refill stock; automatically forwards orders to your medical drug vendors/suppliers
Generates notifications/alerts when the pharmacy is close to exhausting its stock of specific medications
Builds custom analytical reports: stock levels and projections, best-performing product titles, tracking/planning sales vs. supplies, AI-backed suggestions on pharma acquisition policy, and much more. These practices can be enhanced via the application of data mining methods in healthcare.
Automated inventory management is already a widely accepted business practice among U.S. pharmaceutical businesses, but not all software solutions can satisfy current needs.
If you are considering a legacy pharmacy system re-engineering or wondering if a streamlined pharmacy management solution can be developed to replace your current inefficient one, discuss your ideas with TATEEDA GLOBAL!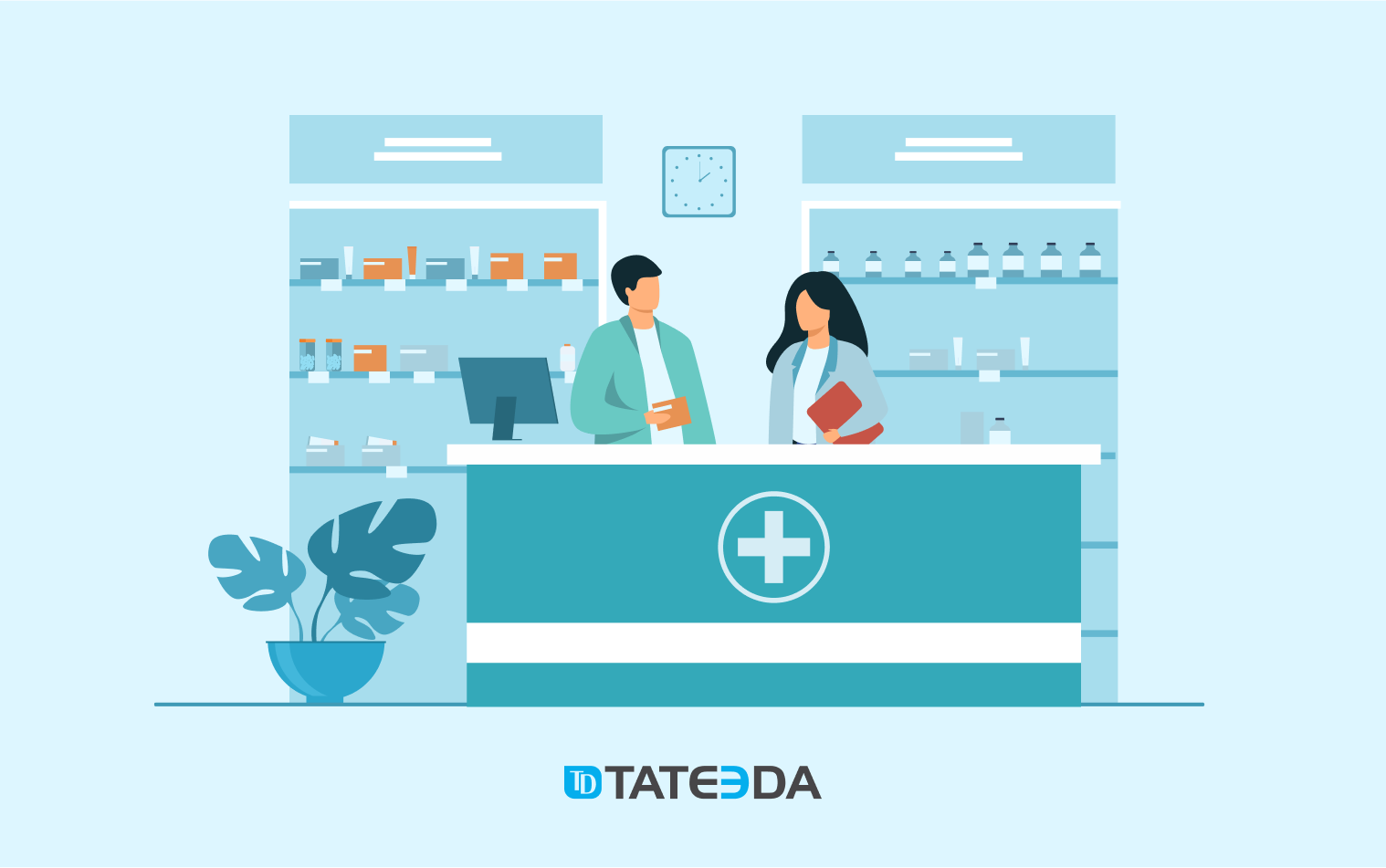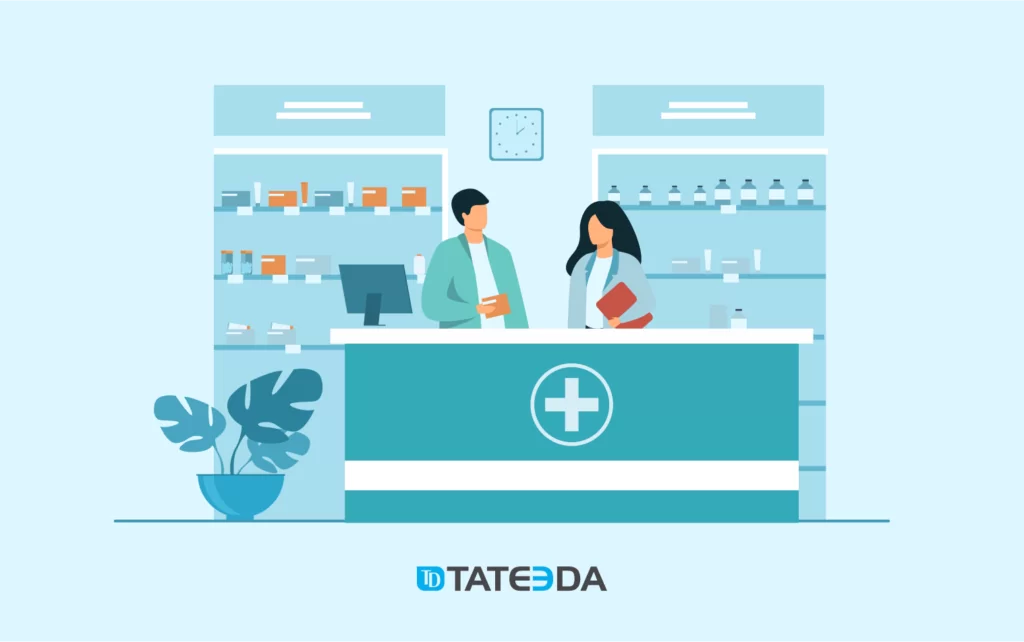 Learn more: ➡️ Legacy Systems in Healthcare: How to Upgrade Outdated Software Solutions
Pharmacy Document/Data Management
Normal pharmacy activity generates a great deal of data and stacks of documents (of course, nowadays, these are predominantly electronic.)
When you develop an online pharmacy management system, you have the chance to reconsider and optimize the ways documents come into and leave your pharmaceutical organization.
A renewed document digitization/management solution can be added to facilitate each of your document workflows.
Pharmaceutical document circulation can be facilitated in the following ways:
Allow scanning, storing, and retrieval of pharmacy documents
Import medical notes from physicians/pharmacists via document scanning device and/or manual input
Systematize data associated with patient health and medication profiles (for example, EHR/EMR connected solutions). Read also: Custom EHR/EMR Software Development: The Complete Guide
Optimize e-prescription management to organize prescription services and maintain optimal stock levels
Prescription refill optimization: reduce incoming calls, enhance deliveries, and process a greater volume of prescriptions
Billing/invoice workflows required for interaction between pharmacies and suppliers; insurance providers providing patient reimbursements; and other activity types.
If you want to revamp the current document management practice in your pharma business, TATEEDA GLOBAL can help by building custom pharmacy workflow management software. This includes mobile, desktop, and device-connected solutions.
Let's talk about your next project!
End-to-end Management of the Medical Dispensation Process
Any customer visit to a pharmacy outlet can be completely digitized and/or facilitated with the help of IT solutions.
Often, the need for personal presence can also be eliminated. Unfortunately, touchless transactions are in high demand in these times of the COVID-19 pandemic.
Here's how the process of pharmaceutical dispensation can be facilitated with software and connected-device integration:
Initial customer registration/identification in pharmacy management systems (this can be a self-service online portal connected to a pharmacy CRM.) This must include medical system interoperability.
E-prescription entry and interpretation. This can be performed by a pharmacist or uploaded by the patient (and later verified by a pharmacist or AI-powered software component).
If it's a new patient or certain issues are detected, the pharmacist can become involved immediately via notification of the necessity for a clinical review to check for drug interactions, offer an alternative dosage, etc.
Filling and packaging pills manually or with an auto-dispenser, followed by handoff to a pharmacy worker who will prepare it for delivery.
Automated label-printing and verification of the prescription and package for mailing
An electronic signature can be used at every step, or whenever necessary.
Your custom pharmacy management system can be designed to implement the automated medical drug dispensation workflow, reducing manual operations to nearly zero. Learn more: ➡️ How to Build Custom Medical Device Software: The Complete Guide
Additional Pharmacy Management Features/Integrations
Pricing management and aggregation to review and control pricing from a range of suppliers
Embedded ordering system to generate and process supplier orders
IoT integration with pharmacy devices: POS, automated dispensation mechanisms, web camera, etc.
Integration with open APIs (like shipping/delivery systems) and security systems
CRM-focused functionality: loyalty and discount programs, coupon management, etc.
Online user identification
Chatbot solutions
Enhanced financial reporting and analytics
Integration with government-backed systems and insurance providers
Integration with hospital management solutions and EHR systems
Medication imaging and databases
Multi-store management
Claim management
Online forms
Interested in developing and implementing new features?
If you want to build a system that combines the most important pharmaceutical processes, including inventory management, document management, and dispensation workflow with a range of additional features, please contact us at TATEEDA GLOBAL for a free consultation.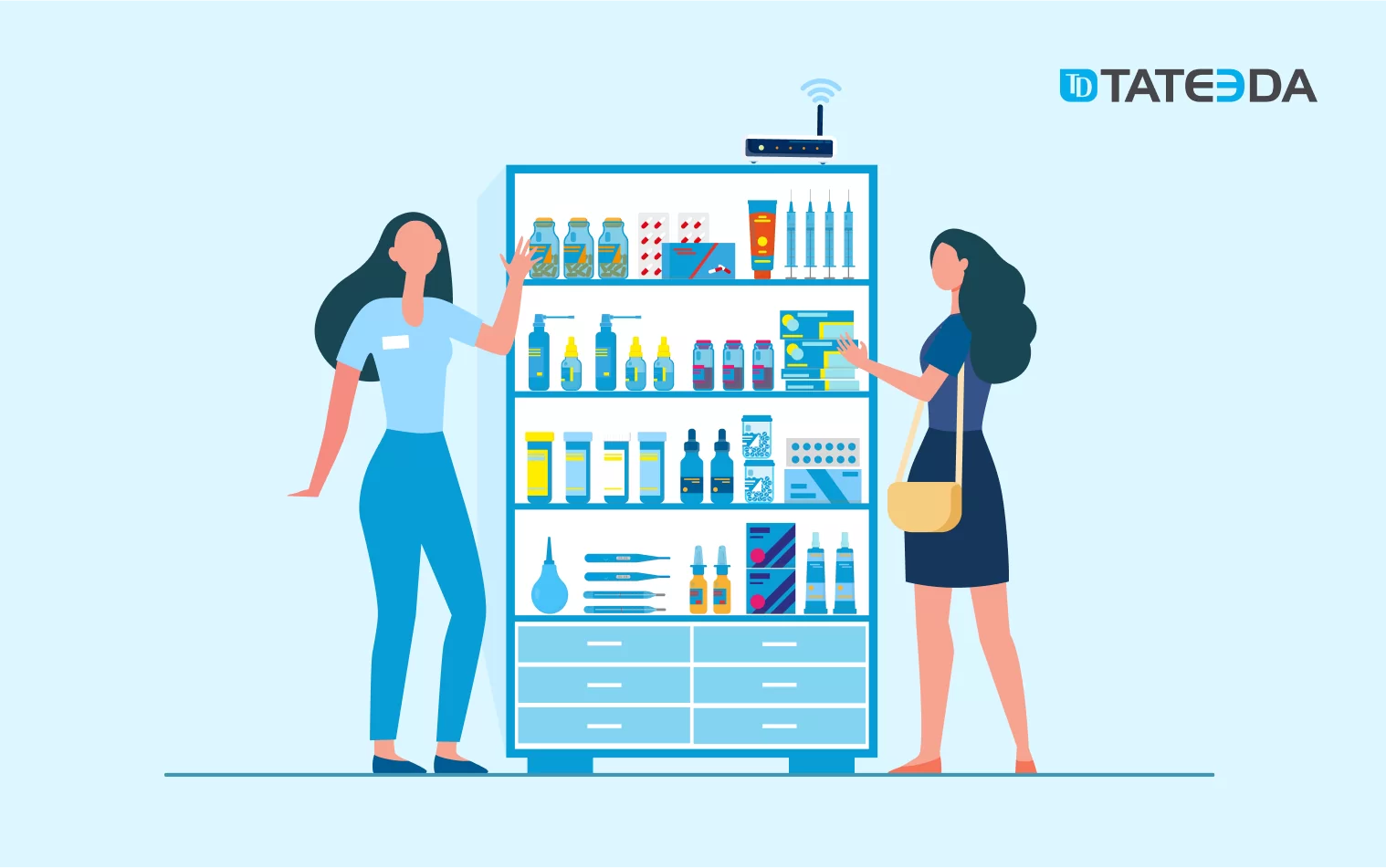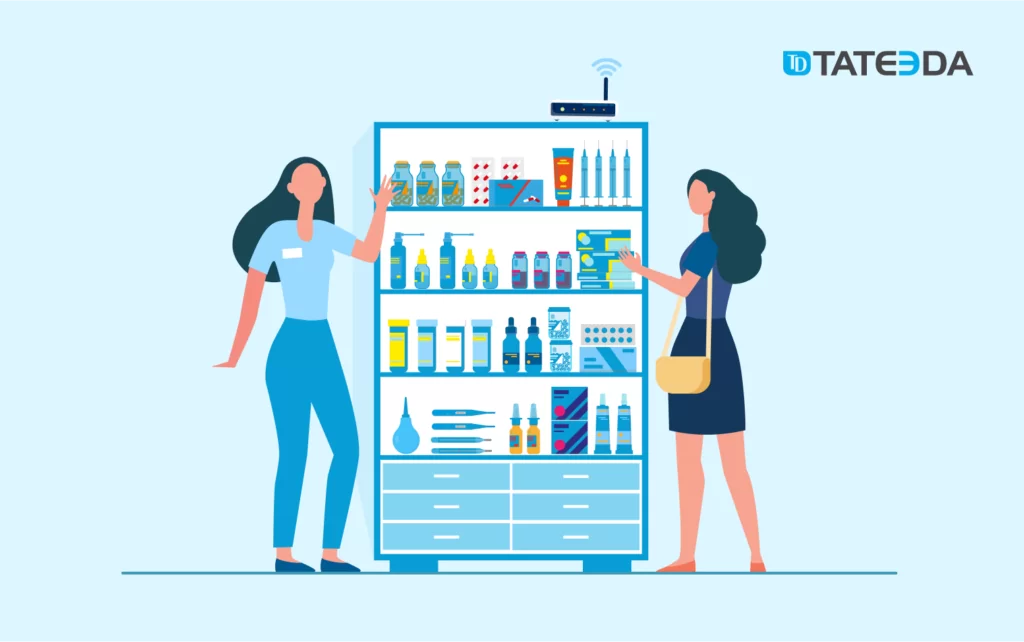 Generic Pharmacy Management Software vs. Custom Pharmacy Management Solutions
If you want to know when you should opt for a readymade/generic software package—and when custom pharmacy management system development is the better option—consider the following comparison.
| | |
| --- | --- |
| Readymade Pharmacy Software | Custom Pharmacy Software |
| In terms of security, you can never be sure of software code flaws or even the included spyware. | You're sure your business data is well-protected. |
| Faster startup (even if certain software configurations are still needed). | Designed to address your own individual needs and challenges. |
| Requires trying out a few different packages before selecting the best one for your needs (there are dozens of solutions available out there.) | Created to fit your exact business processes, and can be quickly improved if you identify functionality gaps or come up with good ideas. |
| There is a strong chance that you won't cover all your needs with a single software package, so you'll have to search for additional integrations/extensions. | All necessary integrations/extensions are available from the start, just as they were planned at the project design stage. |
| May carry certain software flaws and bugs that cannot be quickly addressed by the vendor. | The majority of bugs and issues are identified and eliminated at the QA stage. Any others can be quickly addressed by developers. |
| Always a generic solution, meaning it won't provide you with any features that are unavailable to other pharmacies. | Supports your business model at its best. Can become your crucial competitive advantage. |
| Comes with a lot of tech limitations, resulting in scalability issues and/or the presence of obsolete tech. | Highly scalable. Supports an up-to-date technology stack: the combination that serves your business goals in the best possible manner. |
Delivered Healthcare Software Portfolio
The leading American healthcare companies benefit from working with us.

When to Choose Generic/Ready-made Pharmacy Software
You are a small business (like an independent pharmacy) with pretty typical business processes and no need for a large database.
You don't have sufficient resources to invest in the development of a custom pharmacy system (the cost of custom software development is pretty high.)
You are okay with trying multiple solutions from different vendors before you finally discover the best package for your needs.
When to Opt for Custom Pharmacy Management Software
Your business is at least mid-sized, and you consider a custom software investment to be a worthwhile choice.
You have specific business processes that cannot be facilitated with the help of existing readymade software.
You want control over every element of your software, including security factors, to make sure none of your business data can ever be hijacked.
You want to scale up your business, and you don't want to be held back by limitations.
Is Custom Software Development Your Choice?
If you answered this question in the positive, TATEEDA GLOBAL can help you.
We are a California-based custom healthcare software development company with strong experience delivering solutions for the pharmaceutical industry.
If you want to build a pharmacy management software system that corresponds with your specific needs, business model, goals, and challenges, hire us to do all the heavy lifting for you.
On the other hand, you could go on and develop your own software solution or application for pharmacy management by executing the following algorithm…
How to Develop a Pharmacy Management Software, Step by Step
So…how to create a pharmacy management system with a predefined spectrum of features and functionalities? Here we go…
Stage #1: Define Your Desired Features in Pharmacy Inventory Management Tool
Write down a sсhema depicting the general flow of your pharmaceutical business, then drill each process down in detail (including pharmacy asset and pharma product stock management, the medical drug dispensation process, and so on).
Elaborate upon each business process and make a decision about everything that can be done to facilitate it via software solutions.
Decide on the software module (subsystem) configuration to be included in your pharmacy management solution, based upon your specific needs and business goals.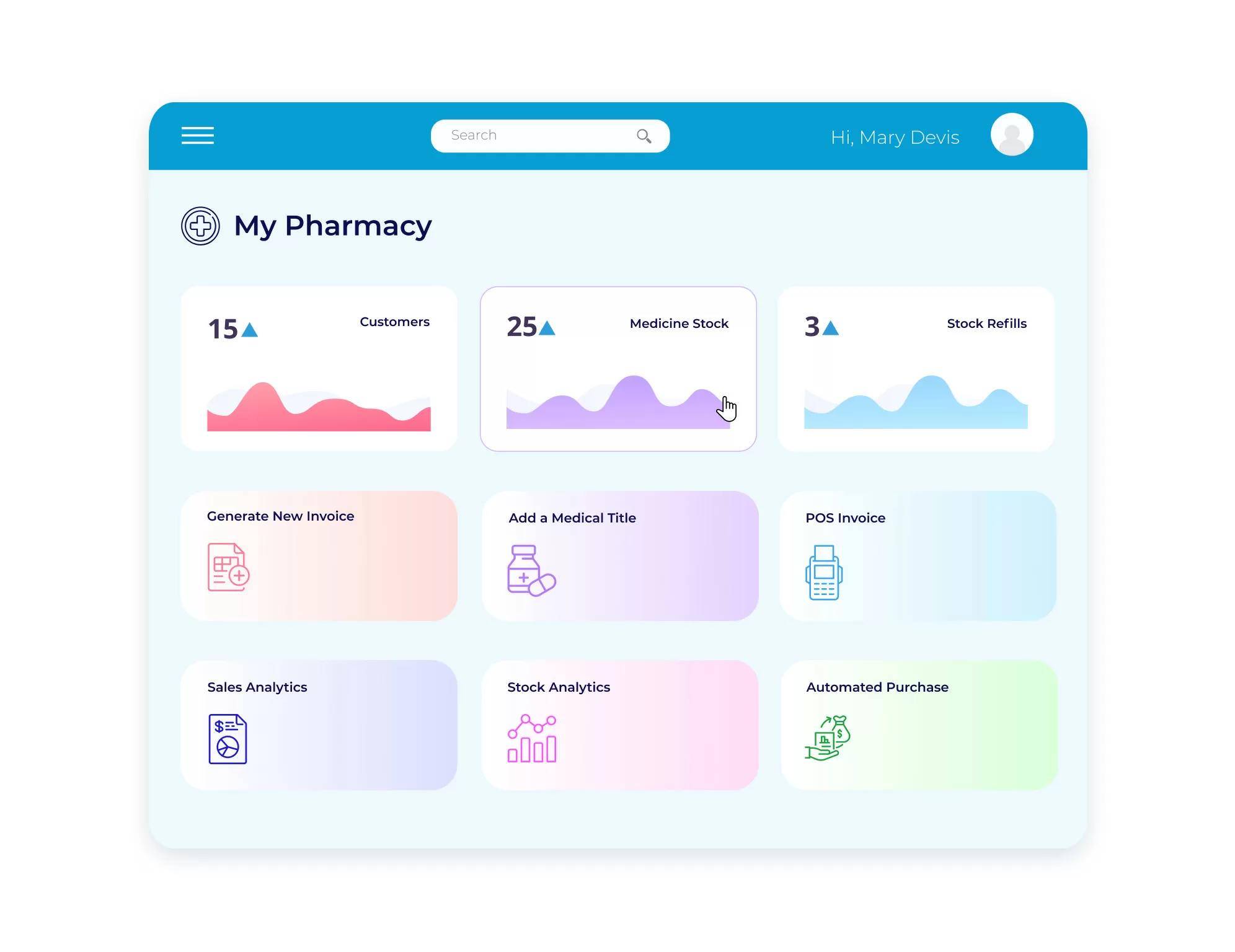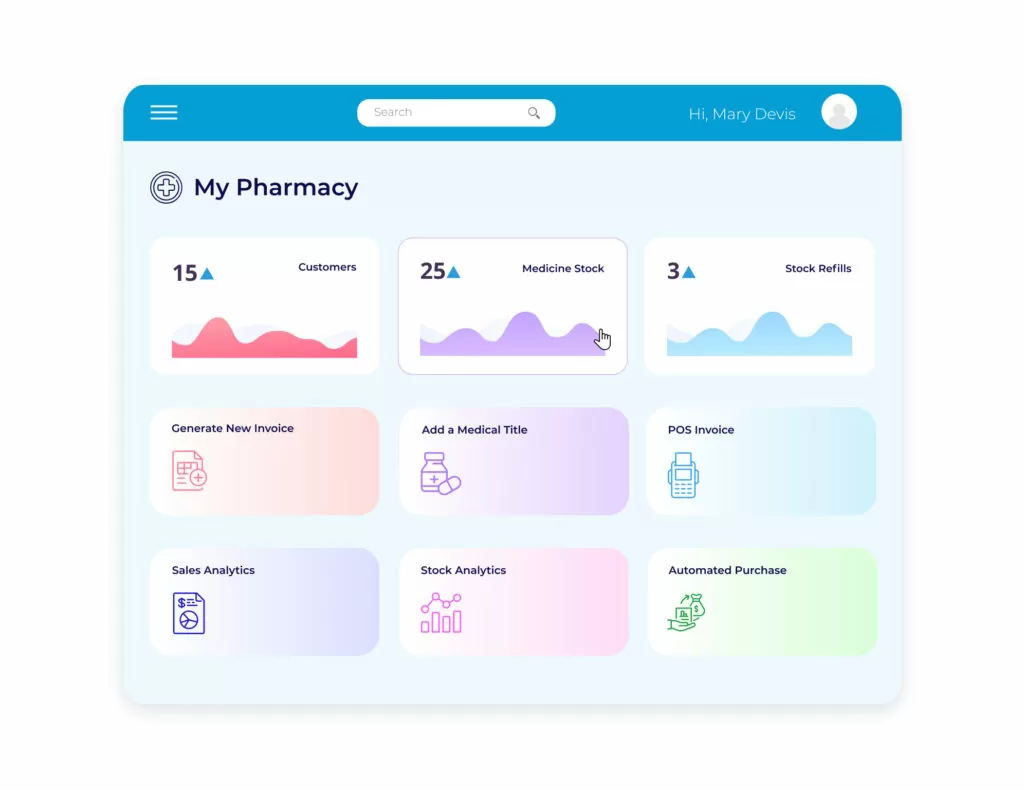 Stage #2: Plan Your Pharmacy Software Technology Stack and Architecture
Decide which pharmacy software modules can be added with the help of API-based integration, and which ones should be developed from scratch.
Model client/server relations in your pharmacy system, and define requirements for a cloud-based solution on the back end.
Identify your pharmacy system's front-end requirements (user interfaces, mobile/web platforms).
Identify whether an IoT device should be integrated with your pharmacy management solution (for example, POS device or/and automated dispensation integration.)
Plan a hierarchy of user-based roles to be used to access the system.
Stage #3: Development and Testing of Pharmacy Management Software
Make sure to hire a project manager capable of taking responsibility for delivering the product.
Assign UI/UX designers to plan and visualize pharmacy workflow software user interfaces: mobile, desktop, web-based, and so on.
Gather a team of skilled developers and quality assurance specialists experienced in pharmacy software testing to carry the project out.
Break the project down into doable tasks and assign them to the right specialists.
Control performance and organize software testing procedures. Learn more about Medical Software Testing and Quality Assurance in Medicine.
What is the Estimated Cost of a Custom Pharmacy Management System?
Development of a custom pharmacy management system can be a pretty expensive undertaking, with prices ranging from $30-40k to unlimited heights (starting at three months of project duration). It all depends on the complexity of the software design and implementation.
The price tag is critically affected by the following factors:
Number and skill set of IT specialists involved: different types of developers, testers, UI/UX designers, project manager(s), and others
The complexity of the project's technology stack (platforms, languages, and framework)
Location of team members: U.S.-based or remote, outsourced or full-time/in-house.
Interested in developing a custom pharmacy management solution?
TATEEDA GLOBAL offers affordable costs for such projects, thanks to a reasonable combination of local and remote talent. We have an R&D branch in Ukraine that allows us to manage software development costs for you.
Hire a qualified IT partner to execute a software system for your pharma company. Contact us for a free consultation today.
The Challenges of Implementing Pharmacy Management Software
Lack of secure/reliable IT infrastructure
Poor computer literacy/staff skill set
Insufficient match between software functions and pharmacy business processes
Ineffective security levels in software solutions (incomplete levels of HIPAA compliance)
Sporadic inaccessibility of remote databases in locations with slow or laggy internet connection
Read also: ➡️ How to Maintain and Support Healthcare Software
All of these issues can be resolved if you opt for custom pharmacy management software development, but the majority of generic software packages leave you dealing with problems on your own.
TATEEDA GLOBAL's Experience in Developing Pharmacy Management Software
TATEEDA GLOBAL has successfully helped several U.S.-based pharma and biotech companies scale up their processes. For example, you may review our recent case studies:
Solution details:
We have deep experience in delivering software integrations and pharmacy management platforms that include:
✔️ A multitude of business instruments: e-prescriptions, financial, billing, inventory management, and other modules.
✔️ Shipping and delivery-tracking modules that allow pharmacy administrators to track/optimize delivery routes based on live information coming from API-integrated solutions like Google services.
✔️ Notifications verifying successful door-to-door delivery of medication.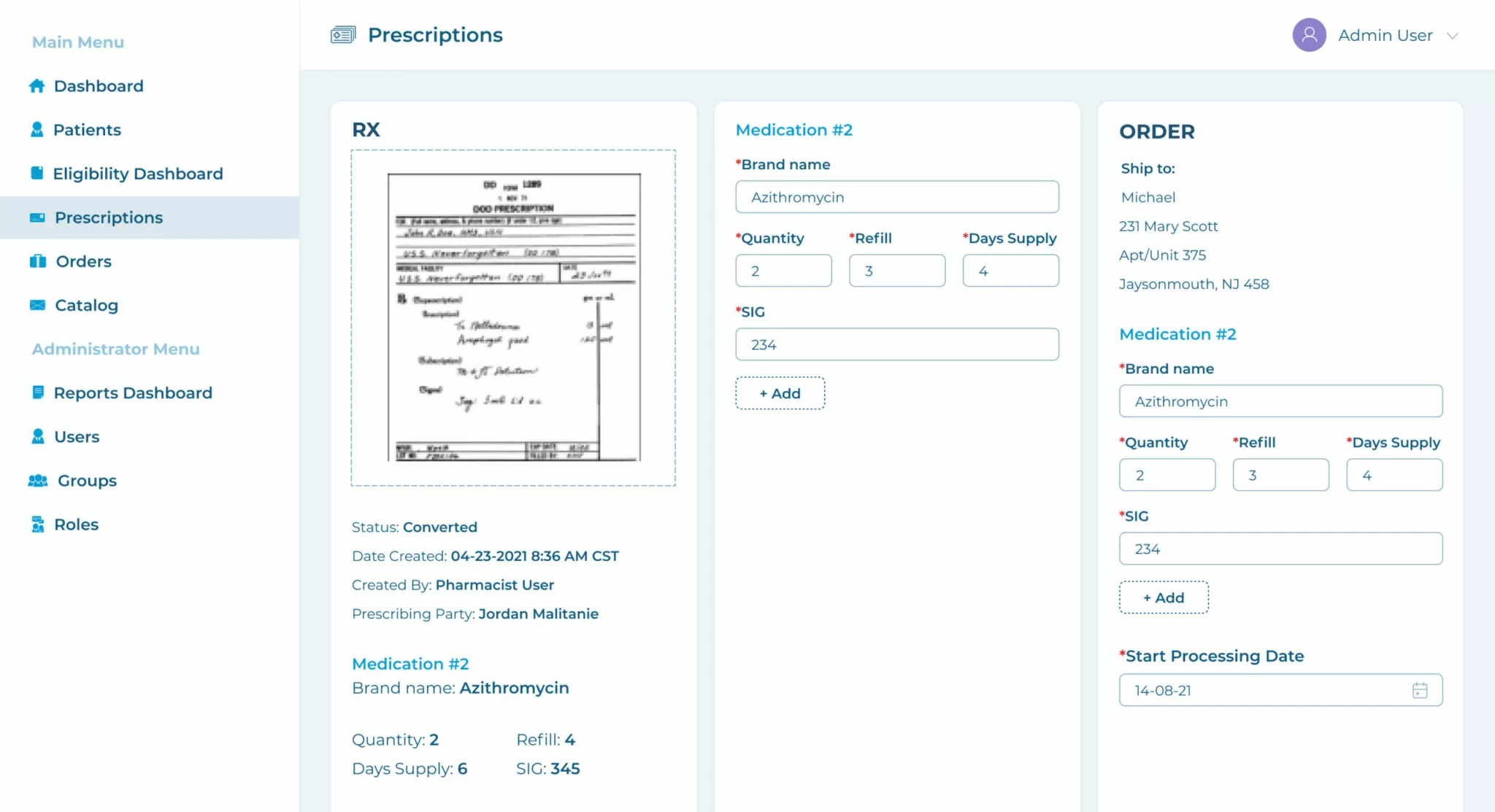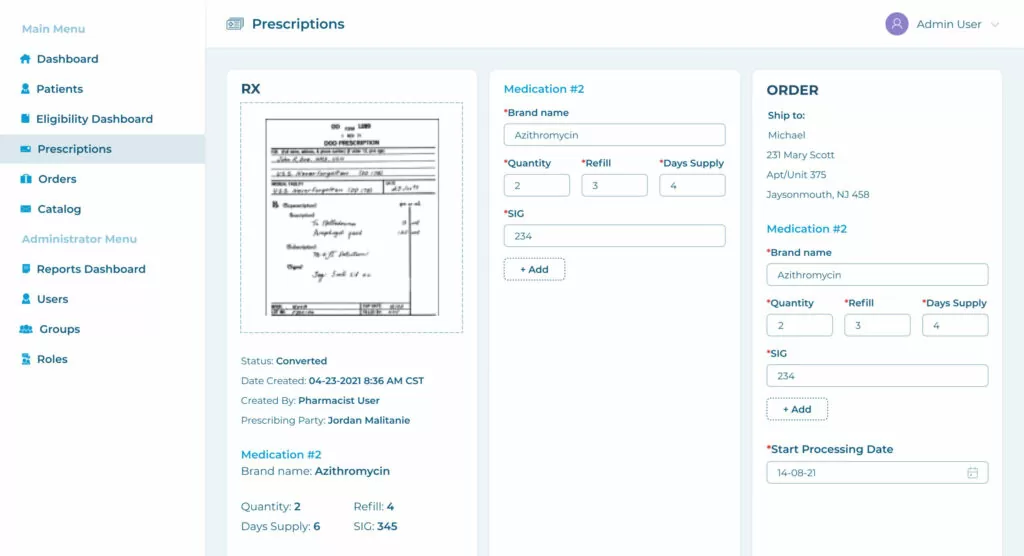 ✔️ Scalable platforms that allow pharmacy owners to add branches and beef up their client base without limitations.
✔️ Algorithm-based text recognition features (so-called OCR or Optical Character Recognition.)
✔️ Patient portals with authentication and authorization features.
✔️ Pharmacy claim-management features, including automated bulk PDF import, scanning, and cross-system integrations for online medication order fulfillment.
And much more…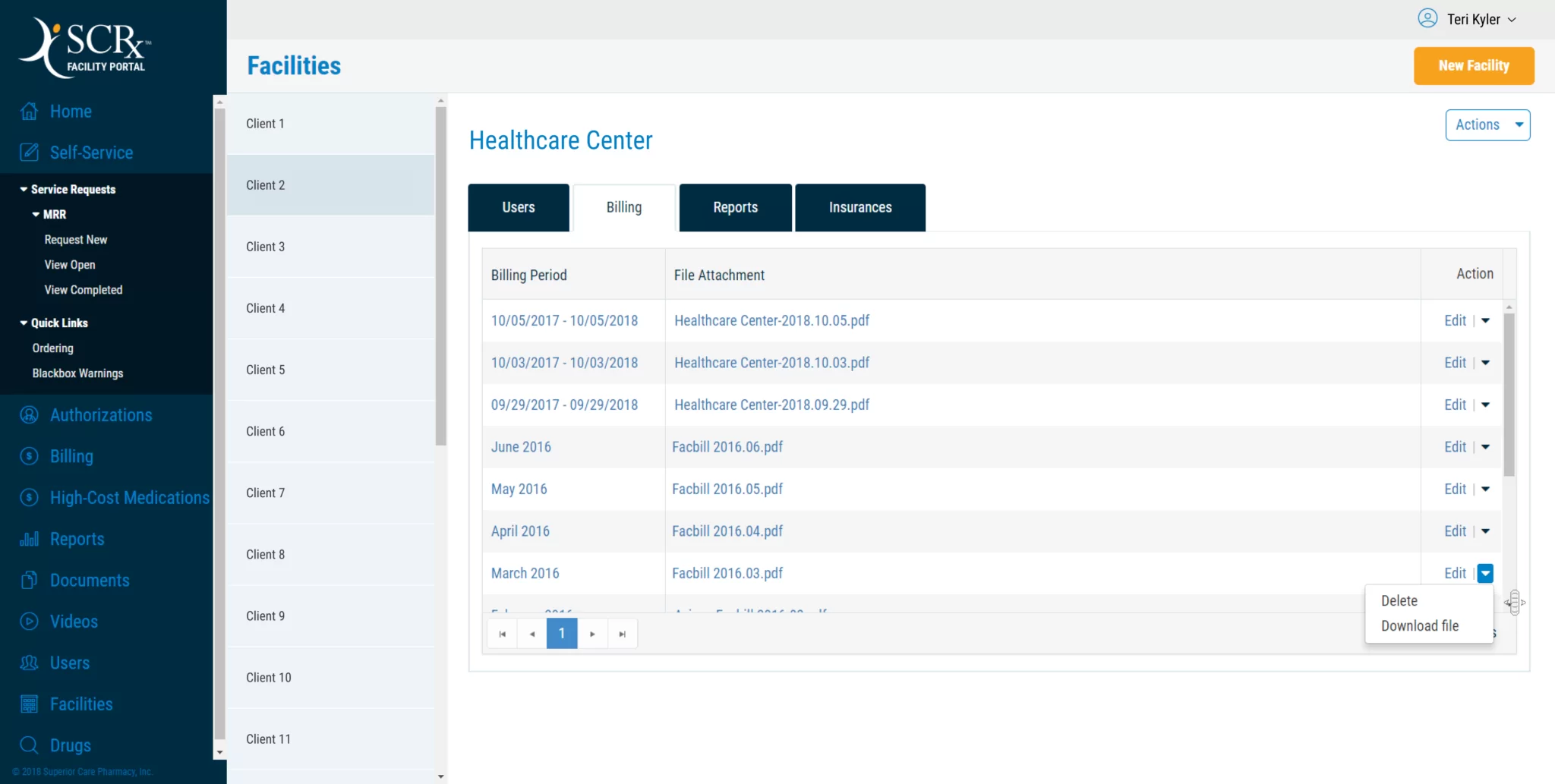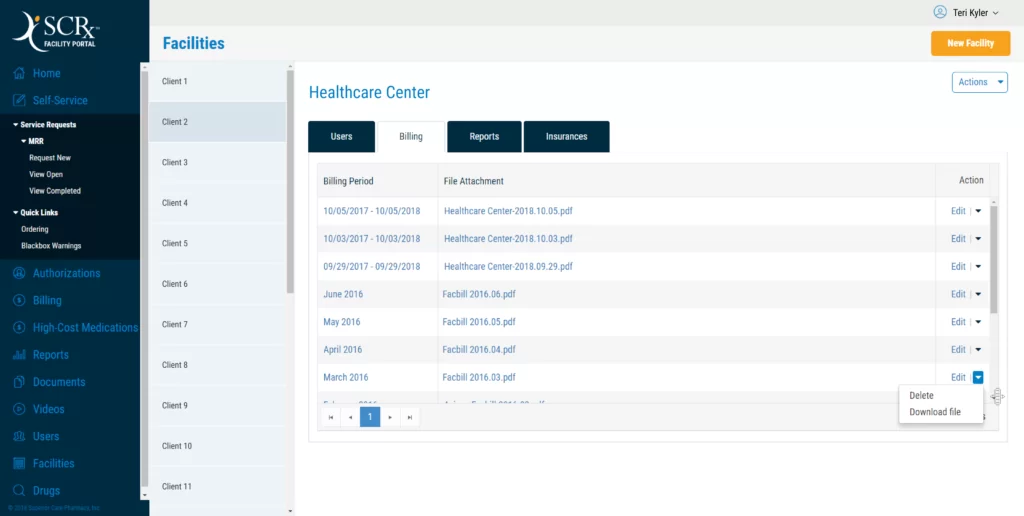 In Conclusion: How to Create a Pharmacy Management System?
Pharmacy inventory management systems are difficult to develop and not easy to configure or implement, but they can bring huge benefits in return.
If you'd like to give it a try, hire TATEEDA GLOBAL. We know how to create pharmacy management software for U.S.-based companies.
We offer:
A full-cycle development team
Compliance with U.S.-based safety requirements
Wisely managed project costs
Personalized connection with our project managers' HQ in San Diego, CA
Vast onsite experience with healthcare, biotech, and pharma companies
IT team augmentation services in pharmacy management software development
Fast team deployment—within 48-72 hours
Contact TATEEDA GLOBAL today to start building the custom pharmacy management tool of your dreams!
Rate this article!
5 out of 5 stars (based on 1 review)