Legacy Systems in Healthcare: How to Upgrade Outdated Software Solutions
Healthcare IT demonstrates tremendous progress in different domains: AI/ML, cloud computing, miniature medical devices, biometric user recognition, multi-platform integrations, and so on. The primal goal of IT providers is to make sure that NO healthcare systems are left behind by technological advances.
In this article, we'll consider everything there is to know about upgrading legacy systems in healthcare so they can comply with the latest health technology trends and operate efficiently.
Legacy systems in healthcare are not rare. This phenomenon is pretty widespread among healthcare providers for several reasons…
Healthcare is a conservative industry in which users prefer to minimize experimentation with new technologies in favor of reliable, battle-tested systems they have used successfully for a long time.
Many healthcare organizations don't possess sufficient IT professional teams to manage their software-upgrading strategies proactively.
Certain medical functionalities do not require frequent updates—for example, patient data fields in EMR/EHR management systems are one of the health tech instances that rarely change.
Certain systems are so deeply ingrained in organizational workflows and culture, it feels like replacing them could endanger the normal flow of business operations…
How Acute Is the Issue with Legacy Software in Medical Practices?
Persistent use of inefficient or flawed health legacy systems is a shockingly pressing problem among American medical organizations like hospitals and medical offices.
A team of IT researchers recently discovered that almost 83% of healthcare IoT devices in the United States are driven by outdated, unsupported operating systems. Decommissioned, insecure, unpatched, and vulnerable to exploits and cybercrime attempts, they keep around 98% of sensitive medical data transactions exposed or poorly encrypted.
When it comes to legacy software systems and perspectives on their transformation or replacement, there exists only one golden rule: Reluctance to upgrading legacy systems in healthcare will surely do more harm than good. It's better to opt for a long-term modernization strategy and follow a maintenance plan for healthcare applications and IT environments.
Do you require modernized healthcare legacy software in your organization?
💬 TATEEDA GLOBAL can help you upgrade and transform outdated medical software products, including operational systems for IoMT devices and biotech equipment. This allows you to move your medical records to cloud-based EHR and other modernized platforms.

If you want to discuss and conceptualize cloud migration of your healthcare IT systems or modernization of your legacy applications, please book a free individualized call with our experienced health-tech engineer: 👇
Slava Khristich
Healthtech CTO
Based in San Diego, Slava knows how to design an efficient software solution for healthcare, including IoT, Cloud, and embedded systems.
How to Know It's Time to Modernize Your Healthcare Software Technology (Checklist)
How will you know that legacy system modernization in healthcare is completely necessary for your organization? Look for several negative signs that indicate outdated software systems while they are operating in clinical or administrative workflows. If you spot several of these indicators, we recommend that you look at legacy software upgrade options with a skilled IT consultant.
Let's see what these red flags would look like…
🚩 Limited Healthcare Software Functionality
Legacy systems are not designed to handle all capabilities offered by the modern healthcare technology landscape. This includes the following flaws…
The number of document types or data formats your software system accepts is very limited (and this number will grow yearly.)
Integration or data exchange with other systems is impossible or seriously limited because of technical restrictions that cannot be quickly fixed.
The user suggestion log for new features is growing without a means for implementation.
The healthcare solution is platform-dependent, meaning it cannot run anywhere outside of an outdated OS environment (like 32-bit platforms, including Windows XP or Windows 7.)
There is still a considerable number of manual operations and workflows that should be combined with automated or semi-automated application routines.
Incompatibilities with or dependencies upon certain hardware components, like screens of a specific type or resolution.
The legacy application is not ready for cloud transformation and remains totally dependent on local hardware infrastructure.
❌ Malfunctions and Tech Incompetence
Healthcare legacy system modernization will become obligatory when your software product demonstrates worsening levels of technical performance. For example:
Software crashes frequently and/or replicates glitches.
It takes progressively longer to perform even basic software operations (reduced productivity is obvious and badly affects user experience.)
Software performance is deficient, slow, and irritates medical staff, which is reflected in regular user reports/feedback.
Software misinterprets regular commands and authorized user activities.
Cases of data breach or inconsistency are detected by staff members.
Clinical staff reports that software has become more difficult or inconvenient to operate for a variety of reasons.
Qualified software performance tests and/or software execution logs (analyzed by IT professionals) show unsatisfactory results and conditions.
🚫 The Healthcare Product Is Abandoned by Its Vendor
Medical application users are not always aware of their product status. Sometimes, it appears that a vendor is no longer active or has abandoned the product. In this case, it's highly recommended that legacy healthcare software be upgraded or replaced by an up-to-date solution if…
Your product version is out of date according to the vendor website.
The vendor has clearly stated they will no longer release new versions, provide support, or offer patches for your product.
The vendor offers medical data portability to help you move to their newer products and recommends switching to alternative versions/applications.
The vendor website has been inaccessible for a long period of time or you directly receive their out-of-business notification.
No fresh versions or application updates have been released for a long time (between 2 to 5 years on average).
💬 Can you spot any of these indicators in your current medical product?

The recommended way to solve legacy system issues is to modernize the application: rebuild, upgrade, or transform it into a new, high-end healthcare solution with streamlined efficiency and improved performance. Modernizing healthcare legacy applications takes time and skill. TATEEDA GLOBAL can help you with the identification, planning, and elimination of legacy software inefficiencies. 

Which medical products can you upgrade or modernize? 

🔸 Healthcare ERP Systems
🔸 Electronic Medical Record (EMR) 
🔸 LIMS and Research Process Management
🔸 Picture Archiving and Communication System (PACS)
🔸 Computerized Physician Order Entry (CPOE) 
🔸 Electronic Prescribing (E-prescribing) 
🔸 Clinical Decision Support (CDS) 
🔸 Health Information Exchange (HIE)
🔸 Revenue Cycle Management (RCM)
🔸 Pharmacy Inventory Management  

See the rest of our services here: 👇
Custom Healthcare Solutions
See how we can engineer healthcare software, validate your ideas, and manage project costs for you.
6 Modernization Strategies: The Most Popular Legacy Medical System Upgrade Methods
What medical practice and hospital legacy system modernization approaches are available out there?
Encapsulation: Reassembling software modules with programmatic encapsulation of deeper application components (like medical databases) to isolate them and then "wrapping" with newer interfaces and functionalities via APIs and other applicable software engineering methods. This approach allows for the seamless integration of older and newer system components.
Rehosting: Redeploying your legacy healthcare application to another platform or infrastructure: physical hardware, virtual settings, or cloud technology, for example, without deep revision of its code sources, features, and capabilities.
Refactoring: Enhancing and optimizing current code to eliminate technical issues, loopholes, and inefficiencies. This method is a great option, but it's applicable to a limited group of legacy systems in healthcare. Refactoring strategy is predominantly used with open-source or custom software solutions. Refactoring can be done by the original custom product vendors or by third-party developers if the proper software documentation is available.
Rearchitecting: Almost complete reconceptualization of a legacy product, including changing its core tasks and functionalities. This approach usually requires shifting to different technologies and platforms along with deep modernization of application architecture, which enables new capabilities.
Rebuilding: The product scope and key specifications of a legacy application are predominantly left intact; however, the sources are rewritten from scratch to implement newer programming languages, faster processing engines, and more flexible platforms.
Replacing: Obsolete healthcare applications are retired completely and replaced by newer solutions. In the context of this strategy, the main considerations include selecting an appropriate alternative and migrating data correctly. This approach may include either the full-cycle development of a new application or a ready-made solution.
💬 What strategy is the best for your legacy healthcare software?

If you're not a skilled IT specialist or software engineer, it can be difficult to identify the degree of your legacy software obsolescence or malfunctioning to select the correct strategy.

At TATEEDA GLOBAL, we know how to execute, test, and manage healthcare software projects, and we can definitely help you select the most suitable legacy software upgrade strategy.

Please contact us for a free consultation or learn more about our successful projects below: 👇
Delivered Healthcare Software Portfolio
The leading American healthcare companies benefit from working with us.
Isn't It Better to Keep Your Legacy System Working as Usual with No Change?
What happens if you don't do healthcare legacy software modernization? If the need for deep health IT system modernization is ignored for too long by healthcare business managers (CTOs, CEOs, and CIOs), it can lead to complex degradation of healthcare technology:
| | | |
| --- | --- | --- |
| Criterion | Legacy Software | Upgraded Software |
| Business Fit 💪 | Uncertain: No longer capable of performing core tasks or meeting goals efficiently. | Sufficient: Software executes key tasks and functions at its best. |
| Business Value 📊 | Compromised: Consumes more valuable resources than it generates in return. | Top-notch: Generates high business value and justifies all associated expenses. |
| Agility 🏃 | Spoiled: Barely responds to daily challenges and varying workflow requirements. | Offers agility potential: Provides a lot of capability to easily adjust to workflow changes. |
| IT Perspective 🦾 | Unclear: Can no longer be amended to adopt new technologies, modules, features, and so on. | Bright: Has sufficient capabilities to scale up and adopt newer technologies and modules. |
| Risk 😕 | Increased: Instigates data security incidents leading to cyber threats and the probability of data loss. | Managed: Has all up-to-date security measures in place. |
How to Prepare For Healthcare Legacy System Modernization: The 3 Major Steps to Upgrade
In this section, we'll discuss how to modernize legacy systems in healthcare as a step-by-step process that can be executed with your IT department, partners, and outsourcers.
Step #1: Examine Your Legacy Healthcare Software/System
Involve a qualified CTO or skilled software developer/engineer to lead the process of technical assessment (you can hire an experienced IT consultant for this.)
Execute a comprehensive examination of your current healthcare system: Define the major tech limitations and problems you want to address and overcome via health IT system modernization.
Identify business activity areas negatively affected by existing limitations.
Model how these areas will improve if you implement enhancements in the context of legacy software upgrades.
Measure how much business processes and workflows will improve, and set key priorities according to the value of these potential improvements.
Identify the key stakeholders in your legacy system upgrade: physicians, medical admin staff, nurses, patients, vendors, and regulatory bodies. Make sure to collect everyone's feedback and suggestions.
Estimate your risk-to-reward ratio: Is modernization strongly recommended, or can be done later without serious harm? (This must be decided by a qualified IT specialist.) One or more application modernization scenarios must be offered as a documented project roadmap.
Develop a clear vision and goals for your legacy system modernization. Make sure you have a comprehensive outline with specific modernization objectives, including estimated project costs measured against expected benefits.
Make sure to address all issues, concerns, and obstacles. Define IT and business perspectives, project complexity, and risk. Specifically, focus on HIPAA compliance throughout the entire process.
Step #2: Plan IT Modernization in the Healthcare Industry
Select the right strategy for upgrading your legacy medical product. Will it be some form of refactoring, cloud rehosting, or a complete re-architecture effort? This can be correctly decided upon only by a skilled IT engineer.
Build a precise plan with phases, tasks, and milestones. TATEEDA GLOBAL offers project management and other IT outsourcing services. You can always count on our skills and expertise.
Make sure you have professionals to cover all areas of the technological process. Usually, these are software architects, UI designers, developers, cloud specialists, QA specialists, and others. Of course, many healthcare organizations and companies don't have a large IT staff, but a competent outsourcing partner will surely help you through staff augmentation.
Establish a project budget that covers all costs in correlation with your software modernization timeline, including IT staff expenses, DevOps services, cloud data migration, cloud fees, medical staff training, and ongoing maintenance.
Divide your project into manageable tasks and execute them according to plan under the control of a skilled project manager.
Step #3: Execution and Post-implementation Period
Make sure all software modernization objectives have been met as appropriate.
Ensure QA and engineering review for each modernized system element.
Evaluate effectiveness in terms of business value. Do the medical staff, patients, and other users approve of the improved software performance? Have all medical data records been correctly migrated? Have HIPAA requirements been met at every project stage?
Communicate the importance of software changes and streamlined workflows to all categories of potential users, and make sure they are sufficiently trained to use the new capabilities of your upgraded healthcare software.
Put a plan in place for ongoing maintenance and further upgrades. It must offer steps and procedures to ensure that your upgraded healthcare system remains technologically fit and compliant with your organization's goals and requirements.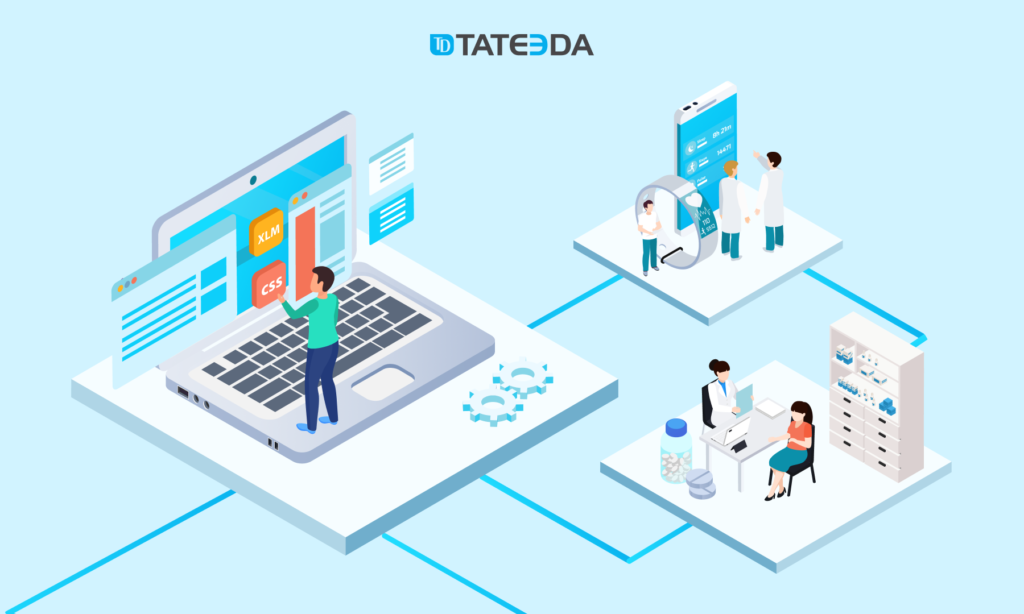 💬 As health-tech professionals say, "the more reliable your medical software, the better, safer, and faster the healthcare services will be that you can offer to your patients…."

Find more exciting details in this article: ➡️ How to Maintain and Support Healthcare Software.
Modernizing Your Legacy System: Technological Options
If you want to turn your imperfect legacy system into a modern, high-end machine filled with sophisticated functionalities, you must seek guidance about all available tech options. Let's take a look at some of them…
Cloud Computing and Cloud Migration for Legacy Systems
Cloud-based platforms allow healthcare providers to operate their data and applications over the Web instead of onsite servers. With cloud solutions, healthcare providers can…
reduce IT costs and hardware maintenance
improve system scalability
enlarge storage space
increase emergency readiness
enhance HIPAA compliance
empower better medical data security
enable patients and physicians to access data from anywhere
integrate medical applications with IoT solutions
connect mobile applications and develop patient access portals.
Mobile Replatforming for Legacy Medical Applications
Custom mHealth and biotech mobile applications offer healthcare professionals a convenient, portable way to access patient information and other medical and scientific records. Depending on the scope of your legacy software modernization project, it's possible to port existing healthcare applications to mobile devices or add mobile components as access points to a centralized desktop-based medical data-management system. Mobile technologies can be used to level up your legacy system and empower a variety of features:
Access to medical records, medical exams, and lab results from physician or patient smartphones.
Tracking of medical procedures and treatment plans for nurses and other medical specialists.
Medical staff and patient care coordination, including custom medical time-scheduling software and third-party product integrations.
Communication with healthcare providers and medical chatbots.
Remote health metrics tracking for patients and other telehealth solutions.
Artificial Intelligence and Big Data Analysis
Artificial intelligence (AI-aided) system components can be incorporated into former legacy software after a serious revision of its architecture, establishment of API integrations, and enhancement of other interoperability features. AI- or ML-powered solutions can help…
Analyze large amounts of medical data with the help of Big Data techniques.
Generate valuable insights and recommendations regarding medical practice.
Data-mining techniques and platforms in healthcare.
Intelligent notifications for medical practice applications.
Assistance with automated decision-making on the most suitable treatment plans/scenarios and prescriptions.
Automated healthcare routines: medical coding, smart IoT devices, robotic assistants, and much more.
Enabling Application Programming Interfaces (APIs) for Legacy Software
Application Programming Interfaces (APIs) are a facilitated method to interconnect different healthcare systems and allow them to exchange data. Not all legacy systems support this technology, but once it's implemented, it opens numerous opportunities:
💬 How can TATEEDA GLOBAL help you with your legacy system?

We can help you manage issues connected to obsolete healthcare applications. Our engineers will assist you in planning and executing your legacy software modernization, choosing the best IT technologies/most suitable system upgrade strategies, and more.

Please contact our health-tech consultant for assistance: 👇
Slava Khristich
Healthtech CTO
Based in San Diego, Slava knows how to design an efficient software solution for healthcare, including IoT, Cloud, and embedded systems.
FAQ: IT Modernization in the Healthcare Industry
How are legacy system upgrades measured?
Legacy system upgrades in healthcare can be measured using a variety of metrics, including improvements in system performance, patient outcomes, and financial results. Specific goals must be set for each project after careful technical assessment. For example, one way to measure the success of a legacy system upgrade is to track improvement in system downtime or the time it takes to execute certain business tasks.
Is it possible to upgrade only the back end of a legacy system?
Yes, upgrading only the backend component (server side) of a legacy software system in healthcare without affecting overall functionality is possible. In fact, upgrading (optimizing, rehosting, and/or rebuilding) the backend engine can be a cost-effective way to improve the performance of your legacy medical system without having to overhaul the entire system completely.
What problems can arise when upgrading legacy systems for hospitals?
Upgrading legacy systems for hospitals can present a variety of challenges and potential problems, including…
Compatibility issues: Legacy systems may not be compatible with newer technology or software, so connecting them can require advanced engineering skills and significant effort.
Data migration: Moving medical data from a legacy hospital system to a new system can be a very complex undertaking that requires sophisticated process planning to prevent painful data loss or corruption.
Training and retraining staff: Upgrading a legacy system often requires additional investment in staff training initiatives. New technology and rectified IT processes may require new skills.
Disruption of workflow: Switching to an upgraded system can temporarily disrupt the workflow of hospital staff and potentially impact patient care, so careful planning and communication are crucial for minimizing the consequences.
Can I hire a dedicated development team to upgrade my legacy software?
Yes. Many healthcare businesses and organizations choose to outsource software development to dedicated health-tech application development companies that offer their expertise in legacy system modernization and other software management services…just like TATEEDA GLOBAL.
How long does it take to upgrade an outdated healthcare system?
The time it takes to upgrade/modernize an outdated healthcare system can vary depending on factors…
the complexity of the system
the scope of the upgrade
the size of the organization
the resources available
the amount of legacy data to be migrated.
In general, upgrading a healthcare system can take several months to a few years (the last is true for very large legacy projects).
How much does it cost to upgrade an outdated healthcare system?
A small fix or upgrade to a specific medical application module (or separate functionality of an existing healthcare system) can cost a few thousand dollars or more, while complete architecture and rebuilding of a large and complex outdated healthcare IT system could cost up to several million dollars. Contact us for more information.