Mental Health Therapist App Development Guide: Technology, Features, and Costs
💬 Online therapy app development for psychological support and assistance is a hot topic in modern healthcare and a highly promising segment in next generation medical software. 🧠 Would you like to be among the beneficiaries of this growing industry?

There exist too many reasons why mental health counseling apps are in high demand today…and are expected to achieve new heights. Particularly, lockdown and self-isolation 😷 have significantly contributed to the enormous increase in mental health issues, leading to services and apps designed to mitigate them.

Let's learn everything there is to know about creating a mental health app: the benefits, potential features, costs, and technological specifics of this type of project. 👇
⚡ NOTE: If you need a reliable tech partner that can help you build a mental health therapy app, look no further—we have all the necessary skills, technology, and a dedicated team of developers to help you. Contact us for a free consultation!

Remote mental health counseling and teletherapy services, like cognitive behavioral therapy, are usually offered by boutique healthcare providers and thousands of independent licensed practitioners (private therapists), available in the United States and worldwide.

The spectrum of mental issues covered by therapy includes…

💔 Mild to moderate conditions like anxiety, OCD, and more
🚸 Socialization of kids, teens, and adults
💑 Family and couples relationship issues
💋 Sexuality and intimacy issues
🚭 Addiction and self-esteem problems
😞 Depression, stress, and grief
👪 Parenting issues
😢 Trauma and abuse
🚒 Crisis situations.

Treatment provided through a remote therapy app (a.k.a. teletherapy) can be a swift, convenient solution for both the client and the therapist. Many studies suggest that teletherapy is just as effective as traditional in-person counseling.

The objective of a remote therapy app is to ensure an instant, secure connection between patient and therapist. The basic functionality of a custom therapy app should encompass…

Messaging
Live chat
Phone (audio calls)
Videoconferencing
Mental health tracking app: mood logbooks, chatbots, and more.
Before we learn more about on-demand therapy app development and delve into technical and functional specifics, here are a few facts about our biotech software development company: 👇
Who are we? TATEEDA GLOBAL is a medical software development company that can help you with mental health app development. Our benefits include…

✔️ Deep expertise in the creation of on-demand healthcare applications

✔️
HQ in San Diego, California: onshore custom therapy app development services in a convenient time zone for North American customers

✔️ Outstanding experience and skills building hybrid healthcare software products with Cloud, IoT, mobile, web, and desktop components

✔️ Dedicated project managers and engineers offering personalized communication and unlimited consulting 💻☕

If you want to build a mental health therapy app, contact us today!
The Benefits of Creating a Mental Health Therapy App
Who can benefit from teletherapy health apps?

Every stakeholder involved in the process of mental health counseling gains their own unique advantage: Patients can better and faster access qualified care, while therapists can reach a greater number of clients to help. Healthcare providers can cut therapy-associated expenses.

Let's examine how a therapy app development company can help…
👩‍⚕️ Reduced overheads for therapists
Renting an office space for in-person visits can be expensive, but using an app for therapy sessions can help improve your overall financial situation. Therapists who switch to telemedicine as their primary or part-time business model can…
✅ Drastically decrease administrative costs
✅ Save time on commuting while scheduling more therapy sessions per day
✅ Stay away from seasonal viruses spread by clients during in-person communications (this can be a good option for senior therapists.)
Learn more: ➡️ Mental Health EMR Development
🤒 Greater access to mental health assistance for patients
Mental health therapy app development can help patients get skilled, affordable assistance from mental health professionals and volunteers. The most important potential audience segments who can benefit from remote therapy apps include…
🔸 People living in distant or isolated communities and locations
🔸 Persons with immobility issues or limited abilities
🔸 Patients who want to protect their anonymity
🔸 Anyone who wants to keep their mental health symptoms in check and save time and money by reducing time in the car.
Learn more: ➡️ How to Build a Medical Second Opinion Telemedicine Platform
📈 A booming market with myriad unexplored opportunities
Despite the fact that 100+ new mental health-tech startups are released every year, there still exists great demand for high-quality teletherapy apps in a wide range of niches and categories. Some therapy startups have raised multi-million-dollar investments, like a mental health platform that attracted $175 million or a meditation app that received $75 million in 2020.
Therapy app development still has enormous potential for implementation of innovative technologies and enhanced user experience, including…

✨ VR and augmented reality for replication of calming locations and natural sights: Why don't you visit a jungle waterfall or go for a space trip right from your office to relax and prevent stress accumulation?

⭐ Gamification techniques for better patient focus and engagement. For example, a therapist can assign a task or mission to a patient, and after completing it, they earn a number of points. Patients can feel better about their progress, unlock achievement badges, and more.

🚴‍♂️ IoT integration with fitness trackers and other tools for mood and activity control. Learn more here about our IoT application development services ⇒
📊 Data collection and analytics in mental health can help physicians and medical scholars discover new correlations and associations between health facts, symptoms, disorder manifestations, and treatment outcomes in mental health practice, thanks to healthcare data mining methods used in cognitive behavioral therapy.
Do you want to build an app for mental health sessions?
If you're looking for mental health app developers, TATEEDA GLOBAL is here to help! Book a free chat with our experienced tech expert and learn more about technology for developing a mental health counseling app with customized functionality: 👇
Slava Khristich
Healthtech CTO
Based in San Diego, Slava knows how to design an efficient software solution for healthcare, including IoT, Cloud, and embedded systems.
What Challenges Will You Face During Therapy App Development?
Before understanding the challenges, let's consider some typical situations and use cases for mental health software…

Conducting individual therapy sessions over video and/or phone
Video chats with multiple users for couples and group therapy sessions
Receiving therapy-related messages via email or instant messenger
Connecting clients to therapists and offering therapy options within the app
Getting e-prescriptions for medication, if required
Paying for therapy sessions in-app (via hourly rate or subscription plan).
Learn more: ➡️ mHealth App Development

All of these situations ☝️ identify a strong requirement for security, confidence, and privacy in any therapy app. This refers to the number of local and global regulations that must be obeyed in order to protect users, their personal details, and the content of conversations between therapists and clients.

📡 Another important factor is Internet access. Not all potential teletherapy clients have access to a fast, stable Web connection. This is why teletherapy apps must be optimized to work efficiently with low-speed connections, including audio-only or text-only communication options.
The standards for online therapy app development are…

🔶 HIPAA (specific regulations for better PHI management in the U.S.)
🔶 CCPA (gives consumers more control over their information in California)
🔶 GDPR (the E.U., the United Kingdom, and other affiliated territories)
🔶 PIPEDA (the Canadian equivalent of HIPAA)
🔶 PCI-DSS (standard required for secure payments)
🔶 HL7 (international standards for transference of clinical and administrative data)
🔶 FDA Policy (regulates professional-grade software device requirements)
🔶 EPSC Certification (regulates applications for prescribing or filling electronic prescriptions).
Learn more: ➡️ HIPAA Software Development
Do you want to create a mental health therapy app with custom features?
TATEEDA GLOBAL has vast expertise in building medical apps, and we offer a considerable range of mobile app development services for healthcare. Learn more: 👇
Custom Healthcare Solutions
See how we can engineer healthcare software, validate your ideas, and manage project costs for you.
Mental Health Therapist App Features: Ideas and Must-Haves
Building an app for online mental health therapy sessions can be successful or not, depending on the business strategy and functionalities in which you invest. Here, we'll list some of the fundamental features that can be implemented in a mobile application for teletherapy.
👨 User Profiles for Therapy Applications
The keystone component of online therapy app development is user profiling. It's essential to provide users with authorization, credentials, and biometric identification options for better protection of their accounts. Moreover, it's necessary to build…

Personalized preference and configuration
Personal history and tracking for mental health services provided
Medical details including mental conditions and, symptoms 
Contact details: email, phone number, family member contacts, and more
Personal details: name/nickname, gender, age, photo/avatar, etc.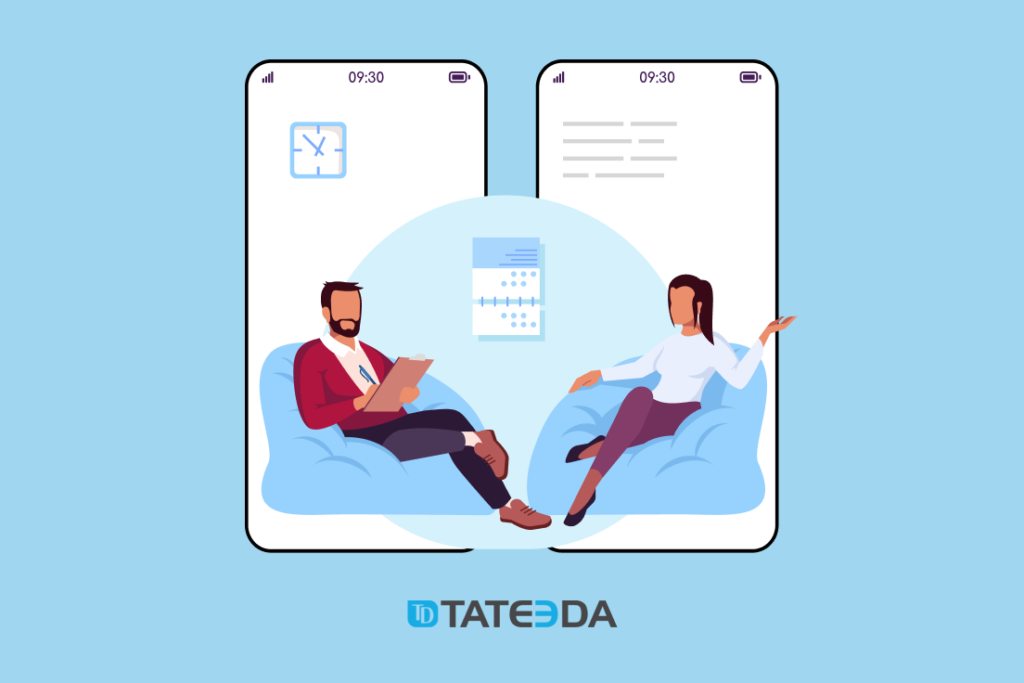 Learn more: ➡️ Patient Portal Development
👓 Finding a Therapist through a Mental Health App
A mental health counseling app can provide users with a marketplace of mental health therapists where patients can look for licensed professionals or change their current therapist if they find their services ineffective. If a client feels they need help with anxiety, depression, addiction, or another issue, they should be able to…

Search for available registered mental health therapists
Study a therapist's area of specialization, skills, diplomas, and more
Compare the pricing of different therapists, if necessary
Check ratings and client reviews.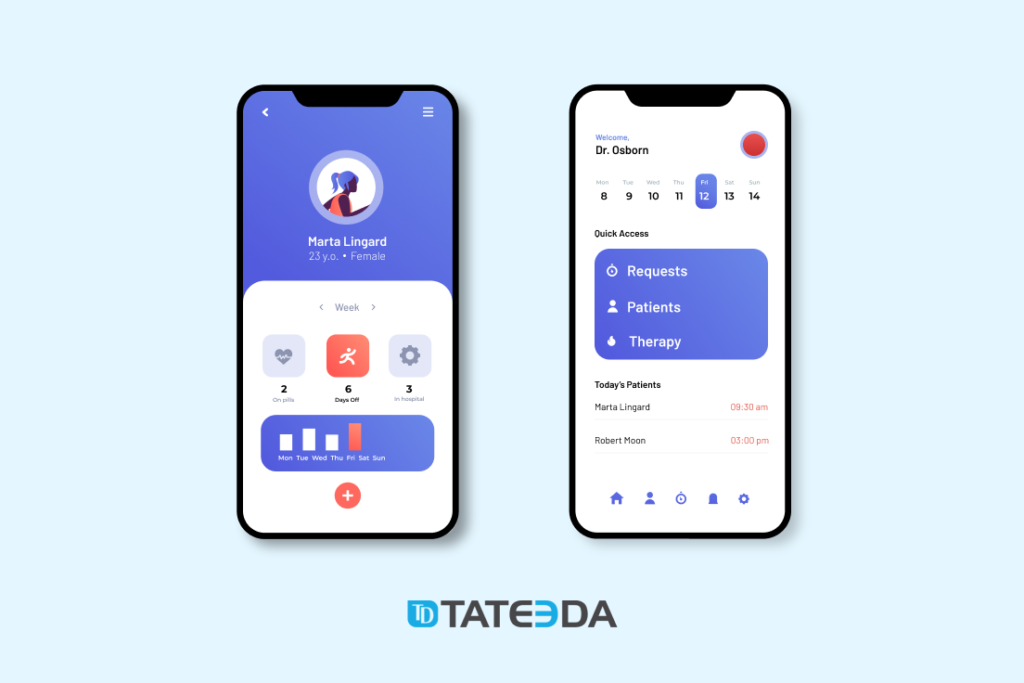 Learn more: ➡️ Virtual Nurse App Development
🖥️ Video & Audio Calls in Online Mental Health Apps
Communication tools are the major component of online therapist app development. A wide selection of third-party plugins and APIs exist for the implementation of audio and video functionality to your custom therapy app. Clients and therapists should be able to…

Schedule therapy sessions and select communication modality (text, voice, video, group chat, and more)
Establish a secure, stable connection for therapy sessions
Establish video conferencing with multiple participants, if necessary
Have access to a number of options to personalize the user experience, like voice modification and anonymizing features.
Additional functionality for deaf, hard of hearing, and blind patients.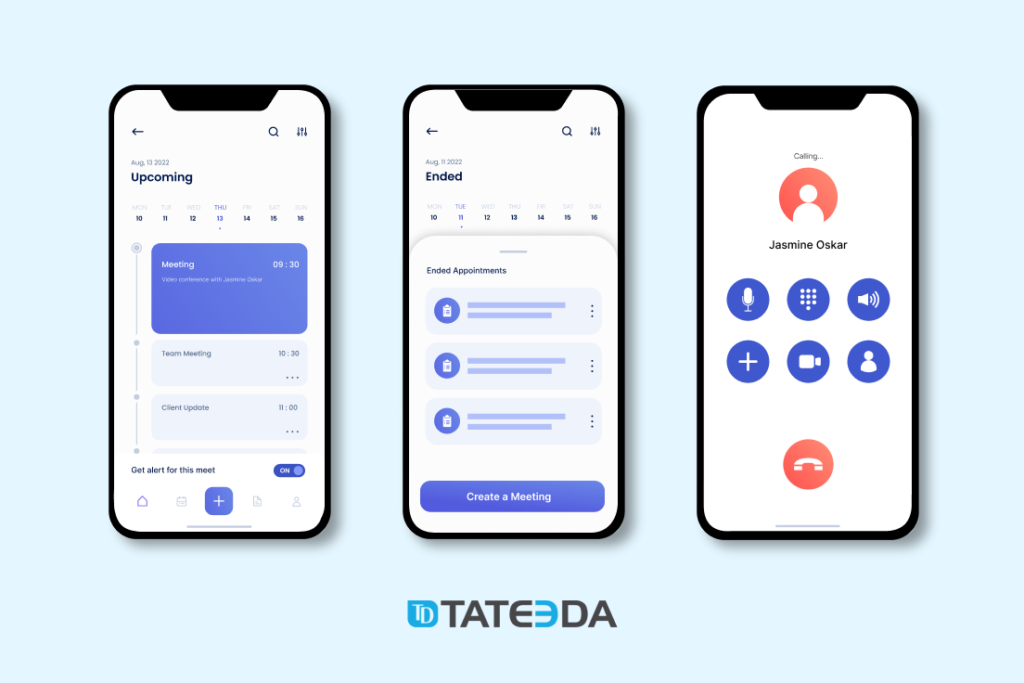 Learn more: ➡️ The 7 Best Healthcare Software Development Companies in California for 2022
📔 Self-monitoring in Online Psychological Therapy Apps
When it comes to teletherapy, it's important to provide patients with self-help and self-care functionalities. If you want to create a therapy app with interactive capabilities, you should consider the following features for patient self-monitoring…

Questionnaires that can help patients estimate the severity of their symptoms and understand if they require immediate counseling from a mental health professional
Games and other audio-visual tools for relaxation and meditation
Mood-tracking analysis over longer periods of time
Diaries or logbooks where patients can record essential events, including the medications they take, the amount of sleep they get, interactions with other people or family members, exercise, and other occasions or activities.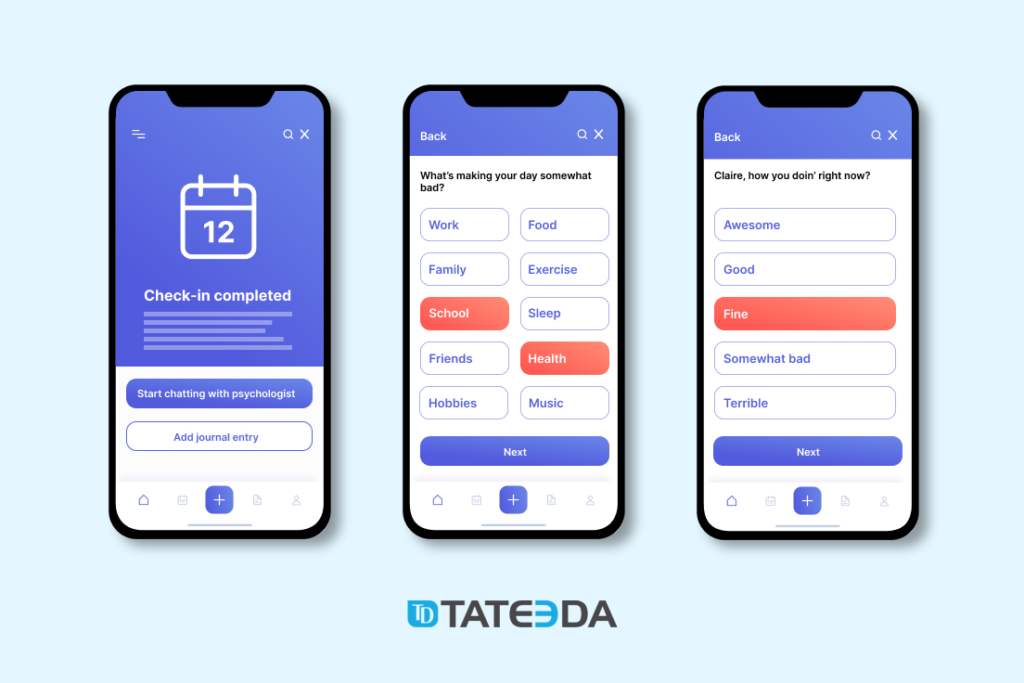 Learn more: ➡️ Medication Tracker App Development
📱 More Important Features for Custom Therapy App Development
Notifications about the upcoming therapy sessions
Education and tips for optimal mental health
Mindfulness, skills-training, and video courses
E-prescriptions
File-sharing and more
Analytics dashboard.
Interested in creating a mental health app for mobile or tablet?
TATEEDA GLOBAL is a San Diego-based custom mobile development company that can help you. We are ready to provide you with a full-cycle/full-stack team of skilled developers who can undertake on-demand therapy app development of any degree of complexity.

Learn more about our successful projects: 👇
Delivered Healthcare Software Portfolio
The leading American healthcare companies benefit from working with us.
Comparison of Features: Leading Therapy Apps
How can your business overtake the competition in the mental health therapy app development market? Build the best feature set of all!

The goal of this section is not to compare online mental health products and/or endorse any, but rather to give you an idea of how you can build a better teletherapy application than your potential competitors. ➡️ Healthcare Product Development: How to Build an MVP

An up-to-date comparison of mental health management app features can be executed by a digital marketer. In this context, let's check out how a comparison table might look…

Features
Talkspace
BetterHelp
DAYLIO
Therapist finder
✔️
✔️
❌
Audio/video consultations
✔️
✔️
❌
Mood-tracking and medication tools
❌
❌
✔️
Platform
Web, iOS,
iPad OS, Android
Web
iOS / Android
As you can see, features are not equal among teletherapy applications. There is enormous potential to create mobile mental health apps with more sophisticated and/or complicated features. If you need free tech consulting with our seasoned software experts, please contact us and book a free call!
UI/UX Design Tips For Therapy Apps
The golden rule is simple: Design and build a user interface that provides patients and therapists with the ultimate tools for achieving their goals with fewer clicks.

Remember that people with mental health issues need a shorter, easier path to qualified mental relief and assistance. Ergo, your application must provide them with facilitation free of additional barriers. Tactics to be avoided include long or cumbersome registration dialogues, ads, and marketing tricks.
📲 Hire a proficient UI/UX designer experienced in healthcare applications. He/she will save you plenty of time and money by avoiding costly re-dos and user reeducation.

📲 Make sure your mental health app design has configurability and accessibility options that make it convenient for a wide range of patients.

📲 Make sure your UI/UX is completely utilitarian and uncluttered, with large, distinct buttons and other comprehensive interface components that allow the user to avoid confusion.
📲 Build a lightweight UI that doesn't contain slow scripts, ads, banners, or other heavy elements so your teletherapy app can perform swiftly under variable system conditions. Learn more: ➡️ Medical Software Design and How to Build It: The Complete Guide
Technology Stack For a Mental Health App
Defining a specific mobile tech stack for a mental health application is a task for a professional software engineer who can delve deeply into project details and nuances.
The tech stack can seriously affect a number of application metrics, including mental health app performance, speed of response, convenience, compatibility, and ease of use. An incorrect combination of technologies can lead to slow performance and security loopholes.
Technologies we use in mental health software development for mobile include…
✔️ Flutter, React Native, Xamarin, and NativeScript
✔️ .NET Development tools for web, mobile, and desktop applications
✔️ Cloud tech: multi-cloud, hybrid cloud, etc.
✔️ Best security standards and quality assurance practices.
Learn more: ➡️ Cloud Computing in Healthcare: 3 Use Cases, Benefits, Features & Best Practices
How Much Does it Cost To Build A Therapy App?
The price tag for mental health app development depends on many factors, including project timeline, size of the application, tech stack, project scale, and team composition. For example: 👇

The minimum required team will include the following specialists…

🔸 1-2 Android and/or iOS developer(s)
🔸 a server-side (back-end) developer
🔸 a UI/UX designer
🔸 a quality assurance specialist (app tester)
🔸 a project manager.

🏷️ On-demand therapy app development pricing per full-cycle project (4-12 months) can reach $50,000-$60,000 on average for a simple mental health app. More complicated applications, with features like a therapy marketplace, multiple concurrent users, and other sophisticated functionalities can cost $70,000-$100,000 or more.

If you want details and free tech consulting with a precise, high-level project estimate, book a chat with our experts today!
How to Choose the Right Therapy App Development Team
Mental health app developers include front-end, mobile, back-end, and desktop specialists. If you want to find a therapy app development company capable of building custom functionality for your project, you should…

🚧 Consider their experience. Do they know how to develop a mental health app?

🚧 Look for customer reviews in their business directory accounts.

🚧 Consider their status. Are they an agency subcontracting freelancers, or a standalone company with their own employees? (Opt for the second variant.)

🚧 Have an experienced tech specialist on your side for easier negotiations and efficient formulation of your technical requirements.
Learn more: ➡️ How to Launch a Healthcare Startup: The Guide to Building Great Health-tech Products
FAQ
How long does it take to build an online therapy app?
Project duration depends on the complexity of your future application. For example, a simple stress-management app can be built in 4 months, and a complex teletherapy product with video/audio tools, user profile, cloud database, and more can require 12+ months for engineering, development, deployment, and testing.
Where to find good psychological therapy app developers
TATEEDA GLOBAL can help you design and create a mental health application for mobile or web environments, including a variety of custom options and tools like IoT tool integration, including interoperability with other healthcare IT products. We have our in-house development team that can work for you either on a full-cycle development basis or as a team augmentation partner. Contact us for more details!
Can you set up a dedicated team for mental health development for us?
Sure! We can set up a project team for you within 48-72 hours. We can provide you with individual IT specialists for project augmentation or a professional team for full-cycle development of your mobile app for remote therapy sessions, therapist selection, mood tracking, and more.
Can you create a teletherapy management app using cross-platform development tools?
Yes! Our team has all the necessary skills to build a mental health app for any popular platform, including Native or cross-platform development and functionality. If you want to learn more about the technologies we use for custom therapy application development, contact us today!