Medical HR Software Development: A Solution to Staffing Issues in Healthcare
In this article, we'll discuss…
How medical HR software is mediating the current situation in healthcare
The features and benefits of medical HR management software
How to develop a medical HR system and get help with this type of project.
⚠️If you're looking for IT services and require immediate information and/or pricing details in the context of building your cloud-based HR system or other solution for healthcare staff management, please contact our software experts for deeper project consultation!
Is it easy to hire a good physician or nurse these days?
The reports are telling us that it's not easy at all. U.S. healthcare is facing an acute shortage of medical professionals.
At the same time, HR professionals from United States healthcare organizations, hospitals, and clinics are calling it a headache that pesters them daily.
All of this indicates a strong need to support medical HR professionals by streamlining HR processes in hospitals and clinics so they can be easily managed.
At TATEEDA GLOBAL, we know the pain points of medical HR departments pretty well. We have helped several U.S. companies develop their healthcare HR software solutions and have valuable expertise to share with you…
Our client base includes AYA Healthcare, the largest travel nurse agency in the U.S. The staff management solution we designed for them supports thousands of nurse profiles and jobs.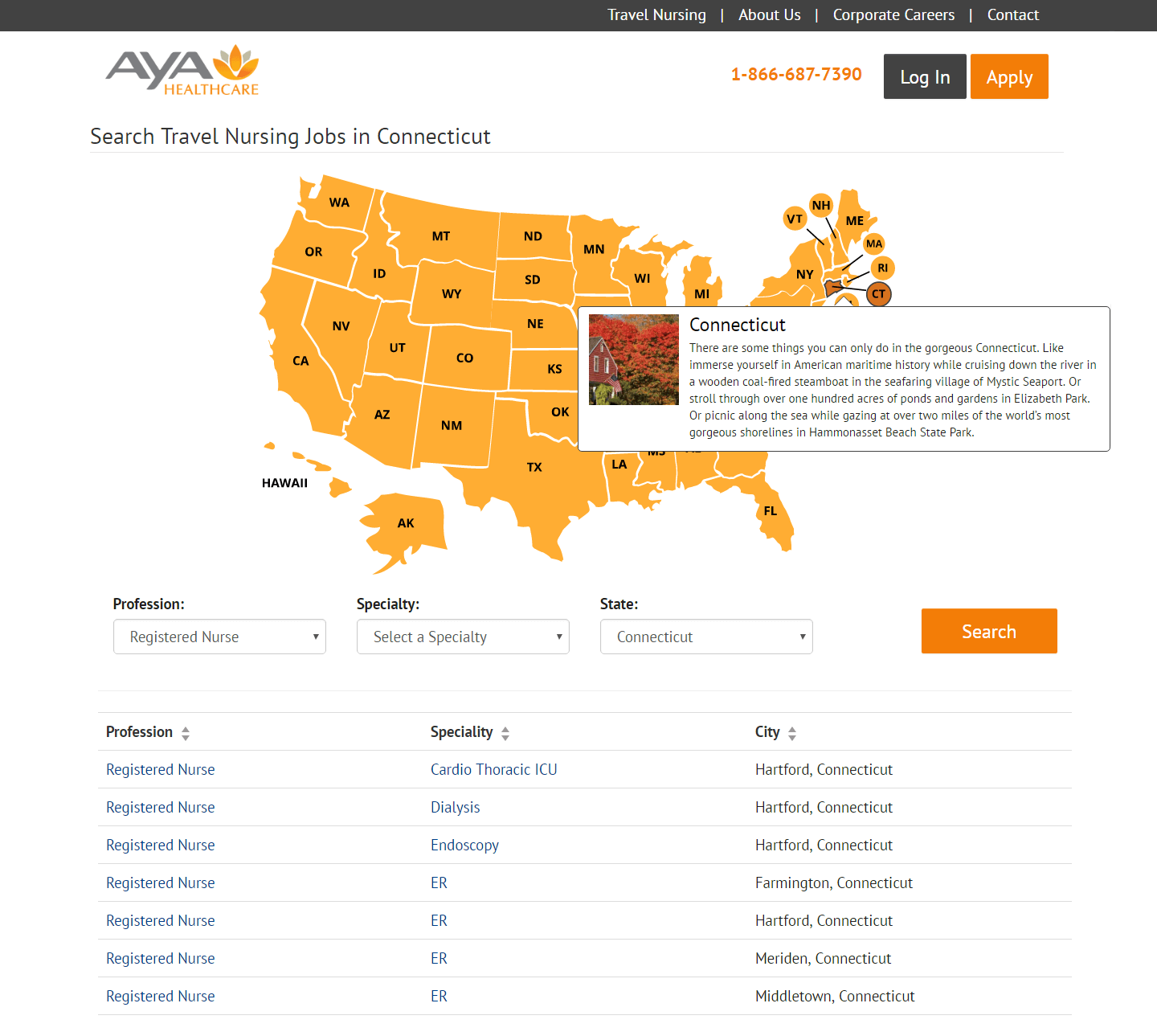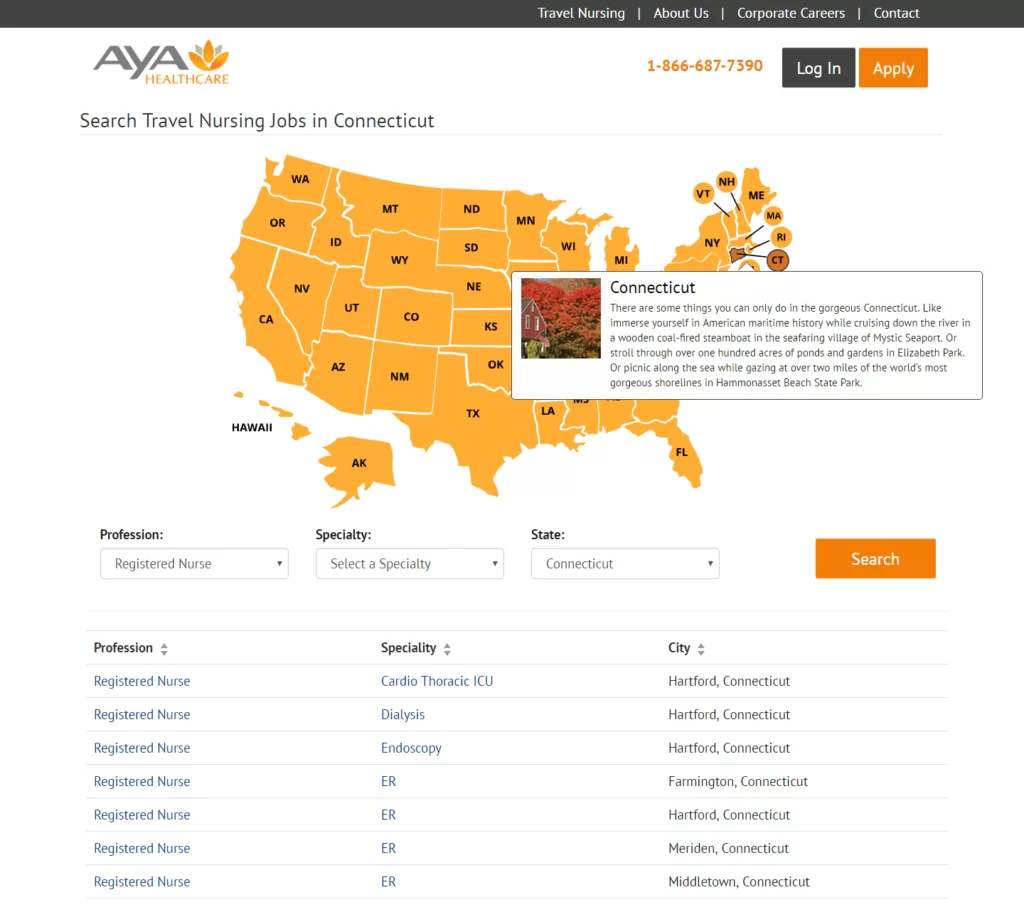 The causes of the public health care workforce crisis include:
An aging U.S. population with an increasing need for healthcare
An aging medical workforce with many public health employees retiring
An increasing trend toward chronic conditions and diseases
Many healthcare professionals are leaving the industry because of the extreme stress put on them during the COVID-19 pandemic.
Currently, in American hospitals and clinics, there exists a high demand for nurses, radiologists, epidemiologists, anesthesiologists, cardiologists, surgeons, and a wide range of other skilled public health specialists.
According to healthcare professionals themselves, medical staffing has always been an issue, but the COVID-19 pandemic seriously aggravated it.
With such a challenging background, the role of HR specialists and managers in the healthcare industry is vital yet hard to fulfill.
Medical HR management software greatly facilitates these specialists' tasks and helps them stay efficient, even in times of high economic turbulence.
Let's now learn how IT solutions are helping them achieve human resource objectives and deal with healthcare issues efficiently…
How a Medical HR System Can Help Manage Expenses and Resolve Staffing Issues in Medicine
The lack of qualified physicians and nurses is a global healthcare problem that is profoundly affecting the United States, with no sufficient solution in sight.
The World Health Organization has released a list of recommended actions aimed at alleviating the worldwide deficit of healthcare workers.
Their suggestions include (paraphrased):
Improve technical leadership to support HR development
Ensure reliable/valid data for healthcare databases
Fix the lack of balance in the global allocation of healthcare workers and improve retention.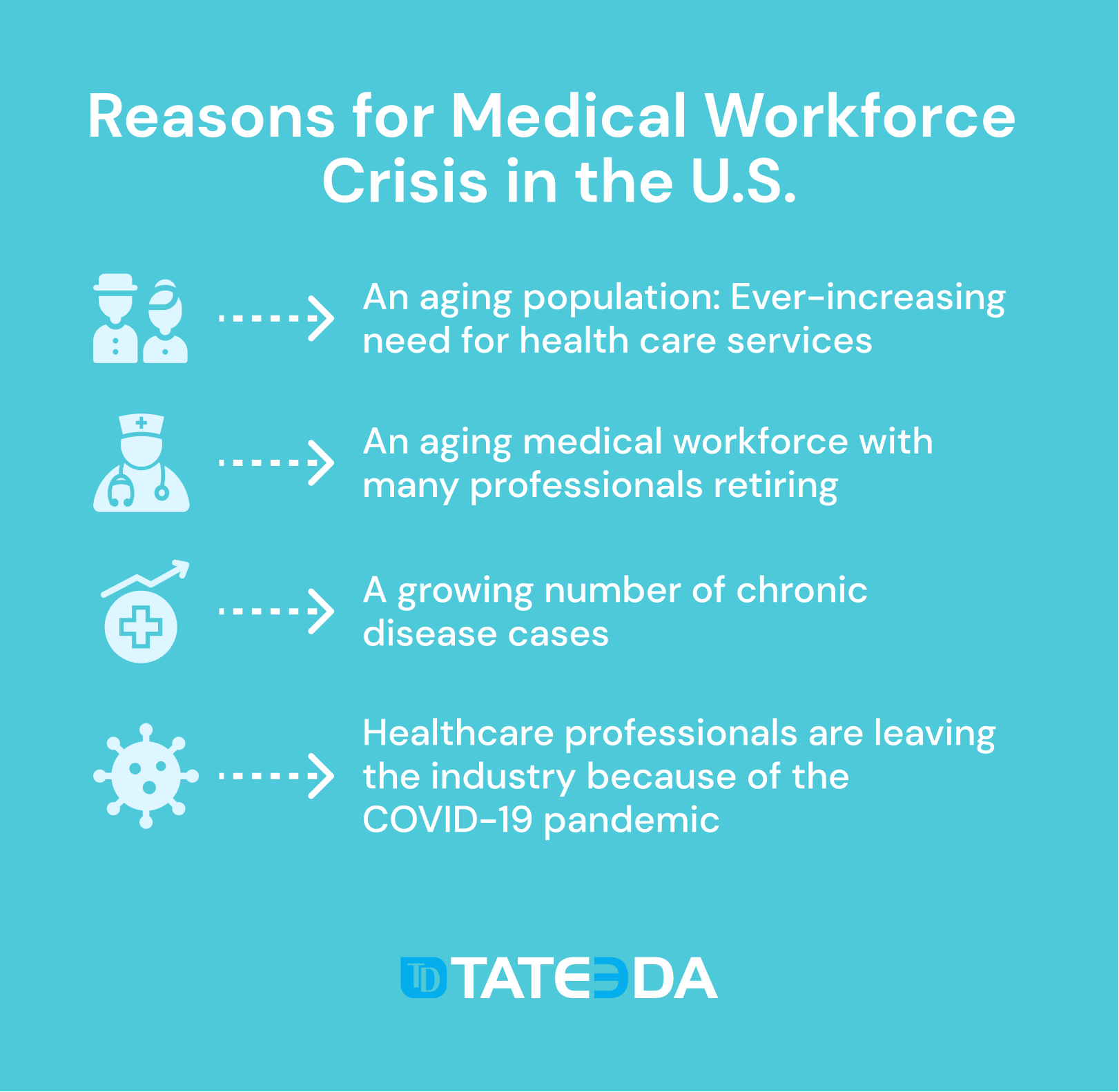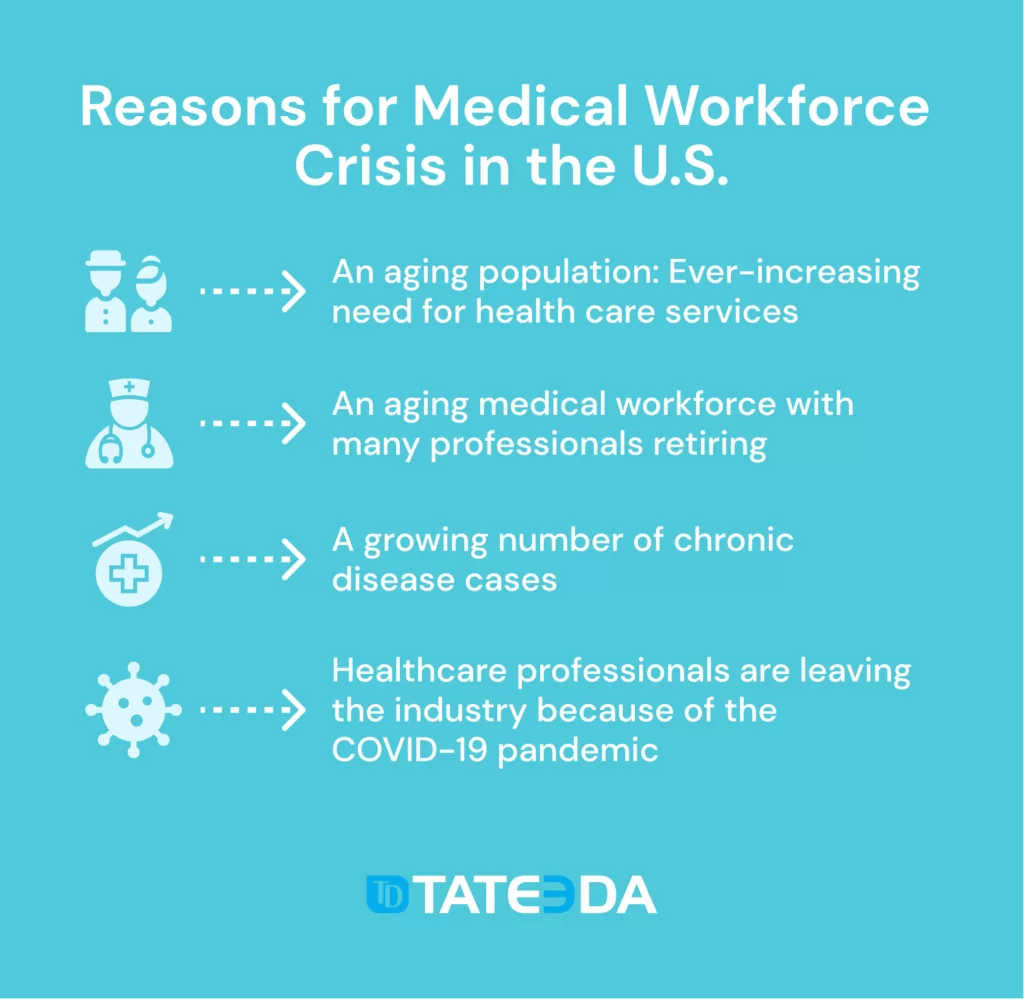 We can say that medical HR software is just what the doctor ordered to address the challenges of the modern healthcare crisis!
Today, medical HR system development and implementation are necessary in order to gain technical leadership in any healthcare organization.
IT solutions help HR specialists to:
Streamline HR processes so HR professionals spend less time on administrative routines and more time on value-added activities
Ensure the reliability and consistency of healthcare workforce data, helping human resource managers make data-driven decisions
Manage any lack of balance or retention issues in existing medical staff
Keep all processes/projects under control with the help of convenient tools, e.g. tracking of task progress, viewing analytics via digital imagery, and much more.
Which Human Resource Processes Can Be Managed with Healthcare HR Software?
Processes that can be managed by medical HR specialists are generally similar to those of any other HR scenario:
Medical staff recruitment, selection, and headhunting efforts
Hospital staff performance, tracking, and management
Staff training, education, and individual development
Succession healthcare planning
Healthcare staff compensation and benefits management
HR information management and analytics.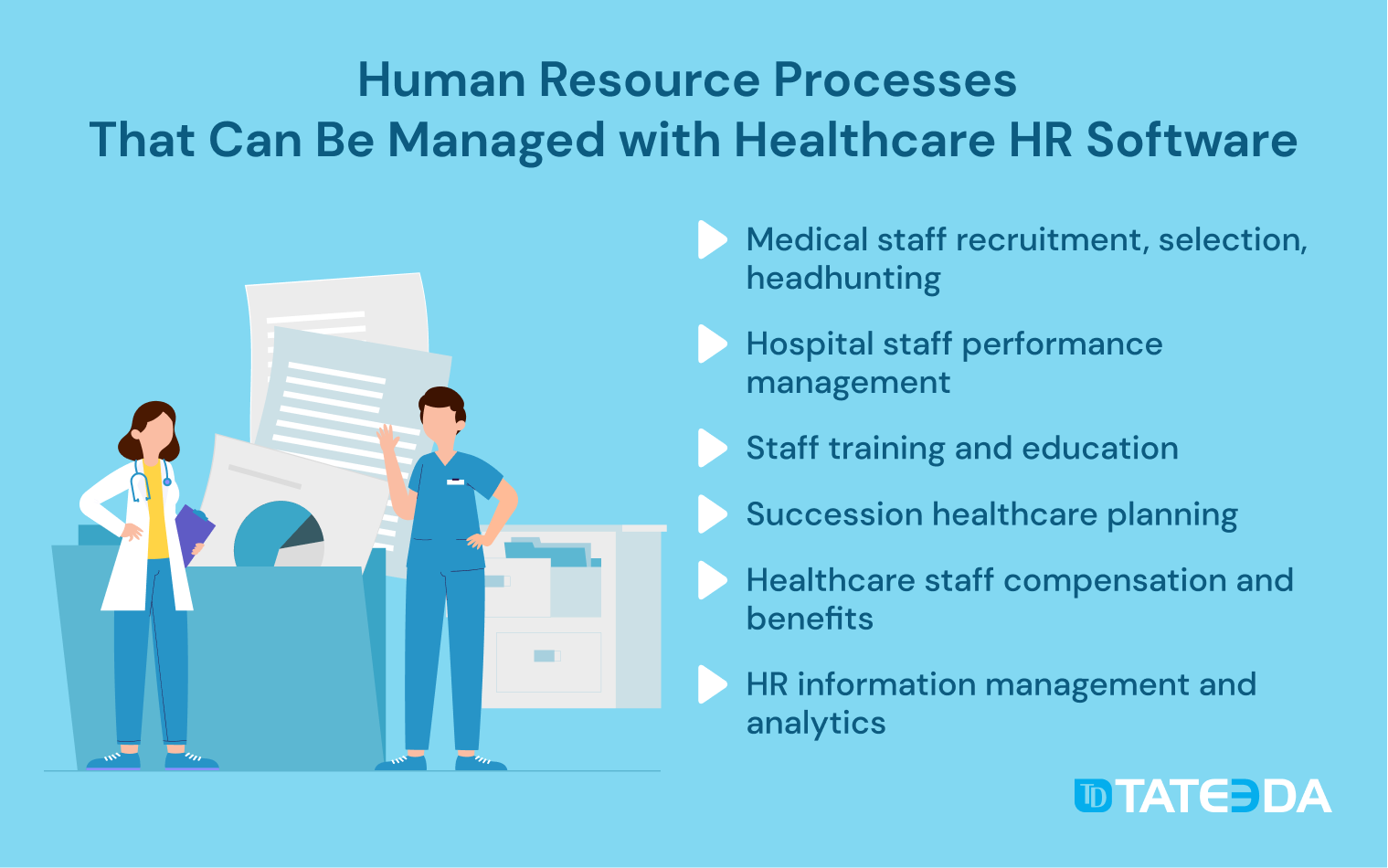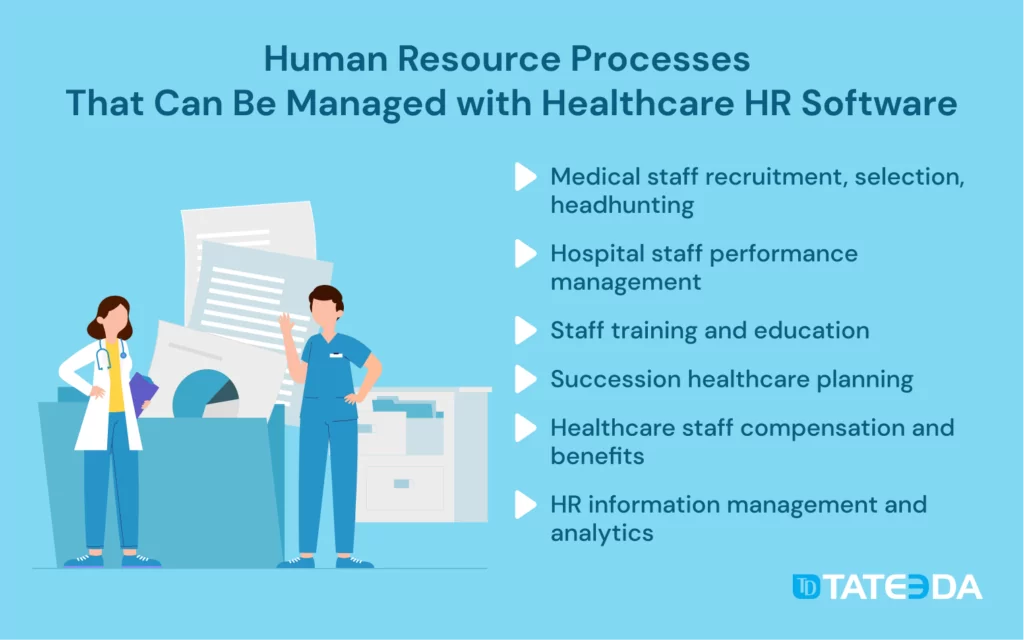 Learn everything there is to know about Custom Medical Staff Management Software Development.
Can all of these HR processes be automated and optimized?
SURE!
When a healthcare organization invests in developing a medical HR software system customized to their specific needs, they can expect a number of important benefits:
Top 3 Medical HR Software Benefits
#1: Enhanced levels of productivity. Although healthcare HR processes are considered pretty conservative and are massively regulated via large databases of HR-related legal compliance requirements, there is still huge room for improvement.
With their activities supported by custom medical HR software, HR managers can easily make sure that everything within the system complies with all relevant workforce protection laws and regulations.
#2: Mutual incorporation of medical staffing and time scheduling workflows. With an efficient digital combination of healthcare staffing and staff scheduling modules, HR specialists can now:
Control employee work shifts and appointments
Prevent excessive workload and staff burnout
Improve the accuracy of time-tracking and payroll accounting in hospitals, clinics, and medical centers
Enhance employee communication and medical staff satisfaction with their jobs.
Do you need help?

If you want to create or upgrade an HR management application for your healthcare company, feel free to ask TATEEDA GLOBAL for qualified assistance and unlimited tech consulting. Our health-tech engineers have deep expertise in designing and developing solutions for staff management in medical organizations and businesses.

Please wait no longer and book a FREE chat with our medical software expert: 👇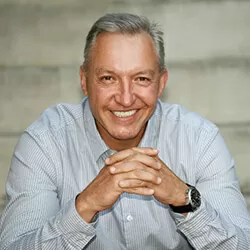 Slava Khristich
Healthtech CTO
Based in San Diego, Slava knows how to design an efficient software solution for healthcare, including IoT, Cloud, and embedded systems.
#3: Mobility and independence from the workplace. The COVID-19 pandemic pushed all types of employers, including healthcare providers, to embrace the advantages of the work-from-home model instead of keeping employees attached to the workplace (especially for those working within coronavirus-stricken hospitals.)
Minimization of non-medical-employee onsite presence is now a top priority in hospitals and clinics. Administrative workers, such as medical HR managers/officers, HR specialists, and recruiters, can be painlessly moved to a work-from-home modality or to a mixed model with reduced onsite presence.
"Work-from-home" Medical HR Management Software
One of the most important features of medical HR software is the ability to ensure a smooth transition for HR professionals to home-based workplaces and provide them with the ability to:
Work via a connected and/or mobile device from home or any other remote location
Access/share all workforce-related files, database entries, and task tickets via cloud-based integrations without looking for data in paper documents
Have all workforce-related documents and data at one's fingertips.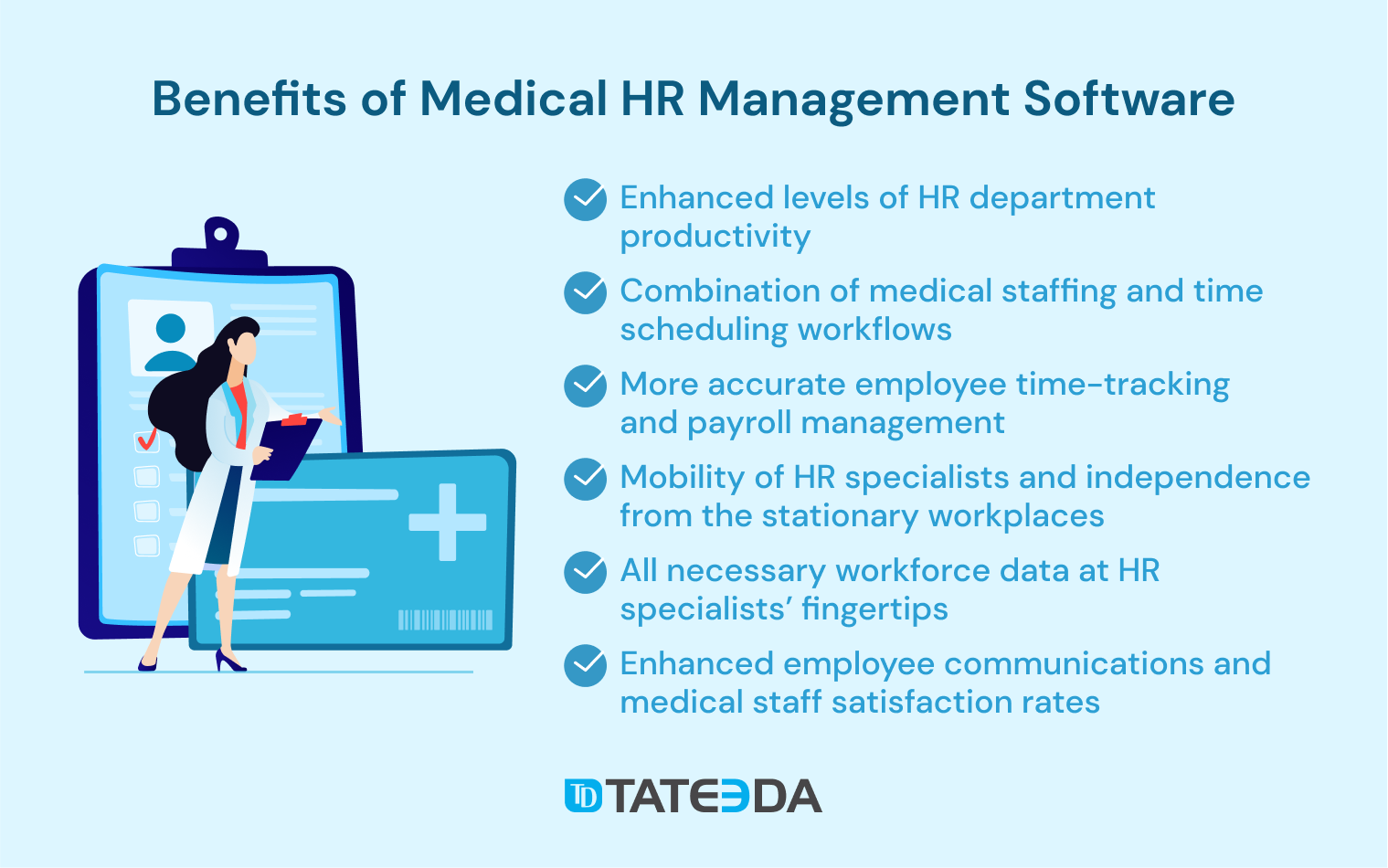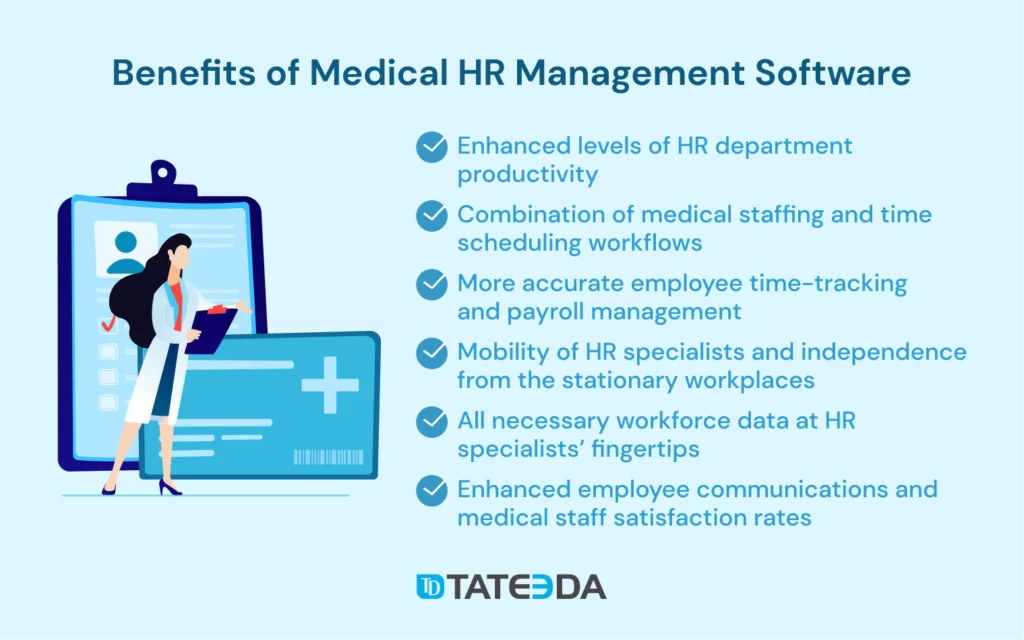 Read also: ➡️ How to Benefit from Remote Patient-monitoring Software Development
Interested in Medical HR Software Development?
Consider TATEEDA GLOBAL for all your full-cycle medical software development needs. Based in San Diego, CA, our company can deliver hybrid multi-platform solutions for your hospital, medical, and other healthcare HR departments.
We have powerful expertise in building medical staff scheduling software systems featuring HR functions like time-tracking, billing, and much more.
Questions or ideas? Contact TATEEDA GLOBAL today for a free consultation.
12 Must-Have Features of Custom Medical HR Software
A good healthcare HR management package should provide HR managers with the functions and modules necessary to lead public health employees throughout their entire professional lifecycle: from pre-hire through retirement or leave.

When you create medical human resource software from scratch, it's a great opportunity to come up with a highly specific and efficient set of HR features and modules. Be sure to check out the 14 Major Healthcare Technology Trends of 2021.
Let's take a look…
#1: Employee Forms
It's important to provide medical employees with 24/7 access to online forms that allow them to submit different types of requests: days off, compensation, sick/maternity leave, staff shift changes/trades/swaps, and more.
If an employee request is submitted to the HR system, it should never get lost, and should always be handled in a timely manner. Efficient processing of these requests leads to higher employee satisfaction—top HR priority.
#2: Medical Staff Training and Licensing Management
Professional growth of physicians and nursing staff is very important for any healthcare organization. The medical field is developing rapidly, and medical staff must remain at the cutting edge of modern medical knowledge and methodology.
With medical HR software, it's possible to manage:
Healthcare staff certification and licensing history
Medical courses and training presence
Educational or skill gaps to be covered
Personal development plans for public health workers
Conferences, symposiums, and diplomas
#3: Applicant Tracking System (ATS)
The recruitment process is one of the most important and challenging aspects of the entire modern medical HR experience. As we've mentioned, the medical workforce market is in an ongoing crisis.
When dealing with applicants, it's necessary to find a balance between speed of process execution and compliance with federal/local regulations so valuable applicants don't have to wait until all recruitment formalities have been met.
This system basically allows medical HR professionals to:
Manage the entire recruitment/hiring process of medical workers
Compare different candidates in terms of skills, years of service, etc.
Highlight strong/weak points of available candidates
Check document packages submitted by candidates
Make educated pre-hire decisions on each candidate.
Custom Healthcare Solutions
See how we can engineer healthcare software, validate your ideas, and manage project costs for you.

#4: Medical Time/Appointment Tracking System
A lot of U.S. healthcare organizations are already using certain medical appointment scheduling software in their workflows. These systems provide patients and physicians alike with convenient tools for managing appointments and medical timetables.
If you want to learn more about this type of software, check out our Guide to Building the Best Custom Medical Appointment Scheduling Software.
Connecting scheduling/appointment management systems to HR software can help administrators with time-tracking, staff performance assessment, workload, and billing.
#5: Medical Worker Profiles
It's necessary to maintain a personal profile of each medical employee that contains their personal data, portrait, bio, and professional qualifications so HR specialists can quickly access details as required.
In addition to the basics, profiles can easily accumulate additional employee data, including personal performance metrics/results, requests submitted, benefits, licensing and training status/progress information, and much more.
#6: Assessment Management System
Medical HR assessment processes are necessary in order to control healthcare worker performance and make data-driven decisions about staff policies.
Assessment management functionality includes:
Testing of healthcare worker knowledge and skills
Weekly/monthly performance metrics
Reports and analytics-based upon shifts worked, patient feedback, etc.
Analytics: plans vs. goals achieved
Tracking absences and leave stats
Data affecting decisions about medical employee remuneration, bonuses, and promotions.
#7: Employee Feedback and Engagement Management
It's important to maintain proper levels of medical staff motivation/morale and value staff opinions while enhancing work processes in hospitals, clinics, and medical centers. A medical HR system can be used to collect separate pieces of employee feedback and generate unified verdicts. This helps medical managers with the decision-making process. If you are interested in collecting patient feedback, be sure to check Patient Electronic Data Capture Solution Development.
#8: Applicant Background Checks in Healthcare
This function usually comes as an integrated part of an ATS module/system. It delivers an automated search for candidate data in a set of public or authorization-protected databases:
Criminal records
Financial history
Court verdicts
Patient reviews
Previous employer feedback/recommendations
Other sensitive records that can affect hiring decisions.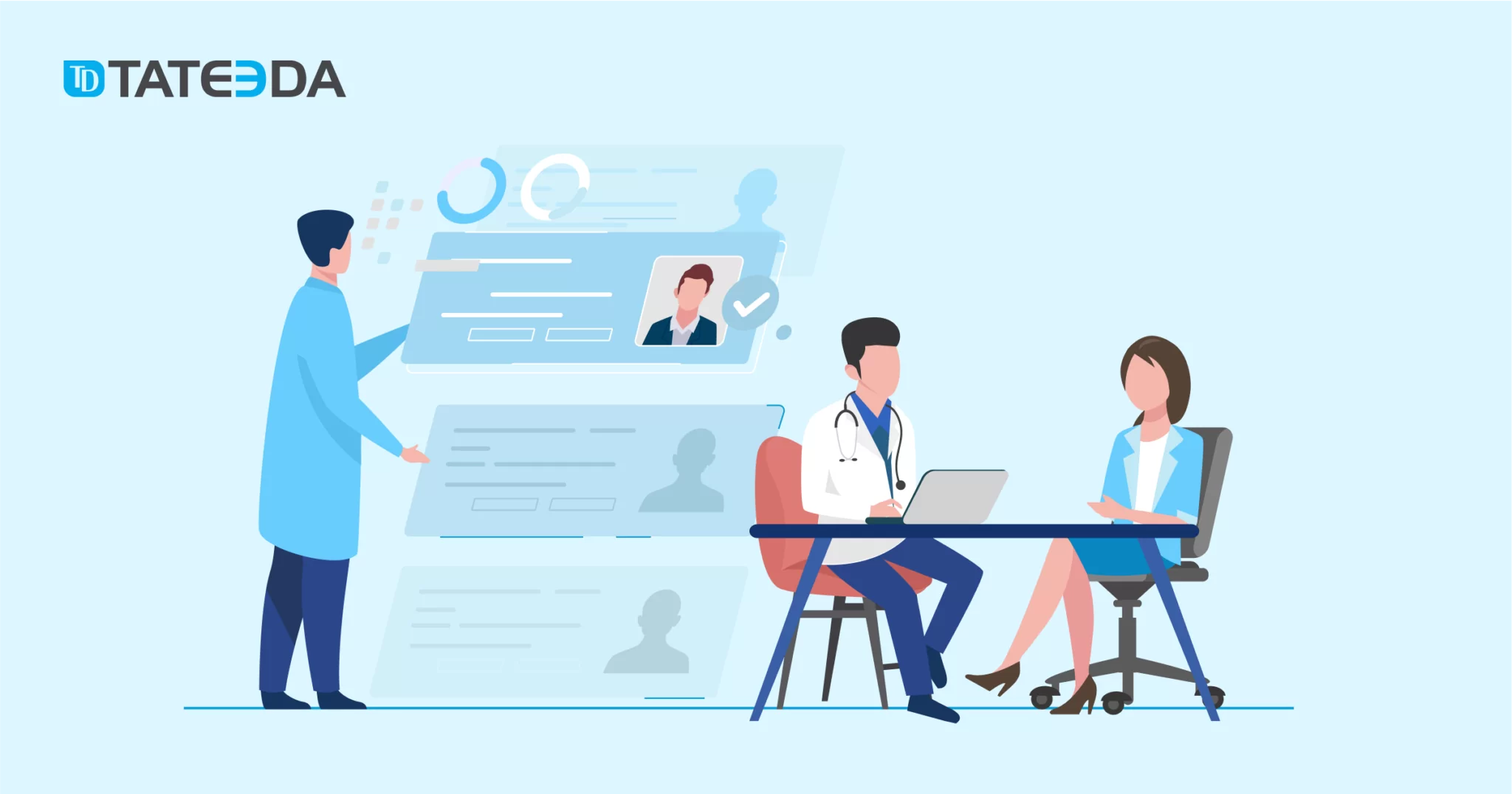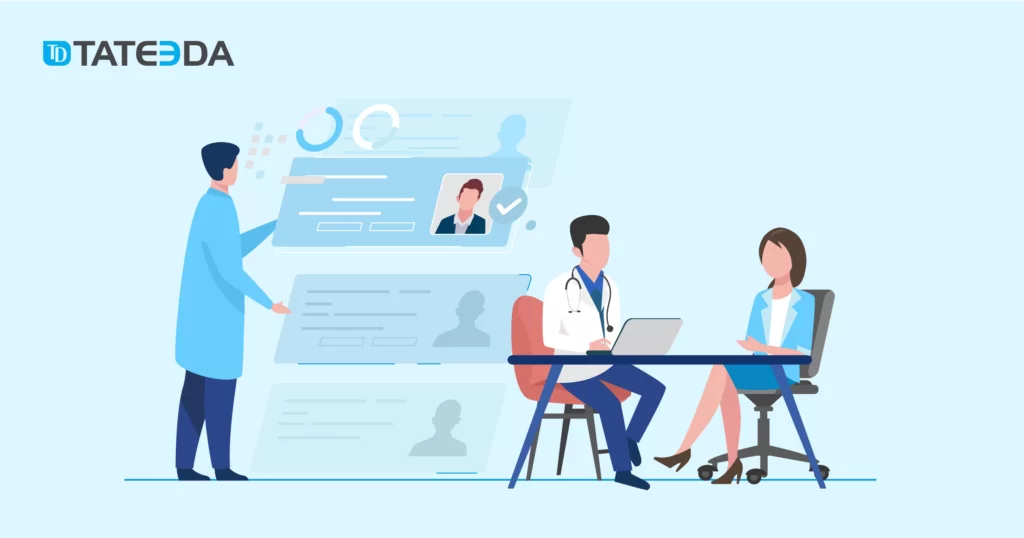 Learn more: ➡️ Payment System Integrations In Healthcare
#9: Automated Medical Job Postings
It's usually a tedious task for medical staff recruiters to write job descriptions and duplicate them on multiple job-posting platforms/boards (LinkedIn, Indeed, and others).
In order to save time for medical HR specialists, an automated job posting feature can be added to the software system. This helps medical recruiters simultaneously distribute one medical job posting to a multitude of websites with one or just a few clicks, thanks to an API-integrated solution. In this way, a greater number of potential applicants can be reached in a fraction of the time.
#10: Medical Resume Search & Parsing
This essential time-saving tool for medical staff recruiters offers a simultaneous meta-search of candidate resumes/CVs across multiple professional platforms, thereby eliminating the need to browse and search different sources one by one.
With this type of system in place, healthcare staff recruiters can narrow their filter options down to required locations, medical skills, and other professional parameters to obtain consolidated search results from a wide range of sources in no time.
#11: Medical Staff Interview Scheduling/Management
Usually, this medical HR system covers a range of interview stages, from planning and preparation to candidate hire—if all interview steps are successfully completed. This type of solution may involve integration with Google Calendar or similar options supported by interview status tracking, records, notifications, and more.
#12: Billing & Payroll Management
Accurate time-tracking of medical personnel is critically important. Digitalization makes it easier to calculate compensation and provide payment to physicians and nursing staff. When a time-tracking component within an HR system is combined with financial functions, it allows for efficient billing and payroll accounting, thereby increasing satisfaction and morale among medical staff.
Learn more: ➡️ Healthcare Payroll Software Development: The Complete Guide
Additional Features of HR Software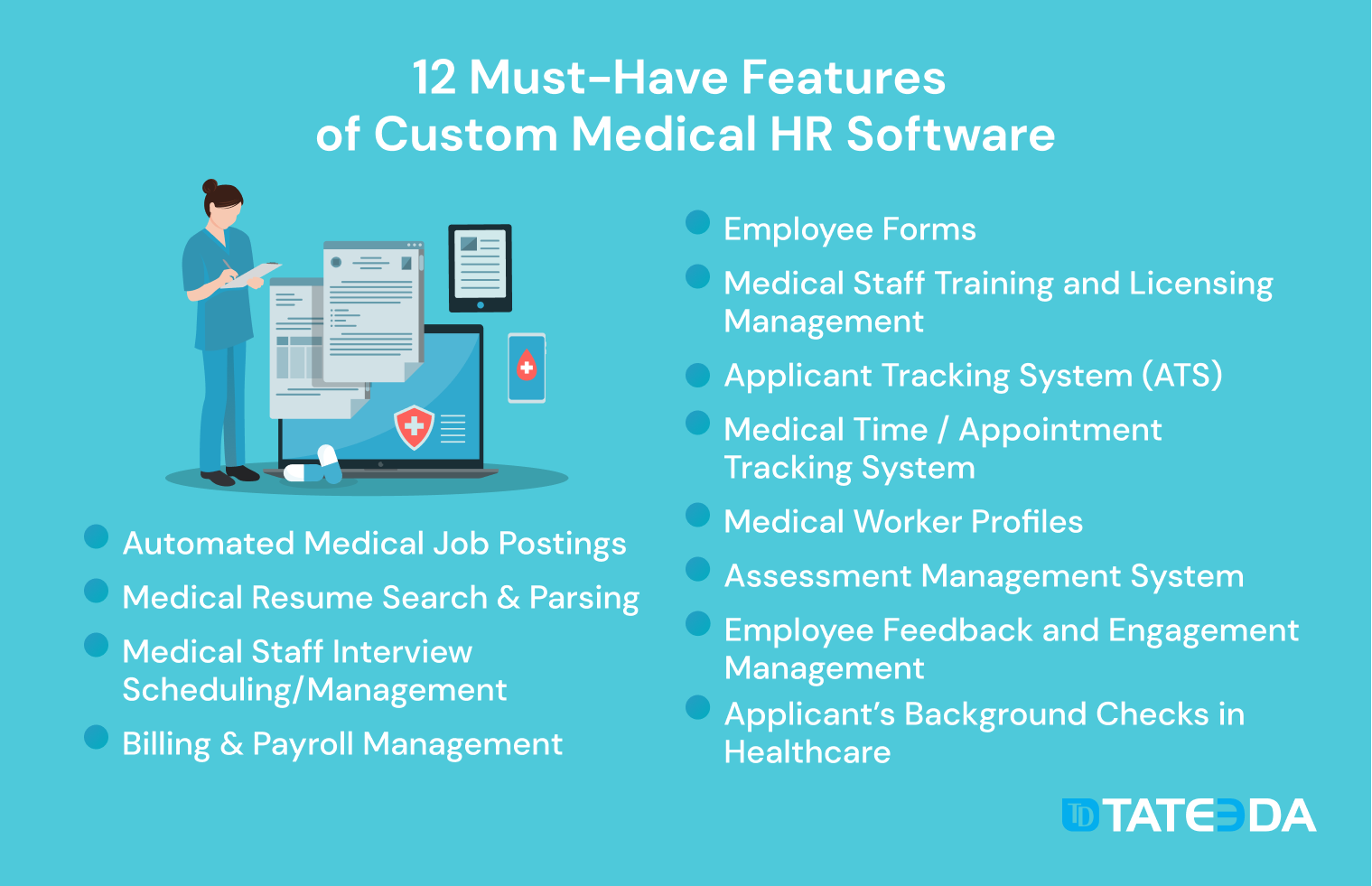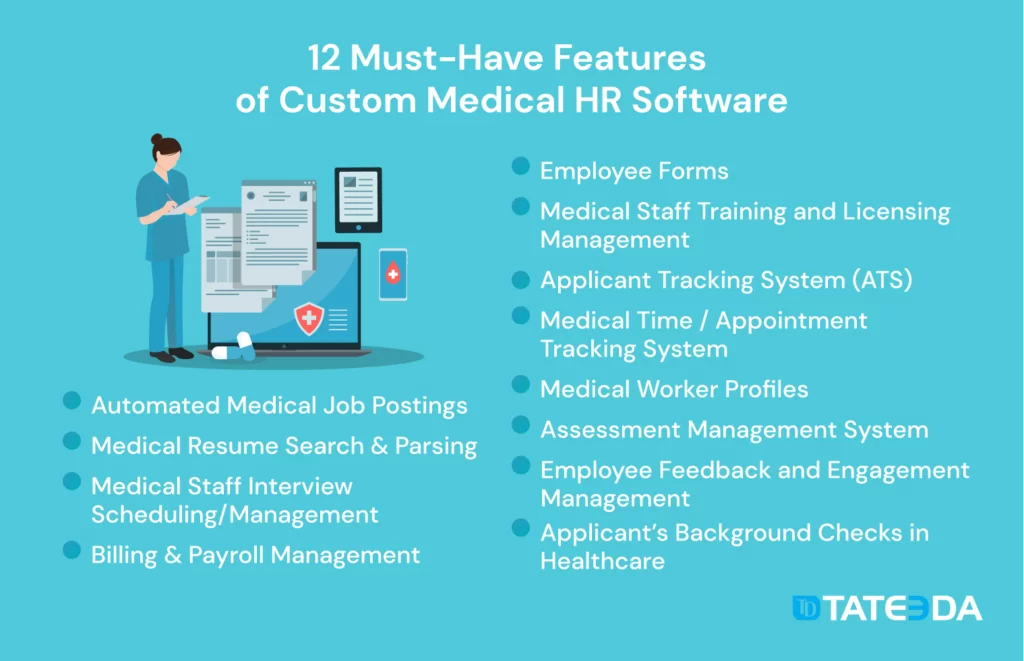 If you want to learn more about combining different healthcare processes, resources, and functions within unified software packages, check out How to Develop Hospital Management Software.
Interested in Healthcare Human Resource Software Development?
TATEEDA GLOBAL can help you build highly customized medical HR software, including features and modules that match your exact business needs/business model at its best.
TATEEDA GLOBAL is a full-cycle medical software development company based in San Diego, CA. We have a powerful, flexible team of business analysts, project managers, developers, and other IT specialists ready to deploy and get to work on your project within 48 hours.
Do you have questions or ideas to share?
Contact TATEEDA GLOBAL today for a free consultation. You won't be disappointed. We have deep experience in delivering high-level staff management systems. We did just that for the largest nursing service provider in the U.S., helping them deploy a large base of more than 20,000 travel nurses across the United States. This, in turn, helped the national healthcare system to cope with the COVID-19 crisis.
Developing Medical HR Software Architecture
When you decide to create a medical HR system, it's essential to start the project by designing its architecture to be sure you meet all your workflow goals.
Major factors to be considered are the following:
Create a sсhema depicting HR processes in your hospital or another medical center, then drill each process down in detail: the recruitment process, the interview-scheduling process, and so on. This will help you identify features and business modules to be included in your HR software structure.
Build a schema of desired software components and identify the relationships between those components.
Ensure compliance of your medical HR software with security and data safety regulations in the healthcare industry. HR professionals have to deal with sensitive data, and all communications and software components should be well protected from hackers.
Make sure you have a good plan for client/server and database connections: today's gold standard for back-end architecture focuses upon cloud-based solutions that enable instant/anytime access.
Create a hierarchy of roles and how their credentials/rights will work.
Plan device compatibility and platform configuration (desktop/mobile/web).
Identify your HR system's front-end requirements (user interfaces, mobile/web platforms, workframes, etc.)
Do You Need Help Planning Your HR Software Architecture?
TATEEDA GLOBAL can help you identify your technical needs and build the most productive and high-performing architecture for your HR software system. If you have ideas but don't know where to start, get in touch with us for a free consultation. We know everything about this type of project: how to prepare, form a team of specialists, manage project execution, and control the results. See our portfolio: 👇
Delivered Healthcare Software Portfolio
The leading American healthcare companies benefit from working with us.

Healthcare HR System Development, Step by Step
How to build a medical HR system? Once you have your hospital/clinic's HR software architecture plan in place, you'll need to organize and manage the project development process:
Make sure you have a tech-savvy project manager who can take responsibility for project execution planning/control
Break your HR software project into doable tech tasks
Based on your HR software structure, hire a team of IT specialists capable of executing the necessary project steps (or engage your in-house specialists)
Assign tasks to separate team members and set up execution deadlines
Let UI/UX designers visualize medical HR software user interfaces: mobile, desktop, web-based, and so on
Assign coding tasks to software developers and organize their collaboration with your quality assurance department
Do You Need Help With Custom Medical HR Management Solution Development?
TATEEDA GLOBAL can help you build a healthcare HR system of any complexity. We maintain an in-house team capable of full-cycle development featuring specialists, business analysts, and project managers plus front- and back-end developers.
We can also elevate your current projects and provide you with project-based services.
Interested? Contact us for a free consultation.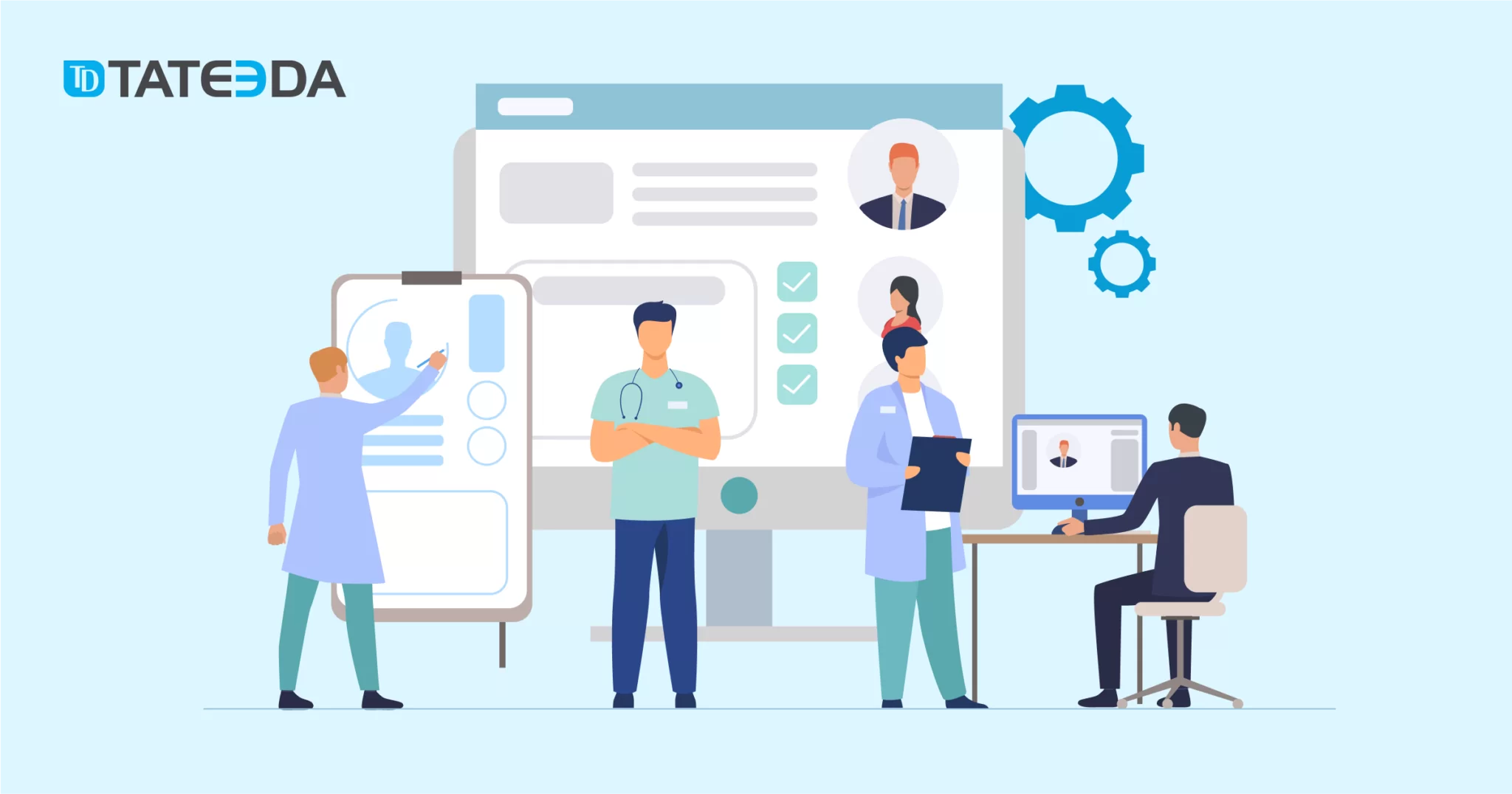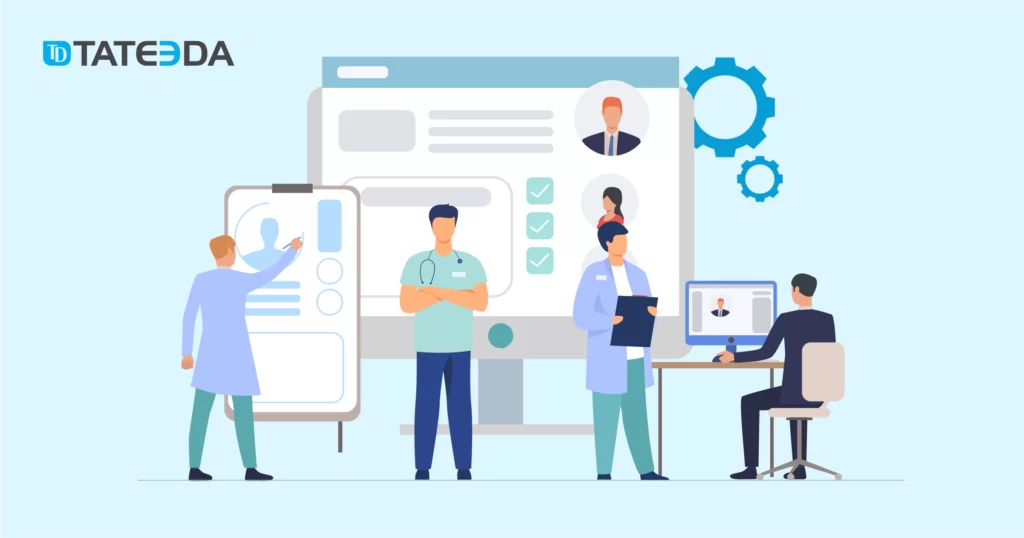 Read also: ➡️ Custom EHR/EMR Software Development: The Complete Guide
What is the Cost of Developing Medical Human Resource Software?
The cost of a custom service/project depends on a few factors:
The complexity of the medical HR software
The size of IT team involved
The technologies used
The duration of the HR system development project
The team needed to develop medical HR software
How much does it cost to create medical HR software? Usually, it involves a few key specialized developers (and a mixed team of devs depending on level and qualification): front-end developers, back-end developers, mobile/desktop developers, etc.
The minimum team should include at least two developers (full-stack or front/back-end). The maximum number of developers is not limited to specific numbers, but the more people involved, the faster a complex project can progress….
Depending on the location of the developers, their hourly wages can fluctuate. U.S.-based devs are expensive, while remote talent can cost less while providing you with equal service quality.
Summary: The estimated cost of a small development team can range between $10k and $30k per month (if you choose remote talent).
TATEEDA GLOBAL employs a reasonable mix of local and remote talent to manage project costs for you. Learn more about the advantages of hiring a Ukrainian software development team for your project. At the same time, our HQ is located in San Diego, California.
The complexity level of the medical HR software system to be built
The greater the number of technology solutions and angles involved in the HR system, the higher the development cost.
Actually, if a system includes a high number of customized features that cannot usually be implemented via existing software modules or API-based integration, the project will require a lot more development hours. Instead, it will require lengthy engagement from highly experienced senior engineers and contribute significantly to additional costs.
Summary: A fairly complex medical HR software development project (including mobile apps, cloud-based integration, and other cool instruments) can cost about $50-60k per project, with an average project duration of 3-6 months.
If you have ideas you'd like to implement, please do not hesitate to request an estimate from TATEEDA!
| | |
| --- | --- |
| Project duration | 3-6 months (estimated) |
| Project components | Online access portal, multi-cloud backend, access authorization system, API integrations, HR dashboards, HR reports, notifications, and some other features |
| Team (estimated, may scale up/down) | 2-5 developers, 2 QA, project manager |
| Estimated costs | ~60-80,000 USD |
Challenges of Implementing Medical HR Software
Poor IT infrastructure at healthcare facility
HR specialists lack computer literacy and skills
Poor description of HR processes, so many revisions involved
Insufficient match between software functions and HR workflows
Ineffective security levels for integrated/connected software/tech solutions (poor level of HIPAA compliance)
Sporadic inaccessibility of server components and HR databases in locations with slow/laggy internet connection
TATEEDA GLOBAL's Experience with Development of Medical HR Management Software
TATEEDA GLOBAL has deep experience with U.S. customers in the medical field.
We assisted AYA Healthcare in building a complex hybrid HR system that allows them to manage the largest travel nurse assignment base in the U.S: tens of thousands of open positions and nursing specialists connected across all 50 states.
Our solutions supported the HR function with:
Financial reporting and job/time-tracking capability
Mobile applications and web portals for nurses and clinical representatives
A multi-level job verification system with role-based user hierarchy.
These solutions allowed AYA Healthcare to achieve the following:
Significant improvement in operational efficiency
Doubled their number of signed contracts in less than three years
Helped them cope with the consequences of the COVID-19 pandemic.
Read also: ➡️ mHealth App Development: The Ultimate Guide
If you're interested in building scalable medical HR management software for your healthcare practice, contact us at TATEEDA.
In Conclusion
HR management systems in healthcare are in high demand.
Is it time to build one for you?
If you need a professional team to undertake full-cycle development of a medical HR solution for your existing projects with qualified, affordable IT professionals, TATEEDA GLOBAL is waiting for you!
We offer:
A full-cycle development process
Full compliance with medical safety regulations/requirements, e.g. HIPAA
Affordable project costs, thanks to our R&D branch in Ukraine
Personalized connection with our project manager HQ in San Diego, CA
Vast onsite experience with U.S.-based IoT, healthcare, biotech, and pharma companies
Fast team deployment—within 48-72 hours
Contact TATEEDA today to start building the custom medical HR management tool of your dreams!
Rate this article!
5 out of 5 stars (based on 2 reviews)