Business Guide to Offshore Software Development Services
An enormous boom in online business operations has profoundly impacted the IT industry, putting top developers in high demand. This has led to a severe shortage of talented domestic developers in the US, forcing businesses to cast a broader net to leverage offshore software development services. But the advantages of outsourcing offshore development are offset by a number of risks. Learn what to look for, and how to find the best offshore development services for your project, while dodging pitfalls that can cost you money.
What is Offshore Software Development?
Often, companies need to find software developers with specific skills to build an entire custom product from the ground up, or to outsource a portion of the project development process. When qualified developers cannot be found locally, or if local developers' fees are outside the designated budget, businesses turn to software development teams from other countries.
Despite an abundance of software professionals on the global market, finding a qualified software specialist or an entire team of offshore software developers is no simple task. You need certain resources to locate a foreign developer and negotiate a workable fee, especially if your project has a limited budget. To get the best results, it makes sense to partner with an offshore outsourcing software development company.

Outsourcing vs Offshoring vs Nearshoring
The terms "outsourcing" and "offshoring" are often used interchangeably, but each has its distinct meaning. Outsourcing is the practice of hiring a third party to develop all or part of your custom software project. For example, a company with its own in-house IT team may not need help with the entire project, but they may need to outsource a portion of it to a developer with specialized skills that in-house developers do not possess.
Offshoring is a subcategory of outsourcing. It entails hiring a non-domestic software developer or development team, often in a distant country. For example, many US businesses leverage the substantial talents of developers in Ukraine and other Eastern European countries to build their custom software products. Nearshoring falls under the umbrella of offshoring. It also entails outsourcing software development projects to foreign talent, but in nearby countries, often in the same time zone. For US businesses, nearshoring may involve hiring developers in Mexico or the Caribbean.
Trends Driving the Offshore Development Market
As the demand for talented software developers explodes around the world, the practice of offshoring software development is shaping its own niche, with multiple emerging trends driving the offshore development market.
Increasing demand for collaborative tools. With teams of developers collaborating around the world, project management tools and glitch-free communication channels are in high demand. Online collaboration is becoming an industry of its own, supporting offshore development and the general global trend toward a gig economy and remote working relationships.
Greater use of cloud technologies. Data storage has come a long way in the 21st Century, moving from in-office metal filing cabinets housing tons of paper documents, to digital data storage in the cloud. Cloud technologies are becoming more refined, with greater security and higher storage capacities, and cloud developers are in high demand.
The race to optimize data security. Despite immense advances in digital data security. hackers manage to outpace security measures, and data breaches are at an all-time high. The need for breach-proof security has spawned its own industry of data security solutions for businesses, government agencies and other entities that regularly handle sensitive data. Many new data security enterprises can be found in Eastern Europe, Asia, Africa and South America.
Who Can Benefit by Offshoring Development?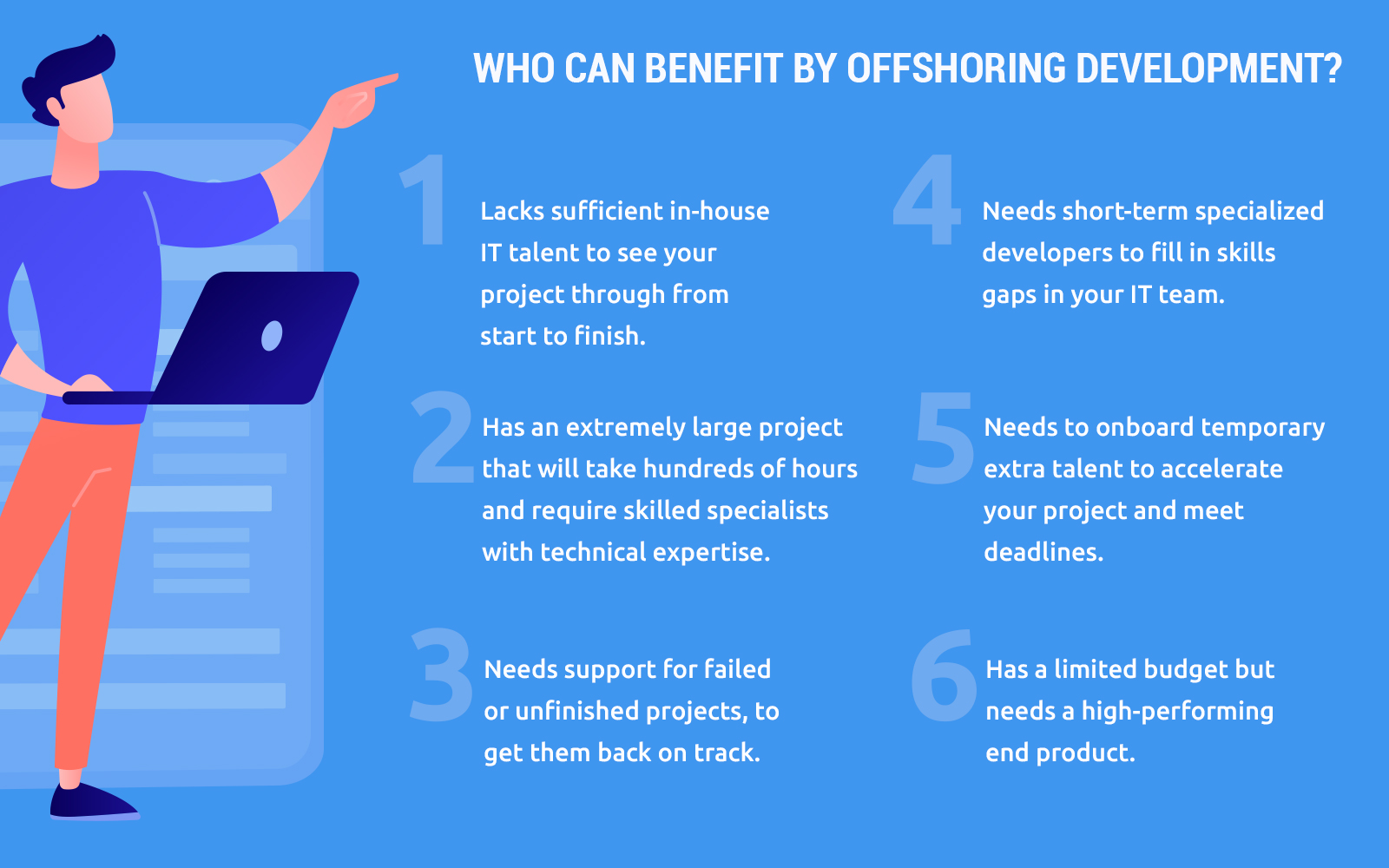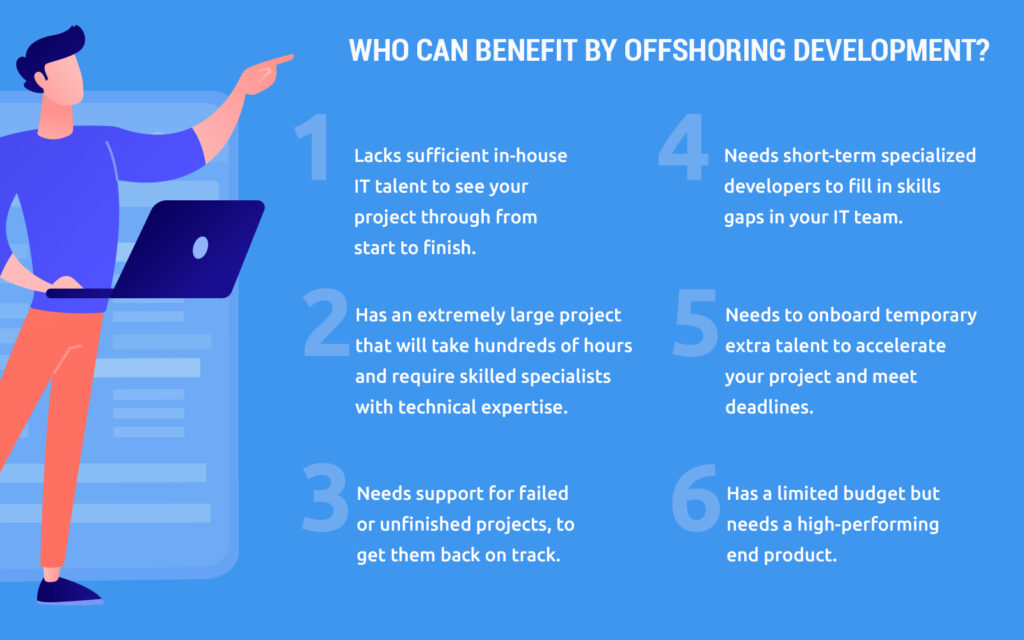 There are many reasons companies decide to outsource software development to an offshore team. Offshore development may be a good option for you if your company:
Lacks sufficient in-house IT talent to see your project through from start to finish.
Has an extremely large and/or complex project that will take hundreds of hours and require skilled specialists with technical expertise.
Needs support for failed or unfinished projects, to get them back on track.
Needs to onboard temporary extra talent to accelerate your project and meet deadlines.
Has a limited budget but needs a high-performing end product.
How to Go About Outsourcing Offshore Development
Prior to searching for offshore software development services, there are multiple steps you should take to ensure that your project is successfully executed, and all your requirements for user-friendly functionality are met.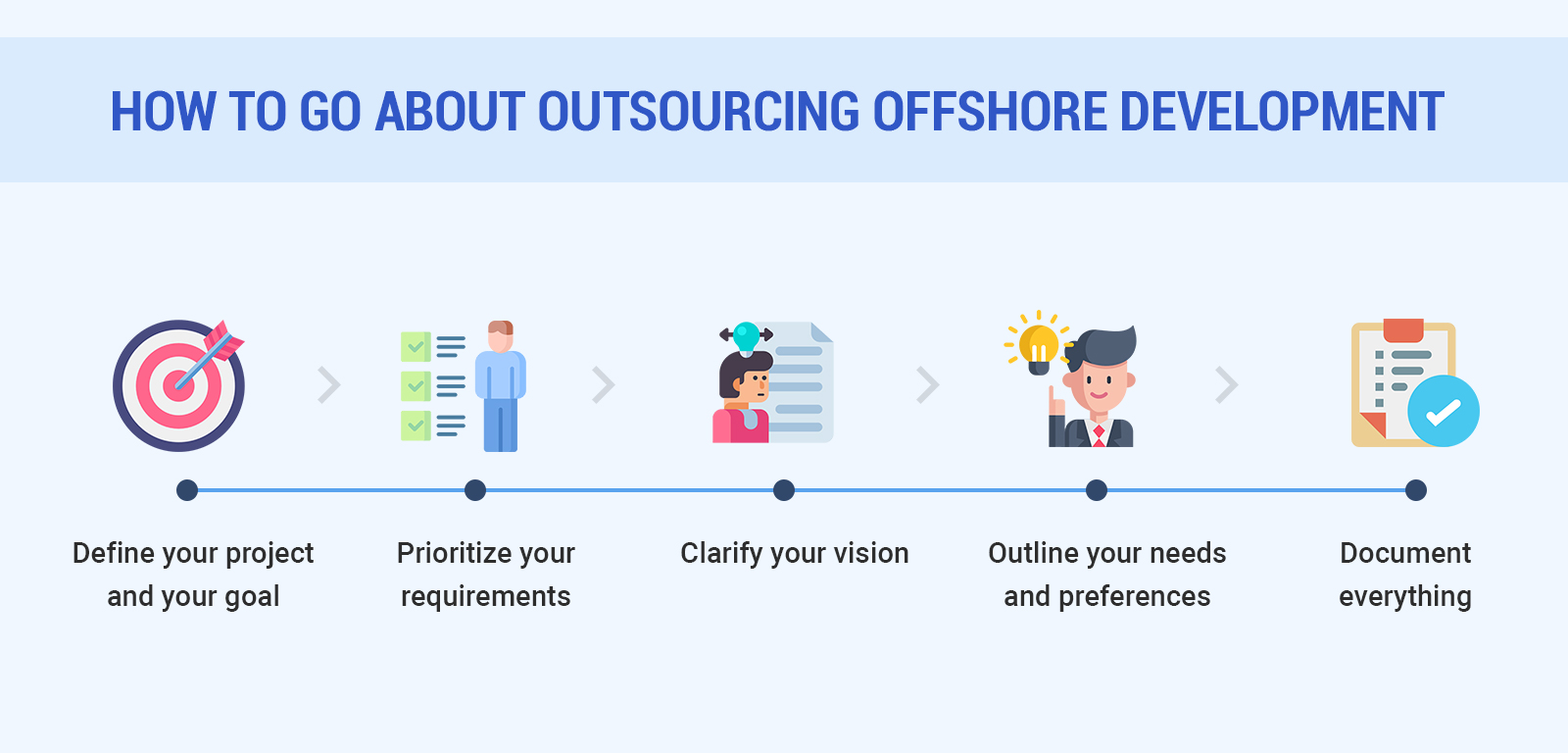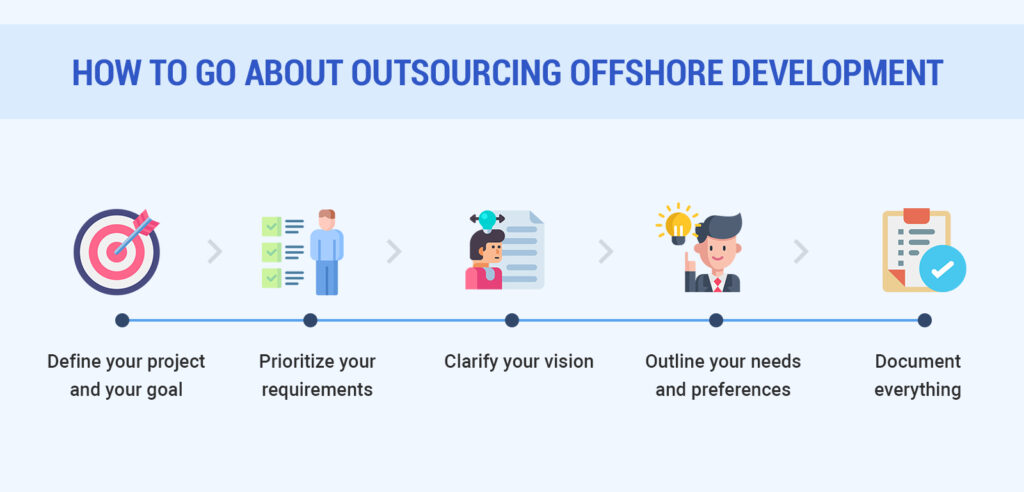 Define your project and your goals. Communication is key for any project, and even more so when you are working with a team from another country. Having clearly defined ideas about your goals and requirements for the finished product will go a long way toward conveying your needs to the offshore development team.
Prioritize your requirements. Before looking for an offshore software developer, you should have a clear idea of what is most important in your finished product. You can list features and functionality as "must have," "would prefer," and "would be nice," to let developers know where they have some latitude, and which specific requirements are not negotiable.
Clarify your vision. Imagine your product as if it were already delivered. What features does it have, and what is its main functionality? What makes your software product stand out from your competitors, and how does it help you streamline your business processes? Look at it from the perspective of user experience. Visualizing the finished product helps you to communicate your ideas to developers.
Outline your needs and preferences. If you would like to use a specific tech stack, need your product to be multilingual, want an extra layer of security, or want to incorporate other special features and functionality, it is important to list them in writing, so that developers can work them into the development lifecycle.
Document everything. Keep your project transparent and accelerate workflow by organizing your thoughts, ideas, preferences and requirements in writing. By providing clear documentation upfront, you are more likely to end up with the finished project you envisioned, delivered under deadline.
Once you have a clear idea about your project goals and requirements and put everything in writing, it is time to begin your search for offshore software development services.
Benefits of Hiring Offshore Software Development Companies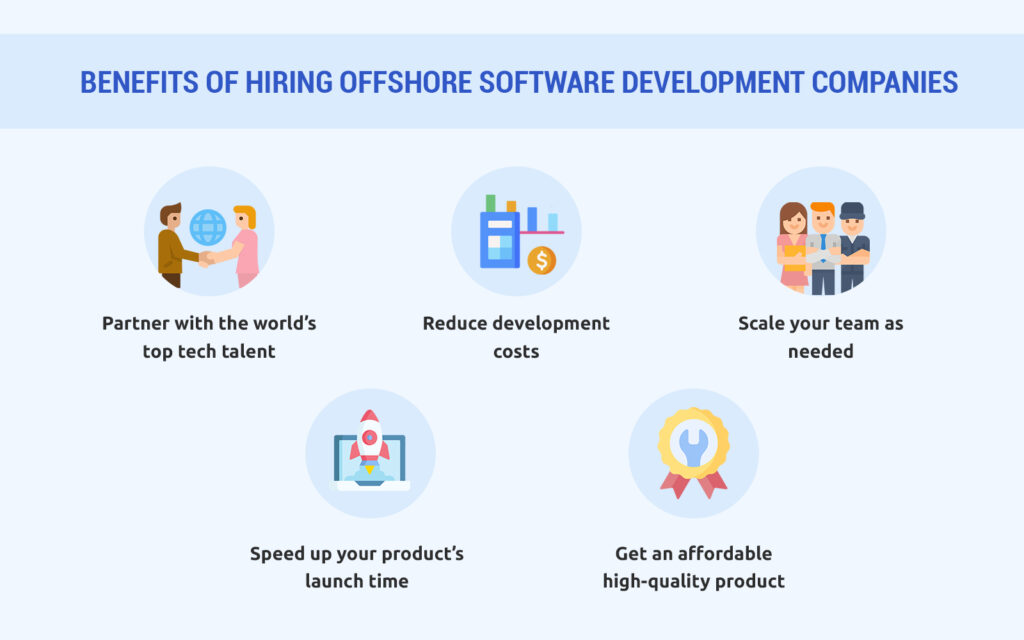 While the US has long been a market leader in IT development, there are numerous countries around the globe whose IT professionals rival and even surpass the skills of domestic developers. The international tech community is rife with talented software developers who are willing to take on the most challenging projects, sometimes for a fraction of the cost of a comparable US developer.
Read also: Features and Benefits of Custom Hospital Management Software \ The Complete Guide to HMS Development
Hiring an offshore developer has many advantages:
Partner with the world's top tech talent. Top domestic software developers are in high demand, and their fees reflect their scarcity. Outsourcing your software project to an offshore team gives you access to highly skilled developers at more affordable rates.
Reduce development costs. Hourly rates for skilled developers in the US can go as high as $500-plus. To build a large and complex custom software project, you could run into hundreds of thousands of dollars. You can find equally skilled developers overseas at much more reasonable rates, and get the same level of quality in your end product.
Scale your team as needed. If your business keeps a small full-time in-house IT team, outsourcing to offshore developers makes sense when you want to launch a short-term large-scale project, but don't want to hire additional full time staff. Offshore outsourcing gives you the flexibility you need to design occasional custom products that require special skills or additional engineers in the short term.
Speed up your product's launch time. Augmenting your in-house talent with skilled specialists on an as-needed basis can help you to meet project deadlines and shorten the development lifecycle.
Get an affordable high-quality product. Software development is a highly competitive industry, and offshore professionals are eager to showcase their skills and broaden their horizons. They are often willing to work harder, put in longer hours and do meticulous work, to build their reputations on the global IT landscape.
Risks of Offshoring Development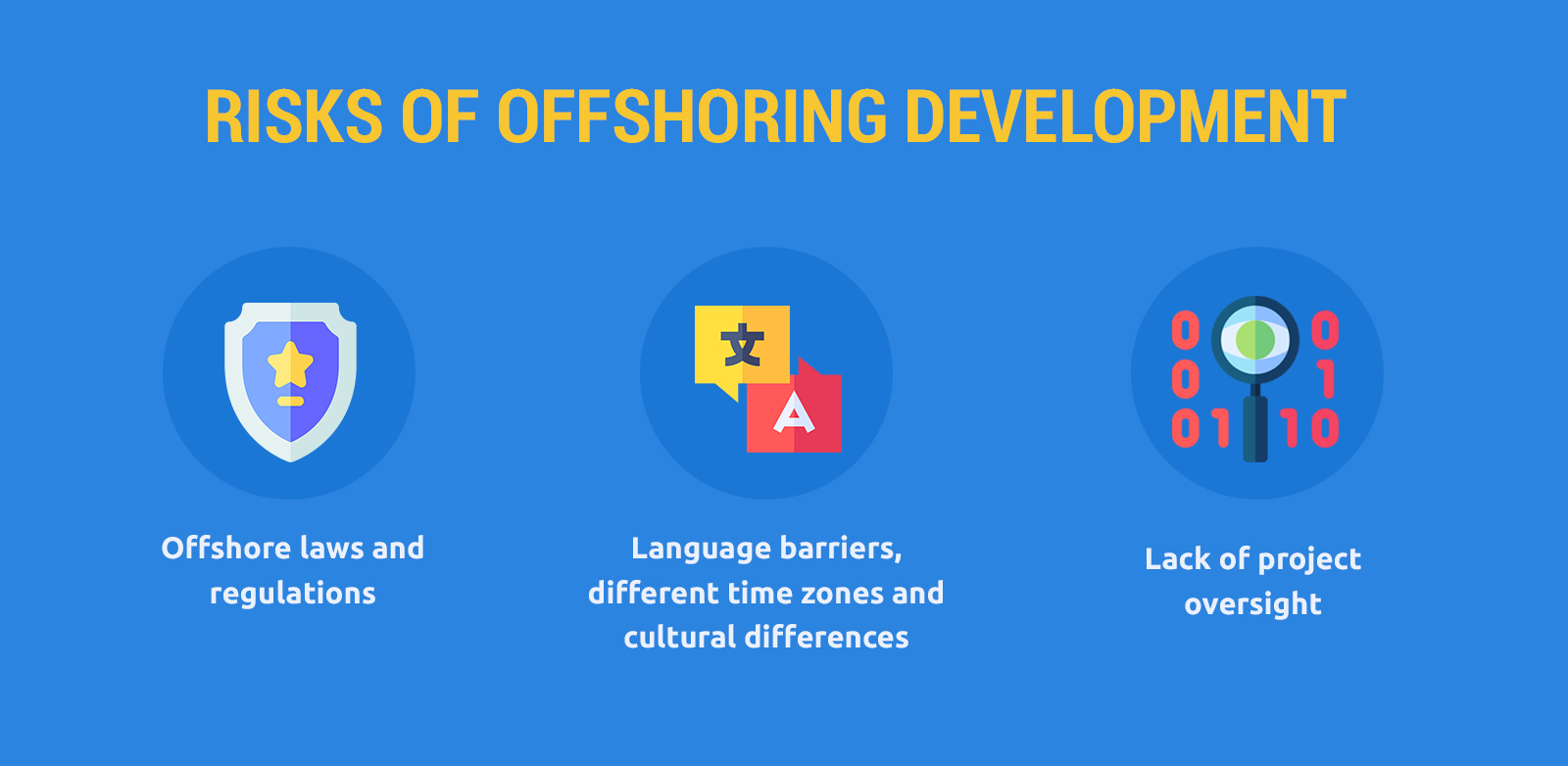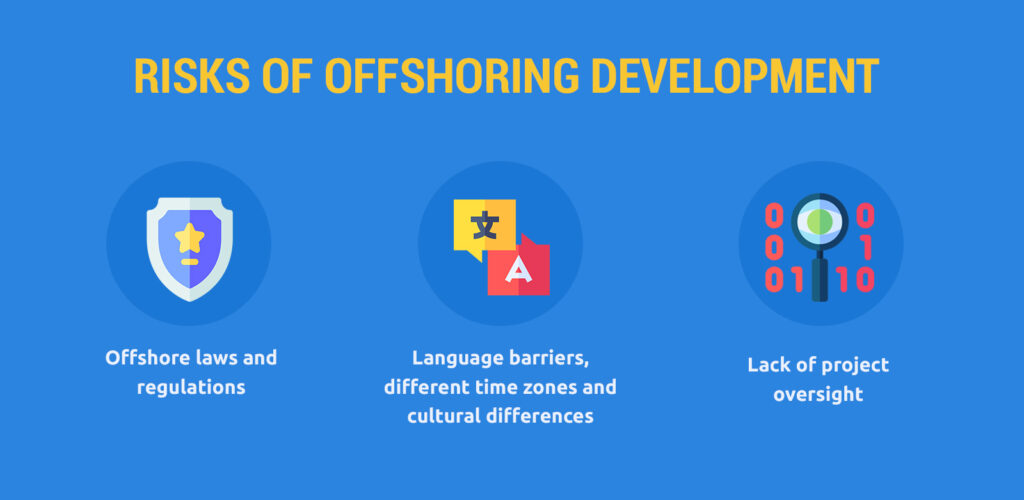 Despite the many benefits of offshore outsourcing, there are a number of risks involved, especially if you are not tuned into the international tech community.
Some pitfalls to look out for include:
Offshore laws and regulations. Government policies in some countries can make it difficult for foreign entities to contract with and pay offshore developers. Before agreeing to hire offshore developers, do some research to protect your business from compliance issues that can slow down your project and cost you money.
Language barriers, different time zones and cultural differences. Such fundamental differences can create obstacles to effective communication, making it difficult to get your ideas across and keep your project's development progressing smoothly. To avoid communication issues, consider developers in countries like Ukraine who have high levels of English language proficiency and share work ethics similar to those of US developers.
Lack of project oversight. Managing an offshore project can be challenging due to the physical distance between your business and the development team, so be prepared to have limited oversight. To keep on top of things, you may need to hold frequent virtual meetings and be willing to field messages and phone calls around the clock. To minimize risks, require your offshore team to document everything to the minutest detail, and to submit detailed reports at specified intervals.
What to Look for in an Offshore Developer
Finding the best offshore developer for your project is critical. Many businesses try to save money by shopping for the lowest bidder, but doing so can cost you even more in the long run. While you should definitely factor in your budget, it should not be the single deciding factor in choosing a partner for offshore software development services.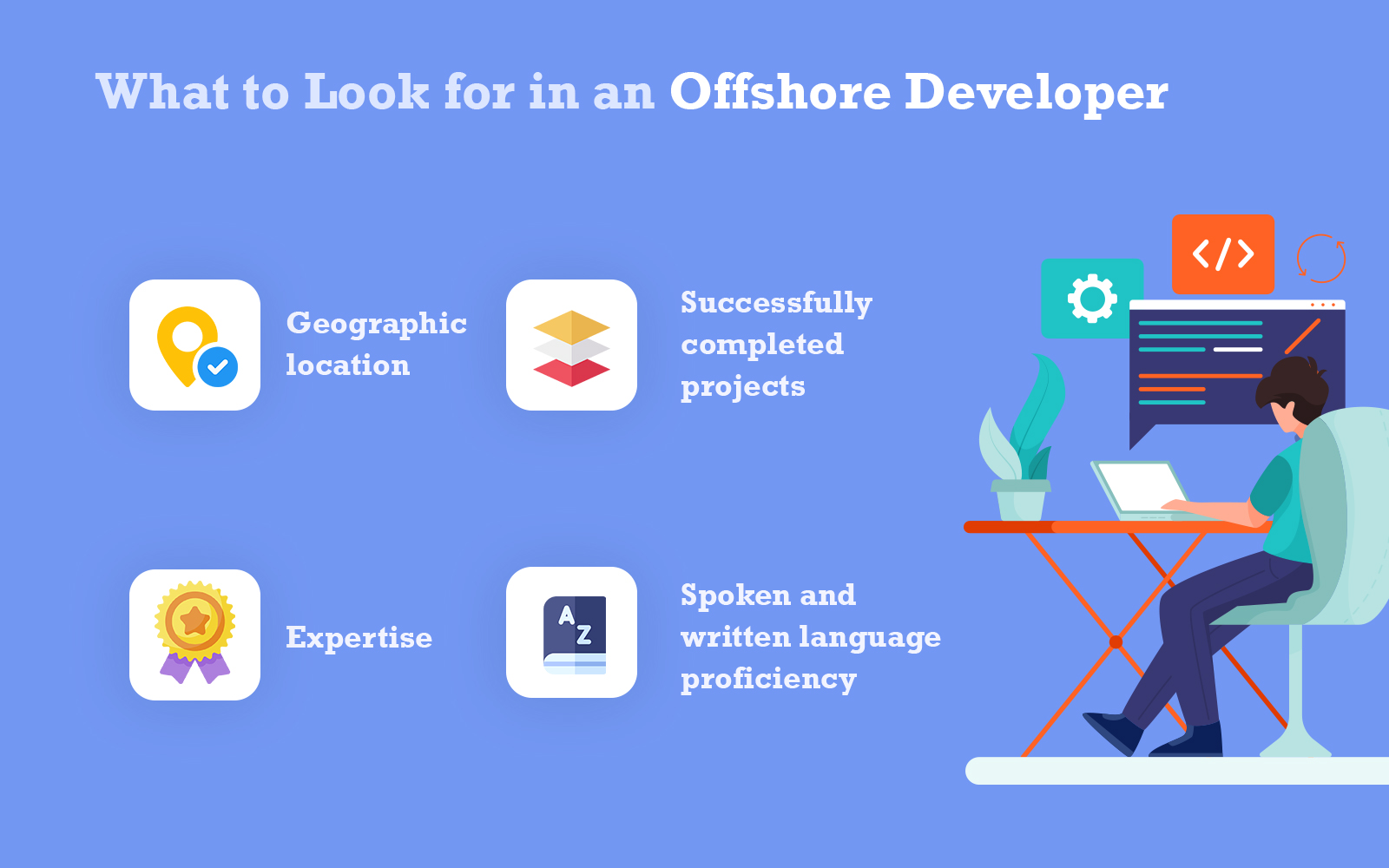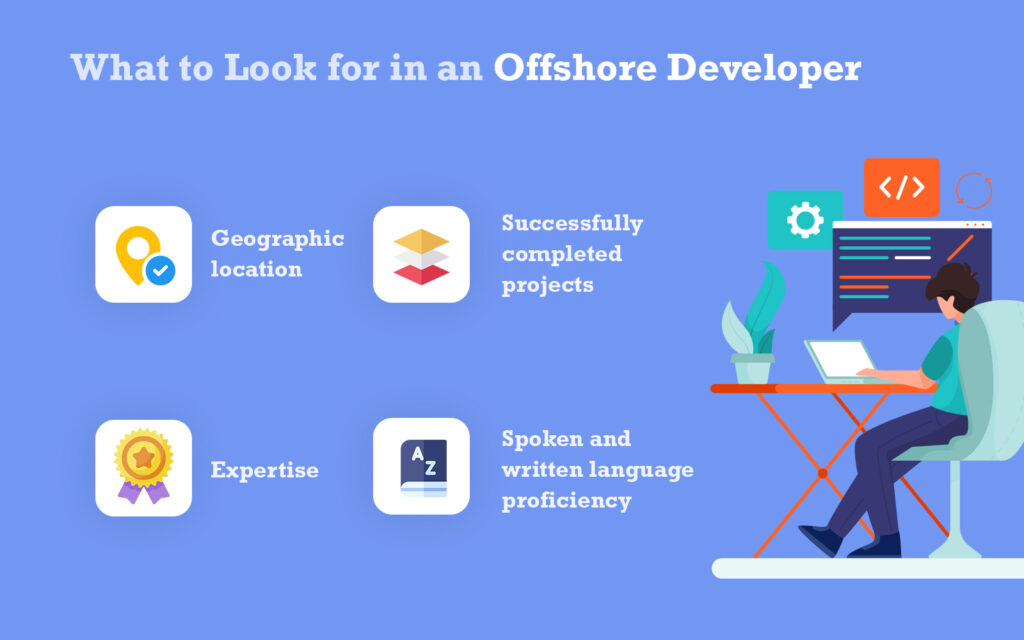 Here are some important factors to consider when shopping for an offshore developer:
Geographic location. Time zones definitely matter. If your company is in California and your developer is in Singapore, it can be difficult to schedule meetings and get regular updates on your project's progress. In addition, some governments are less than friendly to Western businesses, and there may be laws and regulations in place that limit your ability to conduct business with local developers.
Expertise. If your project requires developers with specialized skills or knowledge of certain technologies, it is critical to vet potential developers before you hire them to work on your project. A professional offshore developer should be able to produce certificates of completion for specialized training and provide referrals from satisfied clients.
A proven track record of successfully completed projects. Your offshore developer should be able to provide a portfolio of completed work, with references from the product owner.
Spoken and written language proficiency. Communication is critical, and unless you yourself are multilingual, you should look for an offshore developer proficient in English, which is the language of international business.
Communicating with Your Offshore Development Team
Clear and transparent communication is essential to any successful software product, but even more so when your dev team is located on the other side of the planet. Despite the barriers imposed by distance, time zones and language, it is possible to communicate effectively with offshore developers, but it will take a concerted effort on your part.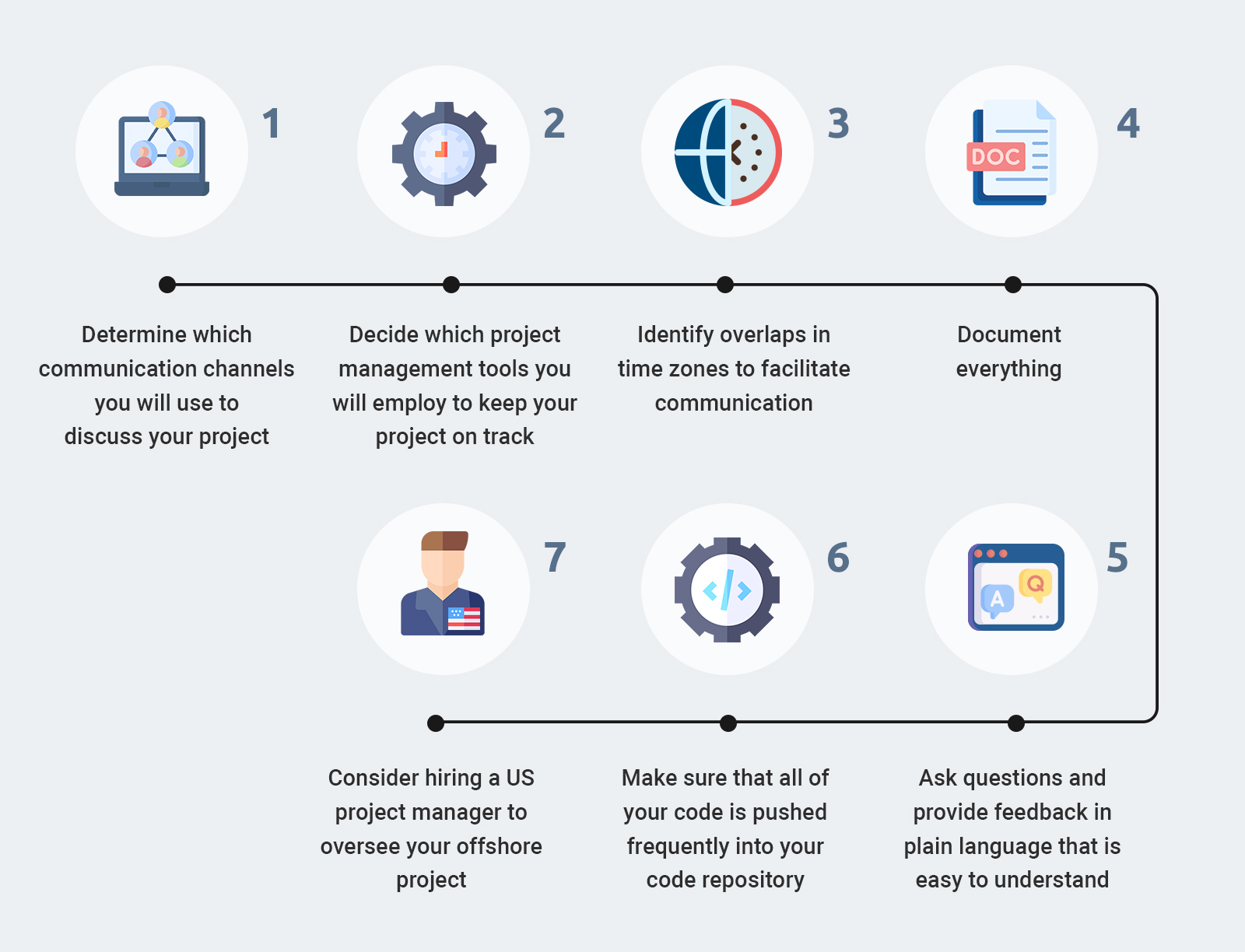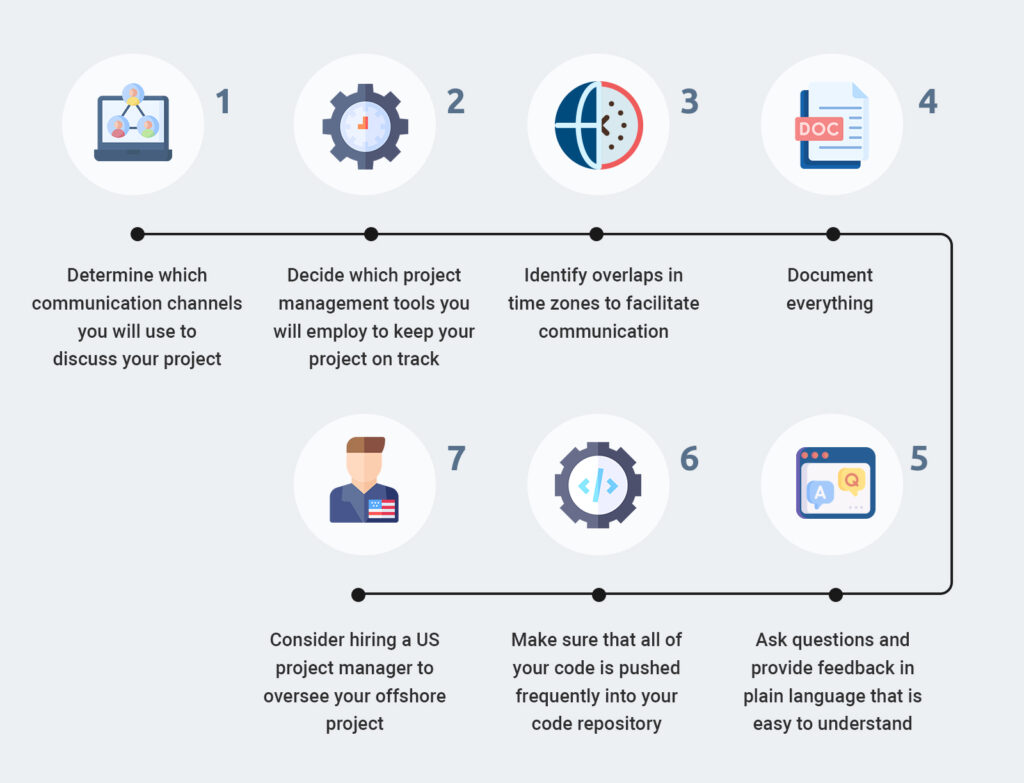 Here are some tips for optimizing communication:
Determine which communication channels you will use to discuss your project. Will you hold face-to-face meetings on Zoom, Facetime or Skype? Will you exchange emails and phone calls? Identifying your communication preferences upfront can help avoid miscommunication later on.
Decide which project management tools you will employ to keep your project on track. There are a number of online resources for project management that you can share with your team, like JIRA, Readmine, Scoro, monday.com, FunctionFox, and numerous others, to delegate tasks and keep everyone on the same page.
Identify overlaps in time zones to facilitate communication. For example, if your company is in New York and your development team is in Ukraine, holding meetings between 7:00 am and 1:00 pm EST lets parties on both ends meet during reasonable business hours without excessive inconvenience.
Document everything. In addition to documenting every stage of the project lifecycle, detailed notes should be kept for every meeting. All communications, including emails, texts and phone calls, should be logged and documented daily.
Ask questions and provide feedback in plain language that is easy to understand. Don't simply assume that everyone understands what you want. Confirm that your requests and preferences have been clearly understood, to avoid complications stemming from miscommunication.
Make sure that all of your code is pushed frequently into your code repository, like GitHub or Bitbucket, so it is controlled by you and not by external vendors.
Consider hiring a US project manager to oversee your offshore project. But beware that sending a US employee overseas for several weeks can be costly, and your offshore development team may take offense at having an interloper in their midst who doesn't speak their language or understand their processes.
TATEEDA: San Diego's Best Offshore Outsourcing Software Development Company
Outsourcing your software development project to an offshore developer can be a savvy business move that saves your time and money and accelerates your project's time to completion. But finding a reliable offshore developer who can deliver a high-quality project with minimal oversight can be a challenge for companies who lack the right connections.
To leverage the best offshore software development services, you need a well-connected partner who can put together the perfect software development team for your project. TATEEDA is an experienced provider of offshore software development services. We know where to find the world's top developers, at reasonable rates that your business can afford. If you are ready to build your custom software product, contact TATEEDA today. We will help you find your offshore software development dream team and provide all the support you need to build a high-performing custom software product.