Where to Find Developers for Your Business Software Projects
Software engineers are in high demand these days, and it can be challenging to find freelance programmers who are both affordable and experienced, and can build a high-performing custom product that meets your business needs. Before you hire a developer online to take on your project, you should learn all you can about developers for hire, and how to find freelance programmers with the specific skills you need to build your custom software product.
Advantages of Hiring Freelance Developers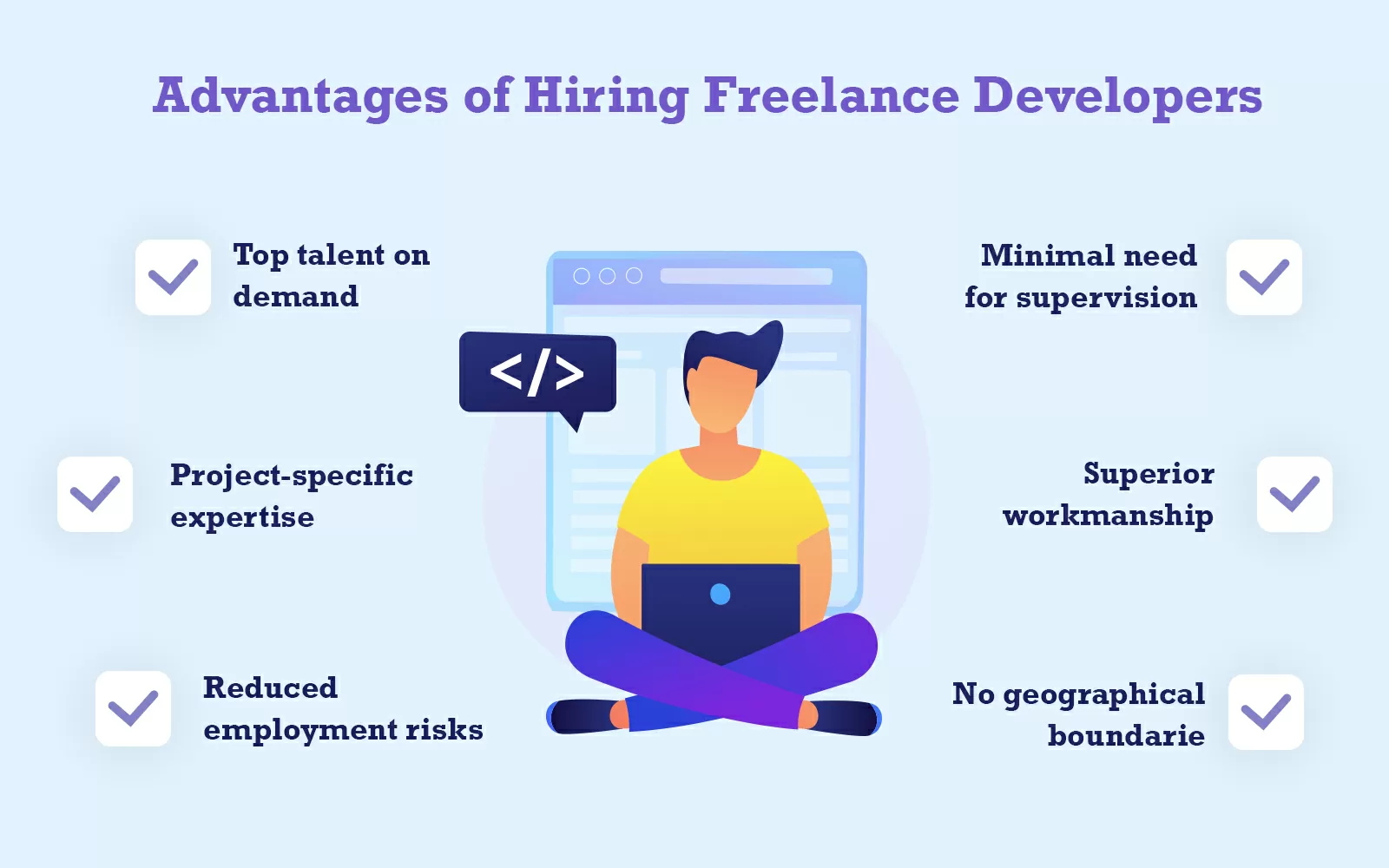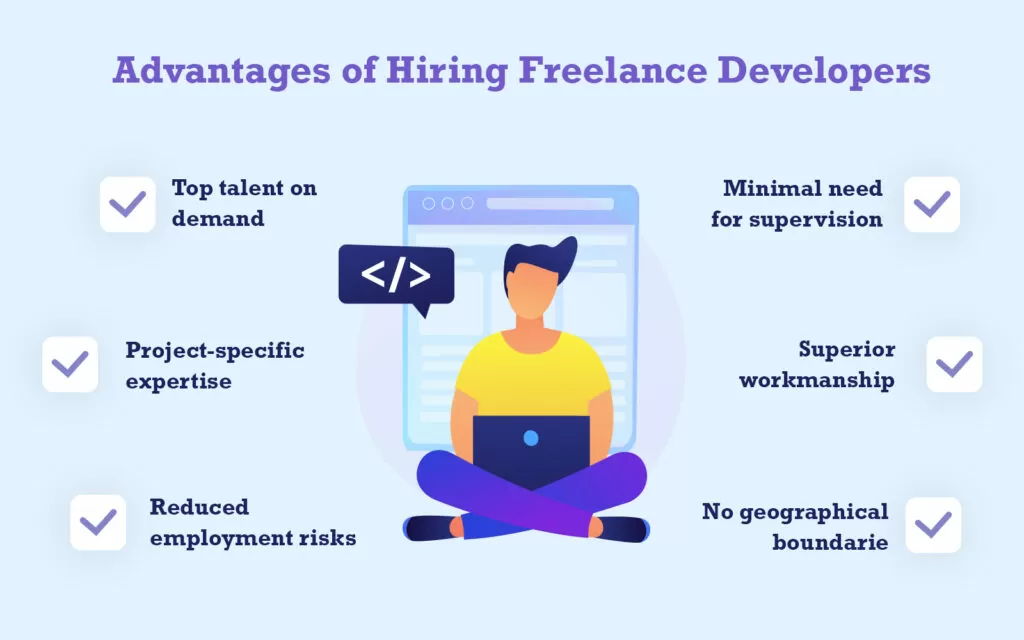 Business software and mobile apps have become indispensable necessities for any business that wants to grow and thrive. In fact, failing to provide your customers with online and mobile tools to access your business can cause them to go to your competitors for the goods and services they need. If you want to see it for yourself, read about the major technology trends in healthcare.
The high demand for business software is quickly leading to a shortage of talented developers, and software development companies have their hands full, trying to retain top talent while meeting consumer demands for high-performing custom products.
Meanwhile, many skilled developers are going freelance, setting their own rates and hours, and selectively choosing which projects they want to work on. Due to this trend, it is possible to find a highly skilled and experienced developer to work on your project on a contractual basis.
There are several advantages to hiring freelance developers:
Top talent on demand. Many companies do not have the need or the budget to hire full-time in-house software developers. By hiring freelance developers, you can meet your software development needs as they arise, and allocate funds for highly skilled developers to create top quality software products.
Project-specific expertise. Depending on your project's requirements, you can find a developer with experience and special knowledge in your industry, or with expertise in certain coding languages or tech stacks.
Reduced employment risks. Since freelancers work on a contractual basis, they are not employees, and you are not liable to them in the same ways as you are to your permanent workforce. It is easier to terminate a freelancer without repercussions, and they are not eligible for unemployment insurance.
Minimal need for supervision. Professional freelancers are small business owners, and as such, they work independently, with little need for oversight or constant feedback.
Superior workmanship. As small business owners, highly qualified and experienced IT freelancers pride themselves on their work. They understand business, and continually work to improve their brand image by building the very best software products for their clients.
No geographical boundaries. For the most part, in-house developers report to the office or job site on a daily basis, meaning they must reside in near proximity to your business. By hiring freelance developers, you gain access to the best IT talent across the globe, which can net you a superior product at a great price.
The Downside of Hiring Freelance Developers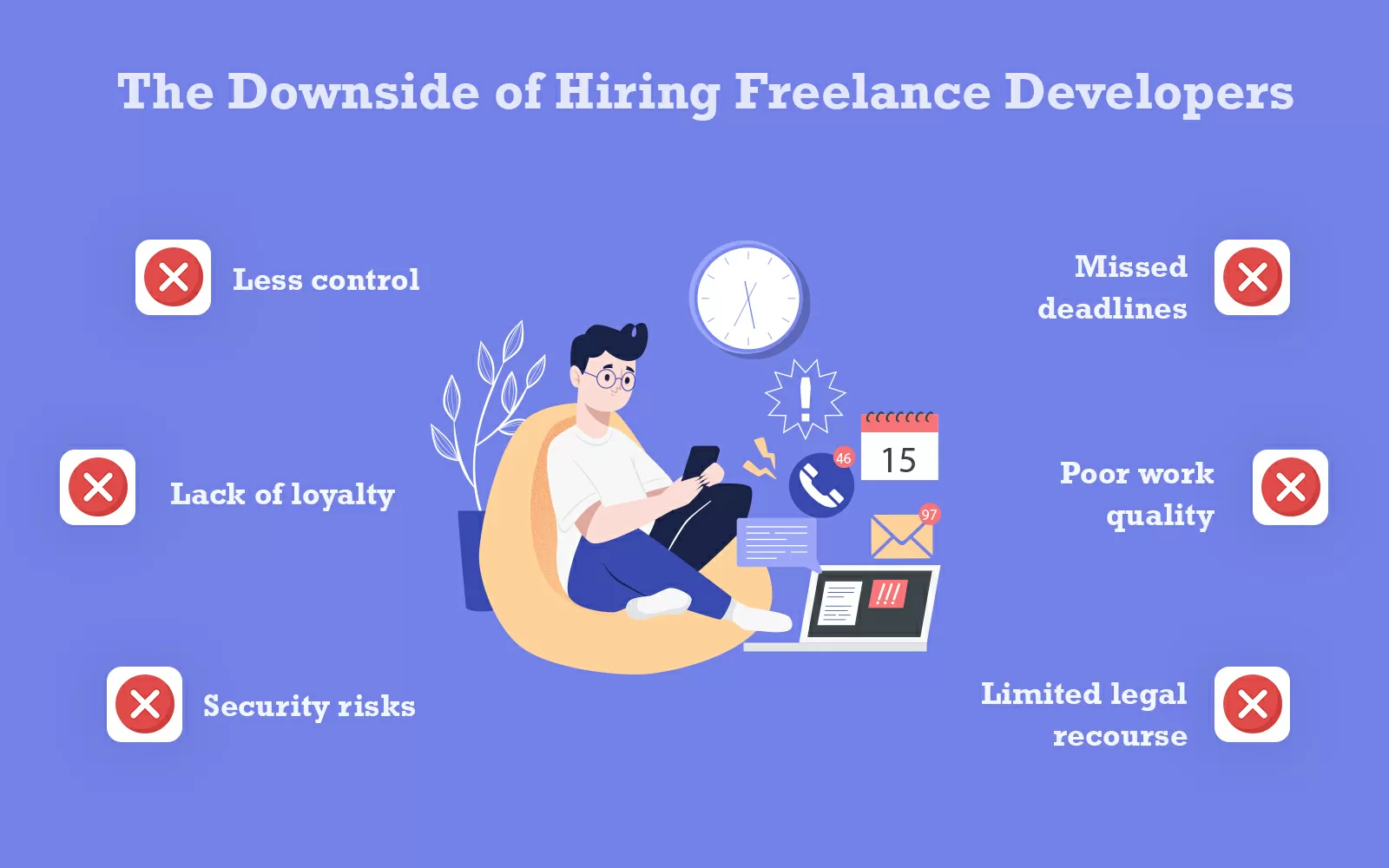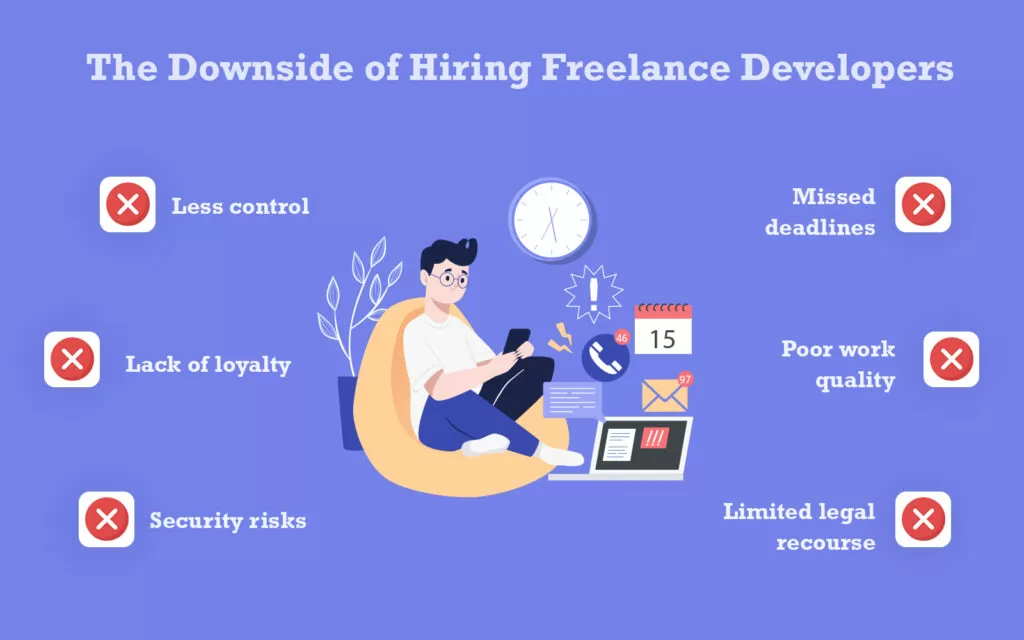 Read also: Patient Portal Development Guide: Types, Features & Cost
While working with a competent professional IT freelancer can culminate in a high-quality custom software product, there are some potential pitfalls to hiring freelance developers.
Less control. Freelancers make their own work schedules and often juggle multiple projects at once. While you may require periodic progress reports, you have little control over how much work gets done from one day to the next.
Lack of loyalty. Unlike your permanent full-time workers who develop strong social bonds and assume responsibility for the welfare of your business, freelancers work for themselves. While it is possible to develop an ongoing relationship with a freelance developer and cultivate a measure of loyalty, you cannot expect them to be as invested in your company as your full-time staff.
Security risks. Independent IT contractors often work with sensitive data and data storage systems, exposing your business to potentially harmful data breaches. In fact, in its 2018 Risk:Value Report, NTT Security noted that 60 percent of survey respondents named contractors and temporary workers among the top three risk factors for data breaches.
Missed deadlines. IT freelancers who are in high demand often have strong business connections and may take on several projects at a time. Depending on the nature, scope and urgency of various projects, yours may be given lower priority, leading to delays and missed deadlines.
Poor work quality. Freelance developers run the gamut from novice to seasoned professional. Even with impressive academic credentials, a newer, less experienced developer may lack the expertise necessary to build a high-quality product that meets all your requirements, leaving you with an inferior product that underperforms.
Limited legal recourse. Working with a remote freelancer, especially one located overseas, limits your ability to get legal recourse for failed, unfinished or poorly designed projects. You may be forced to cut your losses and find another developer to complete or fix your product, or rebuild it from scratch.
Read also: Medical HR Software Development
Getting the Best Results from Freelance Developers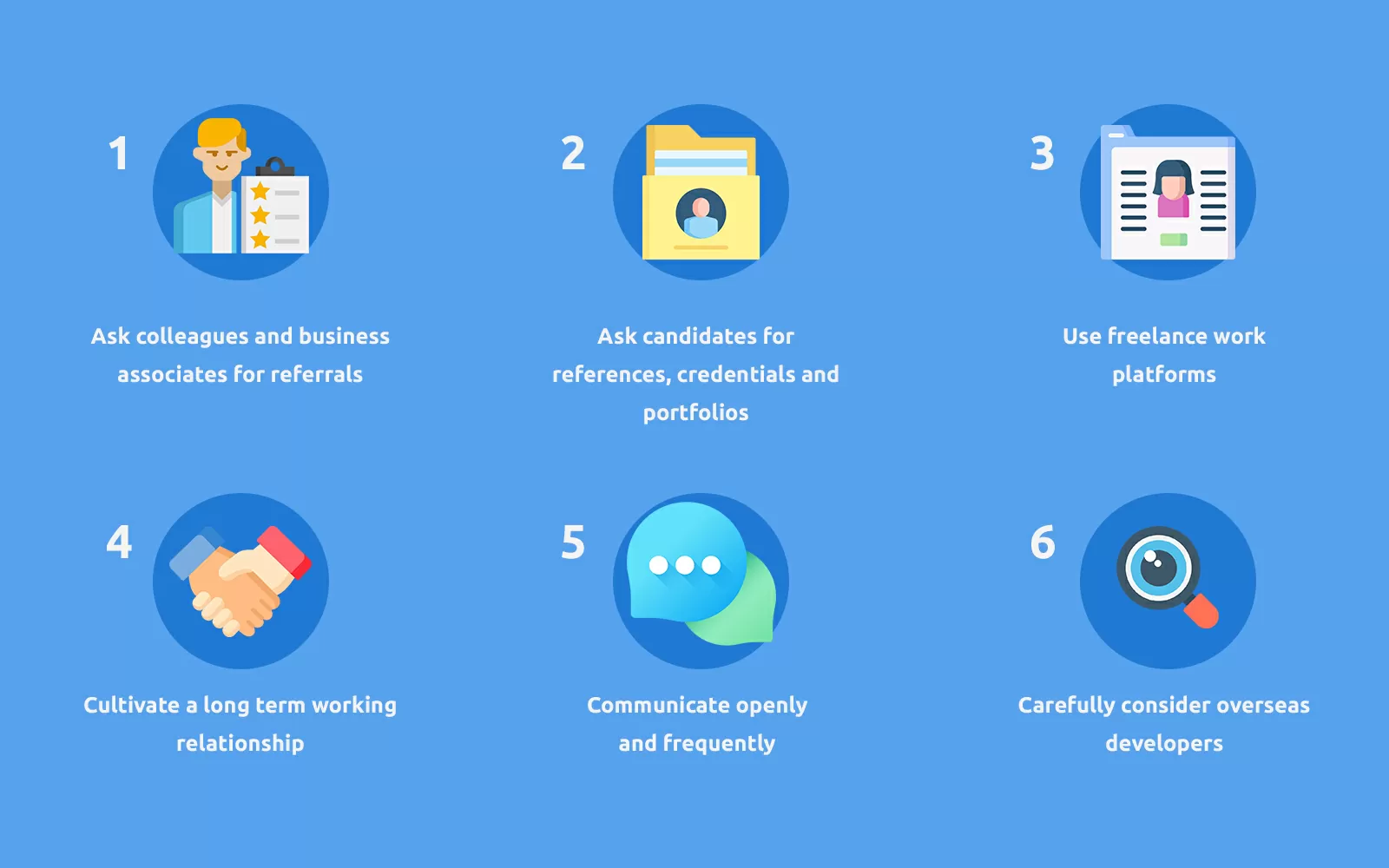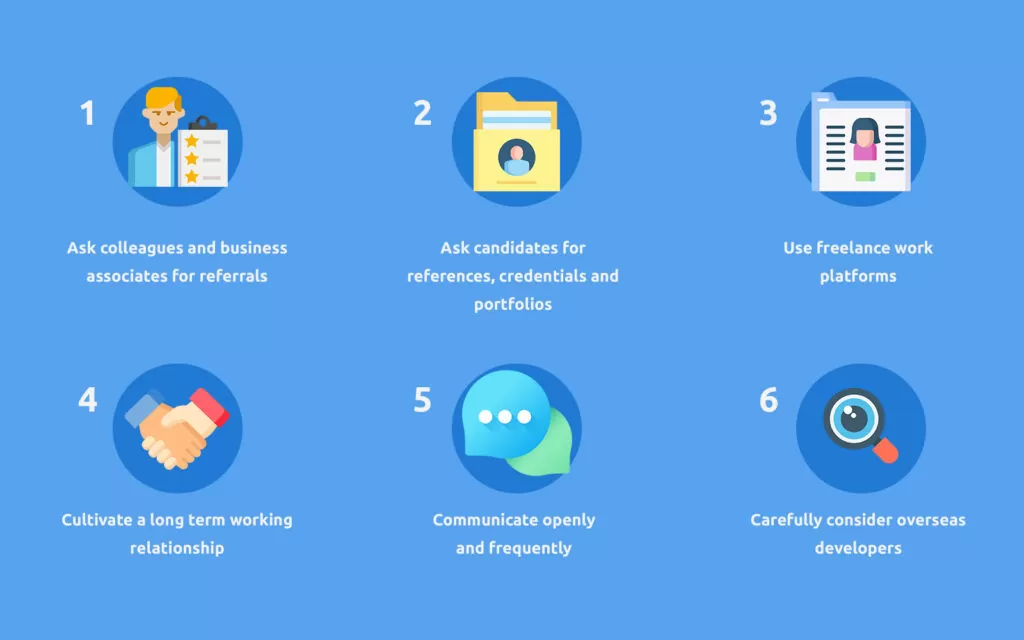 There are several things you can do to protect yourself from inexperienced or unscrupulous freelance programmers, to minimize your business risks and expenses.
Ask colleagues and business associates for referrals. Find other business owners who have successfully used freelance developers in the past, and ask them to recommend the best candidates for your project.
Ask candidates for references, credentials and portfolios. A professional freelance developer should be able to provide you with a portfolio of completed projects and a list of referrals from satisfied clients. They should also be able to provide academic credentials and specialty certificates in the IT niche.
Use freelance work platforms. Some online platforms vet candidates, provide reviews and guarantee work quality. They also make it easier to pay your contractor. However, be aware that the best developers are not likely to be listed on freelance websites. They most often work by referral and word-of-mouth.
Cultivate a long-term working relationship. You can foster loyalty to your company by hiring the same contractor over and over again. By building a strong working relationship, you can expect to get better service and be given top priority for task completion.
Communicate openly and frequently. Staying in touch with your developer on a regular basis will help ensure that your project is getting the attention it needs, and it will keep you up to speed on its progress.
Carefully consider overseas developers. You may be able to find freelance developers with advanced skills and expertise in countries outside the US, including Ukraine, but it is important to do your homework before hiring a developer from abroad. Consider the potential inconveniences of time zone differences, language barriers and cultural differences in work ethic. In addition, many countries have strict laws governing freelance employment, and you could get caught up in legal compliance issues if you're not careful.
Where to Find Developers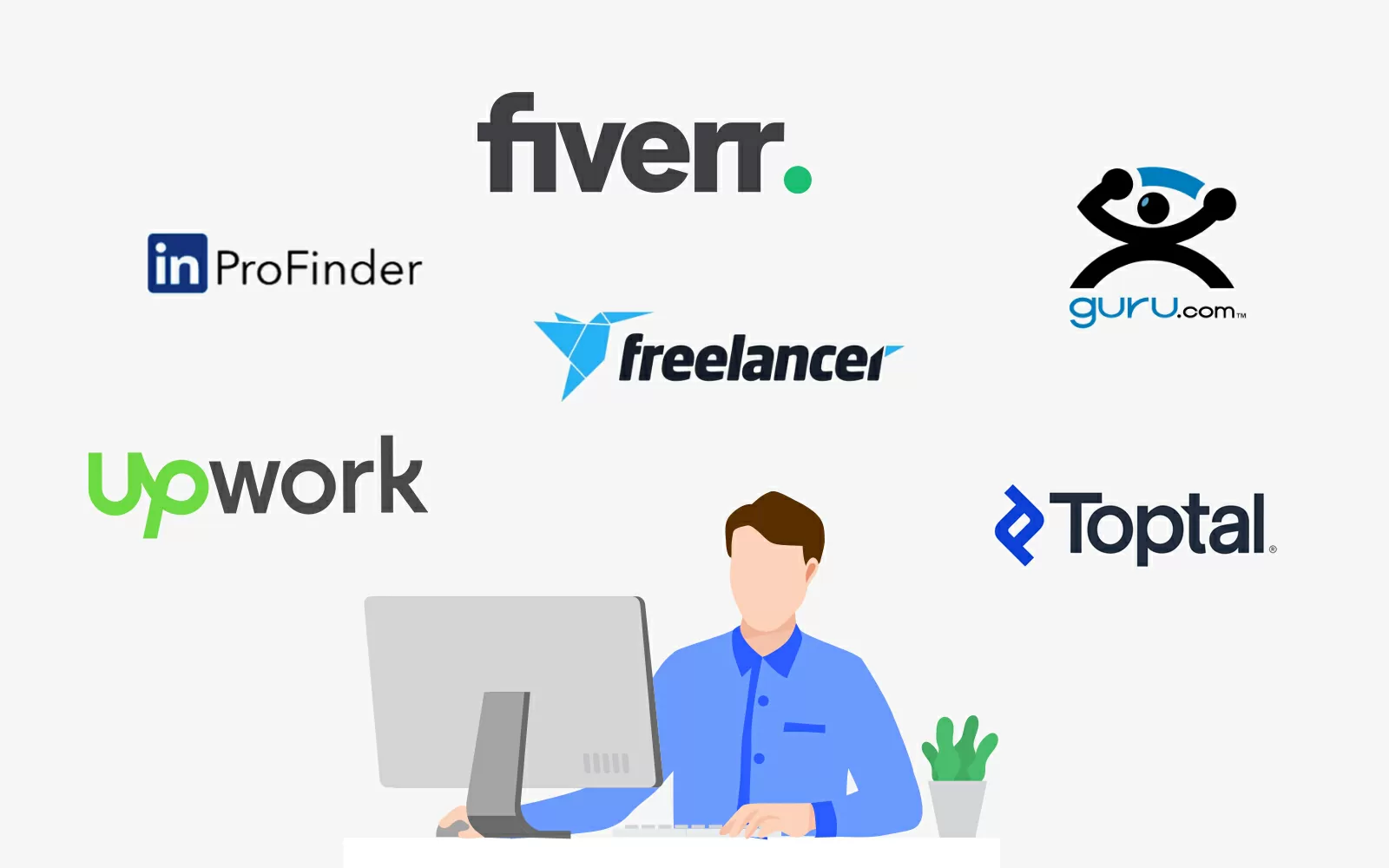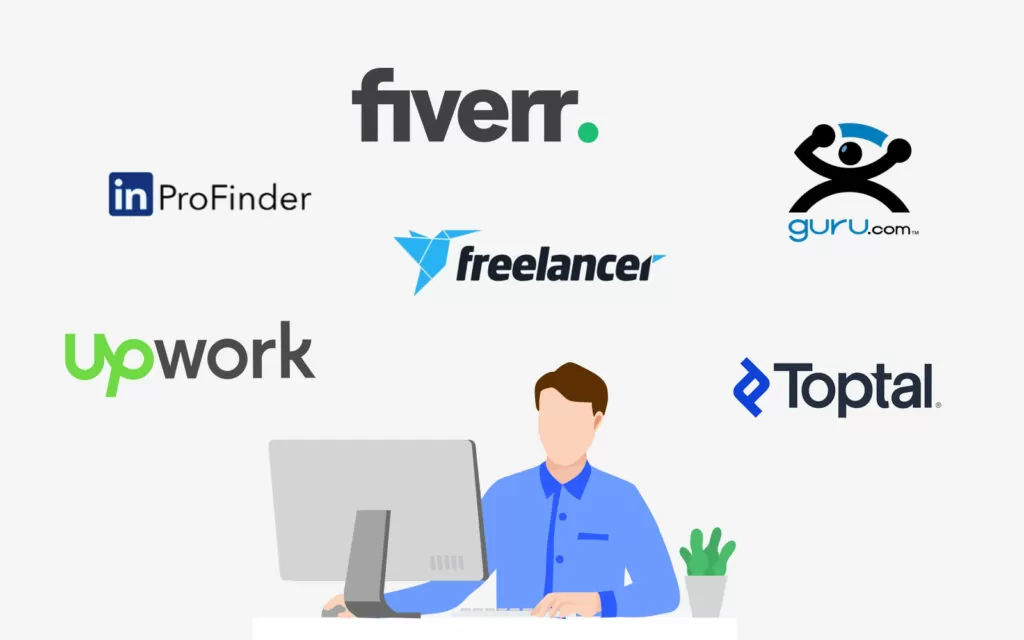 Read also: Tips for Hiring Java Developers for Your Custom Software Project
With the gig economy in full swing, there are numerous online hiring platforms that feature IT professionals. To find freelance developers, explore some of the most popular freelancer websites:
Upwork: Upwork is one of the oldest online freelancer platforms, and boasts over 12 million freelancers with a broad range of talent. Candidates are subjected to a rigid approval process before they can create a profile on Upwork, so your chances of finding a qualified developer for your project are good.
Fiverr: This platform's primary claim to fame is its low prices. That should be a red flag for businesses looking for a seasoned professional developer to build a top quality product. Expect to find novices on this website.
Freelancer: This user-friendly platform lets you browse portfolios, accept bids from developers, chat with potential candidates on the platform, pay securely for finished work and more.
Toptal: Toptal's website promises to deliver the top 3% of freelance talent, which is a tall order. They boast the top freelance software developers, designers and project managers in the world. The platform asks multiple questions about your project, such as your hourly budget, desired developer skills, completion deadline and more, to match you with the best developer for your project.
Guru: This platform boasts over half a million top freelance programmers and developers worldwide, and lets you browse the site and post jobs for free.
Linkedin ProFinder: Freelancers with an existing Linkedin profile can apply to the platform as a ProFinder freelancer. Businesses looking for developers can leverage Linkedin ProFinder to be directed to potential candidates that have been vetted by the platform.
Read also: Hiring React JS Developers for Your Team or Project
Get the Best of Both Worlds with TATEEDA
Despite an abundance of freelance talent, building a custom software project from scratch is an expensive undertaking, and finding the right development team is critical. If you want a high-quality, user friendly and well-designed product that satisfies all your requirements, talk to the software development pros at TATEEDA.

Some key points about TATEEDA:
Stable and reliable company since 2013
Technical and Certified Experts in your choice of technology
Established and documented processes
Robust infrastructure, with implementation of best practices
Flexible and fully Agile methodology
We dive deep into your business to give you the best advice
We act as consultants, not just implementers.
Our software development experts can help you gather the best team for your project, and advise you throughout the entire development lifecycle. Contact TATEEDA today, and get your project up and running with the best IT talent available.